Make silver bell Christmas ornaments made using mini bell shaped Jell-O molds.
If you're a crafter it's time to start working on Christmas projects and we have a ton of inspiration for you right here. My silver bell Christmas ornaments are made with mini jello molds, a template/stencil, white spray paint, and super simple hangers. We have 31 days of Handmade Christmas Ornaments ideas for you right here.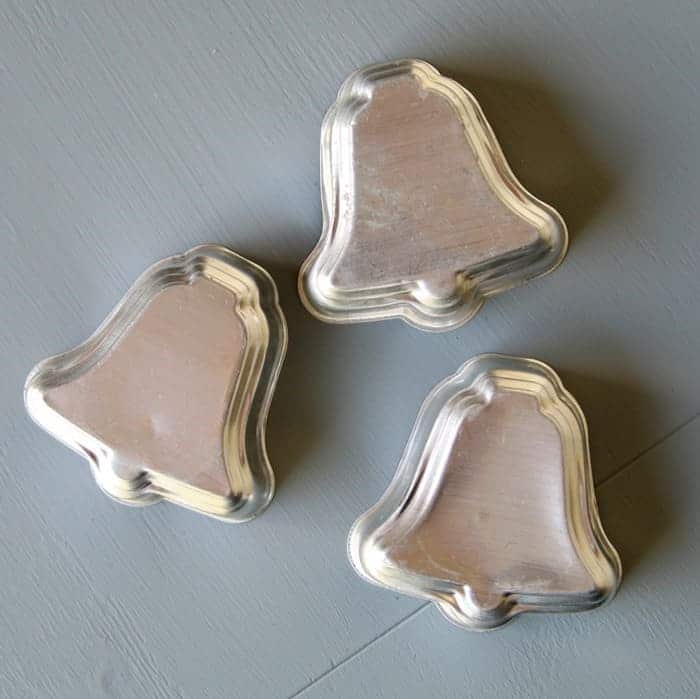 I found the 3 bell shaped jello molds at a local antique/thrift shop. At $1 each they were a little pricey but I knew they were perfect ornament material.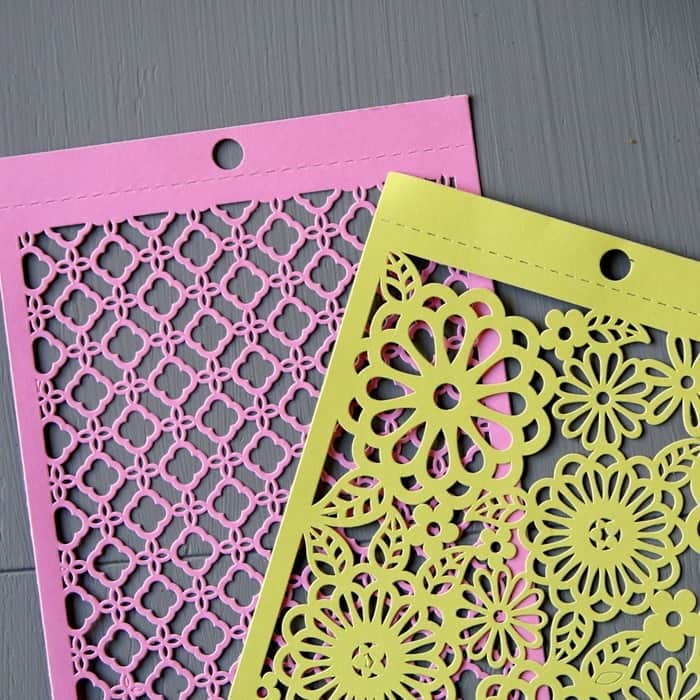 I had these paper templates or cutouts or decorative papers in my junk stash. Not sure what to call them. The pad of templates came from Tuesday Morning.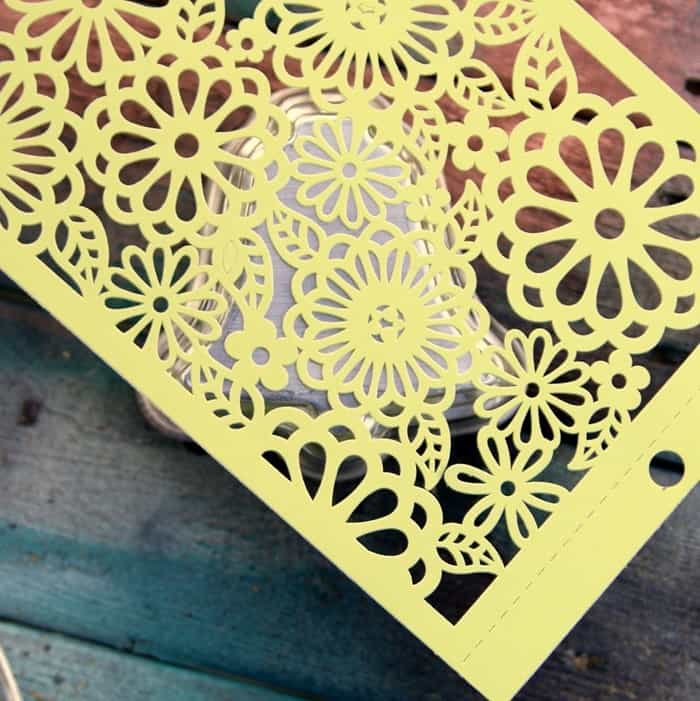 The bell Christmas ornaments are easy to make and take no time at all. I started the project by laying the paper stencil on the bell (hollow side down) and spraying lightly with white spray paint.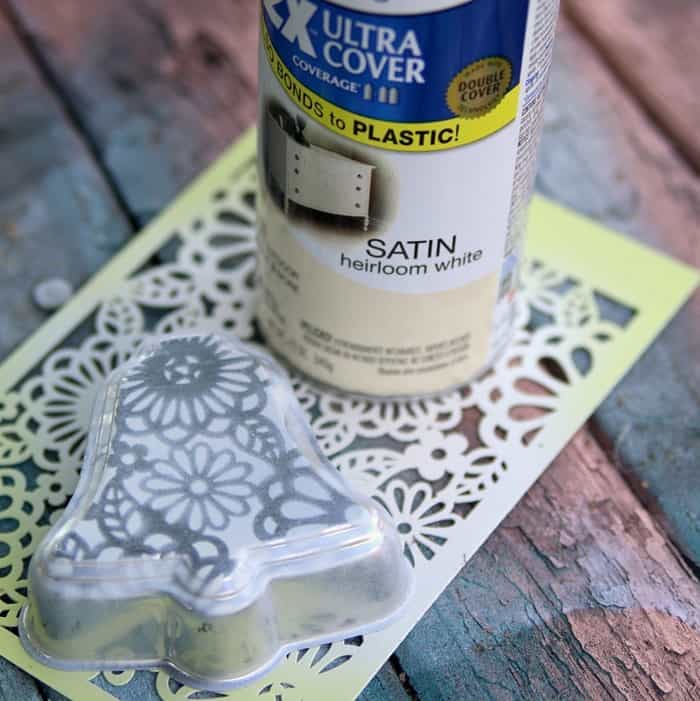 And that's it for the paint job. This is my first time to use spray paint on a stencil. I may have to try that again. Rustoleum Satin Heirloom White is one of my favorite colors. (find here on Amazon) Not too white and perfect for this project. Moving on to the hanger.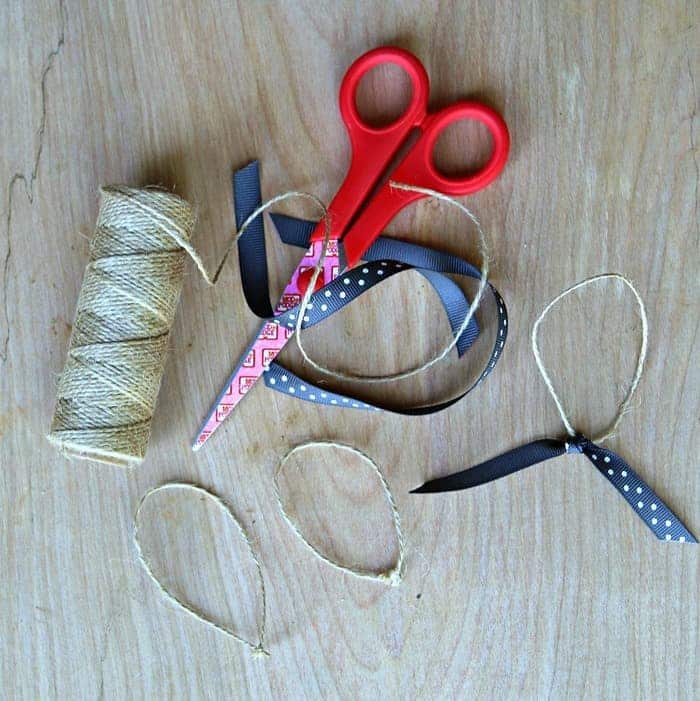 It took me a while to decide on a hanger for the bell ornaments. Ribbon seemed a bit heavy and the twine I had on hand was too thin looking.
I tried numerous other materials but nothing looked right. After sleeping on it overnight I had a plan. I used the twine as a hanger and knotted a strip of ribbon around the twine.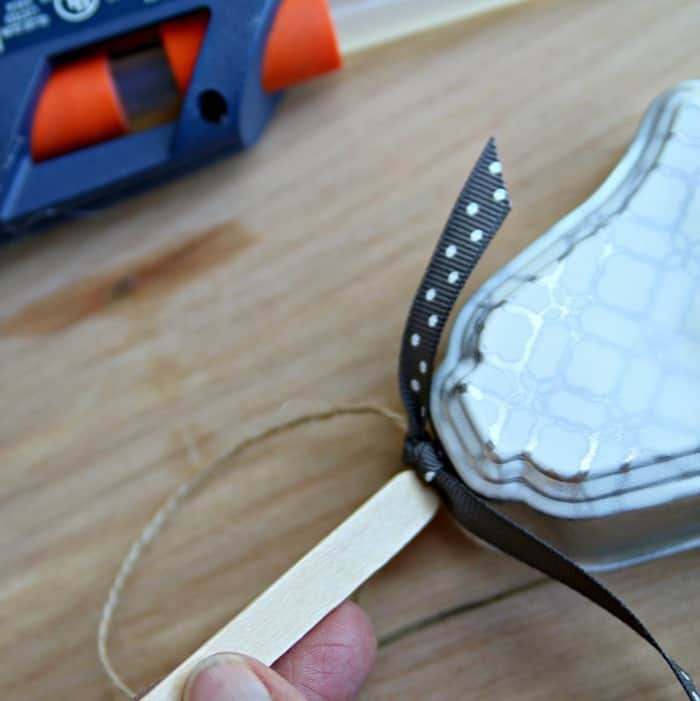 The only thing left to do was attach the hanger to the ornament. I used hot glue and held the ribbon/twine combo to the bell with a popsicle stick until the glue set. The popsicle stick is a finger saver. Sometimes I use tweezers but I couldn't locate them in my newly organized workshop.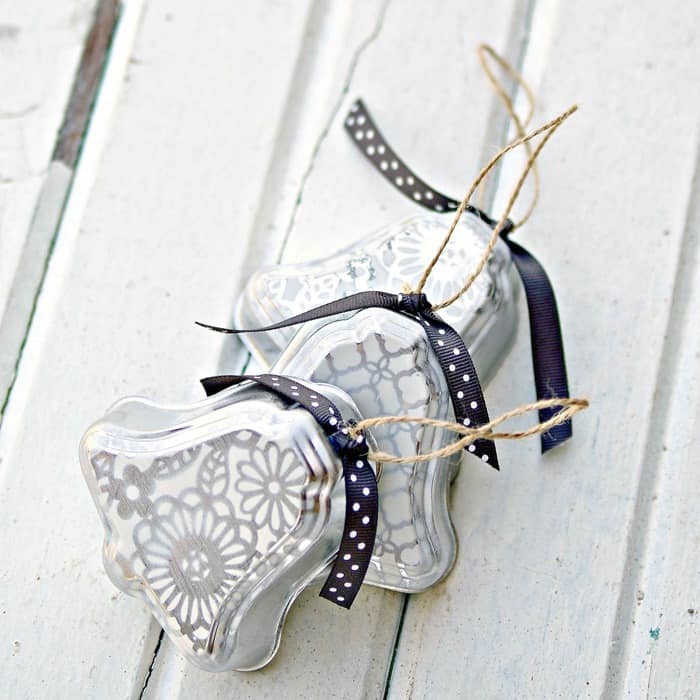 The ornaments turned out so well I'm on the hunt for more bell shaped jello molds. If I don't find any around town I know there must be some on eBay.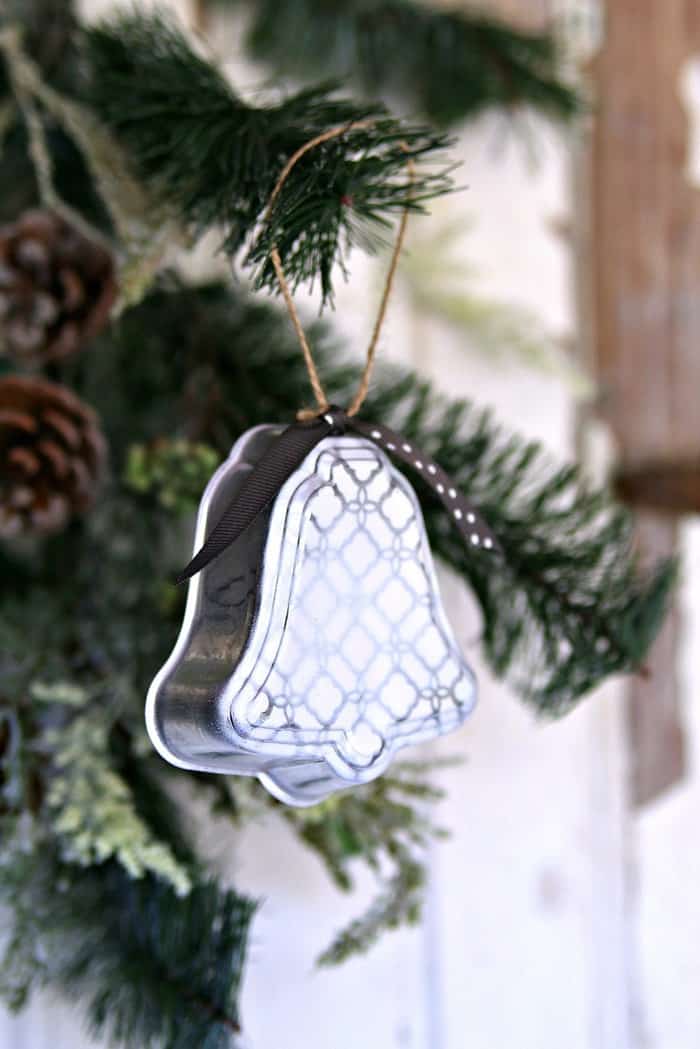 I like the small repeating design above. The design looks a little blurred toward the middle of the ornament and that's because the ornament had a slight dip in the middle. The flat surface is easy to bend out of shape.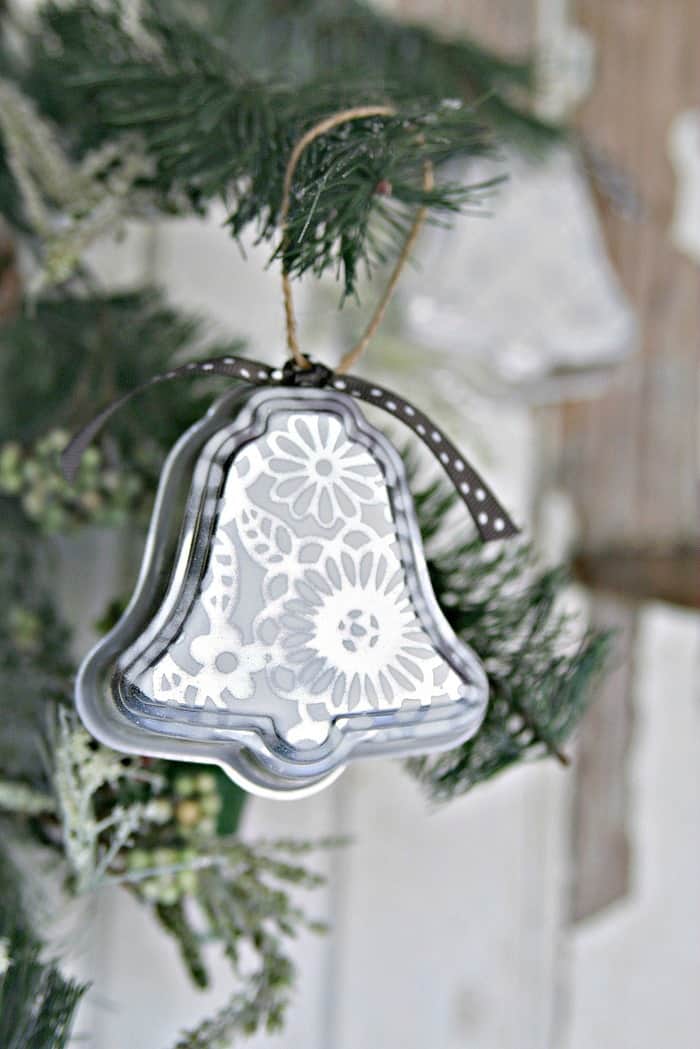 The flower design is pretty too. There are all kinds of small stencil designs that would work on the molds and no one says you have to stick to white spray paint.
I made Christmas ornaments using vintage Christmas cards and they are really special. You can see them here....DIY Vintage Christmas Card Ornaments Kids Can Make Too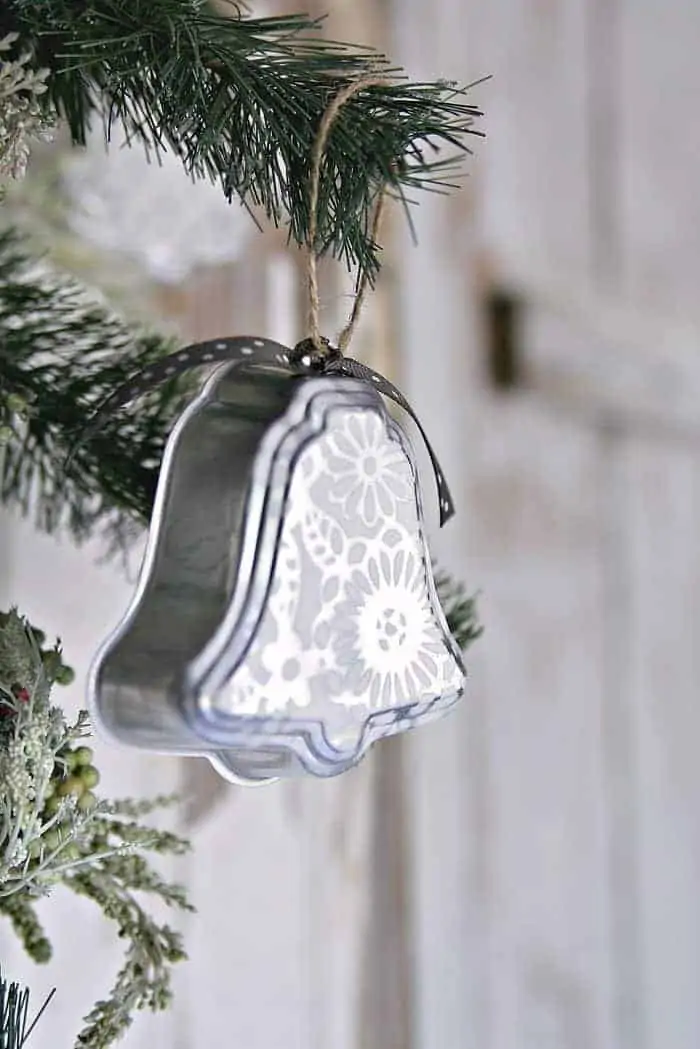 I'm thinking gold spray paint or even pale pink would be pretty on the silver background.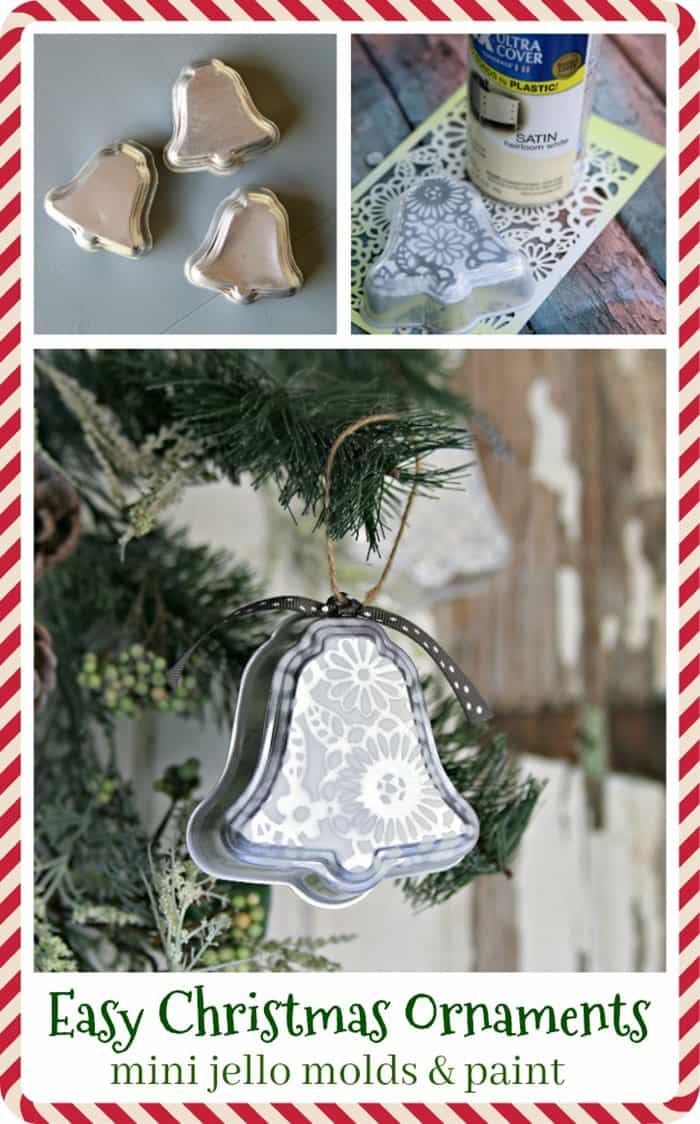 Silvver Bell Christmas Ornaments
What do you think? Want to make a few of the Silver Bell Christmas ornaments? Leave a note and take the Christmas ornament blog hop by clicking on the photo links below.
Author: Kathy Owen (Petticoat Junktion)
Kathy is the founder of PetticoatJunktion.com, a home décor blog focused on repurposing and upcycling furniture, old hardware, rusty stuff, and thrifty finds into unique home décor. Kathy's projects have been featured on the Home Depot Blog, Plaid Crafts, Behr Designer Series, and in numerous magazines. Read more about Kathy here.