Make one-of-a-kind teacup Christmas ornaments to hang on your tree or for gift-giving. The ornaments can be personalized to fit your decor style or the gift recipient's occupation, hobbies, etc. Thrift store shelves are usually overflowing with teacups if you need a few for projects like this one. My tutorial includes a video of the process.
How To Make DIY Teacup Christmas Ornaments
I made three teacup ornaments, and they are all different. I painted the teacups first then added small Christmas items. Personalize the ornaments……get as creative or crazy as you like.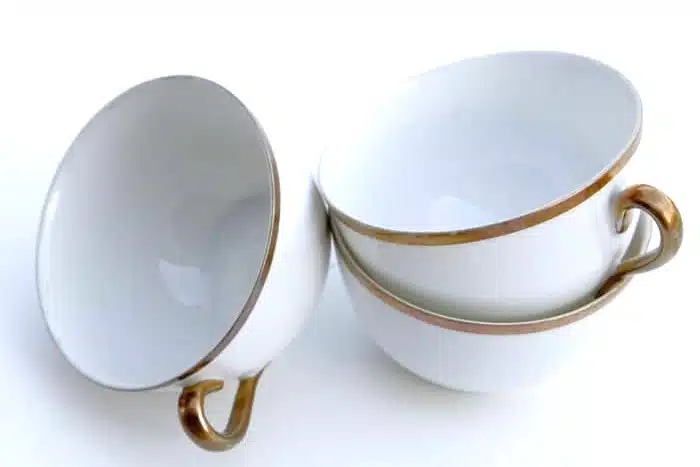 1. Choose Your Teacups
I bought my teacups at the Salvation Army Thrift Store. There were three teacups of the same kind, perfect for my needs. I got lucky with these because they were mostly white and only .50 cents each. It's always good to have a plain slate to work with.
While talking to a friend about the ornaments, she mentioned that she had some teacups passed down from her grandmother. How cool would it be to make teacup ornaments out of heirlooms? Her teacups were packed away in a box. She could enjoy them during the Christmas season.....or all year long if they were cute ornaments.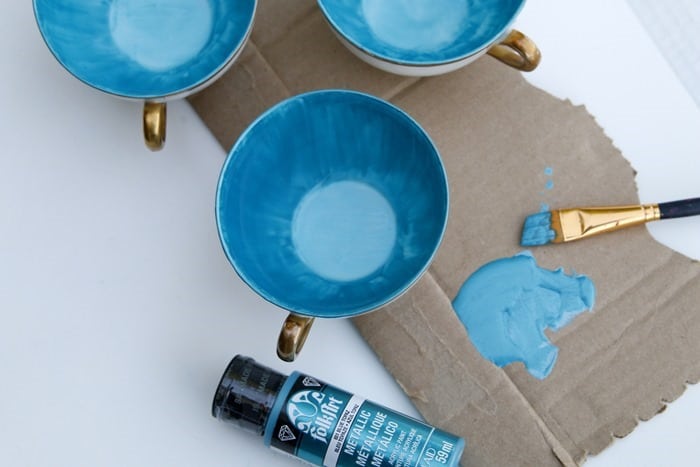 2. Select Paint For The Inside Of The Teacup
I chose FolkArt® Metallic Acrylic, color Blue Topaz, to paint the inside of the cup. The metallic color is so pretty. You have to have shimmer and shine during the holidays.
3. Apply The Paint To The Teacup Ornament
I brushed on two coats of the metallic paint. The instructions say the paint can be used on porous surfaces such as wood, canvas, tin, terracotta, fabric, and paper mache. I was still a little leery, especially since the fine China teacups had such a smooth, slick finish. But let me tell you. The metallic paint covered well and stuck well! No worries.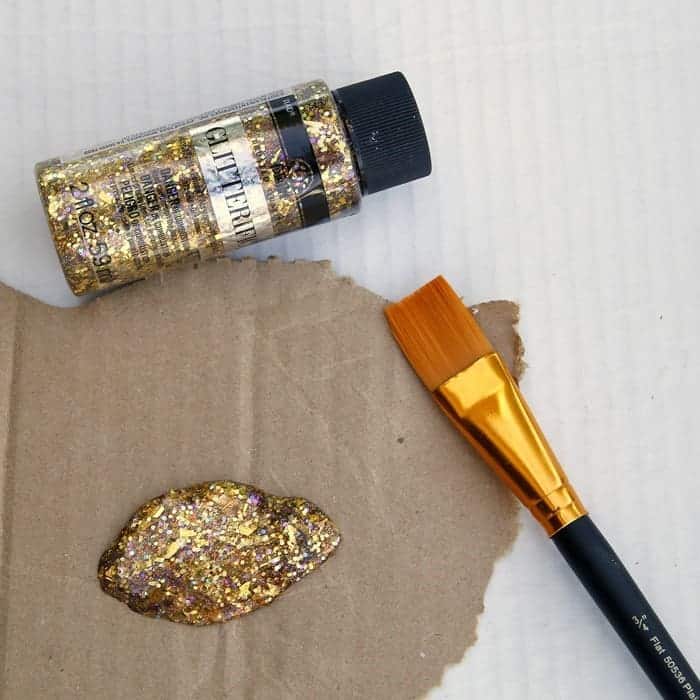 4. Select Paint For The Outer Surface Of The Teacup Ornament
For the outside of the teacup, I went all out with FolkArt ® Glitterific™ Acrylic Paint, color Gold. The name for the paint says it all: glitter overload. It contains multiple-sized glitter particles in a clear base. You don't have to worry about a glitter explosion like you do with loose glitter. My son has banned glitter from his house because my granddaughters get a little crazy with the glitter. This paint would be perfect for them.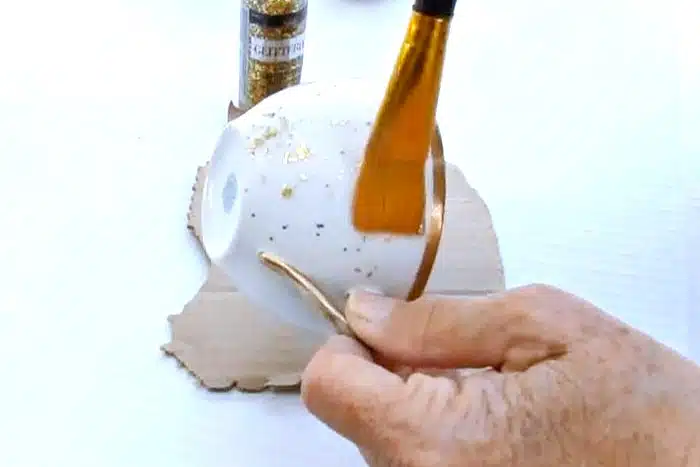 5. How To Use The Glitterific Paint
I used a Taklon brush to apply the glittery paint. I'm not sure about using a foam brush with this paint. I built up the glittery particles by dabbing a lot of it on the teacup. The paint dried in a couple of hours.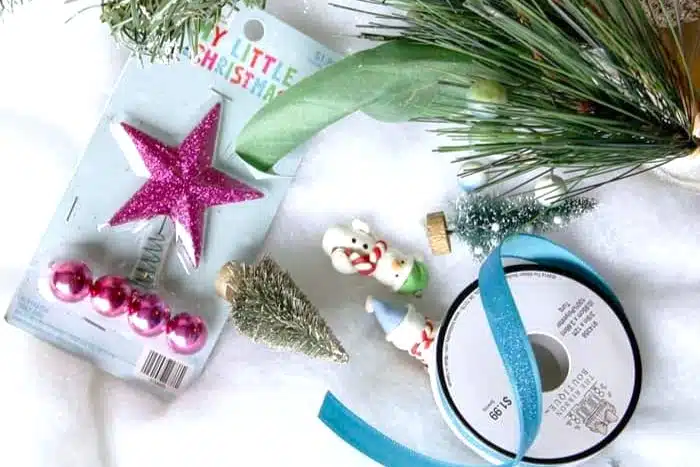 6. Add Embellishments To The Painted Teacups
It's time to decorate the inside of the cups. I wasn't sure exactly what I would put in each teacup. A pile of stuff to work with is always good. I gathered a few items I had in my Christmas stash, plus I picked up a couple of new items to use.
I looked for soft, velvety ribbon to make the ornament hanger but had no luck. The velvet, with it's soft feel, would have added another texture element to the ornament.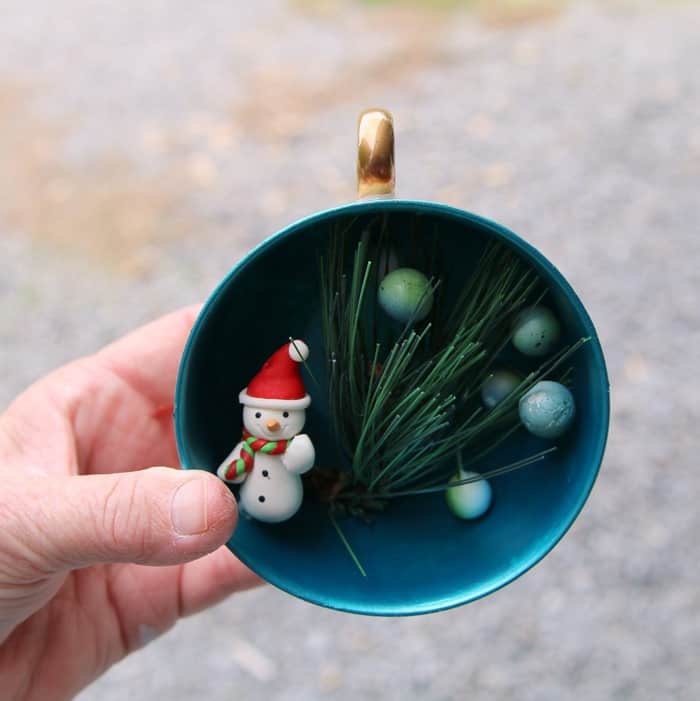 Try Out Placement Ideas With The Miniature Pieces
I tried a variety of items and set up different scenes in the cups. Once I decided what to put in each cup, I grabbed the hot glue gun and went to work.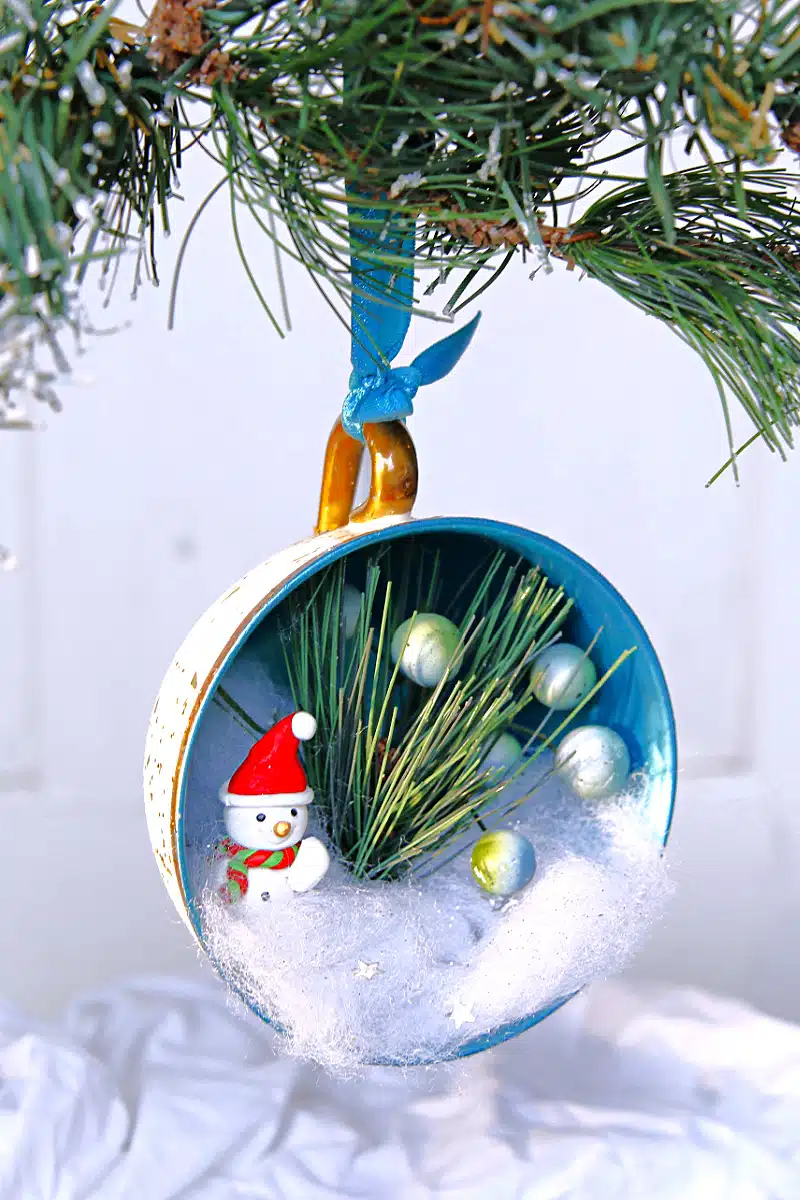 That little snowman is the cutest thing. He was leftover from Christmas past projects. I bought a roll of snow mat stuff, not sure what the name of it was, to use as a filler in the teacup.
Get Creative With The Ornament Styling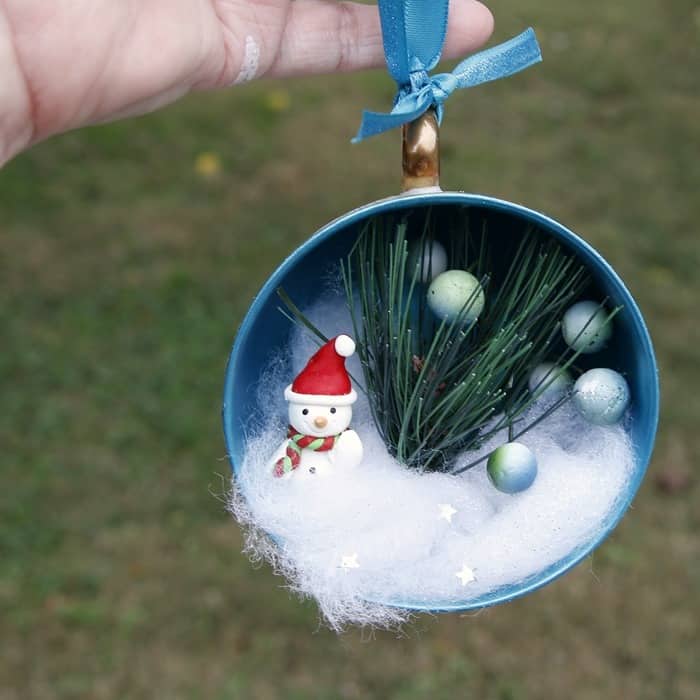 I first cut a small piece of the snow mat for the cups. After working with it for a while, I figured out it was best to pull pieces of the mat off and use them that way. There was an issue with the hot glue and the fluffy stuff. That fluffy stuff is as bad as hot glue about sticking to your fingers. I finally got it in place.
7. Three DIY Teacup Ornaments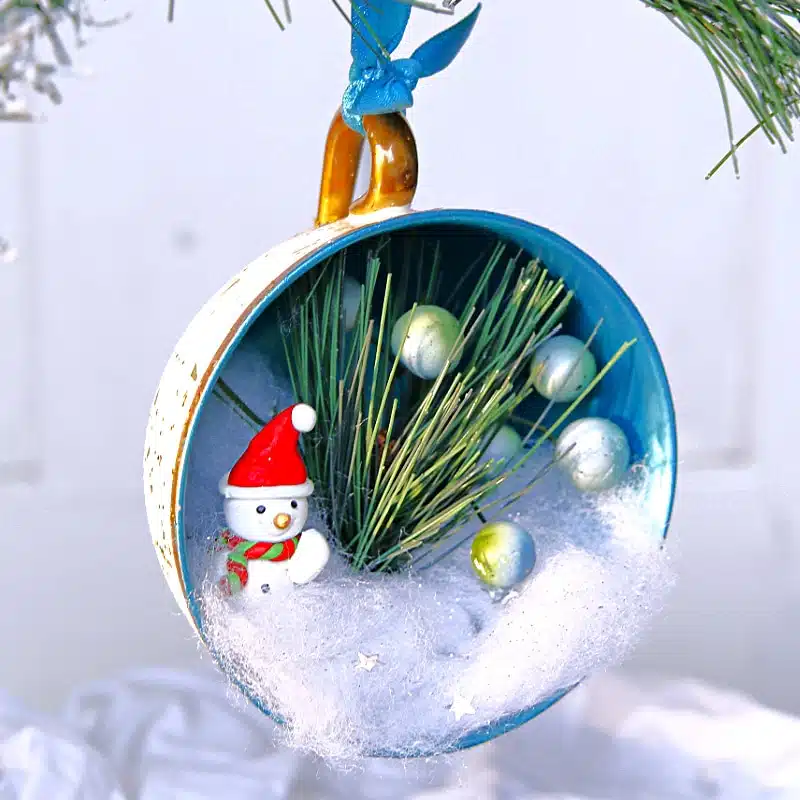 The Snowman Teacup Ornament
The fluffy stuff had little silver stars on it. You can never have enough glitz. The greenery and berries are small pieces of stuff I had in my stash.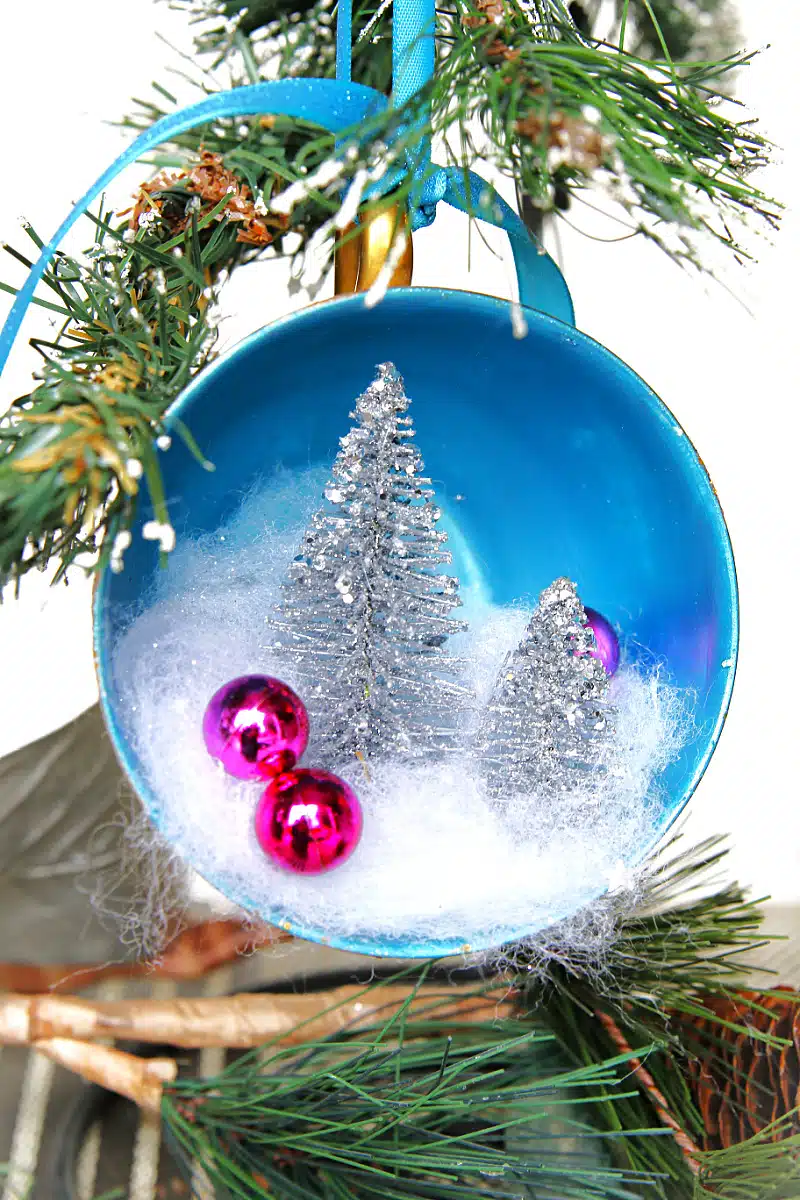 The Silver Tree Teacup Ornament
The green trees I bought to go in the cups were not working and I scrounged through my Christmas stuff again. I bought a bunch of little sparkly silver trees on clearance last Christmas, but they were too big for the cup. No problem, I just snipped off the tops and used those. The trees were only.25 cents each. I love a good clearance sale.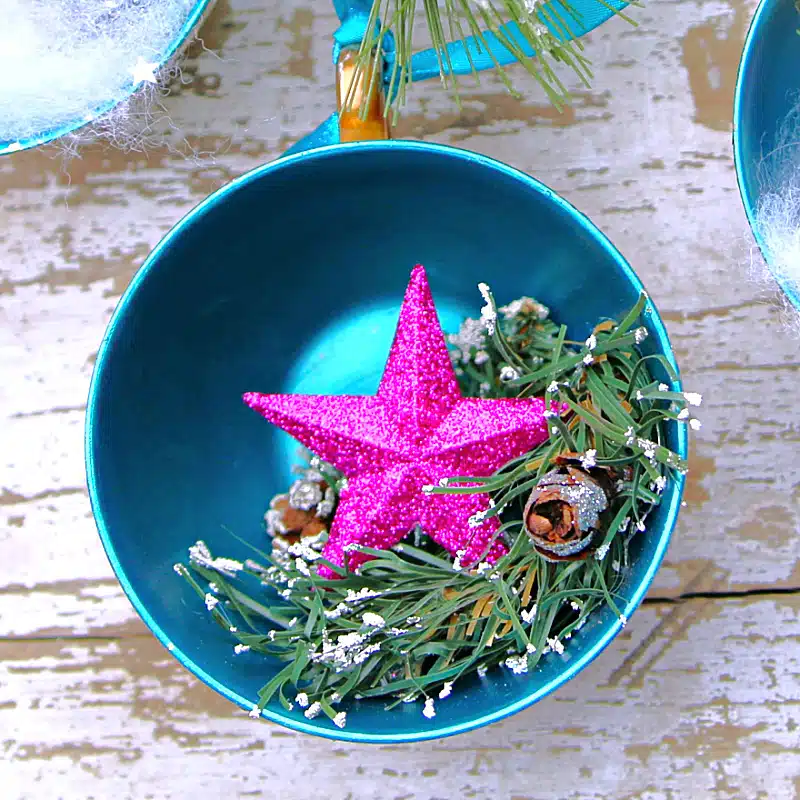 The Star Teacup Christmas Ornament
Teacup number 3 has a fuchsia star and a bit of faux greenery. I wish you could see the teacup ornaments in person. The metallic blue paint is so shiny, and the gold glitterific paint is very glittery.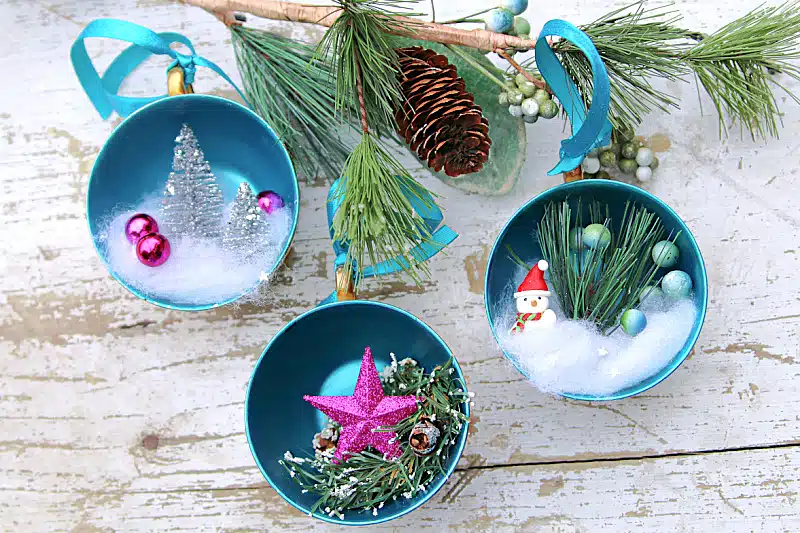 You can't buy ornaments like these in the store. The ornaments cost less than $3 each to make and that includes the paint.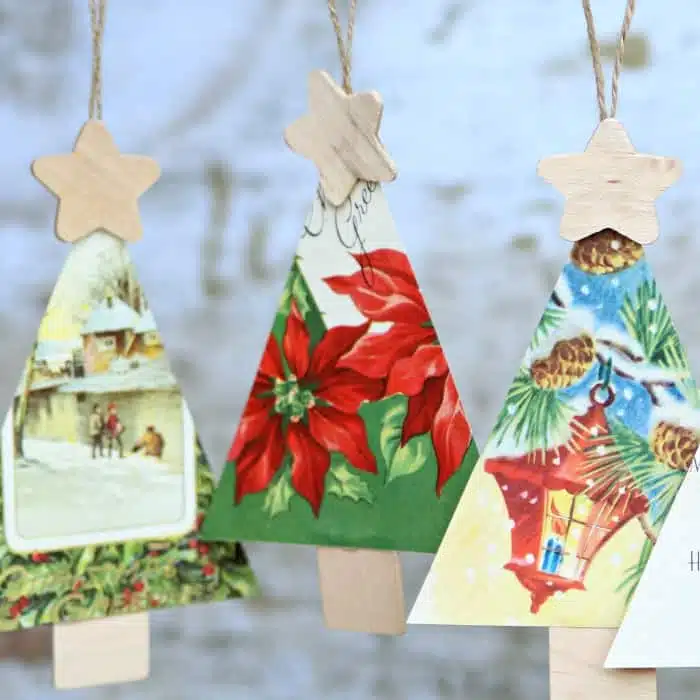 If you like these ornaments, you must see the ones I made using vintage Christmas cards. Talk about sentimental.......Vintage Christmas Card Ornaments.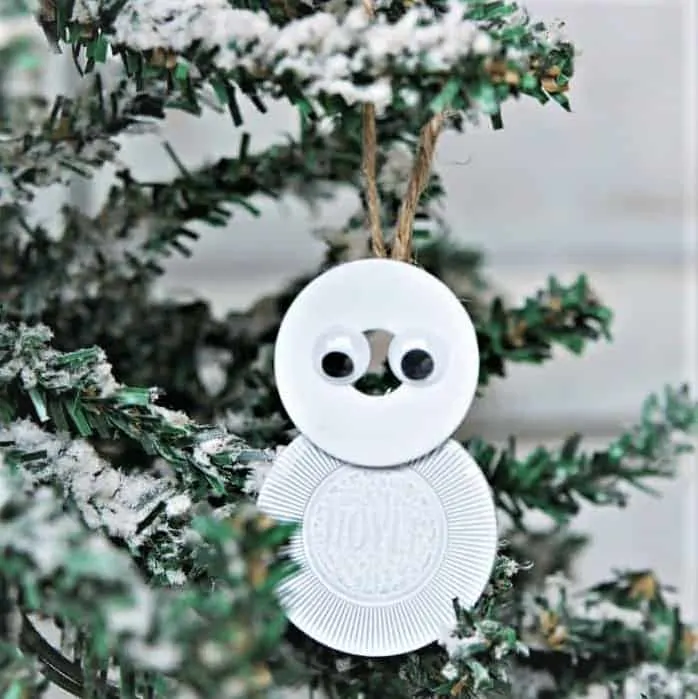 Make snowman ornaments from things in your junk drawer like checkers, jar lids, door hardware, etc. See all of the different kinds of snowman ornaments here.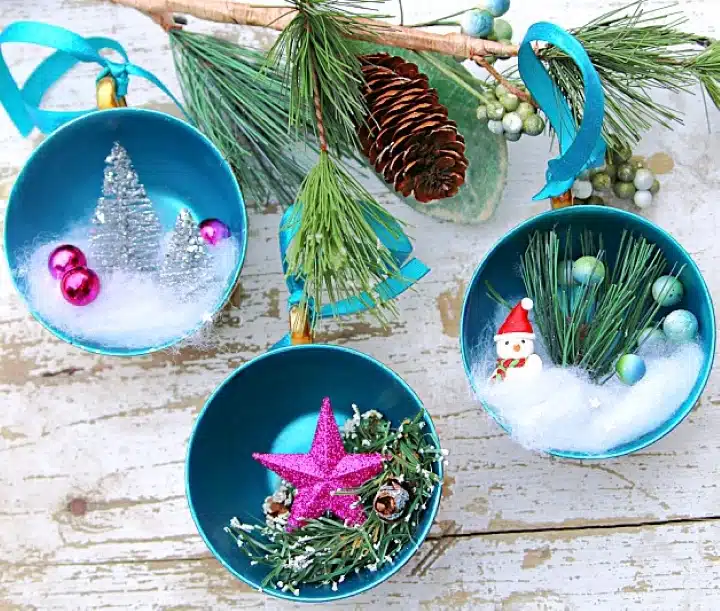 DIY Teacup Christmas Ornament Video....
How To Make Teacup Christmas Tree Ornaments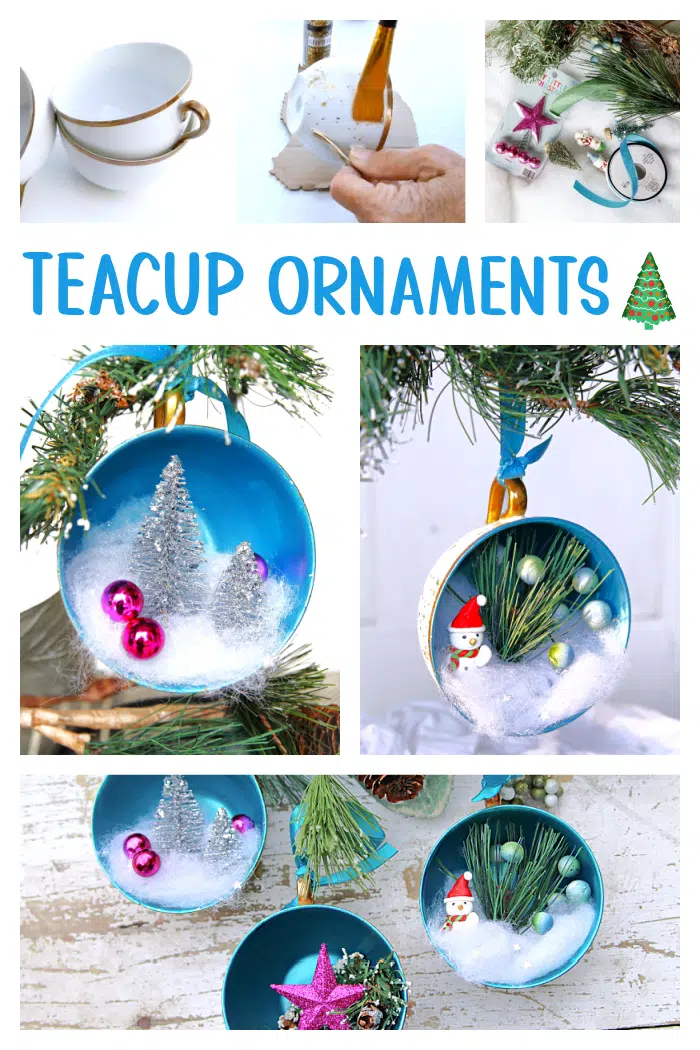 Thanks for being here, and have a great day, Kathy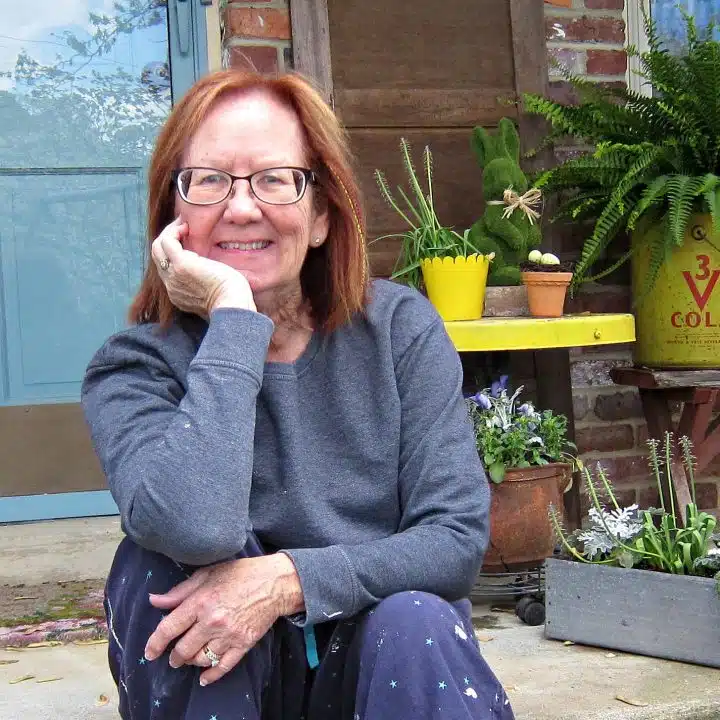 Author: Kathy Owen
Kathy Owen is the founder of the home decor blog Petticoat Junktion where she shares tutorials on painting furniture and upcycling thrifty finds into unique home décor. Her DIY projects have been featured on the Home Depot Blog, Plaid Crafts, Behr Designer Series, and in numerous magazines. Kathy's newest website is HappyHomeDIY.com