See how easy it is to create DIY snowmen ornaments using items from your junk drawer, hubby's toolbox, the thrift store, wherever you store the small junky stuff.
Today is Thrift Store Decor Day and my snowmen ornaments are going to give my tour mates a run for their money. Just throwing it out there. You can put these cute little men together using any number of things.
Look at this little cutie I made using a single checker and a sewing machine bobbin. You will never believe what I used for his top hat. See if you can guess before you get to the tutorial below.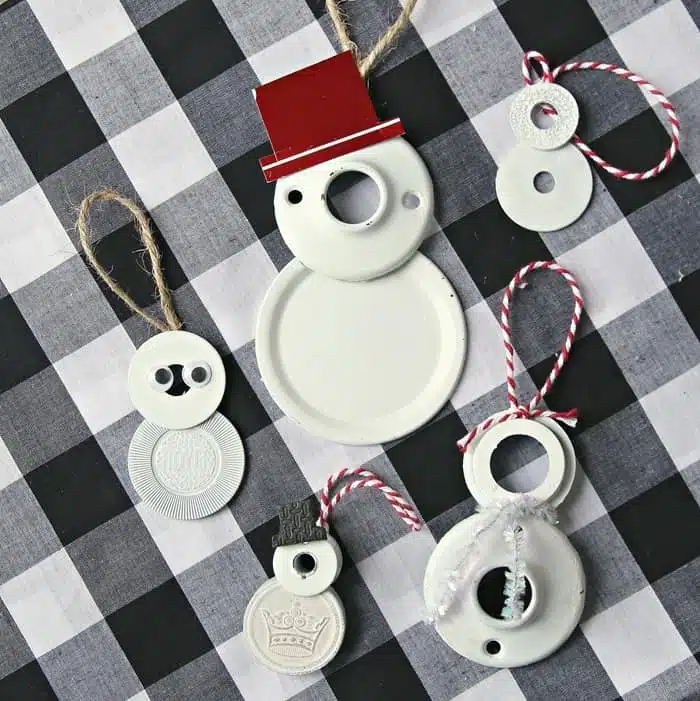 How To Make DIY Snowmen Ornaments
I made a whole host (gaggle....pride.....flock....I crack me up sometimes) of snowmen using everything from metal washers to door hardware to poker chips.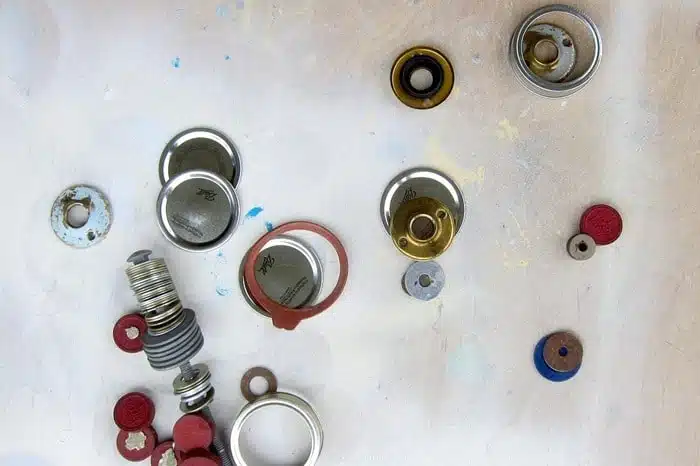 Gather Supplies For The Snowmen Ornaments
When I came up with the snowman ornament idea I went through the workshop gathering things I thought might work for the ornaments.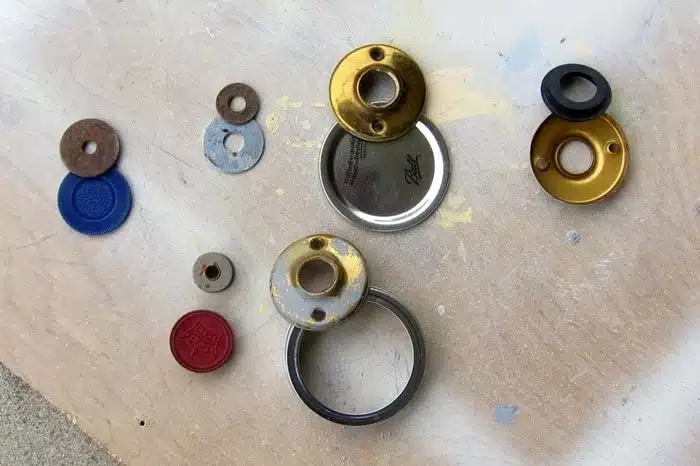 Then I started putting items together seeing what worked best according to size and type of junky piece.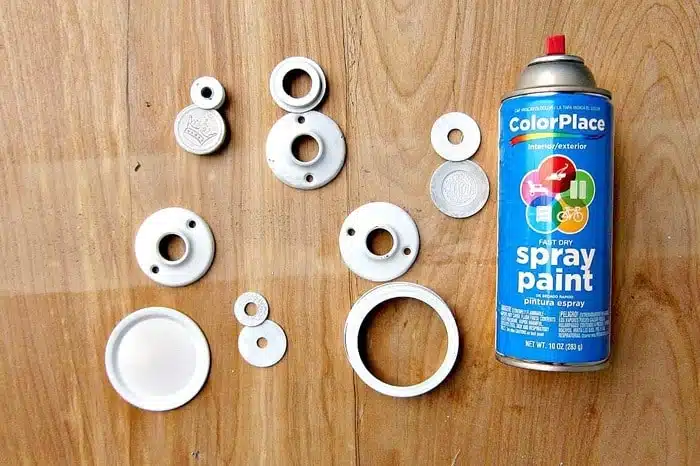 Spray Paint The Snowmen Parts
I found this budget spray paint on my paint shelf. Only white I had and it worked perfectly. I sprayed the pieces front and back then laid them out again to see how I felt about the combinations. Still works for me.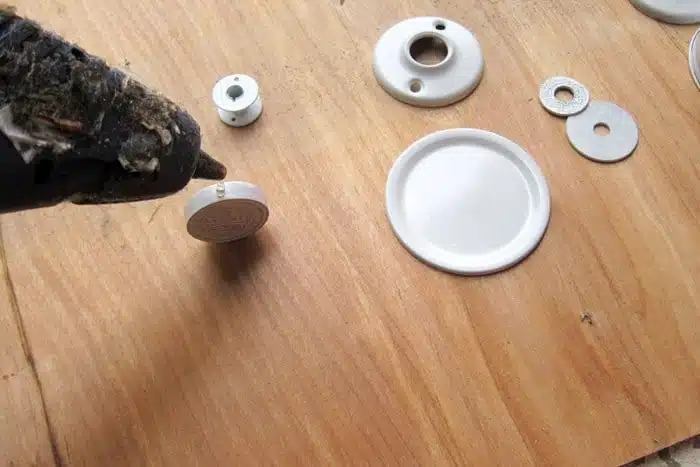 Glue The Snowmen Together
I used hot glue to put everything together. That glue gun is so ugly but it works. I bought a fancy one a few years ago and don't like it nearly as well. It just sits on the shelf.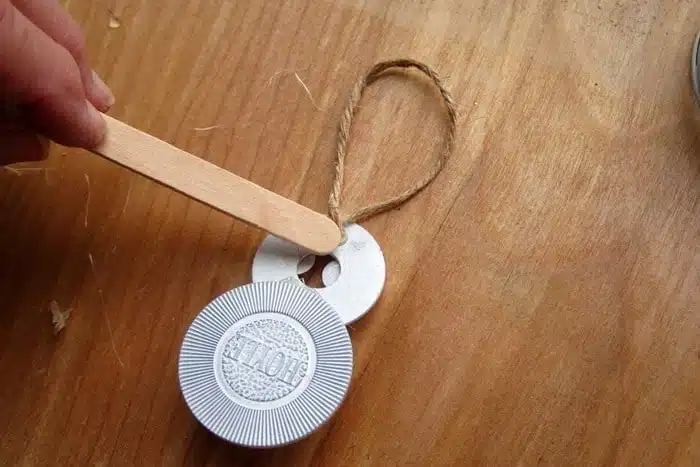 Add Hangers To The Snowmen Ornaments
I used twine and decorative cord for the ornament hanger. I learned a long time ago to use popsicle sticks, toothpicks or something similar when working with hot glue. I have no fingerprints left due to hot, hot glue.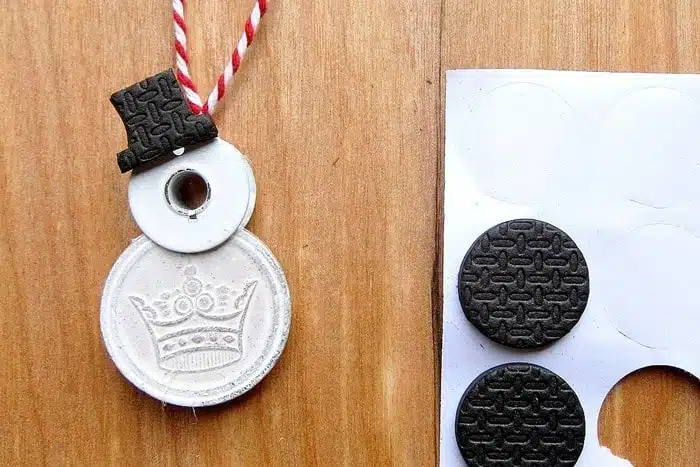 I told you guys earlier that you wouldn't be able to guess what I used to make the black hat and I bet I was right. I cut a hat shape out of sticky back rubber/foam wall protectors. Then I just stuck it on his head. Genius huh??
Add Accessories To The Snowmen Ornaments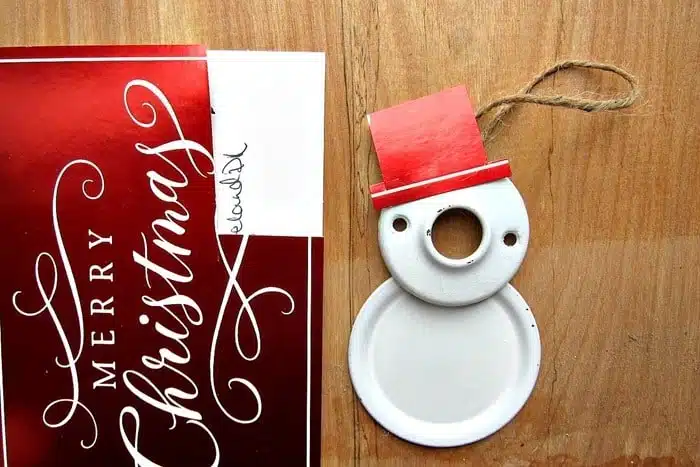 For the larger snowman I found an old Christmas card (always save cards) and cut a hat from it. The red is so pretty. This snowman is made out of a mason jar lid and a door knob something?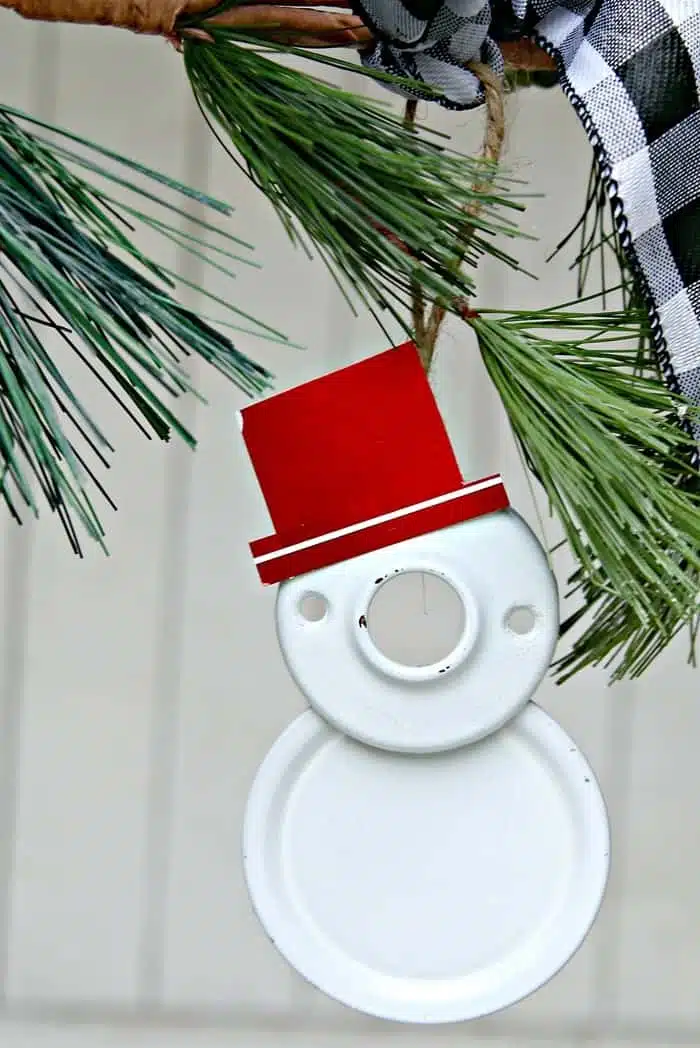 Some of the pieces I used to make the snowmen had more surface for the hot glue to adhere to and some of them had very little like the two parts I used for this snowman.
Hang Ornaments On The Tree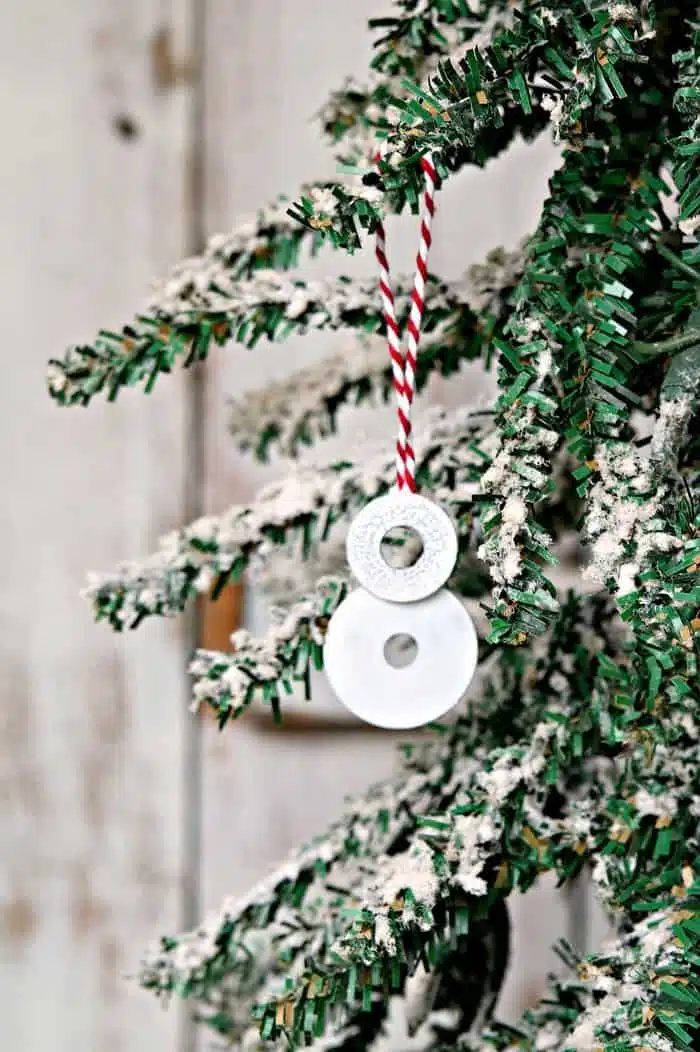 I used two different sizes metal washers to make the simple snowman above. The red and white cord is from Target. A purchase I made a couple of years ago.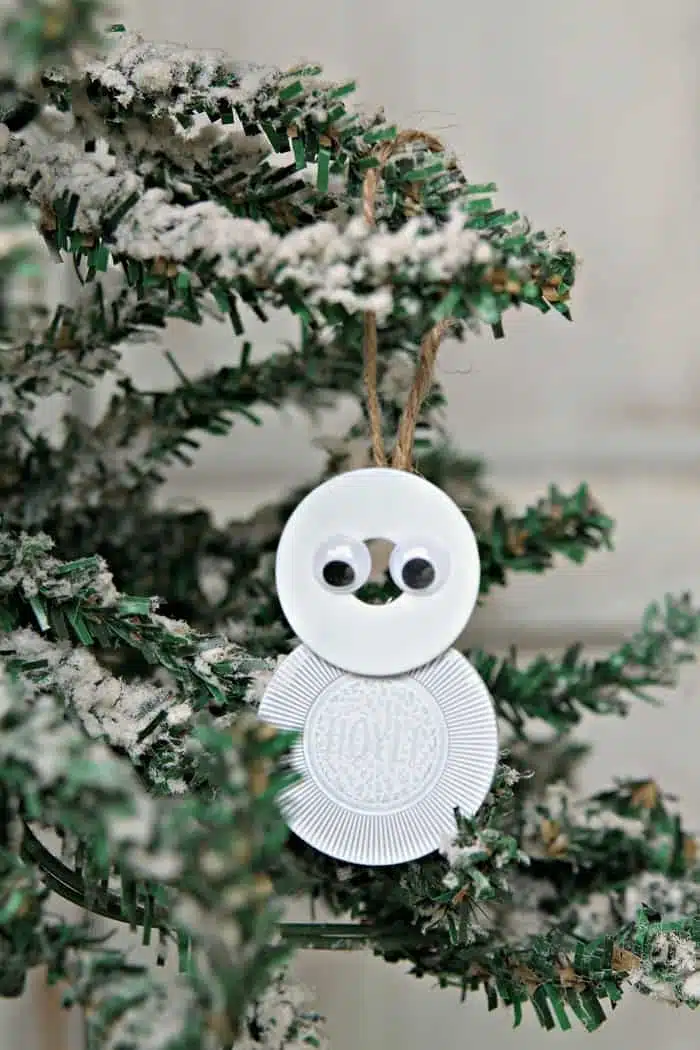 Do you think this "snowman" looks like an Owl? I do but the JTS said it looked like a snowman to him.
I added a bit of pizazz to a few of the guys with different accessories. I don't know if you would call eyes an accessory, I have a thing for googly eyes, and sisal rope, and faux succulents.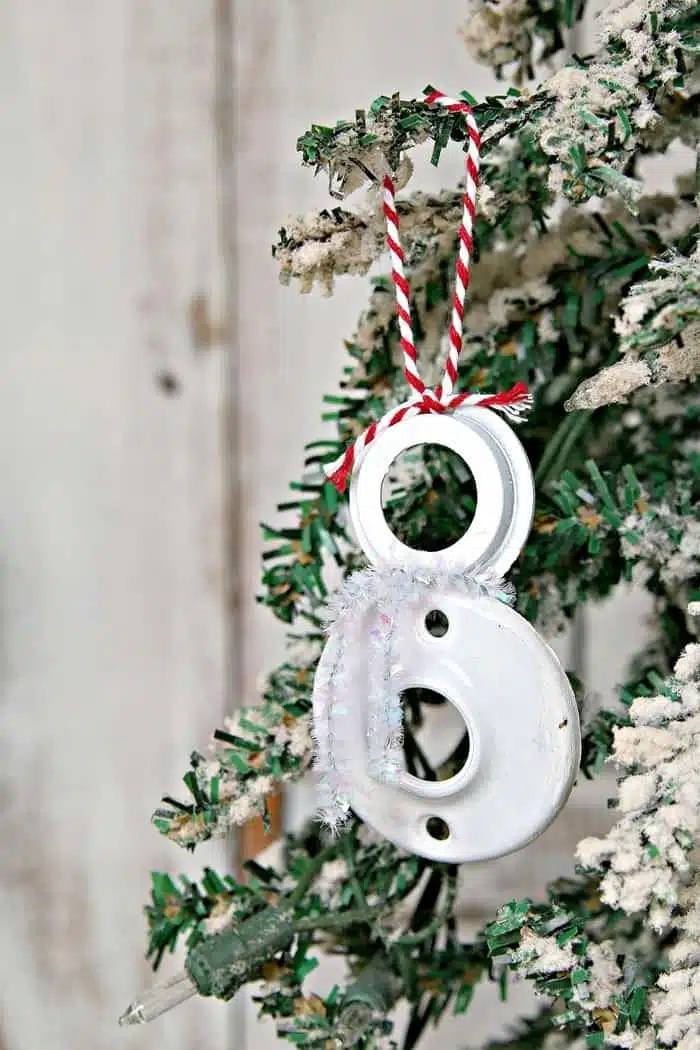 To accessorize this snowman I added a sparkly pipe cleaner scarf. All of this stuff was in the workshop. I didn't head to the store for anything special. The "head" of this snowman is some kind of rubber fitting.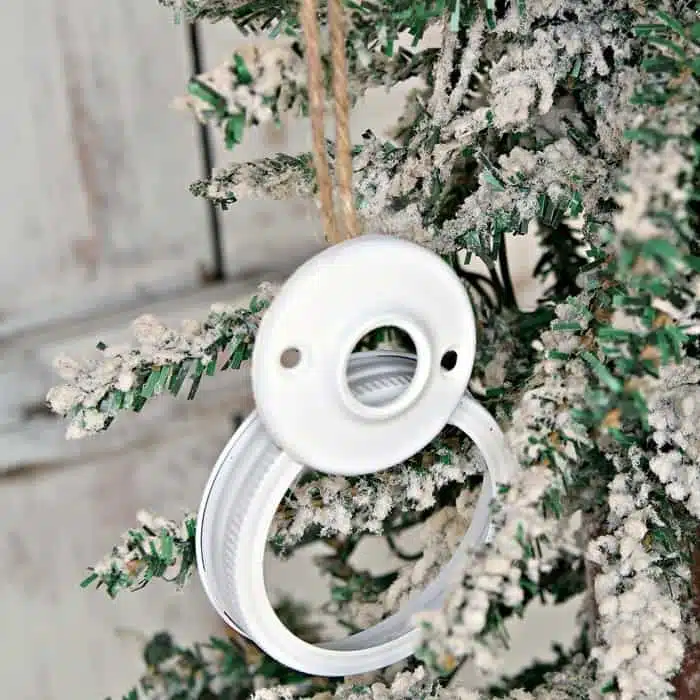 The simple snowman above is made out of that door knob part I don't the name of and a mason jar lid ring.
The ornaments can be used on gift wrapped packages, candle holders, all sorts of things. Make some to give as gifts.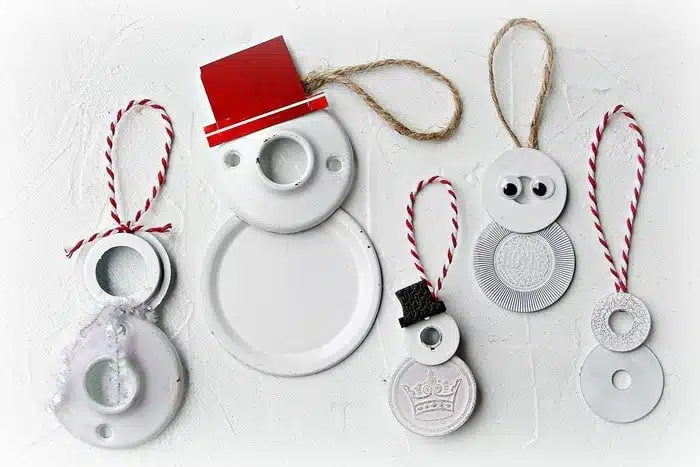 I made a bunch of snowmen in no time at all. Make gifts for everyone or have your own snowman ornament tree this year.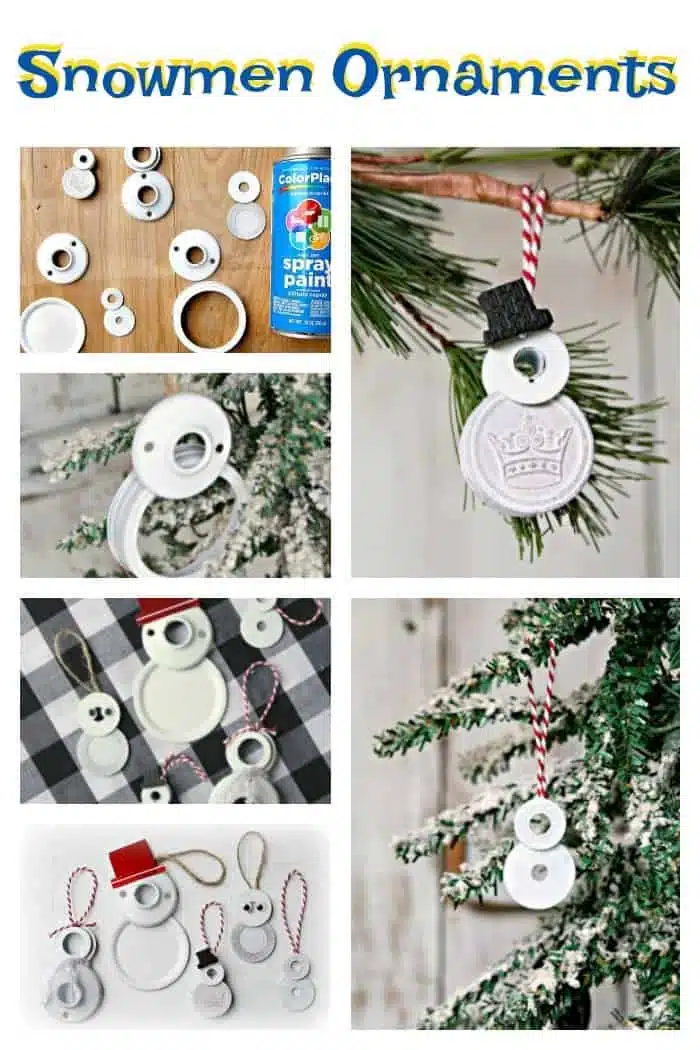 Find my other DIY Christmas Ornaments here........Teacup Ornaments.....Silver Bell Ornaments......Vintage Card Ornaments.
Which DIY snowman ornament was your favorite? I'm partial to the washer one and the black top hat guy. Time to take the Thrift Store Decor Tour. Just click the pink text links below the "before" makeovers photo collage…..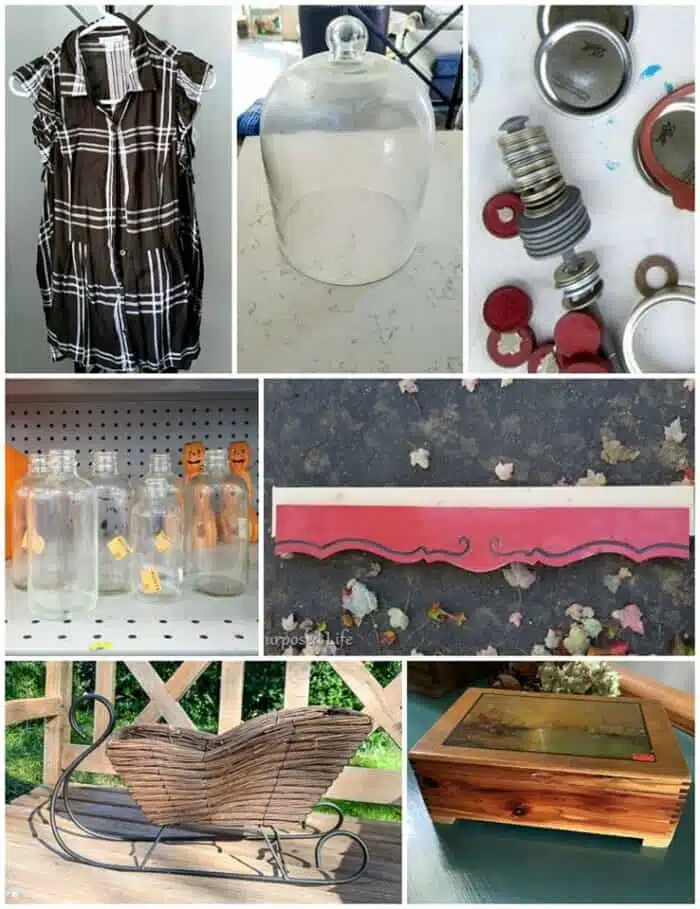 DIY Hand Warmers My Uncommon Slice of Suburbia
Christmas Vintage Wonderland Cloche Domestically Speaking
DIY Snowmen Ornaments Petticoat Junktion (you are here)
DIY Amber Glass Bottles with a Twist Sadie Seasongoods
Christmas Stocking Shelf My Repurposed Life
Christmas Sleigh Centerpiece Our Southern Home
Christmas Card Organizer House of Hawthornes
Find my favorite DIY products here.
As always thanks for being here and have a great day, Kathy
Author: Kathy Owen (Petticoat Junktion)
Kathy is the founder of PetticoatJunktion.com, a home décor blog focused on repurposing and upcycling furniture, old hardware, rusty stuff, and thrifty finds into unique home décor. Kathy's projects have been featured on the Home Depot Blog, Plaid Crafts, Behr Designer Series, and in numerous magazines. Read more about Kathy here.