Well guys, this is going to be a ridiculously short post. Just sharing three easy Summertime DIY projects, I think you will love. The DIYs feature three of my favorite things; spray paint, sisal rope, and hot glue. I have a few photos and even fewer instructions. The video tells the whole story much better than I can explain it.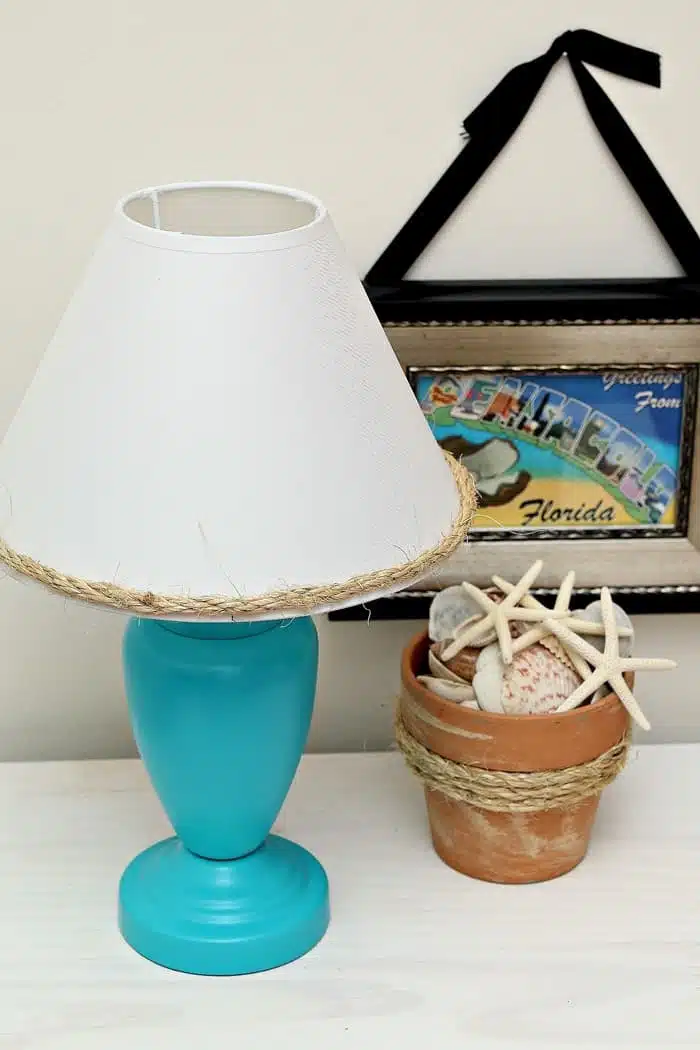 Summer décor should always include a few seashells or, in my case, seashells all over the house. The sisal rope pot took, oh…..about 2 minutes to make. Same goes for the lamp shade adorned with sisal rope. And the picture frame you'll see in a bit took even less time.
Remember that most projects I post can be customized to your style, in place of sisal rope, substitute ribbon, yarn, lace, jute rope, thin belts, etc. Maybe add a flower or a piece of bling to the lampshade. Just take my ideas as a starting point and run with them.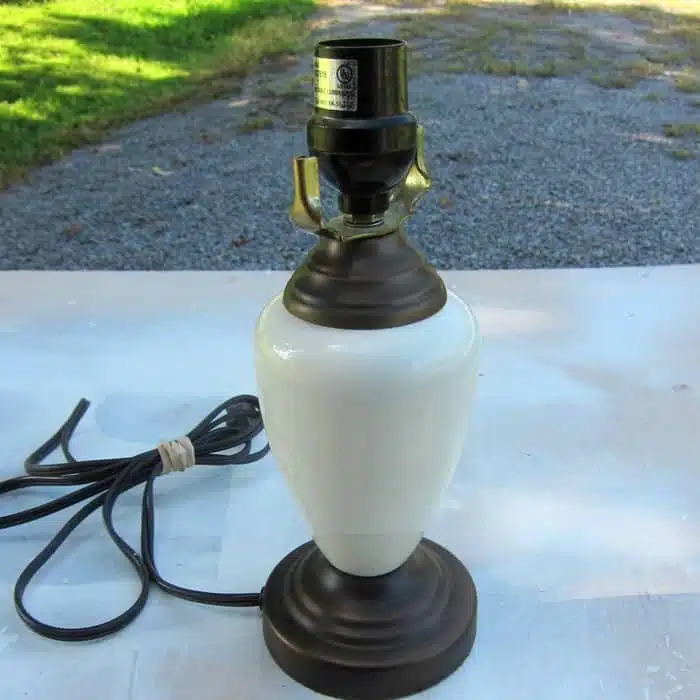 This is how the lamp looked before the spray paint treatment. I don't remember where I bought the lamp or how much I paid for it.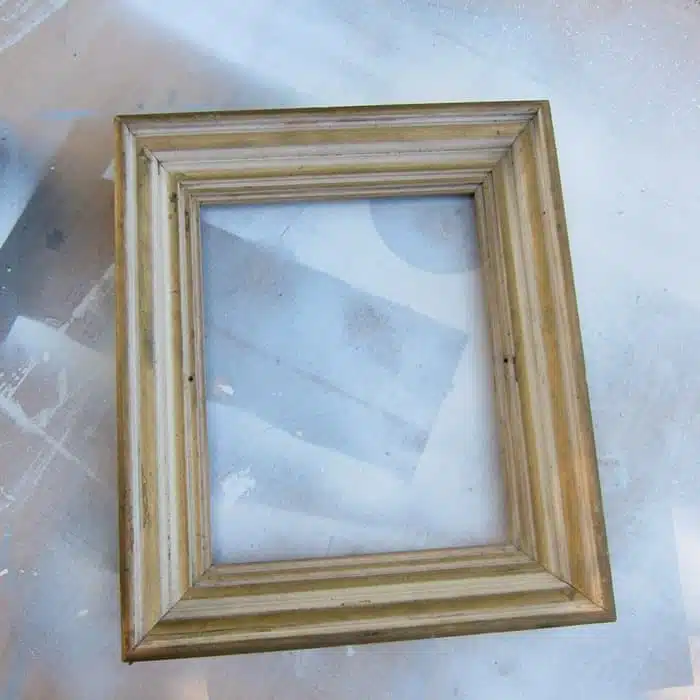 This is the frame and ditto on the frame as far as cost and where I got it.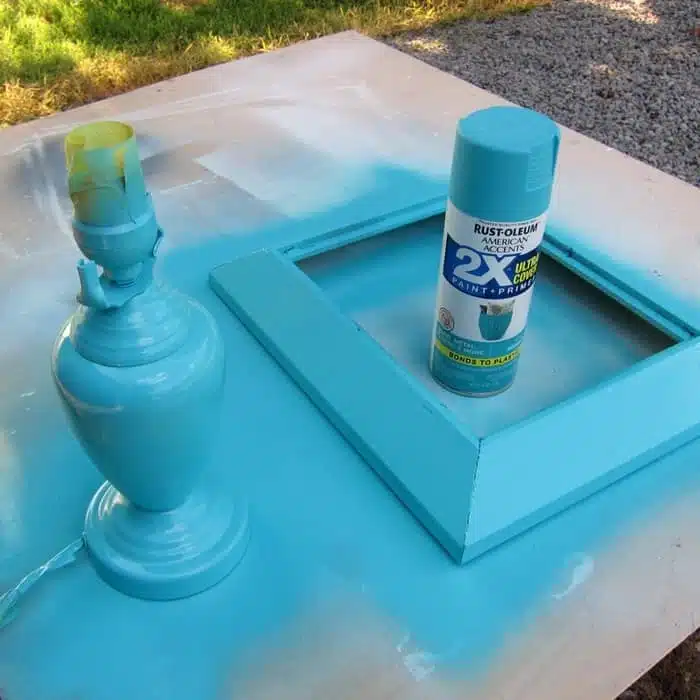 The pretty turquoise spray paint is Rustoleum, Seaside color, my new favorite. You can see I painted the backside as well as the front of the frame. I covered the cord and the bulb area of the lamp with painter's tape.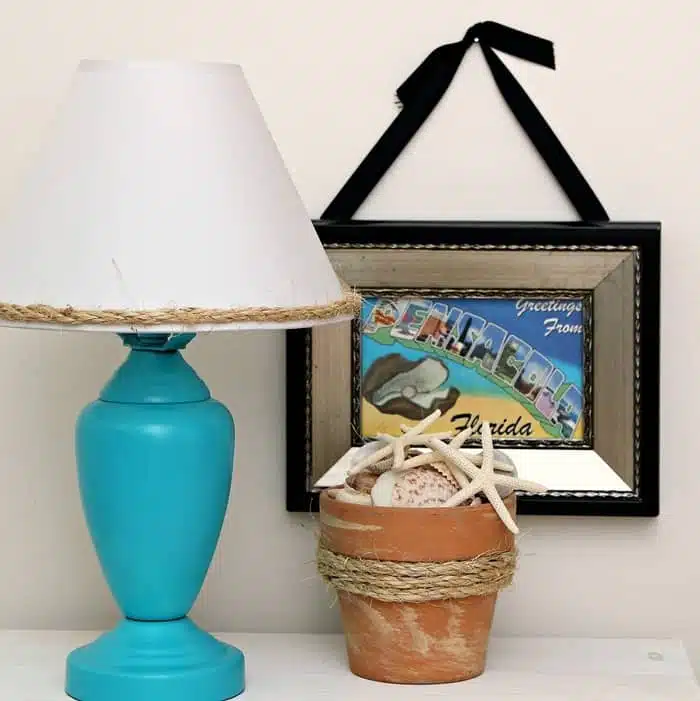 The black and silver frame showcases a Pensacola postcard. On a whim, I added the black ribbon to the frame. I bought the framed postcard at Alyssa's Antiques when we lived in Florida, and I had a booth at Alyssa's.
When I opened my first booth at Alyssa's in 2006, her shop was in an old building in Pace, Florida on the main highway. She opened a second location in Pace before I moved, and I also had a booth there. Now she has 50,000 square feet and a variety of stores in her "campus" in Pace. If you guys are ever in the Pensacola area, you have to visit Alyssa's. It's amazing.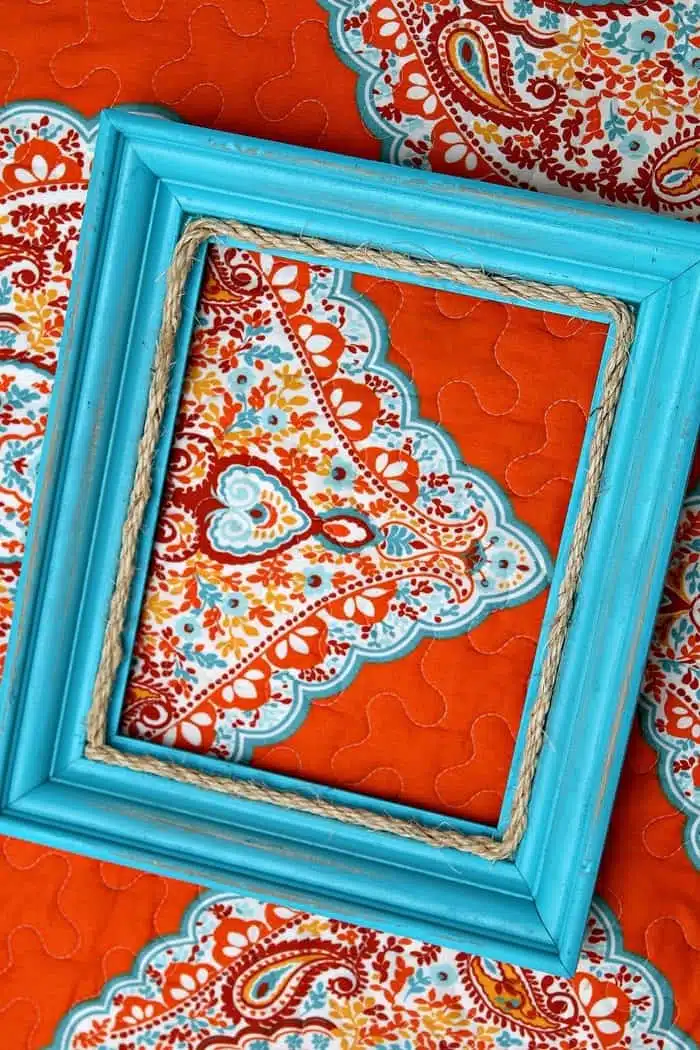 I plan to sell all three projects in my booth and I didn't have the perfect place to display the frame so I laid it on the bed in the Orange and Turquoise Bedroom. That bedding makes me smile.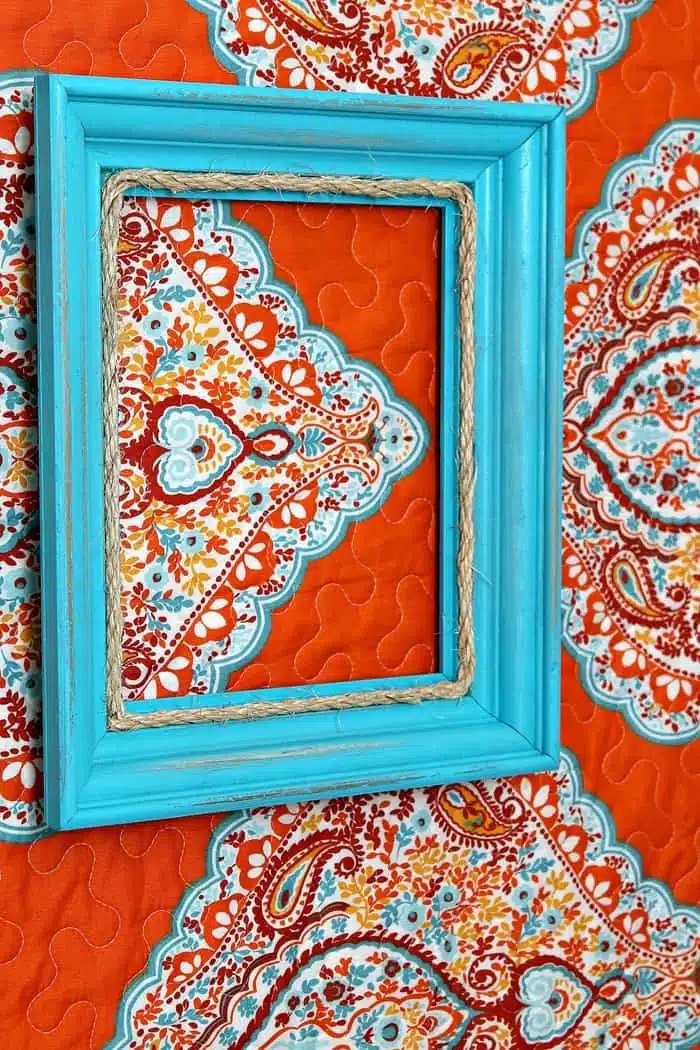 It is so easy to take a frame from blah to ahhhhh.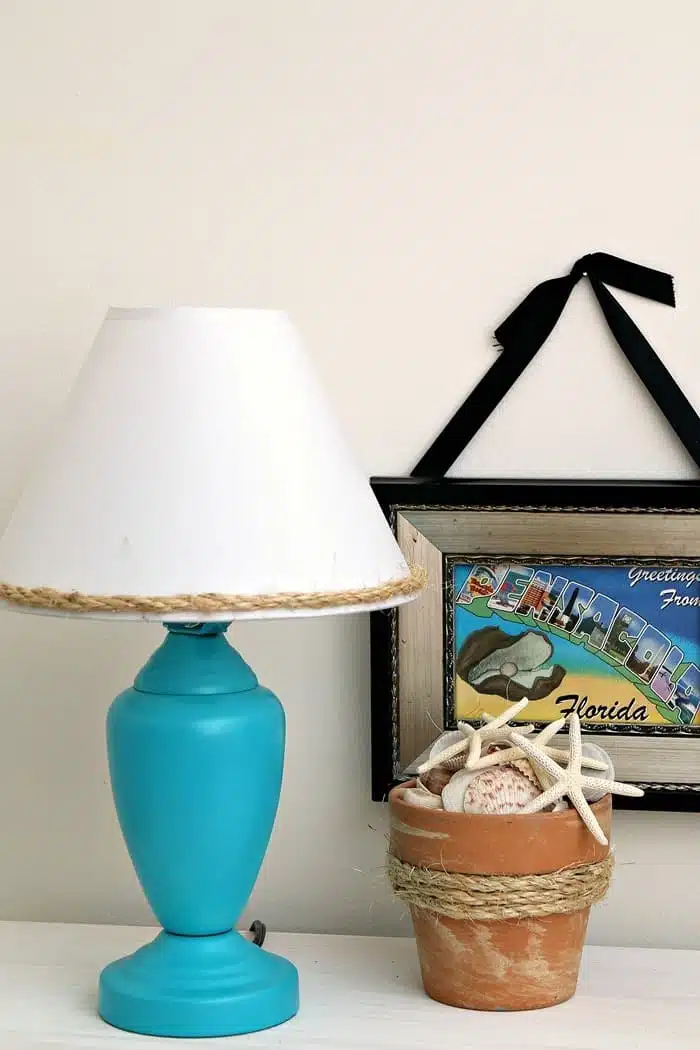 I could have added more sisal to the lamp shade and I also could have wrapped a bit of sisal rope around the lamp. Didn't want to overdo it.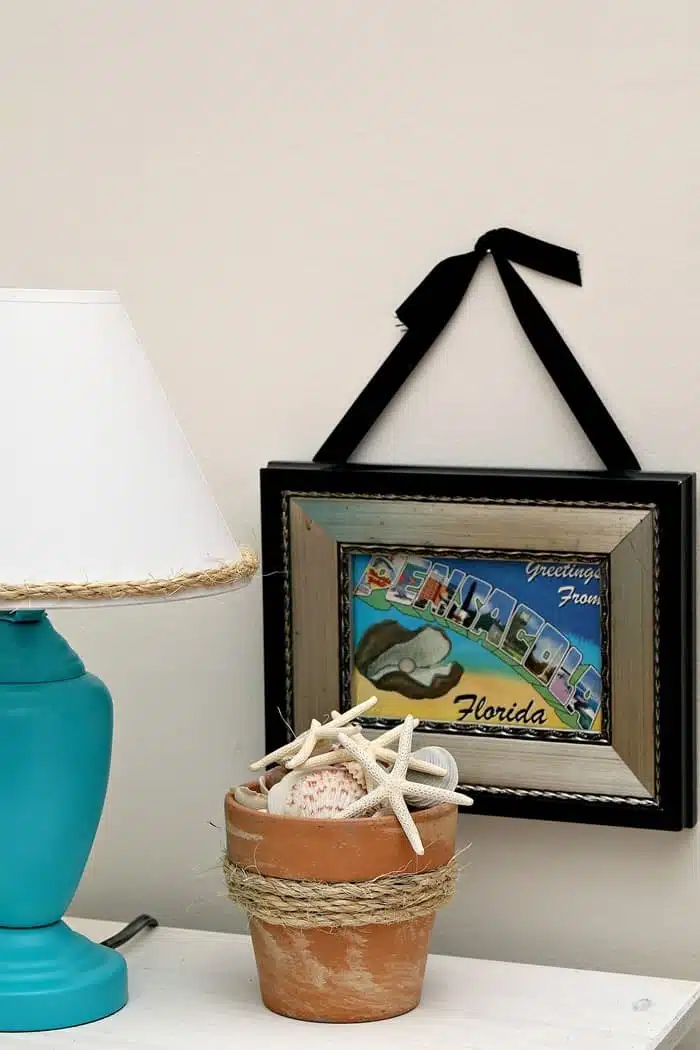 I love those little starfish. I and other family members picked up the shells on beach vacations. The starfish are an eBay or Amazon purchase.
Time to see the video for no reason but to get a few laughs. A bit of the video is normal speed and a lot of it is 8x speed. It's funny when the video goes fast, and then all of a sudden, I'm moving at normal speed. I speed them up to keep you from sitting through 3 or 4 minutes of me gluing sisal on everything. The whole video is less than 4 minutes for the 3 projects. Click below to view the video…..
Easy Sisal Rope Projects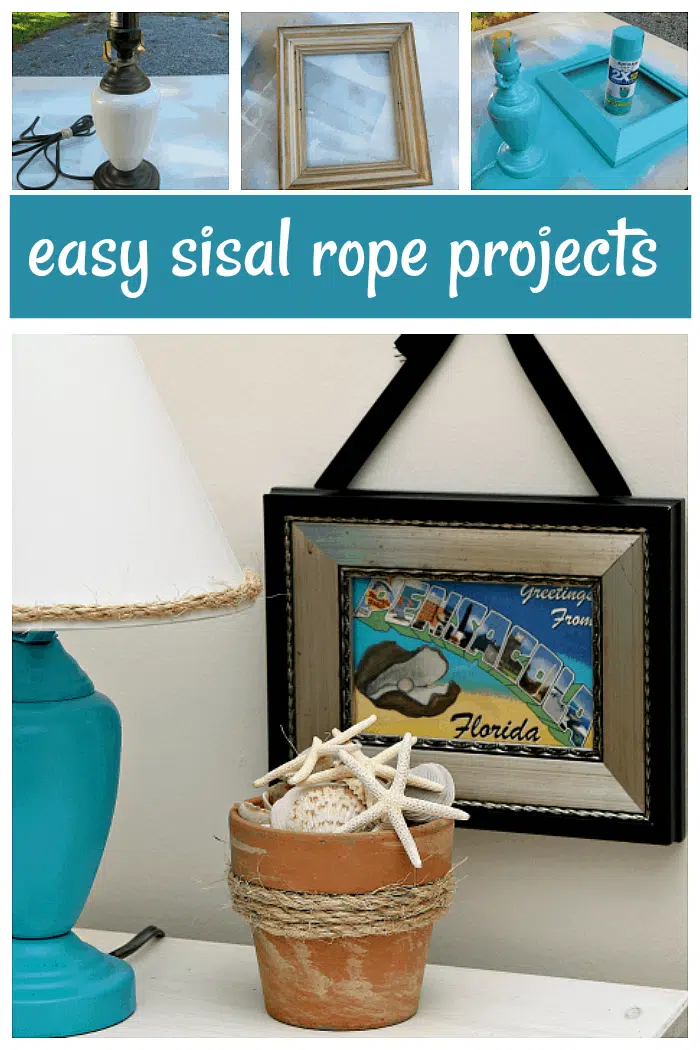 Ridiculously Easy Summertime DIY Projects
That's it. Do you guys like the videos? They are definitely not professionally done and I just go with it as I am…paint splattered work clothes, messy hair, whatever. What do you think of the Seaside color paint? I love it.
Leave a note and have a great day, Kathy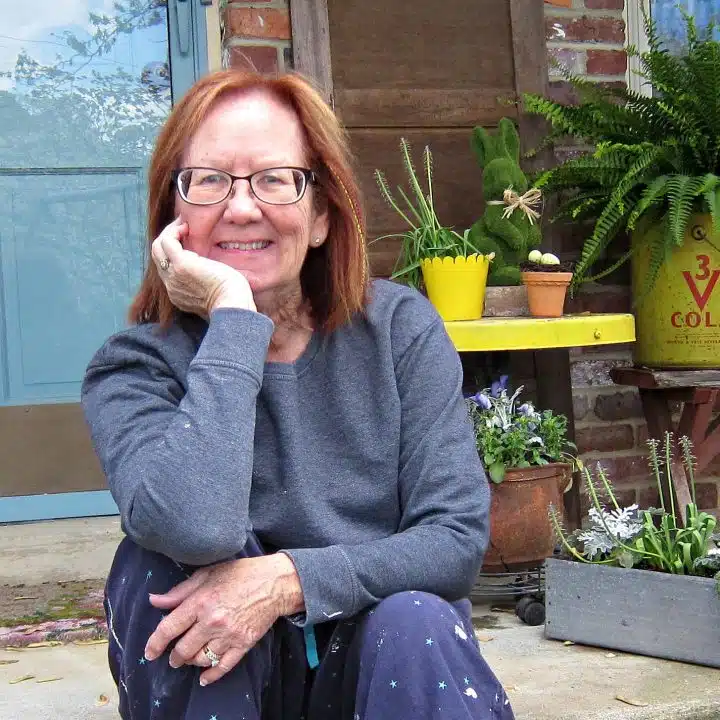 Author: Kathy Owen
Kathy Owen is the founder of the home decor blog Petticoat Junktion where she shares tutorials on painting furniture and upcycling thrifty finds into unique home décor. Her DIY projects have been featured on the Home Depot Blog, Plaid Crafts, Behr Designer Series, and in numerous magazines. Kathy's newest website is HappyHomeDIY.com