Fall-inspired DIY pumpkins made with thrifty finds, old stuff, and reclaimed items.
Let's face it: nothing says Fall like pumpkins. I love real pumpkins but they don't last long and it's an expense you have every year. Making DIY pumpkins from things you have on hand saves money plus you have unique decor made in your own personal style. These 13 pumpkin projects can be made with various items.....
1. Soft Sweater Pumpkins
I covered foam pumpkins with thrift store sweaters to make these recycled sweater pumpkins. I have to say they are much prettier than the plush pumpkins I spotted at Anthropologie for $42. Would you pay $42 for one smallish plush pumpkin? Not me. I made three sweater-covered pumpkins for less than $8.
2. Bandana Fabric Covered Pumpkins
I have a thing for bandanas and bandana print fabric. There are numerous uses for the bandanas and I love what Sarah, Sadieseasongoods, did with these. She used embroidery floss along the sides of the pumpkins to take them to the next level!
3. Basket Pumpkin
How cute is the basket pumpkin from Organized Clutter? The basket didn't look so good when Carlene found it at a garage sale. A little spray paint, new stem, added greenery, and tadah! So much better.
4. Quilt Pumpkins
Create cool DIY pumpkins using recycled wood, an old quilt, and pom-pom fringe. A quilt I bought at an estate sale inspired these pumpkins.
5. DIY Corbel Pumpkins
The cute wood block pumpkin diy is the easiest thing ever. I used square wood blocks from the hardware store, orange paint, and tree stems to put the project together.
6. Pallet Pumpkins
Gail was originally going to use the reclaimed wood from an old pallet for a coffee table. But that didn't work out so she made a template and cut out this cute pumpkin. The stenciled design is the perfect touch.
7. Scrap Wood Pumpkins
Make these scrap wood pumpkins in a matter of minutes. They are so easy.....and so fun. I made 18 wood pumpkins, three reclaimed wood pumpkins, and 15 wood rosette pumpkins. Find the tutorial here.
8. DIY Pumpkin Refrigerator Magnets
These magnets from Homeroad are so cute. I would have never thought to make pumpkin magnets. These are fun and you can keep them on the frig through Thanksgiving.
9. DIY Twine Pumpkin Sign
This Pumpkin Sign for Fall has a farmhouse-style look. I need to make one because the neutal color is perfect for any room of the house. The sign is on the small size, but Maryann, Domestically Speaking, says you can use this project as an inspiration for any size sign your creativity imagines.
10. DIY Flannel Pumpkins
Christy covered old styrofoam pumpkins with flannel for this fabulous upcycle, and it's no-sew! The flannel colors are not typical Fall colors and I love that. Sometimes the orange in all the Fall decor is a little much.
11. Fancy Cloth Pumpkins
Michelle made several fabric pumpkins using old clothing but my favorite is the sequined pumpkins because I love sparkle. She cut beading from a thrifted shirt to make these over-the-top DIY pumpkins.
12. Burlap Pumpkin
That burlap pumpkin sure looks soft and cushy. I bet you can't guess what it is filled with. This is a great recycling project using those plastic garbage bags we all have at home. Great Idea!
13. Yarn Pumpkins
Find my favorite non-DIY Fall decor from Amazon here.....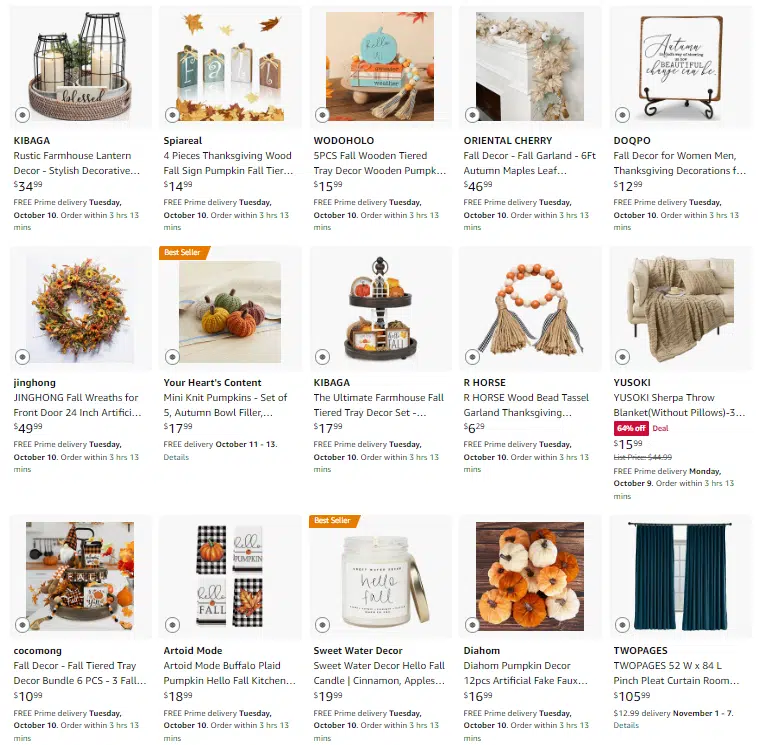 The yarn pumpkins are made with foam pumpkins and yarn from the Dollar Store and Walmart. I love the variety of yarns used in this project. The pumpkins are so unique. I need some yarn......That's a wrap!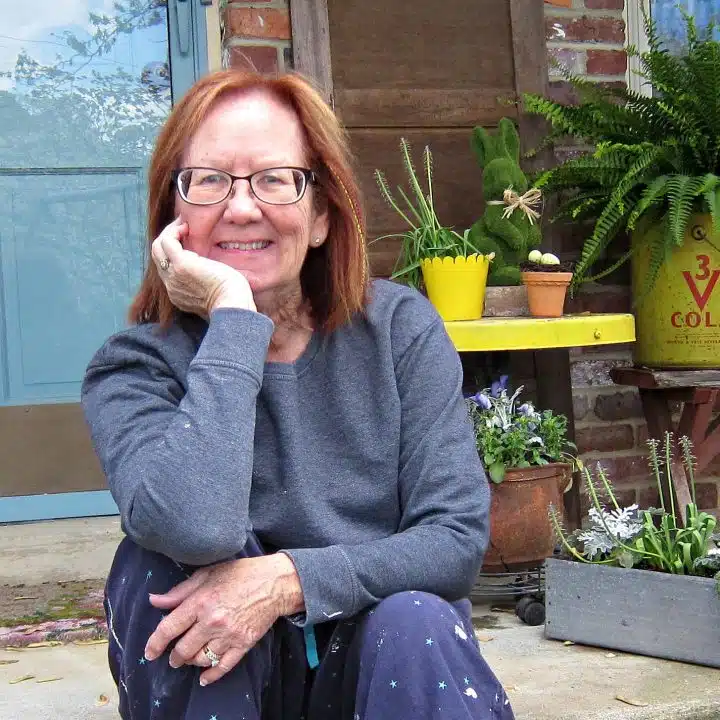 Author: Kathy Owen
Kathy Owen is the founder of the home decor blog Petticoat Junktion where she shares tutorials on painting furniture and upcycling thrifty finds into unique home décor. Her DIY projects have been featured on the Home Depot Blog, Plaid Crafts, Behr Designer Series, and in numerous magazines. Kathy's newest website is HappyHomeDIY.com