Yep, I finally made it. The 127 yard sale also known as "The World's Longest Yard Sale" has been on my bucket list for years.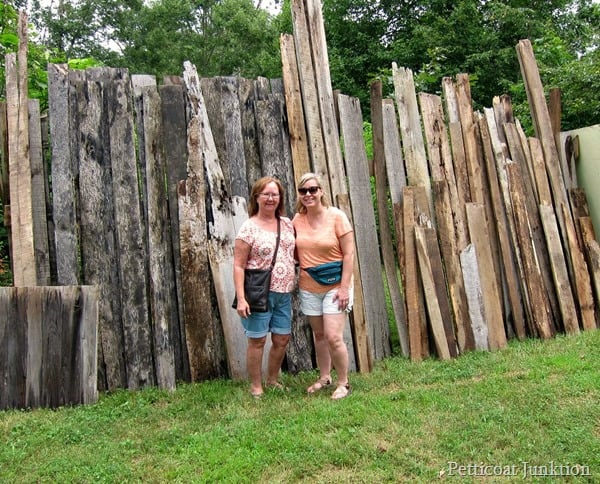 My friend Angie of Postcards From The Ridge and I had great fun shopping the day away on Friday. How about all that barn wood! We asked one of the vendors to take this photo. All of the vendors we met on the trip were super nice. This gentleman was from Chicago. We talked to vendors from Pennsylvania, Minnesota, Florida, and many other places this girl can't remember.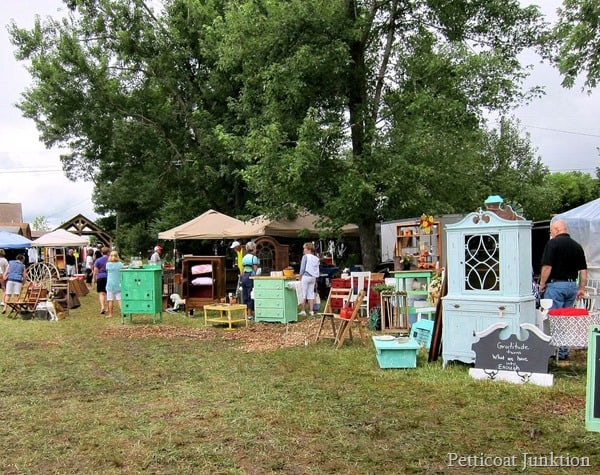 There were areas with a lot of vendors in one spot then there were areas along 127 where there were 2 or 3 vendors along the side of the road.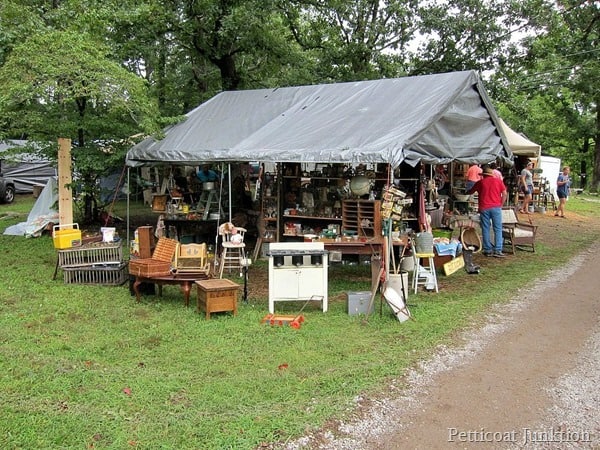 We saw everything from rusty tools, to new/used toys, to fine antiques.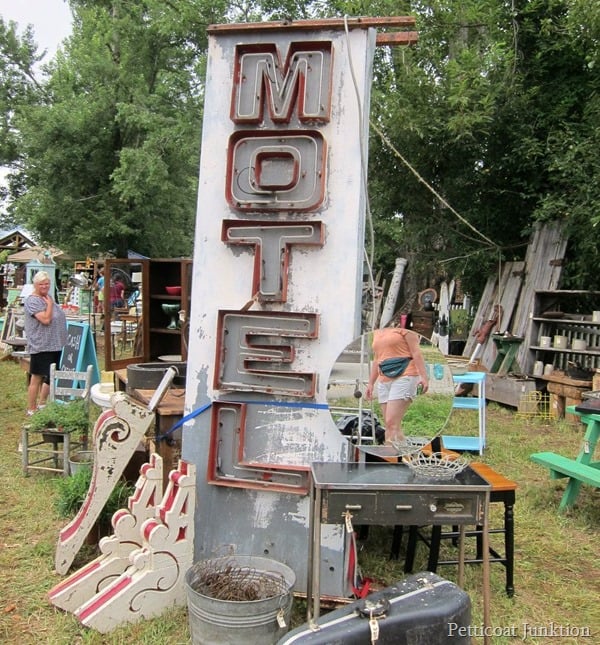 The motel sign and the architectural pieces are just a few of the things that caught my eye.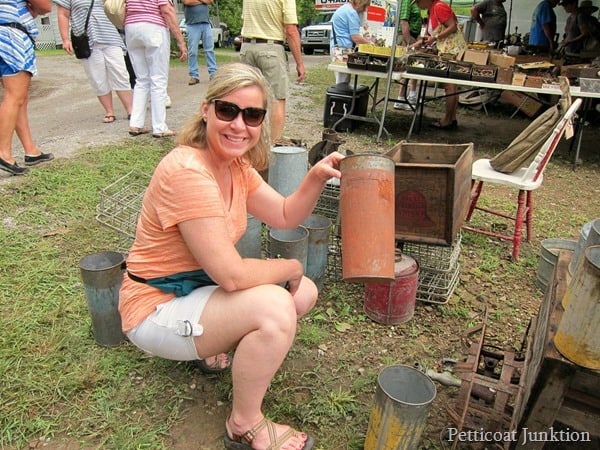 Angie fell for the sap buckets. I had no idea what they were but I was loving the streaky paint on the yellow bucket. Angie couldn't decide if she wanted the buckets so 20 minutes later when we circled back several of them were already sold. She ended up with three,…blue, rusty orange, and yellow.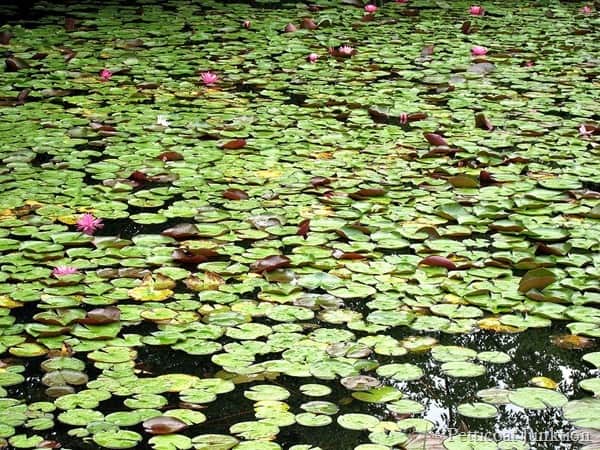 A small pond full of lily pads was at one of our stops.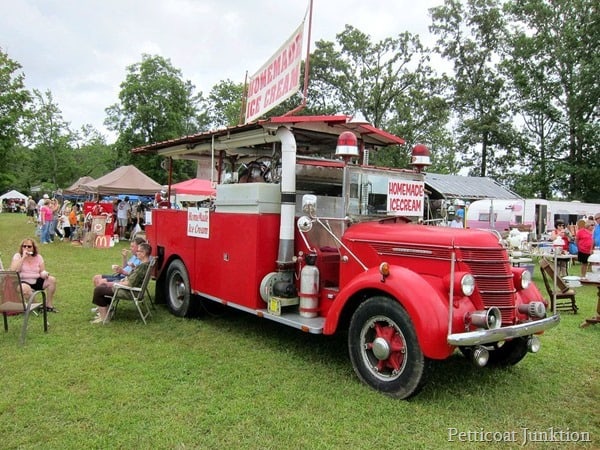 Another of my favorite things…and I didn't even get any ice cream. I love homemade ice cream. I think banana is my favorite flavor. Do you guys like homemade ice cream?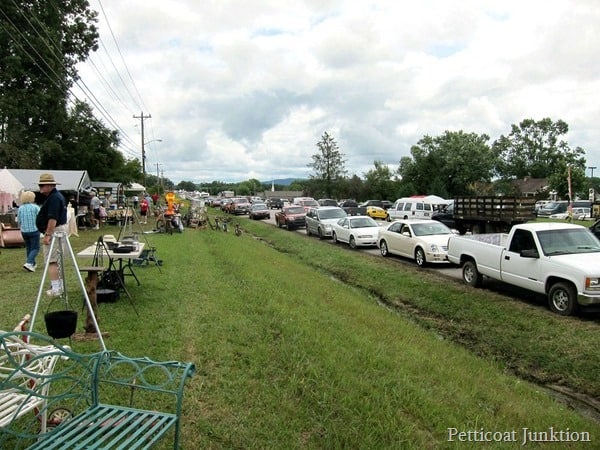 The ground was quit soggy in places. According to several vendors it poured on Wednesday and Thursday. I'm glad we missed that. It was heavily overcast most of Friday which was great! Wasn't nearly as hot with the cloud cover. Traffic as you can see in this photo was back to back. We would drive for a while without any problem then we would come to major backups. You definitely need to have a laid back attitude and a lot of patience if you want to enjoy the 127 sale.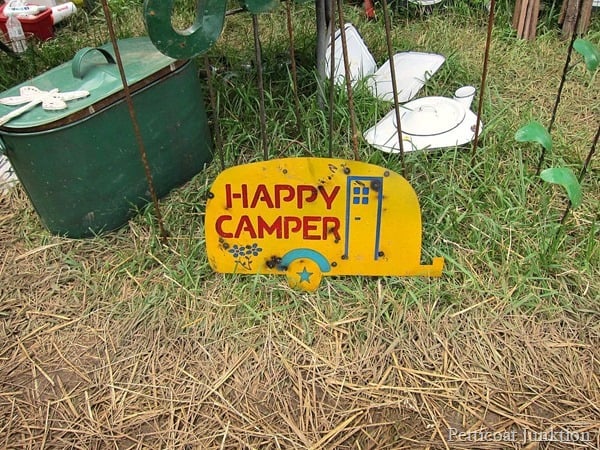 The "Happy Camper" sign was just the cutest! The colors are perfect together.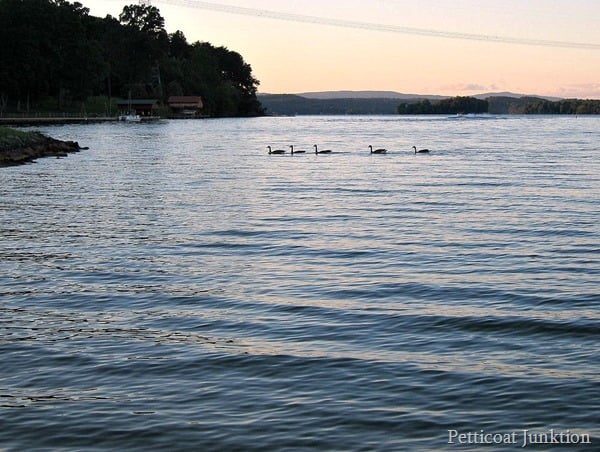 The end of day 1 of the 127 yard sale adventure. Sunset on the lake.
Do you know how it is when you look forward to something…..especially something that's been on your list of things to do for a while. Sometimes it's everything you expected …..and more. And sometimes it's not. I was a little disappointed in the 127 sale. I think the event has been advertised and commercialized to the extent that a majority of the vendors are professional dealers and the prices at the sale are not cheap to say the least. At least that's what we found in the area around Crossville, TN where we shopped. Other areas of the 127 may have been different. The sale does extend through 6 states and over 600 miles.
You guys know my everyday shopping places consist of junk, thrift, and flea. I guess I expected the sale to be more of a "yard sale" than what it was. I truly looked forward to driving along 127 and stopping at homes along the way….shopping….and talking with the homeowners. We stopped at one official "yard sale" and it was only because we accidentally got off of 127.
I did enjoy the trip and hangin' with Angie. That was the best part. We ended the day with a lot of talk about the day and a lot of talk about blogging….I know….but that's what we do. We started the next day with coffee, Honey Nut Cheerios, and talking. Can't beat that.
I'll share more photos from the trip next week. Have you guys shopped the 127 yard sale? If you have, what are your thoughts on the event.
Thanks for being here. See you tomorrow. Kathy
Click here to receive Petticoat Junktion by email for free!
Author: Kathy Owen (Petticoat Junktion)
Kathy is the founder of PetticoatJunktion.com, a home décor blog focused on repurposing and upcycling furniture, old hardware, rusty stuff, and thrifty finds into unique home décor. Kathy's projects have been featured on the Home Depot Blog, Plaid Crafts, Behr Designer Series, and in numerous magazines. Read more about Kathy here.