I bought stuff at the junk shop, an outdoor flea market in Kentucky and things from an online auction. I have furniture, red white and blue stuff, and junky things to share.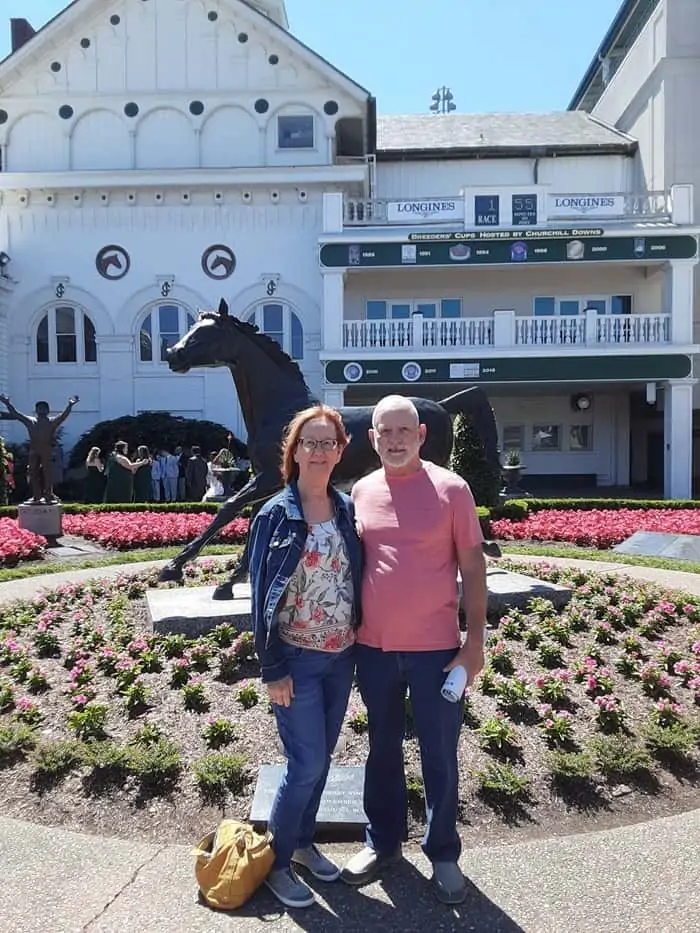 I bet you're wondering how the photo of me and hubby fit into the junk shopping post. It doesn't but just thought you guys might want a peek at us together. We took a weekend trip to Louisville and went to Churchill Downs. The only trips we've been on for the past several months were to Arkansas to spend time with family. This trip was a nice change.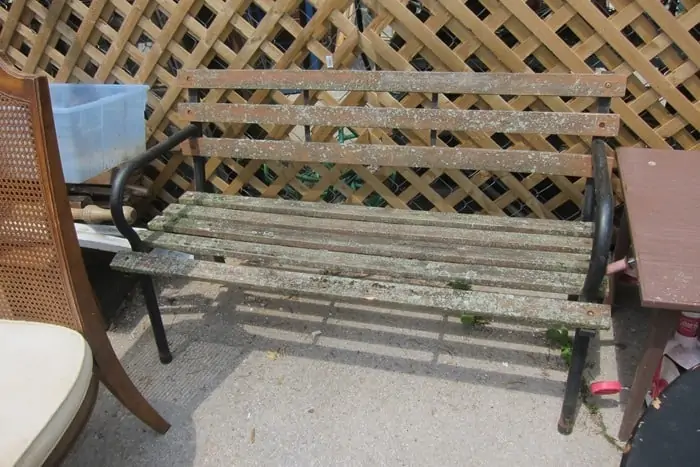 Now it's time to get on with the junk show. I spotted this bench at my favorite junk shop and really meant to buy it but forgot!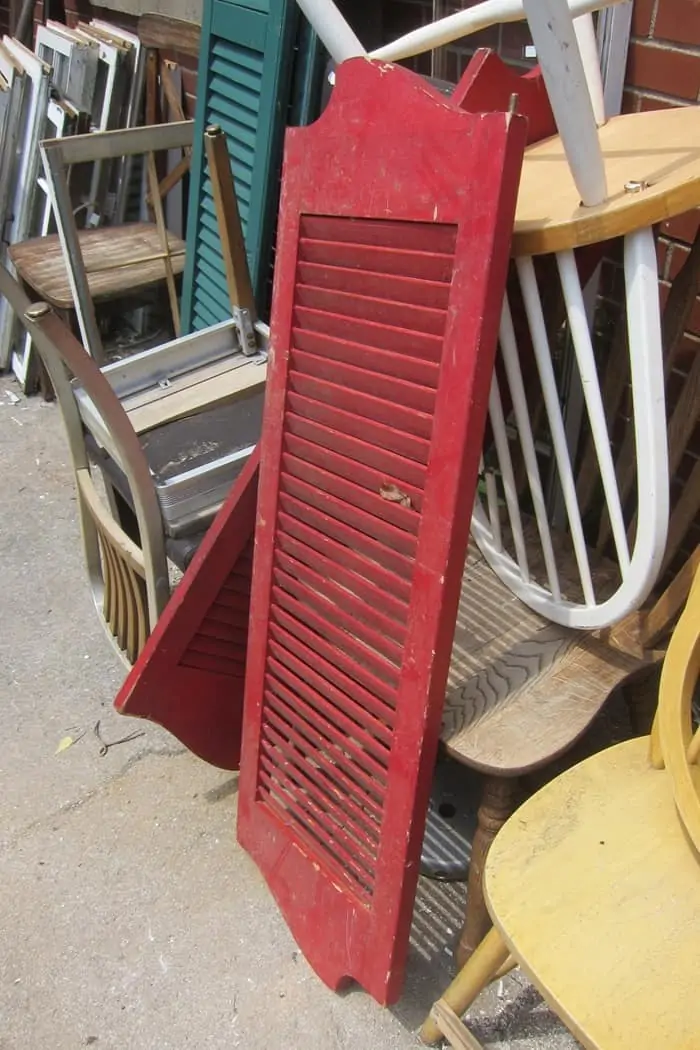 I bought the pair of red shutters. I'm not sure what the curvy style is called or where these shutters were used. I don't like the curves but the red is perfect. The pair was $8.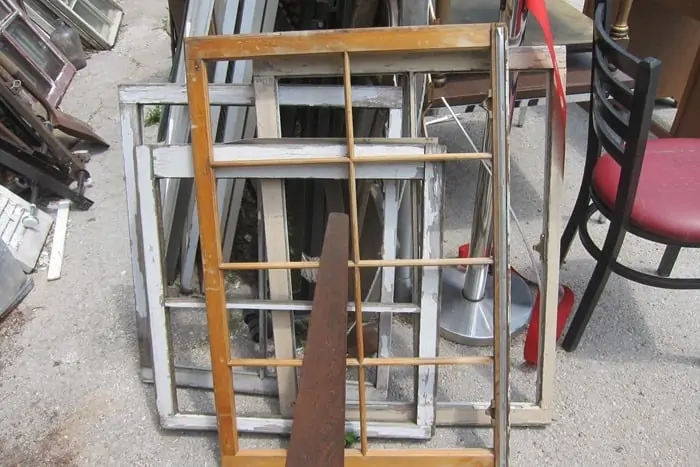 I got the three wood window frames without glass for $5 each. I don't use them for projects anymore but they sell well. I'm not against using them in a project but I don't have any new ideas….how about you? I'm all ears.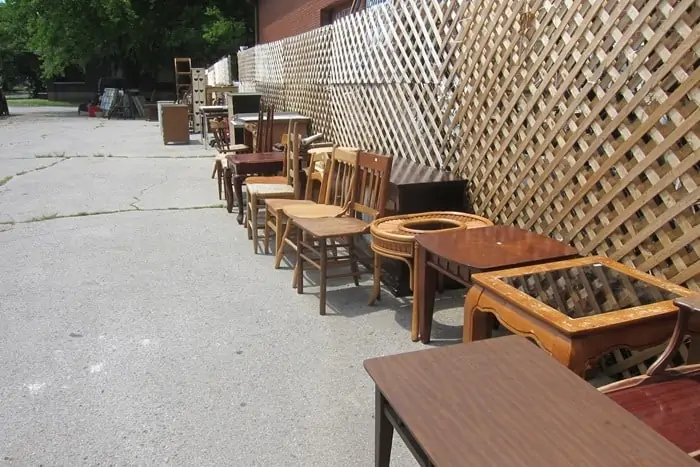 Not much furniture at the shop on this day, just a bunch of small tables and chairs.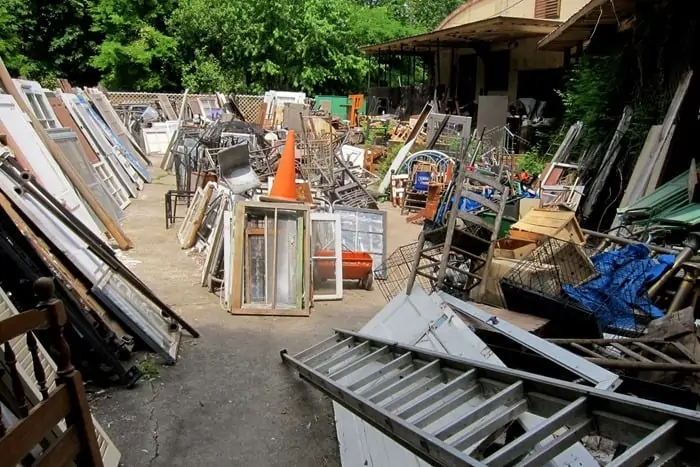 A look at the side lot where all of the reclaimed doors and windows are kept.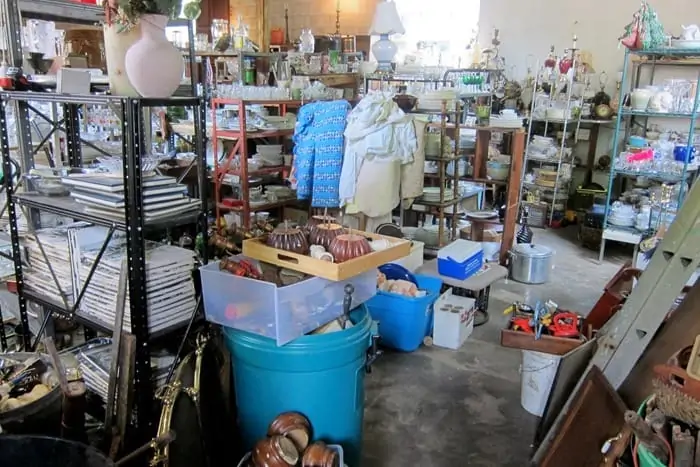 One of the inside rooms of the shop. A lot of glassware. I don't need glassware and it doesn't sell well unless it's a special piece.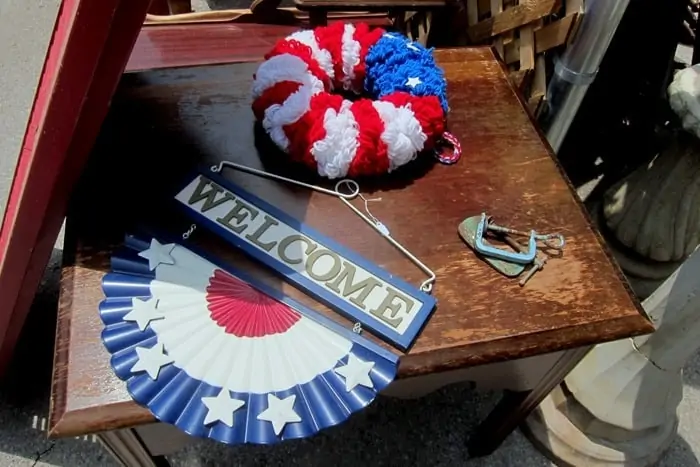 I bought the two red, white, and blue patriotic wall hangings. It's that time of year and I love the color combo. Do you guys see a project in any of the items I bought so far? Maybe put a few things together?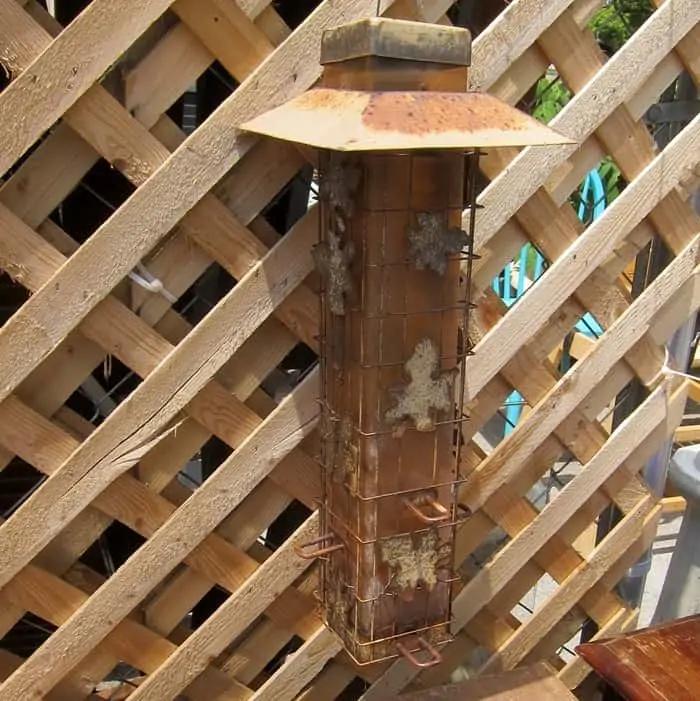 I spotted the rusty feeder at the last minute. Glad I didn't miss it. Bought it too and I think the price was $5.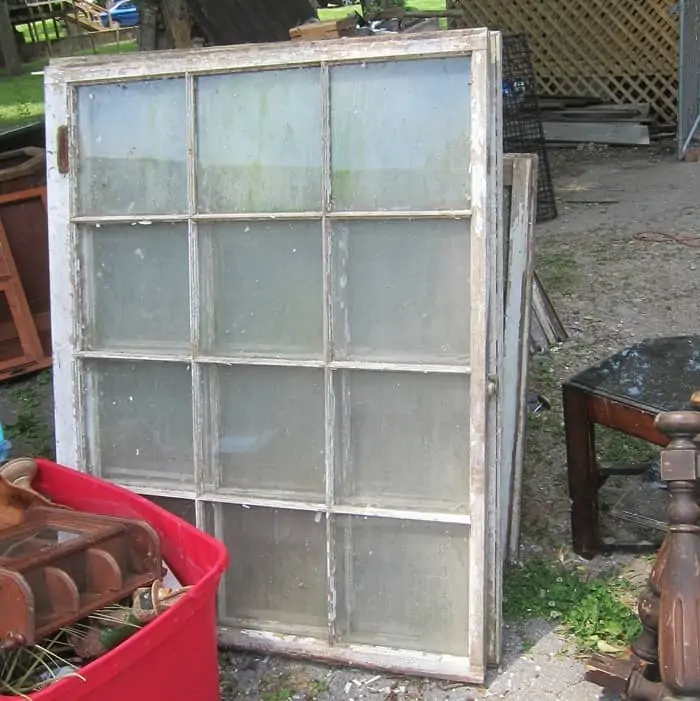 LARGE windows with glass. I don't buy windows like these unless I have a need for them. I'm always scared they will get broken in the booth at the antique shop.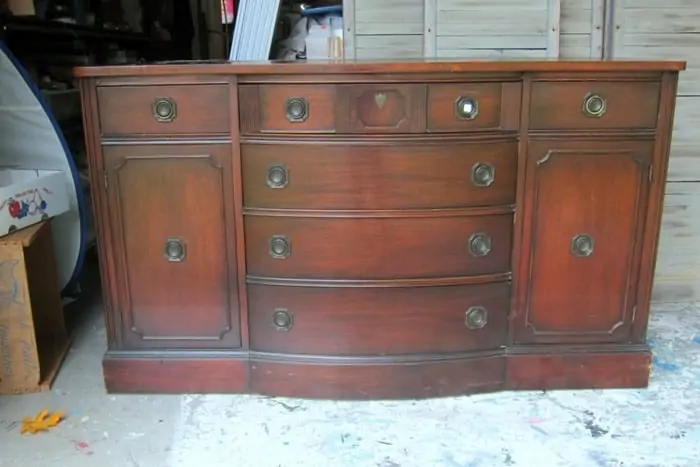 I bought the large vintage sideboard from an online auction and it was $40. I don't know why the bidders passed on it. The top is a little messed up but I plan to paint the whole piece anyway. FYI: for those of you who have asked about this auction the website is redriverauctions.com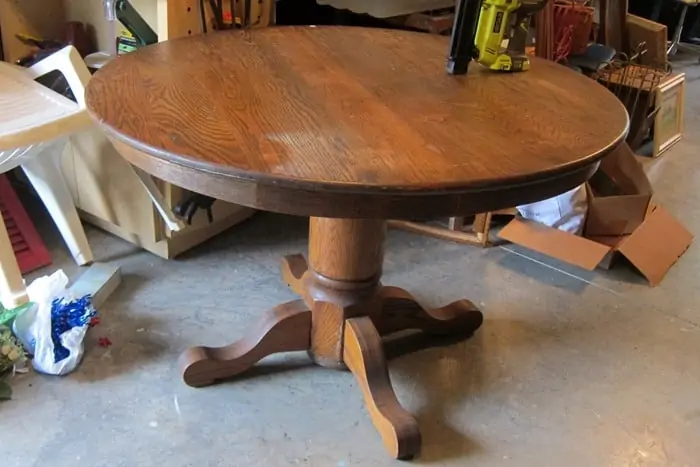 I also bought this fabulous round oak table from the auction for $30. I plan to paint it similar to this table here…….How To Paint An Oak Table And Re-Cover Chair Seats With A Drop Cloth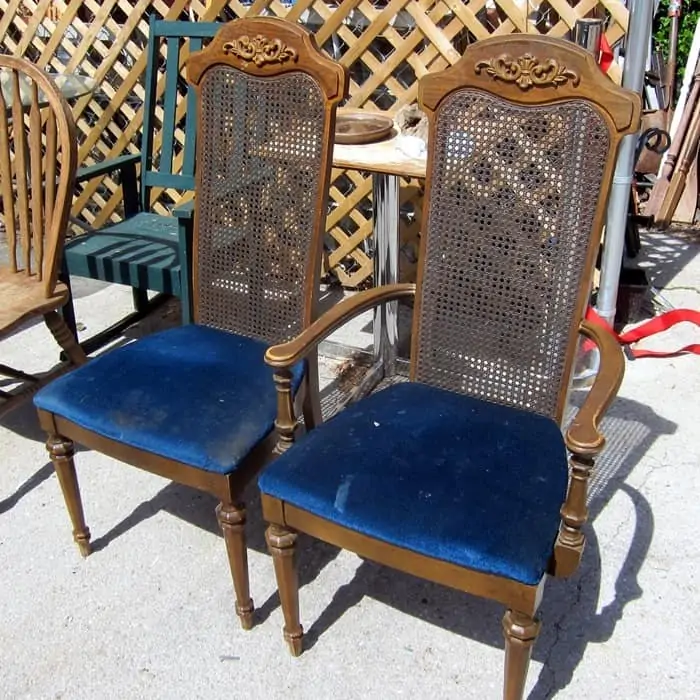 And I plan to pair the table with the set of four chairs I bought last month at my favorite junk shop. There are only two chairs in the photo above but I have four of them.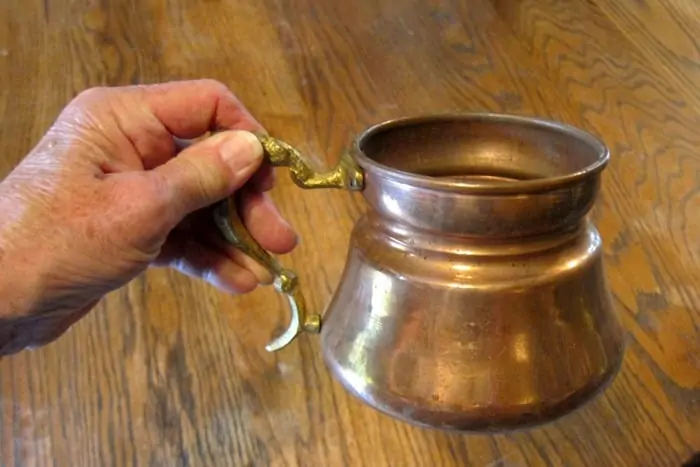 Moving on to the flea market in Greenville, Ky. They have the market every Tuesday morning during the Spring, Summer, and Fall and this week they were having a big sale on Memorial Day weekend and Memorial Day. The JTS and I took the side trip on our way back from Louisville on Monday afternoon. Most of the vendors were beginning to pack up but I managed to snag this small solid copper pot with gold tone handle for $2.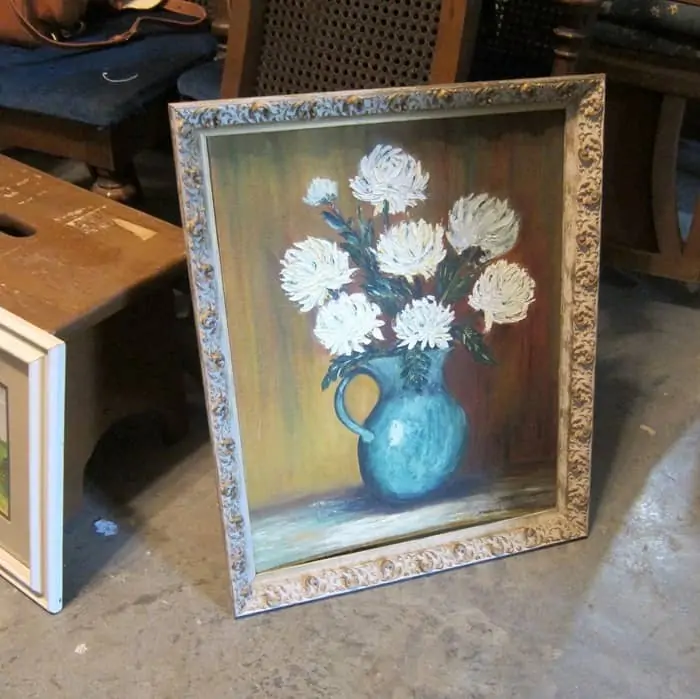 And I got the frame and painting for $2. I mainly wanted the frame. It will look great painted and distressed.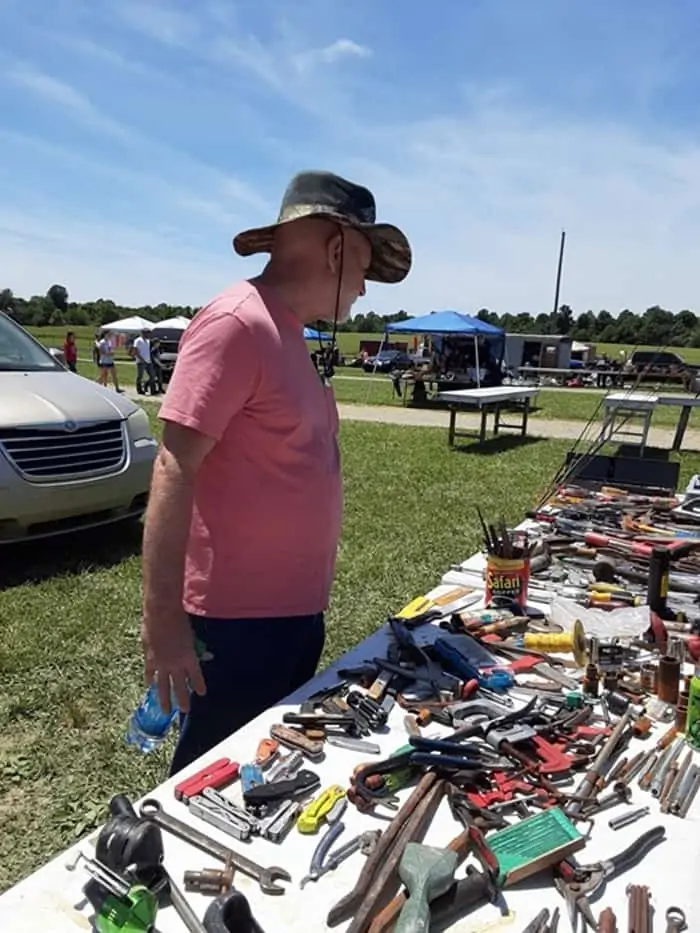 The JTS shopped right along with me and he bought the hat he's wearing in the photo for $3. We both spent the same amount of money at the flea market. A whole $6 combined.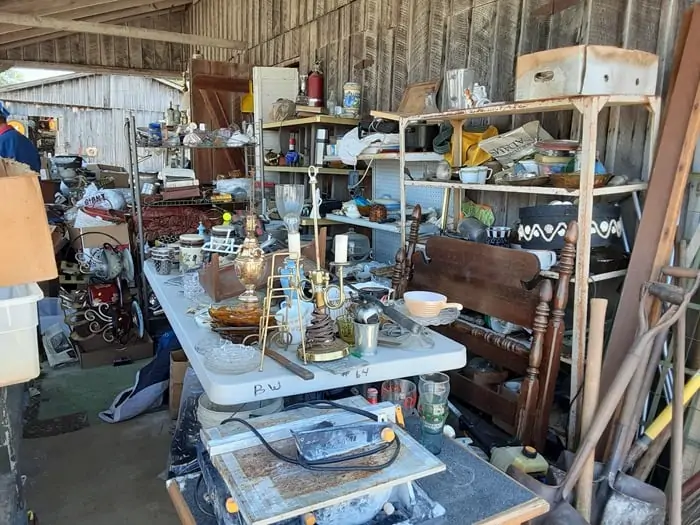 A few more photos from the flea market. There are a few buildings on the big lot and they may be open during the week. I'm not sure about that. The flea market is about and hour and fifteen minutes from our house so we don't normally drive up there.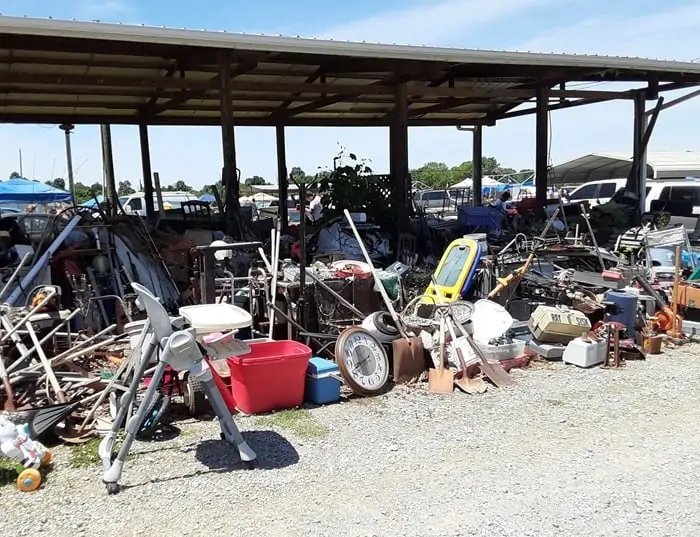 There was just a bunch of old junk under this shed with no one attending or selling the junk.
One gentleman had a nice small shop and he had a lot of cool vintage clocks. I didn't ask but I'm assuming he maybe restores them?
Well, that's the last of the photos. Did you guys have a fav piece and do you have any project or makeover ideas for me. Leave a note if you have time, Thanks, Kathy
Author: Kathy Owen (Petticoat Junktion)
Kathy is the founder of PetticoatJunktion.com, a home décor blog focused on repurposing and upcycling furniture, old hardware, rusty stuff, and thrifty finds into unique home décor. Kathy's projects have been featured on the Home Depot Blog, Plaid Crafts, Behr Designer Series, and in numerous magazines. Read more about Kathy here.