Small Table Makeovers From Big Ideas
Don't underestimate the power of small table makeovers. I mean, there is one table in particular in this group that has me swooning. I've never seen an expensive (when new) wood table like this where you can raise the table top.
Small tables are space efficient and they can really jazz up the appearance of a room.. There are so many fun ways to update any table and I've become a little bit obsessed…….but only in a good way.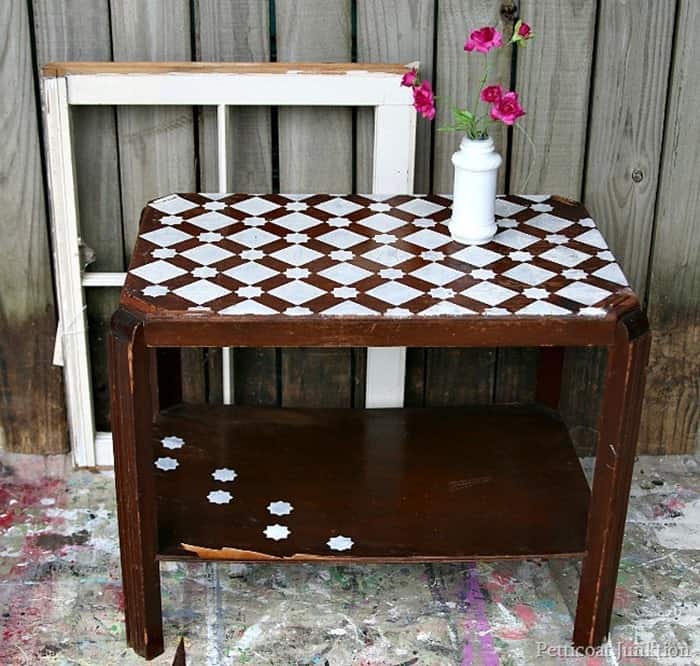 Small Table Makeovers - Stenciled Table
Think about small tables; coffee tables, bedside tables, end tables. You can make any of these over and it's usually a super quick and easy process. A little bit of paint, and a little bit of patience, and some out-of-the-box creativity, and you've got brand-new-to-you furniture. Need a bit of picture inspiration to help get you prepared to tackle your own small table makeover? Here are some amazing projects that are sure to give you the urge to grab a paint brush!
15 Small Table Makeovers
1. Plum Cute Stencil Table. This project is mine and the picture at the top of the post is the table.I love stenciling because I can't do decorative painting. I just use a brush and roller to slap paint on furniture. So stencils are perfect for me. The small table really looks cute with the pop of white!
2. Library Table. I told you to not underestimate small, right? This table makeover really packs a punch. The paint color and the knobs that are chosen really take this redo over the top into the "wow" factor. And most important of all it combines paint and a stained wood finish.
3. Adjustable Drexel Coffee Table. Talk about a show stopper. The blue paint color makes a really great focal point. It sure caught my attention. You have to see the difference in the before and after photos!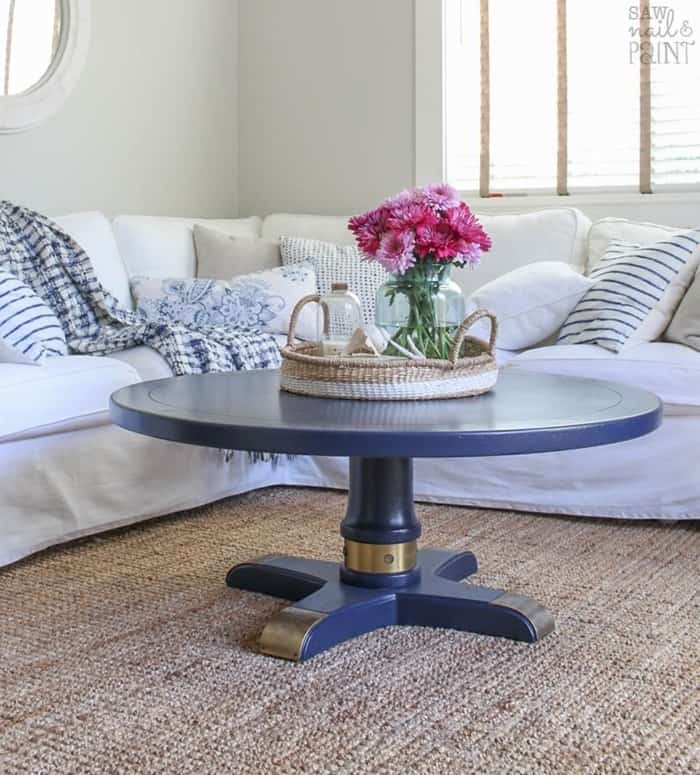 Source: Saw Nail & Paint
I've never seen this style table with an adjustable base to raise the table top height. It would be Drexel. Expensive when new for sure.
4. Vintage Side Table. Vintage tables are the best type of tables to redo. They have character and strong bones. I will admit I usually pass this style up. What about you guys? Do you like this style side table? Gail definitely did a great job on the makeover.
5. Beadboard Table Top Makeover. Raise your hand if you love beadboard. This makeover is for you.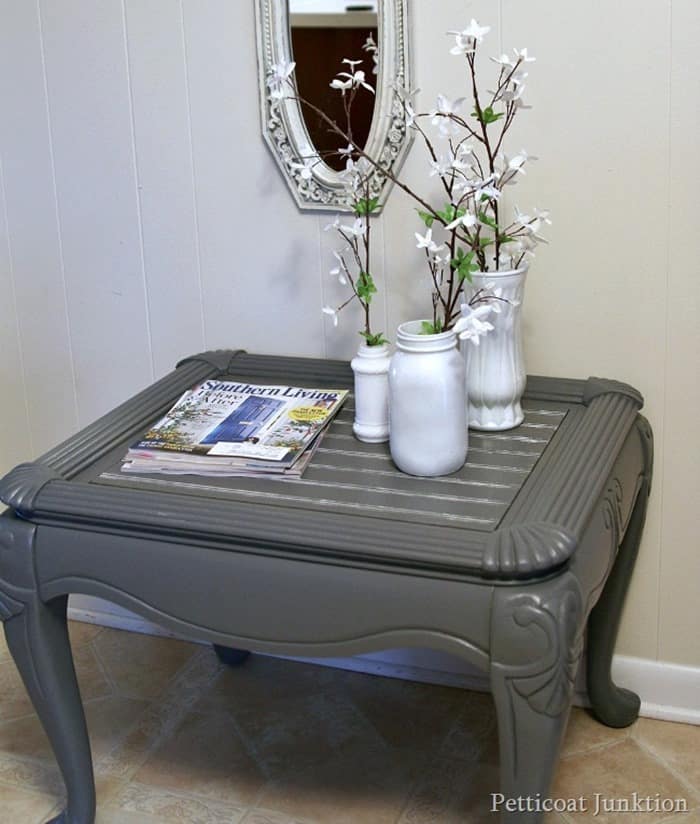 I bought a small topless end table and beadboard was the answer.
6. Curvy Little Side Table. I call this makeover "Country meets Big City". You have to see the before picture to know what I'm talking about.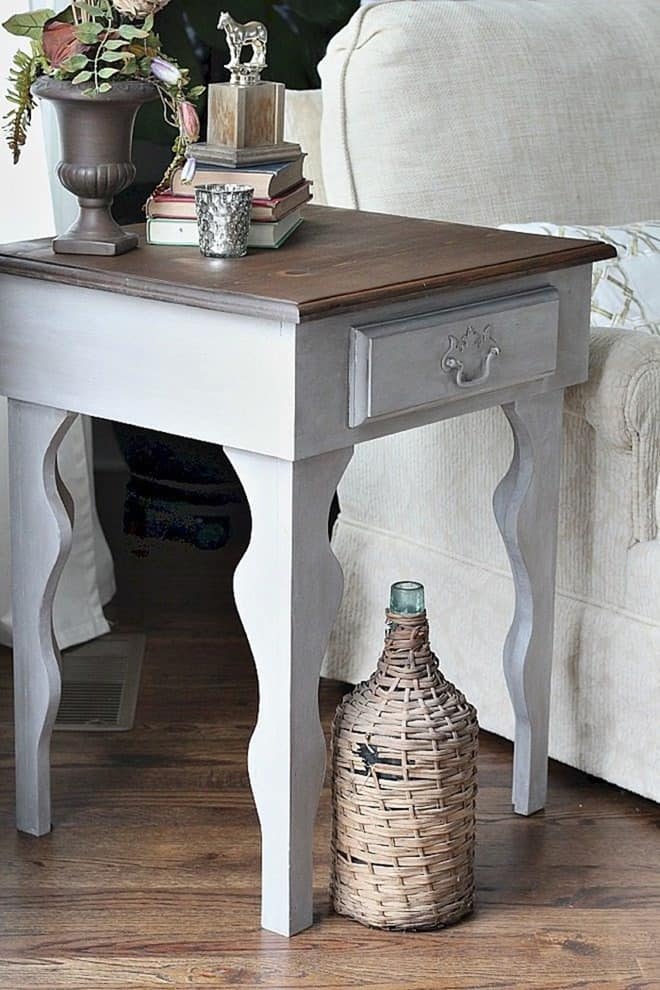 Source: Refresh Restyle
Talk about a table with sass. The paint finish truly makes it a beautiful piece. If you like the weathered look this is the one for you.
7. French Country Clock Face Table. Why not add a little fun to your small table makeover and give the table top a little something extra? This clock face table is fun, inventive, and super simple.
8. Two-Tiered Coffee Table Makeover. This small table has two awesome table tops to work with. A little bit of milk paint and you've got a brand new piece to hold all your living room treasures.
9. Chalky Paint Side Tables. I always say white distressed paint is perfect it was the right choice for this project. Grab a little chalk paint, let it dry, and you'll be amazed at the results.
10. Antique White Table. I painted this table white and added character with a little Caromal Colours Toner.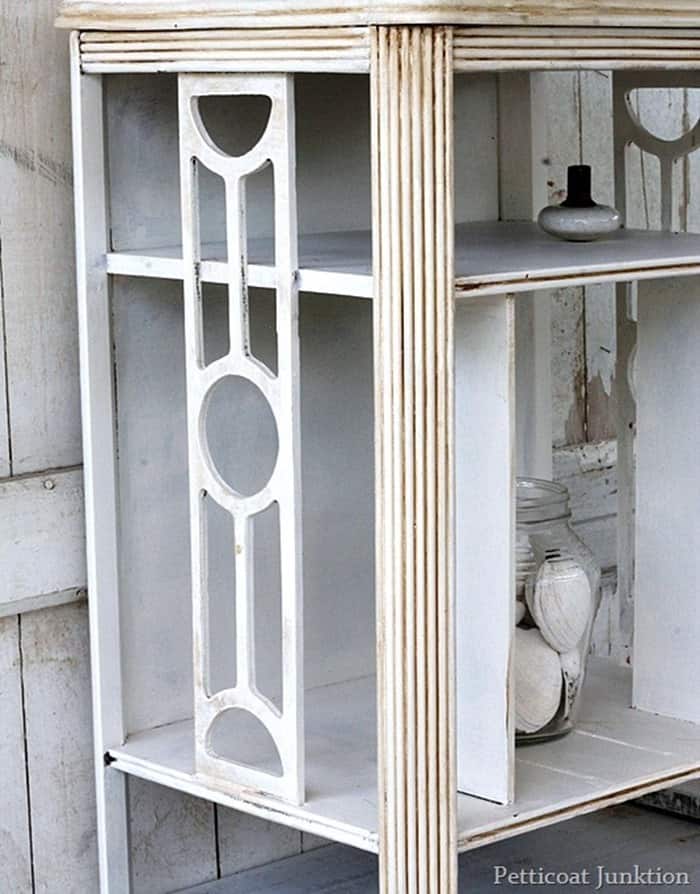 Plain old white paint doesn't do it for me.
11. Coastal Colors Coffee Table. I'm honestly floored by the beauty of this makeover. Of course everything Bliss touches is well…….Blissful (sorry, I had to).The color combination she used is just right. While this makeover may take a bit of time, it's worth it.
12. Pedestal Table. Not only is this table adorable and vintage, it's a great addition to make any room feel alive. Have a sunroom or small dining room that needs a piece of furniture? Pay close attention to this makeover for some great tips. And once again it's white paint with a touch of distressing.
13. Side Table Transformation. This makeover has a fun backstory to it that is truly what makeovers are all about. Take a read to get inspired, and then find a side table that you can transform as well.
14. Chalk Painted Antique Side Table. Here's another simple and quick small table makeover featuring chalk paint. I like the look of chalk paint but not the waxing. Did you know they have chalk paint now that doesn't require waxing? (Or maybe I just don't wax it.) Anyway, the turquoise paint color on this table is really pretty.
15. Black Side Table. Nothing says drama like black paint. The bedside table is painted solid black and is truly elegant. Of course I liked the original green to. You guys know how I am. The brighter the better.
Don't let furniture makeovers scare you. Start with a small side project and then work your way up. No matter what, just go for it. You'll be creating a piece for yourself and your home that you can love and cherish for years to come and then when you get tired of it or change décor style you can paint it again. Once you've built your confidence, you'll wonder what you were scared of.
I hope you were inspired by at least one of these makeovers. Which one was it? Thanks for being here and have a great week and weekend, Kathy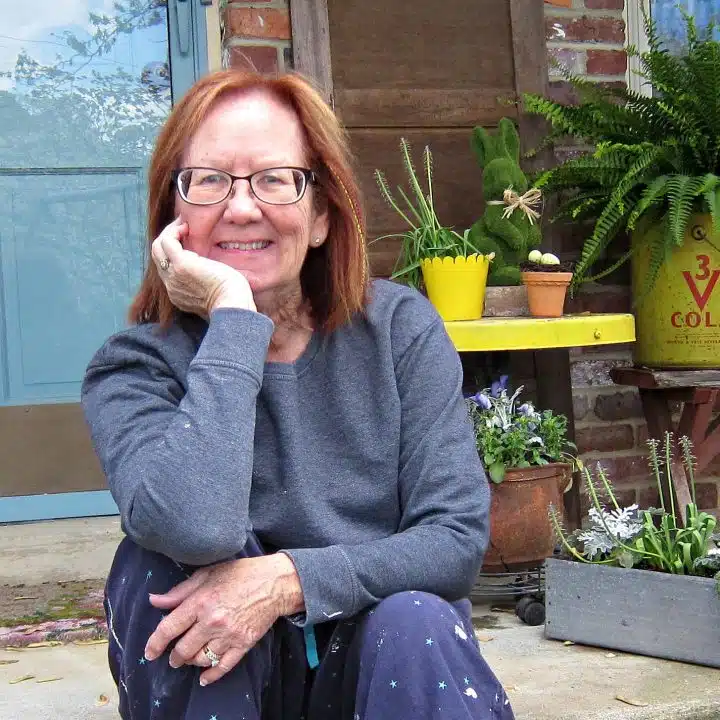 Author: Kathy Owen
Kathy Owen is the founder of the home decor blog Petticoat Junktion where she shares tutorials on painting furniture and upcycling thrifty finds into unique home décor. Her DIY projects have been featured on the Home Depot Blog, Plaid Crafts, Behr Designer Series, and in numerous magazines. Kathy's newest website is HappyHomeDIY.com