Today I have 5 small tables painted white and the tutorials for all five! 5 days of painting furniture in one post.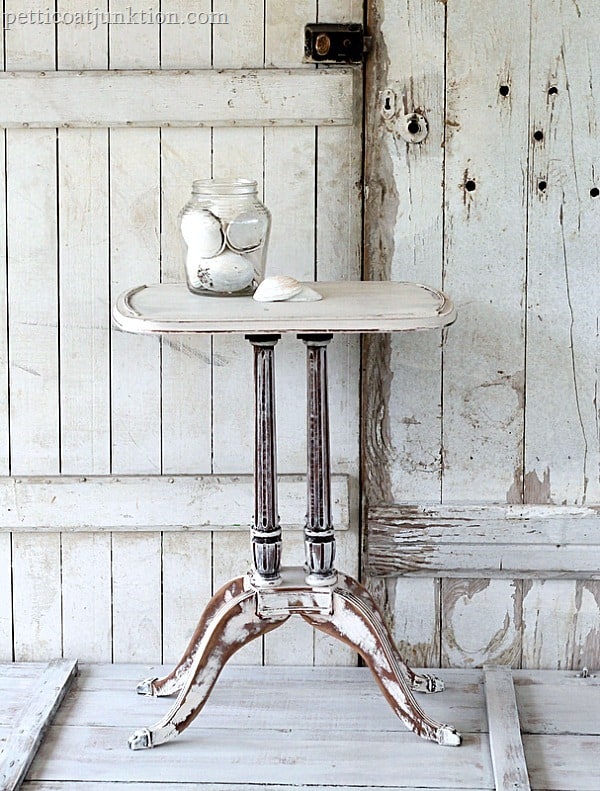 Small White Painted Tables
A small side table with distressed white paint or antiqued white paint is perfection. Each of these tables are different and the paint technique for each table is different.
Day 1 White Painted Tables
I'm trending white décor. Too bad I would have to change everything in my house to get the look I'm dreaming of. Maybe one piece at a time.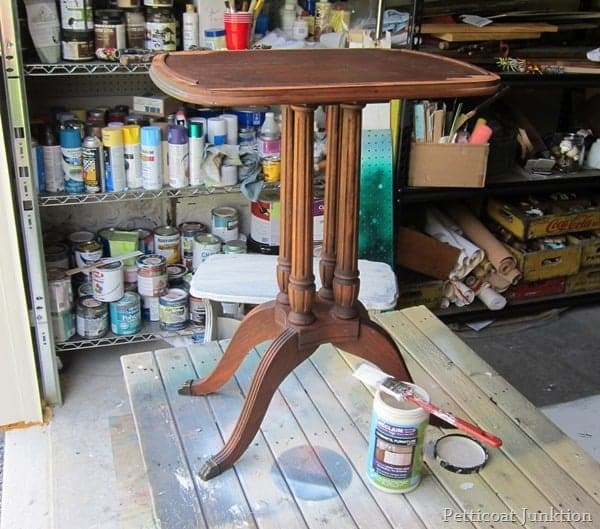 What a pretty table….right? Except it has a lot of missing veneer on the table top. So I decided on paint. Surprise!! I purchased this table when I went shopping with my friend Beth.
We shop flea markets and junk shops for thrifty finds. No new stuff for us. It's always fun to have a girls day too. We talked and shopped and talked and shopped.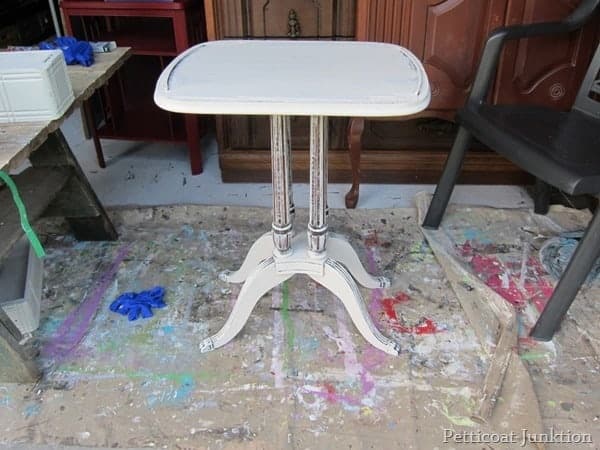 I used Beyond Paint in Off-White for the finish. Not too white and not too tan. The paint is a three in one product. No priming, sanding, or sealing!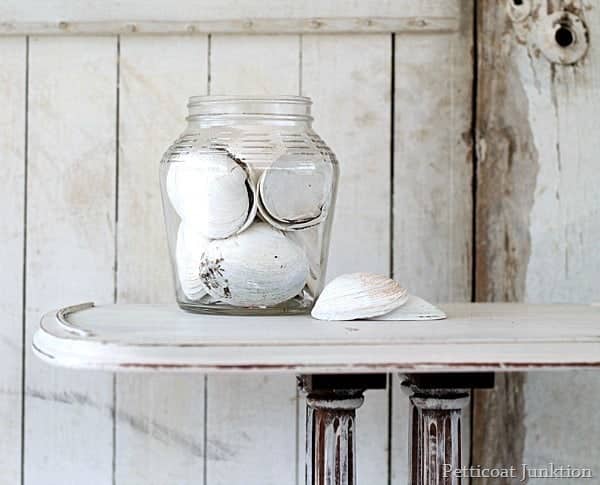 We gathered the large sea shells on our trip to Kodiak Island to visit our daughter and her family. They look nice on the white paint.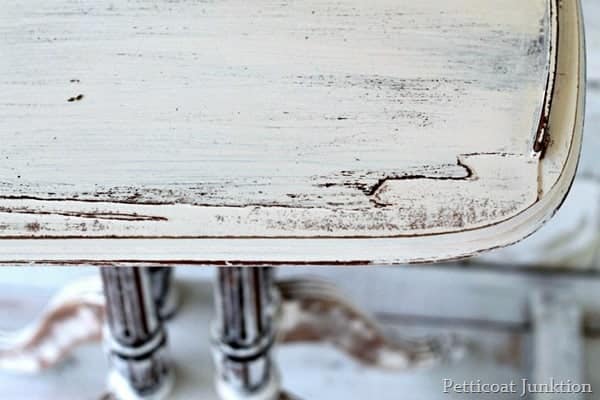 I did a little distressing by hand where the veneer was missing on the top. Sometimes it's easier to distress by hand instead of pulling out the electric sander.
I have more control when sanding by hand. It takes longer but the finished look is worth it.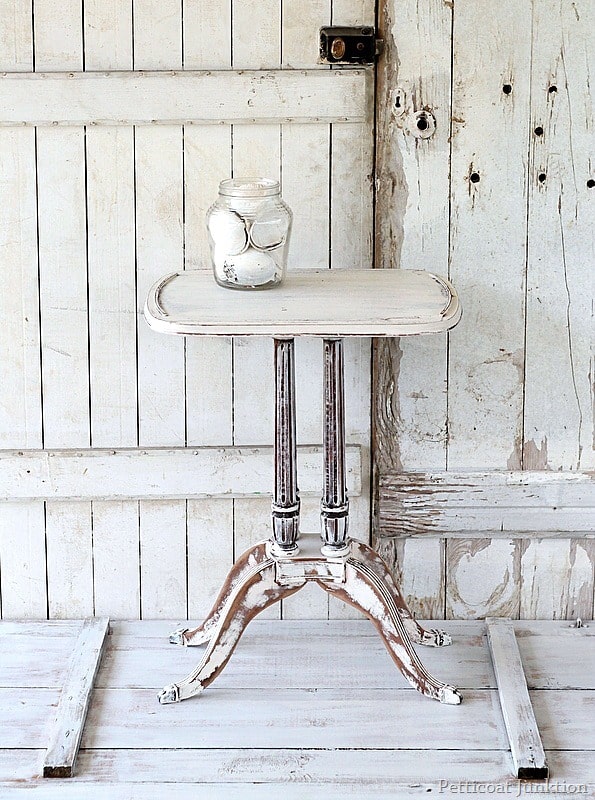 I dry-brushed the leg columns and thought that was a great look but then decided the table looked too choppy so I distressed the feet…..really heavily….so they would match the leg columns.
For the heavy distressing on the feet I used an electric sander. I would call this table shabby chic. Now for the next table.
Day 2 of Small Painted Tables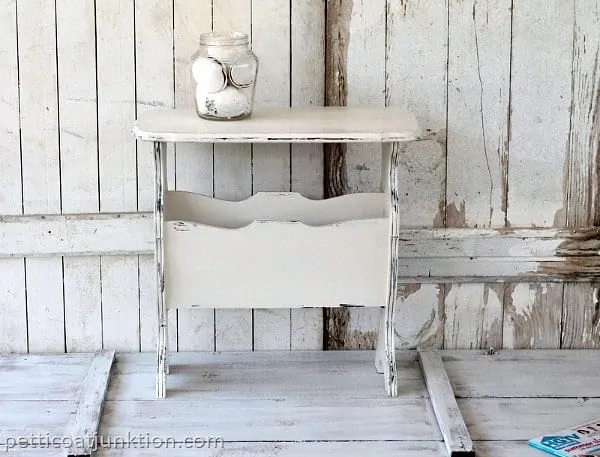 I love working with white paint. It gives such a clean fresh look to furniture.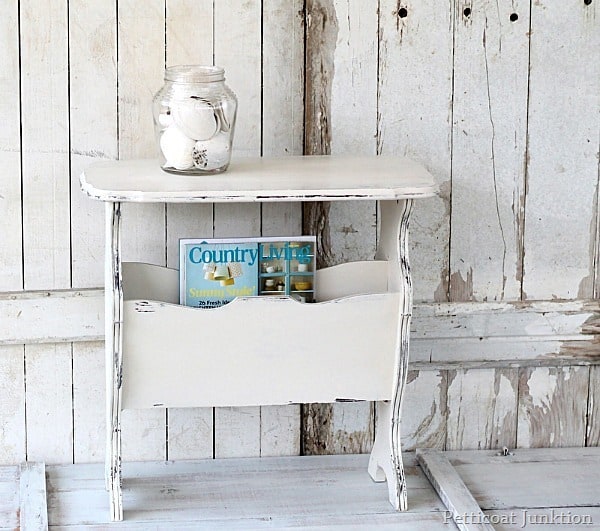 You could use this magazine table anywhere....even in the bathroom. Maybe you could use it to hold towels!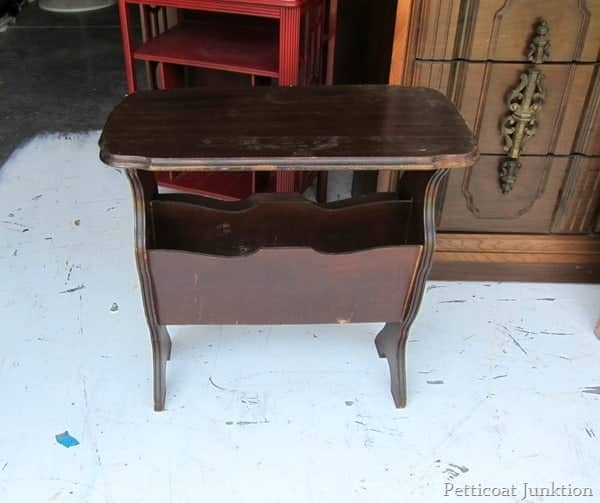 I've been using the table in our den and I'm working on freshening the décor in the room. I can't do a complete makeover on the den but a little paint here and there is an easy update.
I used Beyond Paint Off-White for the paint finish. This paint has the perfect sheen too, not flat and not satin, somewhere in between.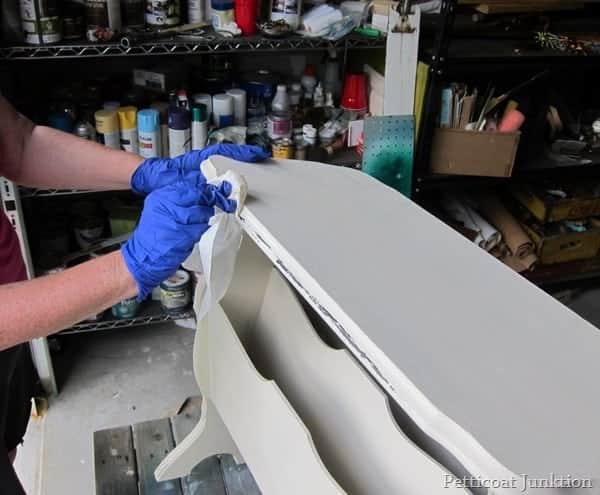 I used a wet distress technique so some of the original dark finish would show in the distressed areas.
I took a wet shop cloth…the kind that comes in a can with some kind of cleaning solution on it…and scrubbed the white paint along the edges.
That paint was really hard to remove. It had only been dry for a couple of hours when I started this process. I finally resorted to spraying the table with Simple Green and letting it sit for a few minutes.
It was still hard to remove the paint! I didn't use a sander or sand by hand because I didn't want to take the finish down to bare wood. If you want to try this technique I would suggest not letting the paint dry for too long.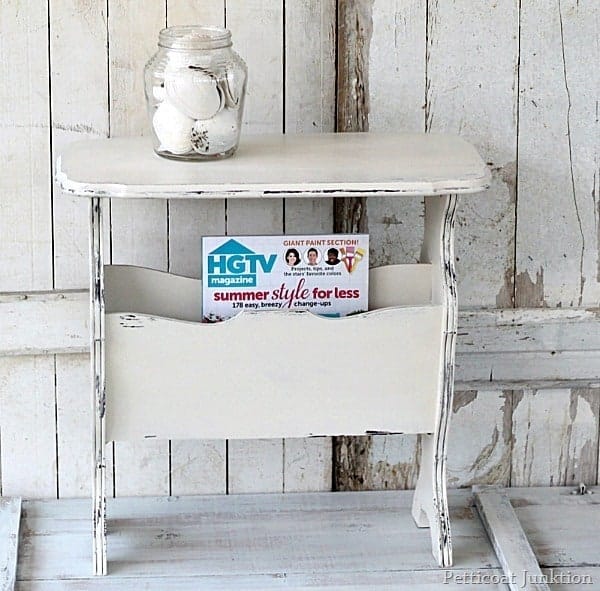 I couldn't showcase Country Living Magazine and not include HGTV Magazine…..or Better Homes and Gardens Magazine!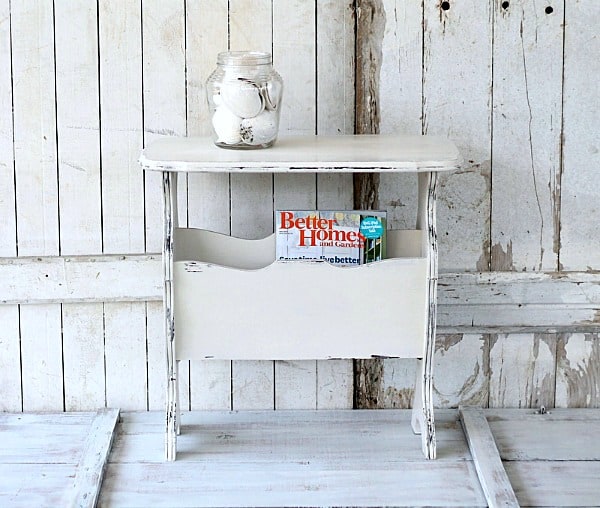 These are my 3 favorites. What about you? What's your favorite magazine for design inspiration?
Day 3 of Small White Painted Tables
My white furniture project today is extra special…..because I used MMSMP.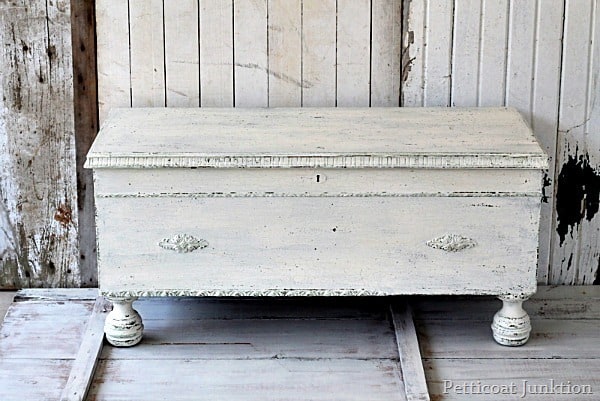 It's been a while since I've used the milk paint and I forgot how much I love it.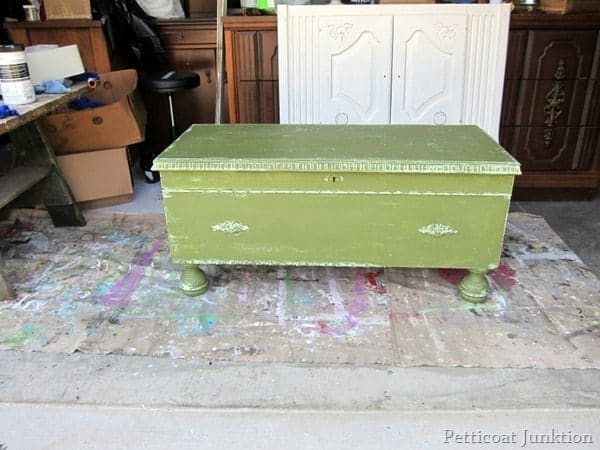 The cedar chest has been serving as our coffee table/toy box in the den. I painted the chest Boxwood a little over a year ago. Now I'm feeling the urge to lighten up the den.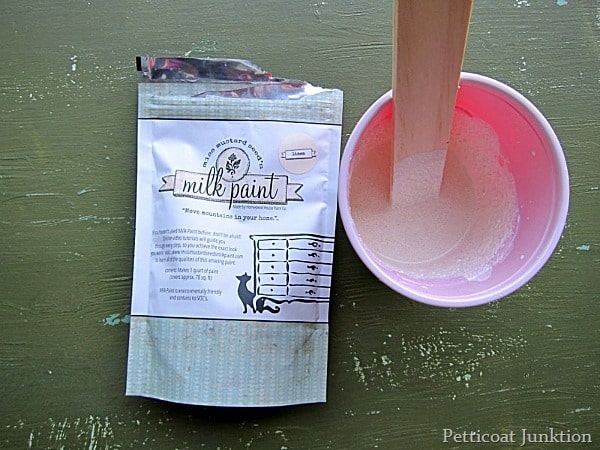 So Linen it is, an off-white color. I don't measure anything. I just poured the milk paint powder in the cup until it looked like enough to paint my project.
It was probably about ⅔ cup of powder. Then I added a little water. Not too much at first because it doesn't take much. I can always add more water if I need to. The paint needs to be stirred for a few minutes to remove all the lumps. I probably had ¾ to 1 cup of paint.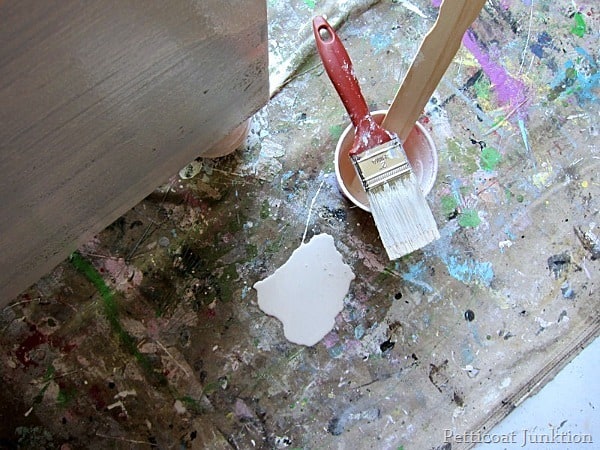 I was almost finished painting the chest when I tipped over the paint. That's one bad thing about the light weight plastic cups. They tip over easily. Being a thrifty person I lapped up the paint with my paint brush and painted the top of the chest.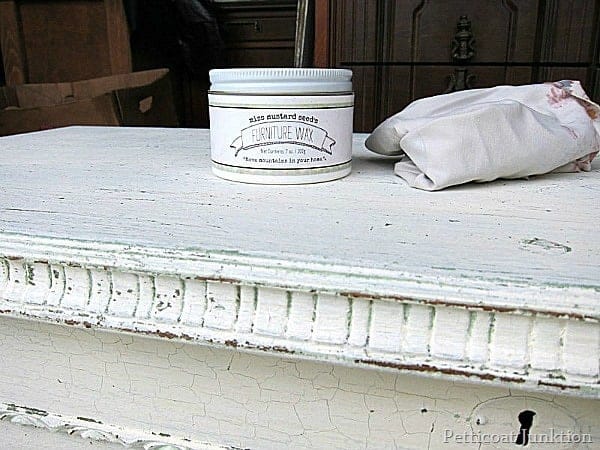 I applied two coats of paint literally back to back. I would paint a side of the chest then immediately go back to the side I just painted and apply a second coat. Maybe that's what gave the finish a crackle look. I like it.
I used a paint scraper to remove the chipping paint and I also ran the scrapper along the edges and detailed areas to pull off more paint.
Next I applied a coat of MMSMP Wax and buffed it up after it dried.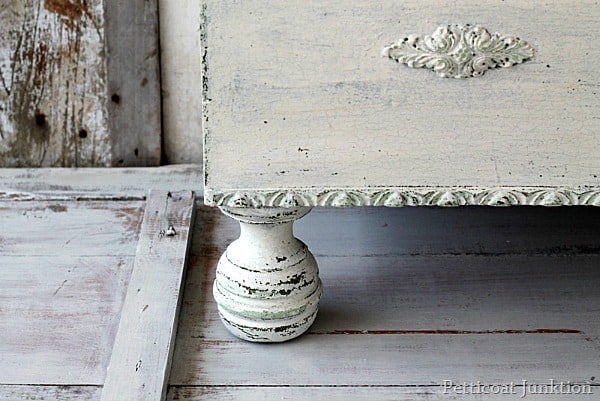 You can see little bits of boxwood green peeking through…and also some of the original wood finish.
I'm sorry....it was obviously seashell week too. The seashells bring back fond memories of the years we lived in Florida.
As I mentioned this piece is doing double duty in our den. I hope granddaughter Sofi likes the new look of her toy box.
Day 4 of White Tables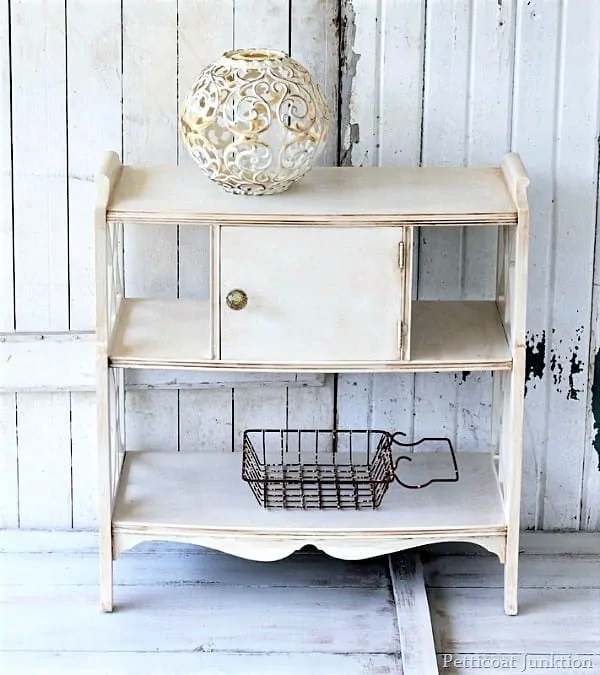 White Painted Table with Antiqued Effect
I like the fact that this table has so many shelf areas and then a small cabinet for hiding the junk.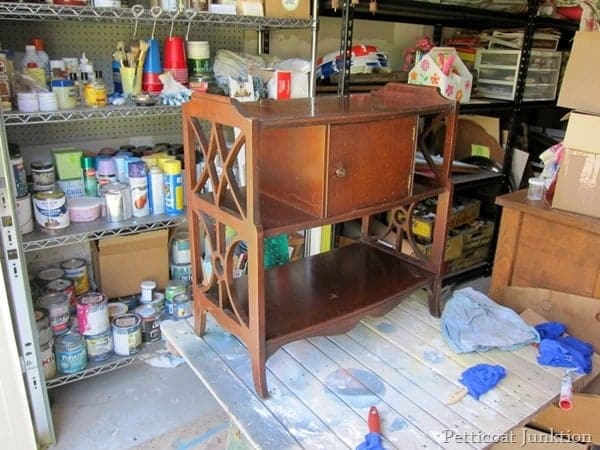 We've been using this table in our den. It was purchased at a flea market / antique shop in Nashville many years ago. I was ready for it to be white.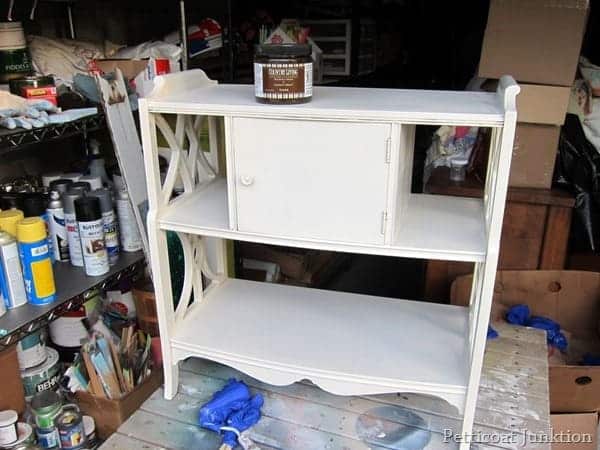 I painted it with Beyond Paint in off –white and then applied Caromal Colours Toner for an antique or aged effect.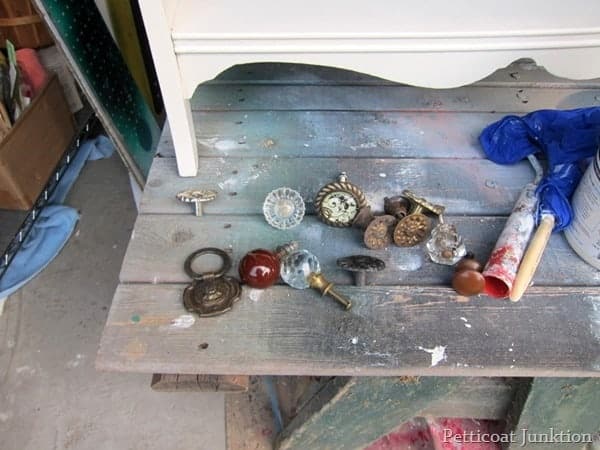 The knob didn't make a statement so I went through my stash of old and new knobs and tried several till I was happy with the look.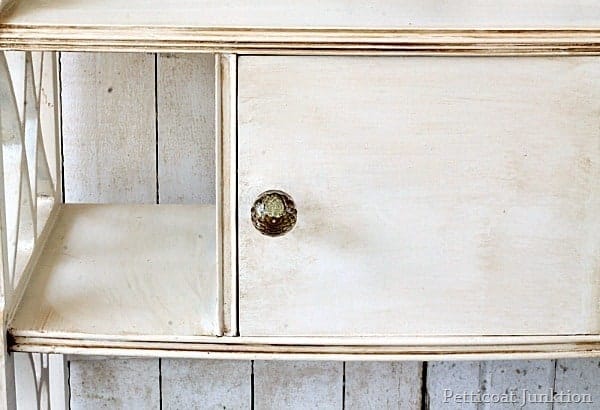 The glass knob is one of many I purchased at Habitat Restore a couple of years ago. I managed to get several at a very cheap price. This is the last of them but it was perfect for the table.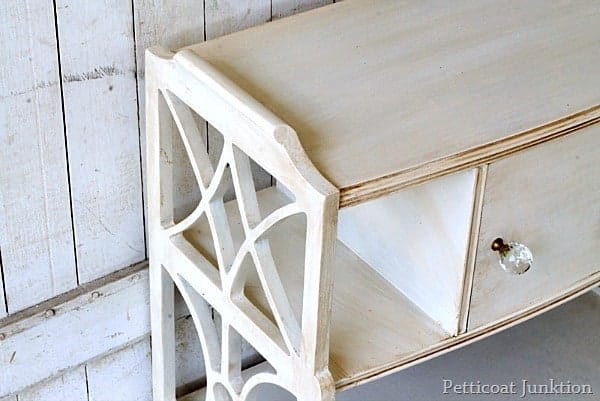 I didn't sand this one….just applied toner. For a full tutorial with photos and step by step instructions refer to this post…Tutorial-How To Antique Painted Furniture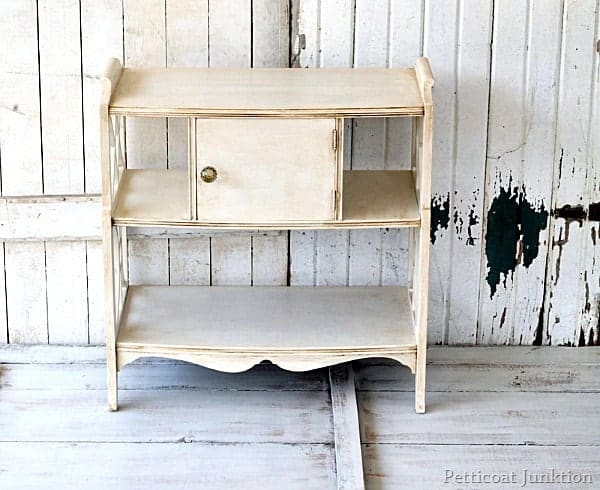 The antiquing process is really easy and doesn't take any time at all.
Day 5 of Small White
Today the project is antique white furniture. The is one of my favorite furniture painting techniques.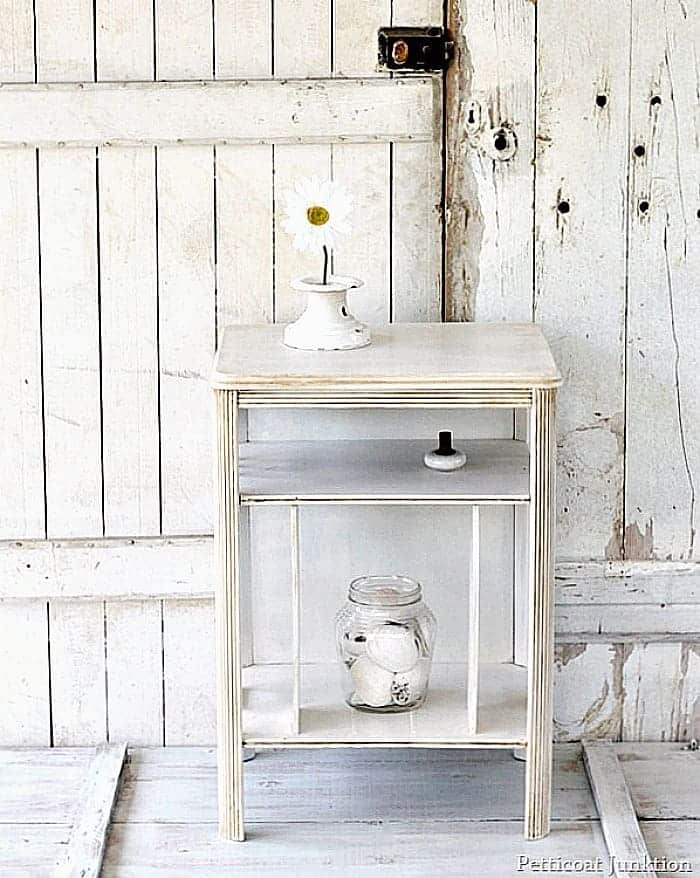 Table With Antiqued White Paint
The white paint on the table above was toned to give it an aged look.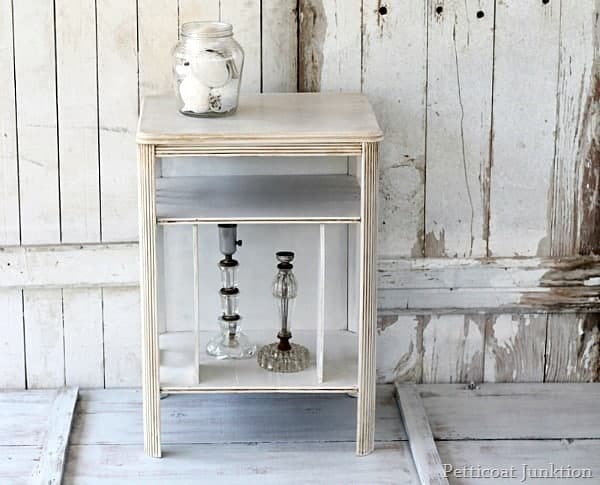 The toner gives depth to the painted finish and keeps it from looking plain jane.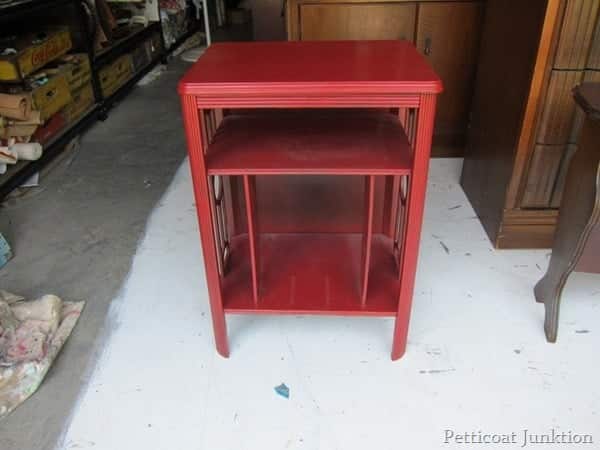 Yet another table from our den. No the den isn't just a room full of tables…although it would appear that way.
I spray painted this table many years ago. Before I was a real painter (insert Kathy smiley face). Time for a change.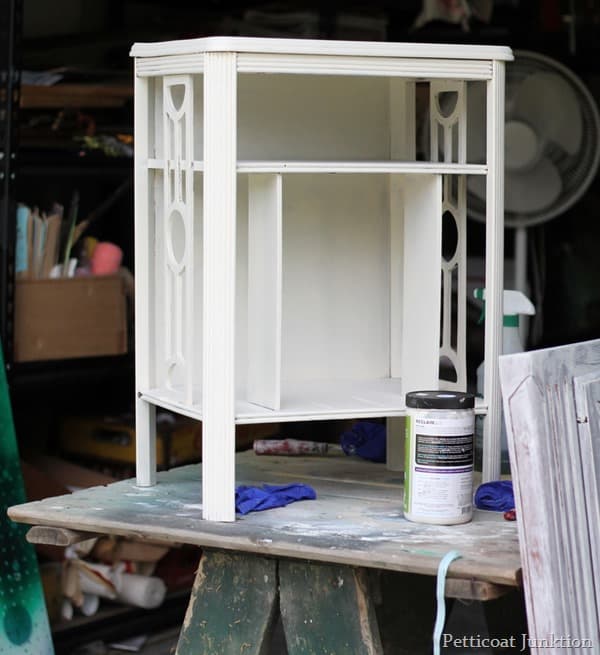 You know….all 4 tables in the 5 days of white furniture were hard to paint. I knew they were going to be….I mean…..look at all those cut out side details.
I started to use my paint sprayer and do them all at once. It would have been quick and easy.
But there's something about brushing the paint on and just letting your mind wonder. This table got a coat of Beyond Paint off-white also.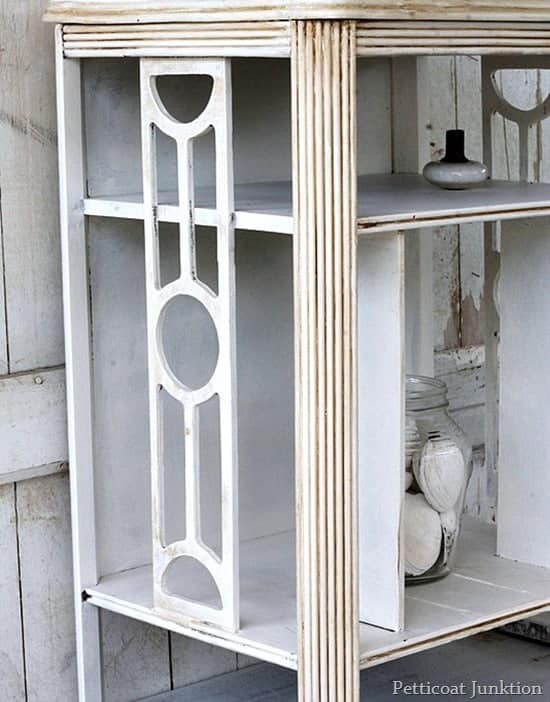 Then it got toned. I only applied the Caromal Colours Toner to the front legs, top edges, top, and shelf fronts.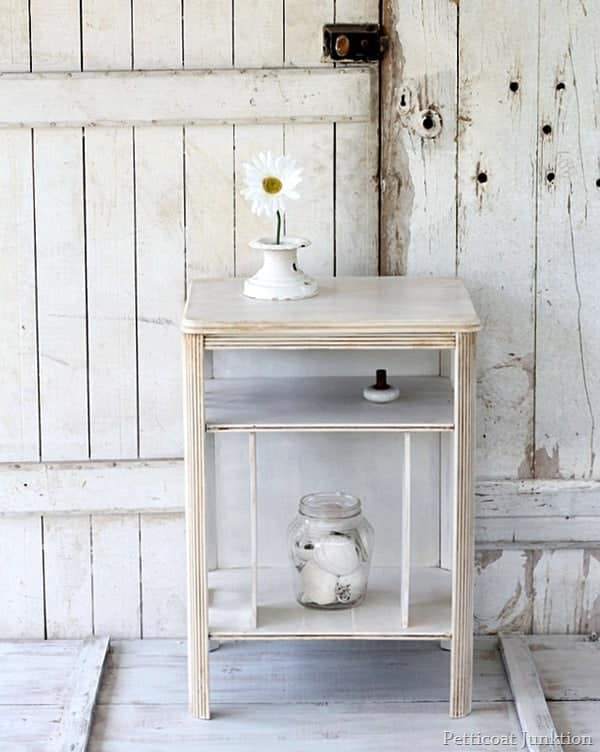 Isn't it cute! Last day of the white furniture marathon. Did you have a favorite? Was table number one too distressed for you?
Distressed White Chest of Drawers
If you like white distressed furniture you will love this chest of drawers.....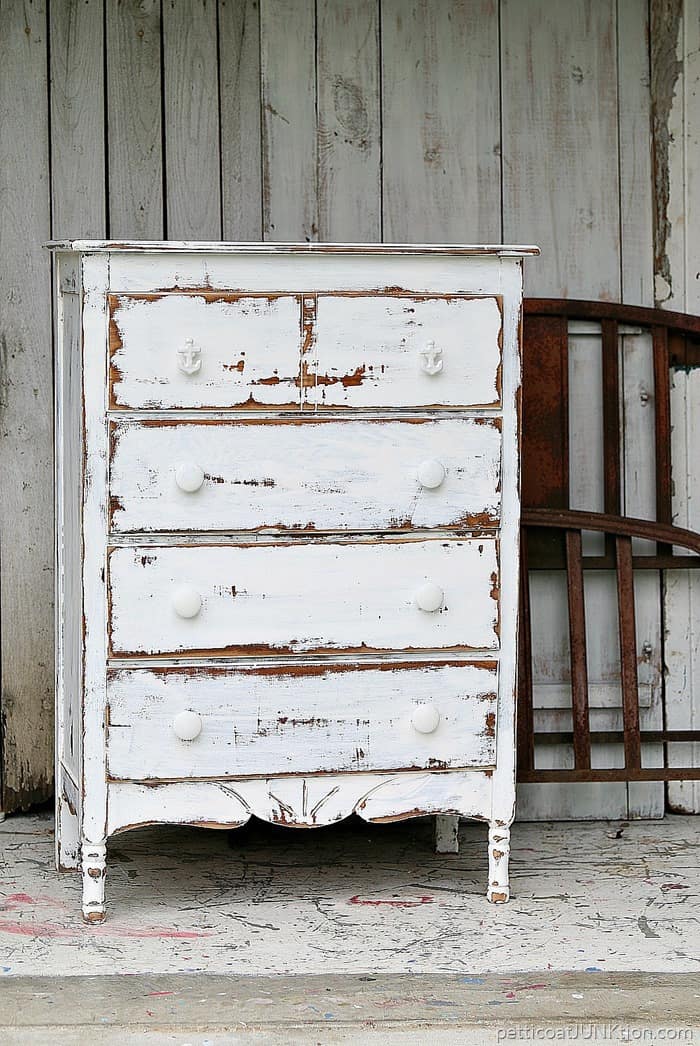 I have a tutorial showing how I distressed the chest of drawers below...
How To Distress Painted Furniture
You can find the complete tutorial on the white chest of drawers here.
Find more Beyond Paint projects here ...15 Reclaim Beyond Paint Furniture Makeovers. Paint reviews and how to  purchase on Amazon.... Reclaim Beyond Paint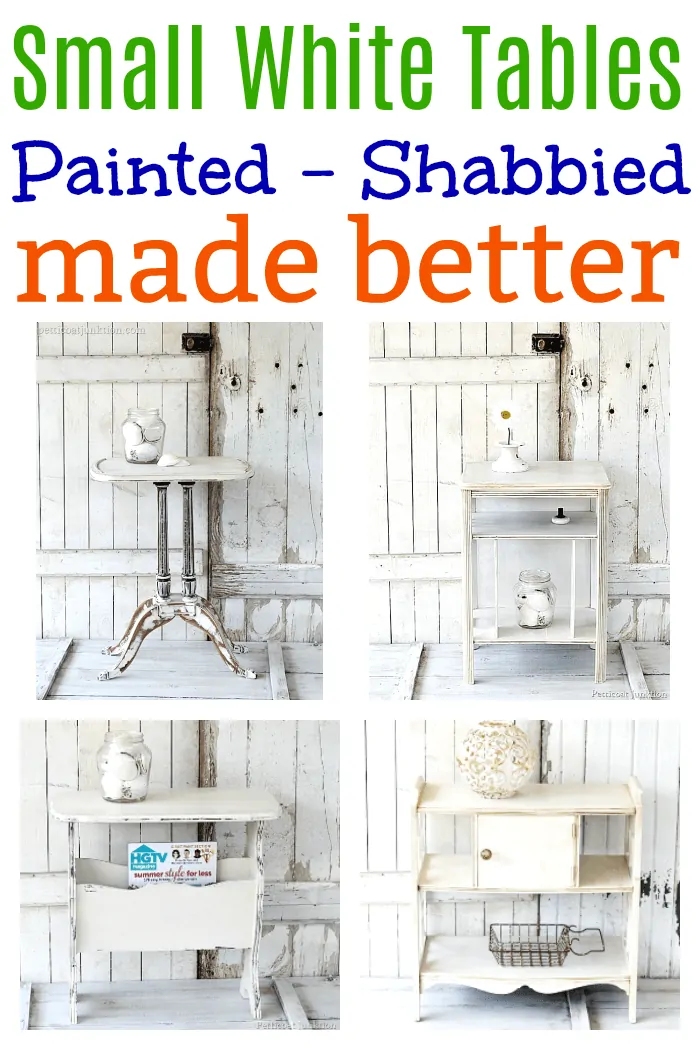 5 Small White Painted Tables
Leave a note if you have time. Thanks for spending part of your day with me, Kathy
Author: Kathy Owen (Petticoat Junktion)
Kathy is the founder of PetticoatJunktion.com, a home décor blog focused on repurposing and upcycling furniture, old hardware, rusty stuff, and thrifty finds into unique home décor. Kathy's projects have been featured on the Home Depot Blog, Plaid Crafts, Behr Designer Series, and in numerous magazines. Read more about Kathy here.