Antique Embossed Tin Trunk Painted Again!
In this post I teach you how to distress a painted antique trunk to showcase all the beautiful details. It's okay to paint antique furniture and distressing the paint adds character.
Have you painted something and you just weren't happy with the outcome? I think we all have. Sometimes I paint things more than once……or twice. It's okay to do that. The embossed tin trunk I painted a few years ago is the perfect example.
I didn't like how the trunk turned out when I tried a paint makeover 3 years ago. But I left it that way......looking not good. It set in the master bedroom until a few months ago and was a clothes catch-all. I bet you guys have a catch-all piece for your clothes too.
We moved the trunk out to the workshop when it was replaced by a cedar chest I painted and didn't want to give up. The trunk has been waiting for a ride to my booth at the shop. Yep, it was going to be gone.
I was looking for a piece of furniture to paint this week because, well, I just wanted to paint something. I spotted the trunk and decided to see if I could make it look better. Couldn't hurt.
Some of you probably will not like the fact that I painted this trunk in the first place. It was a mess to start with. The tin is torn and pulled away in places and the wood is a bit buckled. So it wasn't really a candidate for refinishing.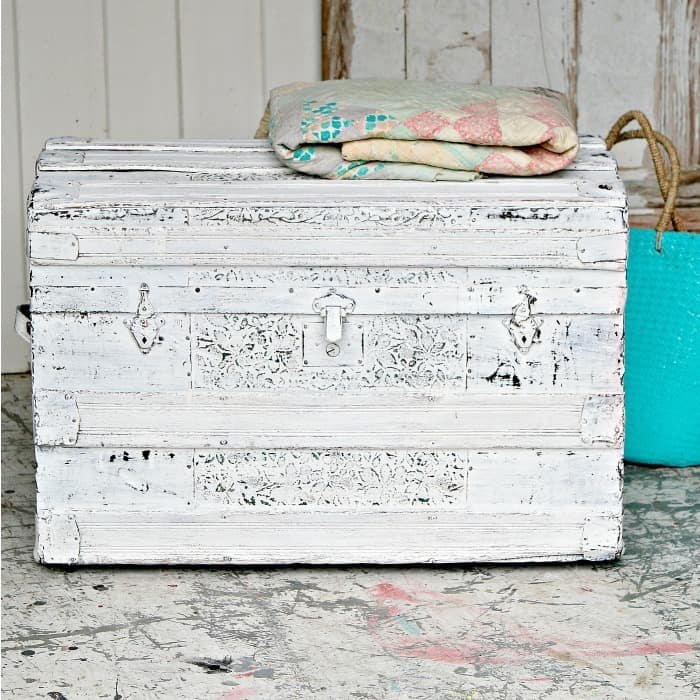 Antique Embossed Tin Trunk Painted White
The trunk with the white distressed paint turned out so well I thought about keeping it but I like the replacement piece better. That's what happens around here. Something better comes along and you're gone.
The distressing was the key to the perfect look. The trunk is made of  embossed tin, metal, and wood. The embossed ivy pattern looks fantastic distressed. See, you can distress a painted antique trunk.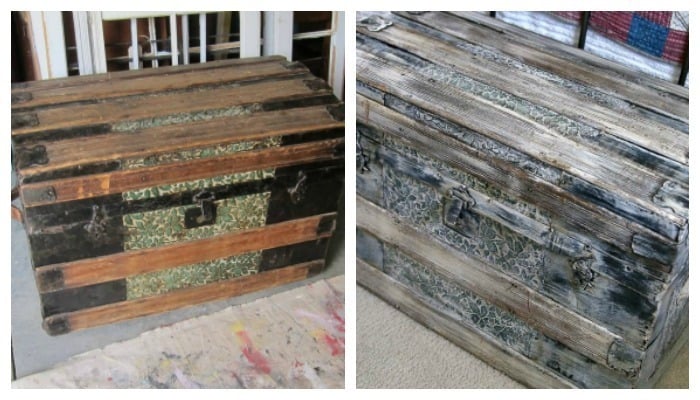 The photo on the left shows how the trunk looked when I bought it. I think I paid $75 for it at a local antique shop. That was 8 or 9 years ago. I've learned a bit about prices and where to find bargains since then.
The photo on the right is how it looked after I "painted" it in 2015. I looked back at my old post and the post ended with "I'll share the paint tutorial later". I never shared the tutorial. Probably because I didn't like what I did to the trunk.
Today is Furniture Fixer Upper Day and my talented friends have projects to share too. The links are at the end of the post.
How To Distress A Painted Antique Trunk
Decide on the color of paint.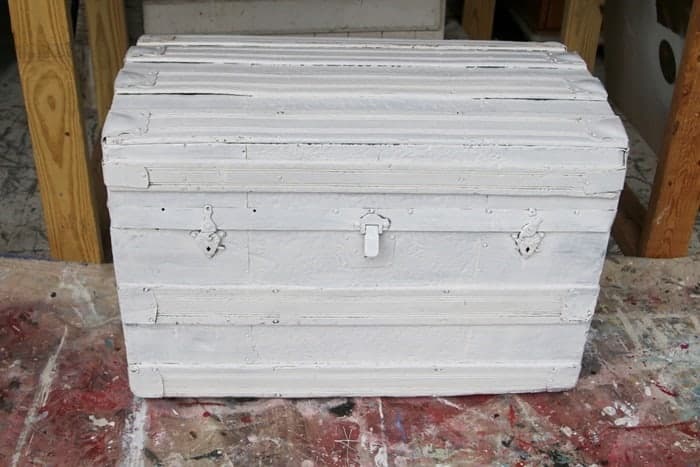 I mixed two Behr paints together to get an off-white. Still trying to use up all that paint on the shelves. The paint doesn't look off-white until you hold the white paint against it. I applied two coats of paint.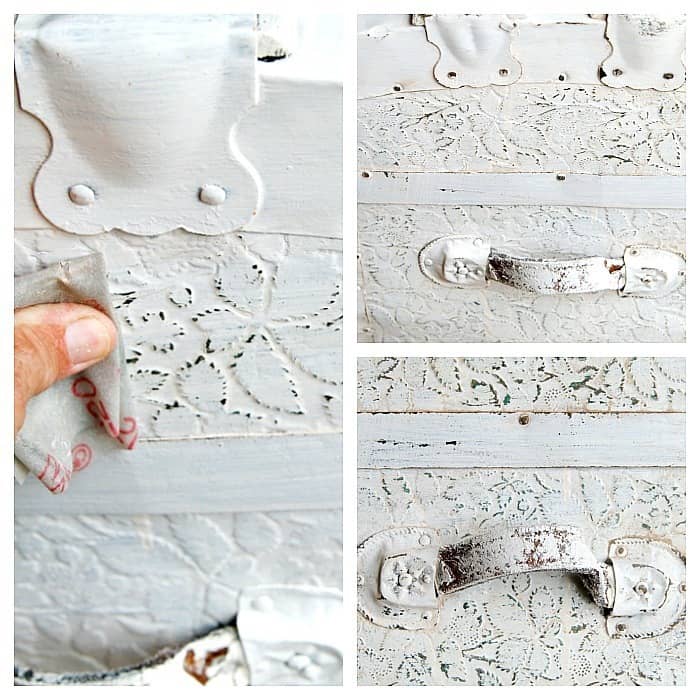 Distress The Paint With Sandpaper
I grabbed the flexible 3M sandpaper 220 grit and started distressing the paint. The paint was coming off but not very much and not very fast. I changed to flexible sandpaper 100 grit. It was a bit better but I was still working too hard with little to show for it.
I changed to regular sandpaper 80 grit and that did the trick. It still took a bit of time and work to distress the paint on the whole trunk. I would step back, look at my distressing results, and say "not enough". I finally quit.
The embossed tin just looks so pretty distressed. I noticed when distressing the trunk that a bit of the stain or something was coming through the paint in areas. That was okay because it gave the paint a bit of an aged look.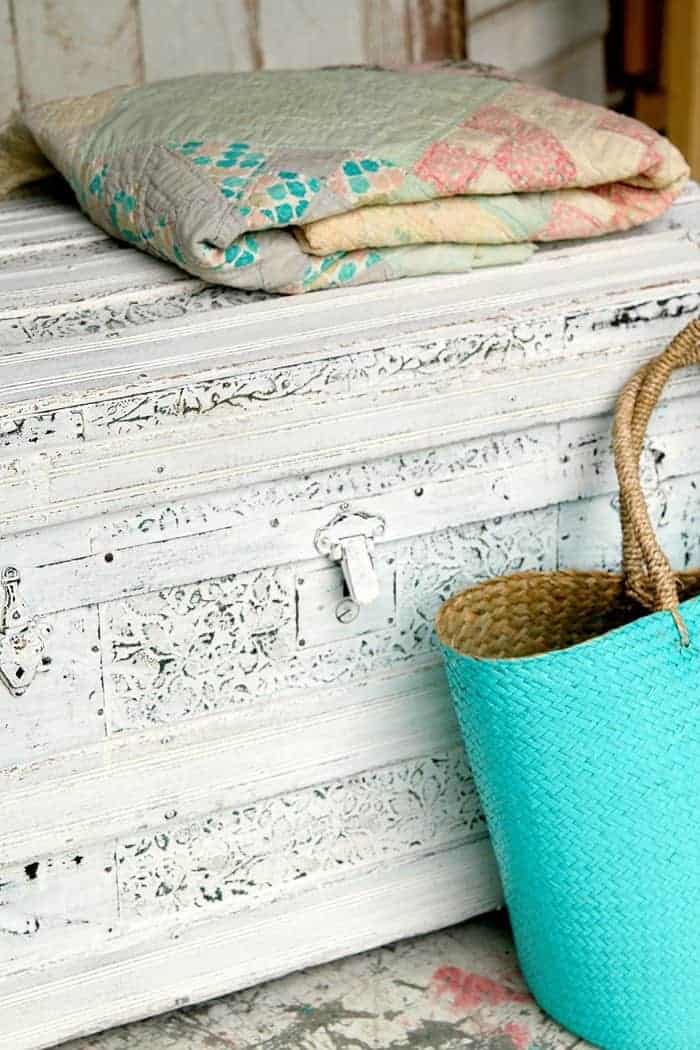 The trunk really does look better now.....and different. The top of the trunk is slightly rounded which means it's not a candidate for a coffee table or side table. That's one reason I'm letting it go.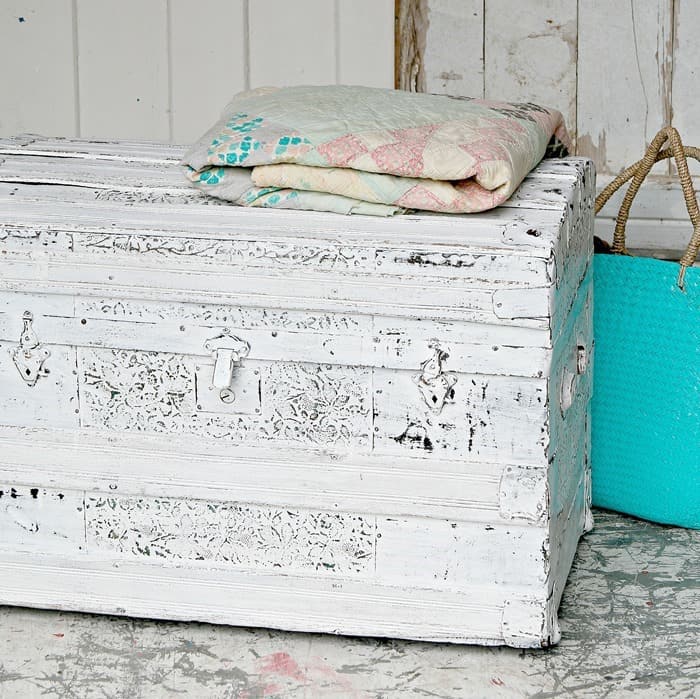 The trunk latches don't want to close easy either. I just leave the latch open.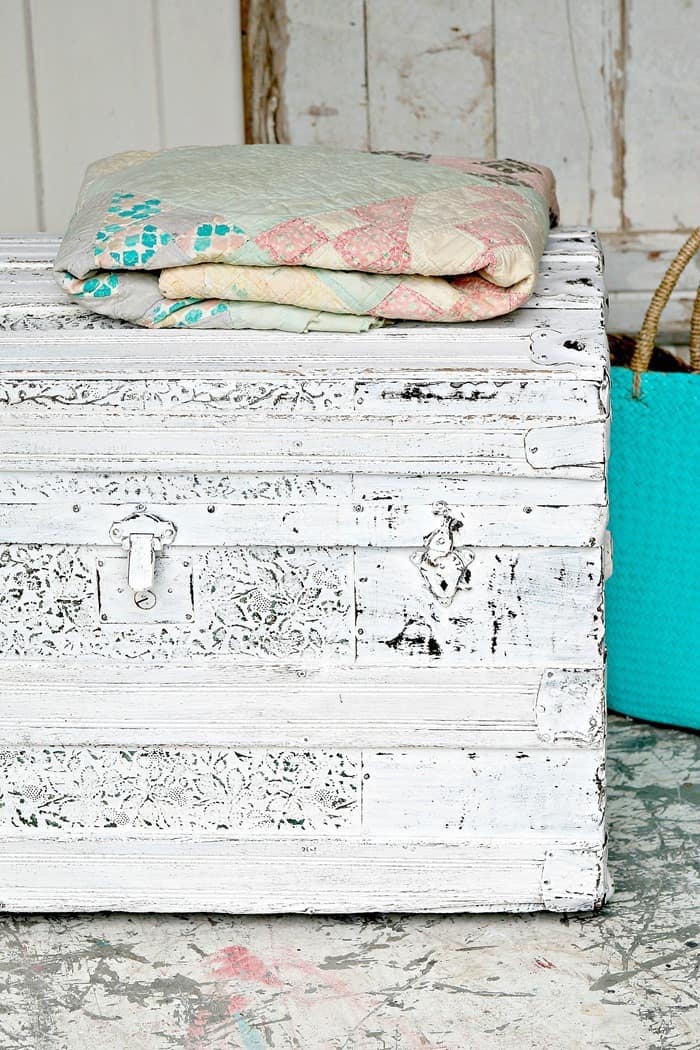 Antique Trunk Painted White And Distressed
I staged the photo with a vintage handmade quilt from my collection and a pretty turquoise straw bag I picked up at Michael's on clearance for $4. A steal. I also bought several containers of varying colors of pom poms at clearance price. I love yarn pom poms but they take a while to make. I'm thinking of gluing pom poms around the top of the straw bag. I saw a similar bag with pom poms and the price was crazy!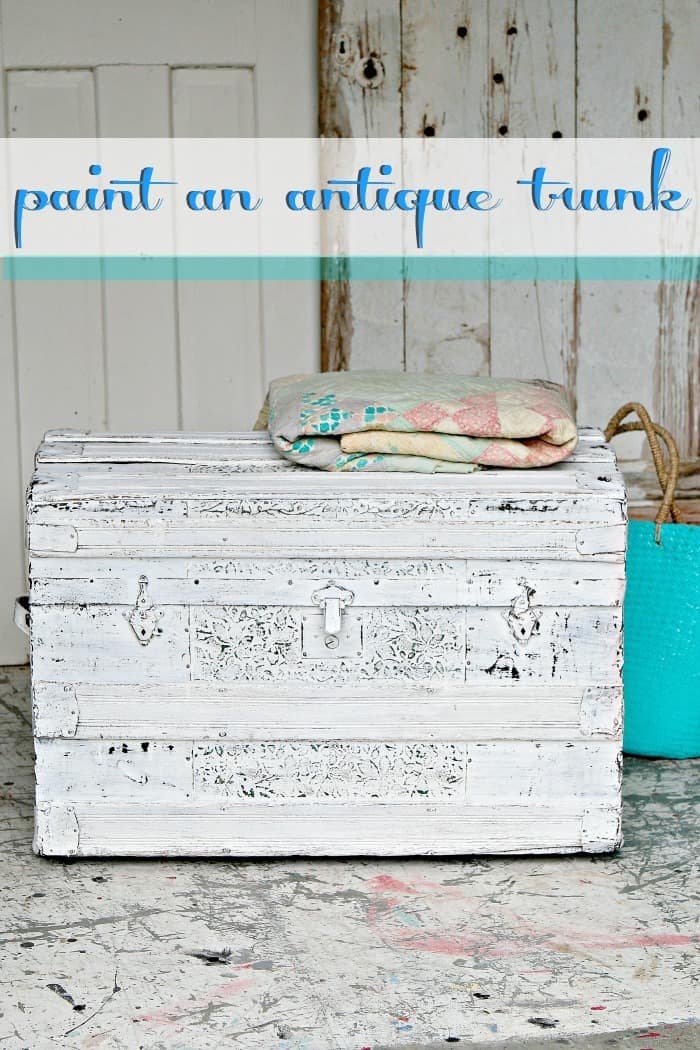 Do you like the trunk painted or no? Want hurt my feelings either way just be nice in your comments. Please leave a comment before heading off to see the other projects. Time to see what my favorite furniture painters have for us today. Just click those pink links below......
Repurposed Footstool Makeover - Girl In The Garage
Vintage Chest Nightstands - Prodigal Pieces
Television Cabinet Makeover - Confessions Of A Serial Diyer
Best Paint Sprayer For Furniture - Just The Woods
Duncan Phyfe Coffee Table Makeover - The Interior Frugalista
Antique Trunk Makeover - Petticoat Junktion (you are here)
As always thanks for being here and have a great day, Kathy