Boy, do I have a lot of good junk to share with you guys today. This bunch is from a couple of weeks' worth of shopping at local thrift stores, junk shops, Goodwill, and online auctions.
My favorite junk shop is in Kentucky and it is called Butler's Antiques. This is a photo of Mr. Butler and his sisters taken at the Nashville Flea Market.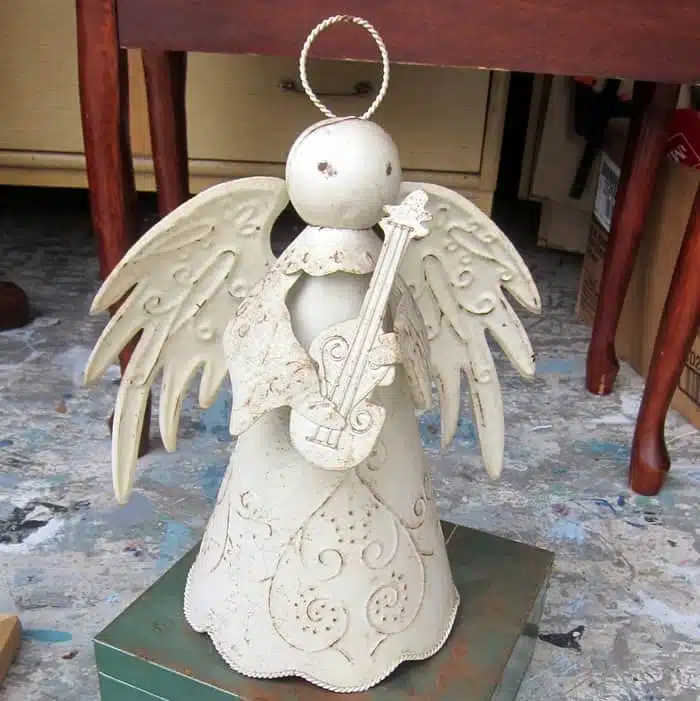 First up is this cute tin angel. I think she would look better with maybe something for the eyes. Any thoughts?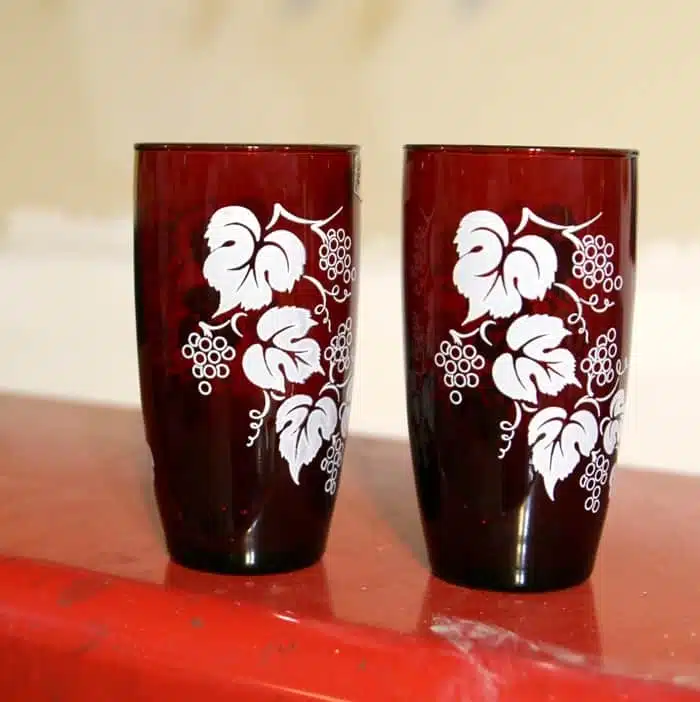 While I was shopping I had Valentine's Day in the back of my mind so was searching for red stuff. I loved these vintage glasses I bought at My Favorite Junk Shop.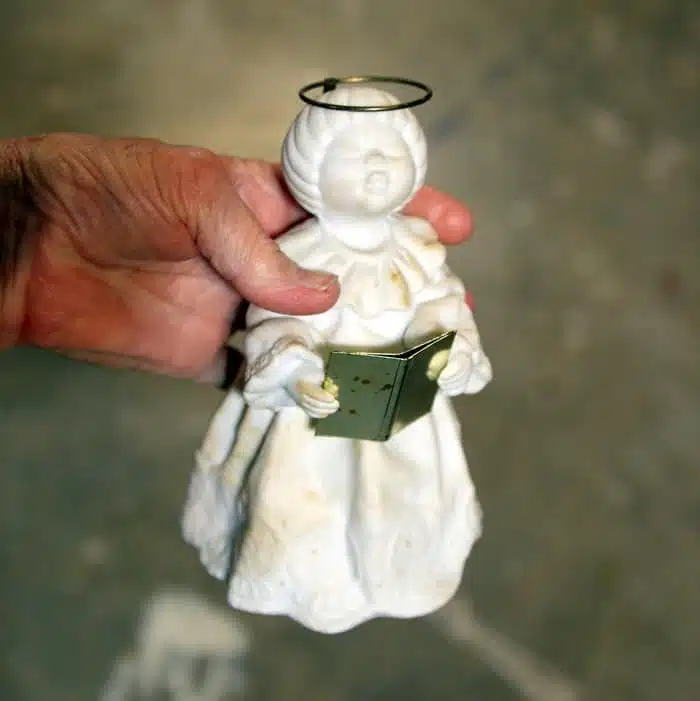 Another angel. This one is bisque or porcelain and it's a choir angel from Department 56.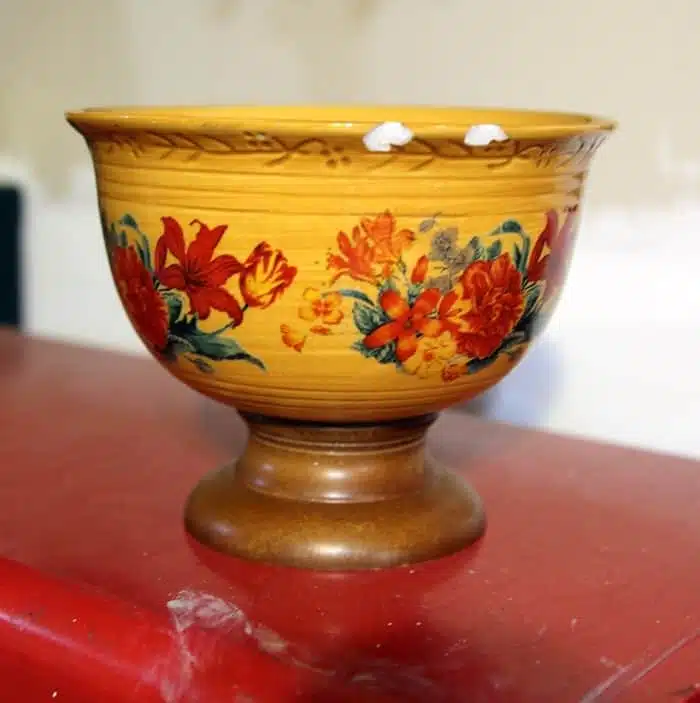 This bowl is all chipped up but I have a plan for it. Stay tuned.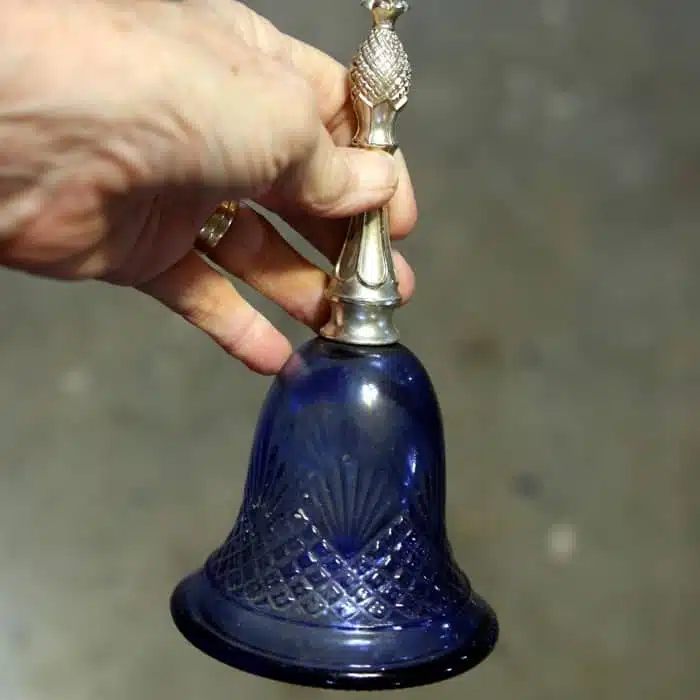 I love this Avon perfume bottle. It's in perfect condition too. I just need to clean it up. I may keep it for a while as decor in our guest bedroom.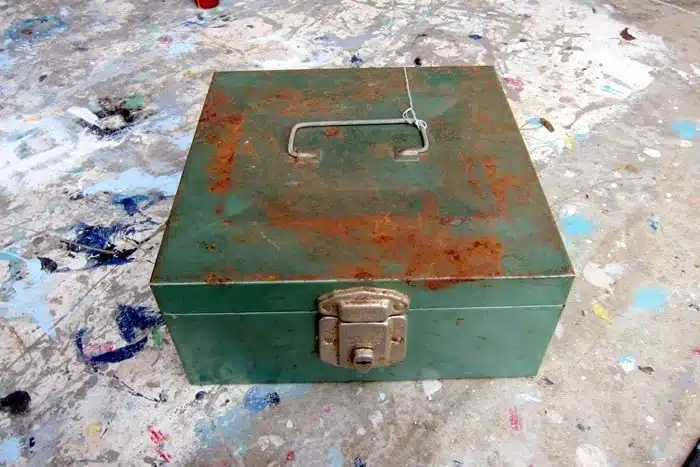 And you know I couldn't pass up the rusty metal box.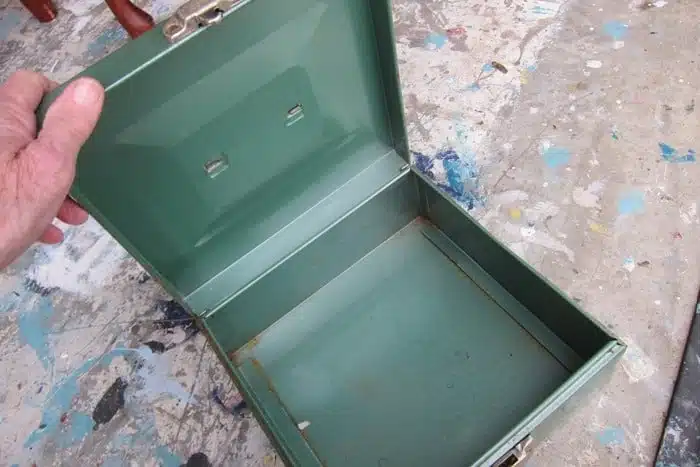 It's in better condition inside.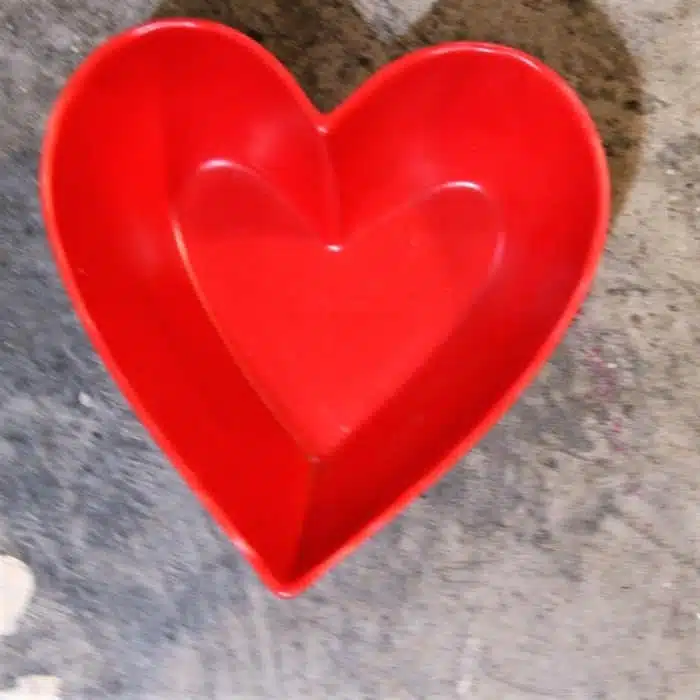 Not a great picture of the heart. It's a really pretty red and has "love" pressed into the bottom of the bowl. The dish is also microwave-safe.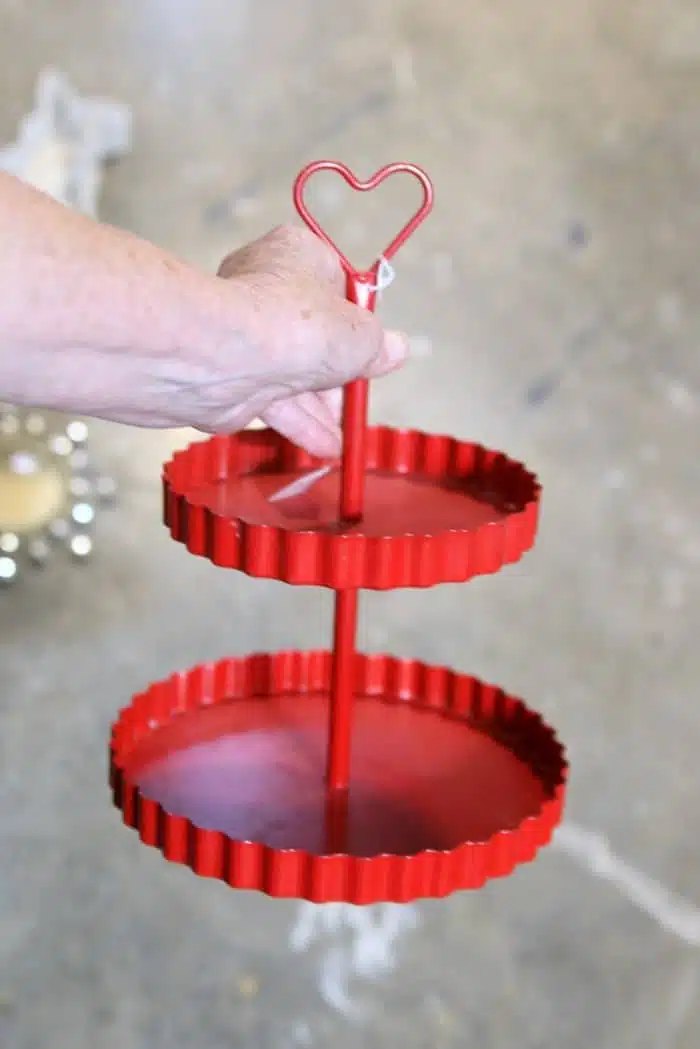 Cute red-tiered tray.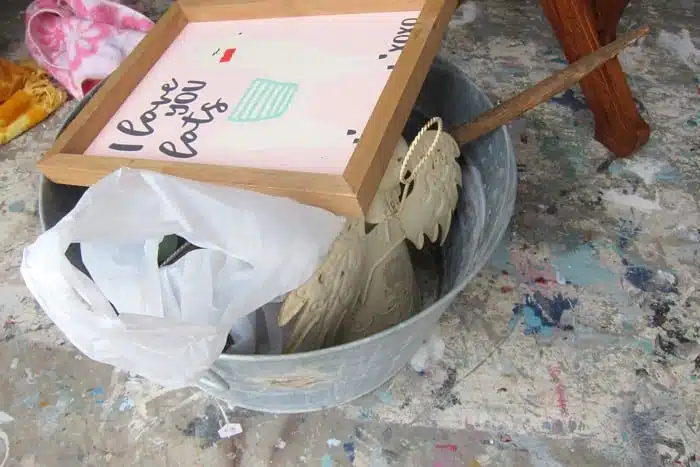 I got the big aluminum wash tub.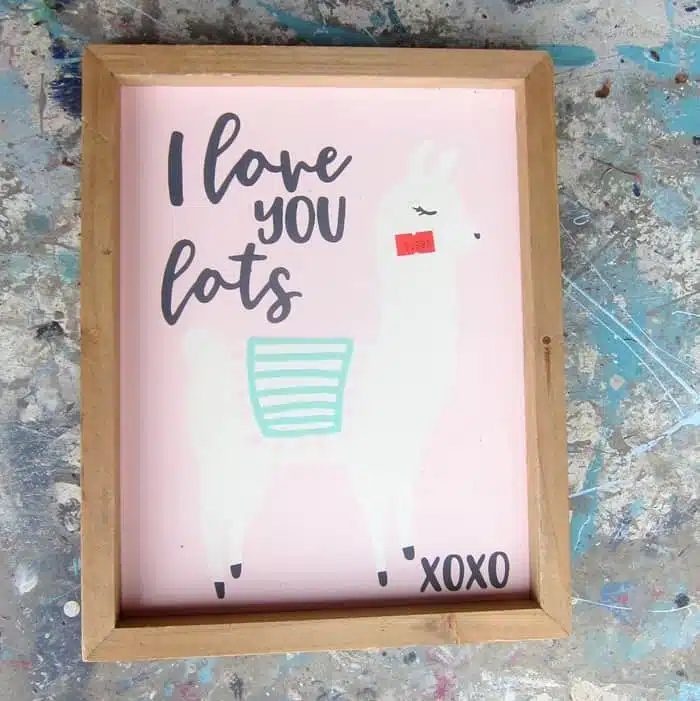 I bought the word sign for a special project I just finished up. Stay tuned for the reveal of this project which was inspired by a photo in a magazine.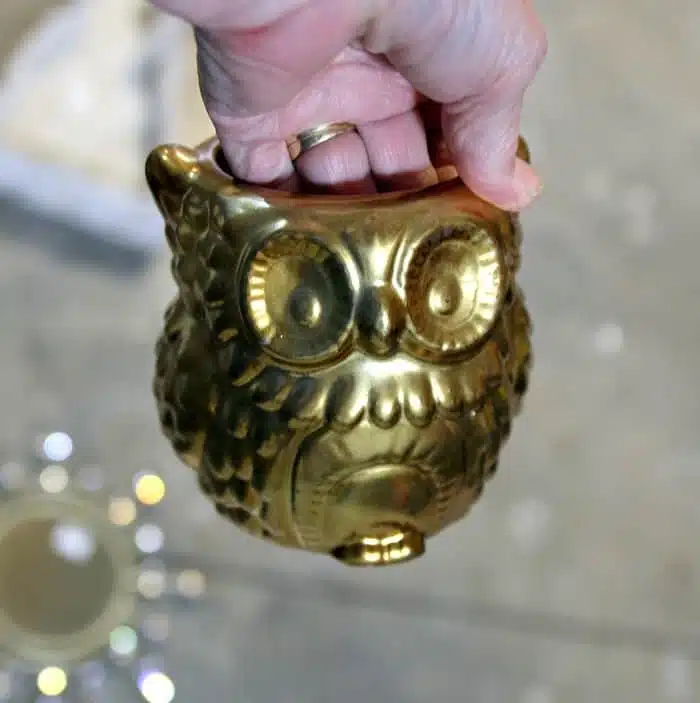 I believe the gold colored shiny owl is a candleholder and I think I had one just like it a few months ago.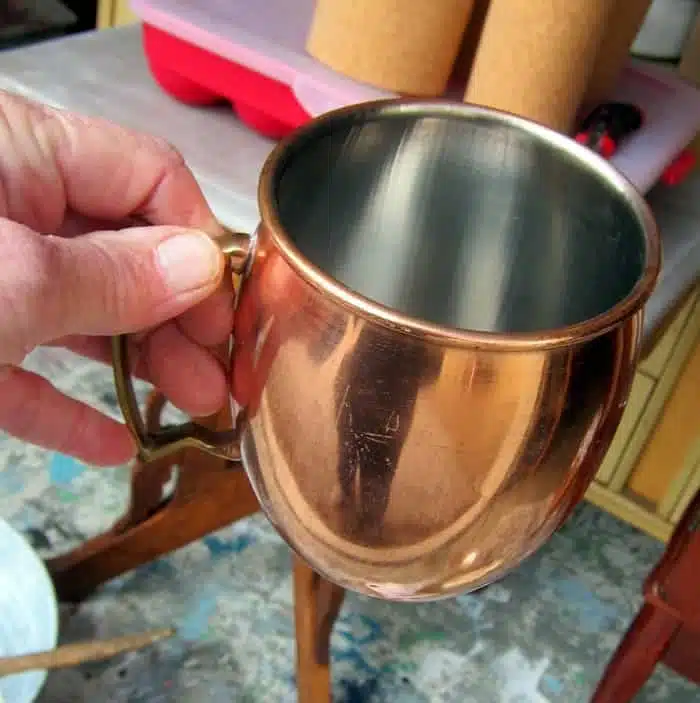 I got the Moscow Mule Mug at Goodwill. It's not pressed copper but it will work. I plan to make another gift using the mug as I did here….Last Minute DIY Gift Idea For Procrastinators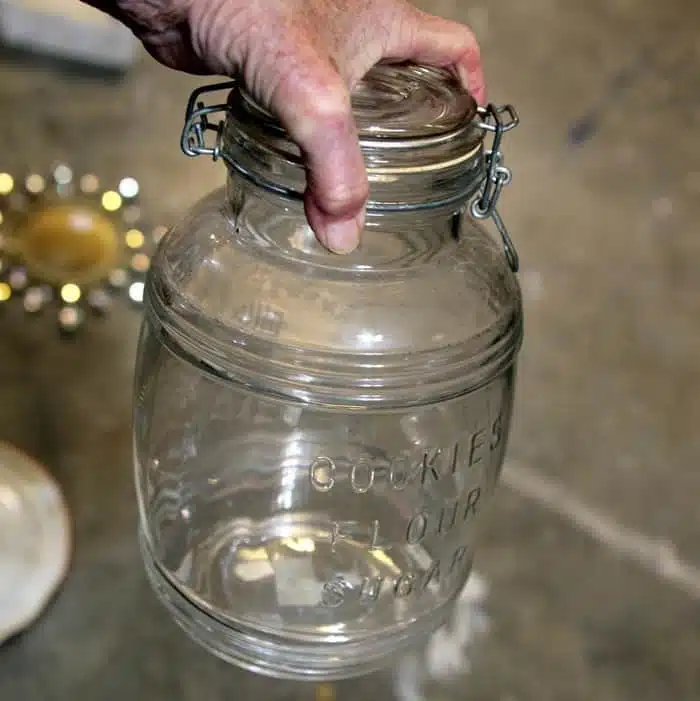 This gallon-size cookie jar is not vintage but it's cool. You can put all kinds of things in this jar.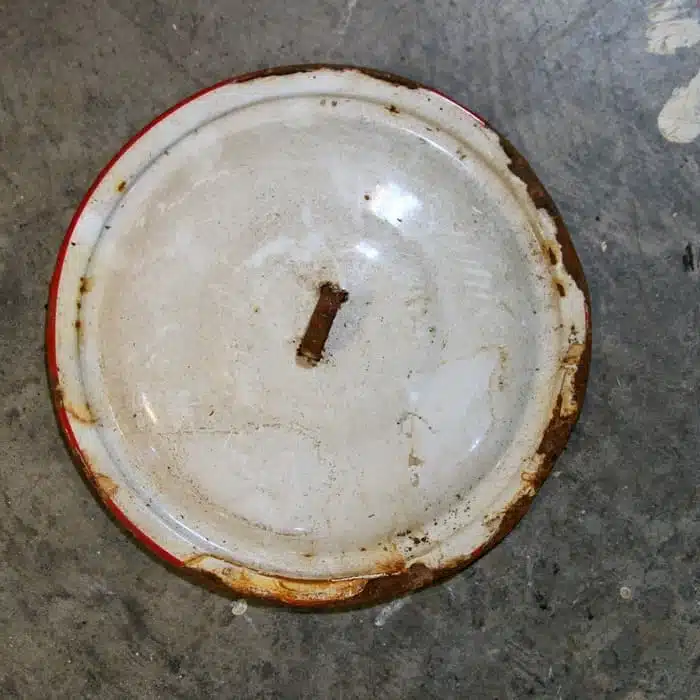 Yeah, the enamel pan lid is rusty and beat up but it has a red rim…..thinking Valentine's Day again.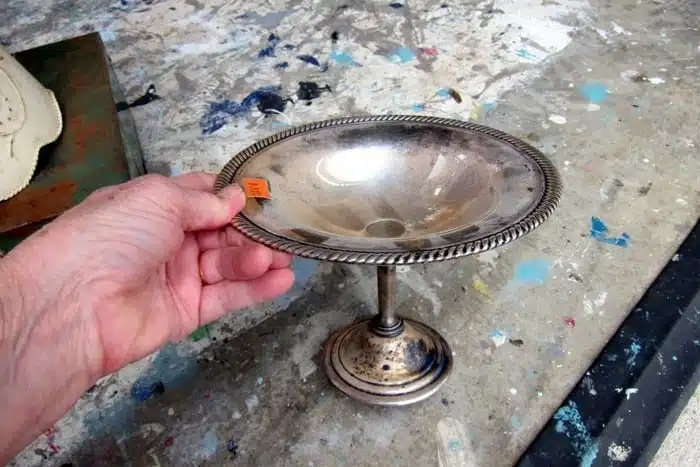 The silver plate piece came from Goodwill also. It is not the usual silverplate piece you see everywhere and I like it.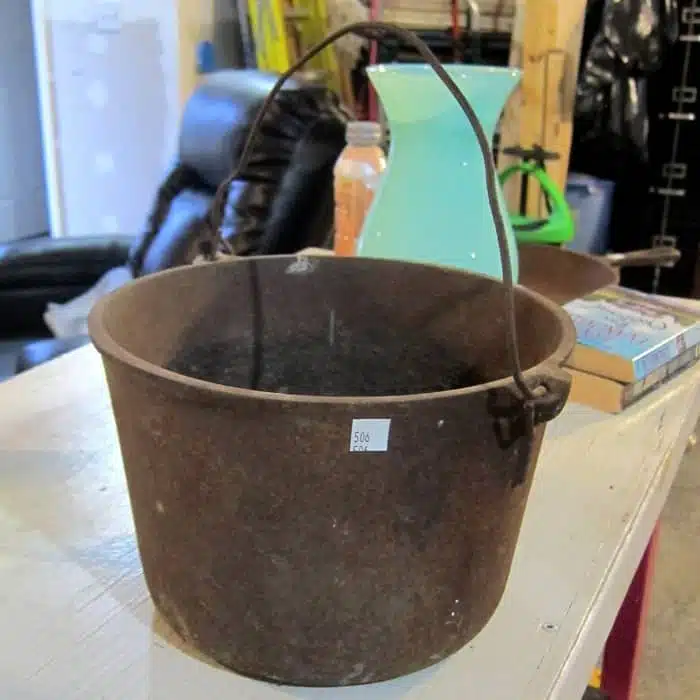 I got the old iron stew pot at the online auction. These pieces make great plant pots.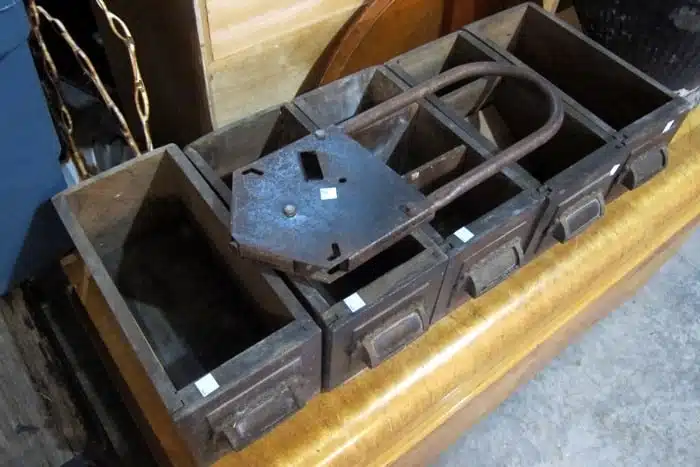 That sure is a big old lock. Not sure what I'm going to do with it. I bought it at the online auction and it's hard to tell the size in those photos. I also bought the 5 antique drawers at the auction.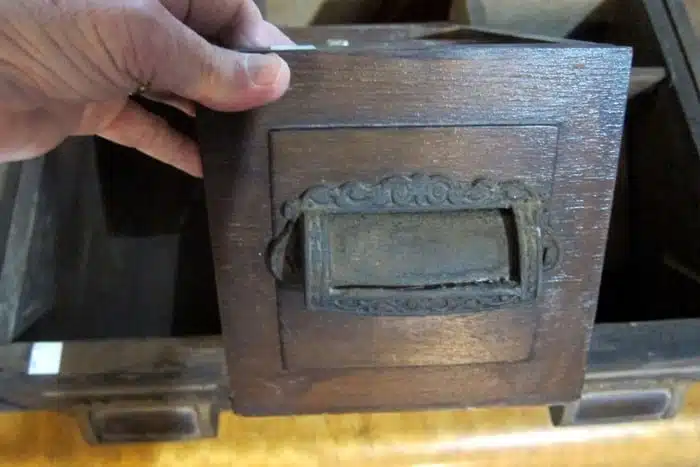 I love the pulls on the drawers.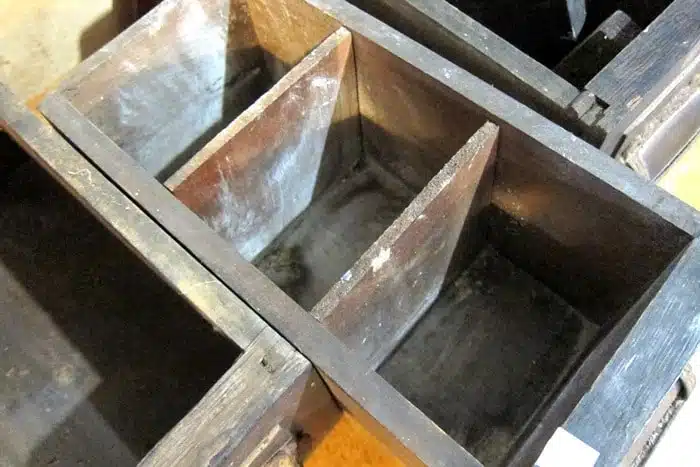 The drawers are all solid and they are deep too. I think maybe they were part of a desk.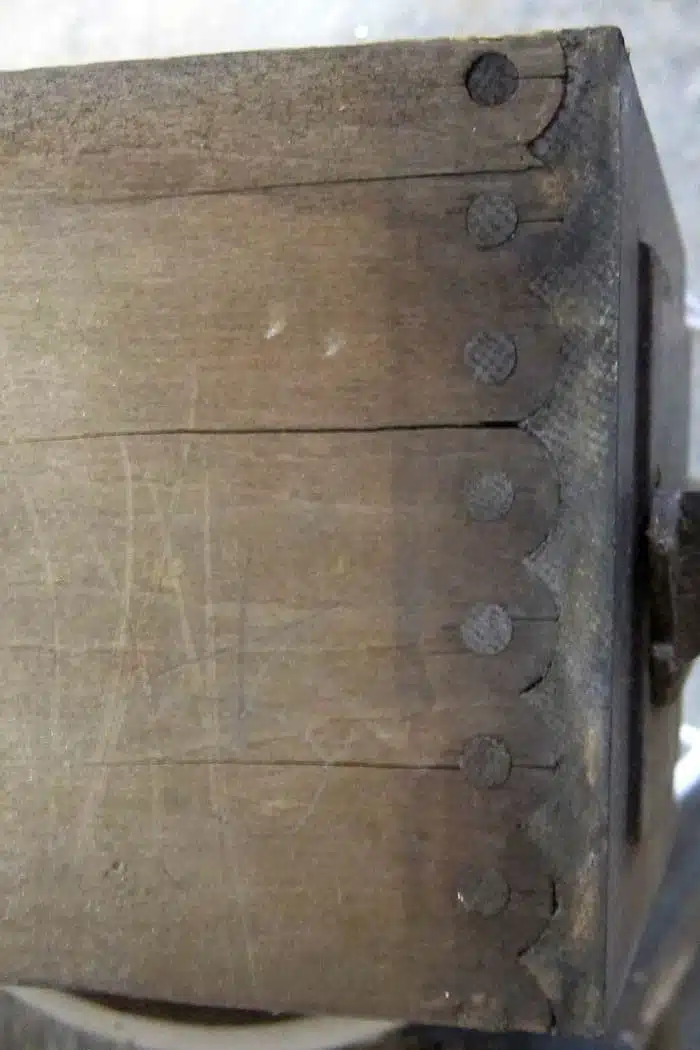 I had to look up the name of the drawer joint. It is called Pin and Cove or Knapp Joint and the technique was used from 1870 until 1900. I found the information here. So the drawers are definitely antique.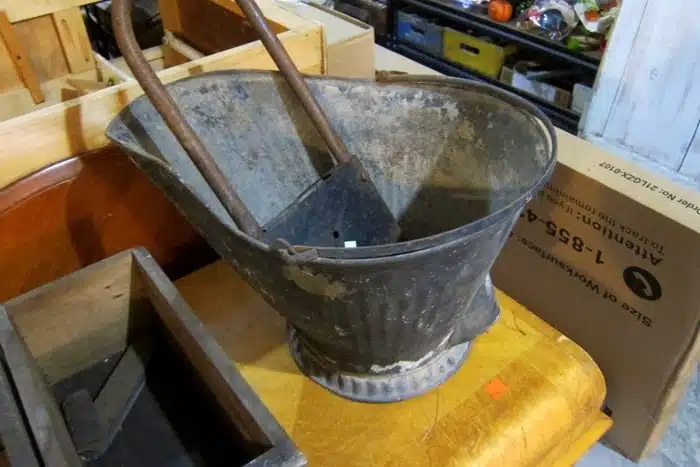 I also bought this coal scuttle at the auction.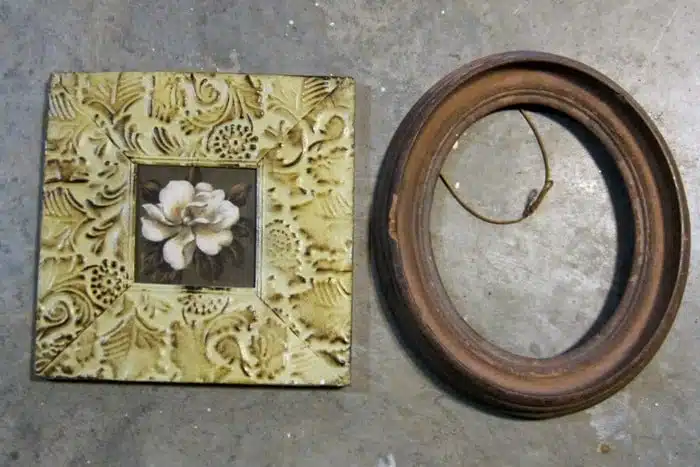 I bought the metal picture frame and the wood oval frame at the Southern Kentucky Flea Market in Guthrie, KY. I plan to remove the "flower" photo in the metal frame and paint the frame white and distress the paint. Then try to find something to replace the photo. The wood frame is going to be distressed white too.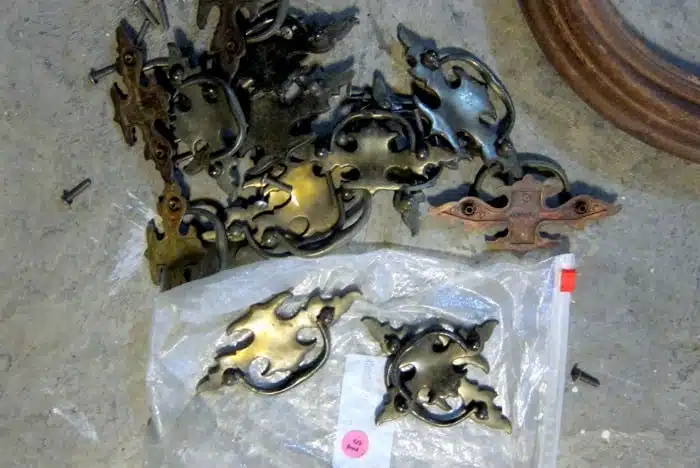 And I got this whole bag of furniture pulls for $1 at the same flea market.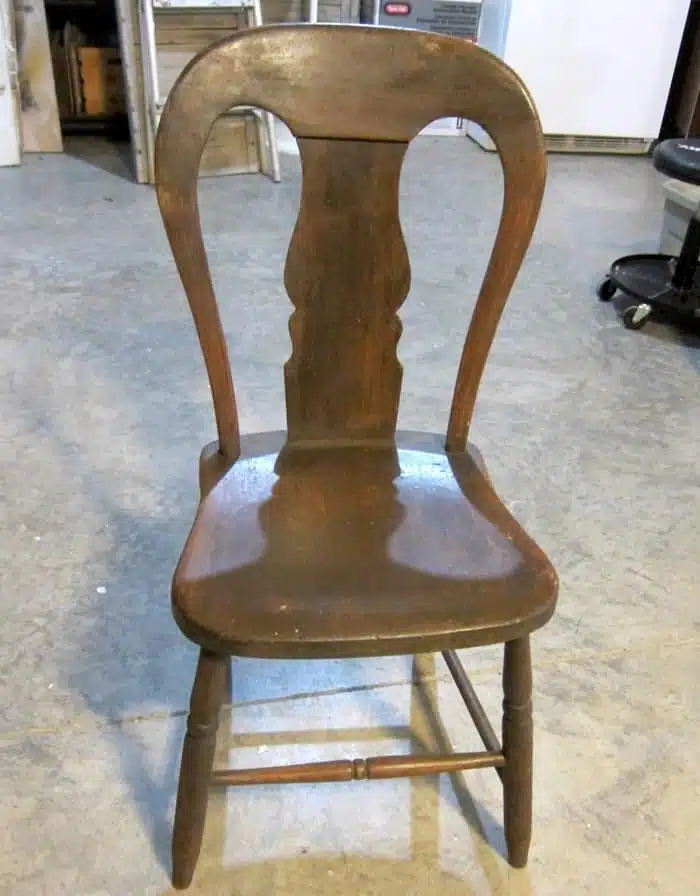 The antique wood chair was $22 and I am going to put it with a desk I painted earlier.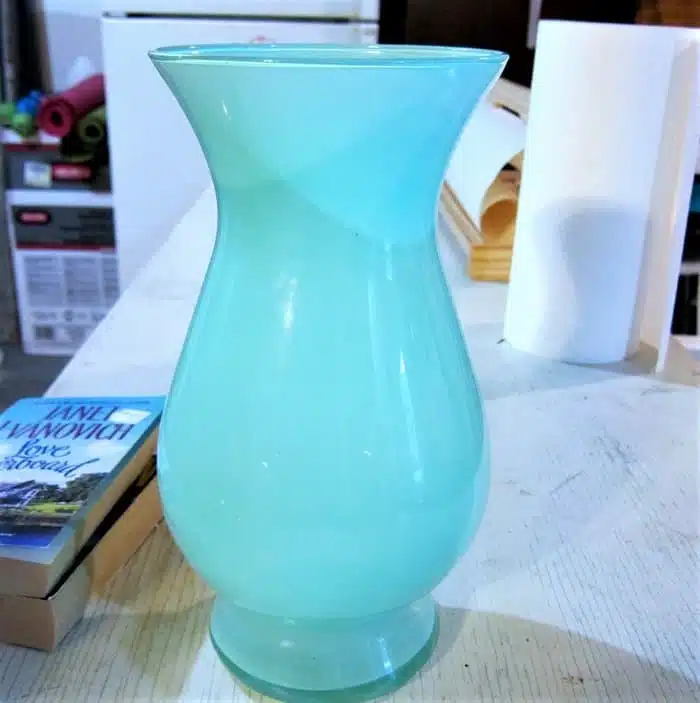 The transparent turquoise vase was less than $3…..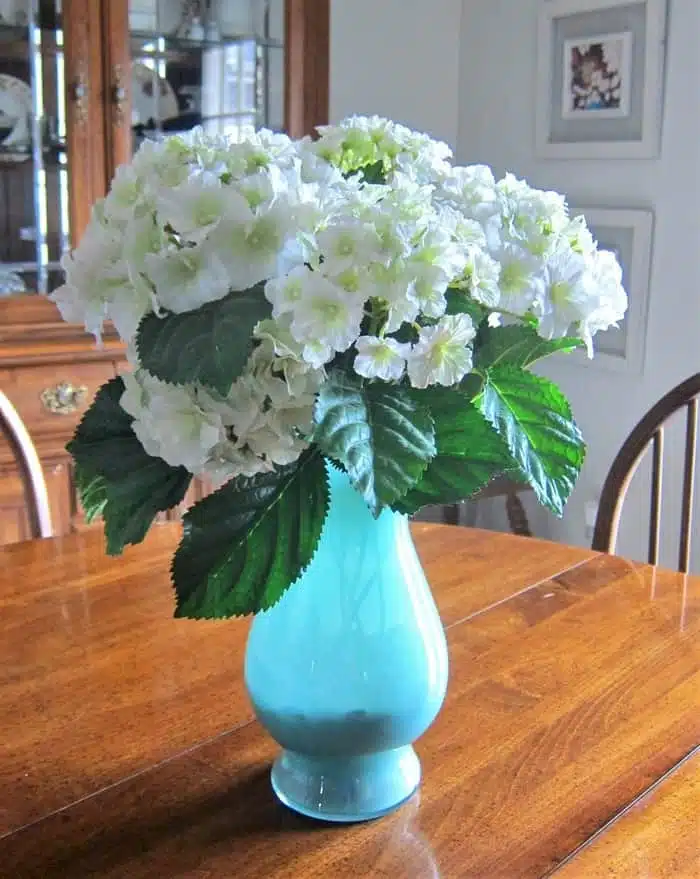 And I filled it with artificial hydrangea stems and put them on my dining room table.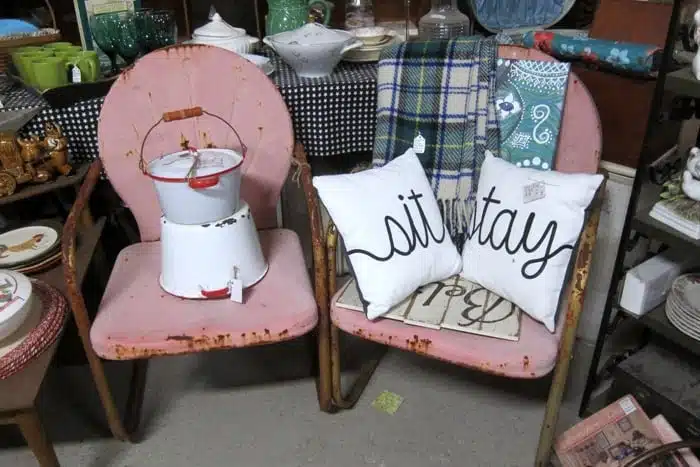 I did not buy the rose-colored metal outdoor chairs but I may go back and get them. At $40 each they were over my budget but the color is sooooo pretty.
Related Posts - Coolest Things People Found At The Thrift Store
Join the league of thrift store lovers who have found the coolest things in the most unforgettable of thrift marketplaces. Rare paintings, vintage clothing, and Renaissance-era furniture have been found in thrift racks, and here are a few thrift store finds by real people that will make your jaw drop...
10 Coolest Things People Found in Thrift Stores
10 Horrifying Finds From Thrift Stores
A Pennslyvania resident describes how he found a photo album at an auction house belonging to a U.S. soldier who served in the South Pacific during World War Two. "The first few pages were mostly snaps of various friends and acquaintances," says our contributor. However, as he went deeper, images of mutilated Japanese casualties began to appear...
10 Horrifying Finds From Thrift Stores
10 Things You Should Never Buy at a Thrift Store
"I tend to avoid stuffed animals," confesses one woman. "They are hard to wash and, assuming they belonged to children, have God knows what on them (or worse, soaked into them)."
10 Things You Should Never Buy at a Thrift Store
10 Things Not To Pass Up At Thrift Stores
There's a 99% chance vases found at the thrift store were used solely for holding flowers, and they're usually priced at only a few dollars. So it's always well worth picking up a vase or two whenever you come across them!
10 Things Not To Pass Up At Thrift Stores
12 Throw Away Things To Upcycle Today
Keep a lookout for old pairs of jeans that might be in danger of being donated or tossed out - they are invaluable in the upcycling world.
12 Throw Away Things To Upcycle Today
That's it! What did you see that you liked? Any project ideas for me? Thanks for being here, Kathy
Author: Kathy Owen (Petticoat Junktion)
Kathy is the founder of PetticoatJunktion.com, a home décor blog focused on repurposing and upcycling furniture, old hardware, rusty stuff, and thrifty finds into unique home décor. Kathy's projects have been featured on the Home Depot Blog, Plaid Crafts, Behr Designer Series, and in numerous magazines. Read more about Kathy here.