You will love this last minute gift idea. The gift is quick and easy to make along with being really cool. And the best thing is......you probably have what you need at home to put it together.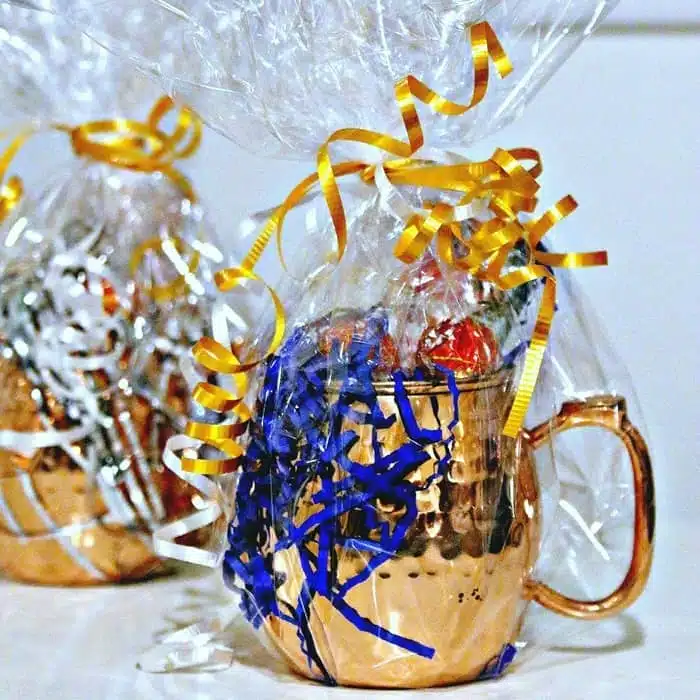 Copper Mugs Filled With Goodies
I made these mugs filled with goodies for the neighbor ladies who lunch together. We try to have lunch every week but everyone can't always make it. One or more of us usually has a Doctor's appointment or another commitment that trumps the lunch.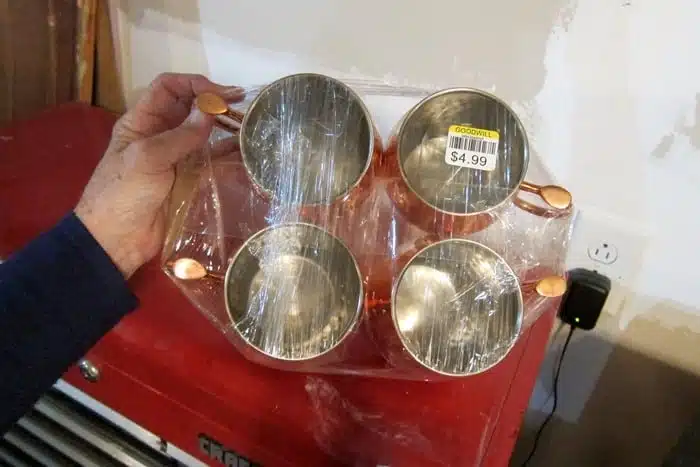 I bought 4 copper mugs at Goodwill for $4.99. These are known as Moscow Mule mugs. The copper keeps drinks really cold. Anyway, I got a good deal on the mugs and they were in perfect condition. Of course you can choose your own theme. You may want to go with Christmas cups or maybe simple white mugs for your gifts.
If you are like me you have an abundance of mugs or coffee cups at home. No one will ever know you scrounged through your cabinet looking for their Christmas gift base unless you tell.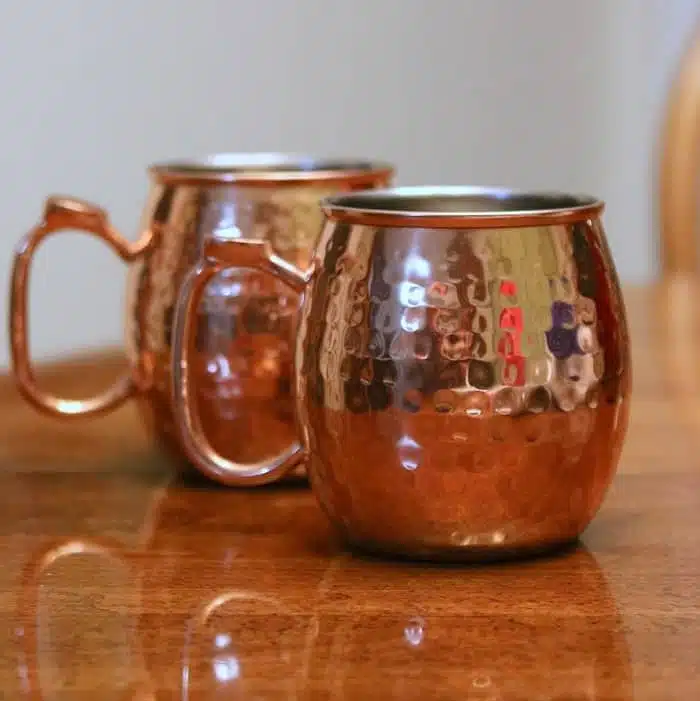 I cleaned up two of them to make the gift mugs. The mugs were in great condition with not a scratch!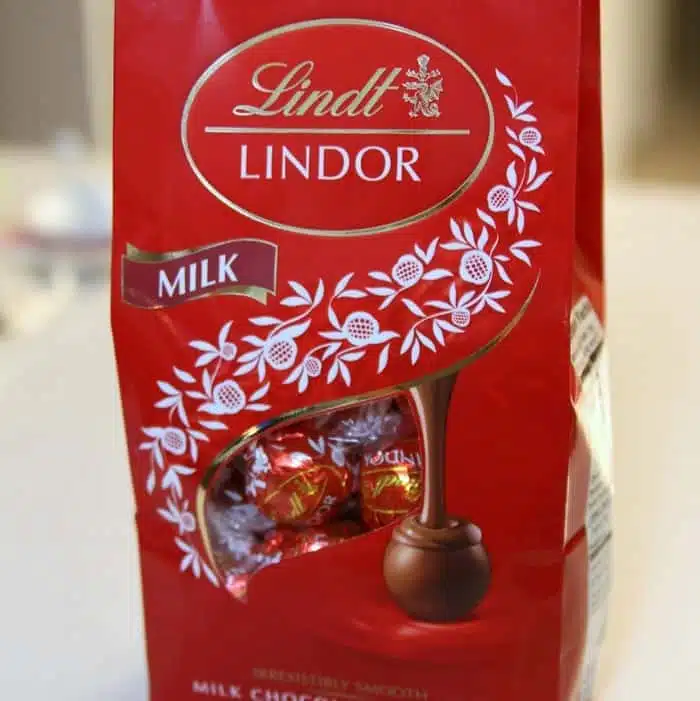 One of my favorite chocolate candies is Lindor Truffles, the milk chocolate kind. I bought a big bag in the hopes there would be extras after the mugs were filled. They happen to be Sofi's favorites too. I was looking at her Christmas list this year and at the bottom of the list were a number of food items. I remember one of them was Cool Ranch Doritos. I may need to put a few food items on my list.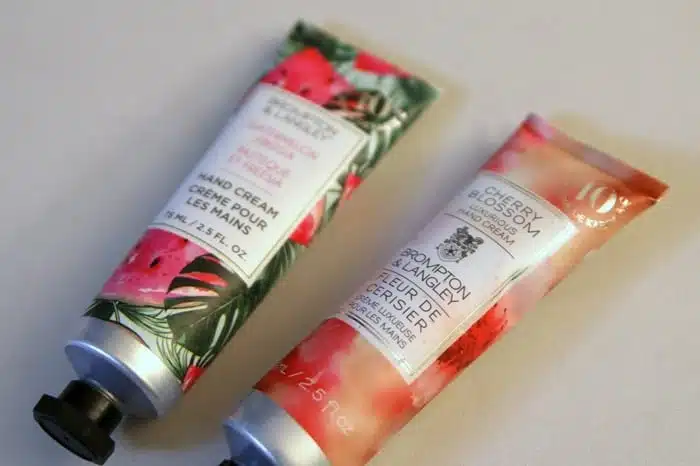 I bought two tubes of scented hand cream at Tuesday Morning. Tuesday Morning is a great place to find deals on fancy stuff.
I also gathered shredded paper and ribbon from my stash. The clear cellophane paper is from the Dollar Tree. You need it to wrap everything up.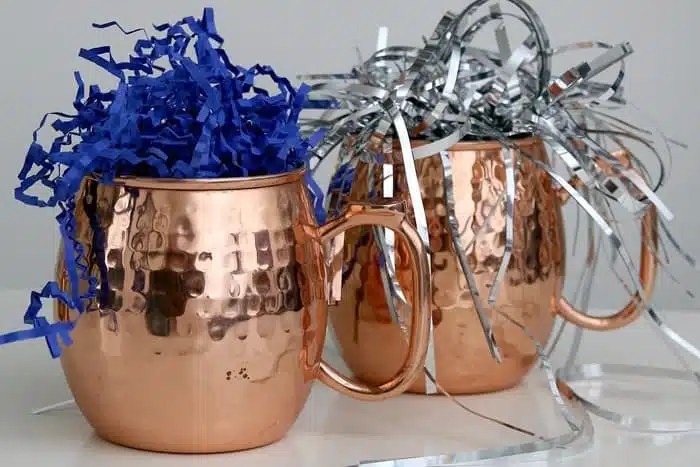 I put shiny silver shredded paper in one mug and pretty blue shredded paper in the other.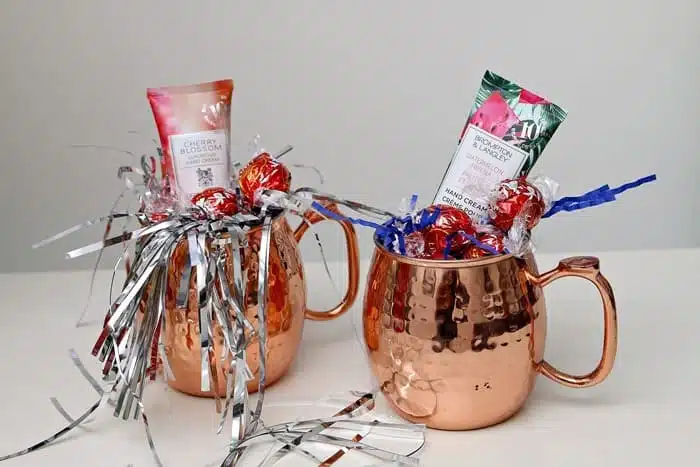 Next I put a tube of hand cream in each mug. Then I added a few pieces of candy to each mug. You notice the candy weighted down the paper so I pulled it up and puffed everything before wrapping the mugs in cellophane.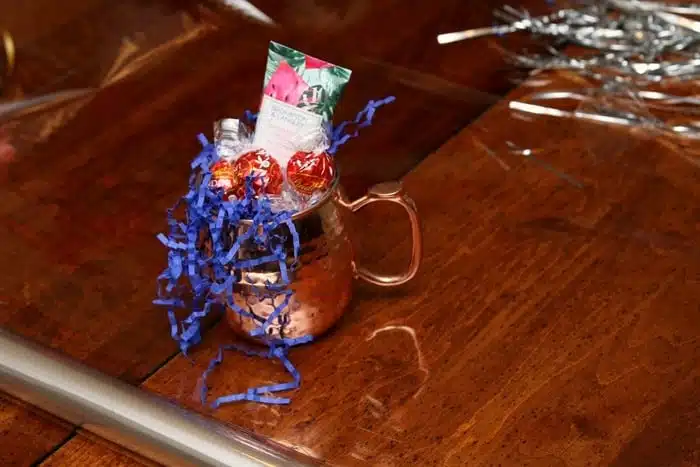 I set the mug on the cellophane wrap and cut a square the width of the cellophane. You want to have plenty of cellophane to gather at the top of the mug.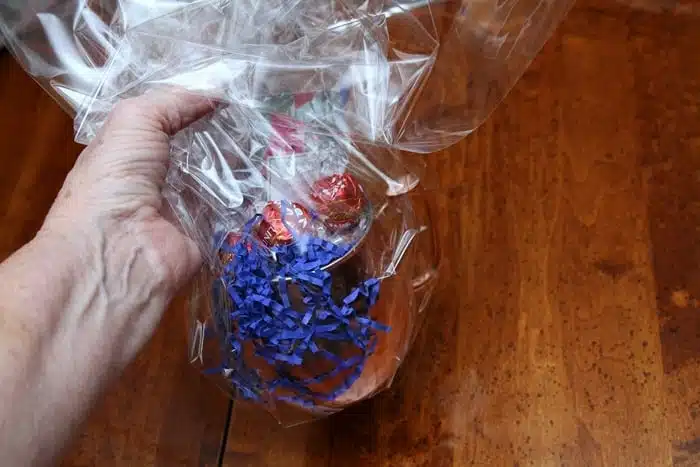 I gathered the cellophane around the mug and tied it with curly ribbon a couple of inches above the mug.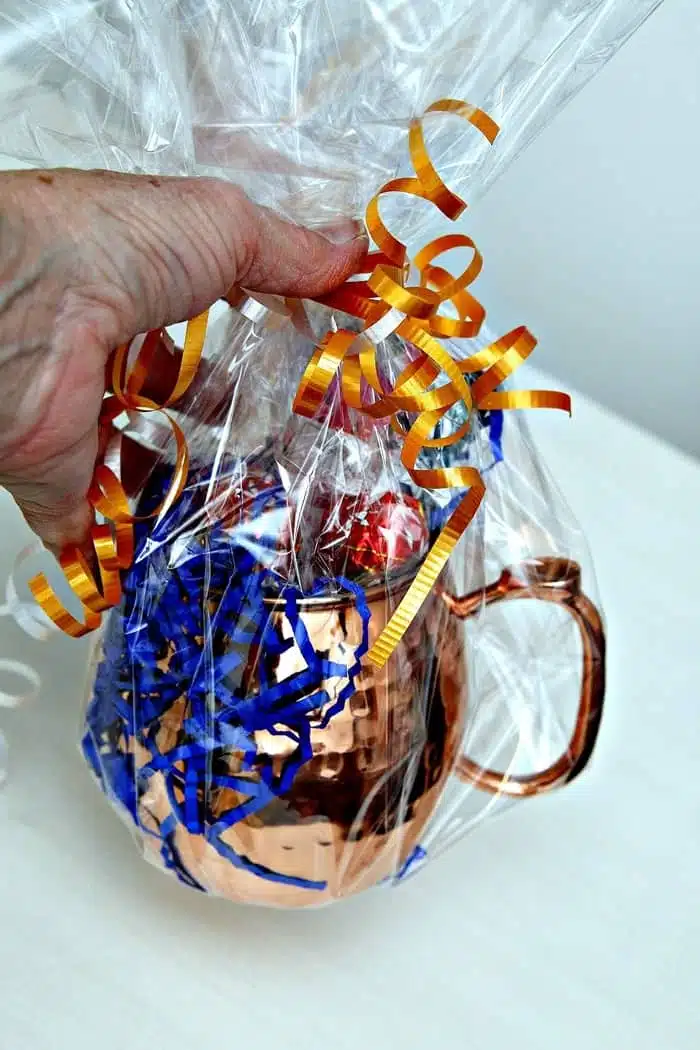 Then I used my scissors to curl the ribbon. I probably could have made the shredded paper filler look a bit neater. I was in a hurry to get them done and I actually put them together in about 15 minutes.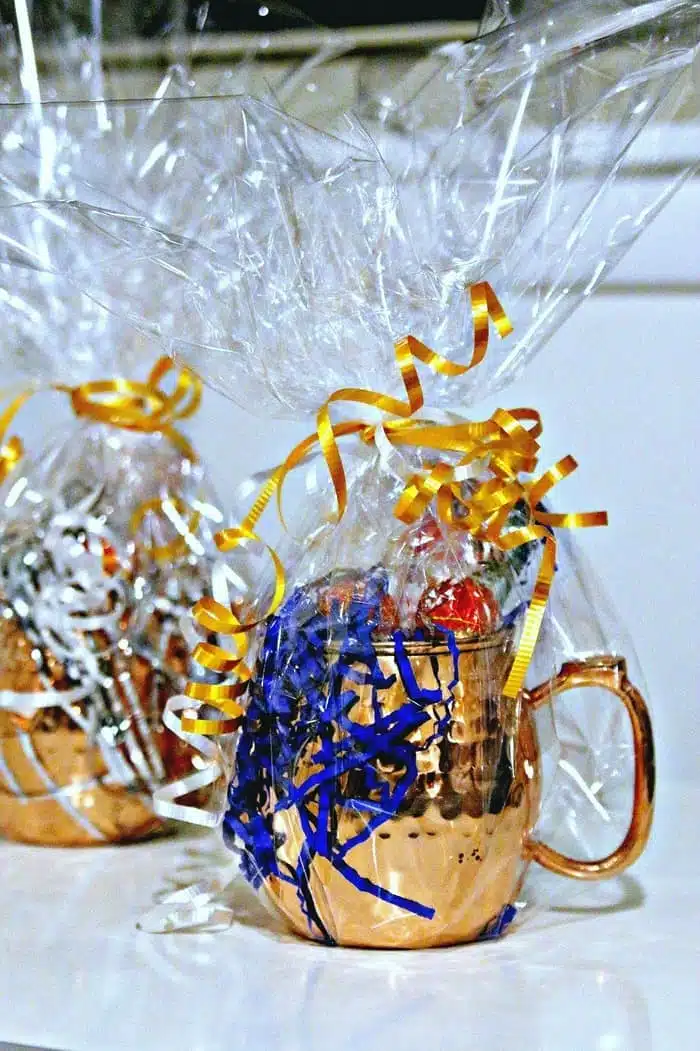 See how easy that was. You can take this idea and run with it. If you don't have extra mugs at home run up to Dollar Tree, Tuesday Morning, or your favorite shopping spot and pick up a couple of fun things to add to your mugs.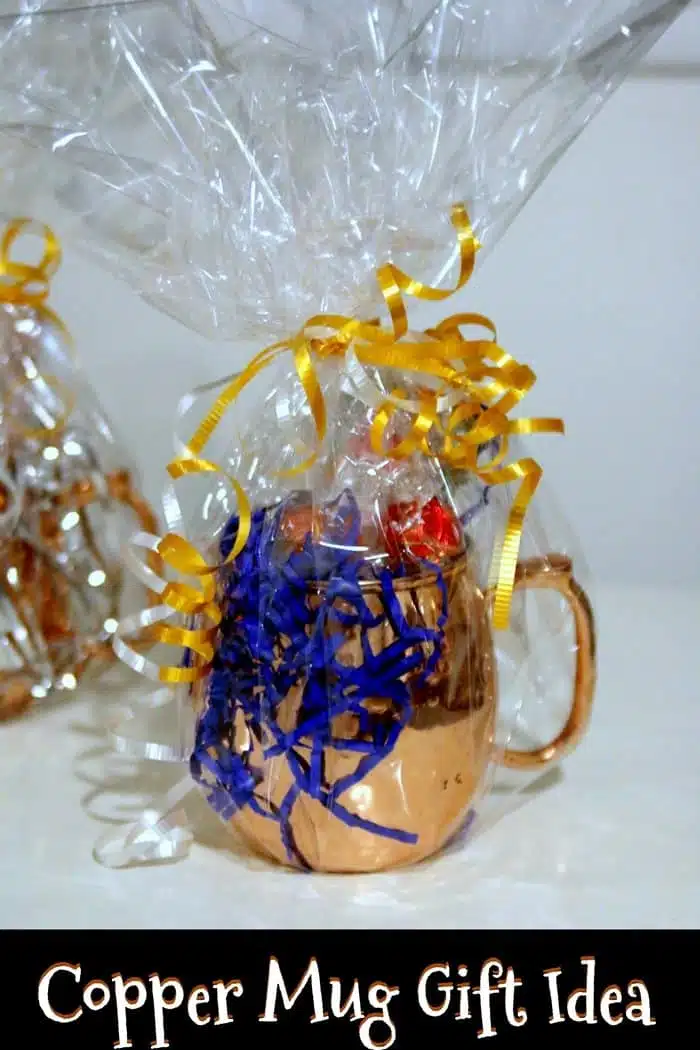 Last Minute DIY Gift Idea
These make great gifts for friends, teachers, neighbors, anyone. They also make great hostess gifts. Never go to a party or get together empty handed. Take a little something for your hostess.
If you're not in to making gifts check out my favorite cookies and DIY products on my Amazon page here.
Other gift ideas for anyone on your list…..
Easy DIY Confetti Coasters: Inexpensive Gift Idea
Make Dollar Tree Gift Bags For Everyone On Your List
5 Minutes Or Less To The Perfect Gift | DIY Vintage Magnets
Inexpensive Dollar Tree Gift Baskets | Ideas For All Occasions
As always, thanks for being here and have a great day, Kathy
DIY Christmas project.....
Author: Kathy Owen (Petticoat Junktion)
Kathy is the founder of PetticoatJunktion.com, a home décor blog focused on repurposing and upcycling furniture, old hardware, rusty stuff, and thrifty finds into unique home décor. Kathy's projects have been featured on the Home Depot Blog, Plaid Crafts, Behr Designer Series, and in numerous magazines. Read more about Kathy here.