Make DIY confetti coasters for your next party or just for everyday use.  I use mine for everyday because they make me smile. The coasters are so pretty with the bold colorful confetti. You guys know I love to surround myself with color.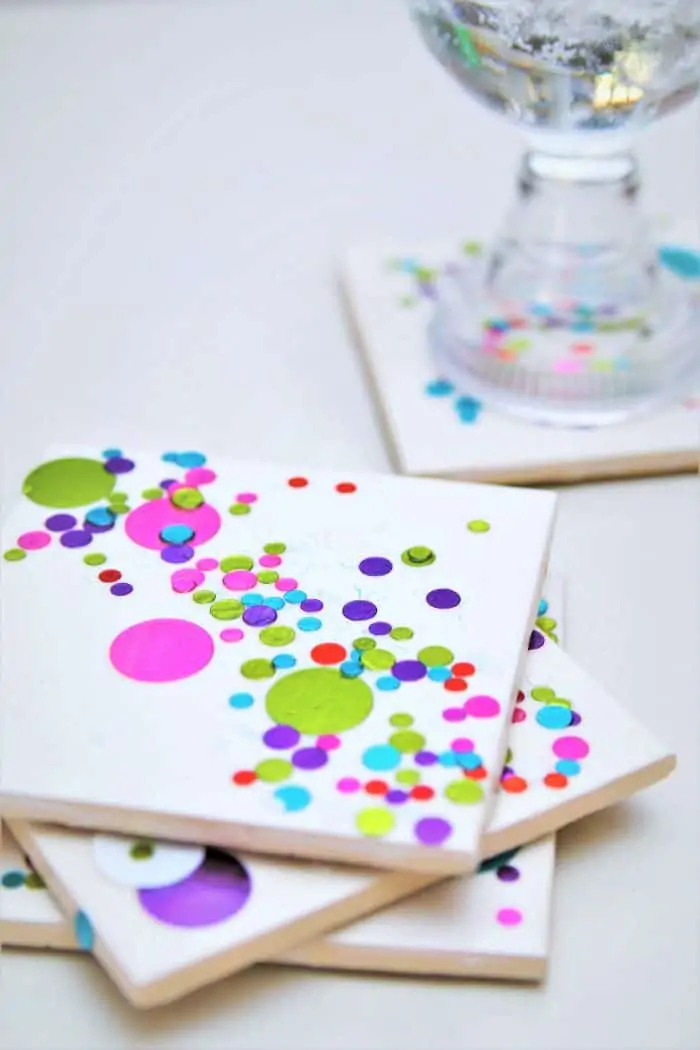 The coasters are inexpensive to make and take no time at all, less than 30 minutes (allowing for drying time). And……..you just have to smile when you look at them. These bright little dots have my name all over them. Bold colors are right up there with chocolate on my list of favorite things. This coaster idea can be customized using different colors of confetti or special confetti with words, dates, etc.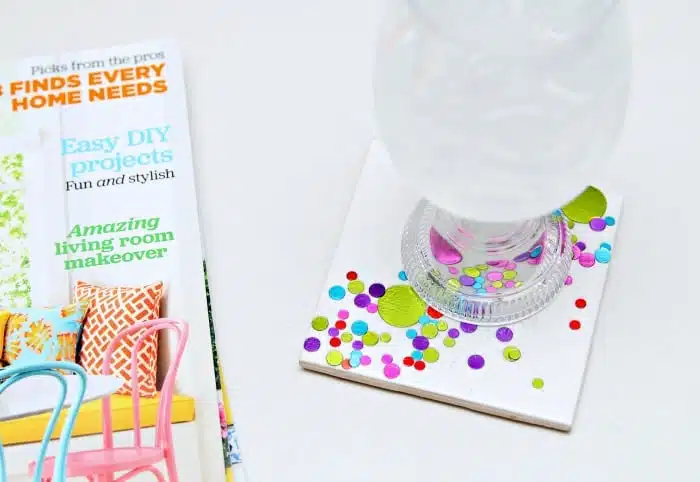 There is champagne glass confetti, age related confetti, you-name-it confetti. Now to get to the project details.
How To Make Confetti Tile Coasters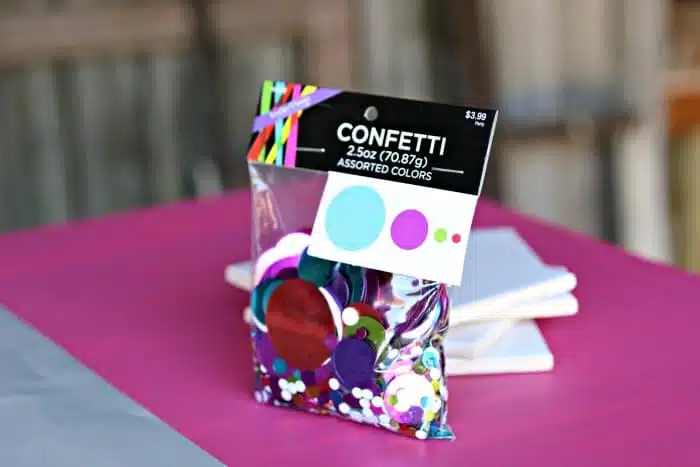 Supplies for the Coaster project:
Confetti from Hobby Lobby (50% off coupon)
4 Ceramic Tiles from the local home improvement store
Cork or sticky cushion pads
Mod Podge – Hard Coat and Gloss Formulas
Mod Podge Brush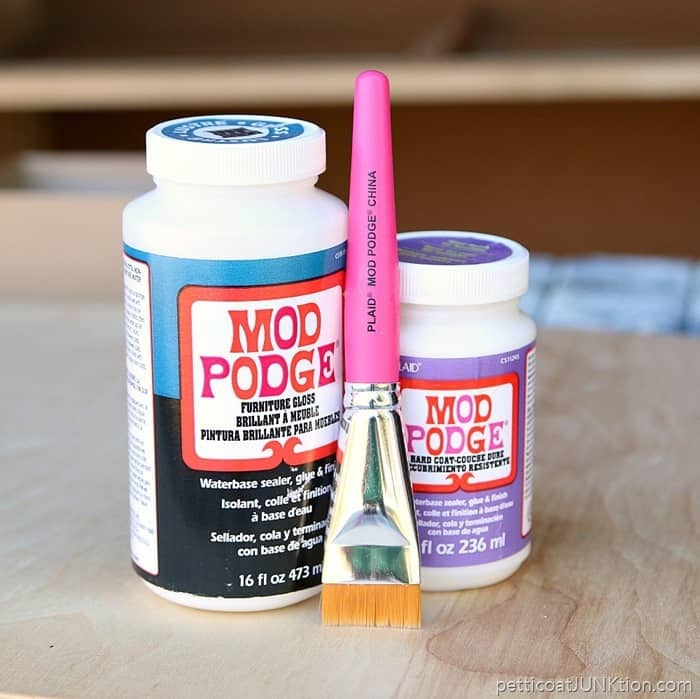 There are so many formulas of Mod Podge I can't keep up with all of them. I really like the furniture gloss and I like the matte finish Mod Podge too.
Step 1. Apply Hard Coat Mod Podge to the ceramic tile.
A Mod Podge brush is perfect for this step. I applied a pretty thick coat of Mod Podge to the tile. The brush with the short bristles makes applying the Mod Podge super easy.
Step 2. Sprinkle confetti onto the tiles.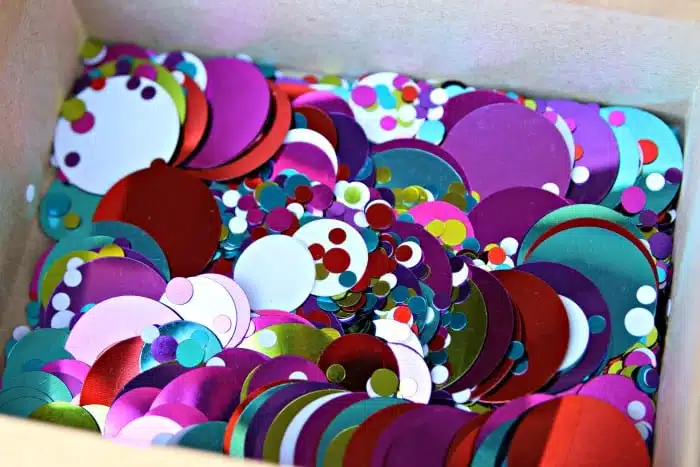 It was kind of hard to get the confetti out of the bag so I poured it all into a box so I could pick up the little pieces.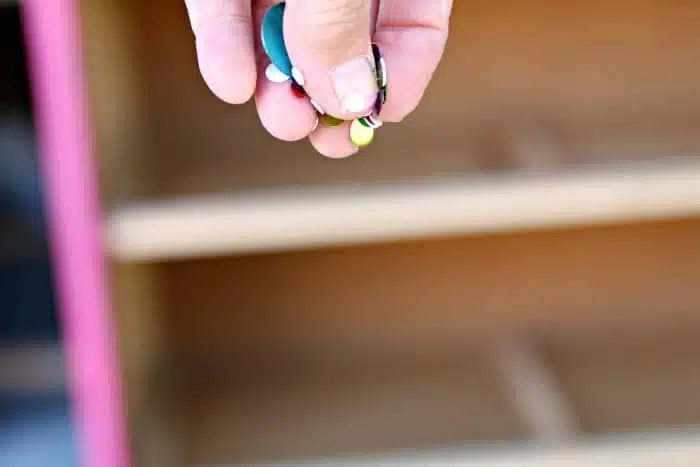 I got a handful of confetti and sprinkled it on the tiles all willy-nilly. I left some of the confetti in layers just as it fell and some I spread out. The larger dots of confetti I laid on the coasters and worked around them with the smaller dots.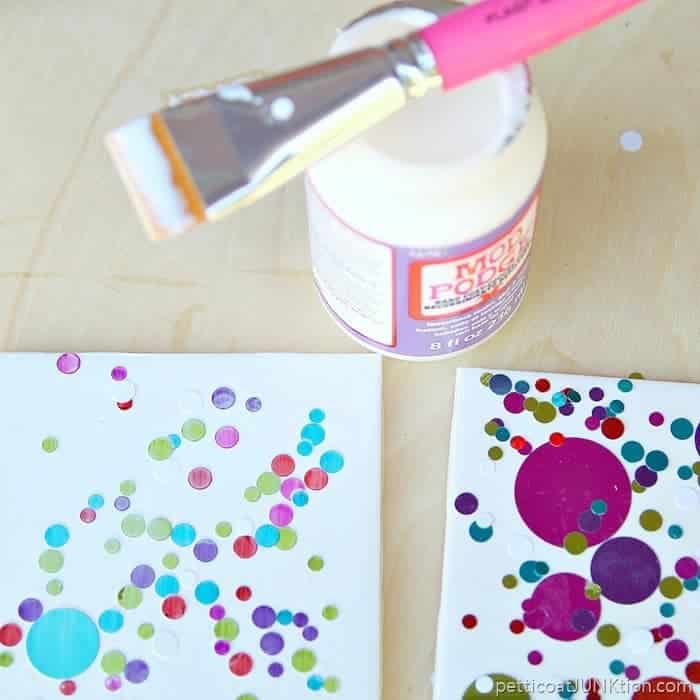 The photo above shows the tile on the left has a coat of Mod Podge applied over the confetti as a sealer. The one on the right doesn't have Mod Podge brushed over the confetti yet.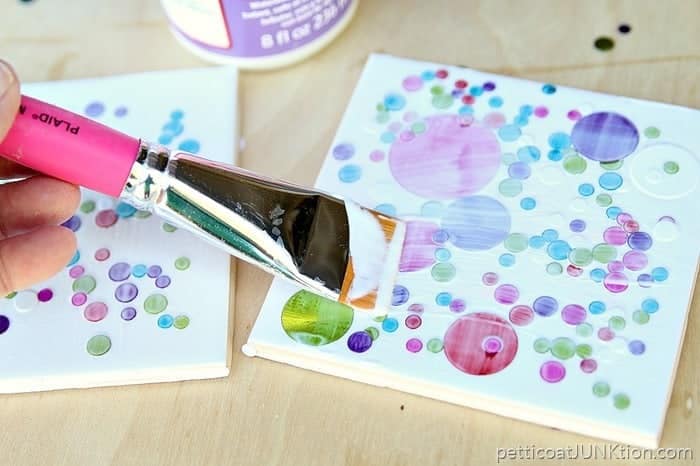 Step 3. Apply Hard Coat Mod Podge over the confetti.
Once the layer of confetti and Mod Podge is dry, coat the tile with several layers of Hard Coat Mod Podge allowing for drying time in between layers.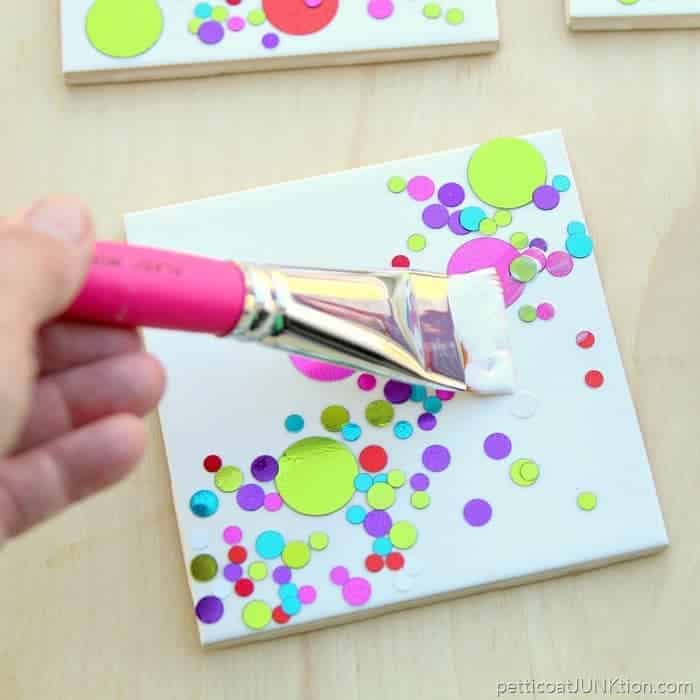 Step 4. Apply a layer of Gloss Mod Podge
You guys know I like the shiny stuff. I applied one layer of Gloss Mod Podge as the finishing touch because the  Hard Coat Mod Podge isn't real glossy. The confetti was shiny to start with but a little extra shine is always nice.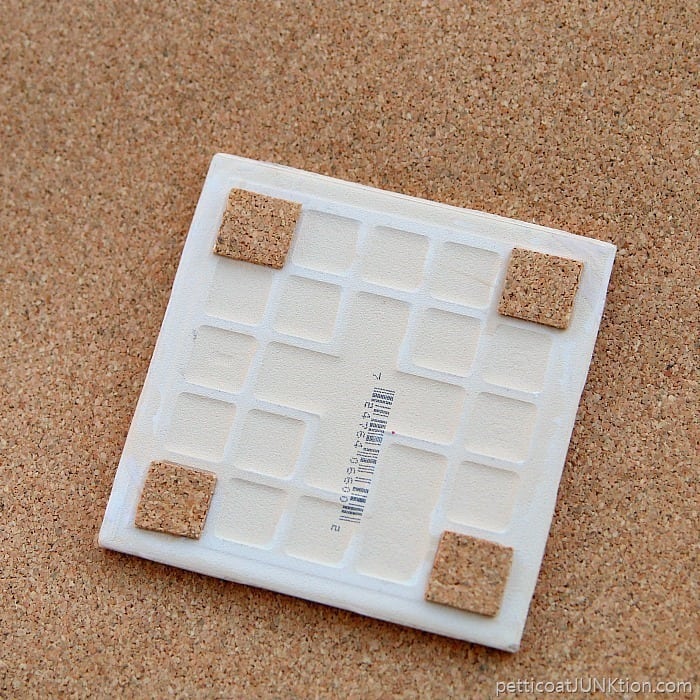 Step 5. Add table protector pads
Now we need to add something to the bottom of the tiles to protect the table. I had a roll of cork in my stash so that's what I used for the coaster pads. I cut a small square of cork for each corner and glued them on using regular glue. Pre-cut adhesive pads would work great too.
Look at all that sparkle and shine. I would use these at my New Year's Eve party. The guests would uh and ah over them. Brings a big smile to my face. This little set is a gift for a friend. These are so pretty you don't even have to wrap them. Just stack them and tie a bow around them.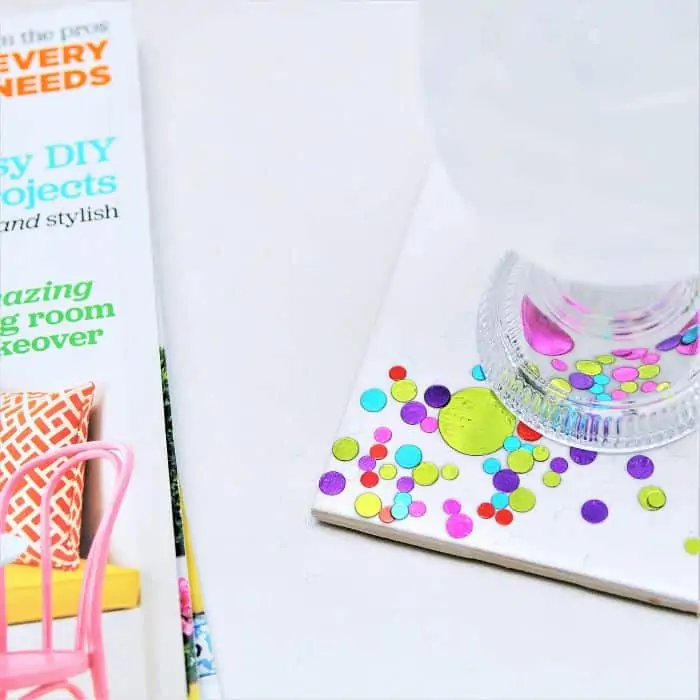 Now I need to make a set for me but I ran out of tiles.
I love the confetti so much I used it on a piece of furniture here......You'll Never Believe What I Did With Confetti.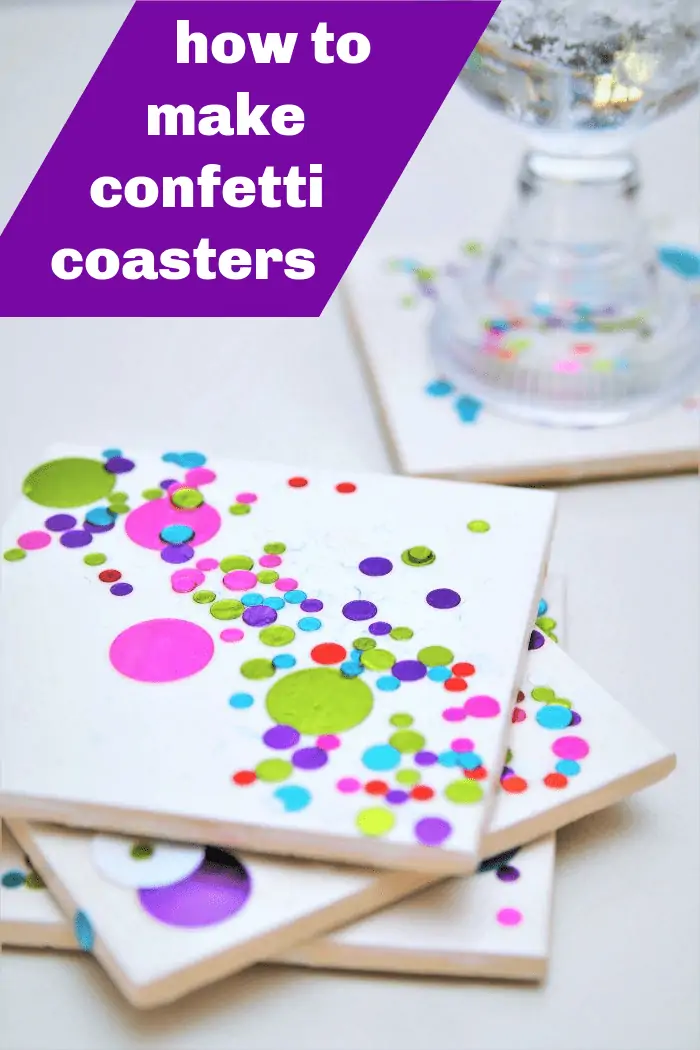 These coasters make great gifts and they won't break the bank either. Your friends would love a set of confetti coasters, trust me. Have a great day and thanks for being here. Kathy
Author: Kathy Owen (Petticoat Junktion)
Kathy is the founder of PetticoatJunktion.com, a home décor blog focused on repurposing and upcycling furniture, old hardware, rusty stuff, and thrifty finds into unique home décor. Kathy's projects have been featured on the Home Depot Blog, Plaid Crafts, Behr Designer Series, and in numerous magazines. Read more about Kathy here.