Display your favorite candies creatively and maybe wrap up some sweet treats for your friends and neighbors. These treat displays take only minutes to make and you will love the smiles they bring to little faces.
1. Hershey's Candy Sweet Treat Display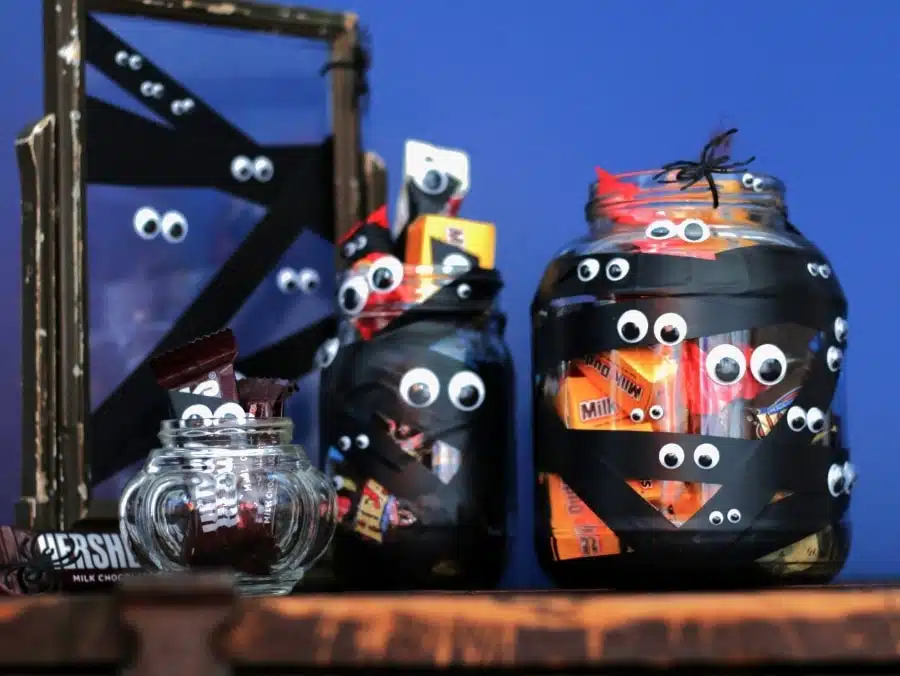 What a fun display. Recycle food jars by wrapping them with inexpensive black electrical tape and adding googly eyes.
2. Candy Corn Dish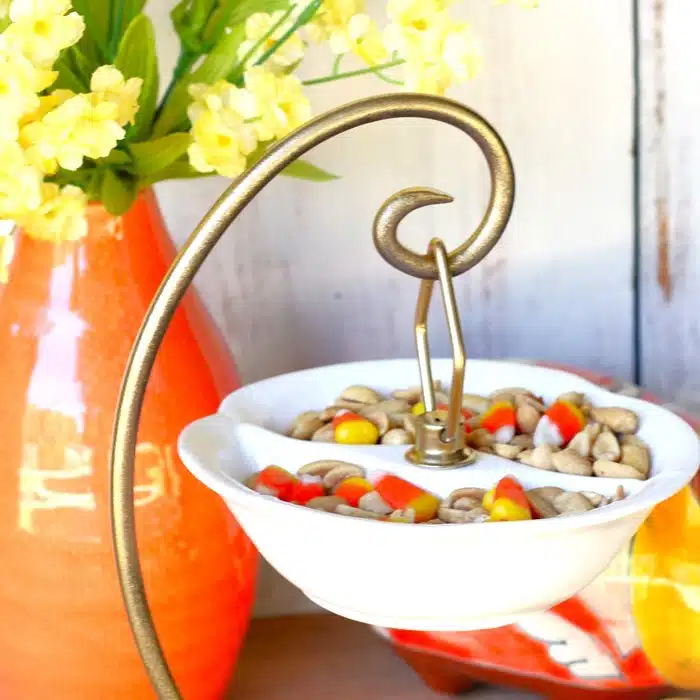 My favorite Fall treat is a combination of candy corn and salted peanuts. Display them in a hanging dish. This dish and holder are thrift store finds.
3. Mummy Crate
Small wood crates decorated with electrical tape and googly eyes can hold wrapped candy bars or mason jars filled with candy corn.
4. Glass Dish With Knob Lid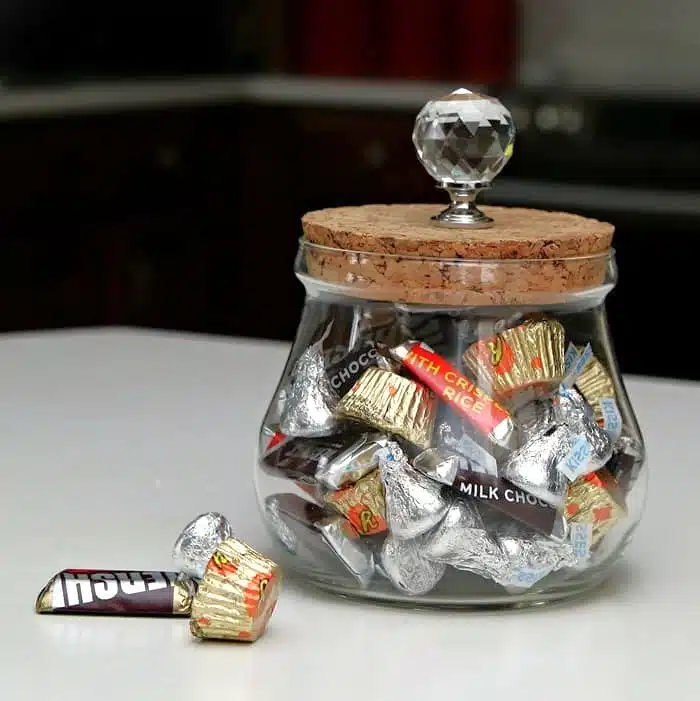 Add a furniture knob to a cork-lidded glass dish and fill the dish with seasonal candy.
5. Condiment Repurpose Candy Display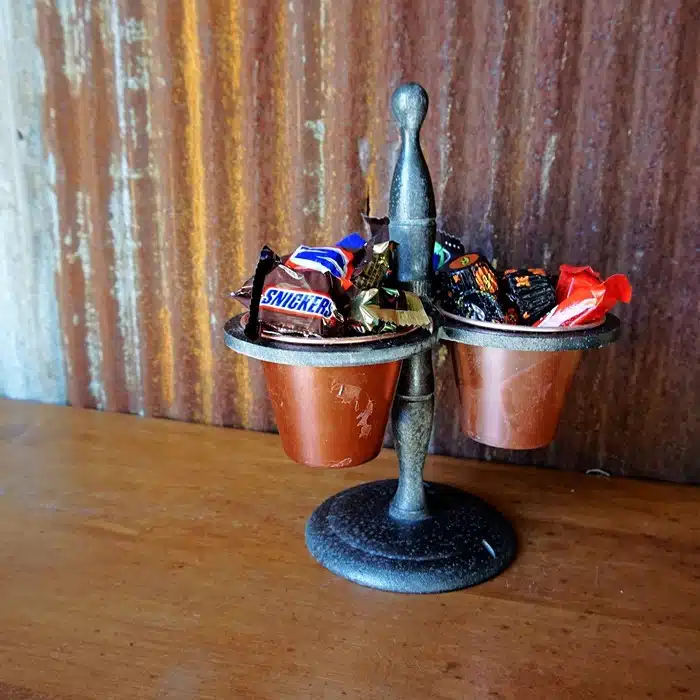 You can use all kinds of things to display your favorite candy. This condiment holder is a thrifty find spray painted with Rustoleum Hammered Spray Paint.
6. Moscow Mule Candy Filled Gift Idea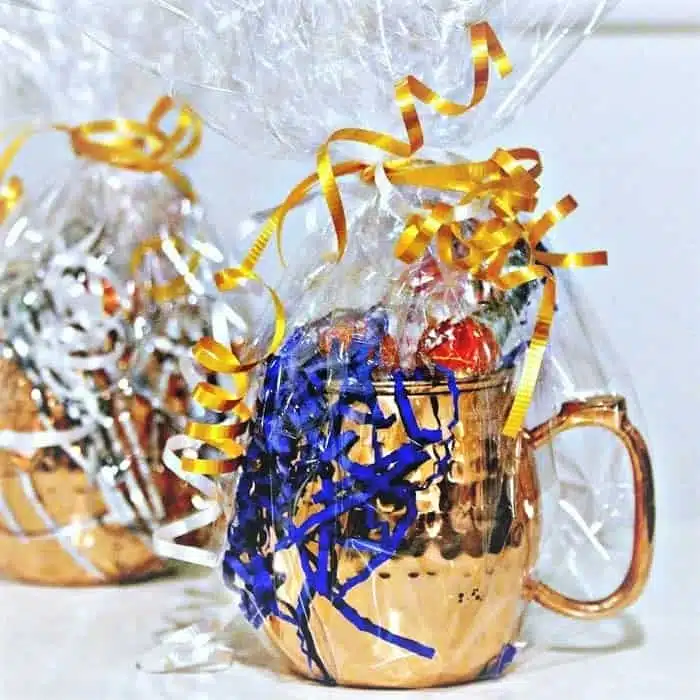 Talk about fancy. The Moscow mules came from Goodwill at a cheap price. My good friend and neighbor needed cheering up, so I filled the mugs with Lindt Chocolates and wrapped them up all pretty. I gave one mug to her and one to another neighbor. Surprises are always nice.
7. Dollar Tree Candy Holders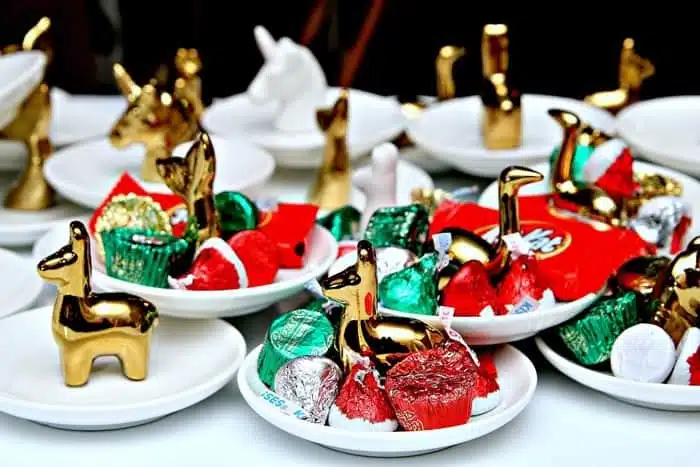 The little trays from Dollar Tree are inexpensive and, when filled with seasonal candy, make great gifts for caregivers or nursing home staff.
8. Candy Filled Paper Wrapped Gift Mugs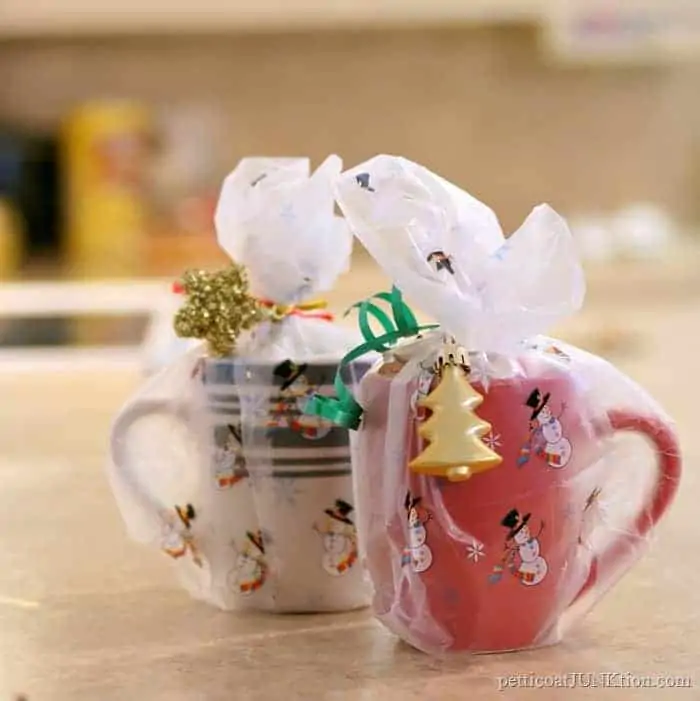 Another idea for nursing home staff during the holidays are seasonal mugs from Dollar Tree mug filled with peppermints. Wrap the mugs in cellophane.
9. Party Glass Candy Holder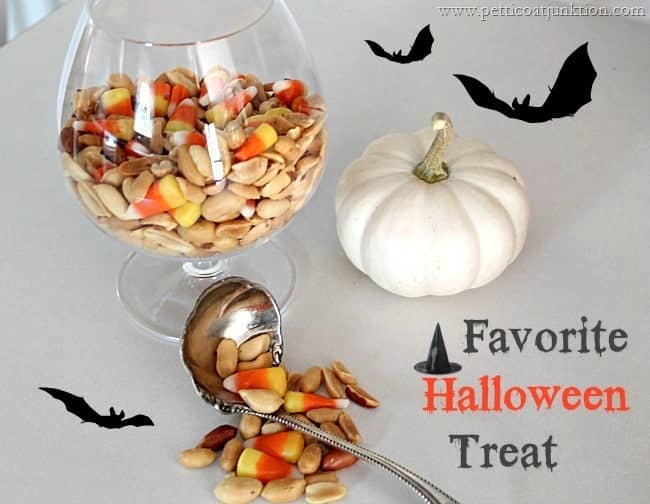 Having a Halloween party? Go to your china cabinet or kitchen cabinet and find a pretty glass and silverplate spoon. Fill the glass with your favorite candy.
10. Don't Forget The DIY Treat Bags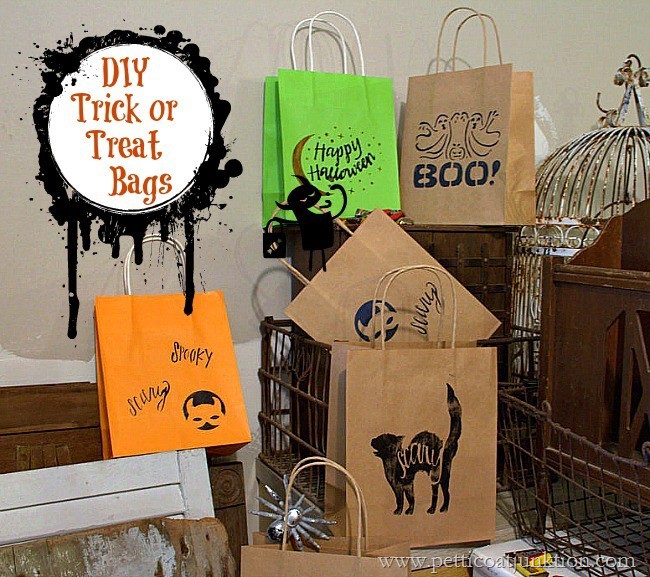 Stencil inexpensive kraft bags to hold the candy for trick-or-treaters or give the little ones the bags to hold their treats.
11. Junk Upcycle Candy Holder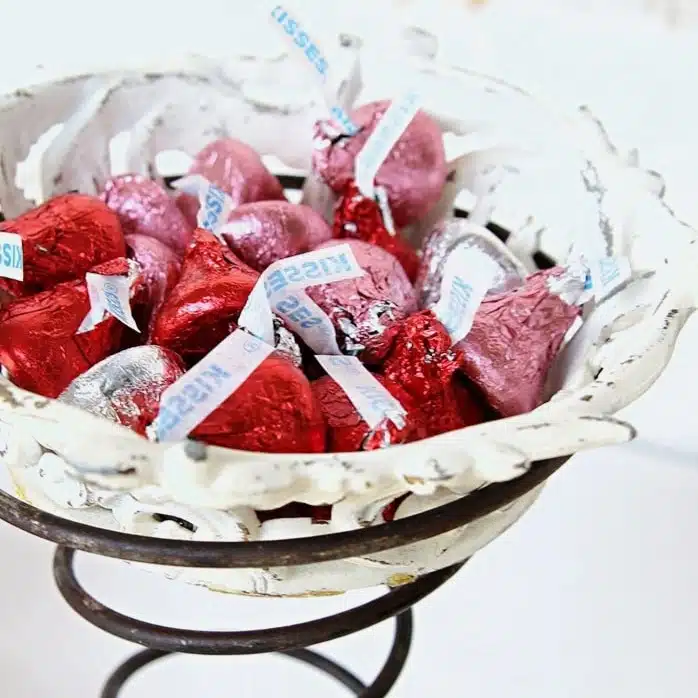 Search your junk drawers, garage, closet clutter for things to upcycle. Use old hardware, bed springs, light fixture pieces to make unique candy holders.
My Favorite DIY Candy Display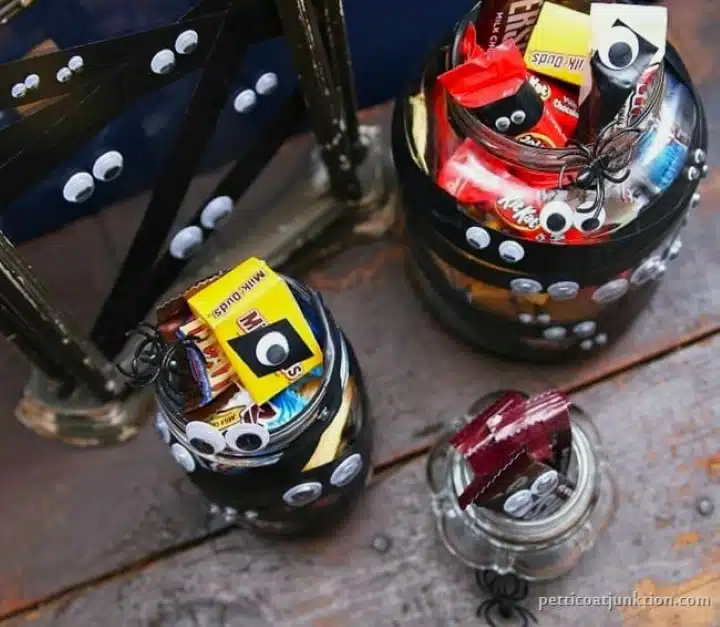 The cool thing about decorating items with electrical tape is that you can remove the tape and reuse the items in other displays or just return the glasses or jars to your cabinet.
How To Upcycle Jewelry And Junky Stuff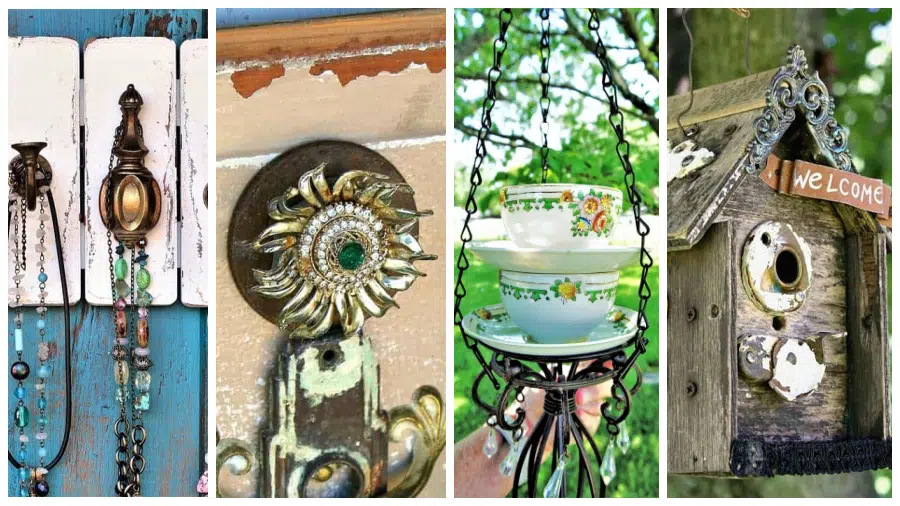 Bling, Recycle, Upcycle, Vintage....words associated with today's DIYs. You can't look at these projects without saying, "Why didn't I think of that?" I bet you have at least a few items in your junk drawer, garage, workshop, or wherever, used in these creations
10 Dazzling Creations Made With Jewelry And Old Hardware
Upcycle These Normally Trashed Items
Sometimes the coolest home decor projects are created using unconventional items. That's what I'm talking about here. How about framing a gift box, painting a coffee can, or using food wrap to create home decor? It can be done!
11 Unbelievable Upcycle Ideas For Normally Trashed Items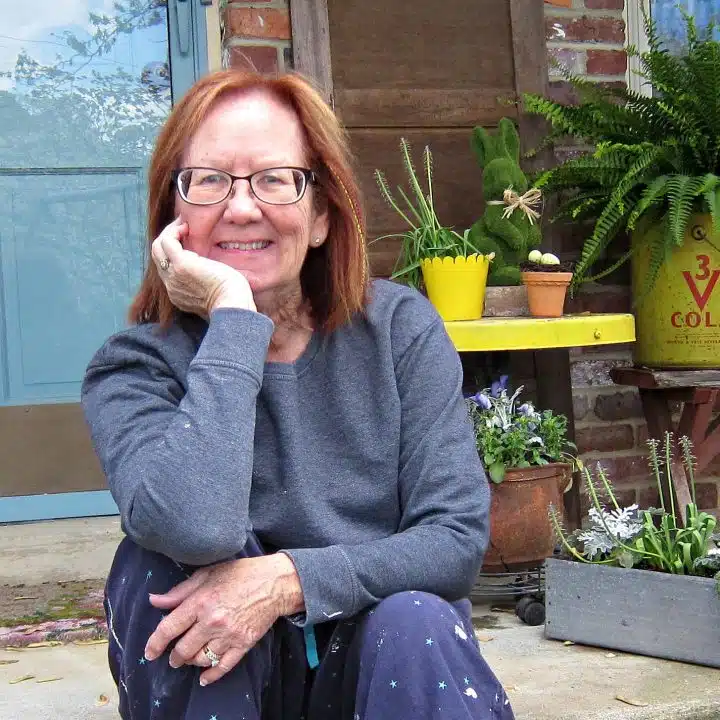 Author: Kathy Owen
Kathy Owen is the founder of the home decor blog Petticoat Junktion where she shares tutorials on painting furniture and upcycling thrifty finds into unique home décor. Her DIY projects have been featured on the Home Depot Blog, Plaid Crafts, Behr Designer Series, and in numerous magazines. Kathy's newest website is HappyHomeDIY.com