Boy do I have a treat for you today…and I do mean treat! How do you feel about googly eyes? Those little rolly eyes get me every time. I can't help but smile.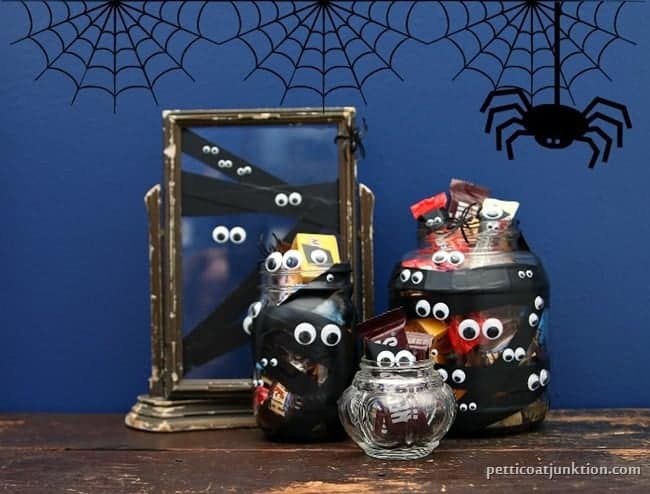 Cute Googly Eyes Treat Containers
I made this cute Halloween display for my granddaughters and visitors to enjoy. See, don't those little eyes make you smile.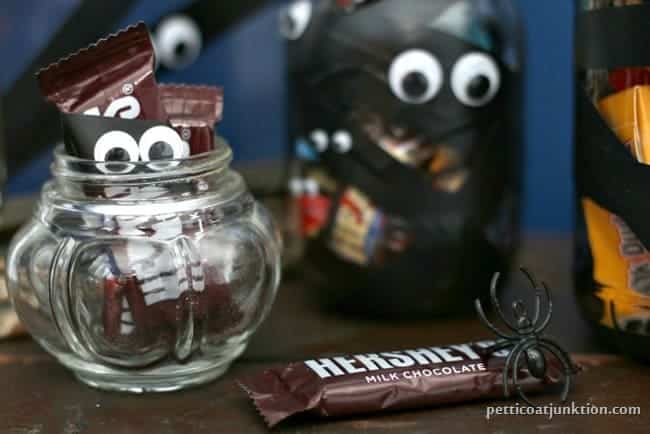 The granddaughters haven't seen the decorated jars yet. I imagine Miss Sofi will go for the chocolate, then admire the jars.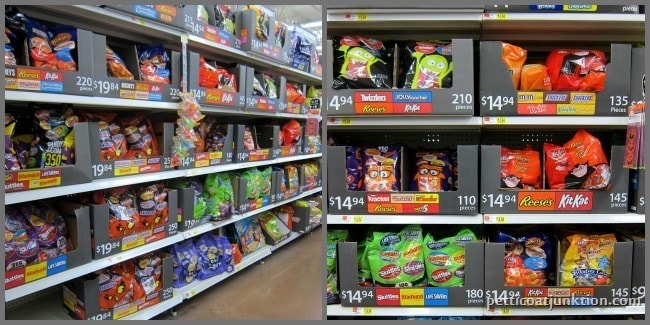 I was inspired to make the craft when I found these large bags of candy. If asked to pick my favorite candy I'm not sure what I would say. At the top of the list would be…..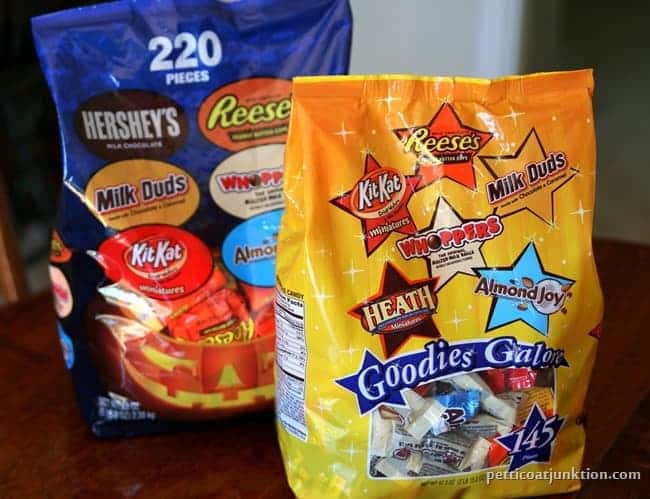 Petticoat Junktion is a participant in the Amazon Services LLC Associates Program. As an Amazon Associate I earn from qualifying purchases.
…everything in the bags.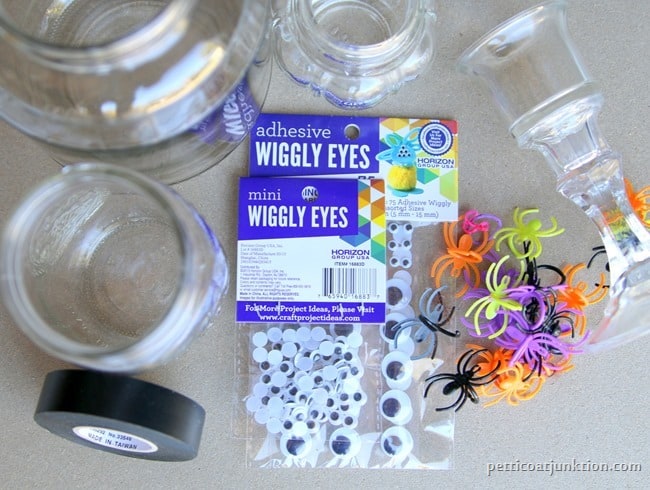 How to make the Cute Googly Eyes Treat Containers:
Supplies
various sizes of clear jars
googly eyes ( adhesive back )
plastic spider rings or other decorative items
(Amazon affiliate links are for your convenience. Click here to read my full disclosure policy.)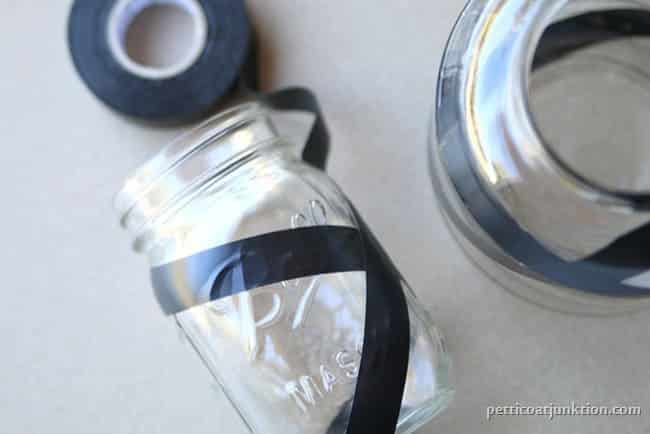 Step 1. Wrap the electrical tape around the jars in any pattern you like. Also wrap a few…or all… of the candy bars with tape.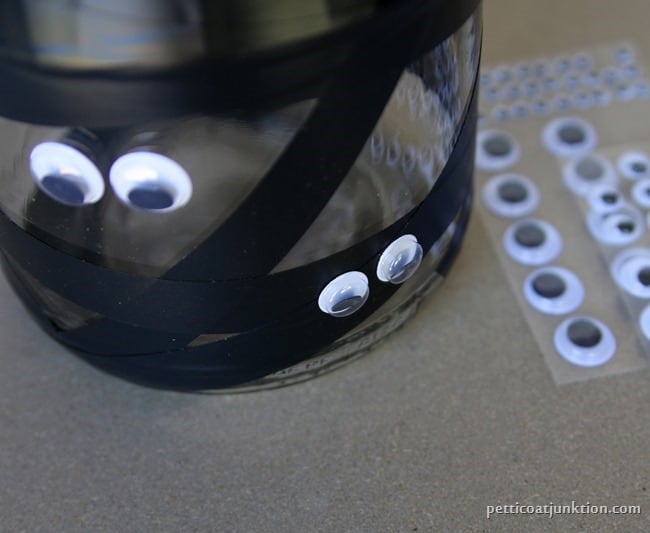 Step 2. Stick on the self-adhesive googly eyes.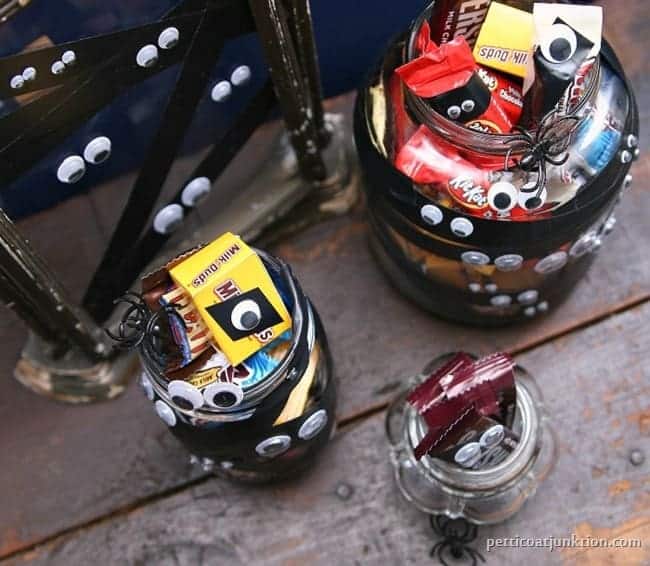 Step 3. Fill the jars with Chocolate Candy.
Step 4. Grab a candy bar…. or 2 or 3….enjoy.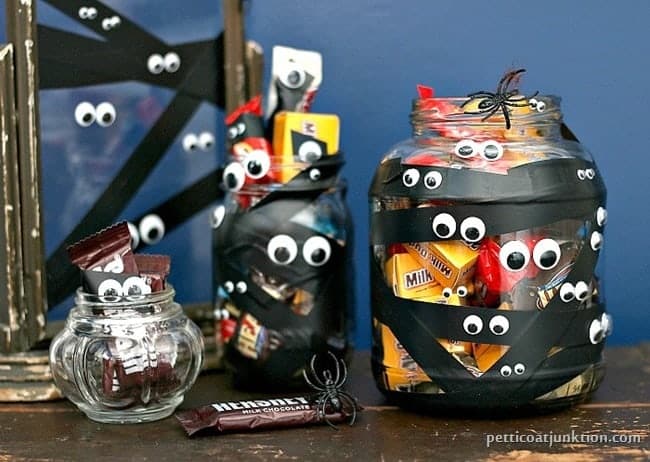 Did you notice the vintage frame on a stand in the background? You guys know I can't resist adding some of my treasured finds to every display. This was such a fun project and takes no time at all. You can get as crazy as you want to with it.
When the ghost and goblins knock on the door Halloween night I greet them holding the large bag of chocolate candy. I just cut the bag open on the back side and grab the treats from there. No serving dish required!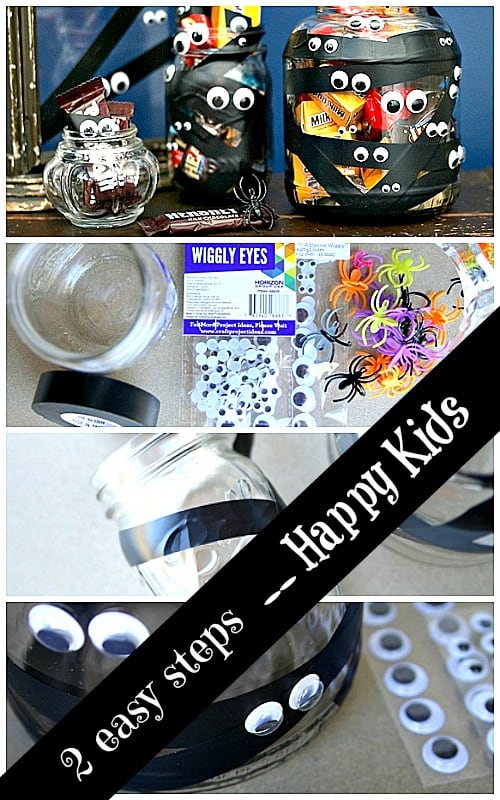 Which candy is your favorite? I do admit to being partial to the Heath bars and the Kit Kats.