There are three projects in this one post. Me and Miss Sofi, my 9 year old granddaughter, worked on these projects several weeks ago and I'm just now getting the post written. Sofi painted a picture frame then added a little decoration to it. I painted a wooden stool and then used some really unique items as flower containers. Keep reading!
Sofi loves to paint things in the workshop and she was at loose ends one day with no friends to play with so I gave her a project she could do for her bedroom at our house. We had a picture of her and her Dad (my son) taken on the beach last year and they were building a sand castle. One of their favorite things to do at the beach. Although I think my son enjoys building the sand castles more than Sofi. Anyway the picture was in a small black frame.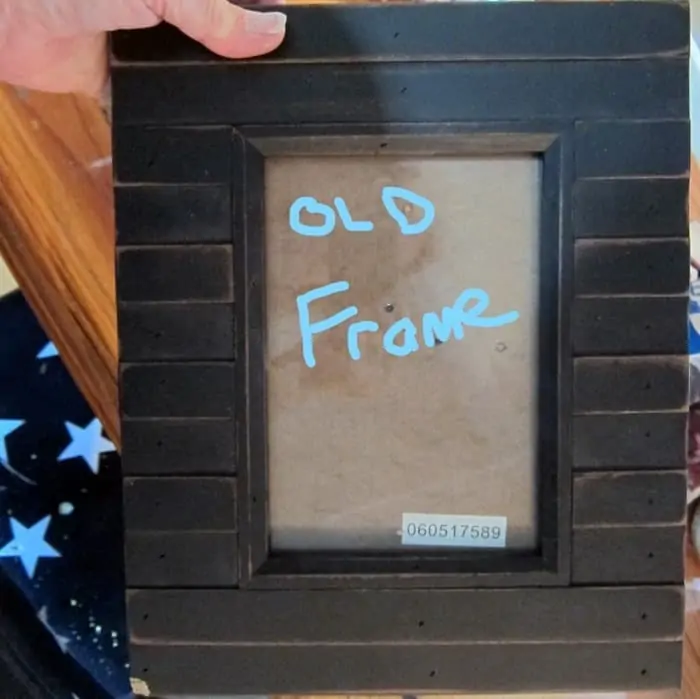 The frame was plain and drab and I found the frame above at the junk shop and decided if it was painted this would be the perfect frame for the beach photo. With a little embellishment of course.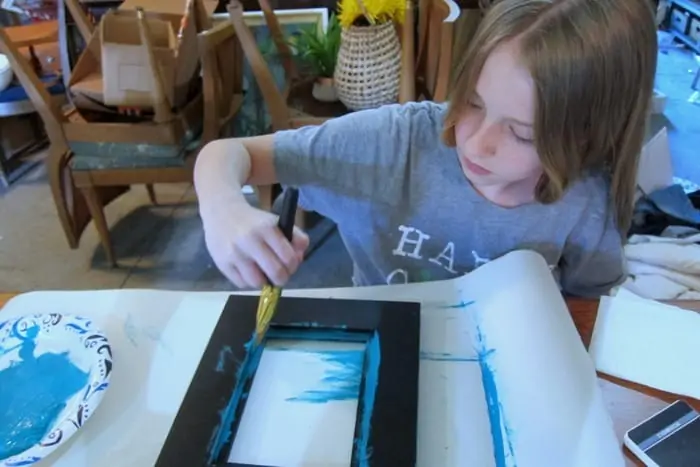 Sofi and I decided turquoise would be a great color for any beach photo. She went through my acrylic paint stash and found the perfect color.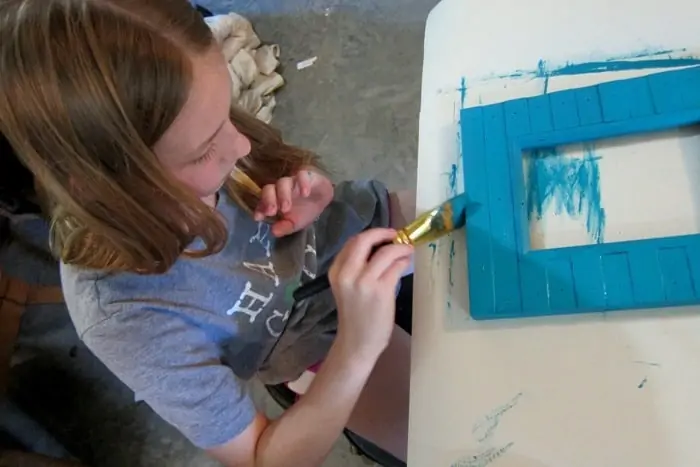 She did all the painting. One coat didn't quit cover so she applied two coats of the paint.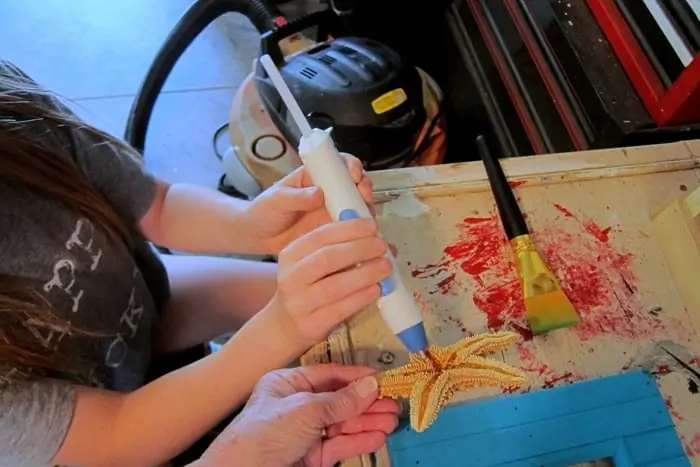 The next day after the paint was good and dry we found a large starfish to hot glue to one corner of the frame. We were going to get a little crazy with lots of seashells but we decided just the one large starfish would be best. We used the Xyron hot glue pen which I like a lot.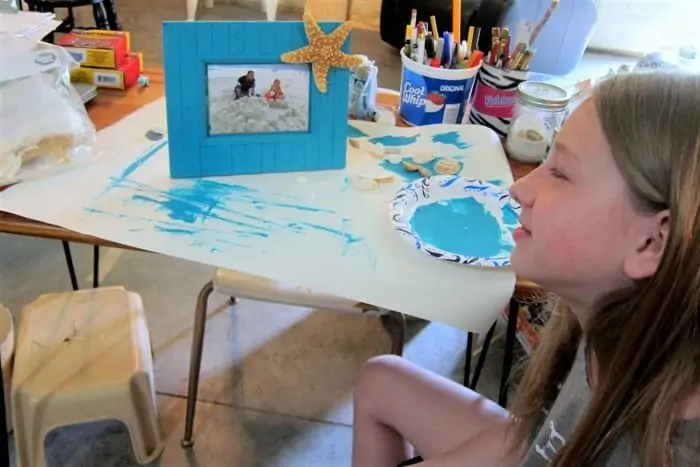 Next we took the photo of Sofi and her Dad out of the old tiny frame and put it in the new fun coastal decor style frame.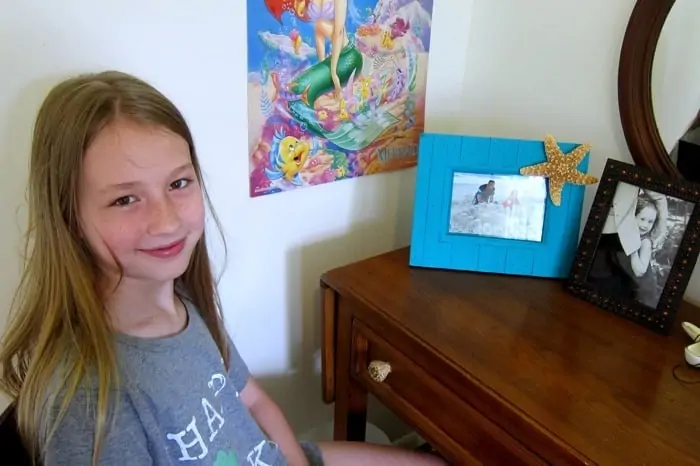 Then she took the frame to her bedroom and set it on the bedside table. The table is a mid-century modern piece I bought at my favorite junk shop and just did a little finish refresh. You can see it here.......How To Decorate A Small Guest Bedroom For Less Than $30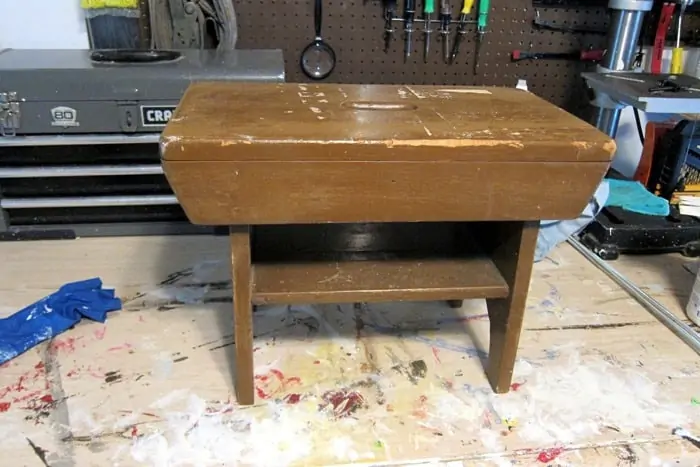 Next up we have my wooden stool project. I bought the stool at an auction and I think I had to pay $10 for it which was too much but I bought it anyway. I seem to have a thing for stools and benches.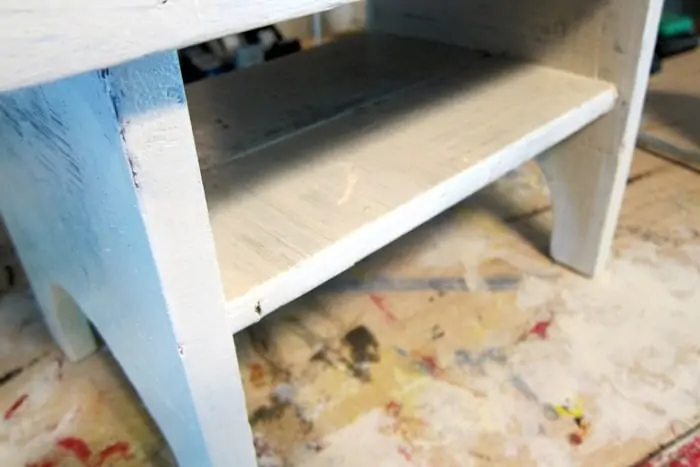 I used Beyond Paint in Off White (also called Bone). The photo above shows the stool with one coat of paint.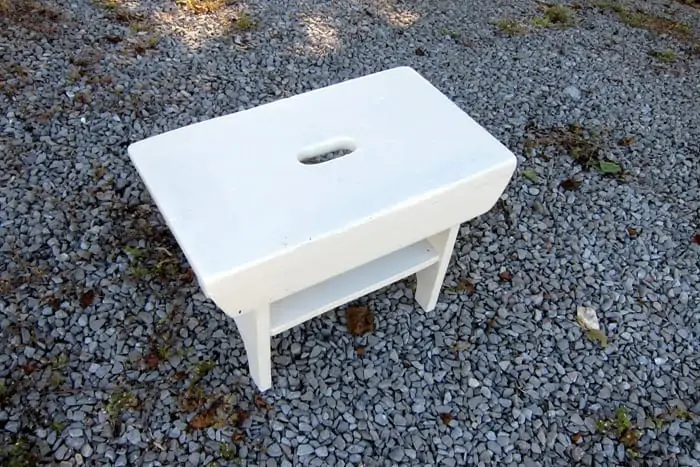 I brushed on another coat of paint and decided I needed to do some distressing. Who knew!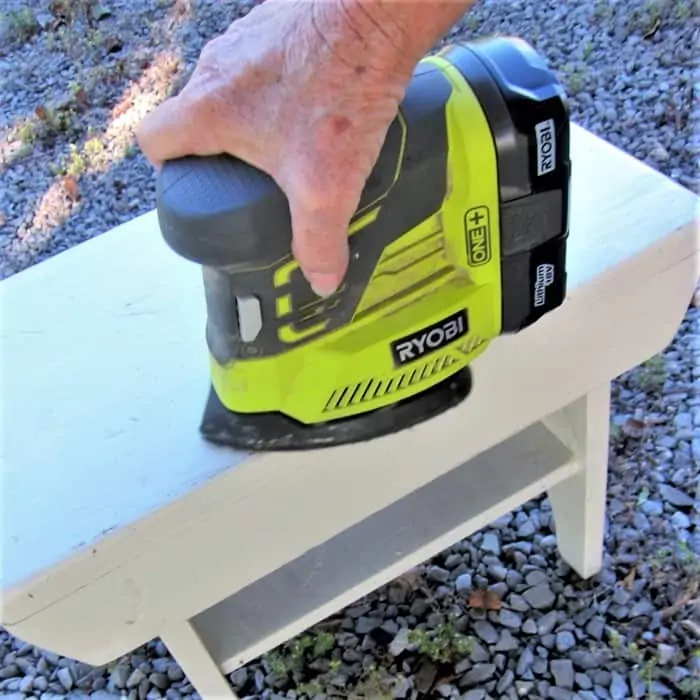 I tried distressing the paint by hand with a small piece of sandpaper but that wasn't getting the paint off so I pulled out the big gun, my Ryobi Sander. I finished the distressing in about 3 minutes.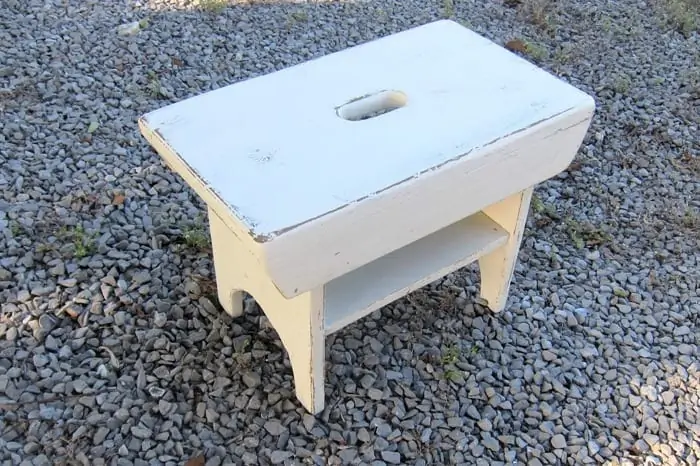 The stool looks much better with the paint distressed. It has character now.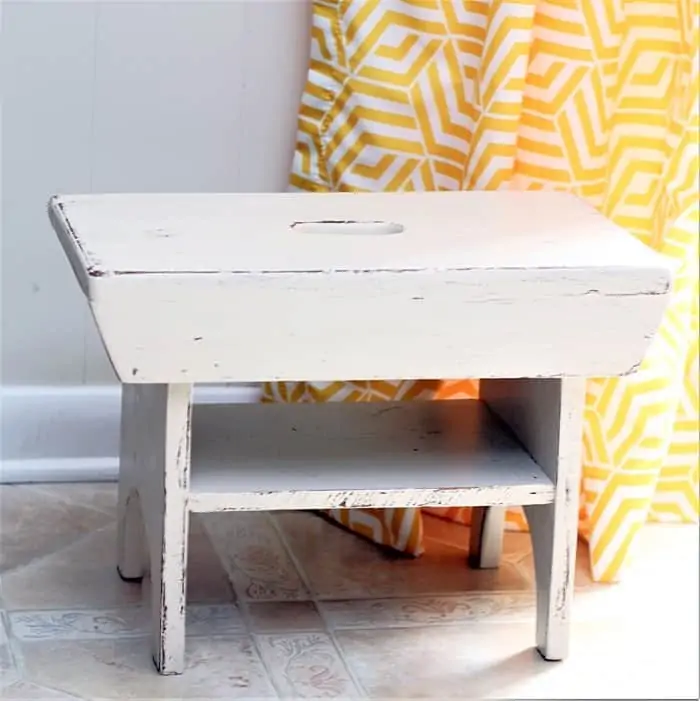 Distressing paint gives it another dimension. The stool with a nice smooth coat of white paint is just blah looking to me. But you may not like all the distressing. That's okay. You can let me know in the comments how you feel about distressed paint.

home decor" src="https://petticoatjunktion.com/wp-content/uploads/2021/07/small-wood-stool-painted-white-and-distressed_thumb-1.webp" alt="simple diy home decor" width="700" height="701" border="0" />
I have so many inexpensive junky things and sometimes cool things collected in my workshop. I like to go through my overstuffed messy shelves for inspiration when I get ready to do a project. Last time I went through my stash I settled on a few items to display artificial flowers.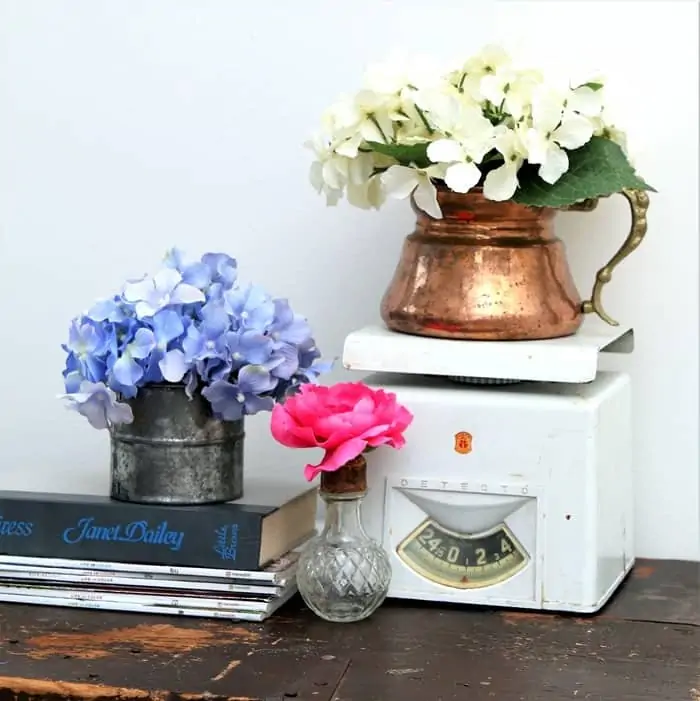 I bought the copper piece in Kentucky just a few weeks ago. The hydrangea flower is in a flour sifter and the pink flower is in a glass decanter stopper.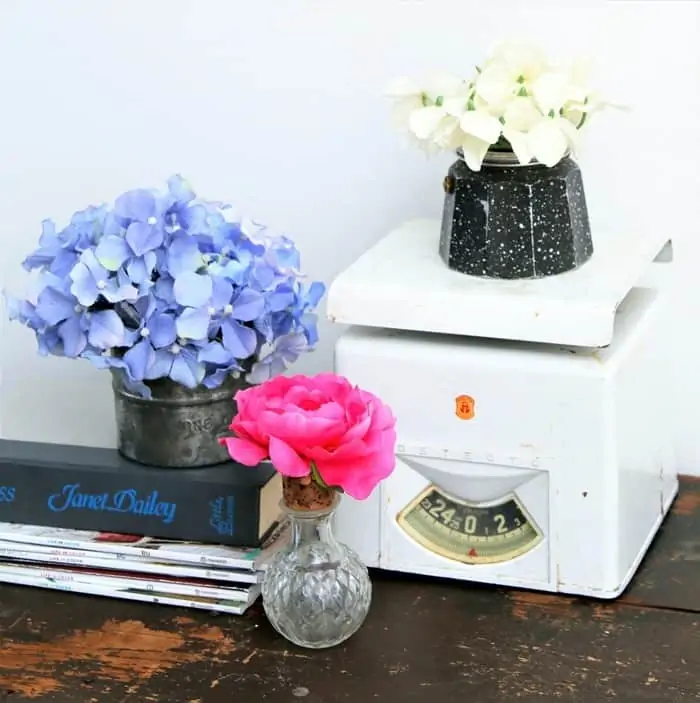 The black and white granite looking piece is the bottom of a coffee/tea pot.
I will use these simple flower displays around the house for a while then take them apart and put the pieces back in my junk stash waiting for more project inspiration.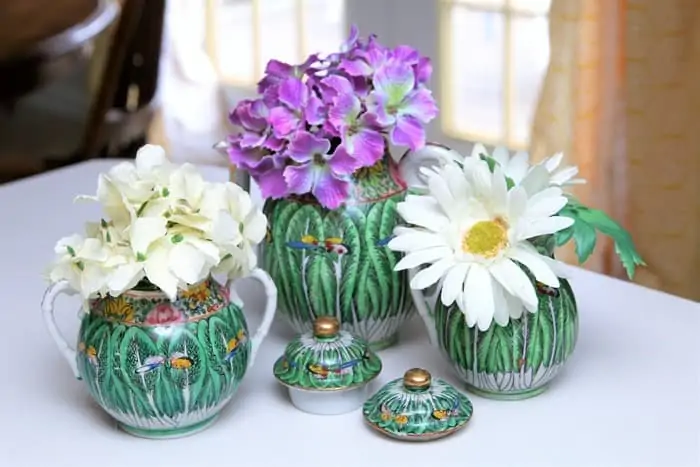 I have this beautiful set of tea pieces and I can't seem to sell them in the shop. I had practically a giveaway price on them on no takers. They look great at flower containers.
That's it for me. Thanks for being here, Kathy
Author: Kathy Owen (Petticoat Junktion)
Kathy is the founder of PetticoatJunktion.com, a home décor blog focused on repurposing and upcycling furniture, old hardware, rusty stuff, and thrifty finds into unique home décor. Kathy's projects have been featured on the Home Depot Blog, Plaid Crafts, Behr Designer Series, and in numerous magazines. Read more about Kathy here.