My flowers love their weird containers and they are blooming like crazy. I'm having a difficult time keeping them watered. We haven't had much rain in Tennessee, and things are dry! I water the plants every other day, and the soil still gets dry, and the flowers wilt. I have photos of my flowers in unique containers to share with you.
1. Bird Bath Flower Display

This is the bird bath I added artificial succulents to a few weeks ago. Once I went shopping for plants at the local flower stand, I pulled the succulents out and filled the bath with these pretty flowers.
2. Coal Scuttle Flower Container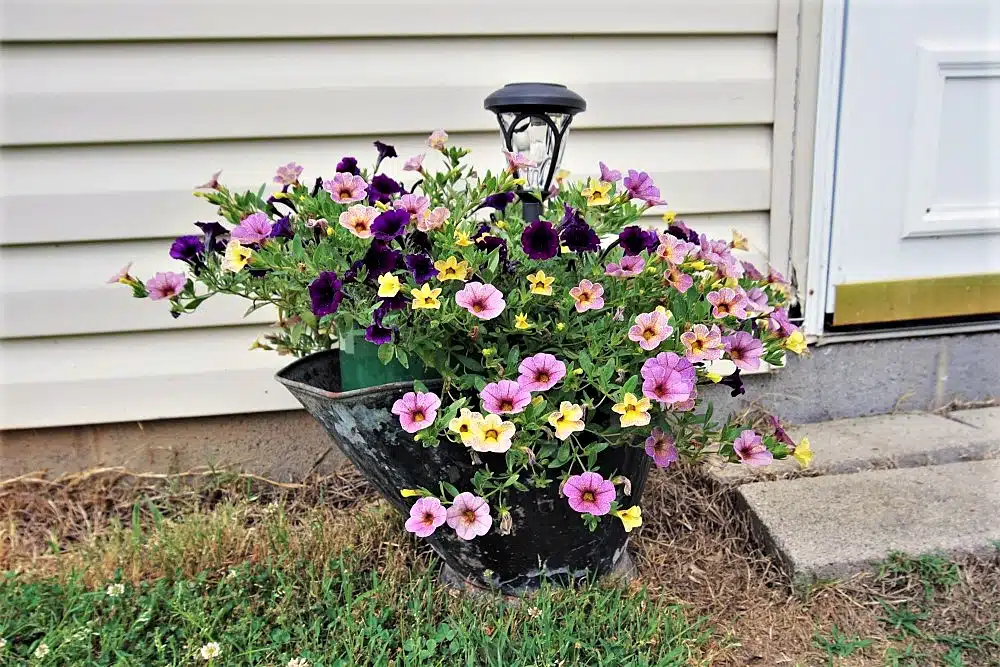 The old coal scuttle is a find from my favorite junk shop. I just set the plastic pot of flowers down into the scuttle. I also added a small solar light to the pot of flowers. It looks great at night. This display is sitting beside the workshop door.
3. Toy Truck Flower Hauler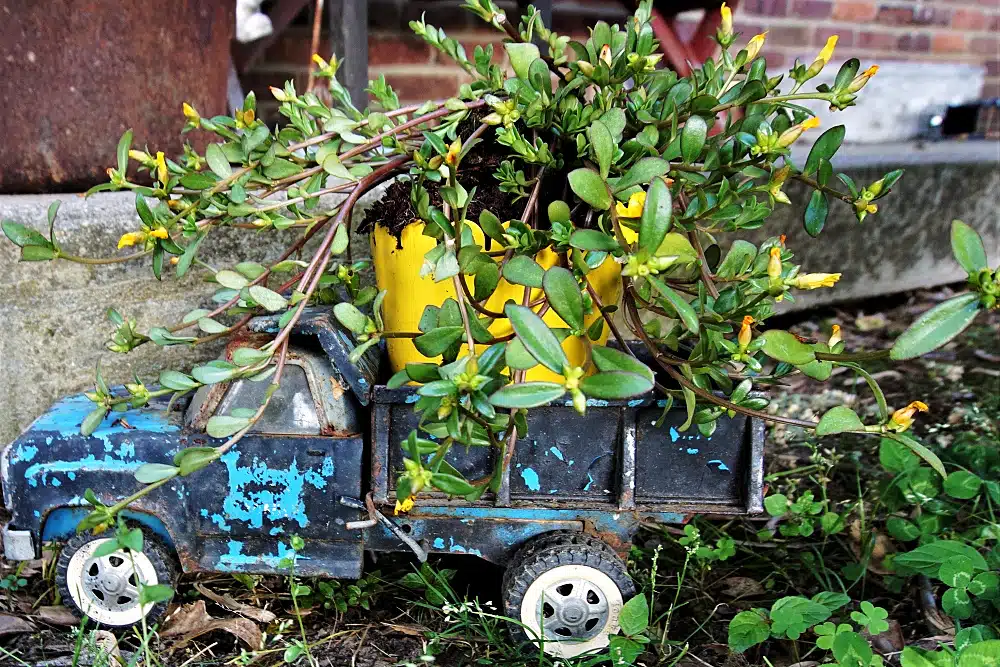 I enjoy incorporating fun items like toys into my decor, inside and out. The rusty blue-painted truck makes a fun "hauler" for the yellow pot of flowers. Sometimes I just add the potting soil and flowers to the bed of the truck.
4. Rusty Wagon Planter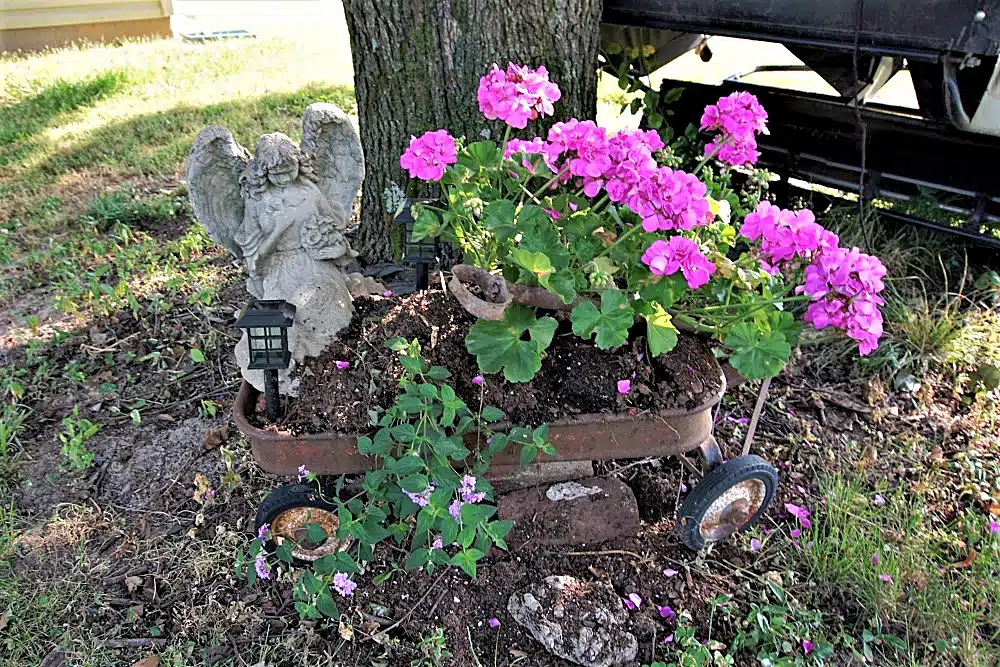 I've used the rusty wagon in all kinds of seasonal displays. Sometimes it sits on the front porch and holds poinsettias or maybe pumpkins. This season it is full of Geraniums, one of my favorite flowers. I paid $10 for the rusty wagon a few years ago.
5. Mop Bucket Flower Display

I see a lot of these galvanized mop buckets on wheels for sale. They're perfect for holding pots of Summer flowers and make great containers for small natural fir trees at Christmas time. I usually set the mop bucket on the porch beside my front door.
6. Large Vintage Metal Funeral Flower Basket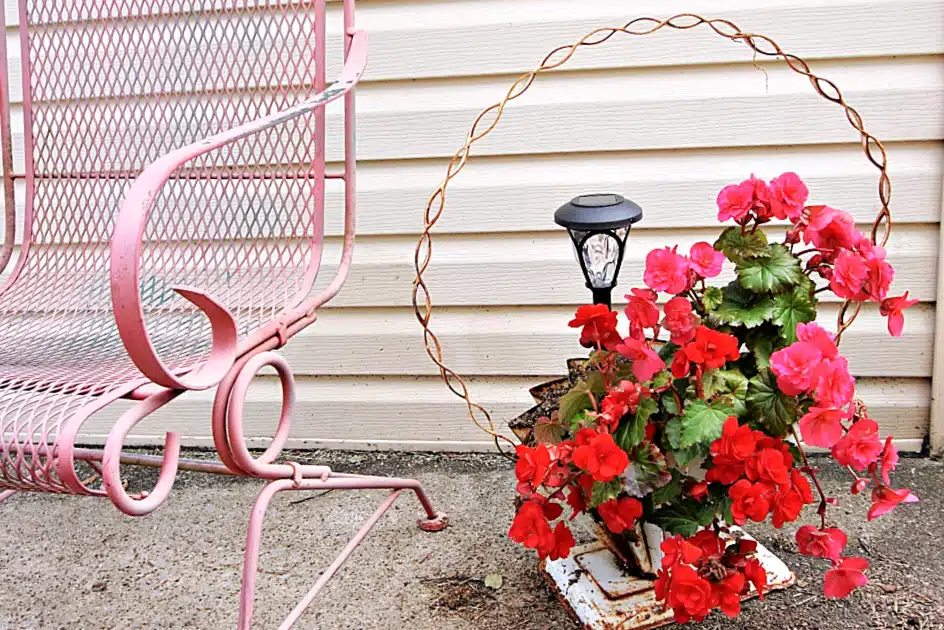 I ran across several of old vintage metal funeral baskets for sale a few months ago, and I couldn't pass them up. I love these baskets and remember them from when I was young. I've had a few shoppers in my booth inquire as to what they are.
7. Small Funeral Basket Display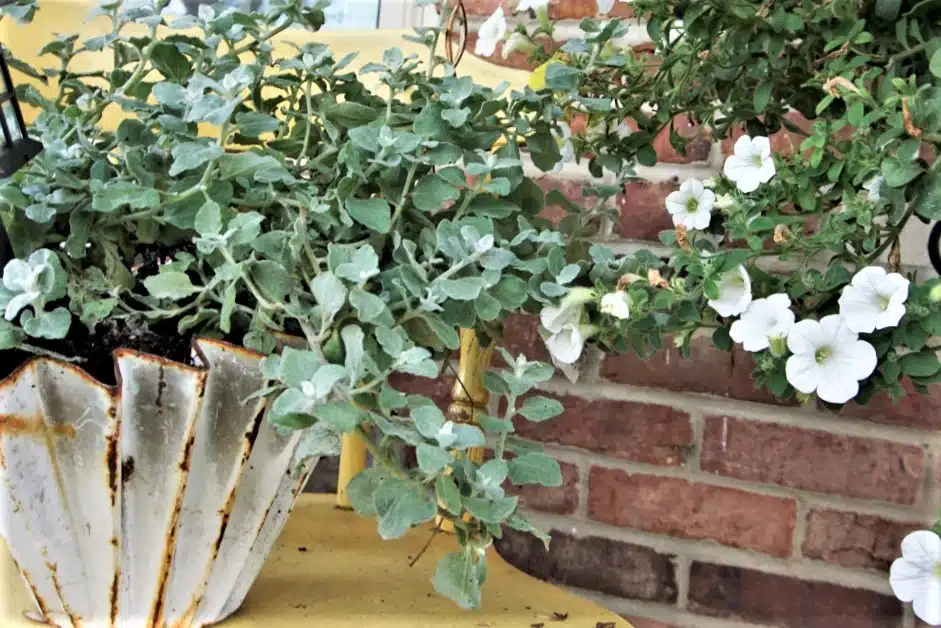 I added potting soil and beautiful red flowers to the large funeral basket and used the small metal funeral basket to hold a green ivy plant.
8. Painted Wood Box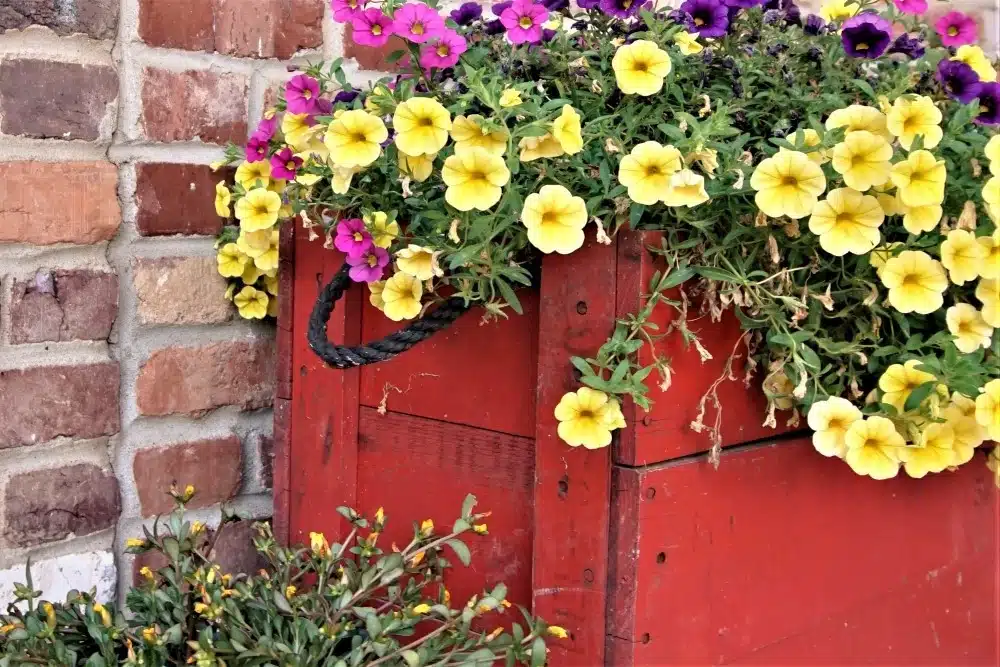 A large wood crate painted red does double duty as garden hose storage and a flower planter.
9. Bean Pot Flower Planter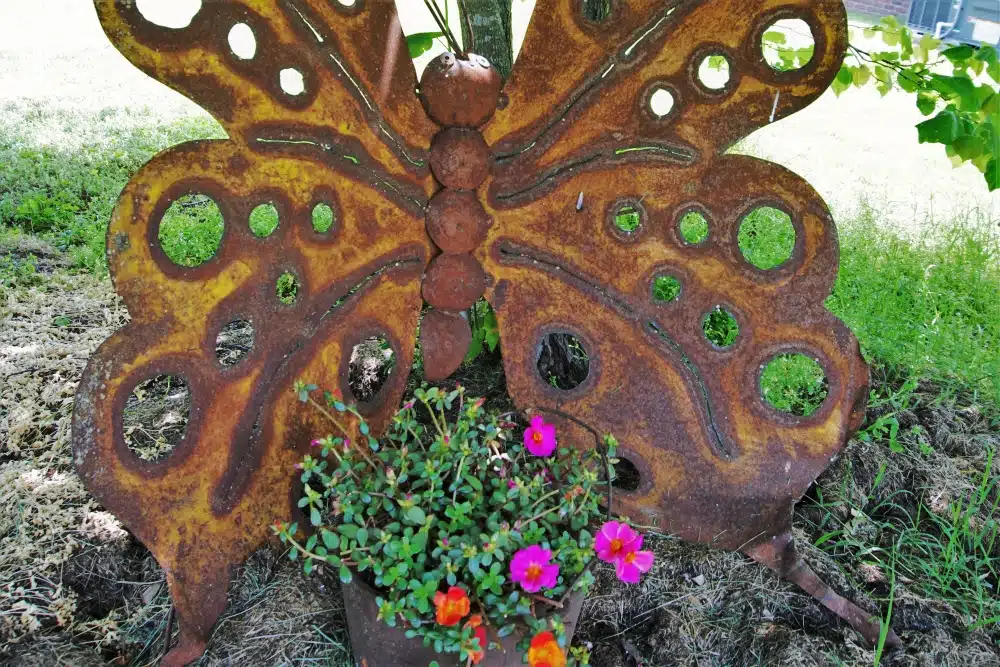 The black iron pot was an online auction purchase. The colorful flowers are pretty against the rusty butterfly. My aunt in Arkansas gave me the butterfly. She has such a pretty lawn with all kinds of flowers and decorative items. I commented one day on the rusty butterfly, and she gave it to me on my next trip to Arkansas. How sweet.
10. Rusty Iron Pot Flower Container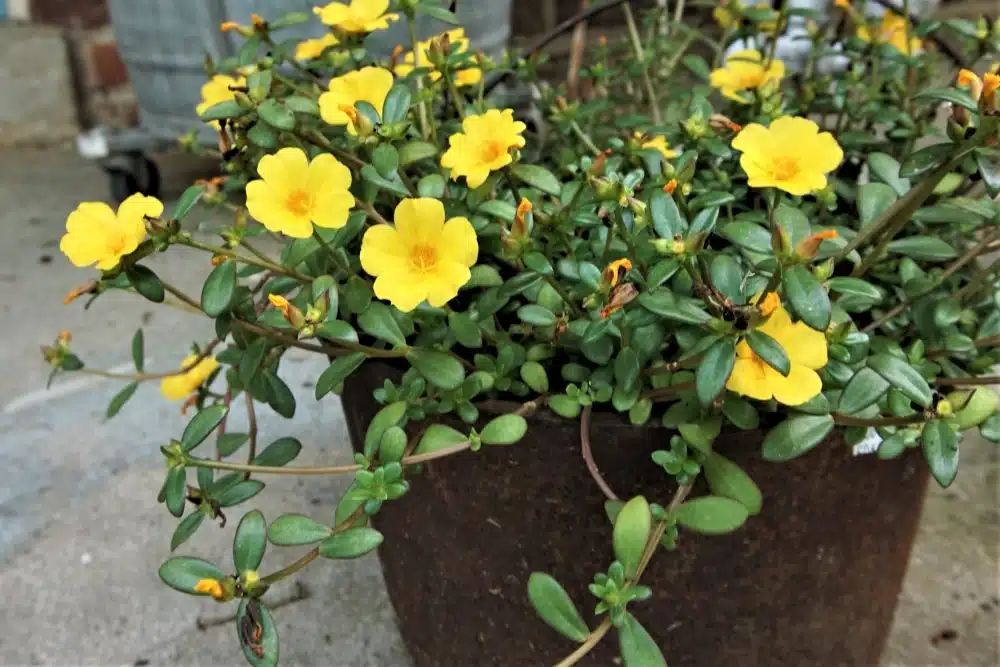 Moss Rose and Lantana are two of my favorite Summer flowers. I couldn't find any Lantana this year, but the yellow Moss Rose is perfect for the rusty pot.
11. Concrete Lawn Statue - Boy and Birl Swinging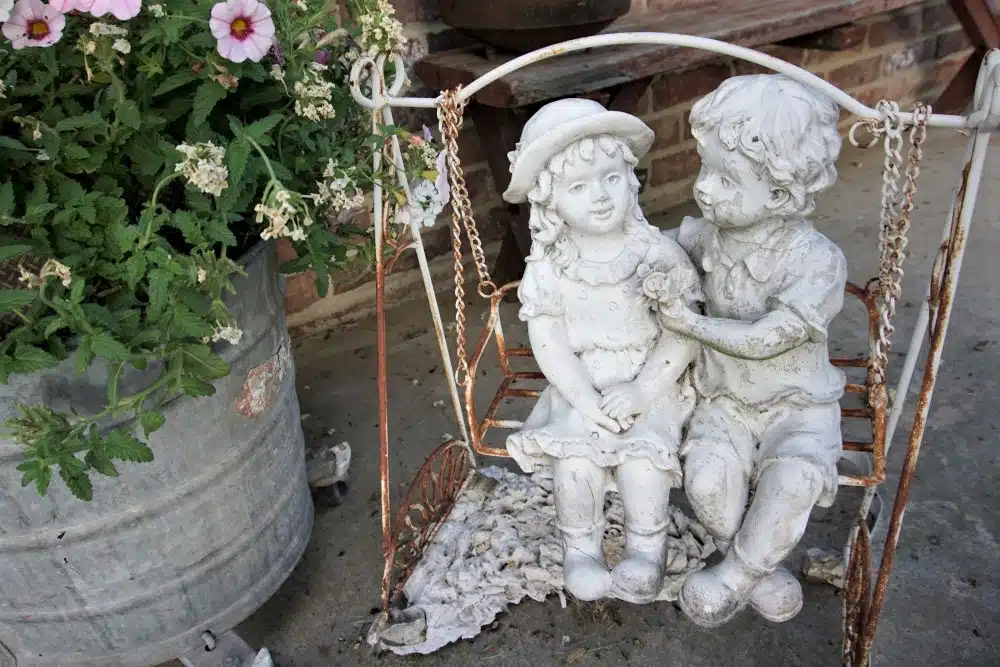 The boy and girl swinging lawn ornament has been through some rough times. The statue was blown off the porch in the horrible windstorm we had back in March. I glued the broken pieces back together as best I could.
12. Flowers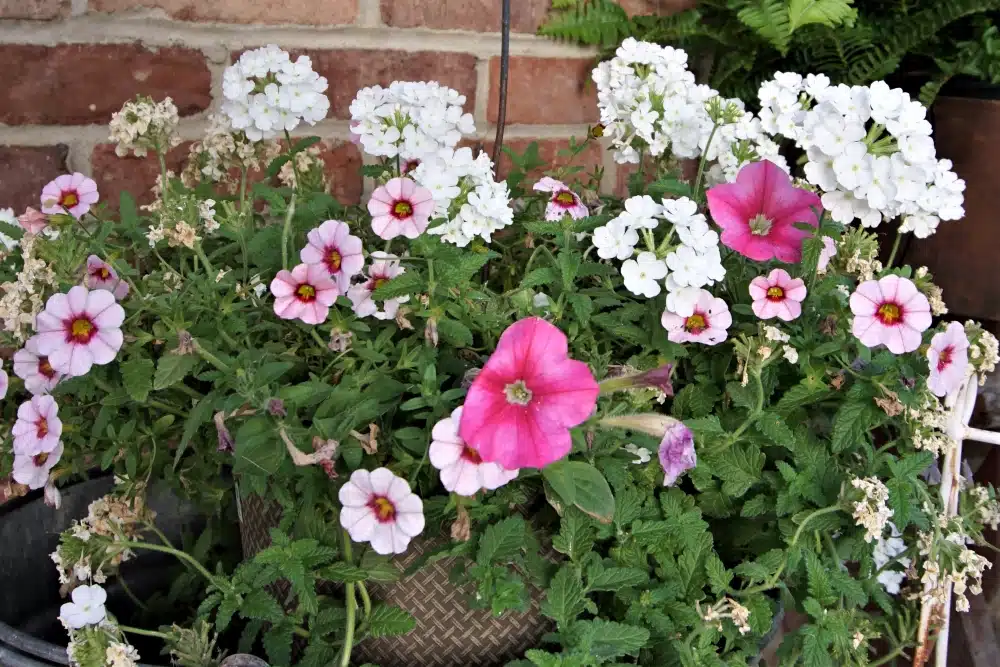 One last look at the flowers in the mop bucket and that's it for me. Which container was your favorite?
More Funky Flower Pot Ideas
Recycling old or found items is a creative way to make something unique for your garden, porch, patio or any outdoor space.
13 Quirky Upcycled Flower Container Ideas For Summer Decorating
Thanks for being here, Kathy
Author: Kathy Owen (Petticoat Junktion)
Kathy is the founder of PetticoatJunktion.com, a home décor blog focused on repurposing and upcycling furniture, old hardware, rusty stuff, and thrifty finds into unique home décor. Kathy's projects have been featured on the Home Depot Blog, Plaid Crafts, Behr Designer Series, and in numerous magazines. Read more about Kathy here.