Blue Guest Bedroom
The blue guest bedroom is first up on our home tour. My friend Gina from The Shabby Creek Cottage suggested I clean my whole house (super clean) and take like a thousand photos so I could share them with you over the next few months. Well, thanks for the suggestion Gina but I can only handle cleaning one room at a time and I can guarantee my friends don't want to see thousands of photos of our home. It's not that big.
So,  I'm taking you guys through our home one room at a time touring one room a week. And don't look too closely at the photos or you might see a bit of dust on the tables and the picture frames. I forgot to dust. That's how I roll.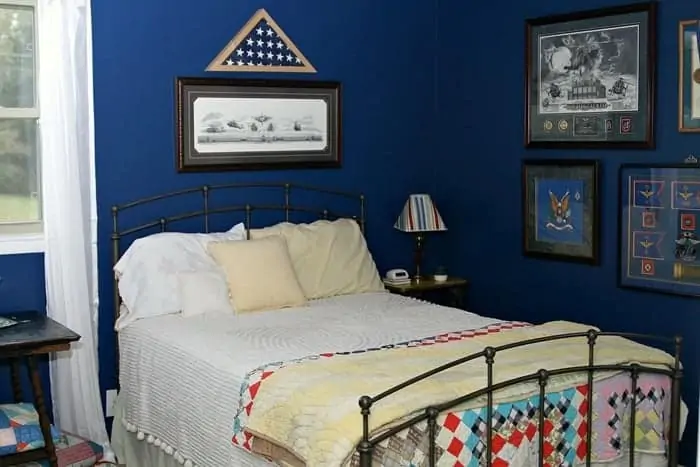 Blue Guest Bedroom
The blue bedroom was our son's room. He picked out the color and painted the room when he was a teenager. He's now 34. Yep, we don't paint very often. He did a great job with the paint color but I'm about ready to move on. I'm thinking white, not white white. I want our whole house to have white walls. If you guys have a suggestion for white paint I'm all ears. White leaning toward gray tones and brown tones, in the middle of the two. I know.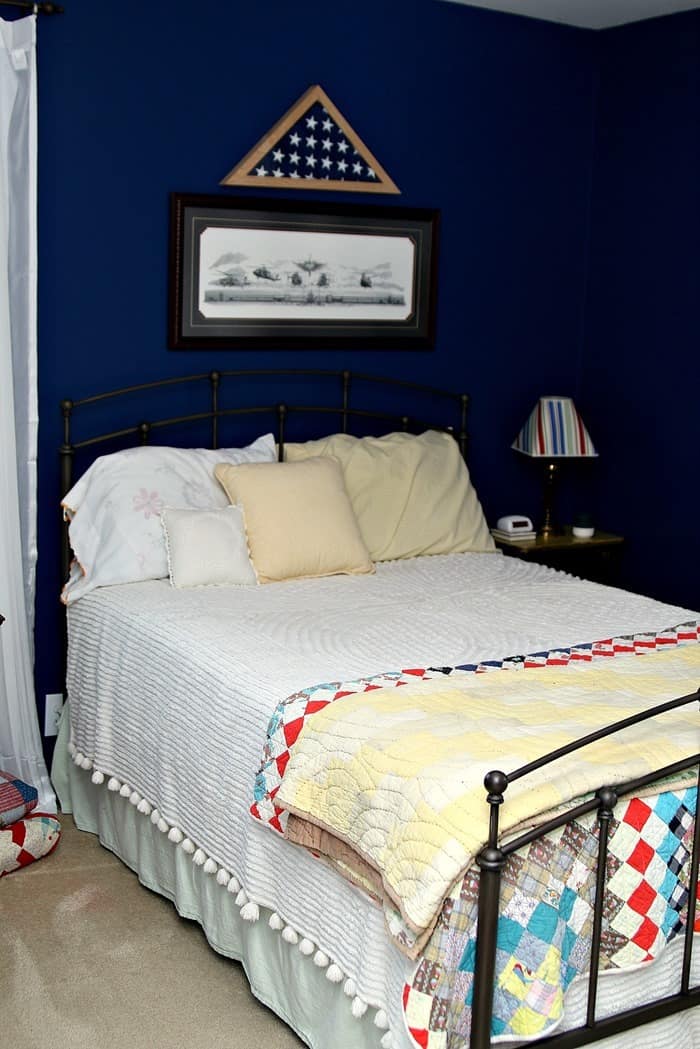 I decorated this room with comfort in mind. I love texture so the chenille spread was a must. I bought it at an estate sale. The quilts are antique shop, auction, or flea market finds.
The carpet was installed in 1988 when we bought the house. I think it's time for new flooring. How do you guys feel about hardwood, fake hardwood, or linoleum that looks like wood?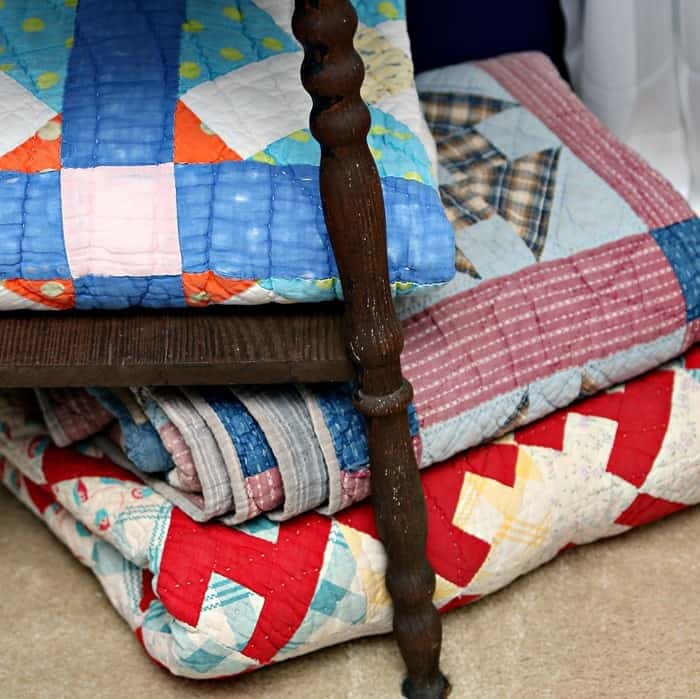 The blue and orange quilt was a gift from my grandmother on my high school graduation. I can't tell you how many quilts my grandmother made in her lifetime. We have a really large family and she made quilts for births, graduations, birthdays, weddings, just for warmth, you name it. I cherish the 3 quilts my grandmother gave me.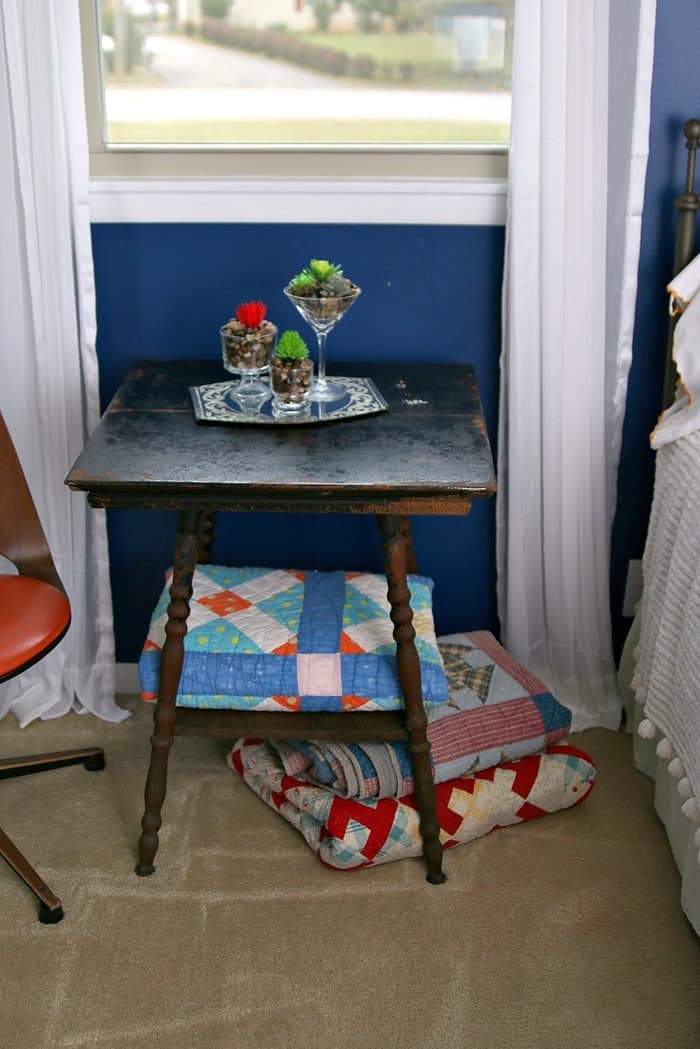 The antique table was in our family room until recently. I tend to move furniture around, a lot.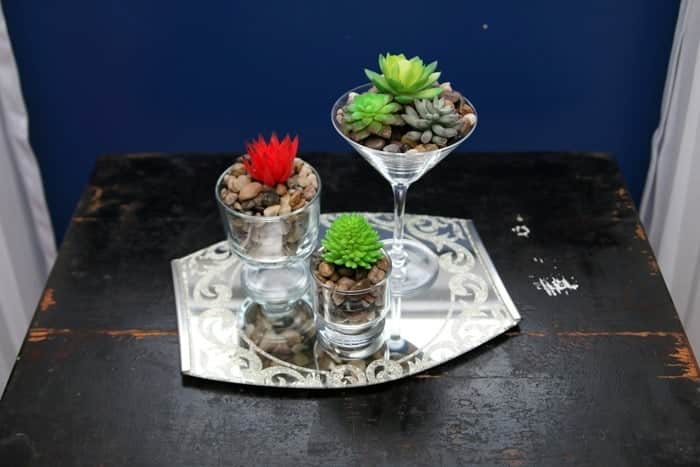 The display on the table is the faux succulents I put in thrift store glasses earlier this year. The mirrored tray is a thrifty find. I decorate with mostly thrifty finds.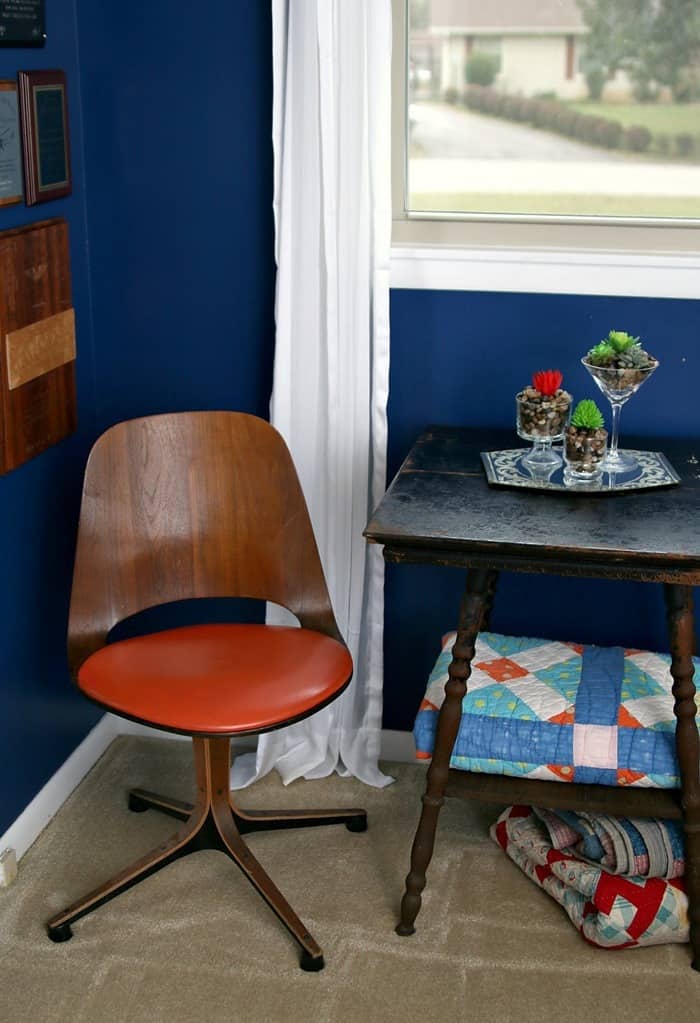 The chair is a Plycraft from the 60's and designed by George Mulhauser. I purchased a pair of them along with a table for $5 at an auction several years ago. I've found similar chairs online priced at between $150 and $300. The pair of chairs tend to move around the house also.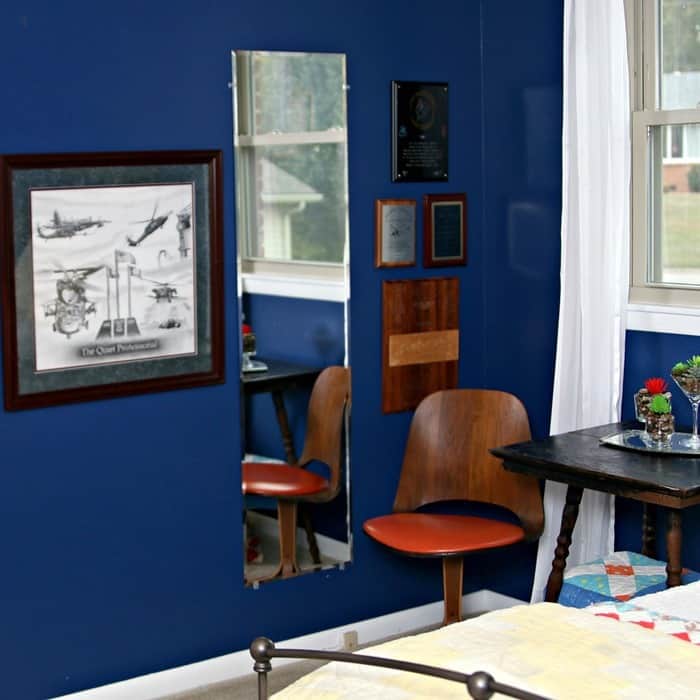 I put the full length wall mirror up just after Jay painted the room. It's a nice touch for our guests. The walls are filled with framed prints the JTS received while in the Army. We call this bedroom the grandsons room. I know the chenille spread and some of the other elements are a little feminine but oh well.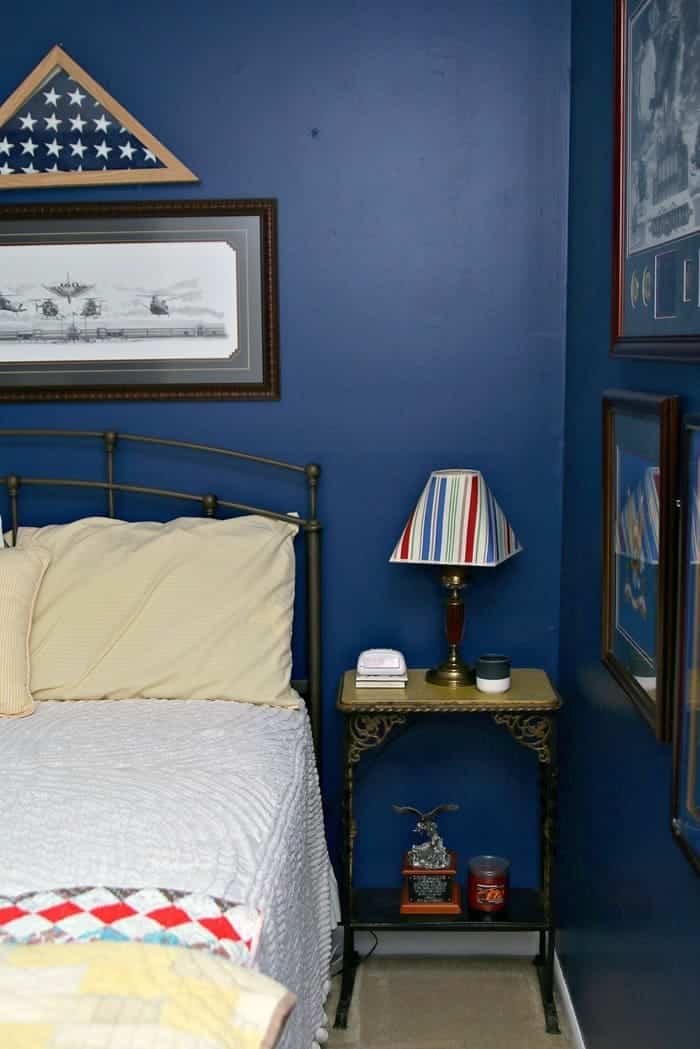 The decorative iron table with the yellow top was a thrift store find also. I fell in love and had to have it. It's been around for a few years and I don't  remember the price. Maybe $40.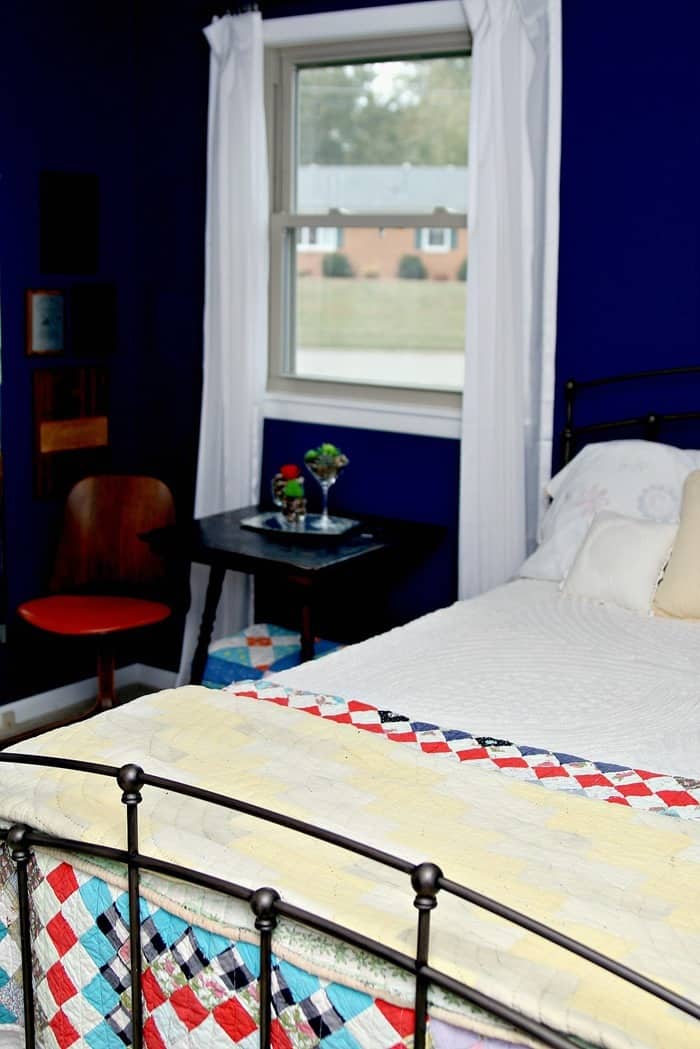 I enjoy showcasing the quilts. The iron bed we bought when our son left home is a very simple, modern design.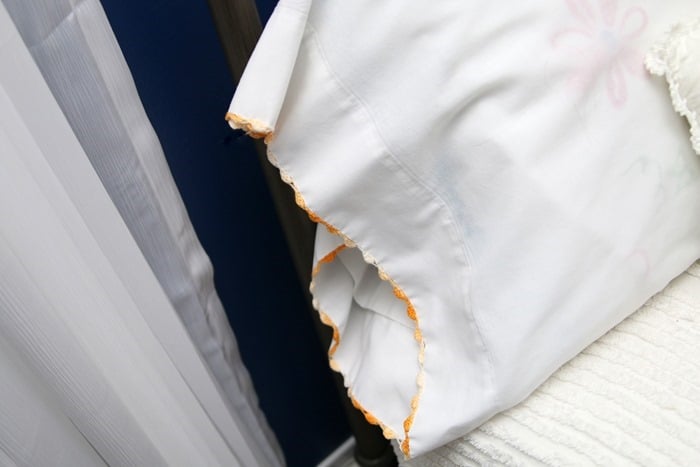 The pillowcase came from my other grandmother. My mom's mom. I really don't know if she did the needlework or not.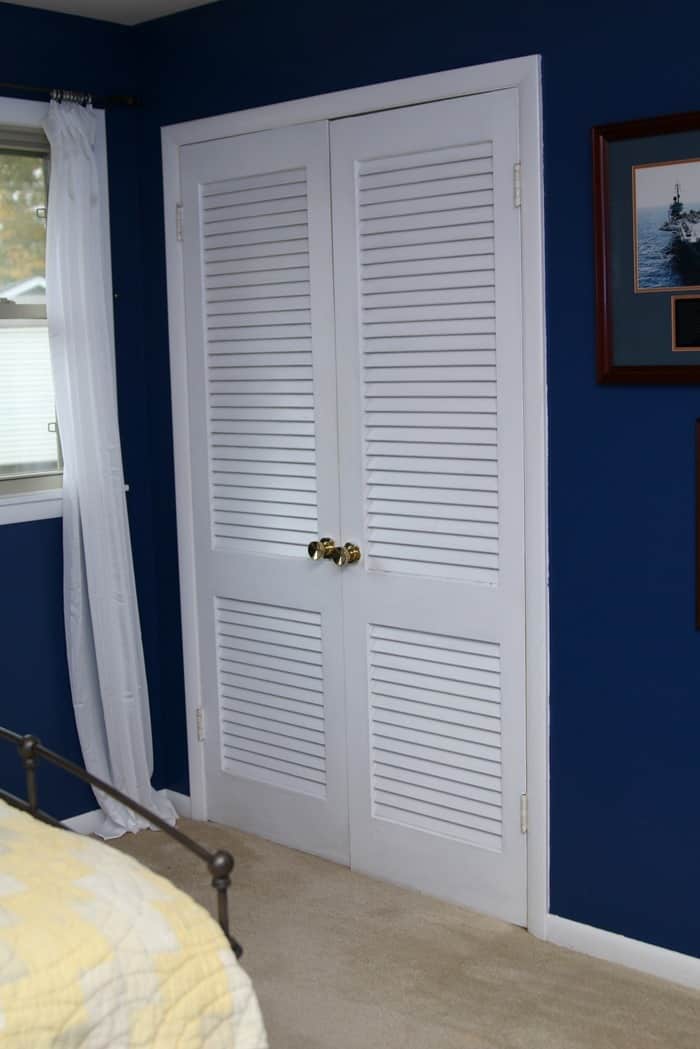 The wall at the foot of the bed is furnitureless (new word) . I'm tired of wall to wall furniture and decluttered a few years ago. I'm thinking of getting rid of more furniture. It's just stuff.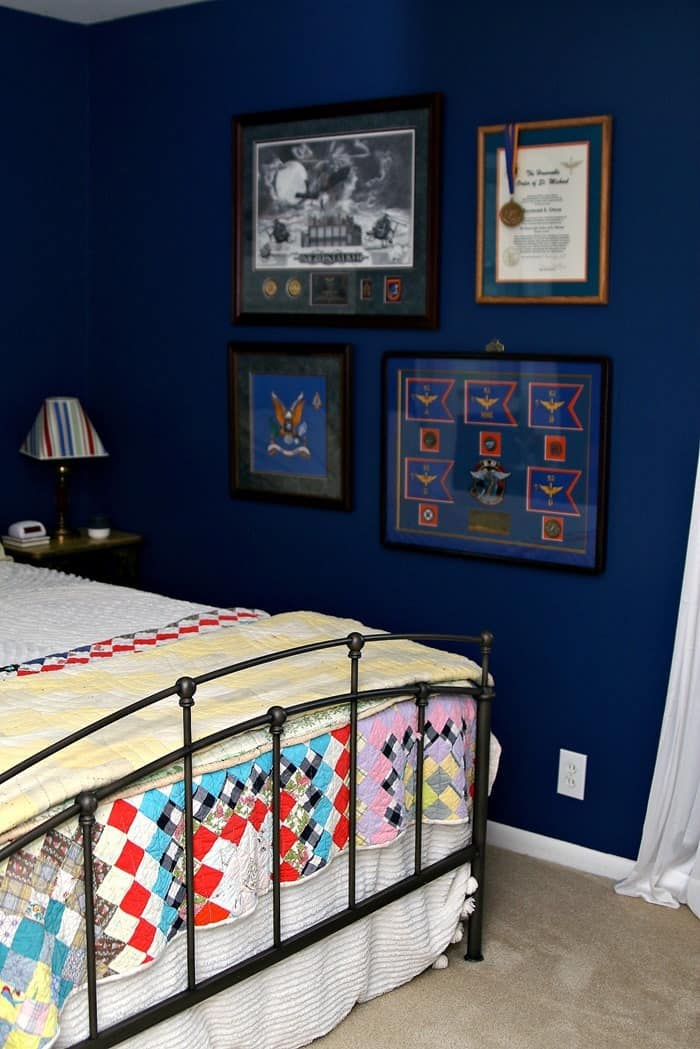 The curtains are plain white sheers.
Do you guys like the bedroom decor or is it too country? How about the blue walls and the quilts?
Do you have any decorating tips you would like to share with me? I'm always looking for new ideas. Leave me a note please. Thanks for being here and have a great day.
Author: Kathy Owen (Petticoat Junktion)
Kathy is the founder of PetticoatJunktion.com, a home décor blog focused on repurposing and upcycling furniture, old hardware, rusty stuff, and thrifty finds into unique home décor. Kathy's projects have been featured on the Home Depot Blog, Plaid Crafts, Behr Designer Series, and in numerous magazines. Read more about Kathy here.