This is my first trip to the Nashville Flea Market since September 2021. You guys know I always made the flea market a priority but since all the craziness happened and with the market being closed for so long, it kind of changed things.
We've been out of town or either busy with other things when the market was happening. The JTS was at an day long auction with a friend on Saturday and we had other plans for Sunday so I went to the market all by myself. I mainly went to see if things had changed much since the move to the new location.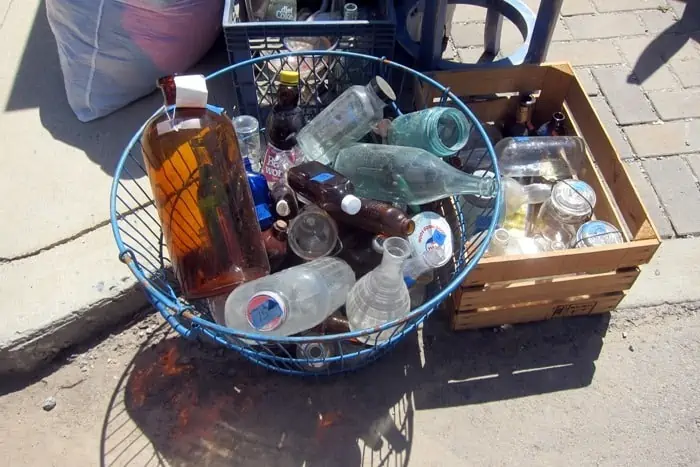 There were much fewer vendors than the last time I was at the market. Hopefully things will pick up since Spring is here and Summer is coming. But there were still plenty of vendors with a lot of good stuff.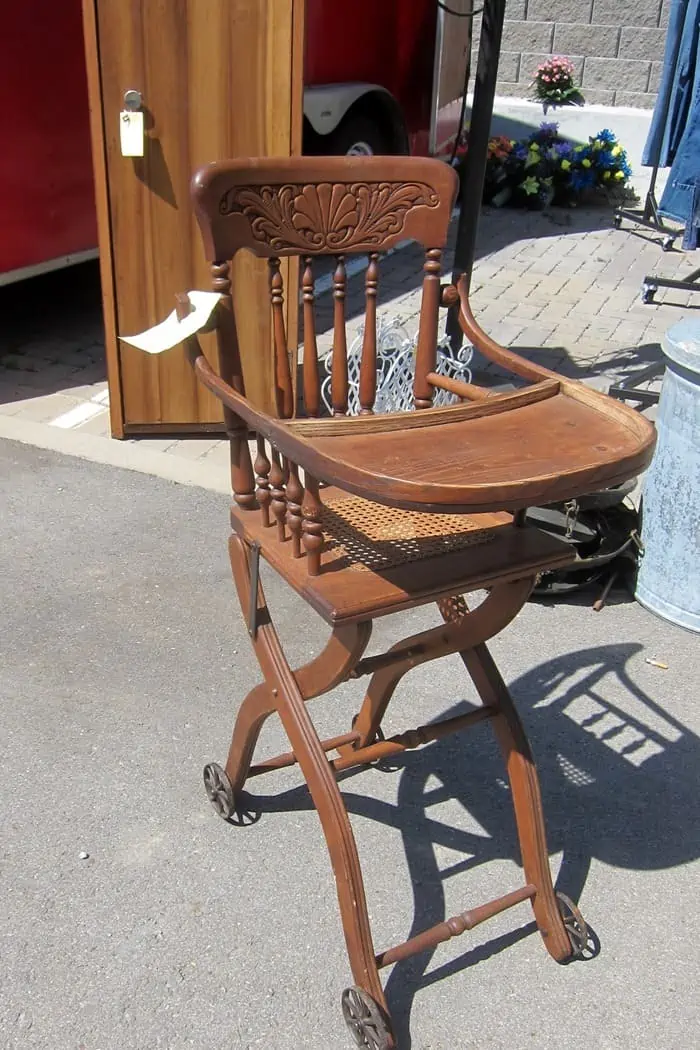 I bought a few of small items and I took a lot of photos to give you an idea of what all you can find at the Nashville Flea Market.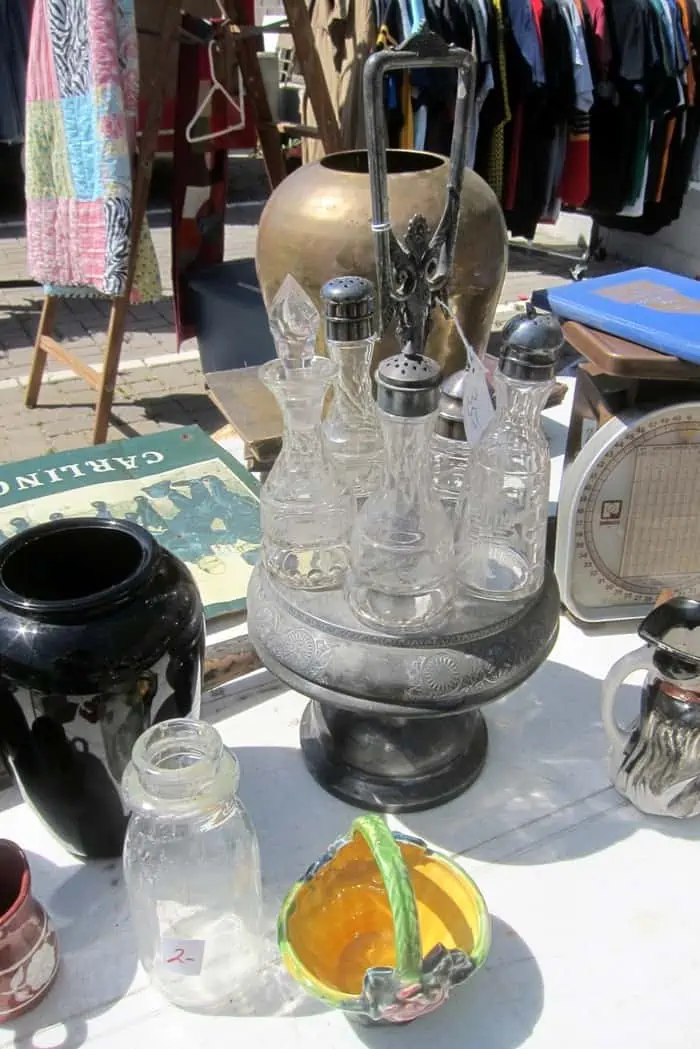 I think these old cruet sets are pretty but it would just be in the way at my house.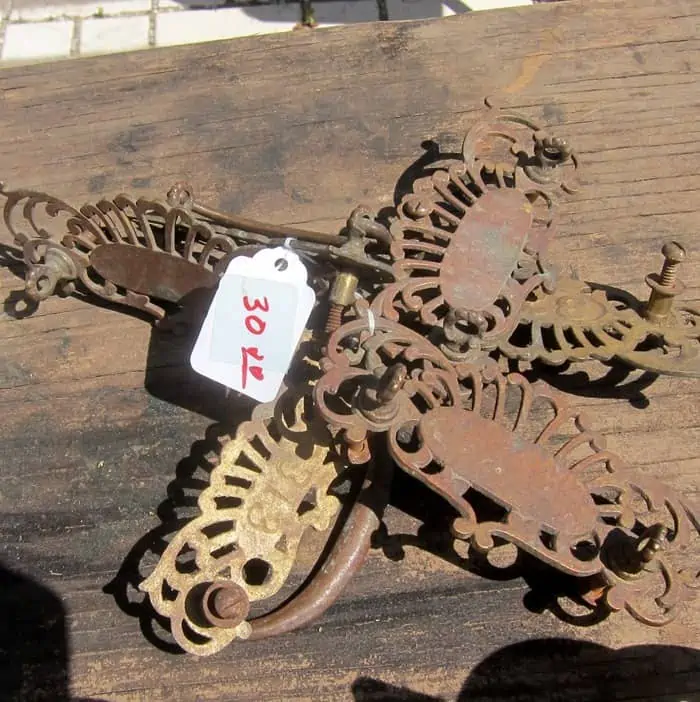 I have bunches of old furniture hardware and I don't think I have ever paid $30 for a set.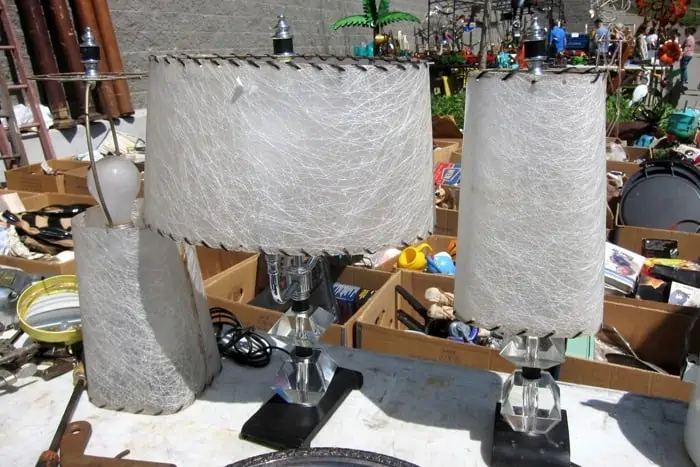 The vintage lamps were cool. It's hard to find this type of lamp shade in good condition. I think they were asking $150 for the three lamps.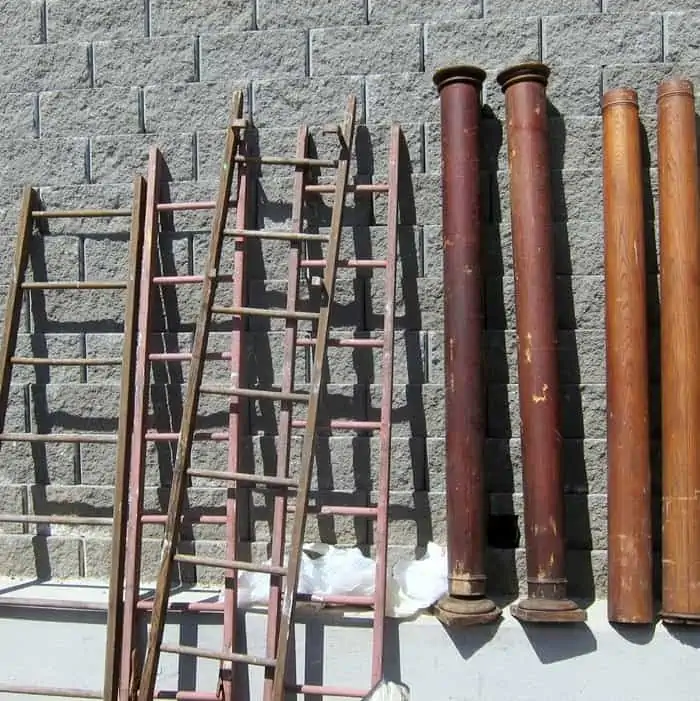 Old ladders are great for displaying quits.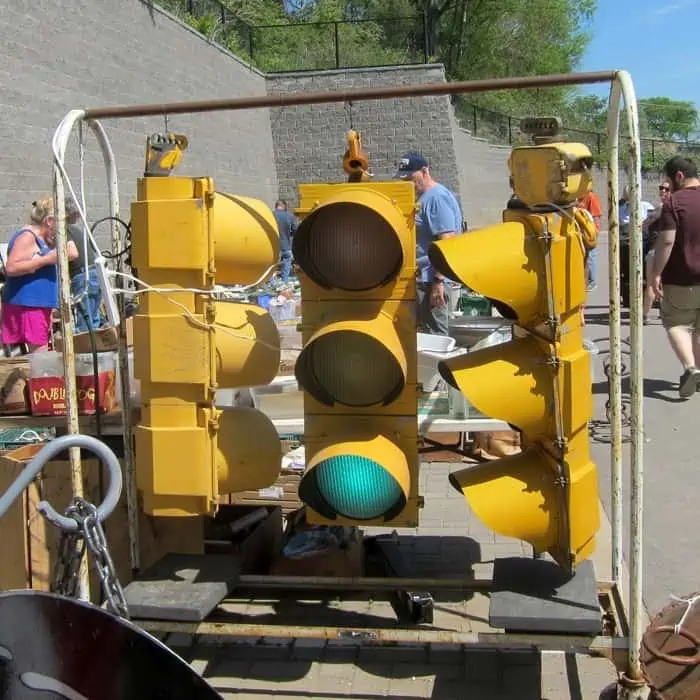 I don't know where they got the three stop lights.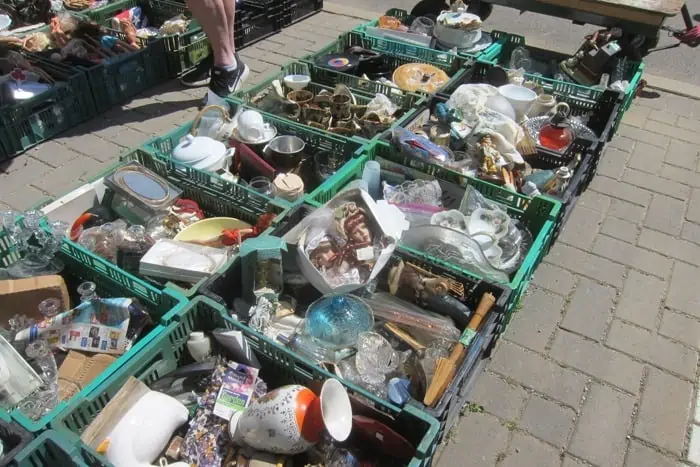 You can find some good stuff in the bins if you take the time to look.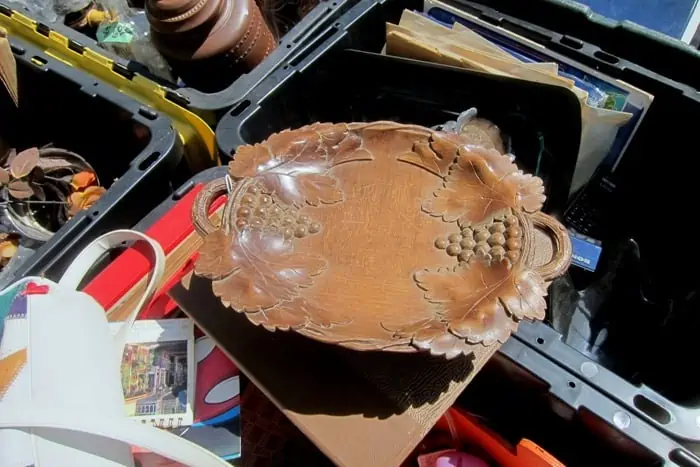 I bought this bowl or bowl of sorts. I love the design. It has a short pedestal on the bottom and there appears to be a music box in it or maybe a rotating carousel. I need to run to the workshop and take another photo!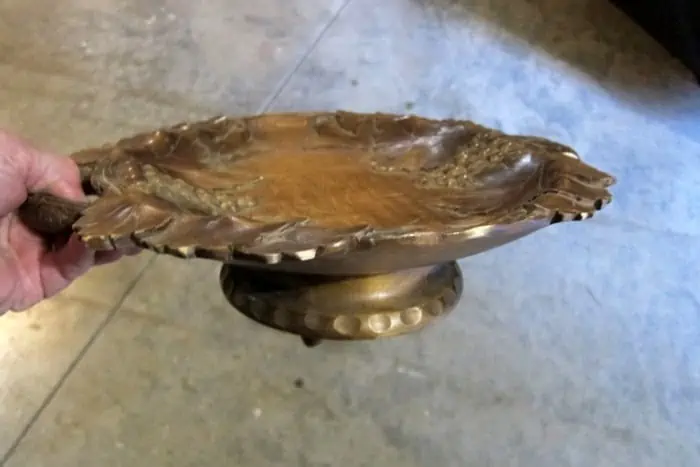 Okay, photos done. I thought the pedestal was the coolest part of the dish. I love the wood but it has a few chips. I could use a stain marker to fix them up but instead I think I will paint and distress the bowl. The price was $4.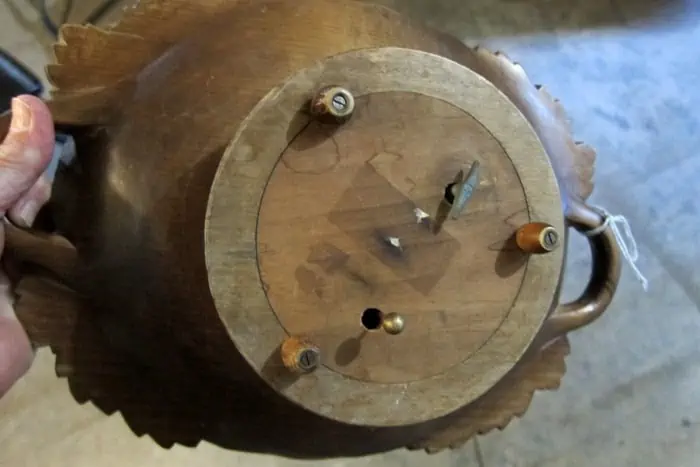 I guess at one time the wood dish had a musical rotating pedestal?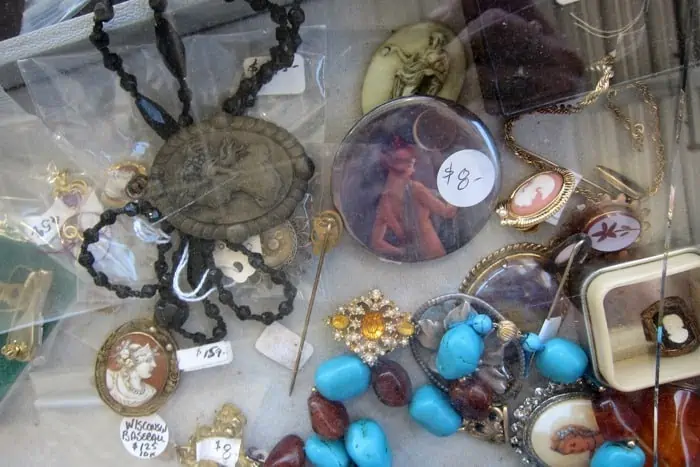 I really liked that rhinestone and yellow stone brooch but I didn't need it.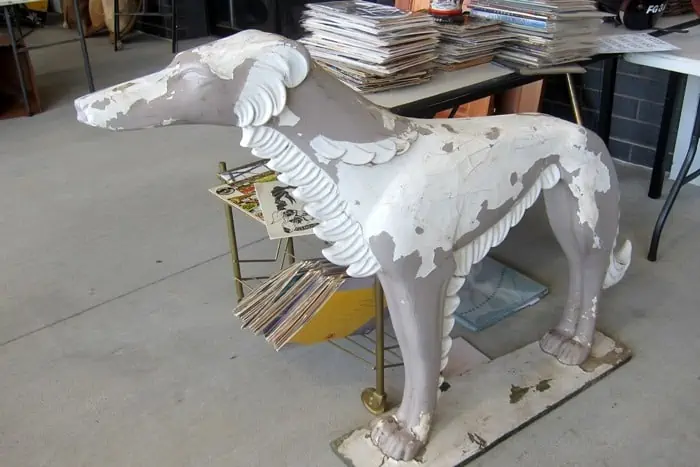 What an odd piece but fun too. I bet it was at some kind of amusement park?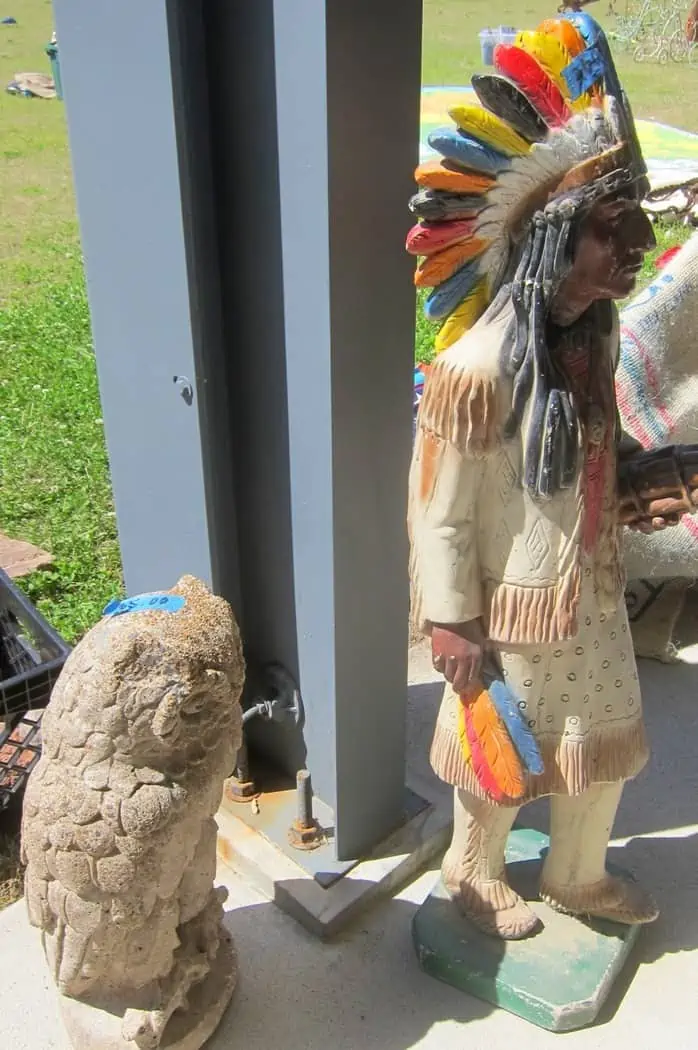 I really liked the owl statue but not for $65. It's worth the price but I'm cheap.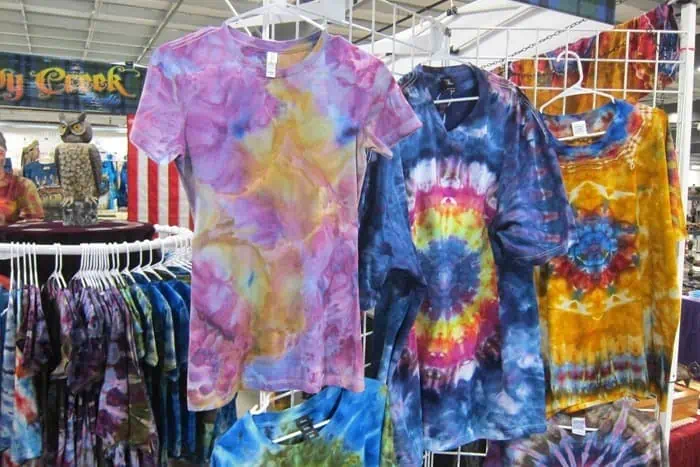 A lot of tie-dye shirts. I love tie-dye but the prices were too high for me.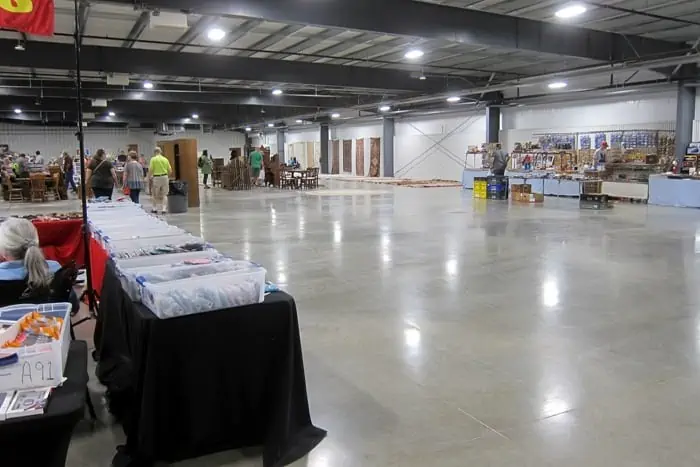 Empty vendor space in the big room with the indoor restaurant.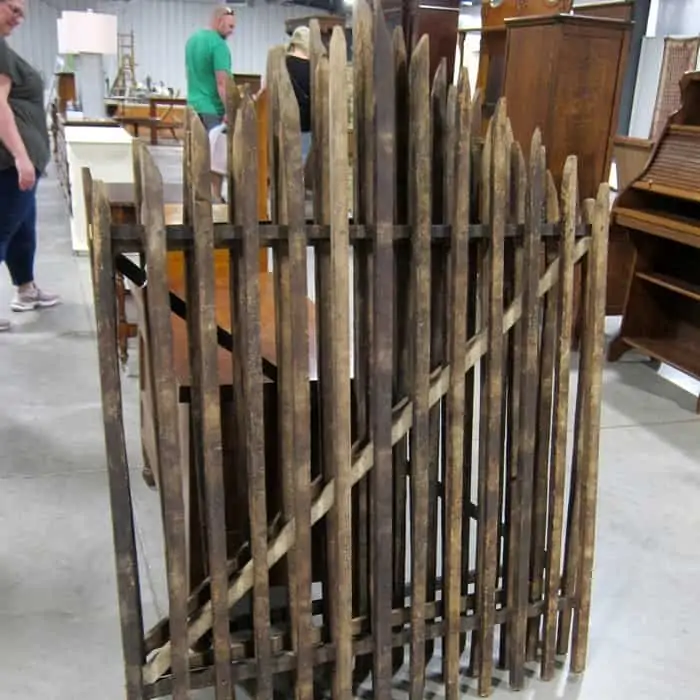 I think this piece would be cool with a large wreath. Hang it on the wall or sit it on the mantel.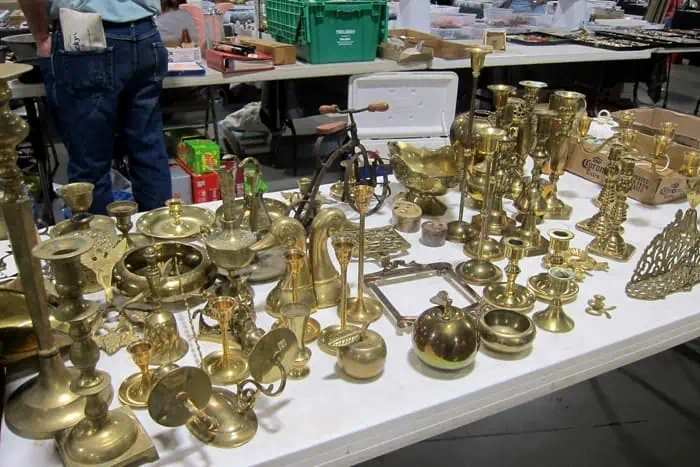 A lot of brass.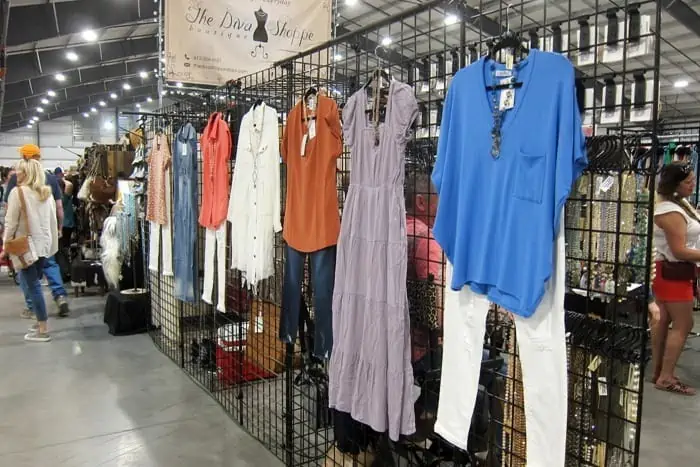 There were all kinds of clothing vendors but I don't normally shop clothing at the flea market. I only focus on junky stuff.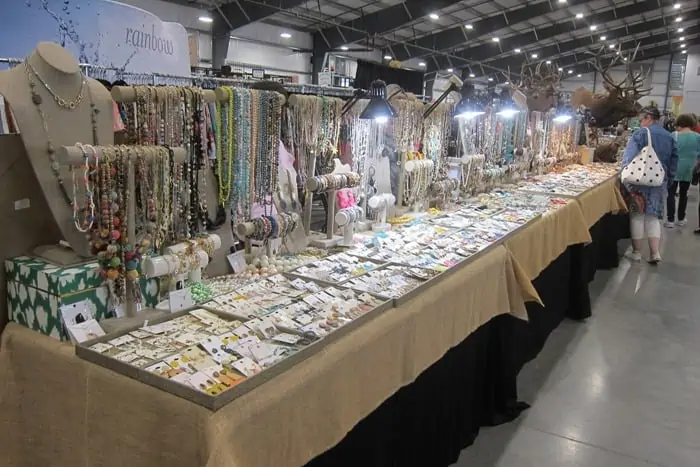 Many jewelry vendors too.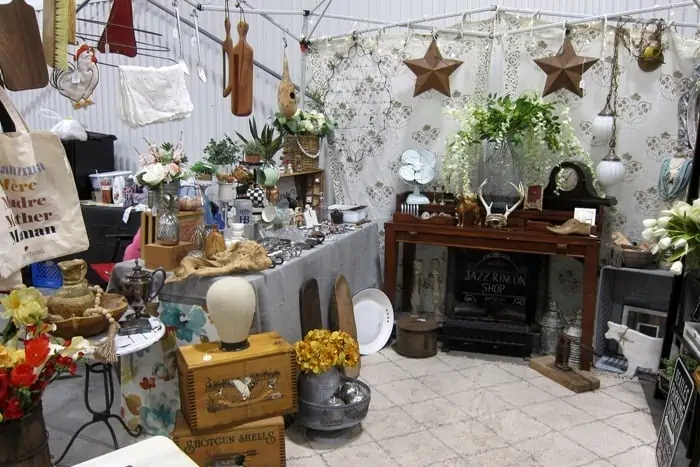 I really like this booth. The set up was nice and I liked her stuff.
More empty vendor space outside.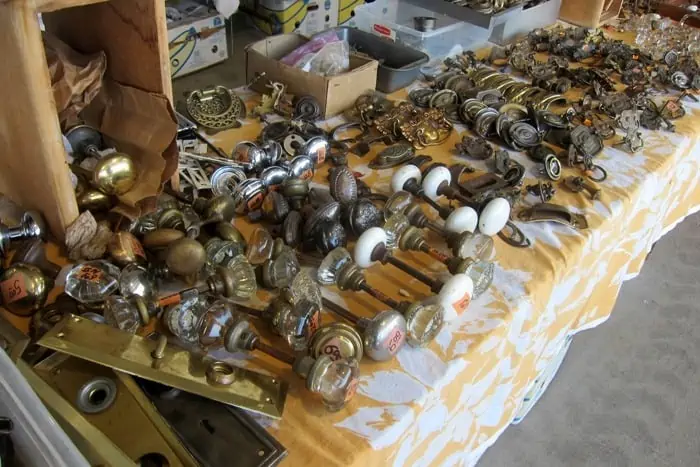 Plenty of hardware.
A great way to display wine corks.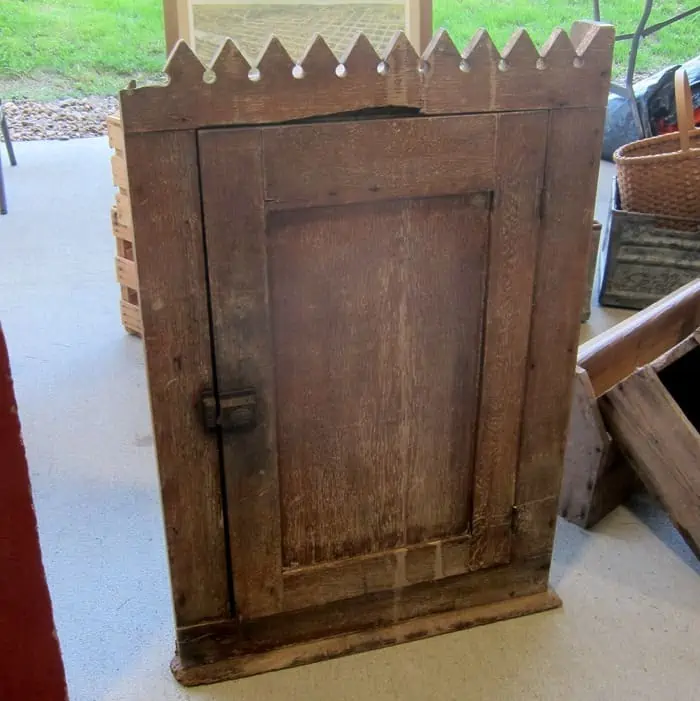 Old, old, cabinet. Love the details.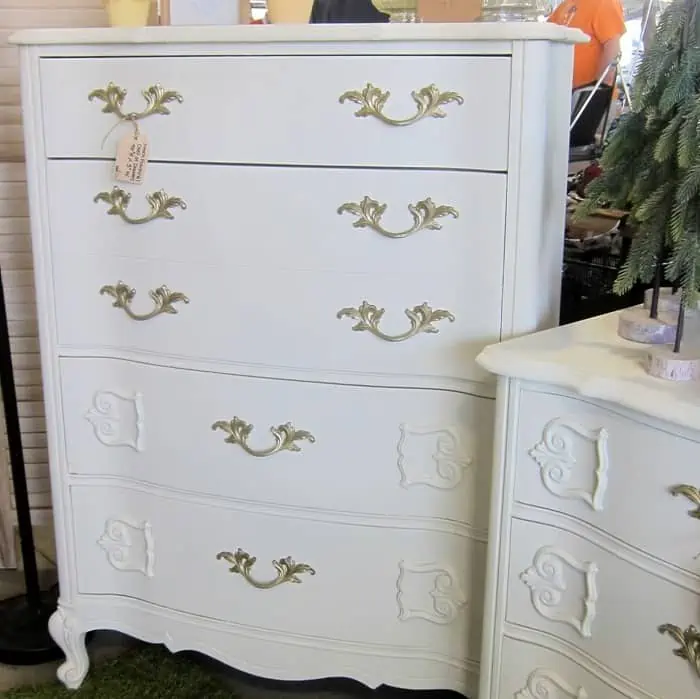 I talked to the lovely girl who painted these pieces. My memory is terrible but I think her name was Stephanie. Love the gold painted drawer pulls.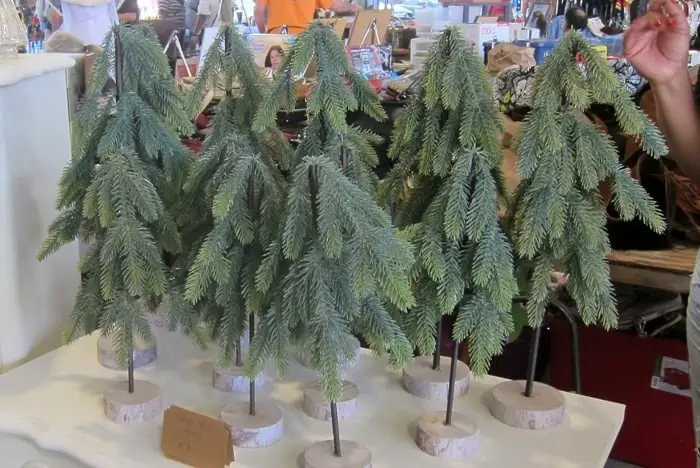 She also had a display of these cute trees. She mentioned over-buying for her Christmas decor. I can relate.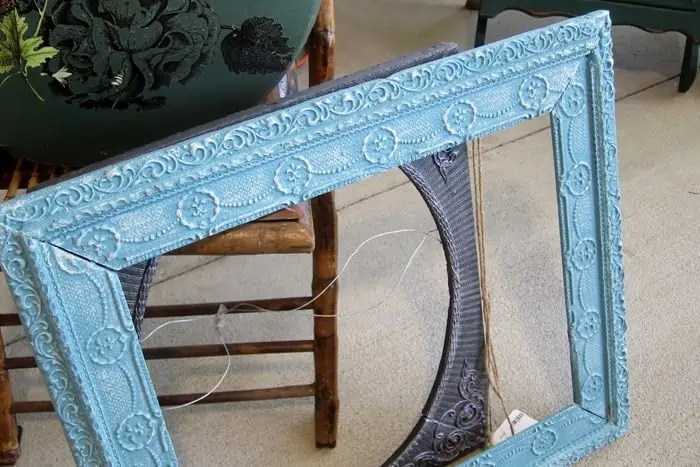 Love the color of this frame and the white dry brushed paint. The vendor mentioned she uses Dixie Belle Paint.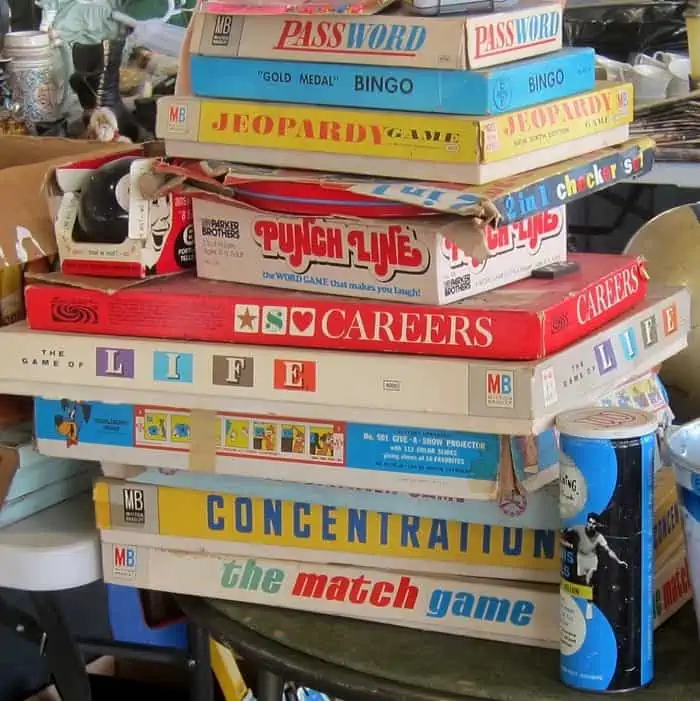 Old games. I always loved playing the match game.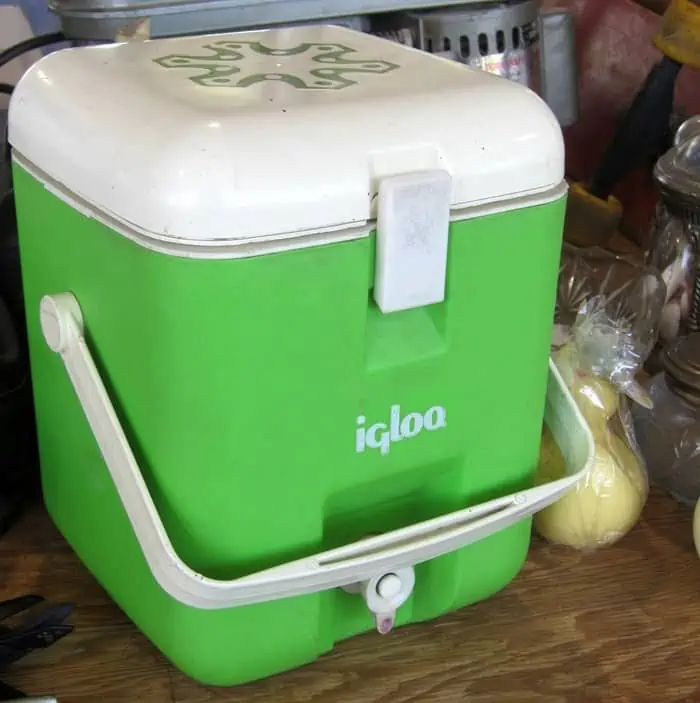 I bought this small Igloo cooler just because I liked the color. It was $10.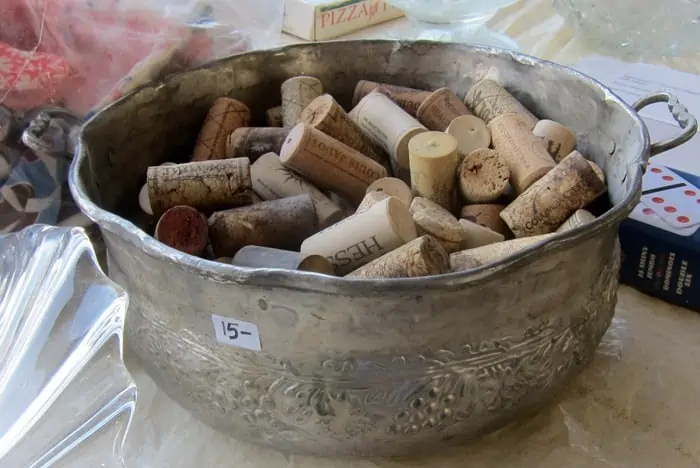 Another way to display wine corks. I like this bowl a lot.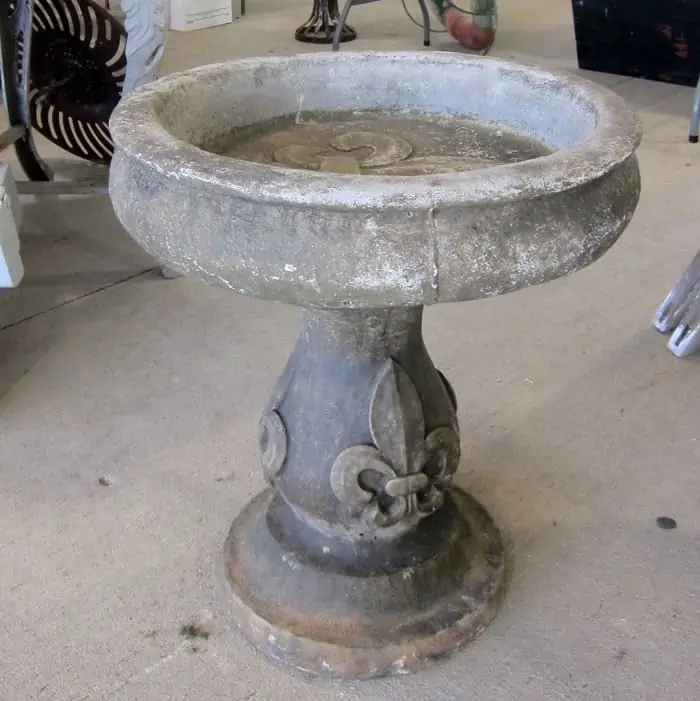 Pretty birdbath. When I see the Fleur de Lis symbol I always think New Orleans.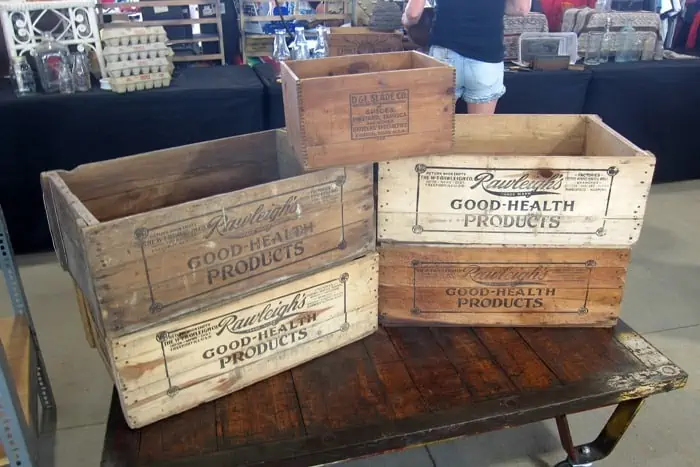 Old wood boxes and crates are a favorite of mine.
I would have purchased this rocking chair planter if I didn't have to tote it to the car.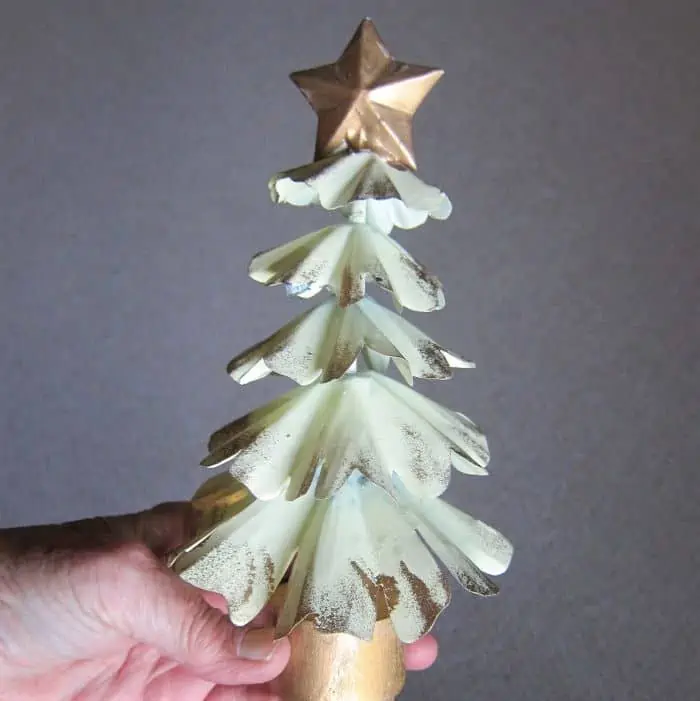 I bought the small metal Christmas tree for $1.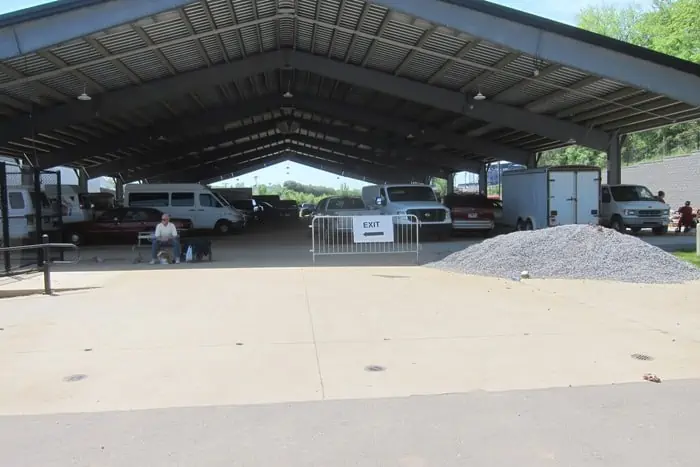 Empty shed outside. I think last year there were vendors set up here.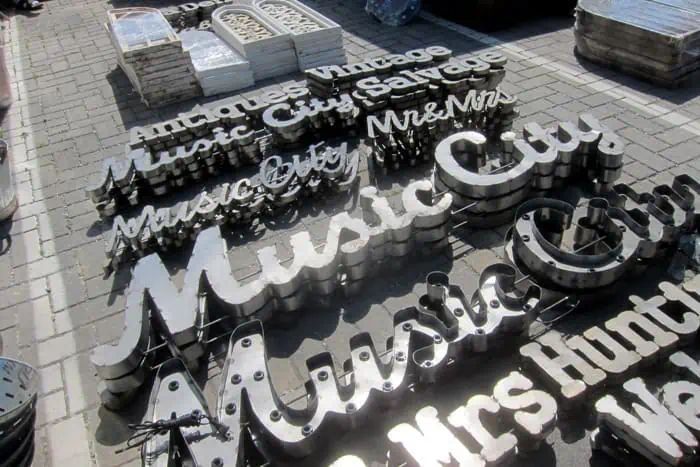 metal letter vendors are always at the market.
And that's it for the Nashville Flea Market photo tour. What caught your eye? Leave a note if you have time. Thanks for being here, Kathy
Author: Kathy Owen (Petticoat Junktion)
Kathy is the founder of PetticoatJunktion.com, a home décor blog focused on repurposing and upcycling furniture, old hardware, rusty stuff, and thrifty finds into unique home décor. Kathy's projects have been featured on the Home Depot Blog, Plaid Crafts, Behr Designer Series, and in numerous magazines. Read more about Kathy here.