Don't you just love a 5-minute project? I decorated this vintage Home Interiors mirrored candle wall sconce in less than that. Do you guys remember Home Interiors? My aunt sold Home Interiors products and she did very well, always going on special company trips.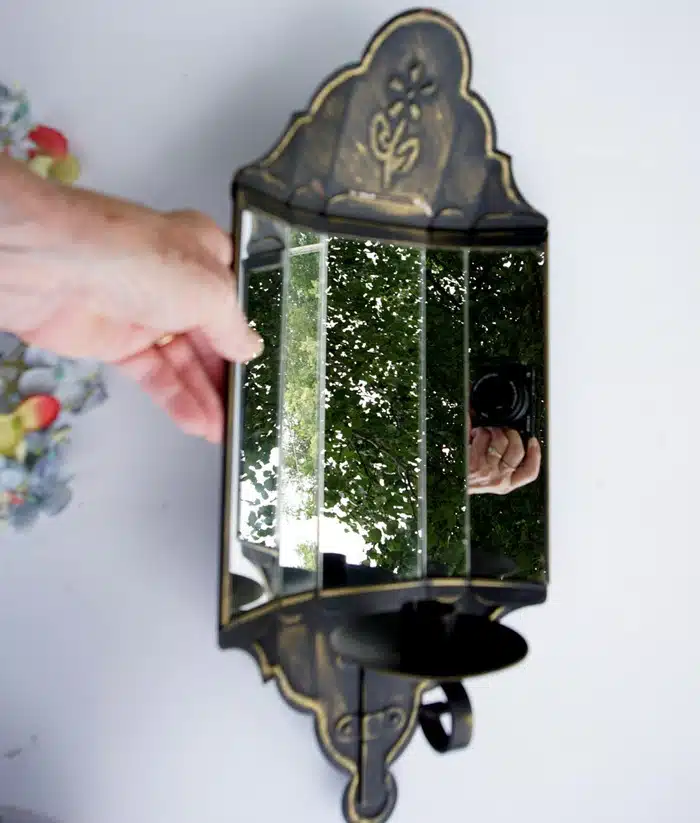 I spotted this piece on a local online auction site and remembered it from the old days. I guess sconces aren't in demand for home decor these days, but I always liked this piece. A pair would be nice, but there was only one, and I paid $2.50 for it. Not bad.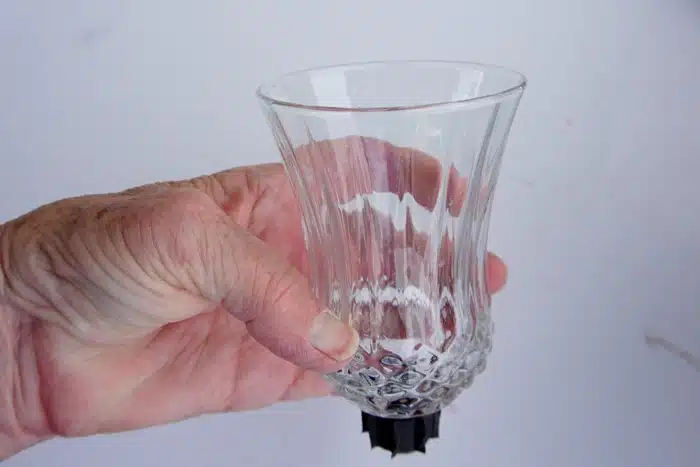 I scrounged through my candle drawer and found a clear glass votive holder. I know these are out of style too, but that is what this piece needs.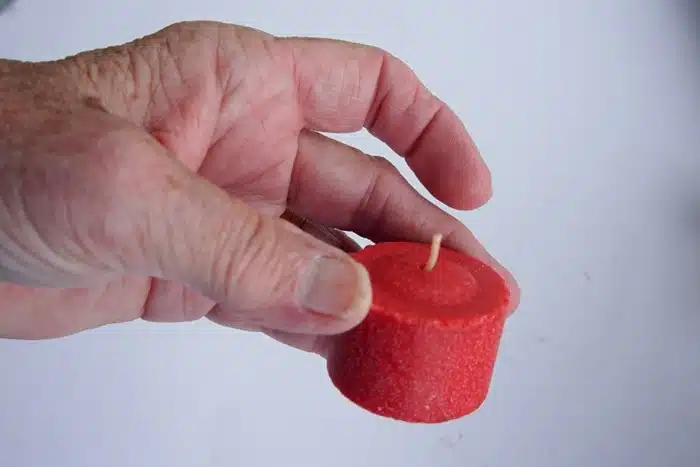 Then I pulled out this candle because the color works with my decor.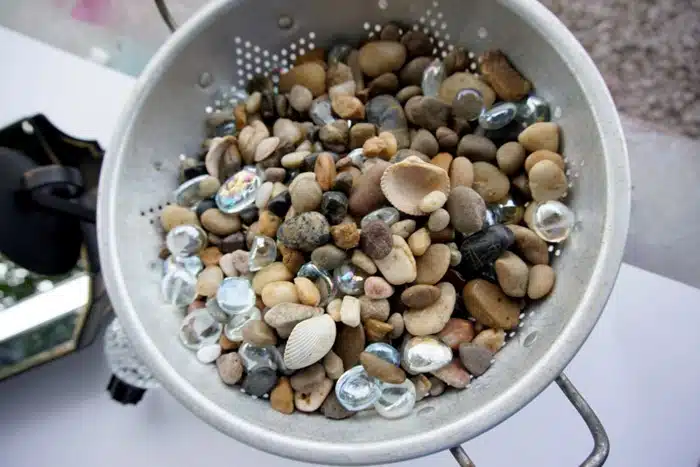 Since the votive cup was deep and the candle short, I thought I would fill the bottom of the votive and around the candle with rocks.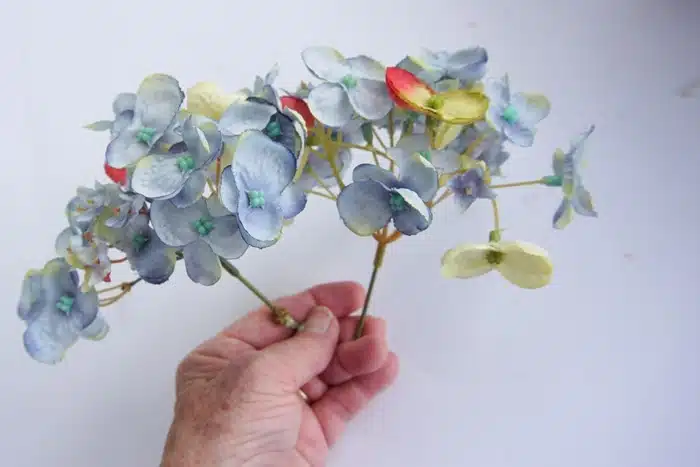 Next, I went to my tote of artificial flowers and decided on these stems for the project. The flowers were part of a pot of artificial flowers I bought at the 400-mile yard sale this year in Kentucky. I tore all the flowers out of the pot for an earlier project and saved them. Never throw anything away.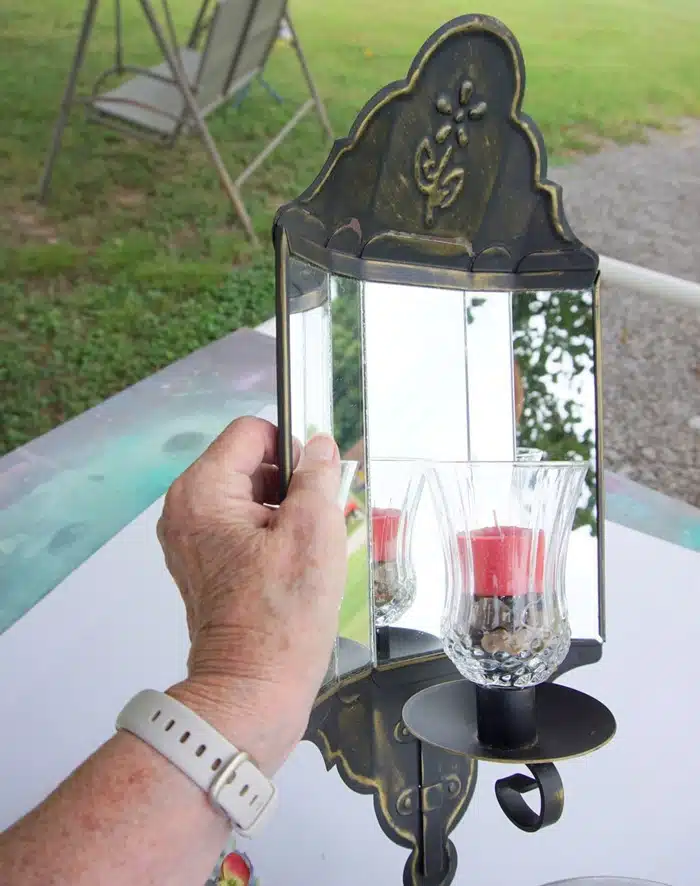 I cleaned the sconce then added rocks to the votive cup and the candle, and the look was bad. So I went on the hunt for another candle.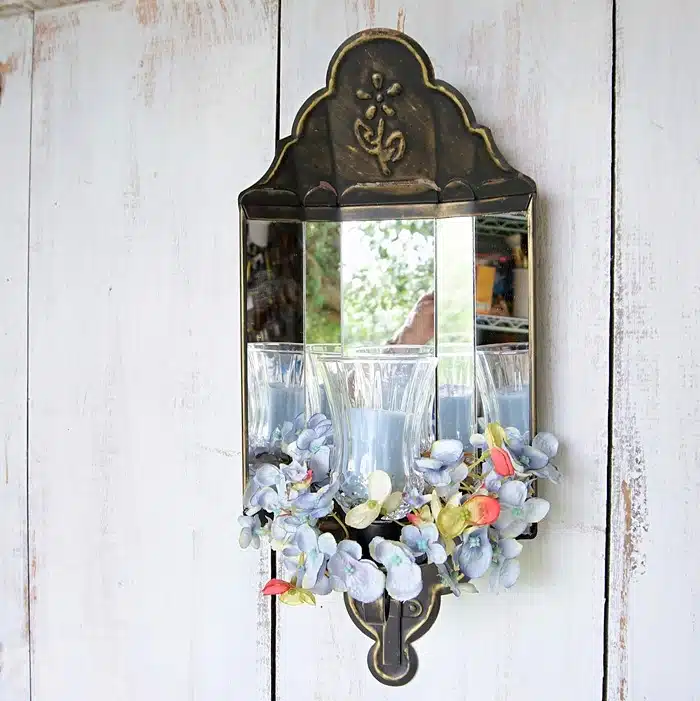 I found a taller candle in blue and it was perfect.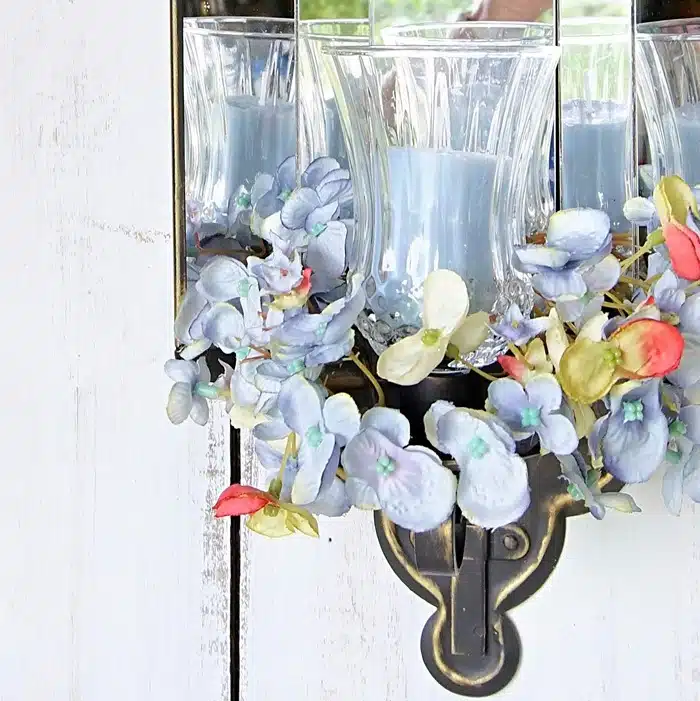 I love the coral and greenish color blooms with the blue and I would never have thought to combine the two colors in this way.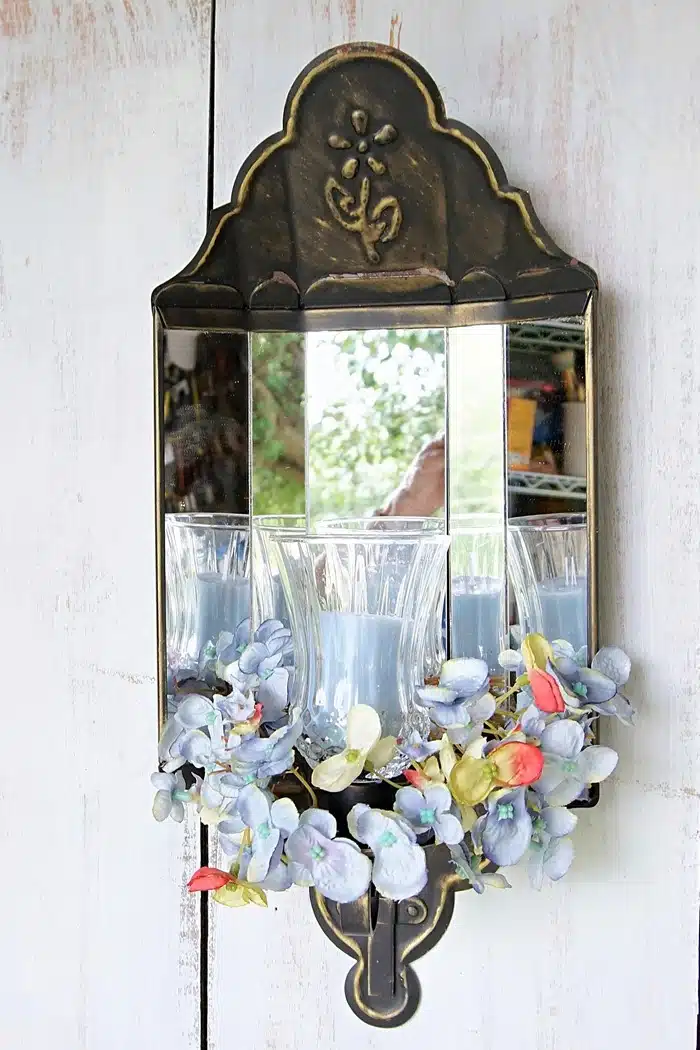 I have the wall sconce hanging on our family room wall but it's hard to get a decent photo of it in that room because it is so dark. I can see the sconce hanging in the bathroom and maybe a bedroom. The style fits anywhere.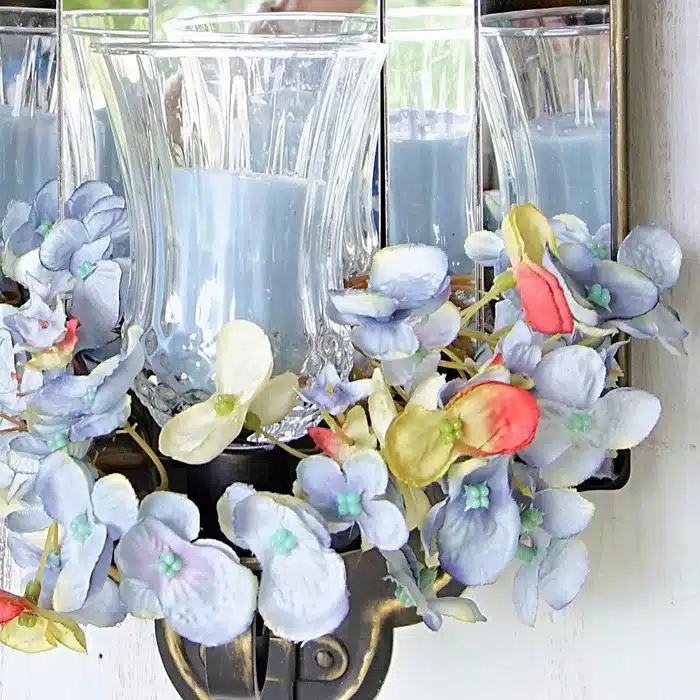 I did not hot glue the flower stems to the sconce. I just tucked them in behind the glass votive cup. This piece will be easy to change for seasonal decor. It will look pretty with an orange or forest green candle and faux fall leaf stems next month!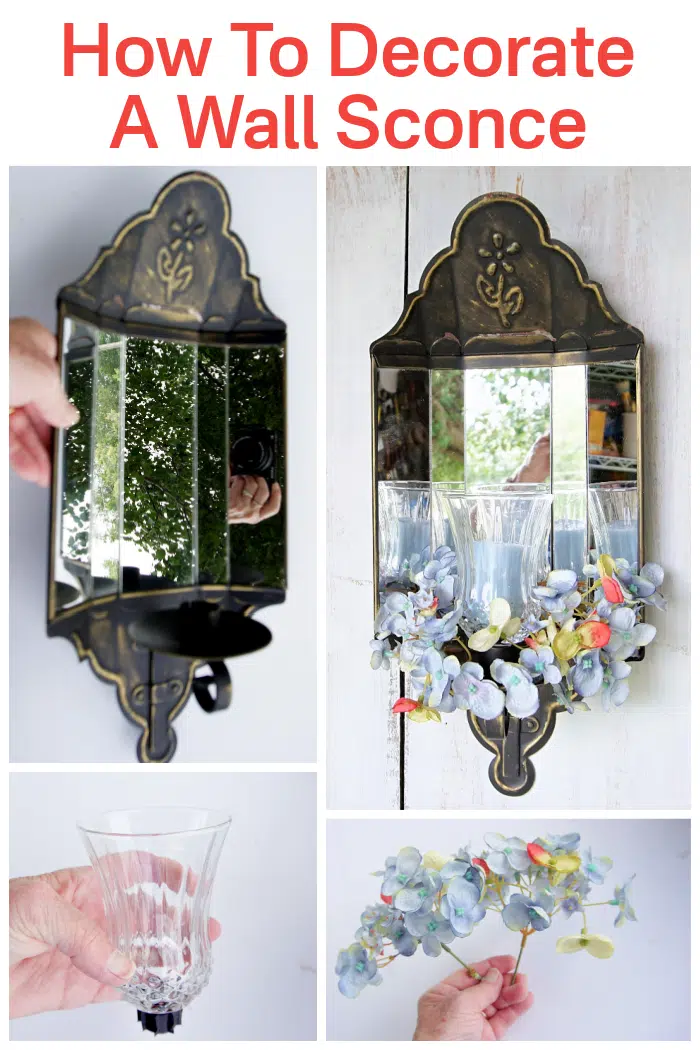 See how easy that was?? Take a trip to the thrift store or local flea markets and see if you can find a similar piece. What do you think of how I decorated the sconce?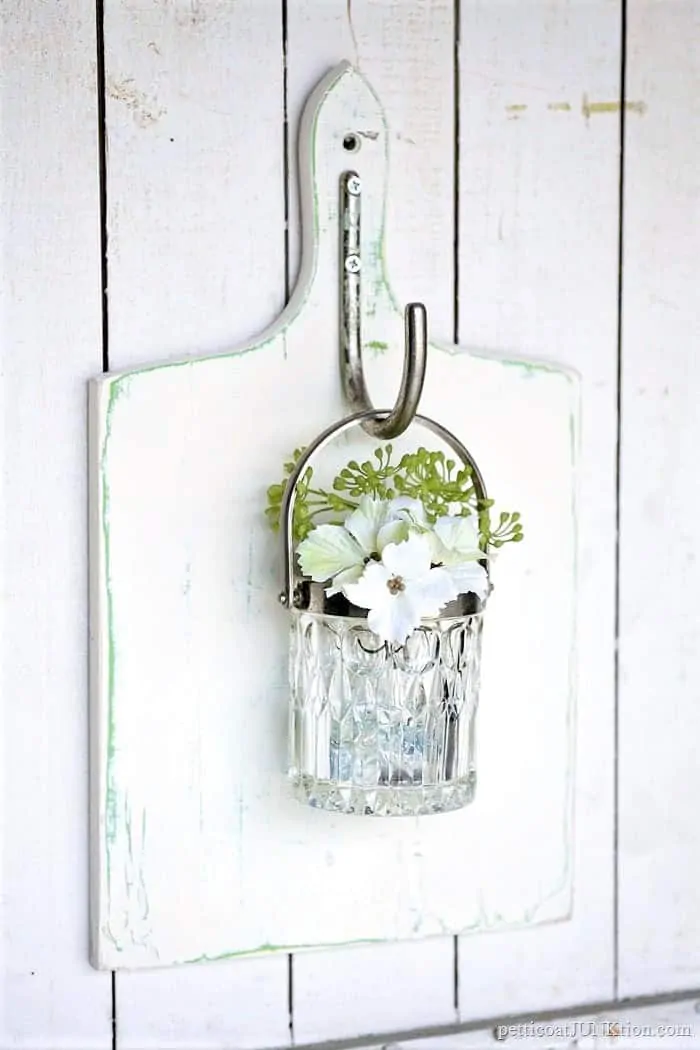 Find another of my DIY wall displays that can be used to hold flowers or a candle. Hanging Glass Wall Vase
Thanks for being here, Kathy
Author: Kathy Owen (Petticoat Junktion)
Kathy is the founder of PetticoatJunktion.com, a home décor blog focused on repurposing and upcycling furniture, old hardware, rusty stuff, and thrifty finds into unique home décor. Kathy's projects have been featured on the Home Depot Blog, Plaid Crafts, Behr Designer Series, and in numerous magazines. Read more about Kathy here.