These thrifty DIY gift ideas are the best of the best from The Thrift Store Decor Team. I love some of these projects so much I'm going to make a few of them for me and maybe a couple for gifts.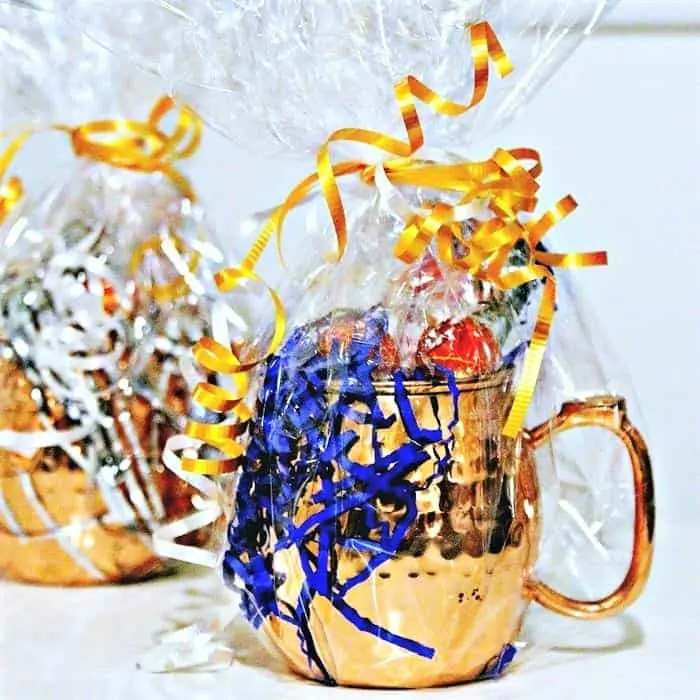 The gift ideas are for anyone, anytime, for any reason. They make great Christmas gifts, birthday gifts, I Love You gifts, or whatever! The ideas range from vintage jewelry magnets to teacup candles to handmade wood signs....and more and more and more. Look through the projects and let me know which ones you would like to receive as a gift!
Thrifty DIY Gift Ideas 2022
We can all tell if a gift was a last minute purchase or if there was a lot of thought put into the gift. Your friends and family will not have any doubts about these gifts that can be personalized to the recipient.
Candy Filled Mugs
The first gift idea I have for you is something you don't even have to "make". I found the Moscow Mule Brass cup at the Goodwill. I bought a set of 4 for $4.99. These mugs are usually at least $10. Anyway, I filled it with chocolate goodness (project here). You could also fill the mug with homemade chocolates or cookies or party mix or hot chocolate mix......you get the idea.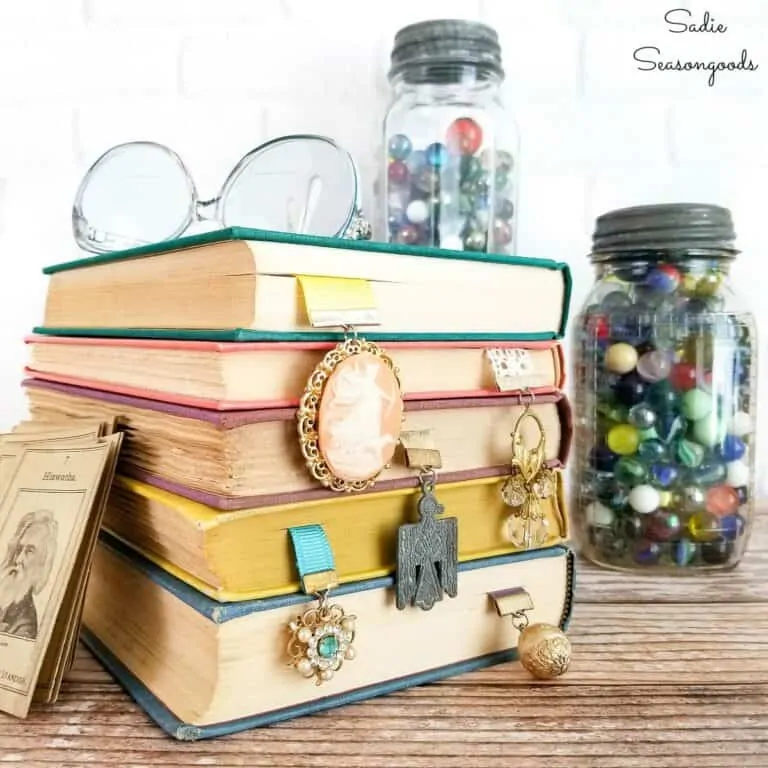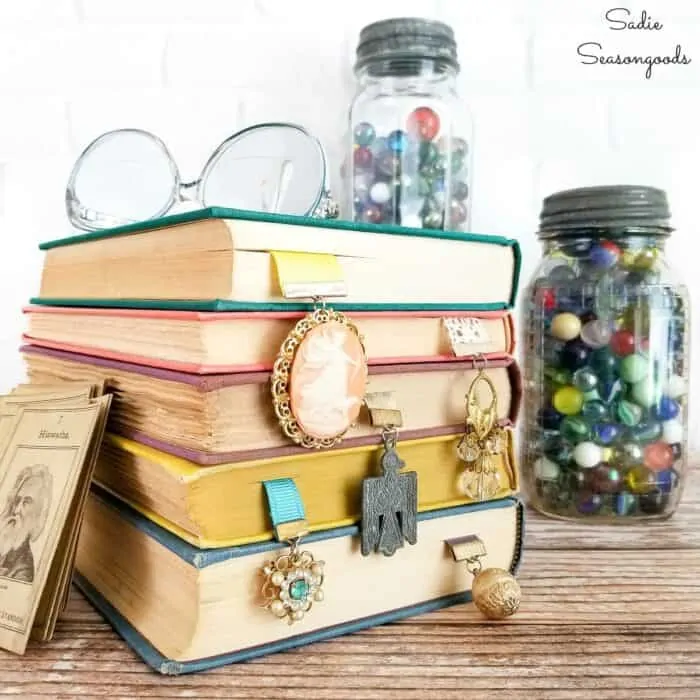 DIY Bookmarks
The next DIY gift is from Sarah, Sadie Seasongoods. I love the vintage jewelry bookmarks and have tossed around the idea of using some of my vintage jewelry for just this purpose. I didn't know how I would put the bookmarks together but now I know. The tutorial is here.
Candles In Vintage Dishes - Money Saving DIY Gift Ideas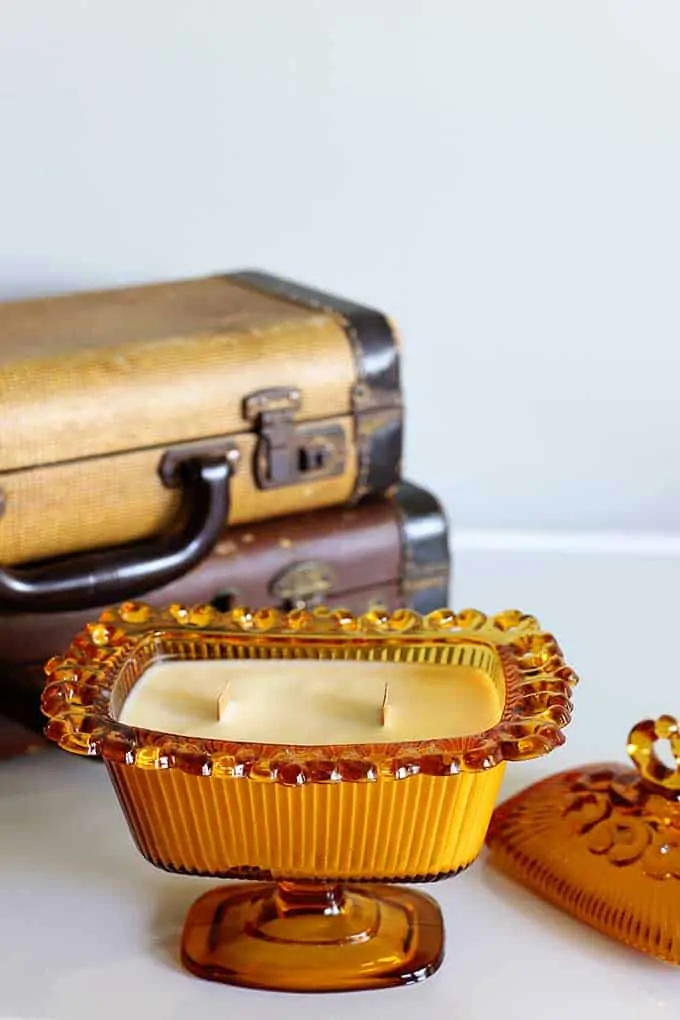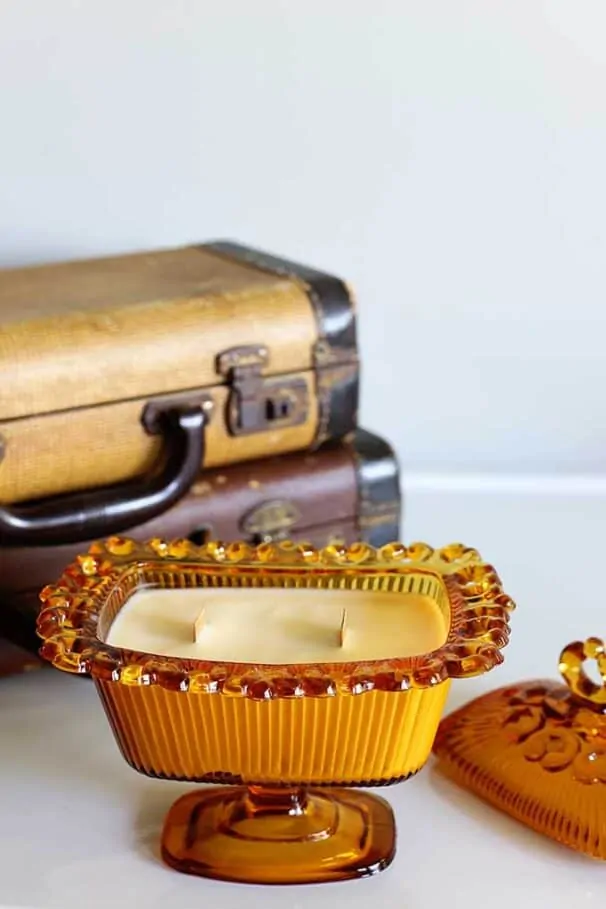 What could be better than using an heirloom dish in a way that can be displayed year round? Pam used her grandmother's vintage glass candy dish to make a candle. She used wax that complimented the color of the dish and the wicks are even cool! See her project here.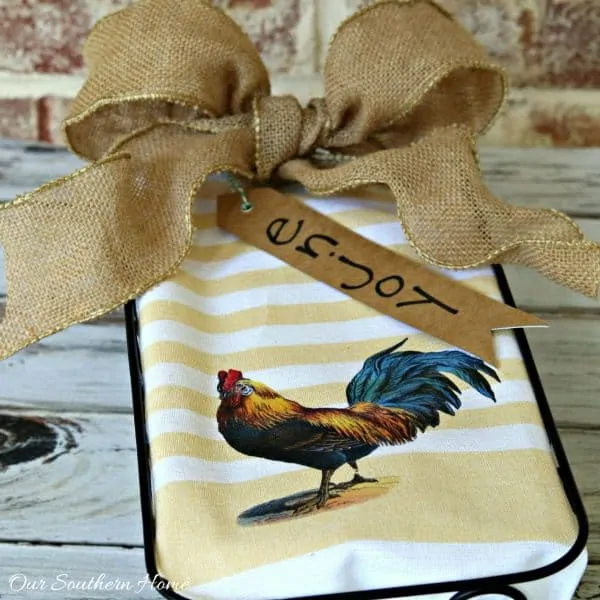 No Sew Rooster Kitchen Towel
Christy had me at "no sew". Roosters are trendy and anything rooster or chicken is collectible. The colors in the towel caught my eye too. See the towel tutorial here.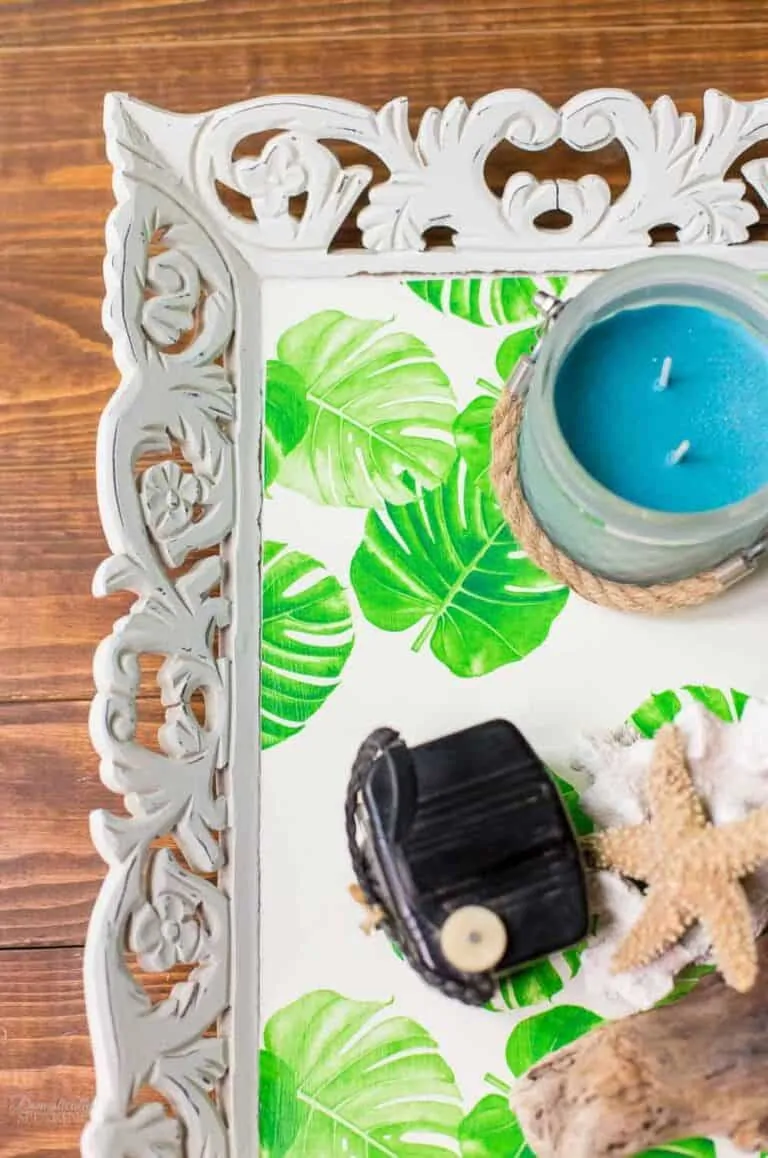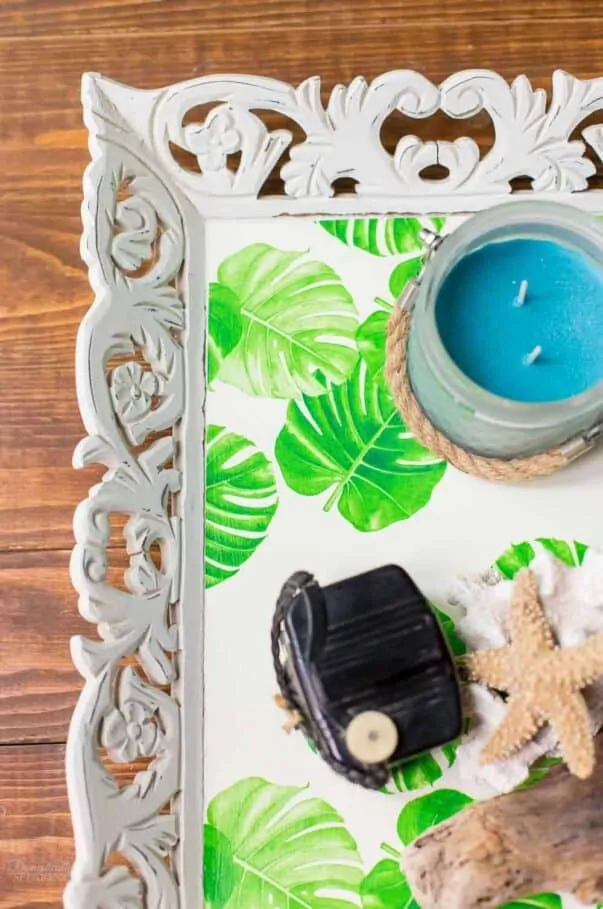 Decoupaged Tray
This thrift store tray never looked better. Maryann decoupaged it with wrapping paper. I love the tropical leaf design. You can see here tutorial here.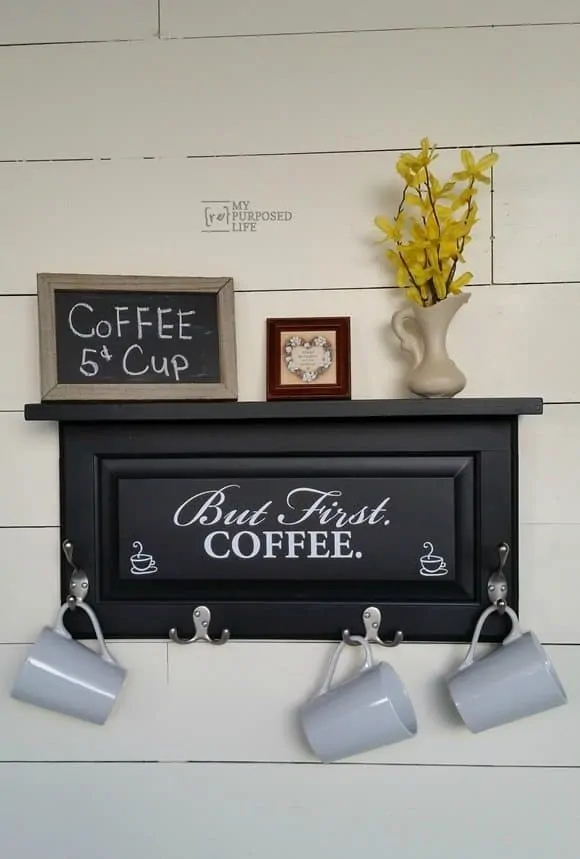 Coffee Mug Hanger
The repurposed cabinet door coffee mug hanger project isn't as difficult as it looks....or sounds. You wouldn't even need to add the shelf thingy on top. Just get a cabinet door from the Habitat Restore or someplace similar then paint it and screw brass hangers on it. Add hangers to the back and your set. To see Gail's tutorial click here.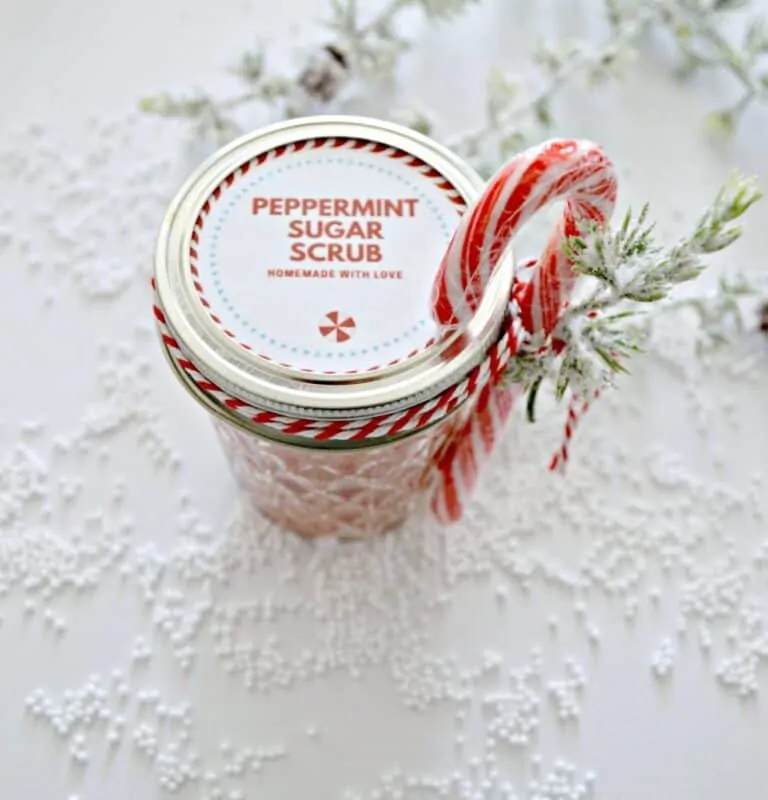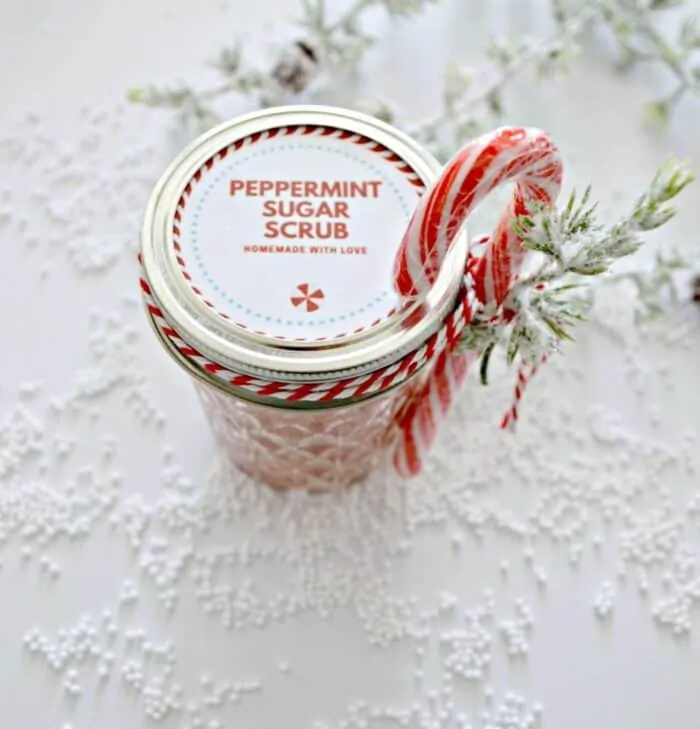 Homemade Peppermint Scrub
I don't know anyone who doesn't like to be pampered. I bet the peppermint scrub smells so good and do you know the odor of peppermint lifts your spirits? True. Find the tutorial here.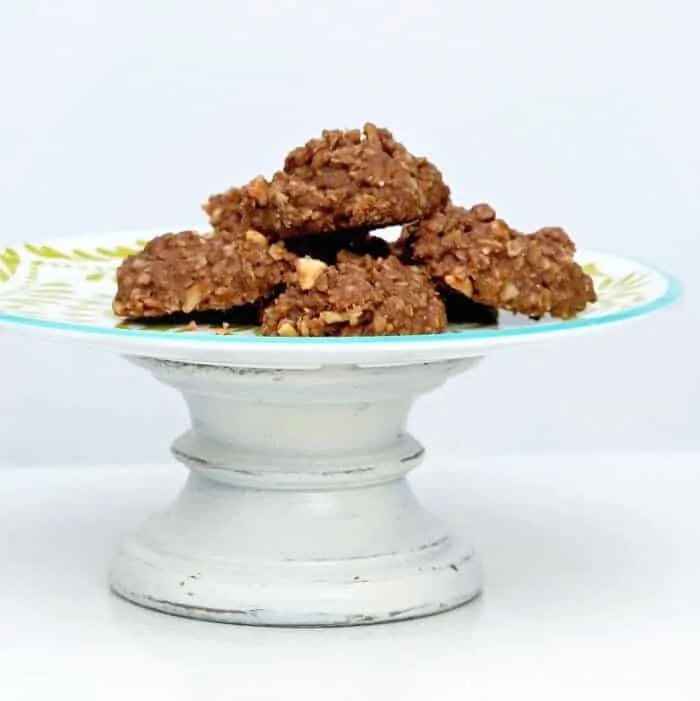 Cookie or Treat Stand
I had to showcase a couple more of my gift ideas. The cookie stand is a two for one because I included the recipe for the no bake cookies! Find the cookie recipe here along with how to put the cookie stand together.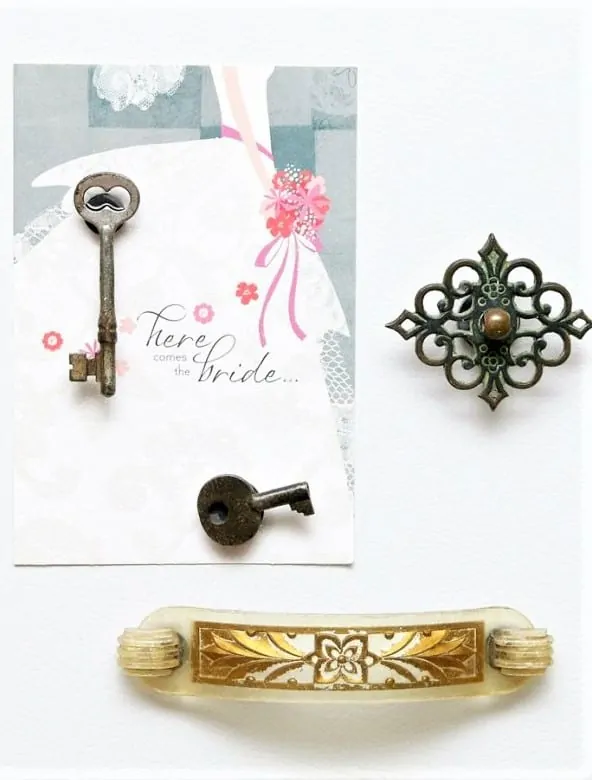 Vintage Hardware Refrigerator Magnets
Okay, another of my favorite gift ideas are DIY magnets. I have made a lot of magnets using vintage earrings, dominos, seashells, etc. The photo above show the old drawer pulls, antique keys, and other miscellaneous hardware I used to make refrigerator magnets. You can find that project here.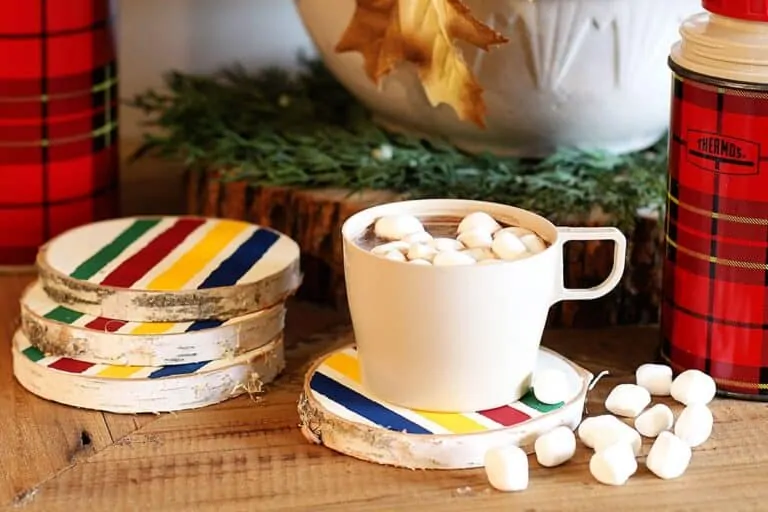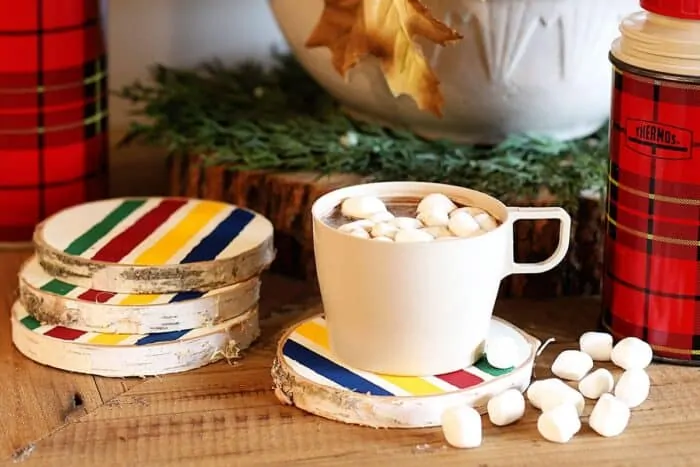 DIY Drink Coasters
You might think these coasters would be difficult to make but they aren't. Pam bought the wood slices at Michael's then painted the stripes on them. You could paint them any color! Find the tutorial here.
Thrifted Santa Tray To Monogrammed Gift

This tray was just a seasonal piece of decor before Carlene gave it a makeover. The monogrammed tray would be perfect for anyone who loves to entertain! Find the tutorial here......DIY Monogramed Gift.
Personalized Christmas Ornaments

These personalized ornaments are great for kids. They love seeing their name featured on the Christmas Tree. If they are little kids just try keeping them away from the ornament, lol. Find the tutorial here......DIY Christmas Ornaments.
Check out the favorites from the Thrift Store Decor Team by clicking the blog links below.....
Petticoat Junktion (you are here)
Thrifty DIY Gift Ideas from the Thrift Store Decor Team for 2022.
All 150 money saving DIY gift ideas for everyone on your list are below. Just click the photo to see the project. As always, thanks for being here and have a great day, Kathy
You are invited to the Inlinkz link party!
Author: Kathy Owen (Petticoat Junktion)
Kathy is the founder of PetticoatJunktion.com, a home décor blog focused on repurposing and upcycling furniture, old hardware, rusty stuff, and thrifty finds into unique home décor. Kathy's projects have been featured on the Home Depot Blog, Plaid Crafts, Behr Designer Series, and in numerous magazines. Read more about Kathy here.