Yes, you read that headline right. I went overboard at the auction, and I got a ton of stuff. My booth at Warehouse 41 Vintage Market was looking a little bare, but it isn't anymore. I'm sharing photos of some of the things I bought. There are so many, and you guys don't want to look at 50 photos of stuff. Some of the things, like the vintage ice skates, are staying at my house!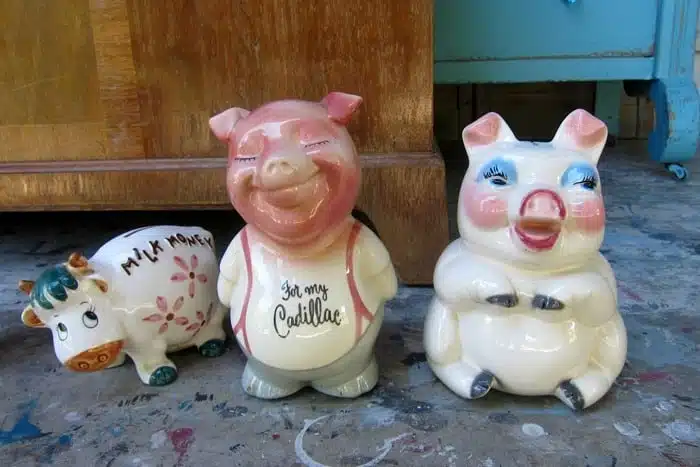 The piggy banks are too cute. I really like the Milk Money Cow!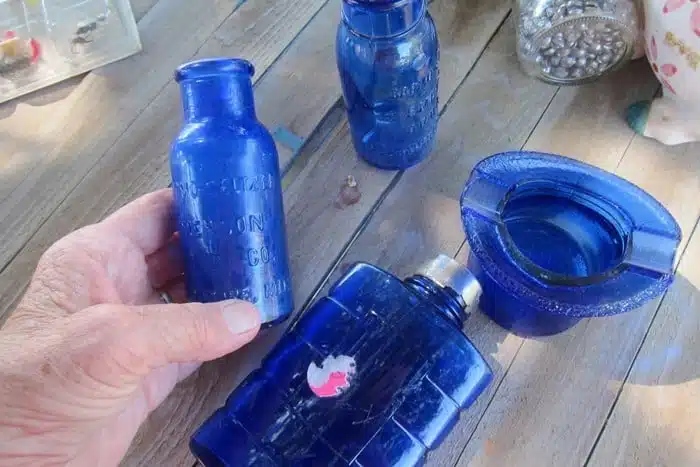 And who can pass up vintage blue glassware?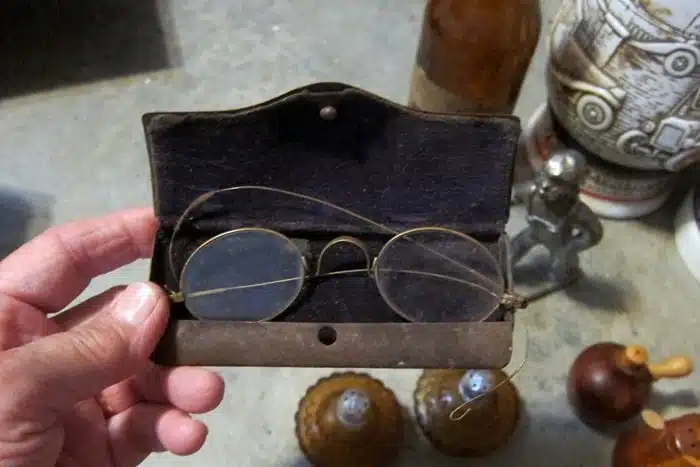 Look at these old glasses. I was trying to research them and discovered that some antique glasses were made of gold. I looked for markings on these but didn't find any.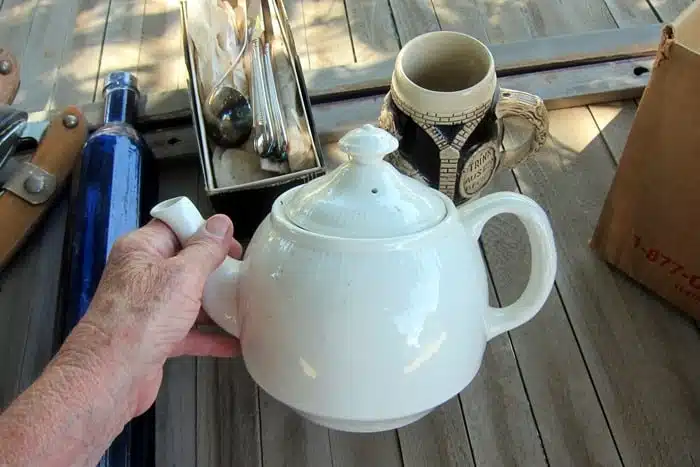 I've found that teapots sell well in my booth.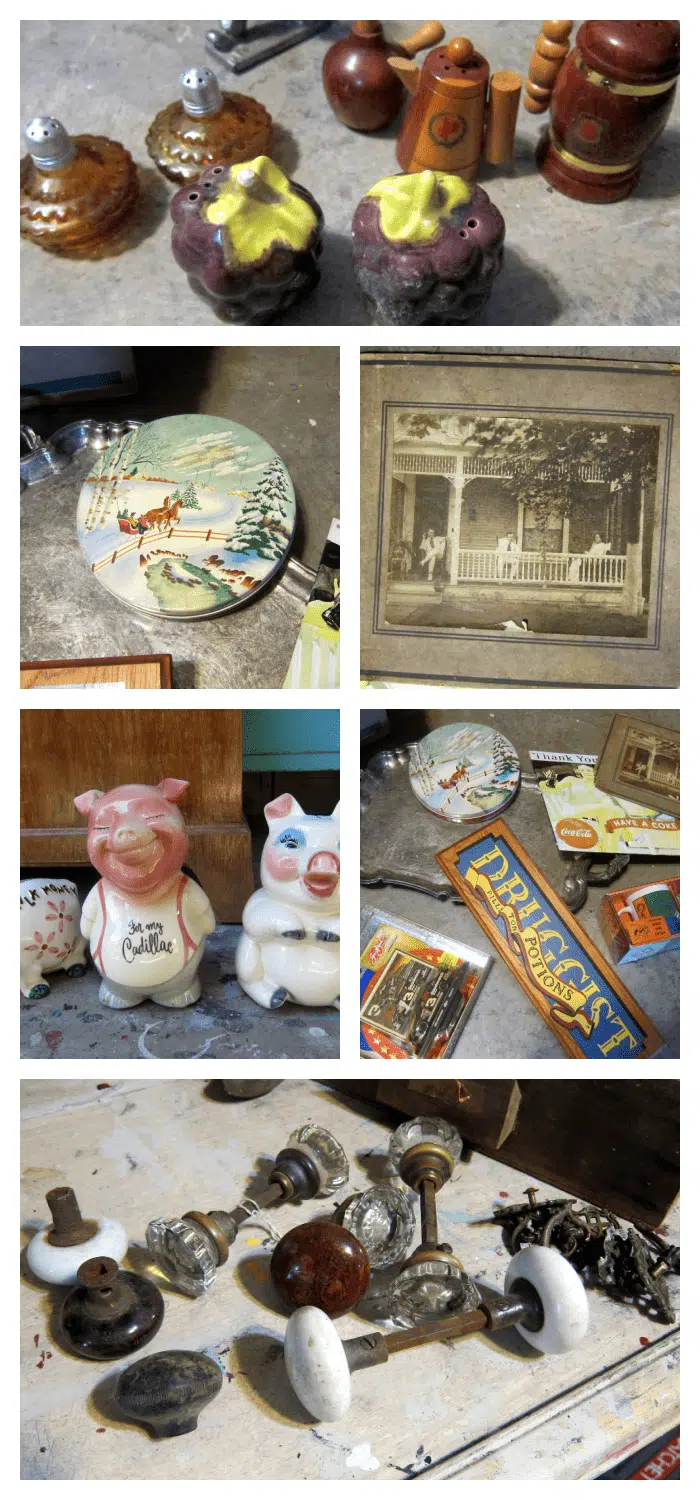 I made a couple of photo collages grouping photos together since there were so many. As you can see, I got a few sets of old door knobs, including crystal knobs. Also in the group are vintage salt and pepper shakers.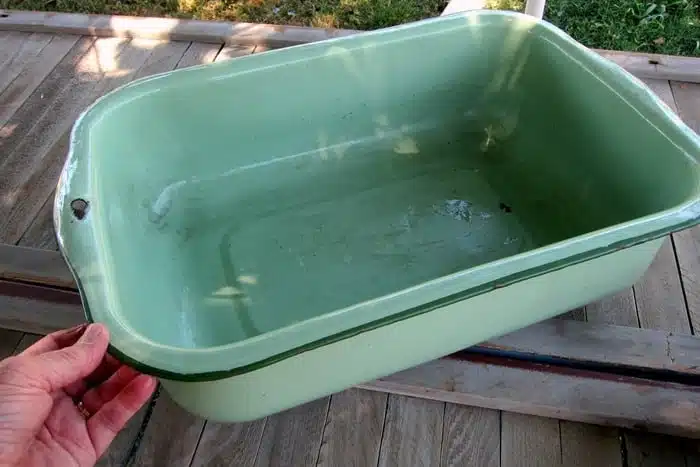 The green enamel pan is larger than it looks in this photo. I would say it is probably 12 inches by 24 inches. I'm keeping it for myself.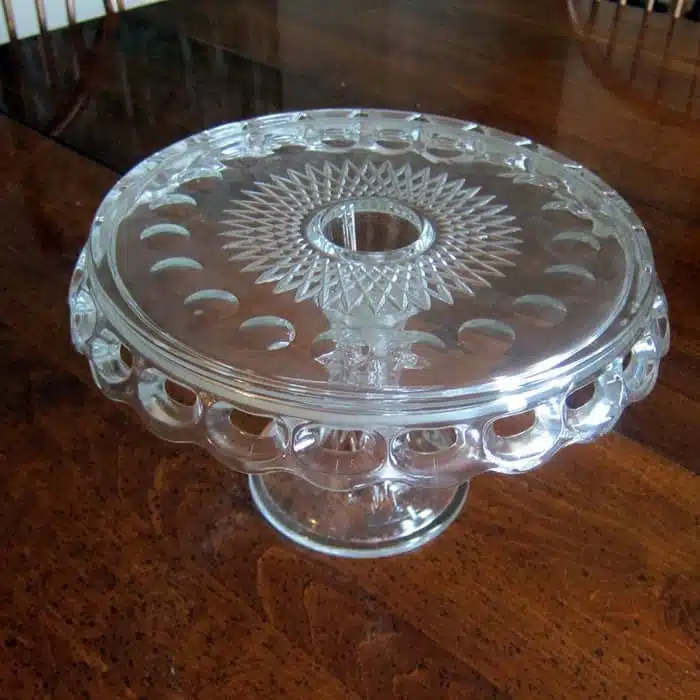 I'm also keeping the cool vintage cake stand. I have a thing for cake stands, and I don't have one like this.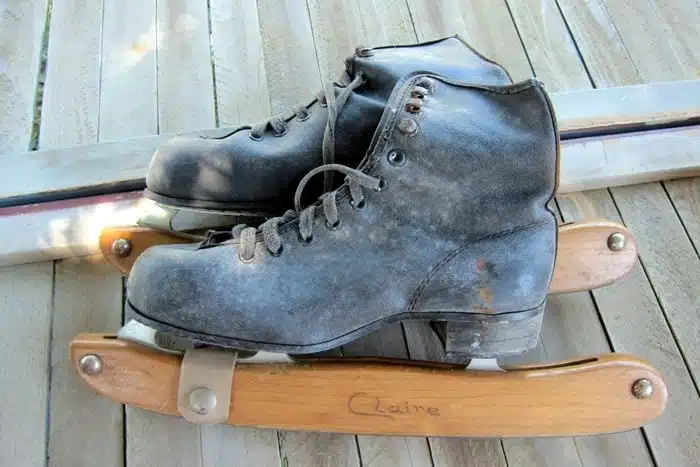 How about the ice skates? I plan to keep those too, and make a winter wreath display using them as the centerpiece.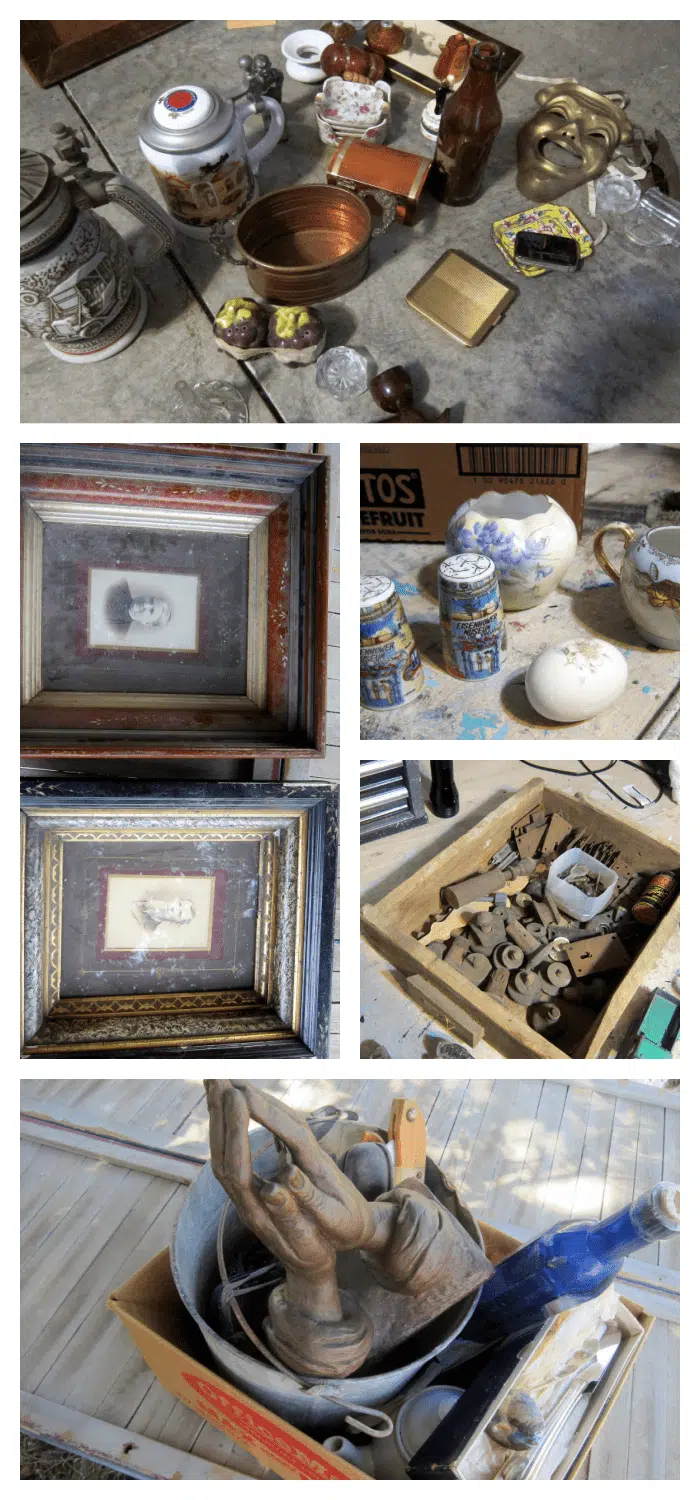 Another grouping of photos. I like the tall blue bottle, but the praying hands, not so much. I got two antique mother-of-pearl decorated wood frames, a lot of brass pieces, and also cut glass pieces. The wood drawer is full of old wood knobs and door hardware.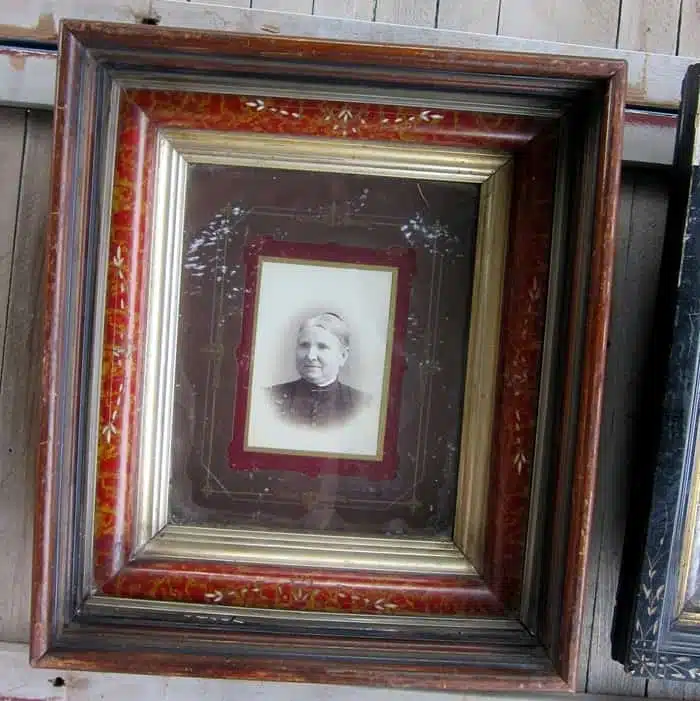 I cleaned up one of the antique frames and it is in really good shape.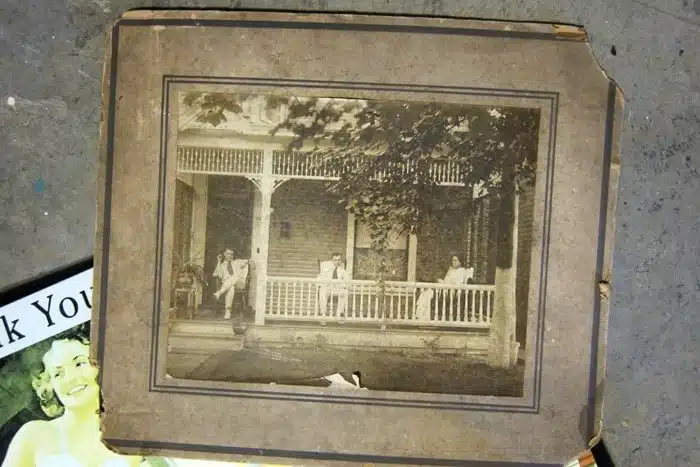 I also like antique matted black and white photos.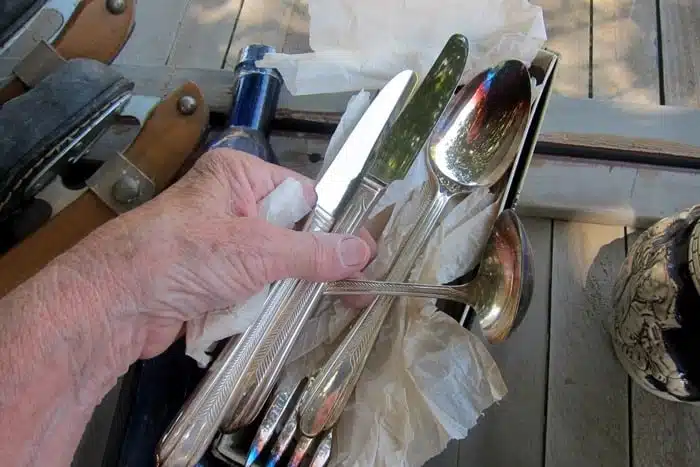 A set of silverplated flatware.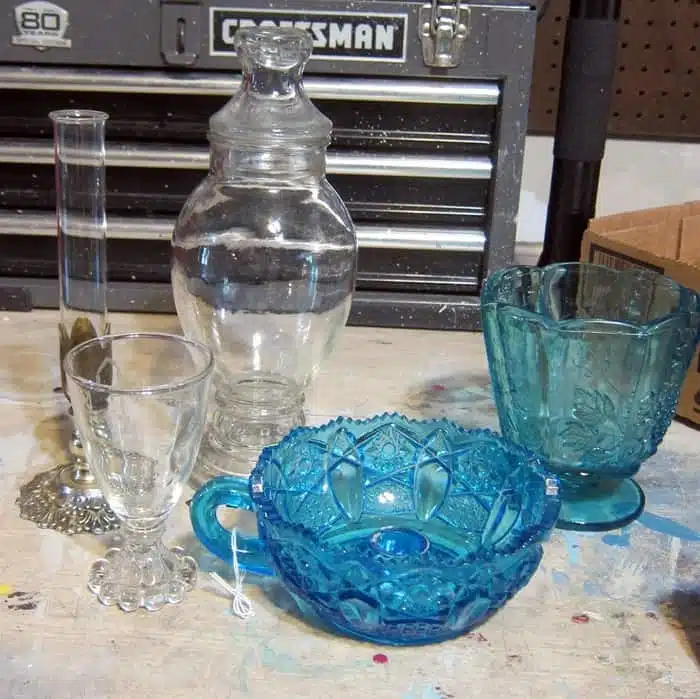 The blue pieces are so pretty—my favorite shade of blue for glassware. The tall glass urn with a lid is cool and might be a great DIY piece in the future.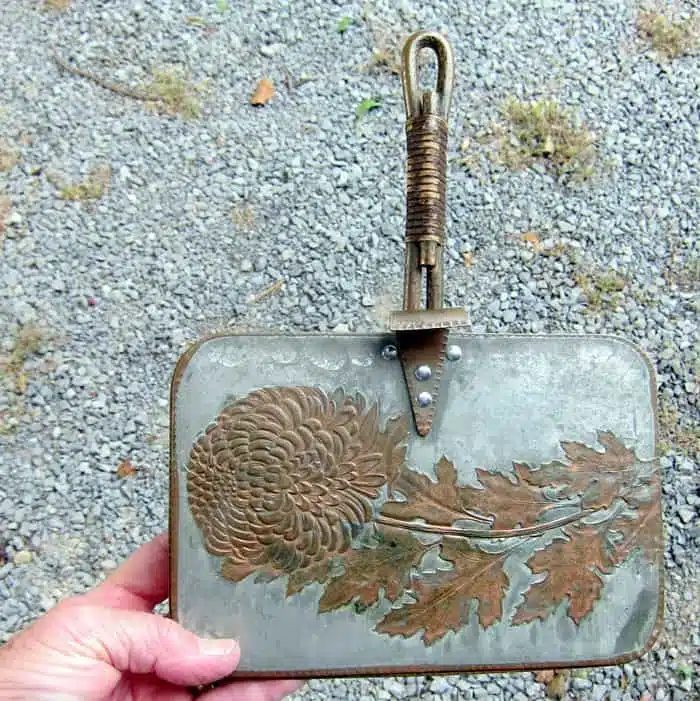 This silent butler with the copper design is soooo pretty. I bought this group of stuff a few weeks ago, and I googled the silent butler then and found an identical piece. It was selling for a pretty good price, but I can't find it online anymore.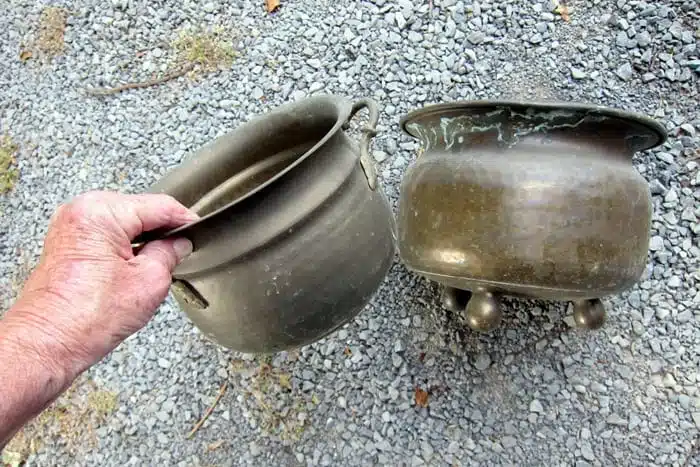 The two copper pots are great finds too. They are a lot larger than they look in the photo.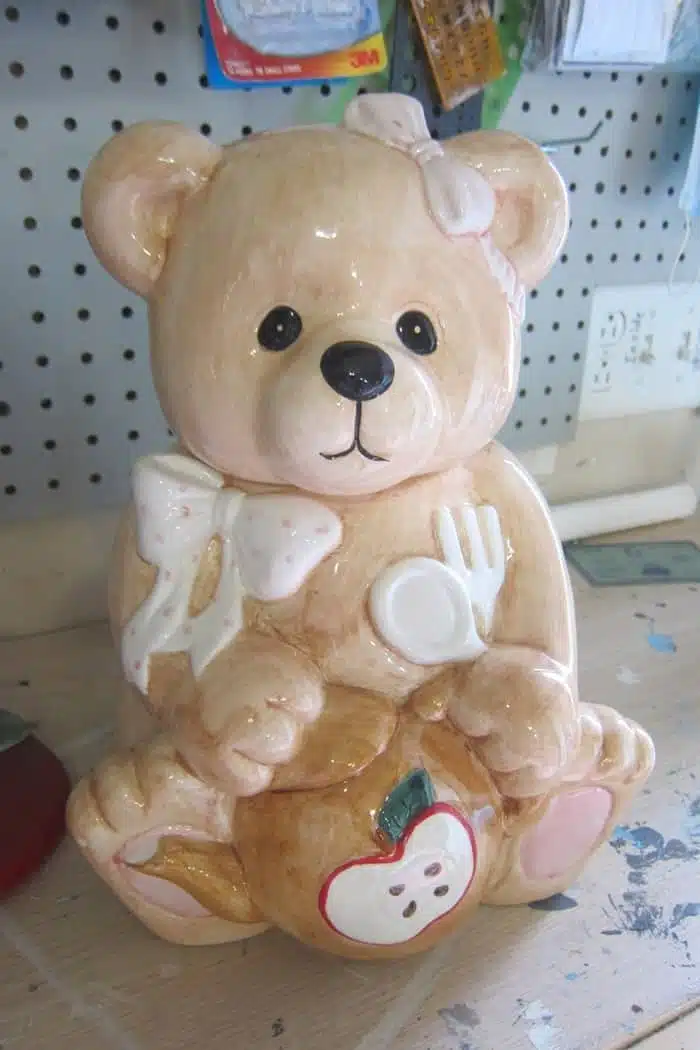 The large bear is a cookie jar. I also got a big red apple cookie jar. Some things I got that I didn't share photos of are a Ryobi 18v battery and charger (and they work), a ton of motorcycle parts, wood boxes, and so many things I can't name them all.
View this video from my favorite junk shop.....
What did you like out of my haul? Leave a note if you have time and thanks for being here, Kathy
Author: Kathy Owen (Petticoat Junktion)
Kathy is the founder of PetticoatJunktion.com, a home décor blog focused on repurposing and upcycling furniture, old hardware, rusty stuff, and thrifty finds into unique home décor. Kathy's projects have been featured on the Home Depot Blog, Plaid Crafts, Behr Designer Series, and in numerous magazines. Read more about Kathy here.