I love a good furniture paint, and Beyond Paint is one of my favorites. It's a cabinet paint too, and no priming or sealing is required. If you've been around here very long, you know I use all types and brands of paint. I'm not a one-note painter, but I do love this paint. I realized over the weekend that I often forget to share the paint brand when I write my post. I am especially bad about mentioning the Beyond Paint brand.
I sold this brand in the shop until the beginning of the year, when I sold my stock to the shop owner. I decided a few months ago I was going to shake things up. Move on to other things. I quit selling paint. At one time, I retailed four lines of furniture paint. There are so many furniture paint brands the market is saturated. I don't know how all these people are going to stay in business.
Even though I don't sell Reclaim anymore, I use it weekly. The paint is a three-in-0ne product; no priming, sanding, or waxing/sealing is required. Can't beat that. I'm sharing some of my favorite projects painted with Reclaim paint today. I'm not sure how many projects I've completed using Reclaim, but there are a bunch. The photo at the top shows one of my favorite makeovers ever! I went all out on the piece. It's a real antique and was in two pieces when I bought it.
It had also been chewed on by a horse, really. You can see the makeover and all the details here…Two-Tone Frosted Paint Finish.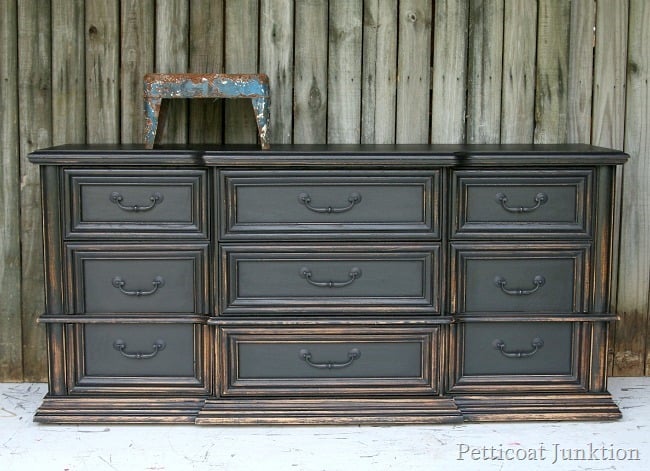 The black dresser is a Pottery Barn Knockoff. The Pottery Barn piece was priced at $1899.00, and my dresser was $65. Of course, I need to add the price of the paint but that doesn't amount to much. You can see it here…Pottery Barn Knockoff.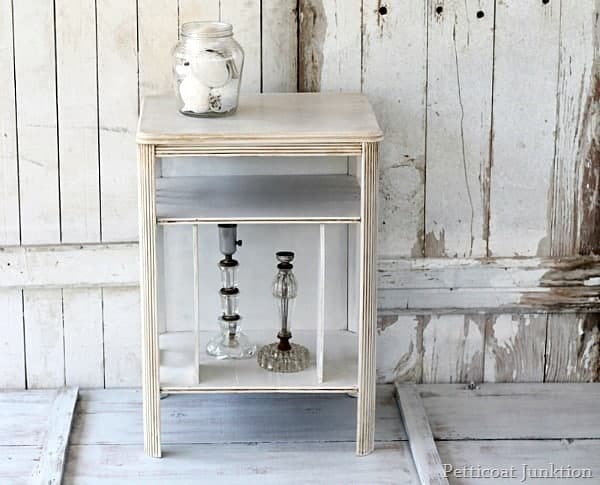 This piece I have in my home. I painted and aged it using Caromal Colors Toner. Find it here….5 Days of White Furniture. There is nothing prettier than white paint distressed and aged—just my opinion.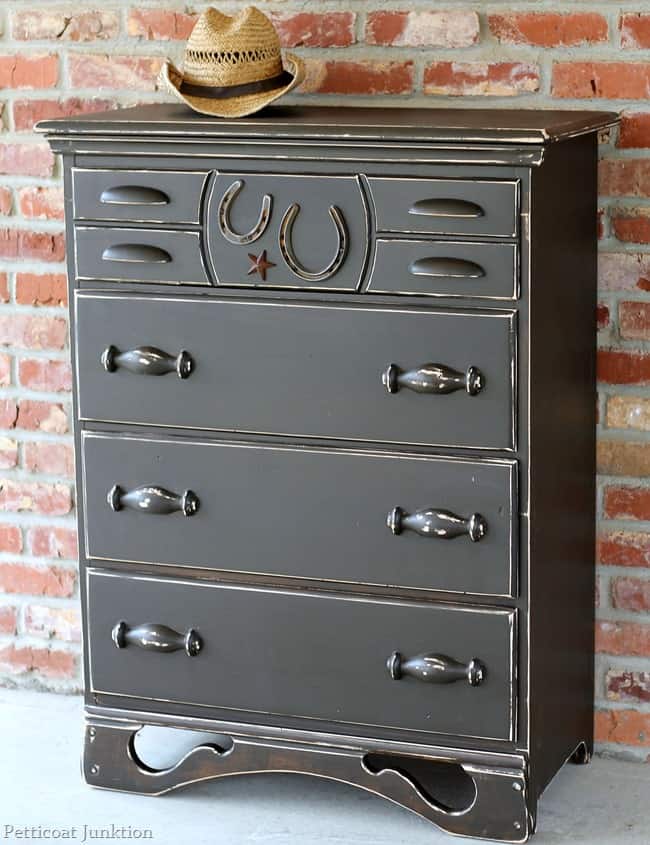 This is a favorite too. I painted the chest with Beyond Paint Furniture paint in Mocha color then nailed the decorative horseshoes and star to the top drawer. Perfect for a boys' room. You can see it here… Themed Furniture Cowboy Style.
This desk makes me smile. I used Navy blue Beyond Paint and Re-Design by Prima furniture transfers. See the makeover here.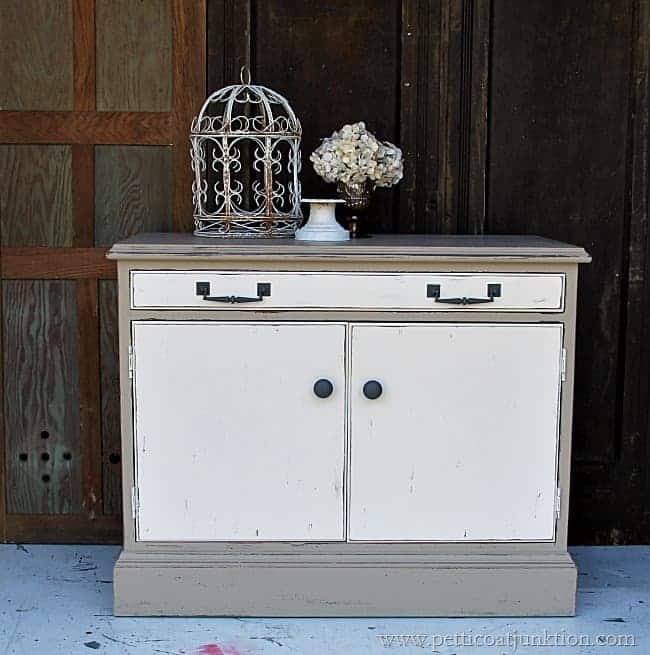 Two-tone off-white and linen. Very classy…..Foyer Chest Makeover.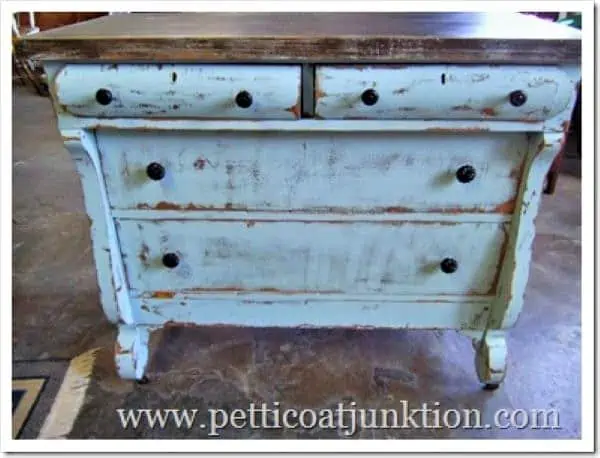 I did this piece in 2011. That's why the photo is so small and not very good quality. I had just started blogging and sharing tutorials and photos. The top of the dresser is painted Mocha color. See it here….Furniture Show And Tell.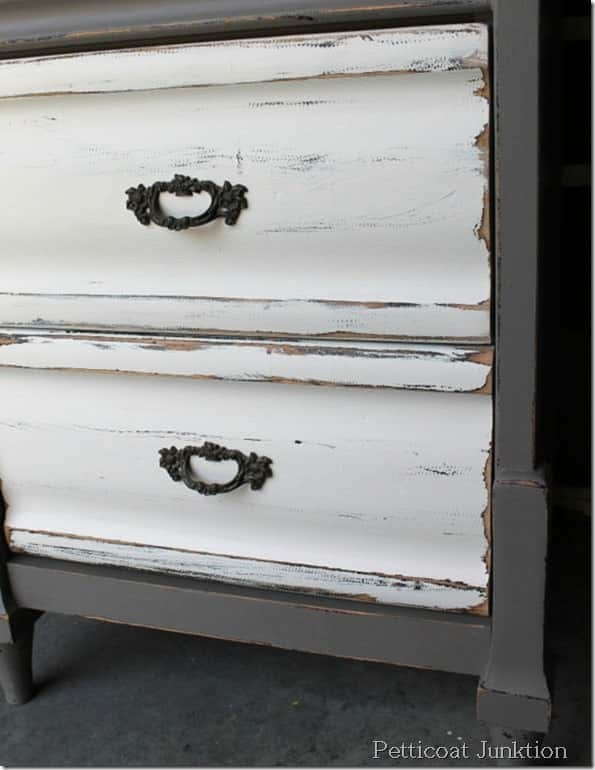 The nightstand pictured above is one of a set. It is in our master bedroom. I like the look but thinking of painting it again! Find it here….Furniture Revival.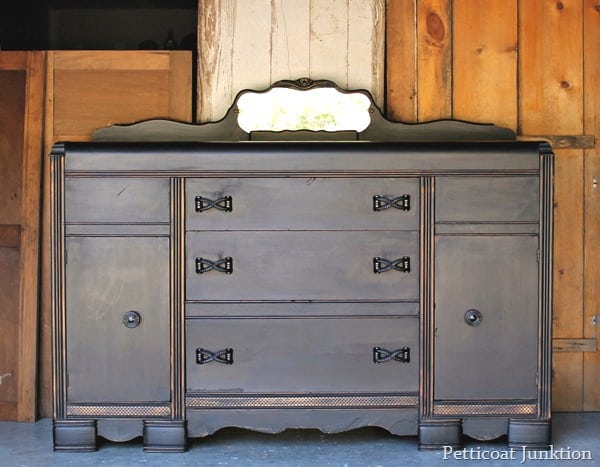 I really love the buffet. I've painted several of these pieces but haven't been able to find one within my price range in a while now. This is Reclaim paint in Licorice. You can find it here… Black Buffet with Distressing.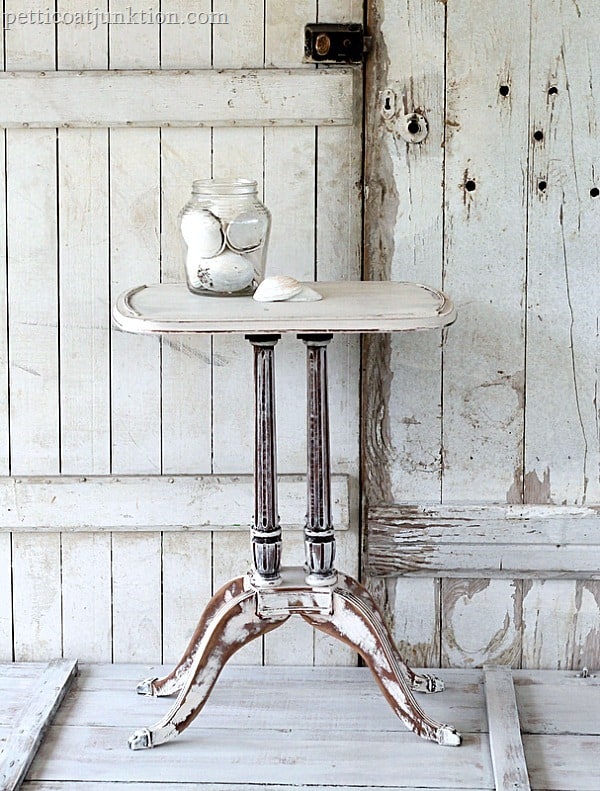 Love the legs! Find it here… Shabby Chic Table.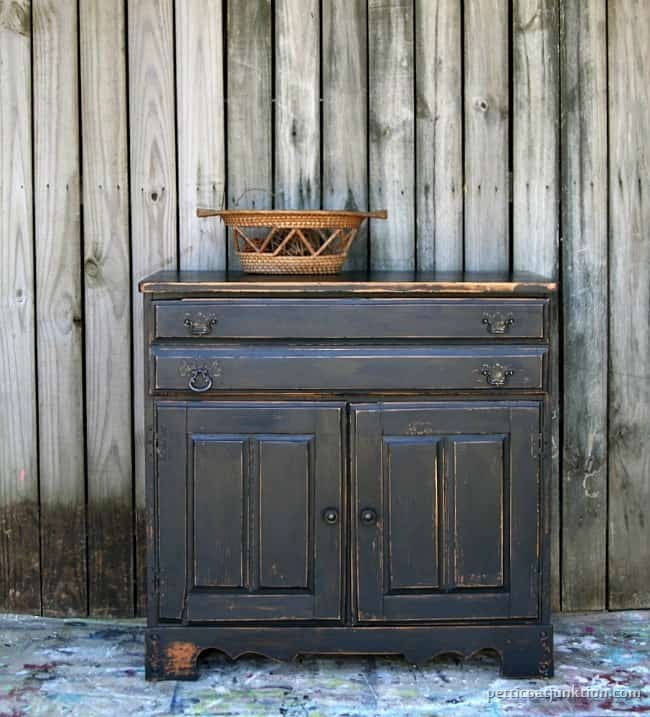 Black Furniture Heavily Distressed
The paint distresses better than latex paint which sometimes will peel around the sanded edges.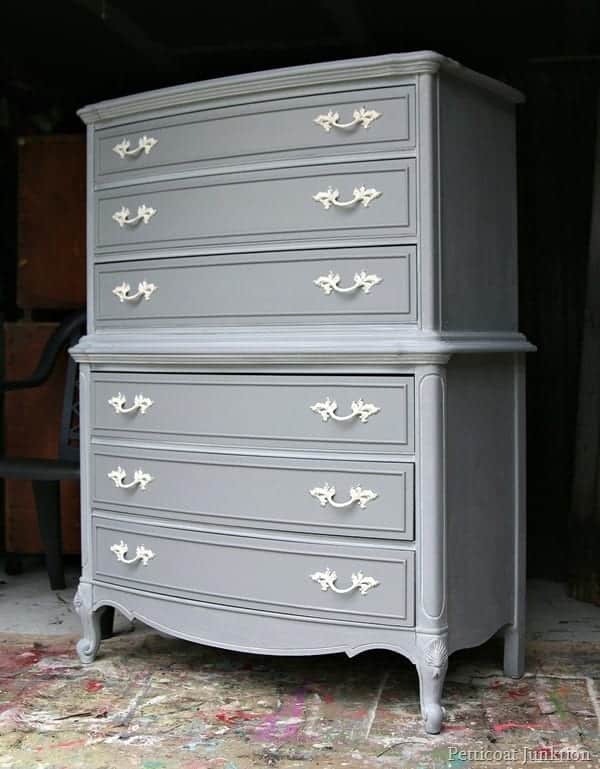 Another favorite….. Gray Painted Chest With White Hardware.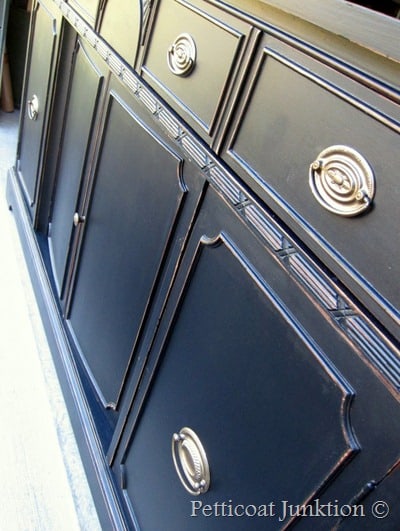 I shared this makeover recently in the Question and Answer Series…..Black Hepplewhite Style Buffet.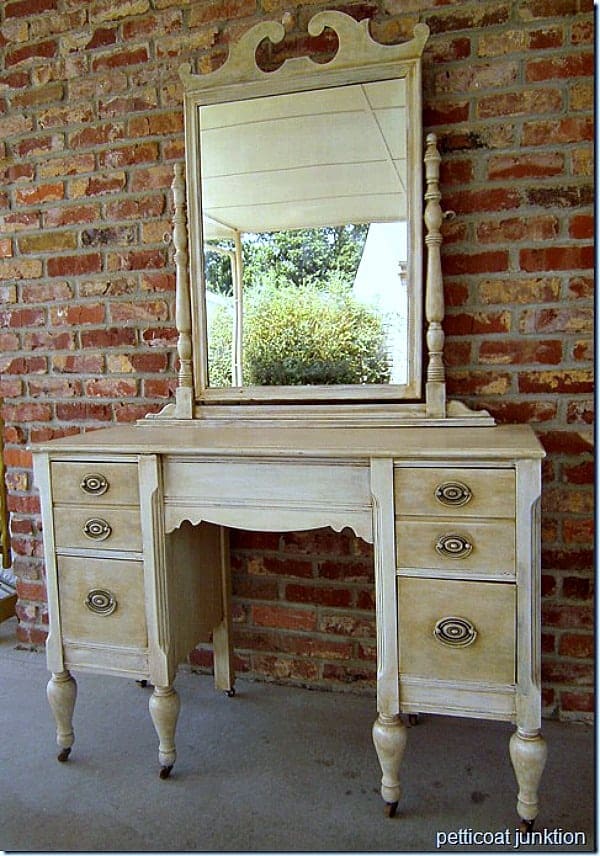 Ah, this beauty has a two-tone aged finish….Painted Furniture Makeover How To Antique Furniture.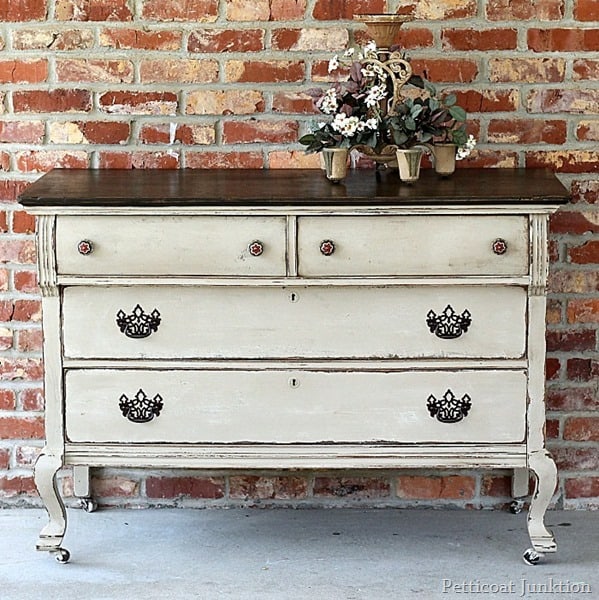 10 Steps To Prepping And Painting Furniture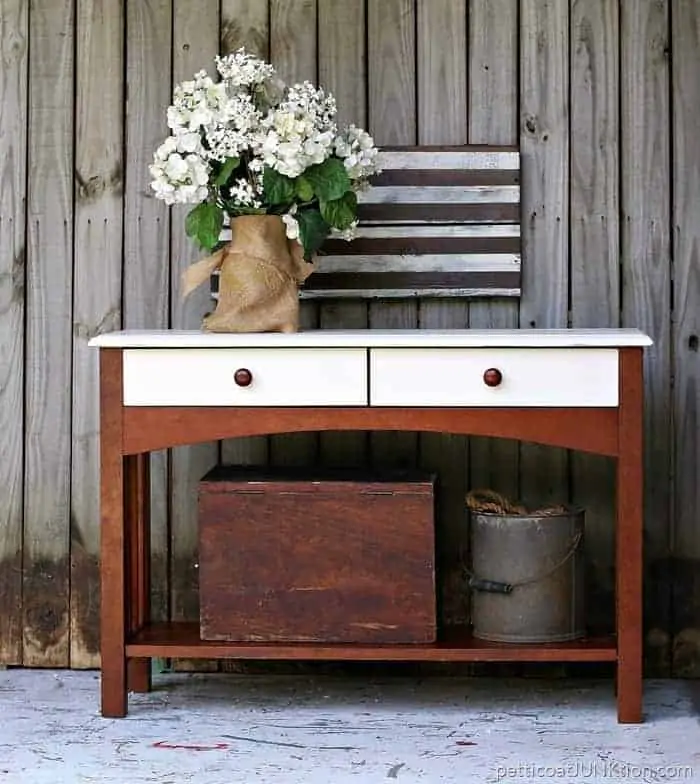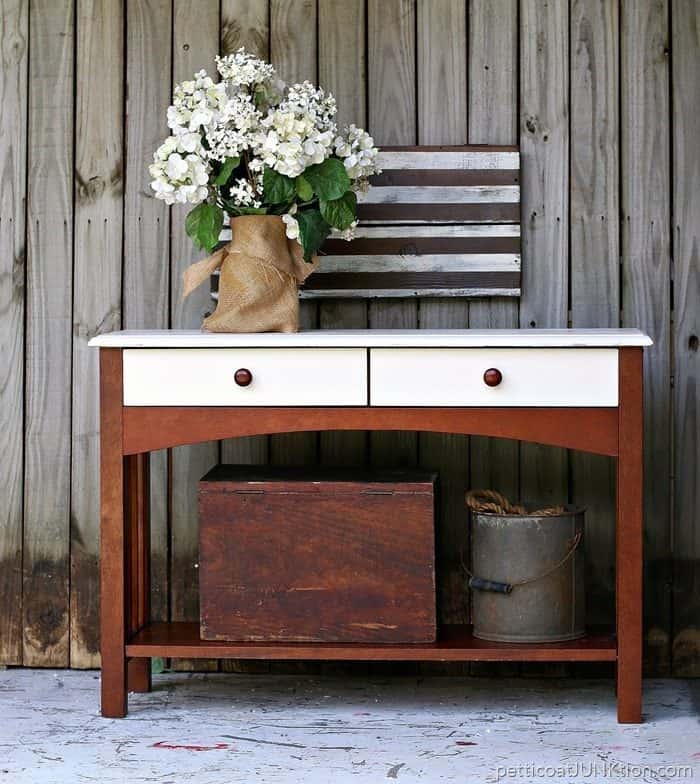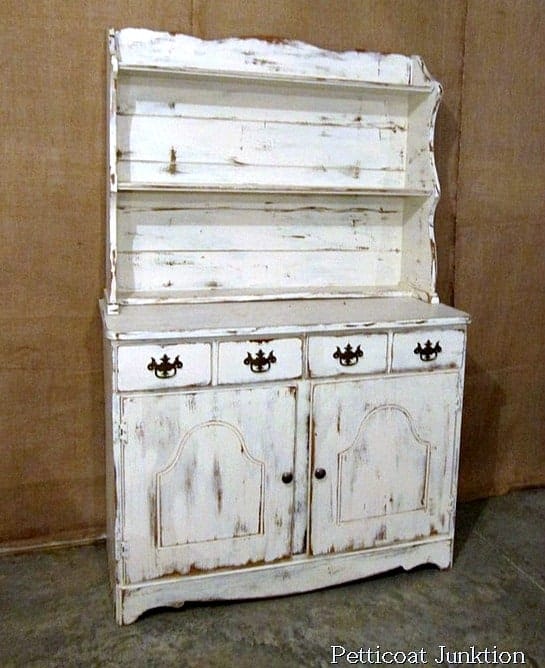 Beyond Paint - Painted in 2012….White Hutch.
Wow, that's it. The sheen of the Beyond Paint is what I like best. It's between a flat and a satin or eggshell finish which means its not overly shiny. The price is a little more than some paints, but the price is right for the quality and the three-in-one aspect. The coverage is great too. One quart goes a long way.
Tomorrow is themed furniture day, and I have to say…I really love my project. I was a little concerned about it for a while but finally got the look I was going for. See you tomorrow. Have a great day!
Author: Kathy Owen (Petticoat Junktion)
Kathy is the founder of PetticoatJunktion.com, a home décor blog focused on repurposing and upcycling furniture, old hardware, rusty stuff, and thrifty finds into unique home décor. Kathy's projects have been featured on the Home Depot Blog, Plaid Crafts, Behr Designer Series, and in numerous magazines. Read more about Kathy here.