Mixing Paint Colors Is Easy
If you don't have the perfect paint color on the paint shelf then mix your own. That's what I do about 50% of the time. Why buy more paint when you can work with what you have. I'm all about saving money.
This project started out one color and moved on to another color. I'm glad I went with the gray. Just goes to show that sometimes you have to change plans. Remember, paint is an easy fix and easy to change.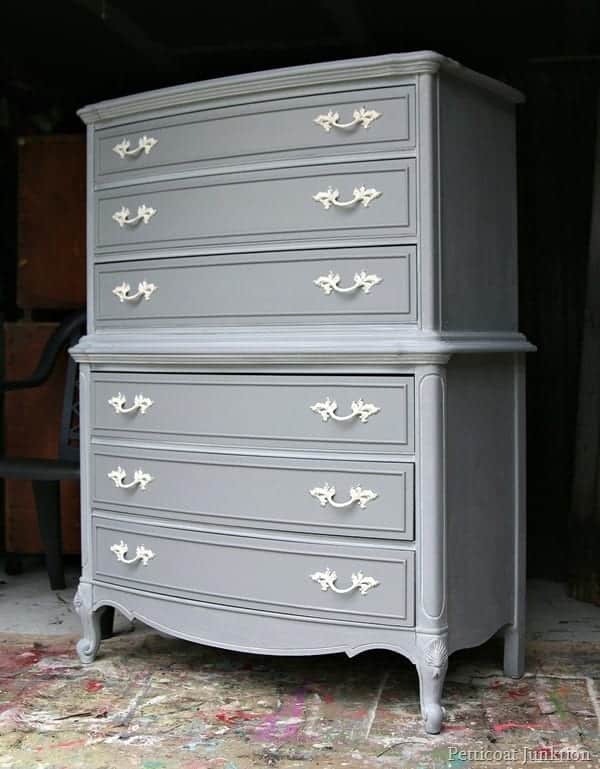 Gray Chest of Drawers with White Hardware
I think the chest of drawers is beautiful now…what about you? I softened the coat of gray paint with a very light white wash.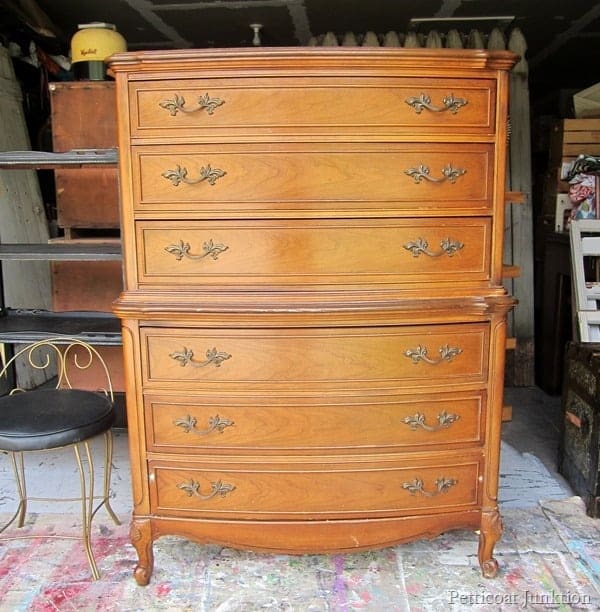 before makeover
The chest of drawers came from My Favorite Junk Shop. The piece is made by Dixie Furniture Company. It's solid wood…..no fake stuff. I'm guessing it's from the 60's?
The bottom drawer needed a little work but the JTS took care of that! The day I bought the chest I pictured it painted gray. But then I got to thinking it would be pretty in pink.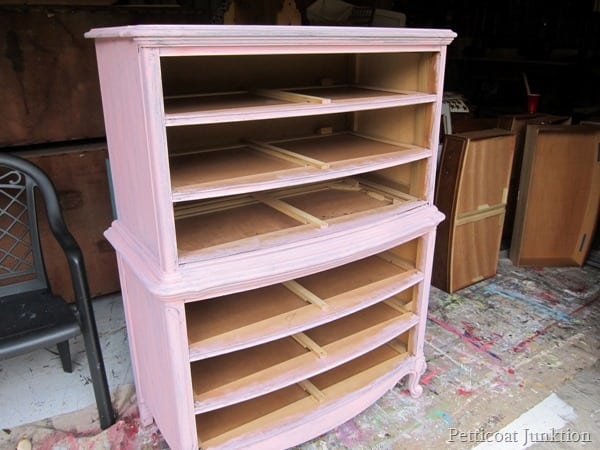 I mixed Miss Mustard Seed's Milk Paint in Ironstone and Tricycle to get the pink color. I also added the bonding agent because I didn't want the paint to chip. I ran into a little problem. I ran out of paint.
I didn't have anymore Ironstone so I headed to my booth at the shop….and I was out of stock there too. Now I could have went with a latex paint in pink but I decided to go back to the original plan and paint the chest gray.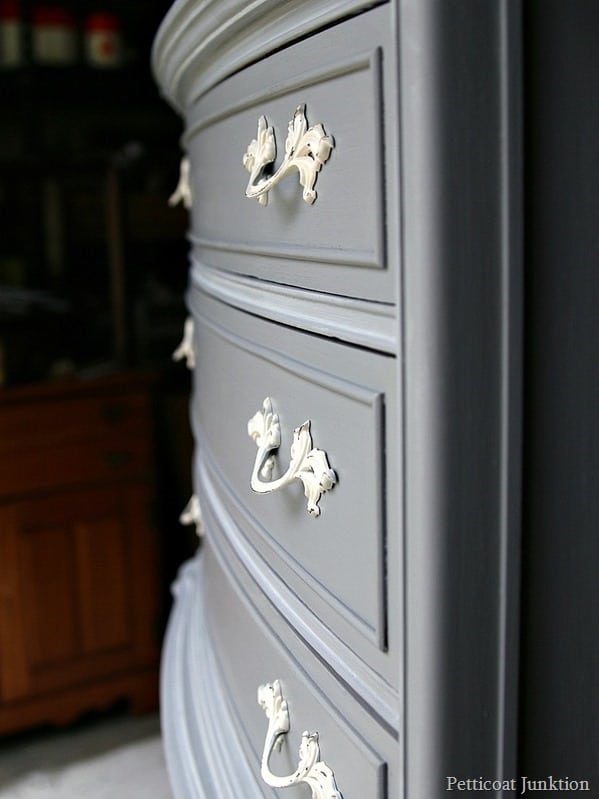 I once again mixed paint. This time I used Beyond Paint in pewter and I added Beyond Paint in off-white to lighten the pewter. I applied two coats of gray over the pink paint.
After the paint was dry I brushed a very light white wash over the body of the chest. The white-wash is off-white paint diluted with water until it's really thin. I brush that on then immediately wipe it back with a rag….leaving a little of the wash behind. It's something you have to play with but the process is really easy.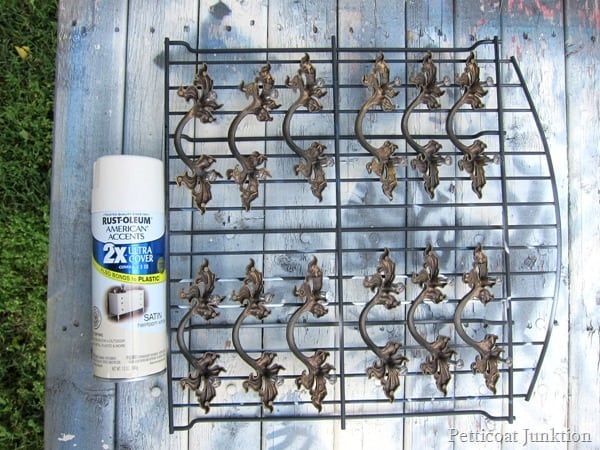 I used Rust-Oleum Heirloom White spray paint for the hardware. This is my favorite spray paint color!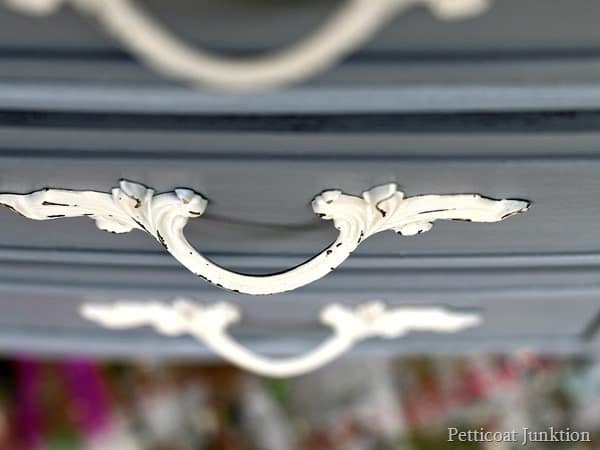 I distressed the hardware….who saw that coming (insert Kathy smiley face).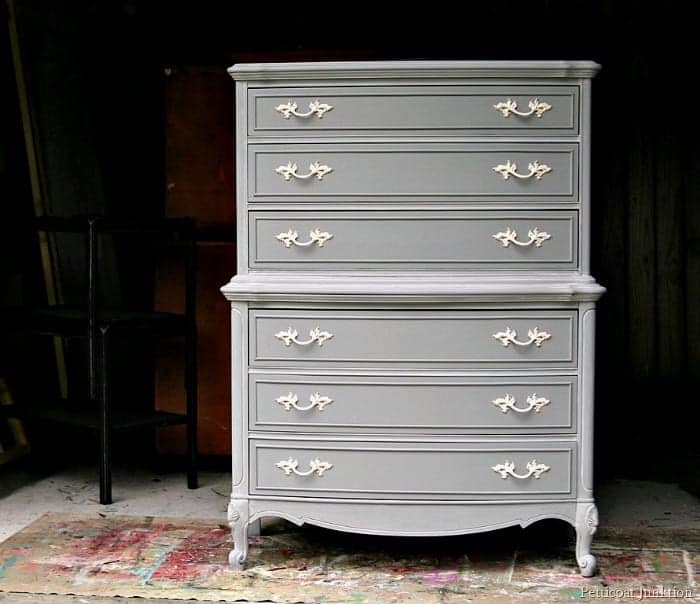 The white wash is very light and adds a soft romantic touch to the chest. Perfect for a girl's or woman's room.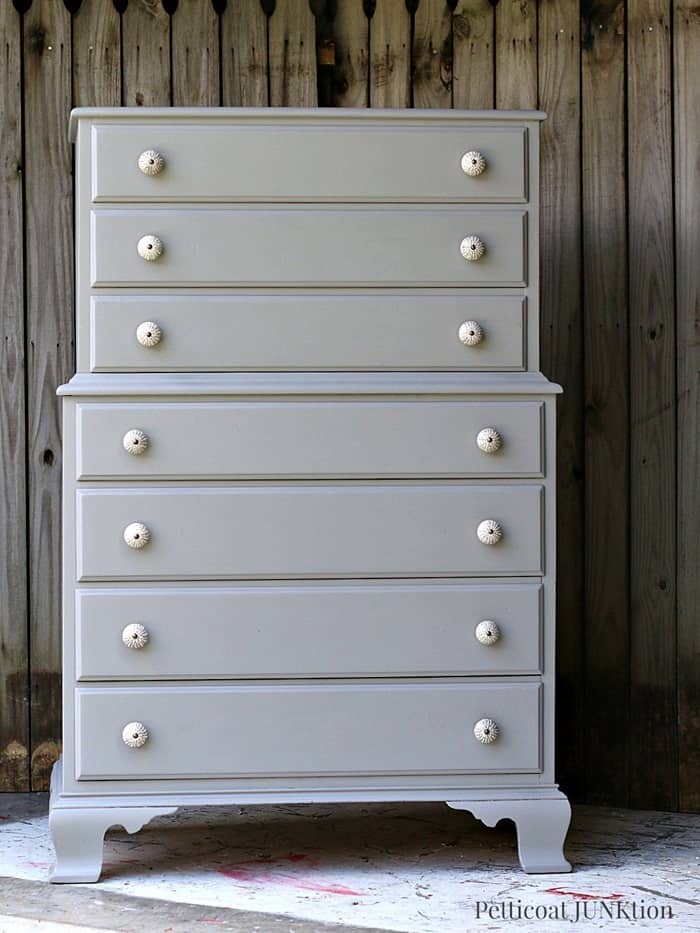 You might like this piece of furniture painted by my granddaughter under my supervision. Click here for details and the paint color.
What do you think of the gray paint with the white wash? Have you tried mixing your own custom paint colors?
As always, thanks for being here and have a great day, Kathy