The details on furniture are there for a reason. To grab your attention, to make a statement. I like to highlight those furniture details by distressing the paint. Distressed details stand out. The paint can be lightly distressed to give a gently worn look or more heavily distressed for the wow factor.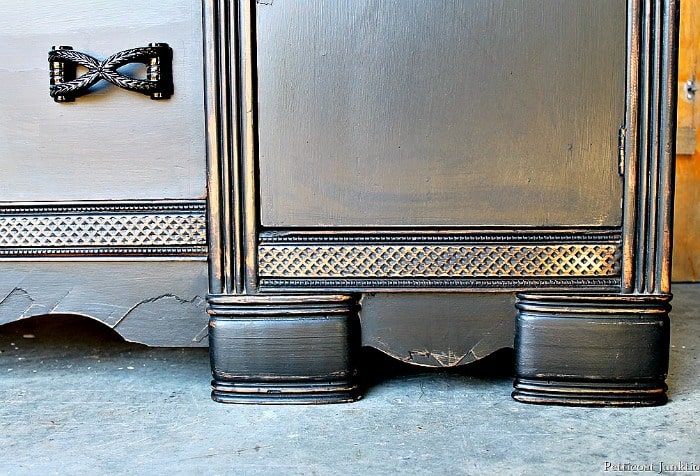 For this vintage buffet I chose black paint. Black paint classes up anything and black furniture fits into any decor. That's my thinking. We have a really pretty black chest of drawers in our bedroom. I painted it myself. And I added a gold stripe. Once I painted the chest I had to have it. No selling it. But I digress. We need to talk about the black buffet I have to share.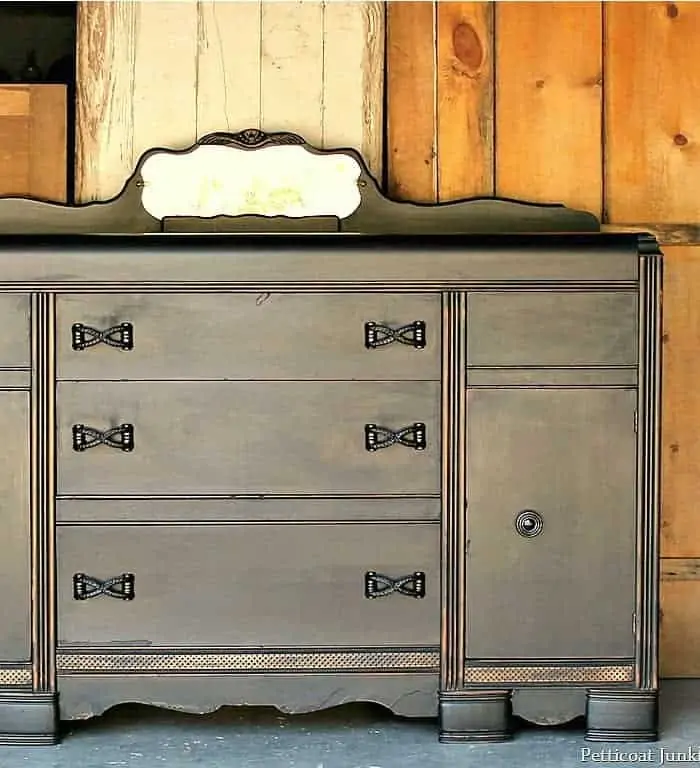 I painted this buffet/sideboard ( I never know what to call them)  with the holidays in mind. Our customers are beginning to shop for that special, "statement" piece of furniture. Everyone wants their dining room to look nice for Christmas brunch or lunch or dinner. It's been proven by statistics. October and November are the prime months for selling dining room furniture. I'm a little late.
I used Beyond Paint for the buffet makeover. The color is licorice. Beyond paint is a three in one product. No priming, sanding, or sealing required. Gotta love that.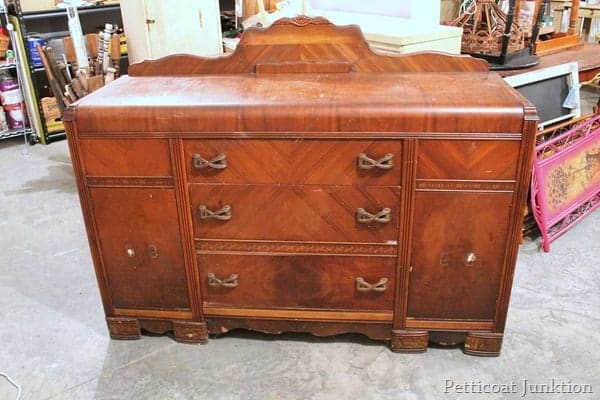 I got this buffet at the Nashville Flea Market. I don't remember the exact price but probably around $80, maybe a bit more. The prices on used furniture has been creeping up lately. I have to pay about twice as much as I used to for used furniture.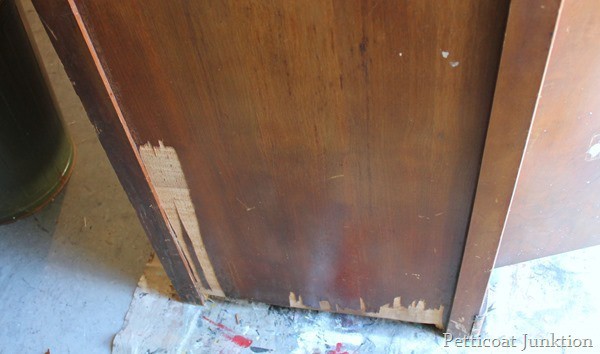 The buffet was kind-of sad with the missing veneer and slightly warped drawers. We did a little work on it but I knew I couldn't replace the missing veneer. Replacing veneer is both costly and takes a lot of time.....and expertise.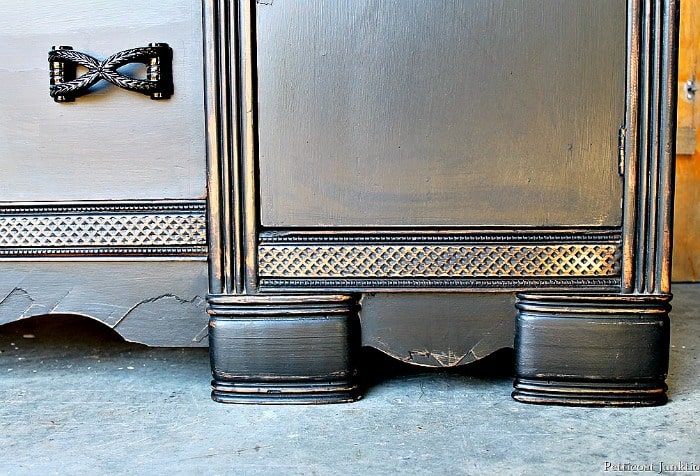 You can see at the bottom where the veneer had peeled off. When I have a piece like this I go for the distressing. Without a perfect wood finish to start out with the finished product will never be perfect. So why not distress to show the imperfections in a beautiful way.
I spray painted the original hardware. The pulls on the cabinet doors were missing and I found a couple of replacement knobs in my hardware stash. There were two holes where the original pulls were on the cabinet doors. I filled one of the two hardware holes on each door and spray painted the replacement knobs. It's an easy process to change the hardware when updating a piece of furniture.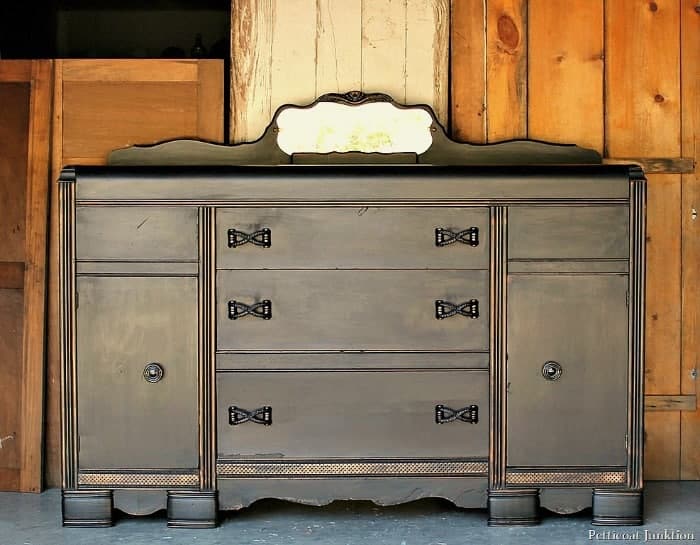 I distressed the details with a power sander and 100 grit sandpaper. Sorry, no photos of the distressing. It's hard to take photos and operate an electric sander at the same time. As you can see I distressed all of the raised details and the edges of the legs and anywhere the veneer was missing.
I love how the details below the drawers and the buffet doors turned out. I also like the round pulls on the doors. they break up all of those straight lines. I made a short video when I distressed a chest of drawers. It's the same process as here. See the video below...
How To Distress Paint
I went to Hobby Lobby and stocked up on knobs that I thought might look cool on the doors but I ended up using the knobs from my hardware stash. There's a lot of trial and error in my furniture makeovers. Sometimes I go through several sets of hardware before I find the perfect fit.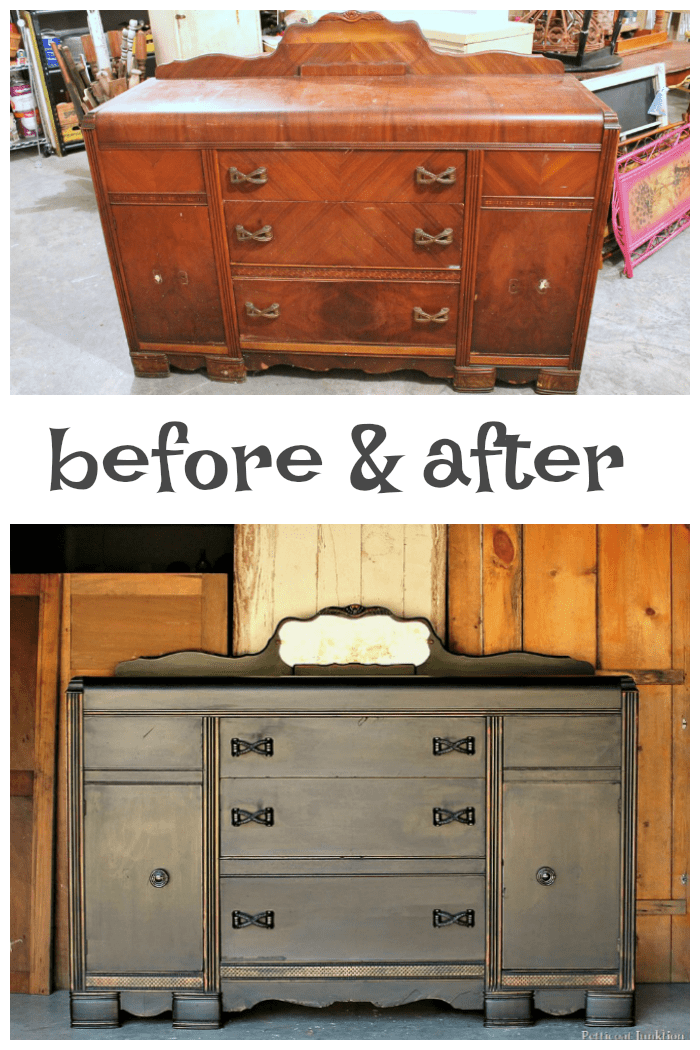 What do you think of the knobs….what do you think of the distressing…….do you entertain guests during the holidays? I'm just full of questions, aren't I?
You should check out my other Beyond Paint projects here ...15 Beyond Paint Furniture Makeovers.
As always, thanks for being here and have a great day, Kathy
Author: Kathy Owen (Petticoat Junktion)
Kathy is the founder of PetticoatJunktion.com, a home décor blog focused on repurposing and upcycling furniture, old hardware, rusty stuff, and thrifty finds into unique home décor. Kathy's projects have been featured on the Home Depot Blog, Plaid Crafts, Behr Designer Series, and in numerous magazines. Read more about Kathy here.