I love painted buffets and sideboards and I've painted a bunch of them over the years. Some you have never seen before because they are from 2012 and 2013, when my photos were really, really bad and I deleted the posts. Well, I still have the bad photos and you get to see those today because I couldn't write this post about buffets and sideboards without including them.
Painted Buffets And Sideboards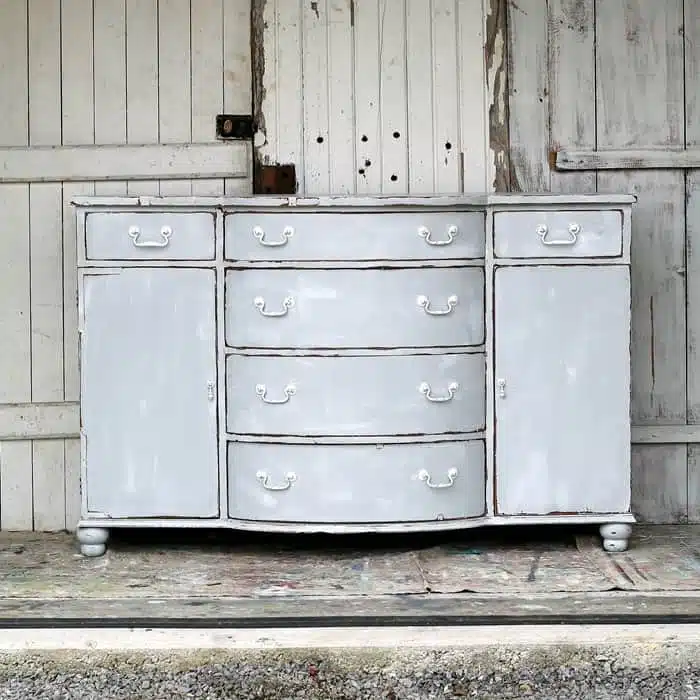 I admit to not knowing whether to call some of these pieces buffets or sideboards. Maybe you can help me with that. Enjoy these 13 makeovers….
Black Waterfall Buffet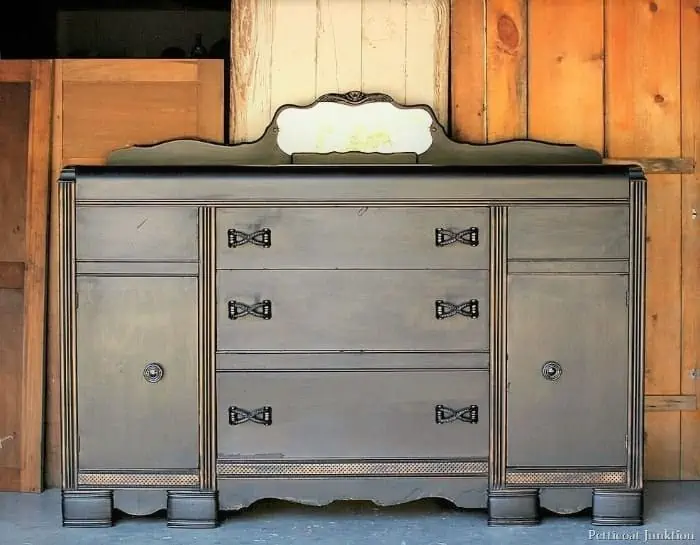 One of my favorites is this black waterfall buffet with the original mirror. I remember when I bought the piece at the Nashville Flea Market a long time ago. You can find the post for this one here…Why Distress Painted Furniture.
Green Vintage Buffet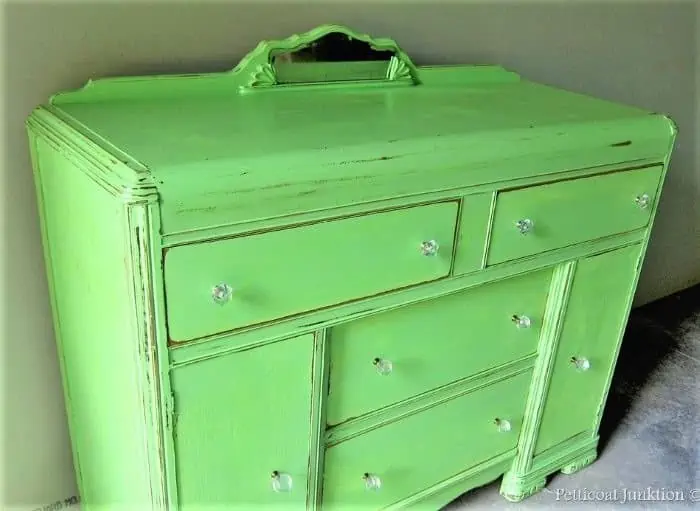 At one time, I had a thing for green furniture. I painted cedar chests, dining tables, benches, and buffets green. The piece in the photo above is another waterfall buffet and I painted it in 2012. The waterfall style is outdated but looks great painted. The crystal knobs work well with the green.
Painted And Distressed Hepplewhite Buffet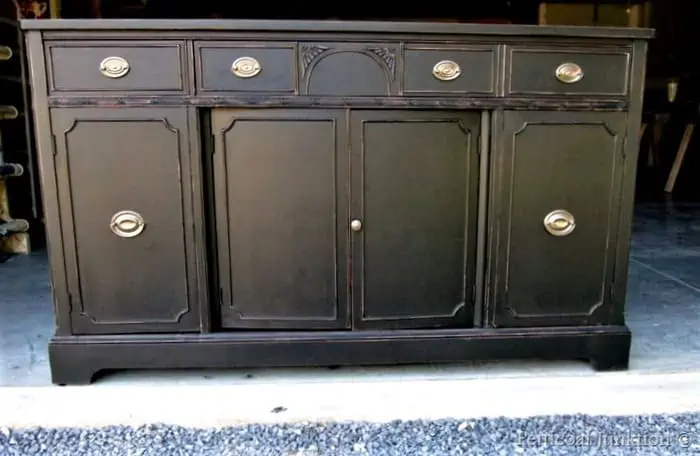 The Hepplewhite buffet looked great with the black paint lightly distressed and the gold tone original pulls. The original post is here…..Hepplewhite Buffet Painted Black.
Original Stained Finish Sideboard With Mirror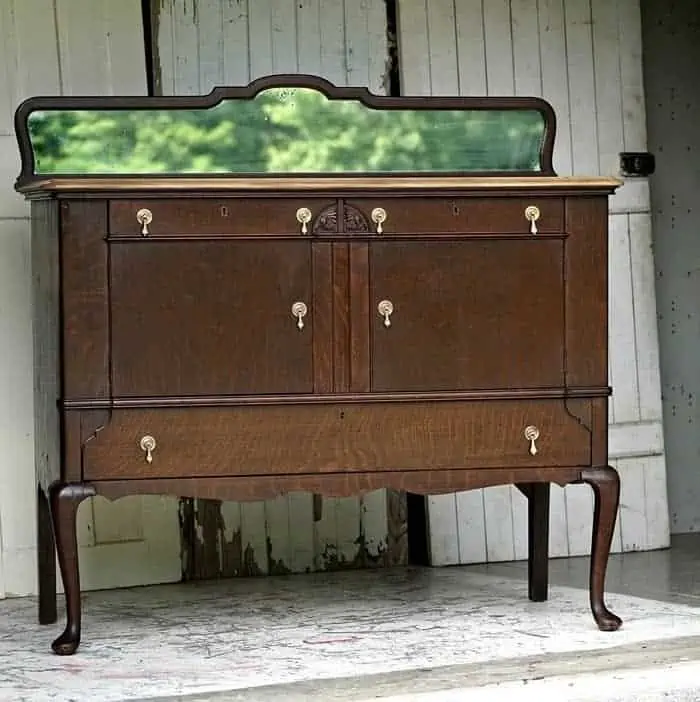 The buffet or sideboard with mirror was in excellent condition except for the top. It had all kinds of stains, so I painted it, and the special technique I used made the top look almost like real wood. A good friend of mine purchased the piece from my booth. I had intended to keep the sideboard but I couldn't find a place in our home where it looked like it belonged. You can find the makeover here…..Buffet With Antique Paint Finish.
Multi-Color Sideboard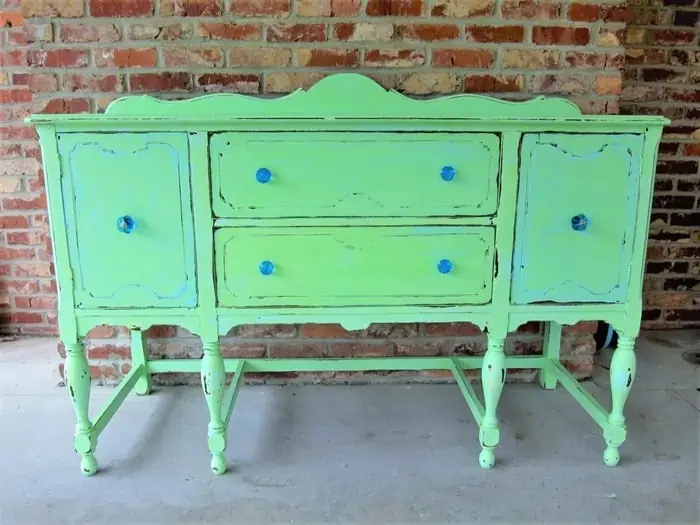 The sideboard, painted with layers of turquoise, green, and yellow was much prettier than this photo shows. In fact, it sold the first day it was in my booth. I painted it in 2012 and the post has been deleted. There was no tutorial and the photos were terrible.
Two-Tone Buffet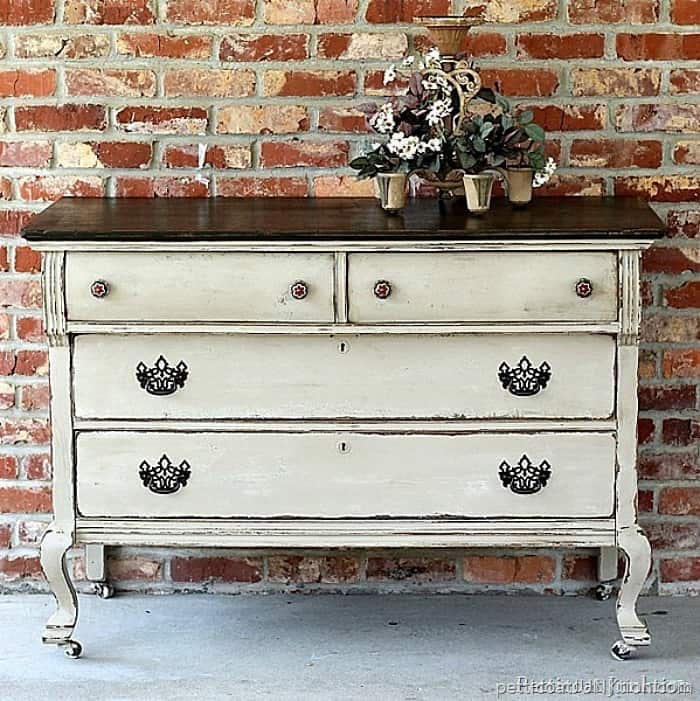 The two-tone piece in the photo above could be a buffet or a dresser. I love the rounded drawer fronts on the top drawers. You can find the makeover here….How To Prepare Furniture Before Painting.
Crazy Painted Waterfall Buffet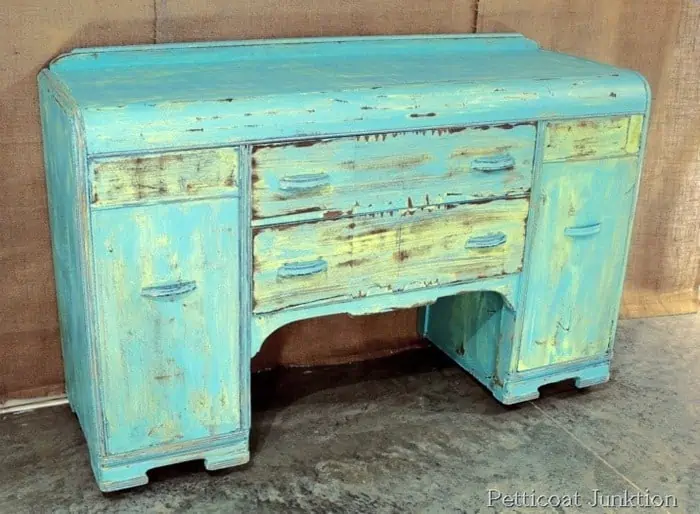 Okay, you guys are probably looking at the crazy piece above and wondering what I was thinking. Sorry, I but can't tell you. All I can say is that it looked better in person. There is no blog post on this one either.
Antiqued White Sideboard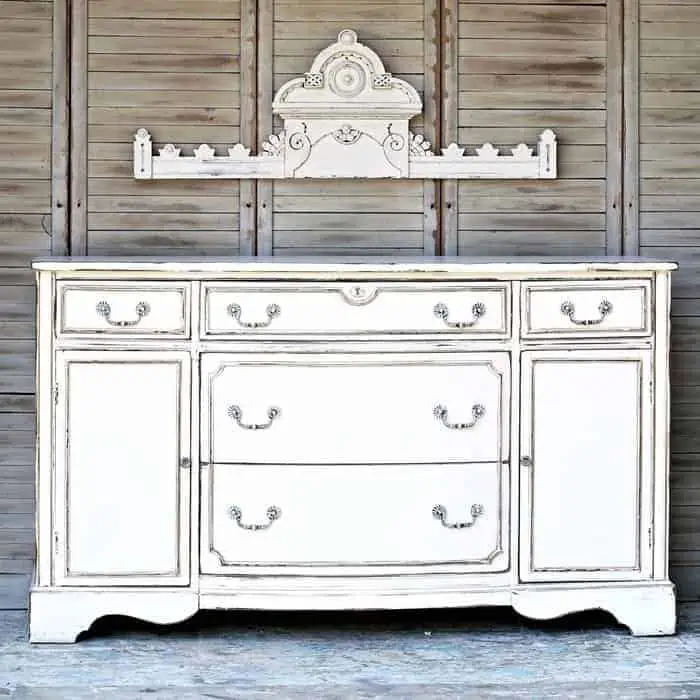 You may remember this buffet and the architectural piece above it. This one was painted in 2020. Find the architectural project here….Architectural Piece Hangs Over The Bed……and the buffet here….How To Antique Painted Furniture.
Nantucket Style Painted Buffet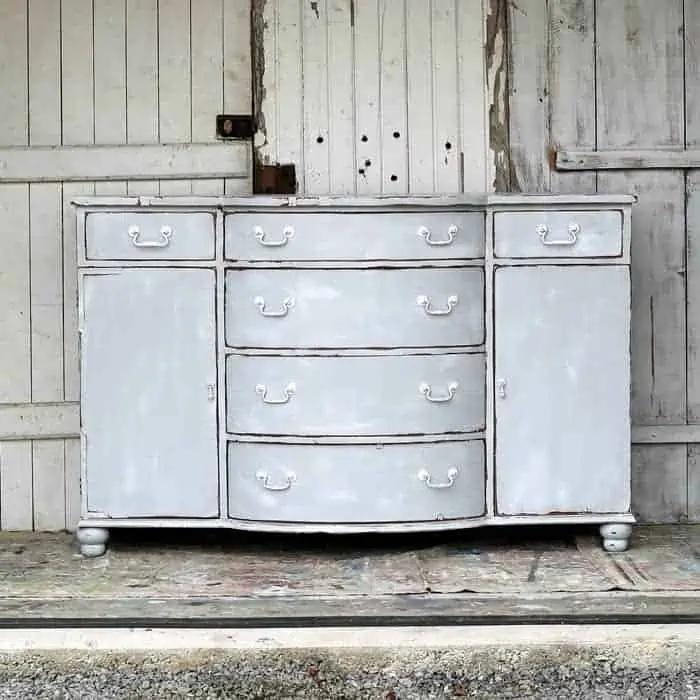 Another of my favorites (I know I keep saying that!) is the weathered buffet. It reminds me of Nantucket or the Northern Atlantic coast. Find the makeover here….Weathered Gray Sideboard.
White Washed Furniture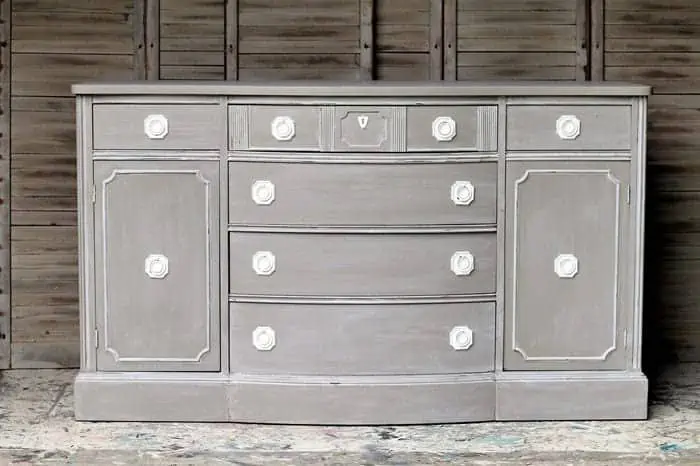 The white-washed buffet above was kind of an experiment. It took a little more work with the white painted on the raised details and the whitewash over the whole piece but it was worth it. See that piece here…..White Washed Painted Furniture.
Linen Color White Washed Sideboard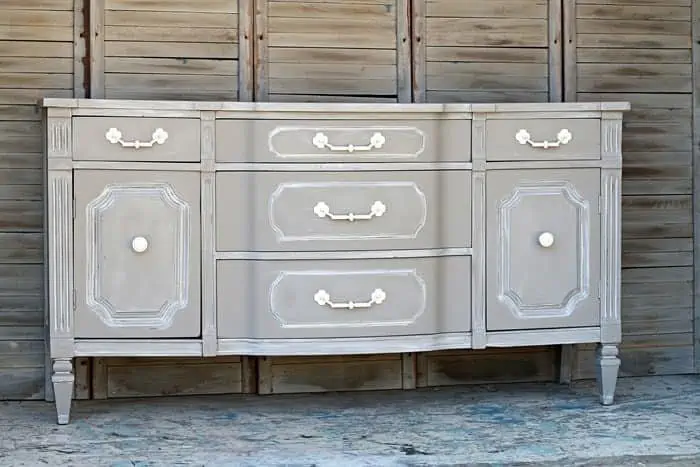 I used the same paint for the sideboard as the buffet in the prior photo. I really like this paint color a lot. So fresh looking with the white wash. Find the project tutorial here…Try This Special Furniture Paint Technique For Wow Makeovers
White Distressed Sideboard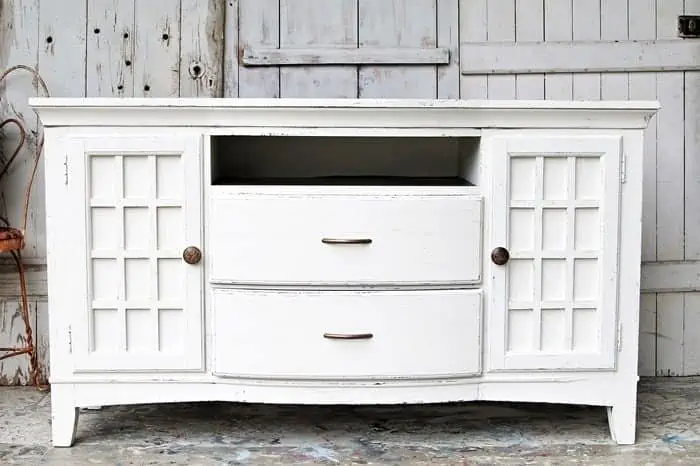 The white buffet/entertainment cabinet is another recent project. The white paint and the bit of distressing looks great. We put a shelf in place of the missing drawer and I put peel and stick wood look paper on the shelf. The makeover is here…How To Paint And Distress Fake Wood Furniture.
Distressed Off-White Sideboard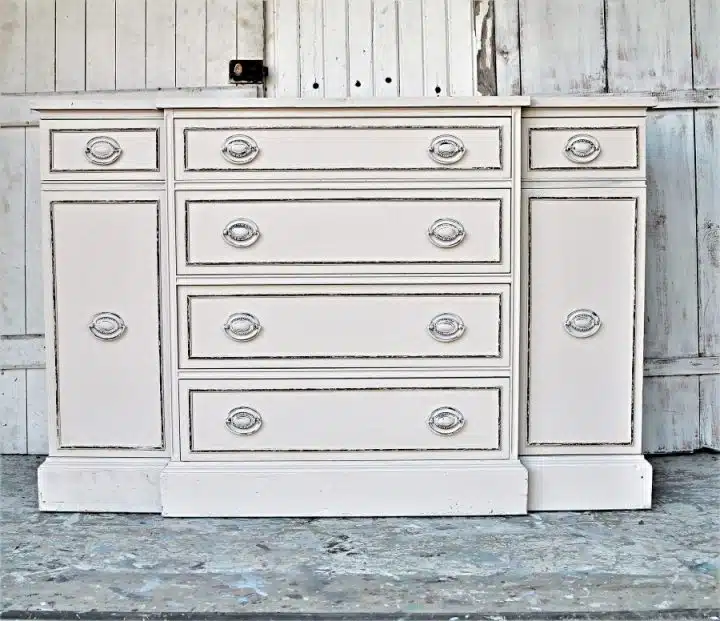 I painted this sideboard and distressed the paint using Clorox wipes. This is a great distressing technique for showcasing the original stained finish. Find the tutorial here……How To Distress Painted Furniture Using Clorox Wipes.
Buffet With Hutch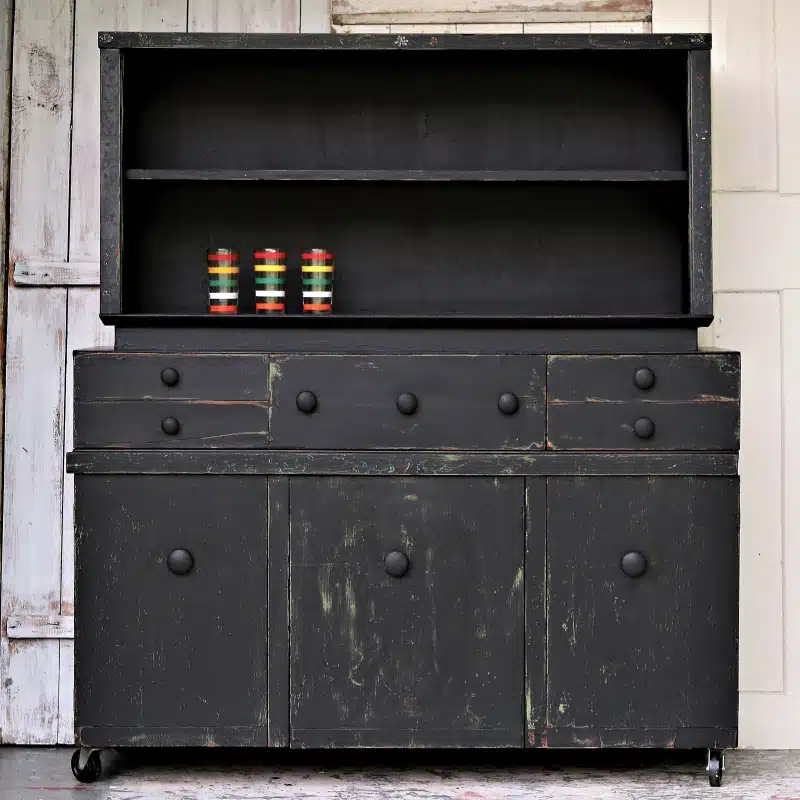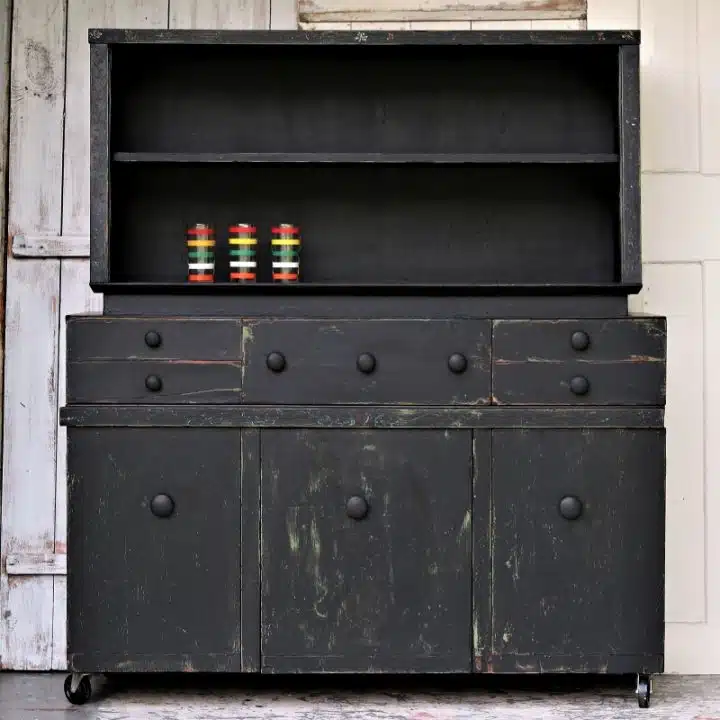 This country style hutch and buffet is one of my favorite makeovers. You have to see the original look here....How to Repair And Paint An Old Farmhouse Buffet And Hutch
Painted Buffets and Sideboards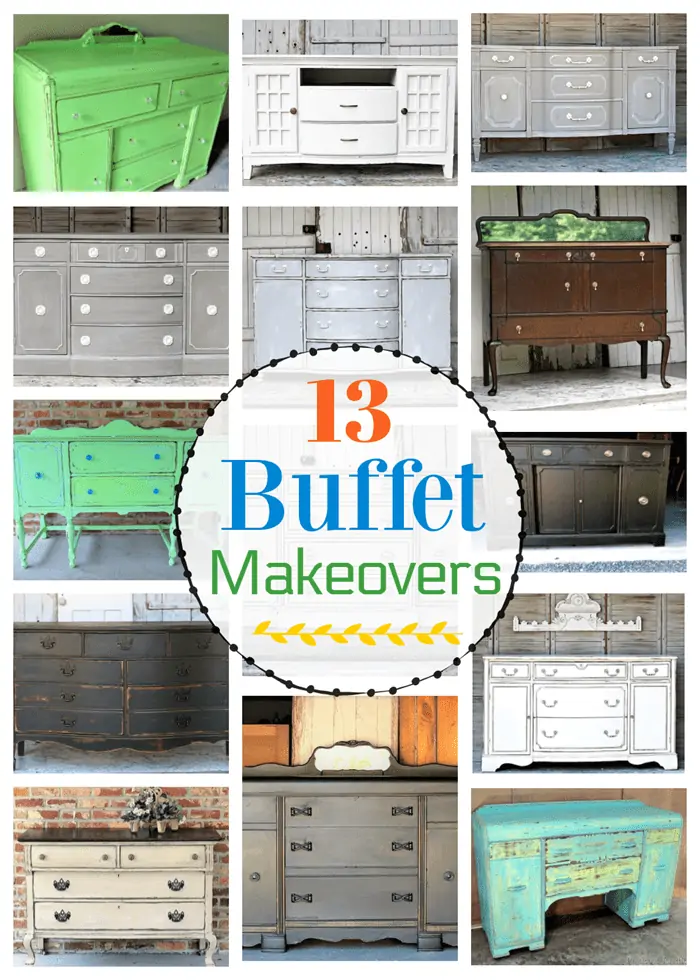 Do you have a favorite color, style, or technique? Leave a note if you have time, and thanks for being here, Kathy
Author: Kathy Owen (Petticoat Junktion)
Kathy is the founder of PetticoatJunktion.com, a home décor blog focused on repurposing and upcycling furniture, old hardware, rusty stuff, and thrifty finds into unique home décor. Kathy's projects have been featured on the Home Depot Blog, Plaid Crafts, Behr Designer Series, and in numerous magazines. Read more about Kathy here.