32 Best of the Best DIY Furniture Makeovers
You guys have your favorite DIY furniture makeovers and I have mine. When I combine the two lists I come up with 32 that rank a bit above all of the rest. The makeovers cover different paint types and many special paint techniques.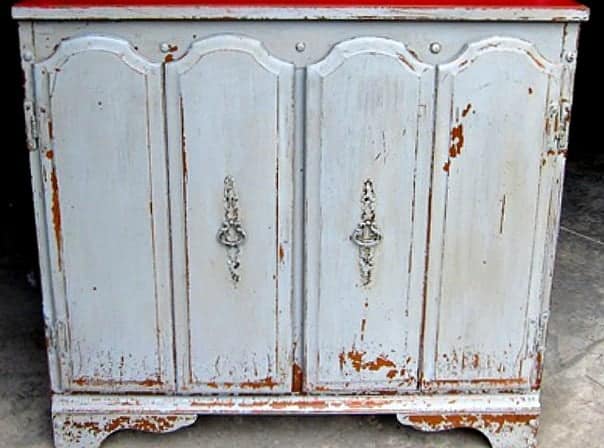 Just looking at photos of the makeovers make me smile. I put a lot of time and effort into them. They are my babies.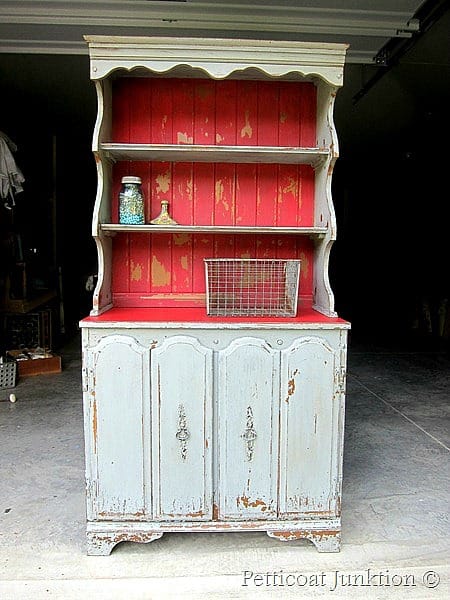 MY LATEST VIDEOS
The gray and red cabinet is a sweet favorite. I love the color combination. I painted the cabinet as a display for Miss Mustard Seed's Milk Paint….and of course it's painted with MMSMP. Click here to see the detailed tutorial and more photos….Gray and Red Country Cabinet.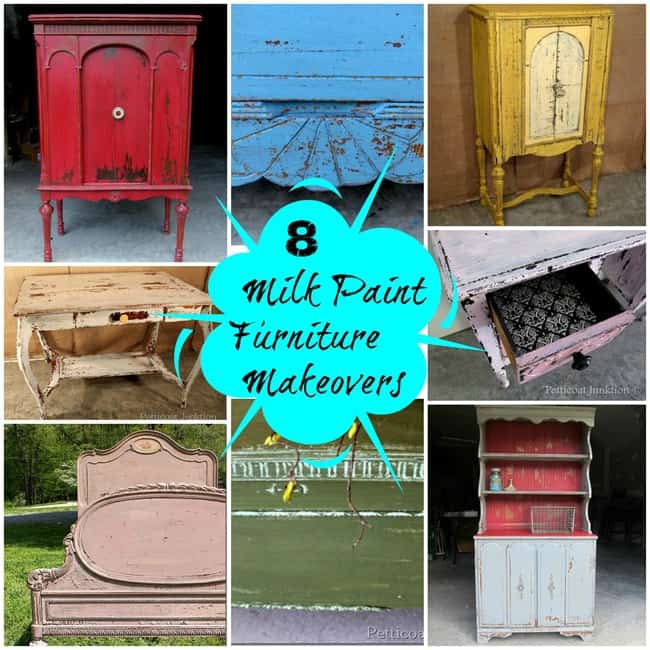 Milk paint is one of my favorite specialty paints for furniture. Miss Mustard Seed's Milk Paint was the first milk paint I tried and I just love it. The chippy finish the paint produces is very authentic looking, just like the piece was painted ages ago and chipped naturally.
See the 8 Miss Mustard Seed's Milk Paint Furniture Makeovers above by clicking this link
Latex paint is great. I don't know why so many people pooh pooh it when furniture is mentioned. Latex paint is a go to for me when choosing the perfect paint for a makeover.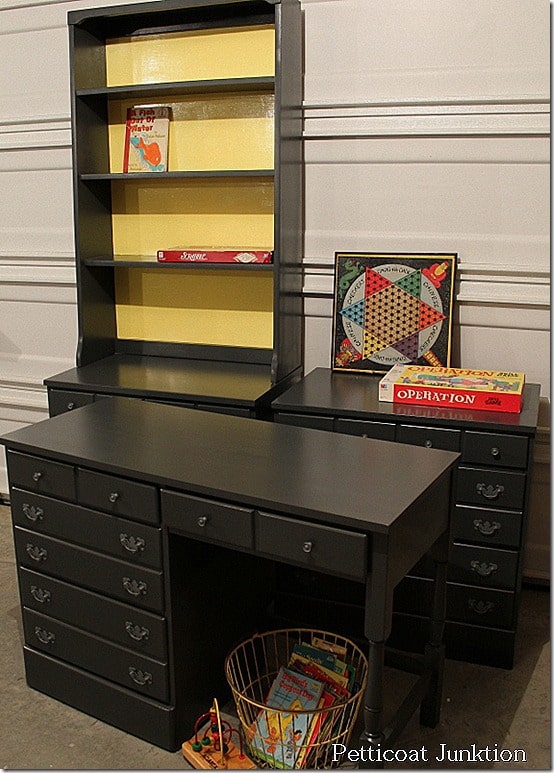 You can get it mixed in any color for one thing! The color choice for the boys bedroom suite was just right. The hardware is painted with gray primer spray paint. See all the details here…..Gray Furniture For Boys.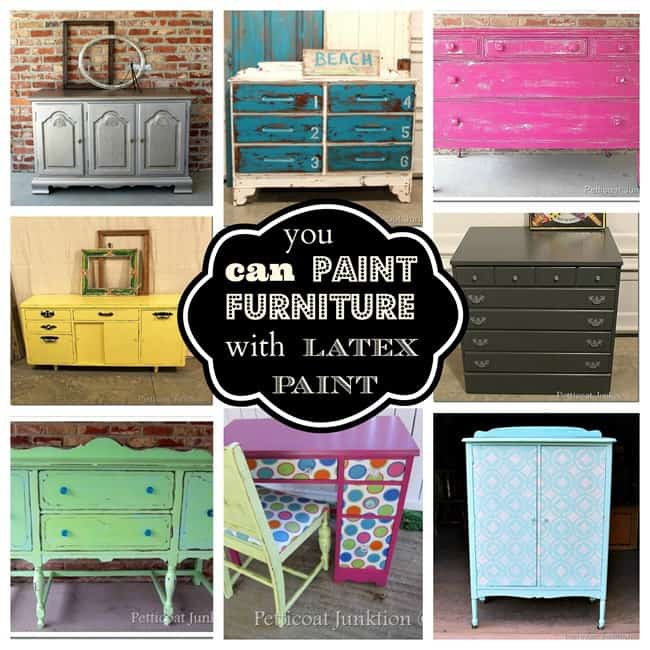 See the furniture projects painted with Latex Paint by clicking here.
Latex paint comes in every color imaginable. You can also find oops paint at hardware and paint stores for a fraction of the original price. The oops paint is a color mixed for a customer and the customer decided the color wasn't for them. It's a win-win for us thrifty people. Usually I can pick up a qt. for $5 and a Gallon for around $8.
When I use latex paint I often prime the piece before painting. It isn't always necessary but it makes for a smoother surface.
When it comes to distressed furniture it's not hard to pick my favorite. It is the over-the-top controversial dresser shown in the photo below.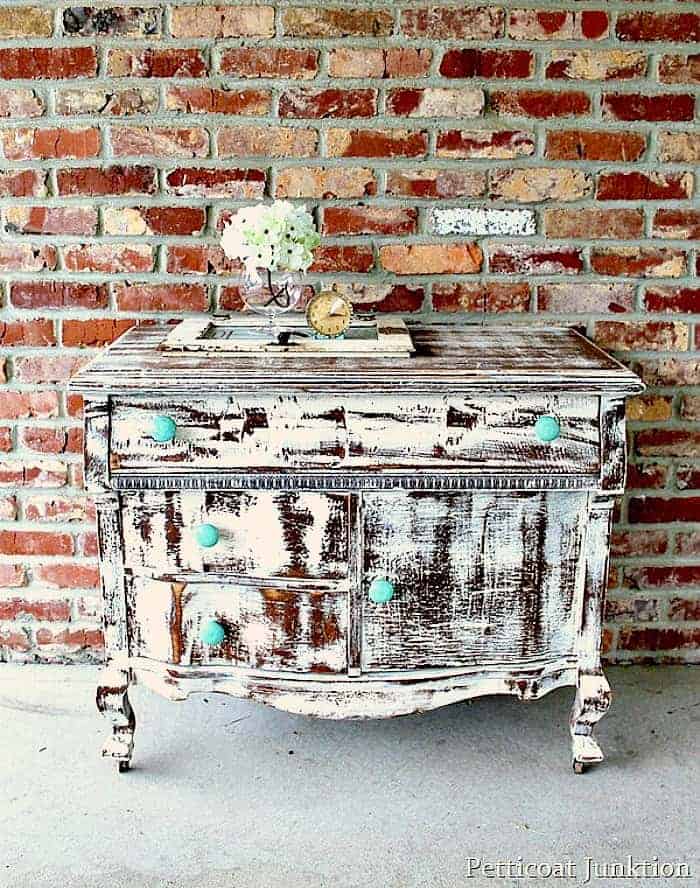 It looks really busy against that brick wall but in person it was a stunner. I wish I still had it. I bought the antique dresser at the Nashville Flea Market and you can see it here…..Shabby White Dresser.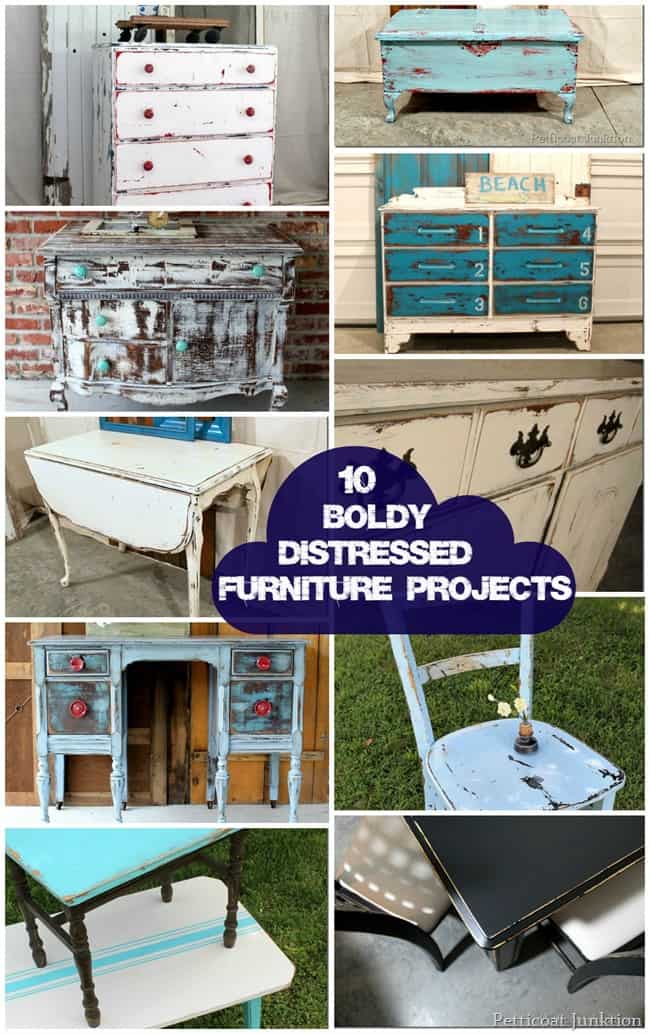 I'm known as the "Queen of Distressing". I like everything from minimal distressing to over-the-top heavy distressing. I know the look isn't for everyone….that's okay.
Sometimes I use a sander to do the distressing and sometimes I do it by hand. You have more control when using sandpaper by hand but if you want to go all out with the distressing then go for the electric sander.
Get a look at the distressed furniture here.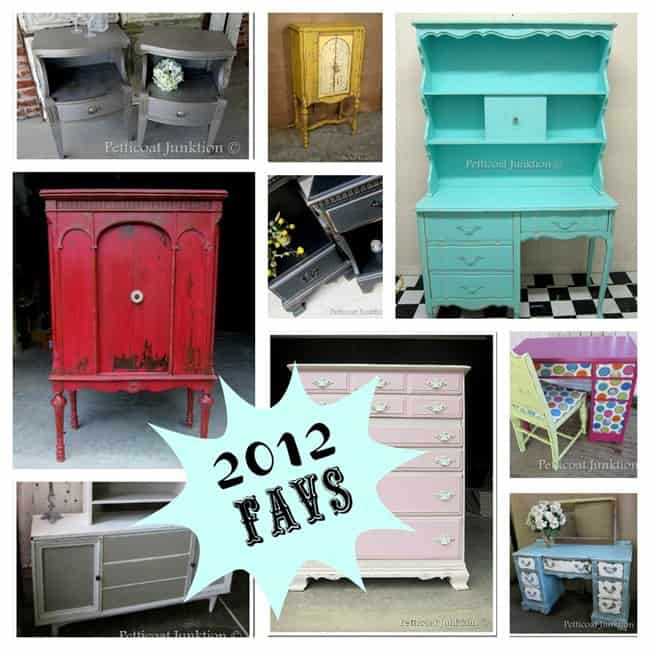 The diy furniture makeovers pictured above are the favs from 2012. Some of them still top the list in 2018. I forget how much I enjoyed working on the older projects. For instance that desk with the decoupaged circle fabric was a hot mess to begin with but it turned out better than I expected.
Get a look at these old favorites by clicking here.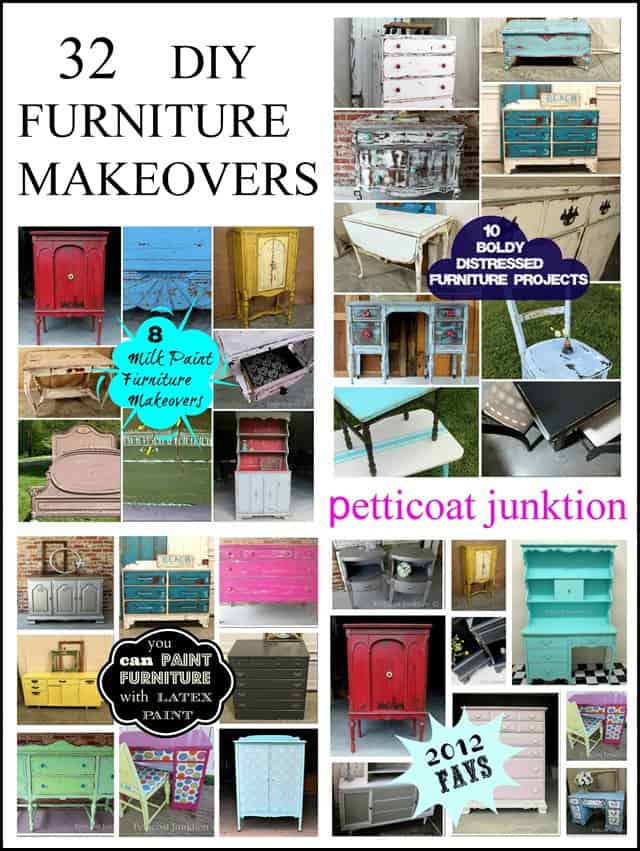 32 DIY Furniture Makeovers
Update on my Dad – After 11 days in the hospital following emergency surgery for a ruptured appendix we moved him to rehab yesterday. He is in the same nursing home as Mom but not the same room. We didn't want her routine to be disrupted or Dad to worry about Mom instead of himself. They had dinner together in the dining room last night and he can wheel down the hall in his wheelchair or use his walker to visit with her.
Part of Dad's daily routine before the surgery was to visit Mom twice a day and I don't know if she missed him or not. I think she did. It is hard to tell since she has Alzheimer's. Dad is the toughest guy I know. Also the sweetest. He is doing great. Please keep him in your thoughts and prayers. Thank you
I hope you enjoyed the stroll through some fan favorites and also a few of my favorites. Remember you can click any of the pink text links above to view the post and links to tutorials.
Thank you for being here and have a great day, Kathy