When you paint office furniture white and spray paint the ugly hardware with metallic paint the look is anything but "office". The updated furniture looks like campaign style furniture.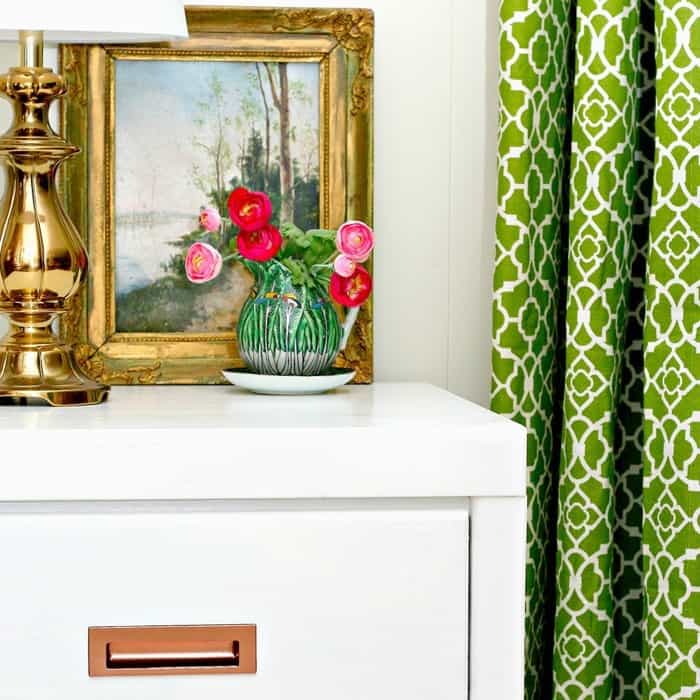 I always see these cool pieces of furniture online and think if I ever find a similar piece I want to recreate the look.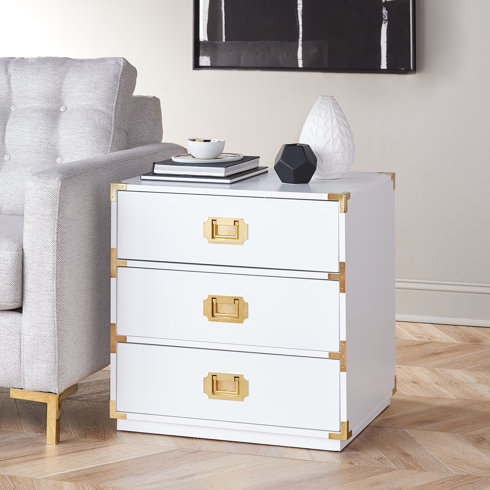 The chest above (photo found at Modern Furniture) is campaign style furniture and similar to the look I was going for.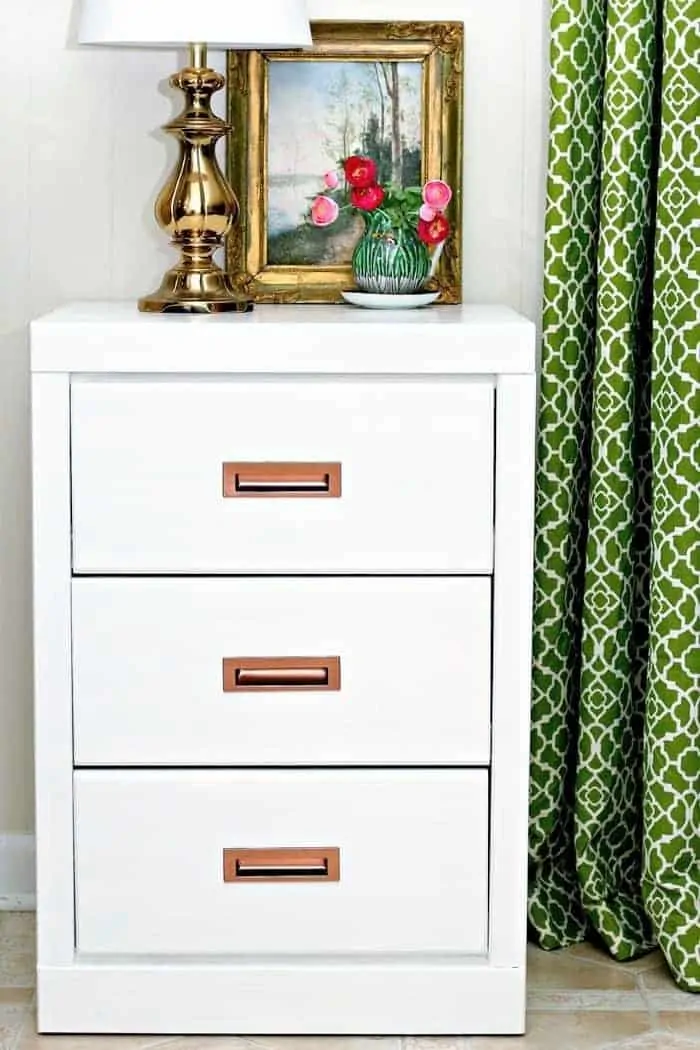 How To Paint Office Furniture White
The piece of furniture I had for the project wasn't exactly all square. The pieces on the front of the body were not flush with each other where they were put together. I wanted to add the metal details on the corners but that wasn't possible.
Today is the Furniture Fixer Upper Tour and my friends have project to share too. The links are at the bottom of the post.
Project Supplies:
Behr Paint - Home Depot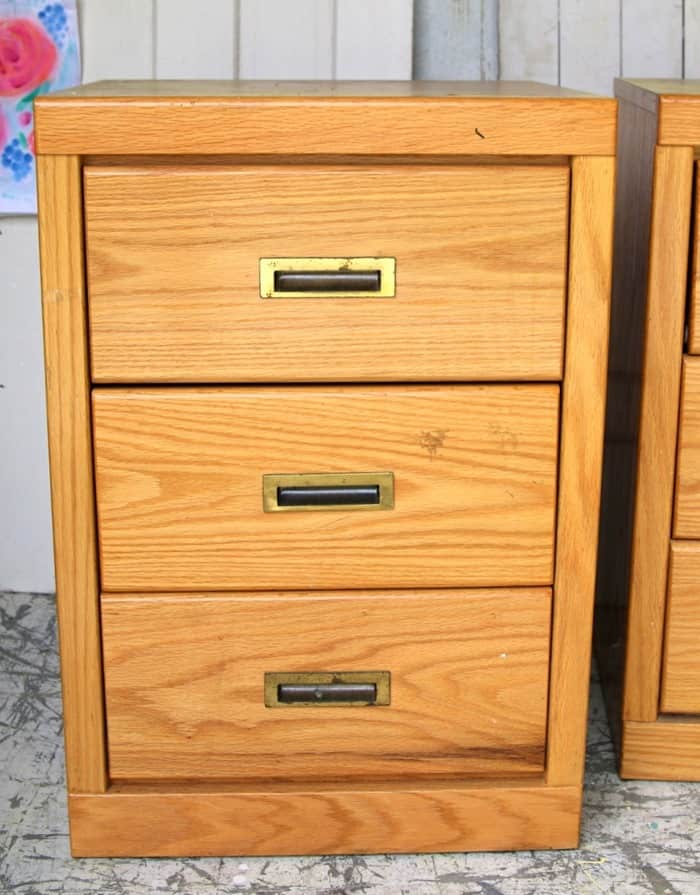 Find A Great Piece
This is what I started with. I think it's office furniture…..at least that's what I'm calling it. I sure wouldn't want to use it in my home looking like this.
I bought it and another larger matching piece at auction for $5. No one else would bid on the two pieces and I felt sorry for Greg (the auctioneer) so I bought them. I didn't really feel sorry for him but I do want to help support local small businesses.
Of course $5 was a great price and I knew the pieces would have to look better after I finished updating them.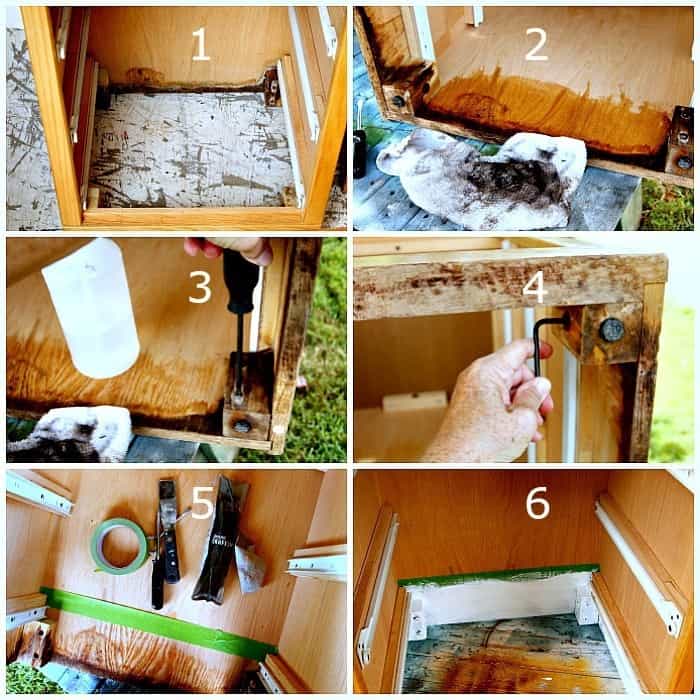 The two pieces have a few issues. One being they got damp on the backsides at one time or another. The wood wasn't rotten, just ugly looking. There is usually a lot of prep work before I can start painting and the chest/table/nightstand needed a lot.
Prep The Office Furniture
1. This photo shows the bottom of the chest where there is a bit of water damage. The wood wasn't flaky or smelly so that was good.
Clean The Furniture
2. I first did a general cleaning of the area with Simple Green then went at it with bleach. The black color didn't come out but at least the bleach will kill any mold that might be lingering in the wood.
Repair The Office Furniture
3. and 4. I tightened all the screws in the base. Some were loose and some weren't
Use Painter's Tape
5. After cleaning and sanding the area I used painter's tape to tape off the ugly damaged area.
6. Painting over the bottom of the chest inside made it look at lot better and made me feel better. Even though it wasn't noticeable with the drawers in place I knew it was there and I painted over it.
Prime The Furniture
With all the prep work done it was time to paint the outside. I used FolkArt Home Décor Chalk Finish in Adirondack for the base coat of paint. I think of chalk paint like I do primer. It covers and sticks to anything.
Since the primer I had on hand was gray I went with the white chalk paint. I have a big crush on my chalk brush.
You guys notice I'm painting outside. We have a big workshop but it isn't air conditioned. The day I was painting it was cloudy and there was a bit of a breeze. I moved everything outside. You can paint anywhere.
When I first started my painting/blogging journey we lived in an apartment in Pensacola (2006-2009) and it had a small balcony. I painted on that balcony.
I've painted outside on drop cloths, inside where I had to cover up the floor and everything around it, under the carport, and other places. You can find a place that works for you if you really want to paint furniture.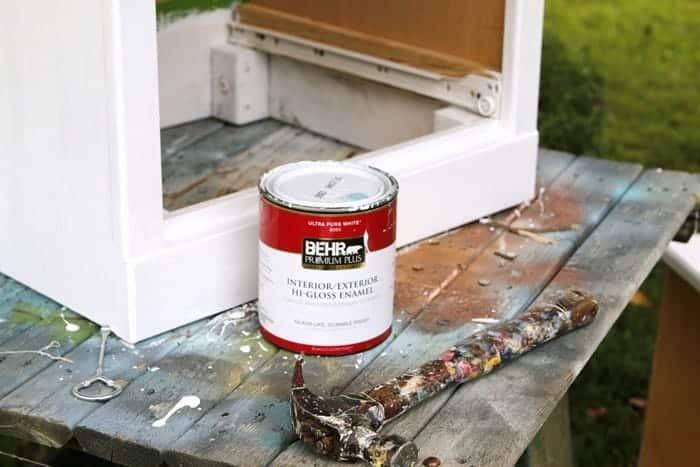 Paint Office Furniture White
I choose Behr Interior/Exterior Hi-Gloss Enamel Latex paint for the topcoat. It was on my paint shelf and I'm still trying to use paint I have on hand.
I don't know how I accumulated so much paint. Hi-Gloss paint is not the easiest to work with. It tends to show brush strokes even after it dries. The Behr paint wasn't too bad. The top coat turned out pretty smooth.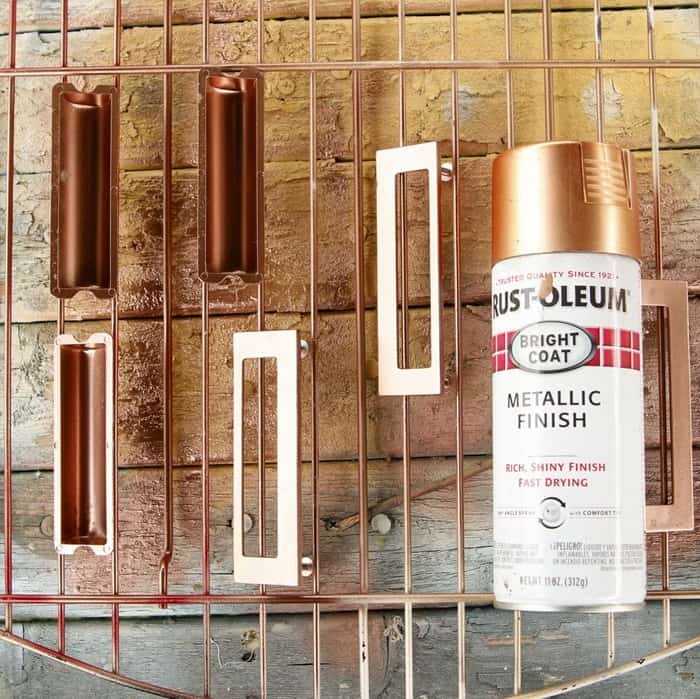 Paint The Hardware
And here is my favorite metallic copper paint. I love it so much I painted my mailbox with the copper spray paint (see the mailbox by clicking here).
I was going to paint the hardware shiny metallic gold but didn't have the right color on hand. I went with what I had.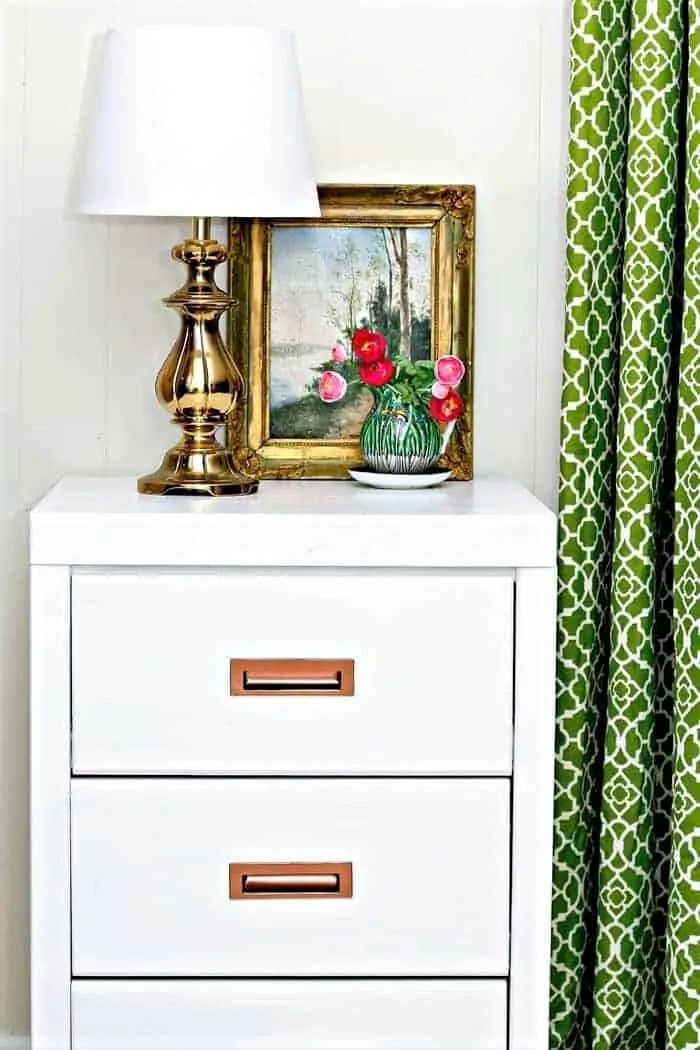 The whole time I was painting the chest I was complaining to myself. I thought the tacky office furniture would still look like office furniture and no one would buy it.
I was kicking myself and wishing I had hauled it to Goodwill instead of painting it. Now I want to keep the piece for myself but have no room in our house where white white painted furniture would work. I guess I'll be taking it to my booth to sell.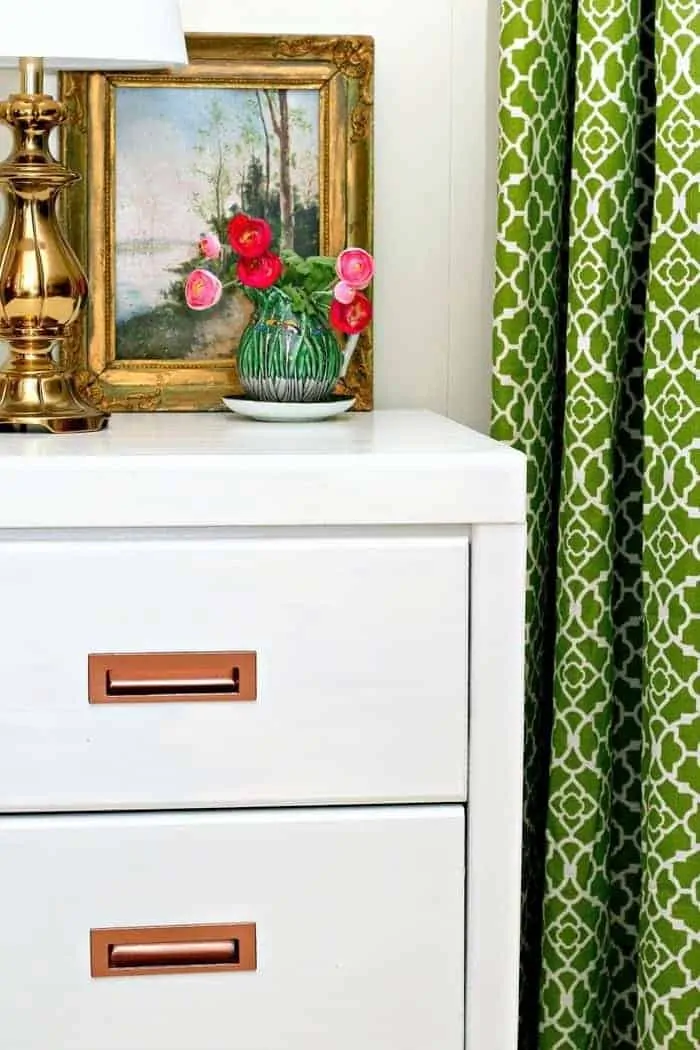 Did you know you could paint office furniture white and add a little pizazz with metallic spray paint and have it look like a million bucks (okay, maybe a slight exaggeration).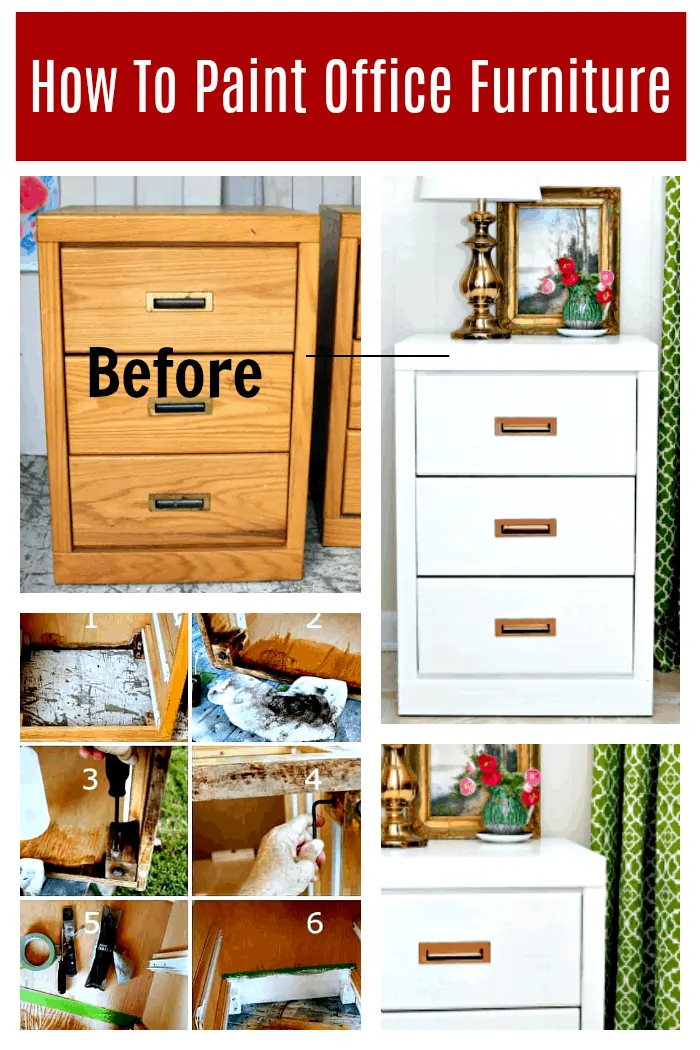 This project just goes to show you can paint anything and make it look good. What have you got that needs painting to make it better?
Hope you liked the project. Please leave a comment and visit my furniture fixer upper pals. The links to the projects are below the "before" makeover photo collage.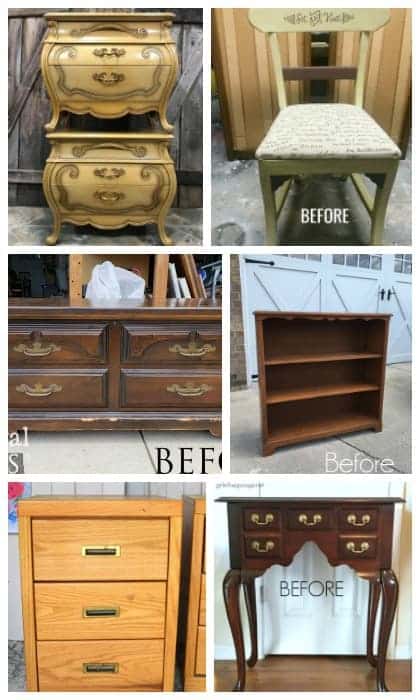 Console Table Makeover – Girl In The Garage
Yard Sale Bookcase Makeover – Confessions Of A Serial Diyer
Vintage Blanket Chest – Prodigal Pieces
Paint Wood Furniture – Just The Woods
Raised Stencil Design – The Interior Frugalista
As always thanks for being here and have a great day, Kathy