The metallic copper spray paint makeover with glitter tea lights and autumn leaves is bringing a smile to my face.
The $2 tacky pumpkin centerpiece find from a few weeks ago is now glamorous Fall décor for our coffee table.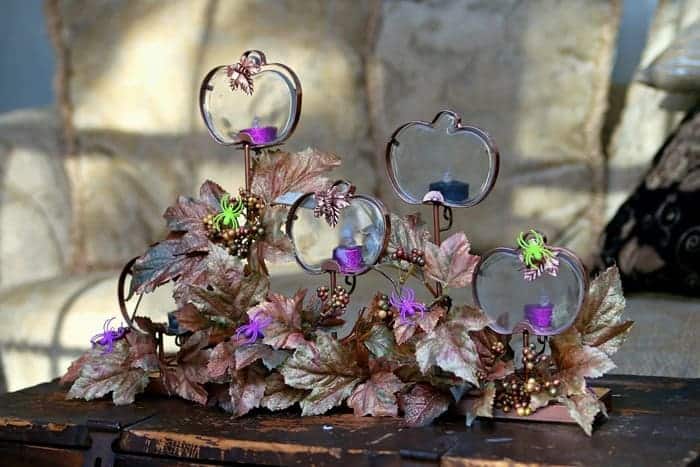 Metallic Copper Spray Paint Makeover
I wouldn't have thought purple and copper would be a match but I didn't think gray and metallic copper would either and look how that turned out! (Sewing Cabinet Makeover)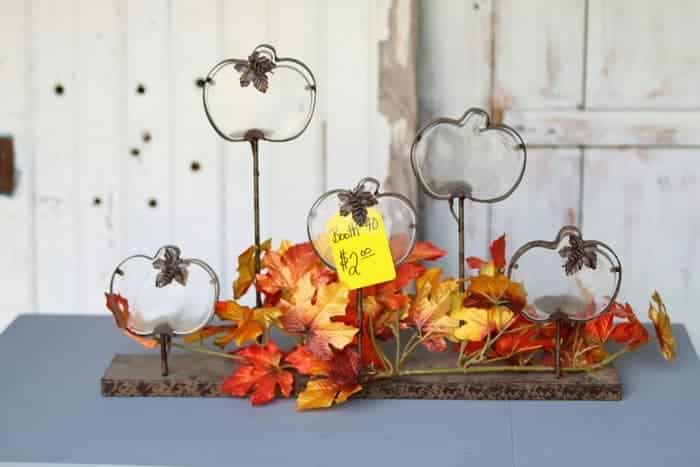 This is the $2 thrifty find. I know a few of you were looking forward to the makeover. Well, today is the day and it's featured for Thrift Store Decor Day along with projects from my talented friends.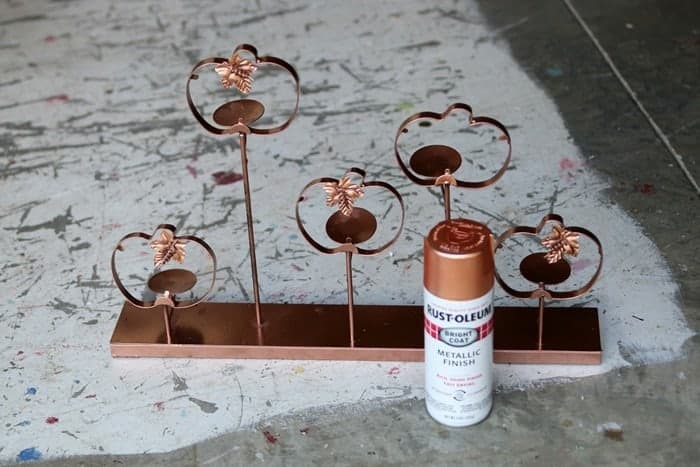 The pumpkin centerpiece needed a good cleaning. I removed the thick glass/plastic pumpkin pieces and used Simple Green to remove all of the dust and then a screwdriver to remove the wax candle drips.
Next up was spray painting with my fav Rustoleum Metallic Copper Spray Paint (find on Amazon here)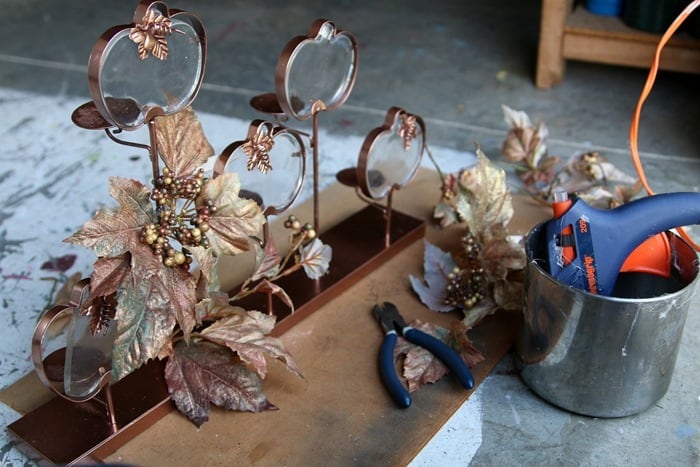 The faux leaf branches I used on the wreath for Mom's room were a match made in Heaven for the copper paint. I cut the stems apart and hot glued them to the centerpiece, just willy-nilly.
That's how I roll. Seriously, you just have to go by trial and error until it looks good. Put the stems or flowers in place then hot glue them down.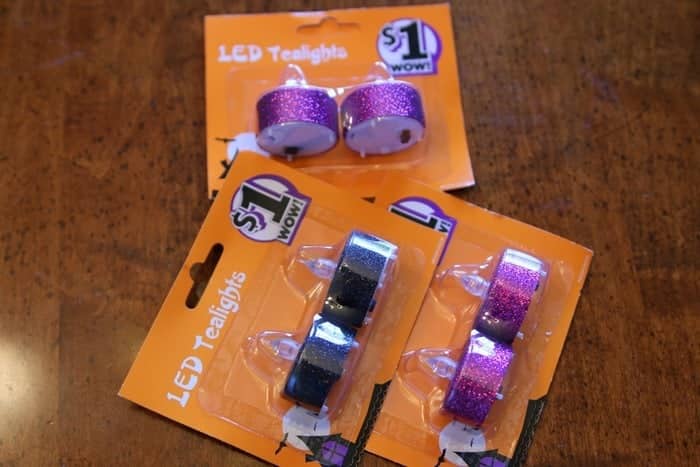 I found a few burgundy colored votive candles in a junk drawer in the house and added them to the centerpiece. I wasn't really happy with them but went with it anyway.
The next day I was having a chocolate attack and while shopping for multiple bags of candy bars (yep), I spotted these tealights. You guys know I can't resist sparkle and flash. I did buy the black ones to cut the shine!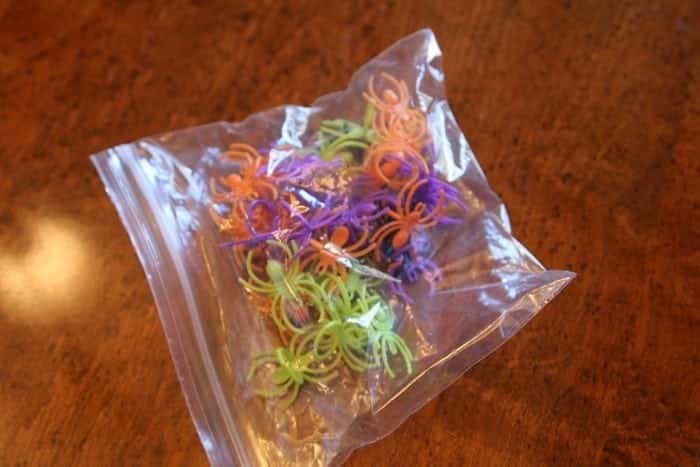 I went home and found the plastic spider rings in my junk stash. I think I used them in a prior project or two.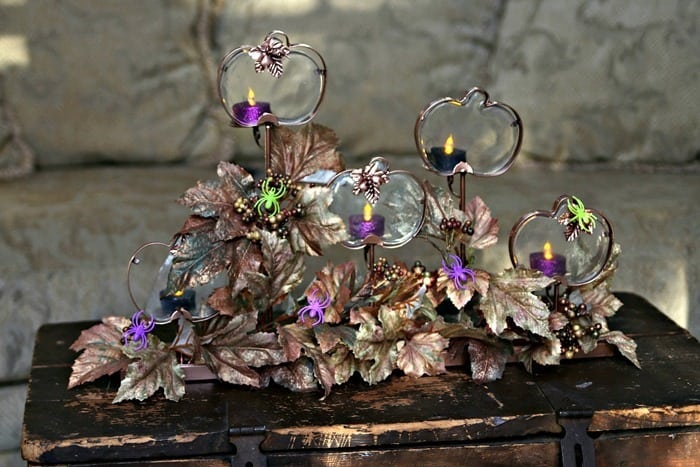 It all came together nicely. What do you guys think? As I'm writing this post it's dark and gloomy and raining like the dickens.
I moved the centerpiece to the dining room table and turned the tealights on. Sorry, no photo of that. Trust me, it looks great in the almost dark.
The centerpiece will probably show up in various places over the next couple of weeks. It would fit nicely on the mantel.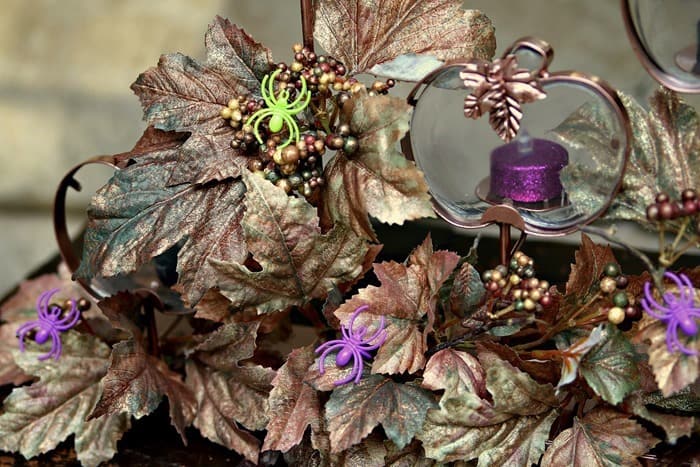 I'm loving the glitter and the little spiders. The spray paint worked magic. Do you ever use spray paint? Spray paint is easy to use and gives fast results.
You don't need a pumpkin centerpiece to redo. Look around your house and see if you spot anything that's a little outdated or just needs a little love.
Then go the store and find the perfect color for your first spray paint makeover.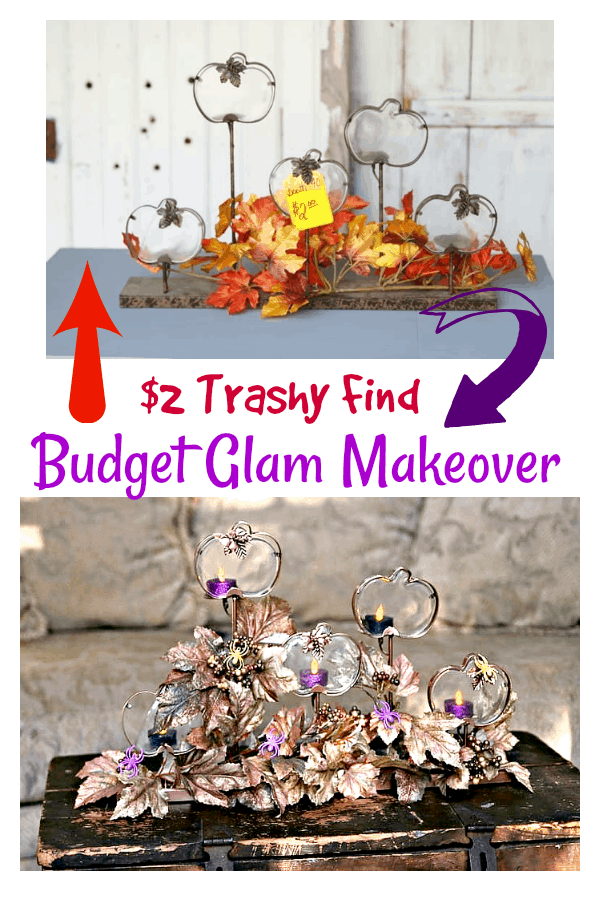 Leave a note, pin for later, and show my creative friends a little love. Visit their blogs by clicking the pink links below the "before" photo collage.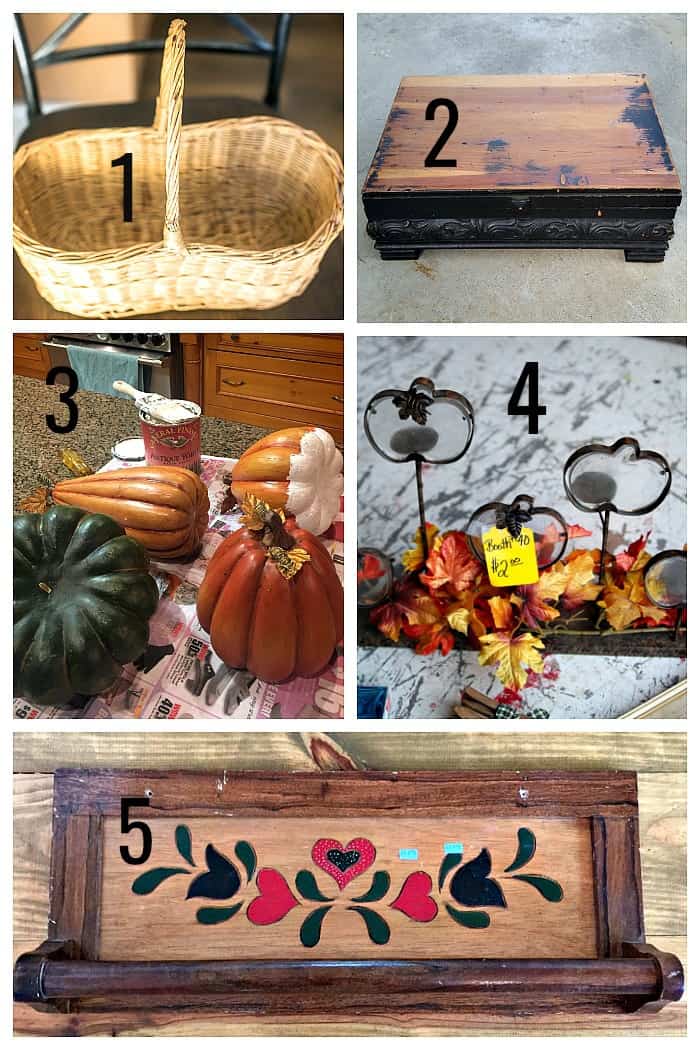 1. - Domestically Speaking
2. - My Repurposed Life
3. - Our Southern Home
4. - Petticoat Junktion
5. - Refresh Restyle
Thanks for always being here and have a great day.