It's time, or maybe past time, to make a fall wreath. I can't tell you how many Fall wreaths I've made over the years and some of the ideas for the wreaths....well, I have no clue where they came from. Do you want a wreath that looks like everyone else's? I didn't think so. Take my ideas and make them your own.
1. Fall Grapevine Wreath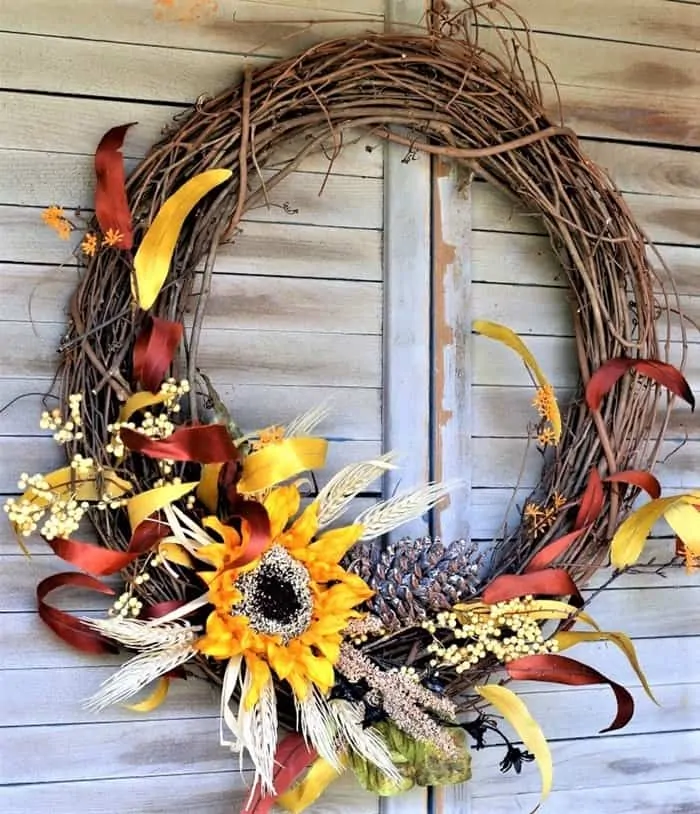 This Fall wreath tutorial is full of tips and tricks for making a pretty Fall wreath for your front door. This front door wreath was made from things I had on hand.
Front Door Fall Wreath Tutorial
2. Flannel Wreath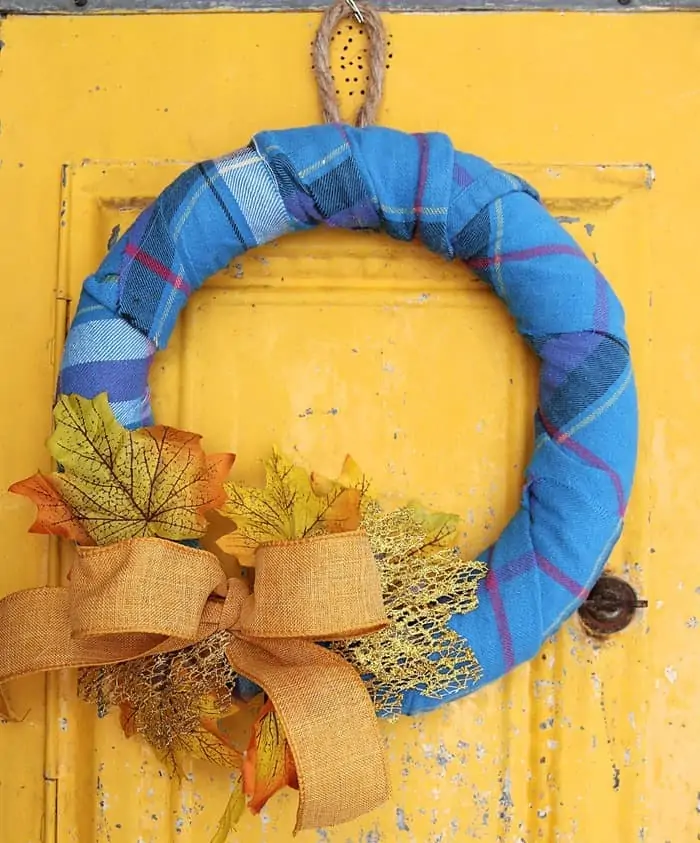 I made the flannel wrapped wreath using an old flannel shirt. The wreath took about 10 minutes to make. I used a wreath form and leaf garland from Dollar Tree, a plaid flannel shirt from Goodwill, and ribbon from Hobby Lobby (on sale of course).
How to Make A Flannel Wrapped Wreath With Flowers
3. Wood Pumpkin Wreath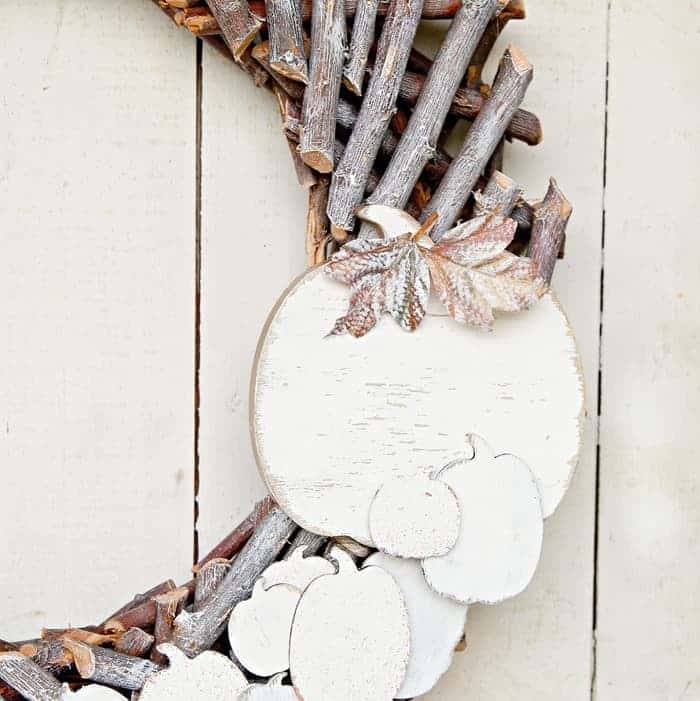 You can make a farmhouse style wood pumpkin wreath in just a few minutes. The neutral color farmhouse style pumpkin wreath can be used in any room of the house.
Farmhouse Style Wood Pumpkin Wreath
4. Fall Rake Wreath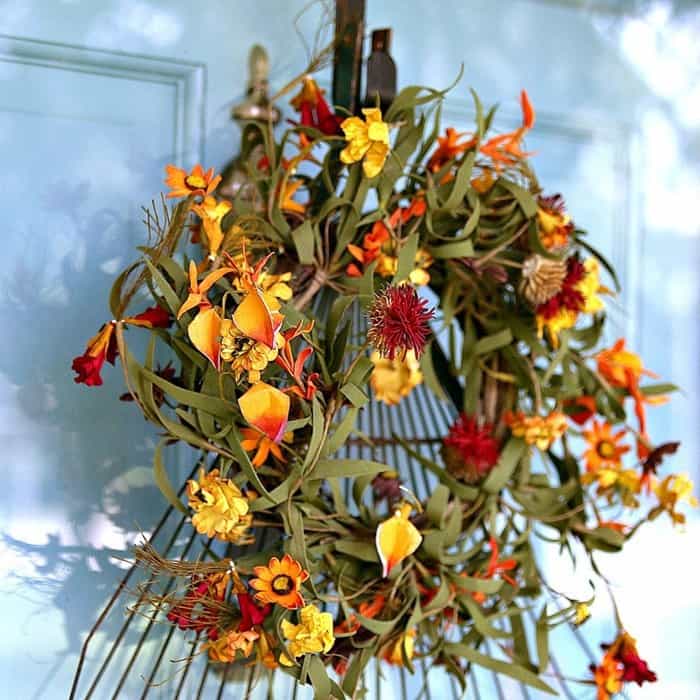 You can make a farmhouse style wood pumpkin wreath in just a few minutes. The neutral color farmhouse style pumpkin wreath can be used in any room of the house.
DIY Fall Rake Wreath Idea And Wood Birdhouse Flower Container
5. Vintage Shutter Wreath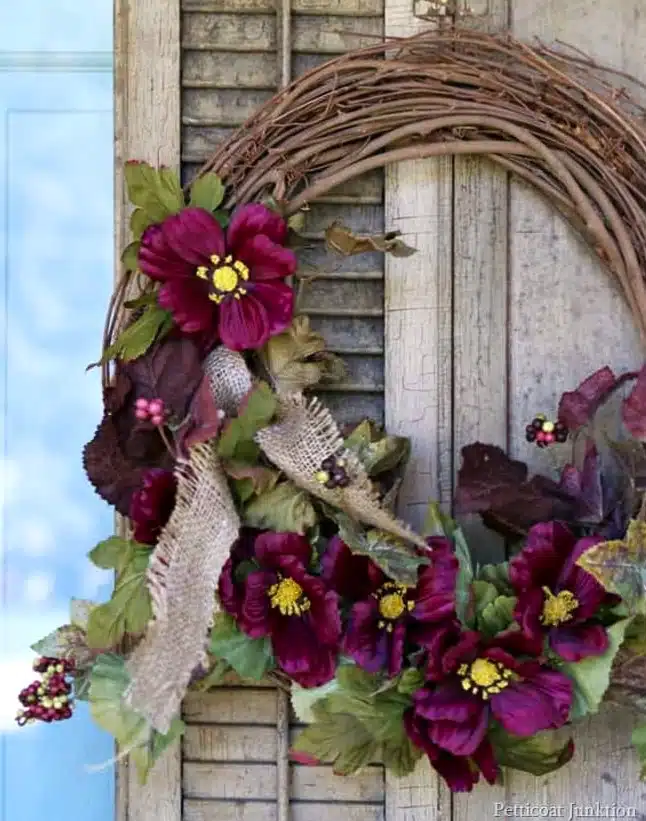 The Fall wreath I put together just wasn't working for me. Too plain or small or something. The vintage shutter from my junk stash was the perfect backdrop.
6. Succulent Rake Wreath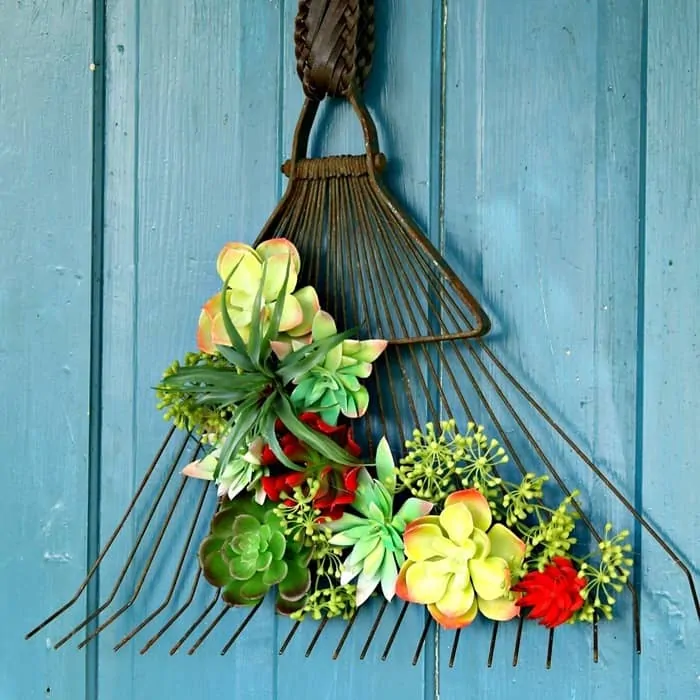 My rusty rake has a new life as a succulent plant rake wreath. These rake heads make great backdrops for all kinds of wreaths. The wreath is pretty darn classy considering the backdrop is a rusty rake.
Upcycled Craft: Succulent Plant Rake Wreath
7. Rustic Sign Wreath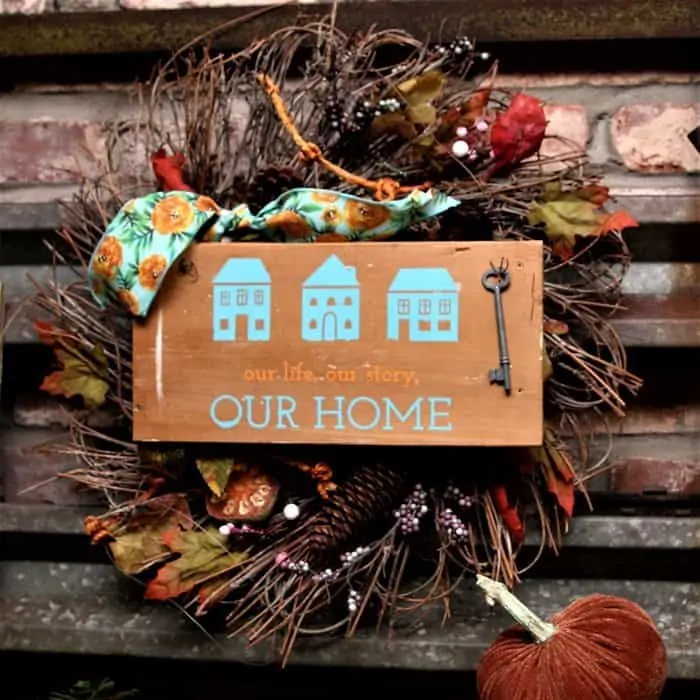 Making this rustic home decor wall sign was so much fun, and the whole project took less than 30 minutes. I made a video too. The sign looks great hanging on a Fall wreath over our mantel.
How To Make A Rustic Home Decor Wall Sign
8. Artificial Oranges And Grapevine Wreath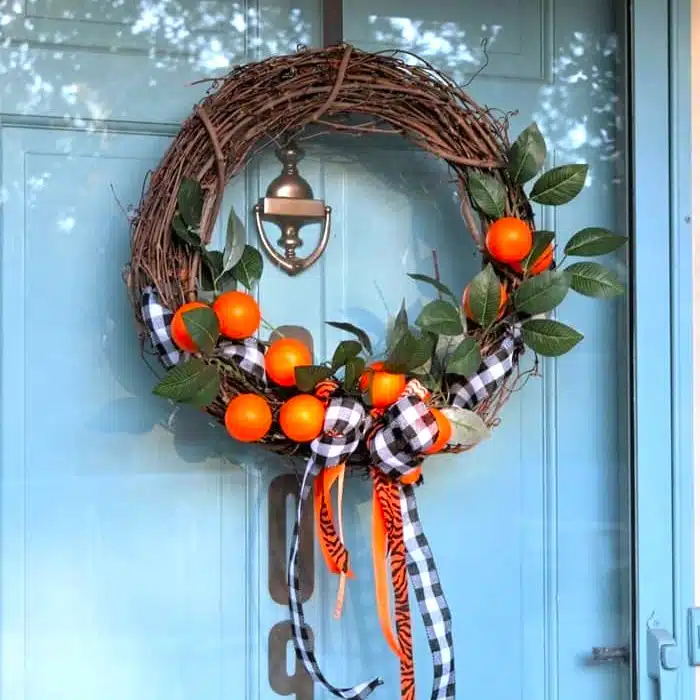 It probably seems a bit weird that I made a Fall wreath using faux oranges but that's me. I pulled a grapevine wreath off of the shelf and then looked around for Fall flowers. I spotted the orange stems and that was that
Old Junky Stuff For Porch Decorations Plus Mums and Pumpkins For Fall
9. Shabby Chair Back Wreath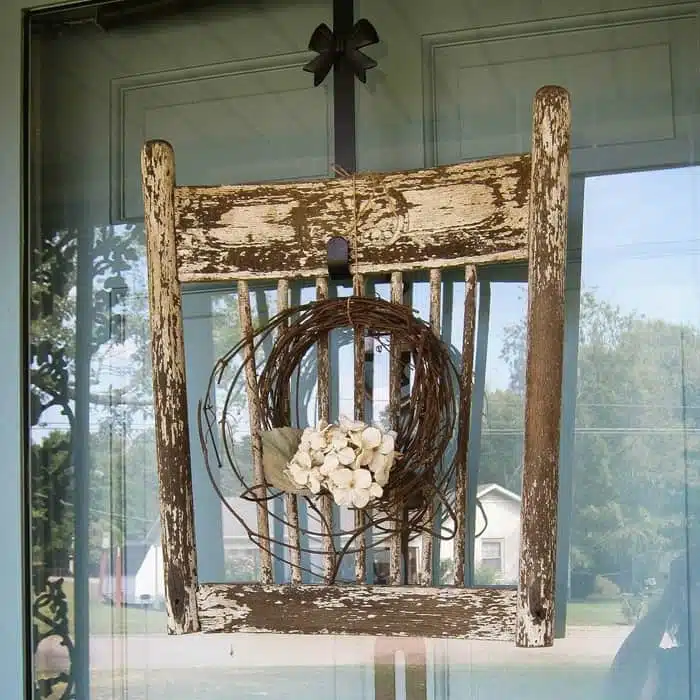 I found an antique chair back and the white paint was really chipping off. Thinking outside of the box the shabby chic wreath idea was born.
$2 Wood Chair Back Becomes A Shabby Chic Wreath
10. Sunflower Purse Wreath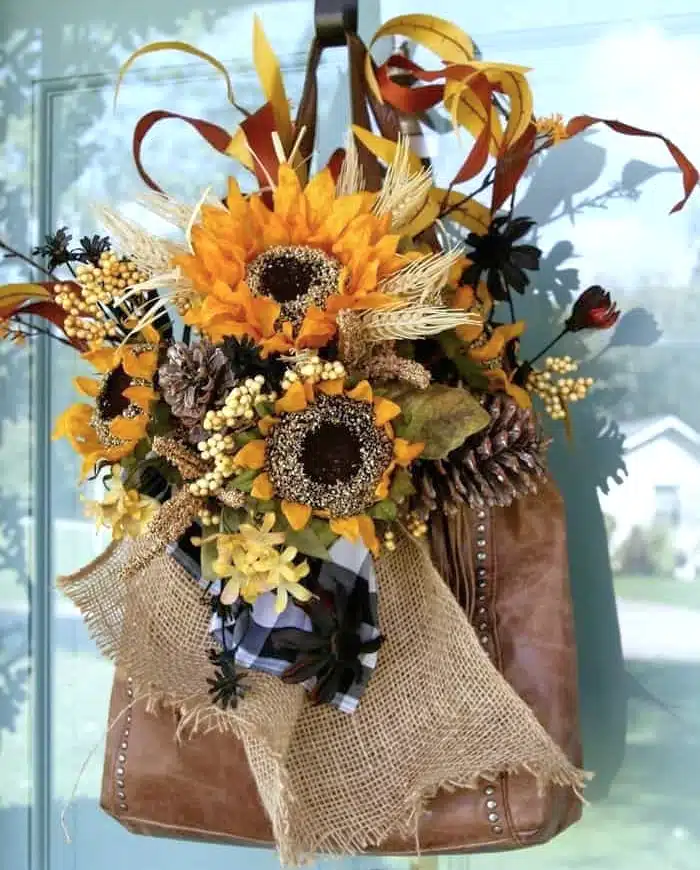 Yeah, not sure I should call it a wreath but that's what I'm going with. Making wreaths out of purses is one of my favorite DIY's. I mean how easy is it to stuff a bunch of pretty flowers in a purse and hang the purse by it's straps on a door?
DIY Fall Sunflower Purse Wreath
11. Trashy Garbage Can Lid Sunflower Wreath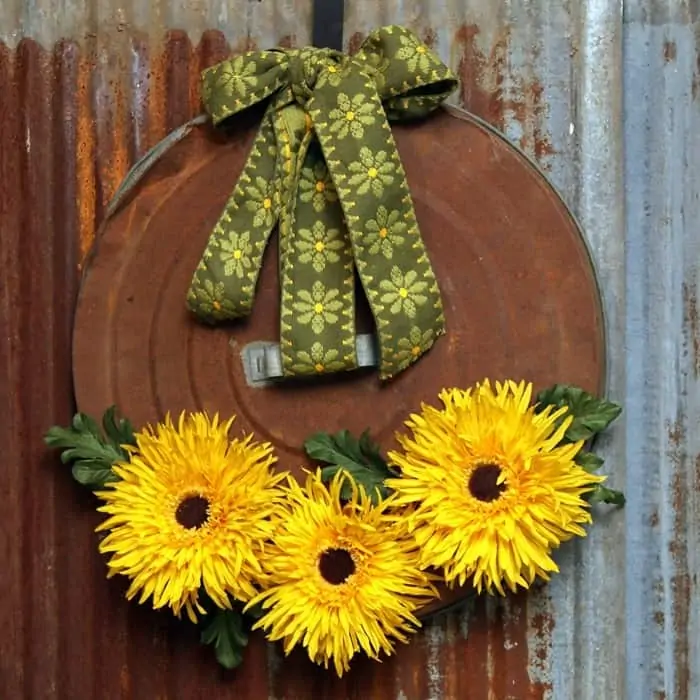 All you rusty junk fanatics will love this project. I made a rusty trash can lid sunflower wreath. Sounds weird, huh? Just wait until you see it. The sunflowers and rusty lid were made for each other.
Make A Rusty Trash Can Lid Sunflower Wreath
12. Parrot Head Wreath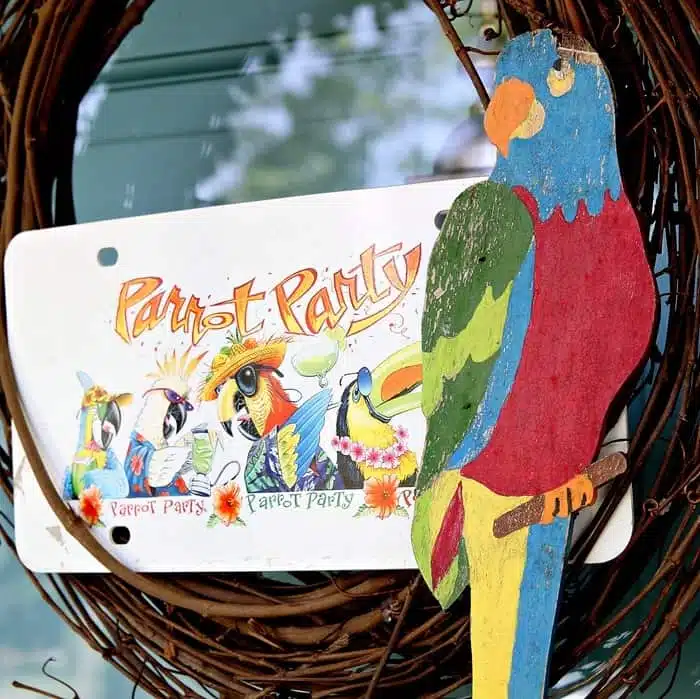 Looking around the shop for wreath ideas, I spotted the Parrot Party license plate from Margaretville. Not sure how long I've had it or who bought it. It could have been a present from my sister or I could have bought it on vacation at some point.
Parrot Head Wreath And Junk Pots Of Geraniums | Summer Porch
13. Wicker Basket Wreath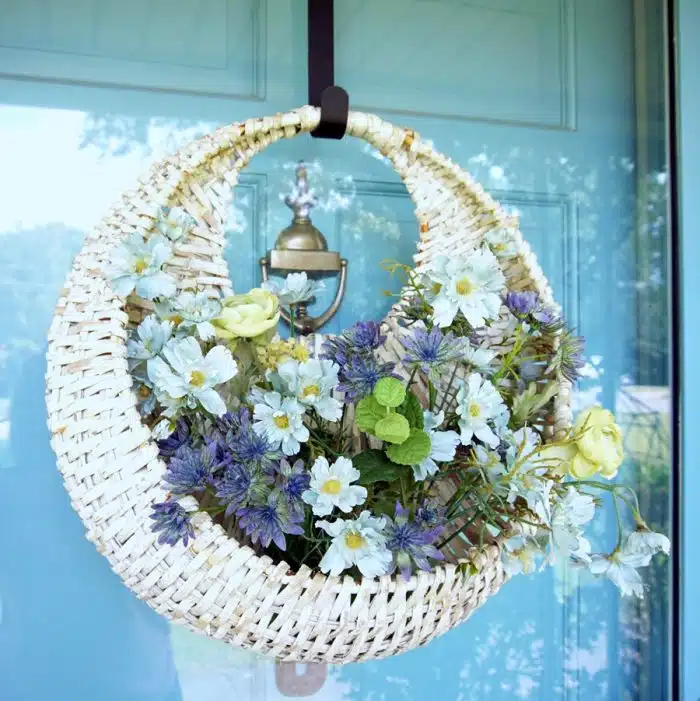 I love simple projects and this is one of the simplest. I bought the white wicker basket at a local flea market for less than $5. You can't beat that. It is a really large basket and has a nice shabby chic look.
DIY White Wicker Hanging Basket Wreath
5 Minute Fall DIYs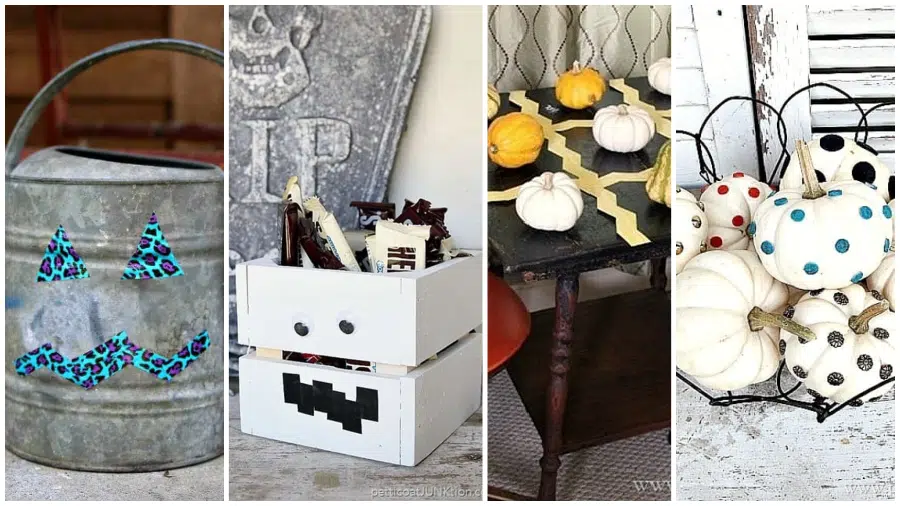 Try these DIY Fall home decor ideas. the projects are quick and easy. Only takes 5 minutes to do each of these Fall projects. Lazy. That's me. I tell you guys that all the time. Wait until you see these lazy girl Fall projects.
5 Minute DIY Decorations For Fall
13 Simple Fall Decor Ideas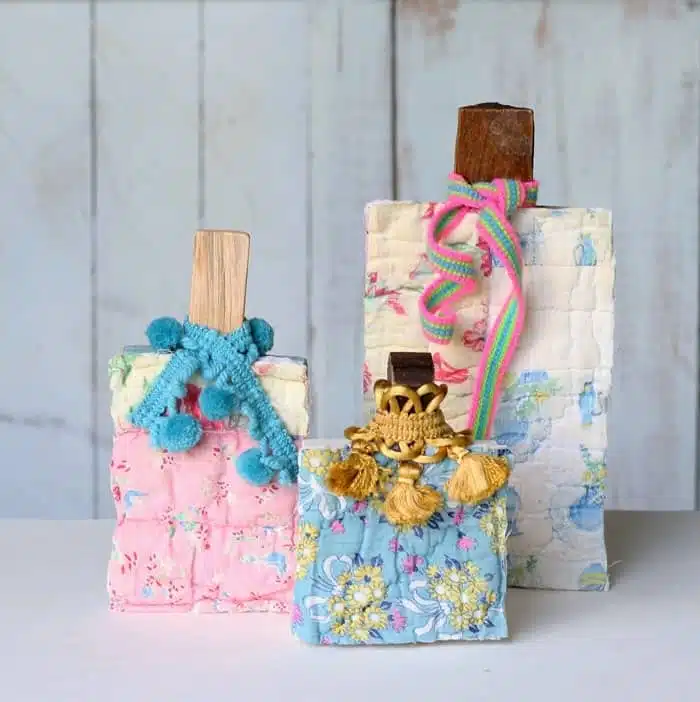 Make Fall projects to decorate your mantel, front porch, doors, whatever. These projects are easy to put together; some can be used year-round for any season. Also, some of the decor is made with nonpermanent products, making it simple to reuse the pieces as they were originally or decorate them for another season.
13 Easy Fall Projects To Make Now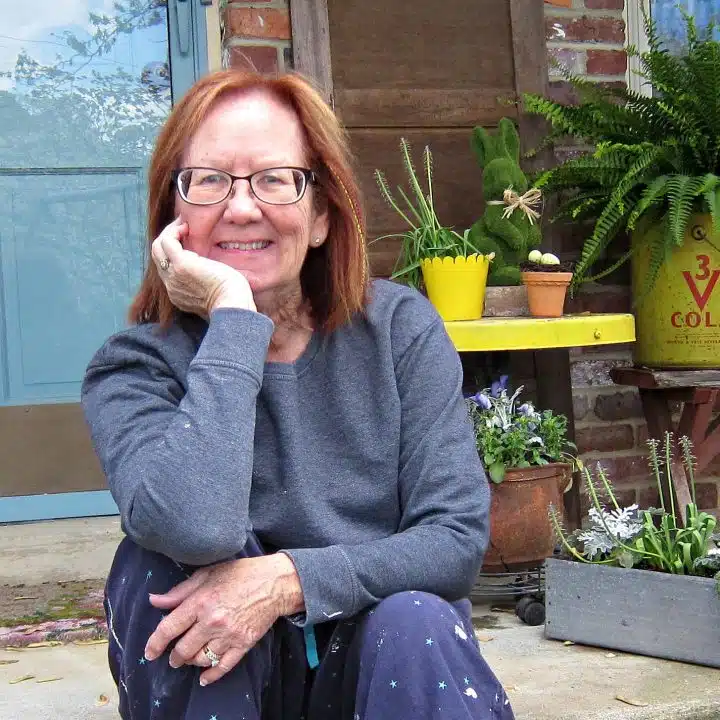 Author: Kathy Owen
Kathy Owen is the founder of the home decor blog Petticoat Junktion where she shares tutorials on painting furniture and upcycling thrifty finds into unique home décor. Her DIY projects have been featured on the Home Depot Blog, Plaid Crafts, Behr Designer Series, and in numerous magazines. Kathy's newest website is HappyHomeDIY.com