Wait until you see how I made a birdhouse flower container out of a $5 rustic birdhouse. And I put together the Fall rake wreath out of flea market finds. Decorating the front porch with my rusty junk collection and tossing in a few pots of flowers is my go-to decor for any season. I just finished decorating the porch for Fall. Yep, I'm ready. Bring it on. The weather even feels like Fall this week.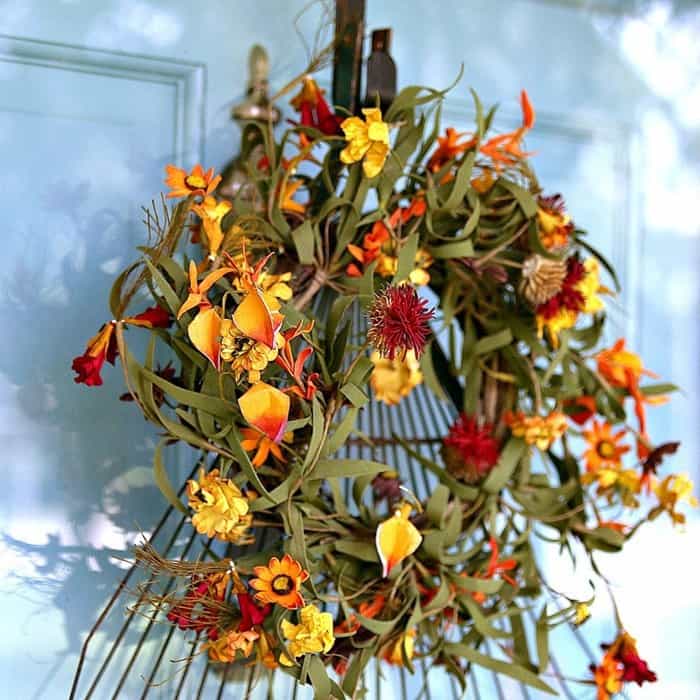 Let me tell you about my easy-to-put-together rake wreath. The three parts.... rake, grapevine wreath, and floral piece, are thrift store finds. I wired the flowers to the grapevine wreath and then wired the wreath to the rake. Easy Peasy. The rake fits perfectly onto a wreath hanger.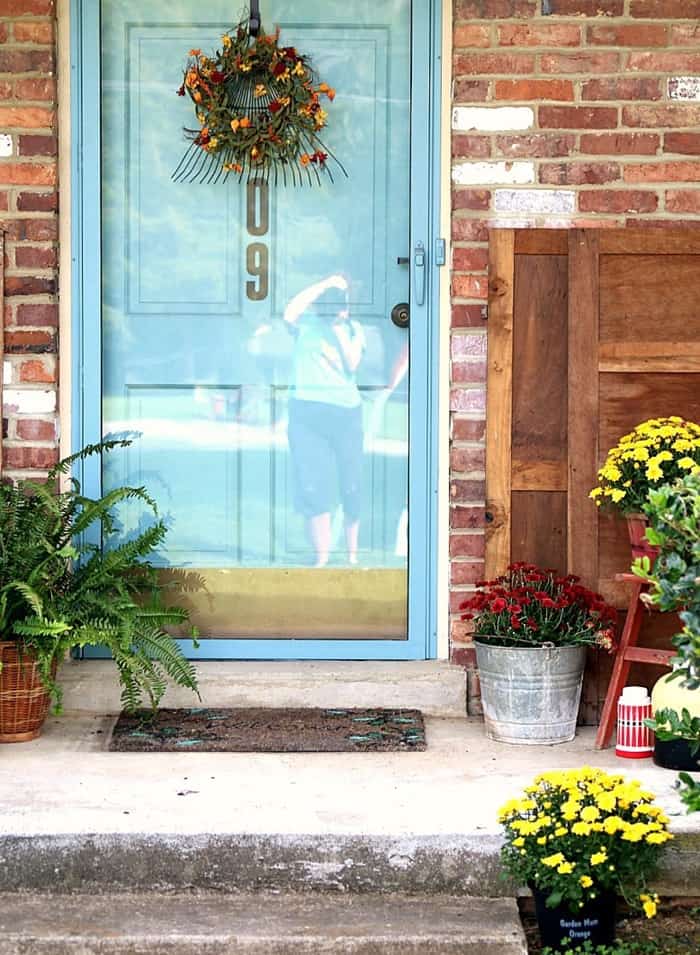 The only thing left to do was hang it on the storm door. I love when a project comes together without any glitches. That doesn't happen very often. Last year I made a Christmas wreath to hang from the rake. I can see that rake going through several transformations in the coming months.

After hanging the wreath, I pulled all kinds of funky junky pots and stools from the workshop. The brass pot and galvanized bucket are recent finds from my favorite junk shop. The metal frog candle holder was a $3 purchase from the Nashville Flea Market.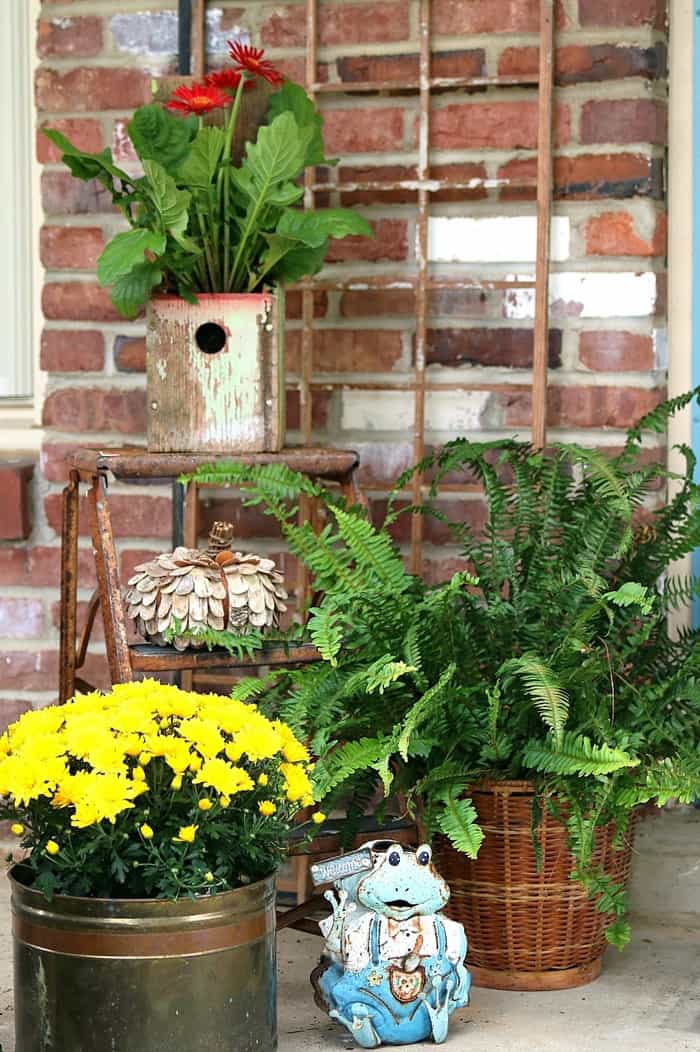 The cute little bark/woodsy-looking pumpkin was a real budget find from the store Bargain Hunt. I bought it last year. It's too early for our local pumpkin patch to open, but I'll be heading there for the real thing on October 1.
The birdhouse has been sitting on a shelf in the workshop for a couple of months. I planned to have the JTS (aka hubby, aka Junktion Technical Specialist) hang it on a tree, but then I had another idea.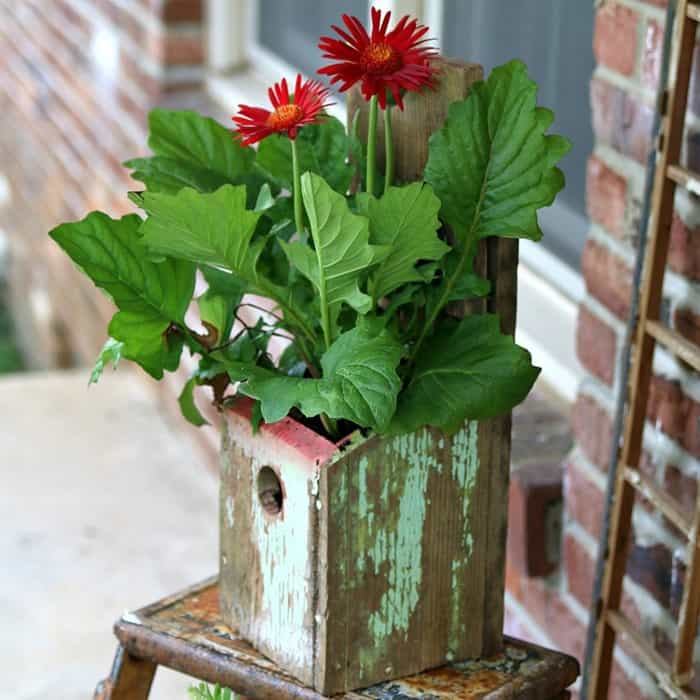 I lifted the roof of the birdhouse and plopped a Gerber Daisy in the house. How pretty is that? The birdhouse can still be used for it's intended purpose when it's not subbing as a flower container. The rusty stool is another fun piece from my fav junk shop. I wish you guys could go junkin' with me. You would love it.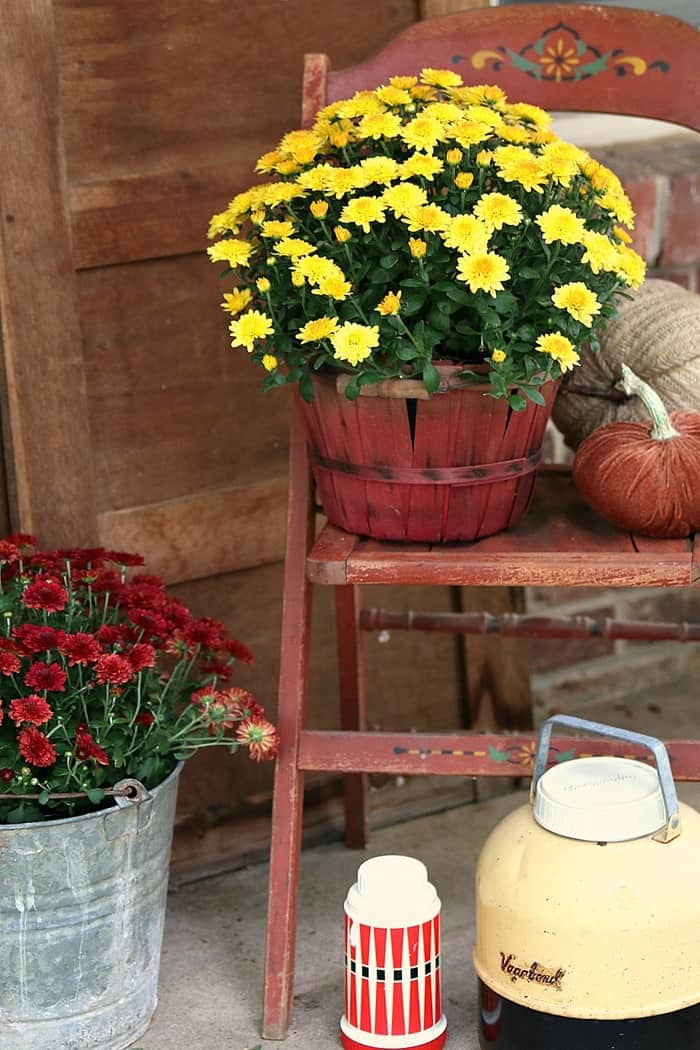 You probably remember the chair I found at the August Nashville Flea Market. I couldn't resist the orangy color. I knew it would be perfection on the front porch holding a pot of mums. And it is! The velvet pumpkin is a thrift store find from a few years ago.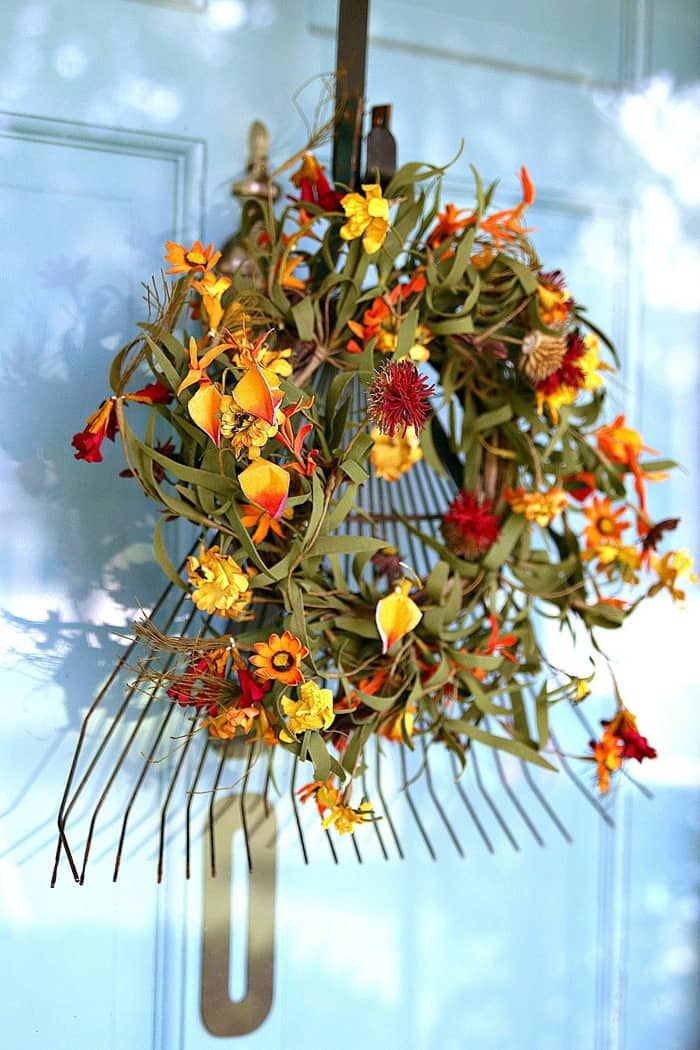 Another look at my pretty rake wreath.
The mums came from Home Depot. The yellow ones are my favorite because they scream, "Here I am." I like white mums too but there were none in stock the day I bought these.
Thanks for being here and have a great day, Kathy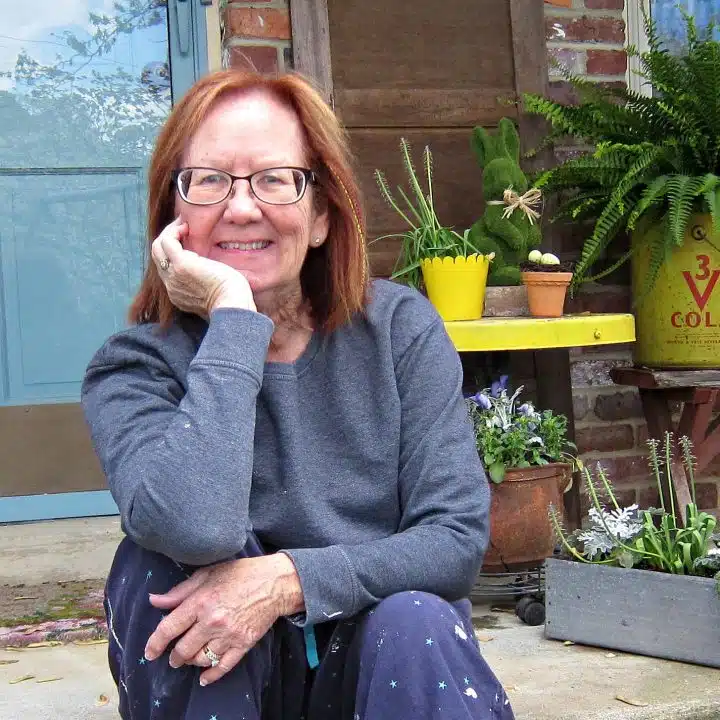 Author: Kathy Owen
Kathy Owen is the founder of the home decor blog Petticoat Junktion where she shares tutorials on painting furniture and upcycling thrifty finds into unique home décor. Her DIY projects have been featured on the Home Depot Blog, Plaid Crafts, Behr Designer Series, and in numerous magazines. Kathy's newest website is HappyHomeDIY.com