Make A Parrot Head Wreath
This parrot head wreath is the perfect thing for my porch décor. The colors are bright and bold and the wreath makes me smile. I bought a few pots of flowers on sale and the porch is decorated.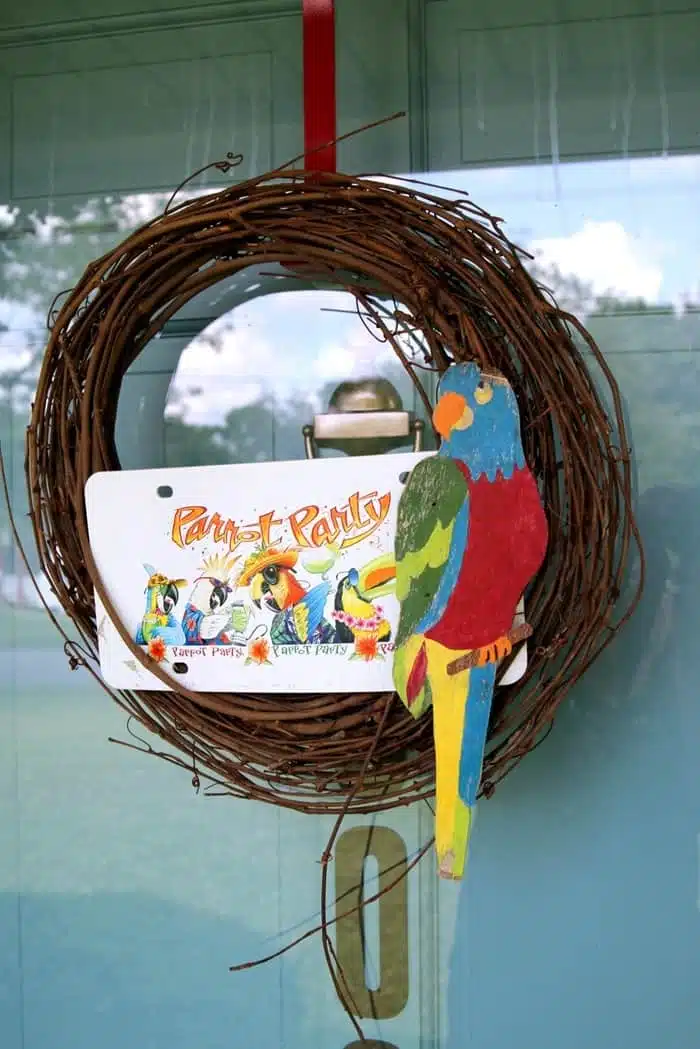 Parrot Head Wreath
I made the wreath with things I had on hand. The best type of DIY.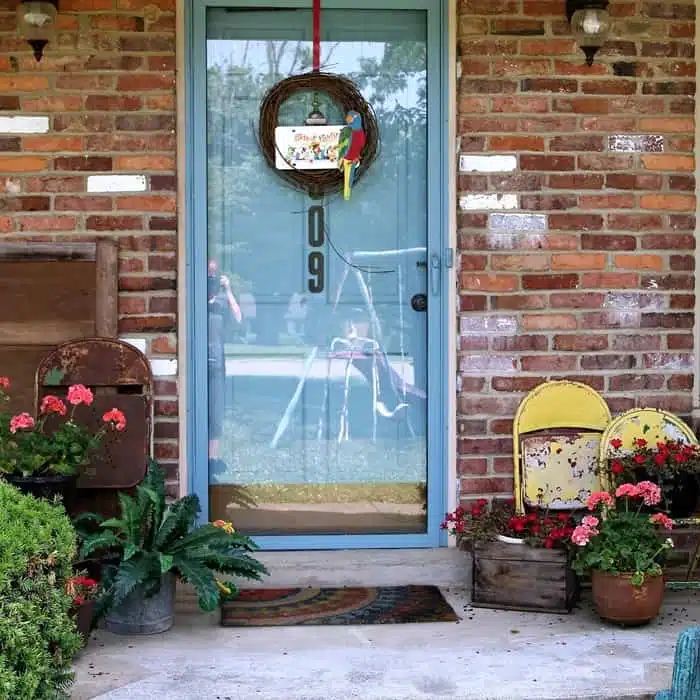 My porch decorations came together easily. I used what I had on hand except for the seasonal flowers.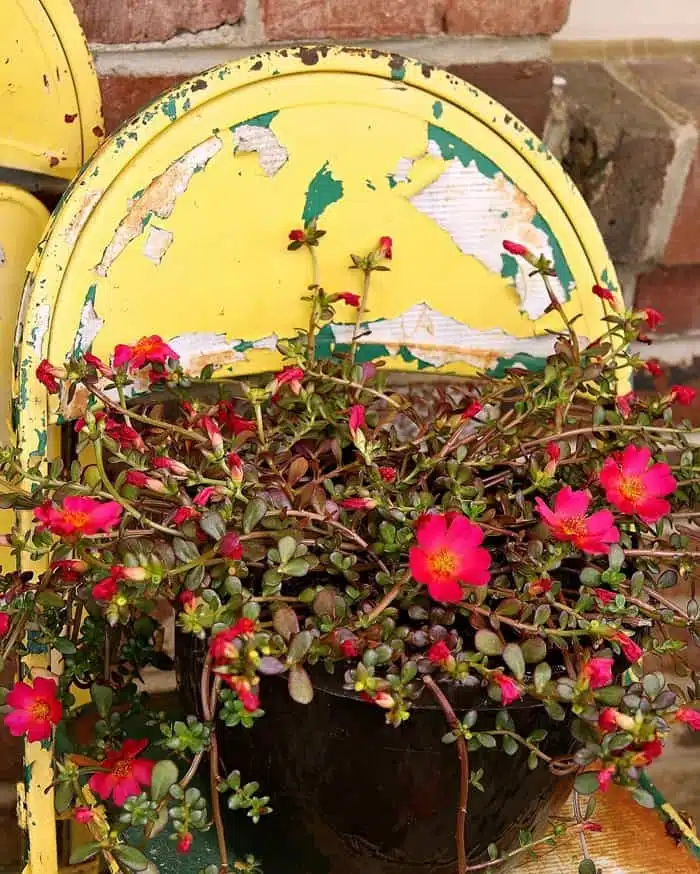 How pretty are those flowers. I forget the name but I know it starts with an L. I know that's not much help but I threw the plant tag away. You guys will know what they are. One thing I know is the rabbits love them. I had a few pots last year and when we went on vacation I set the pots out in the yard so the rain could water them while we were gone. The rabbits ate the flowers and stems down to the dirt. I won't do that again.
How To Make A Jimmy Buffett Inspired Wreath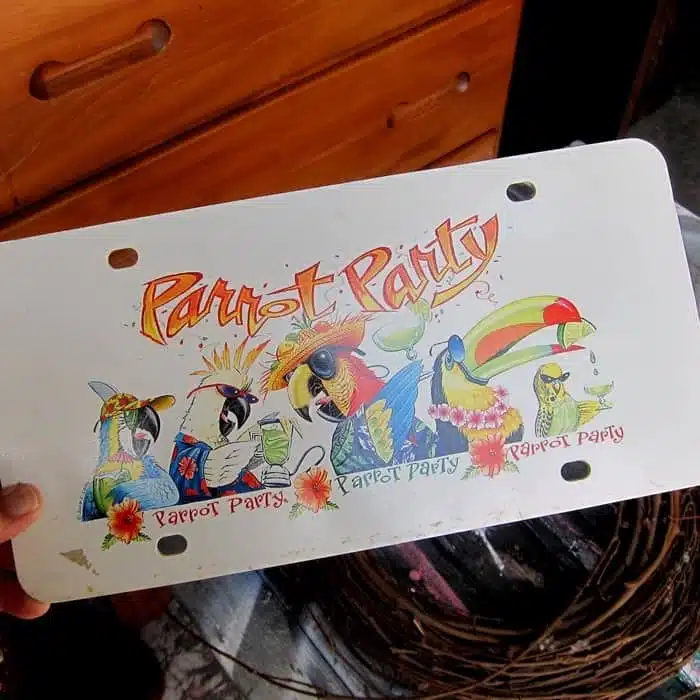 I wasn't sure what kind of wreath I was going to make and I first started out with the wood wreath I bought at Target last Fall. I planned to remove the wood pumpkins I hot glued to the wood and add seashells. Then I decided that would not be very colorful. Looking around the shop I spotted the Parrot Party license plate from Margaretville. Not sure how long I've had it or who bought it. It could have been a present from my sister or I could have bought it on vacation at some point.
And I always have a grapevine wreath on hand. This one has remnants of hot glue where I decorated it before.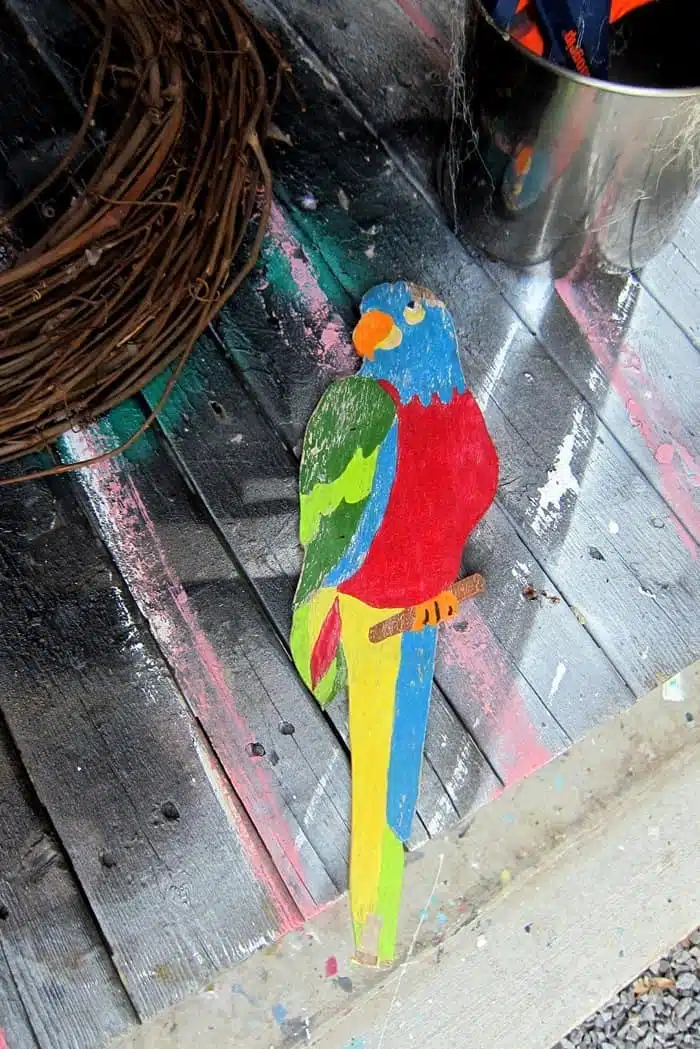 Then I remembered a wood parrot I saved from a beat up sign years ago. The parrot was too colorful to throw away although it was pretty rough looking.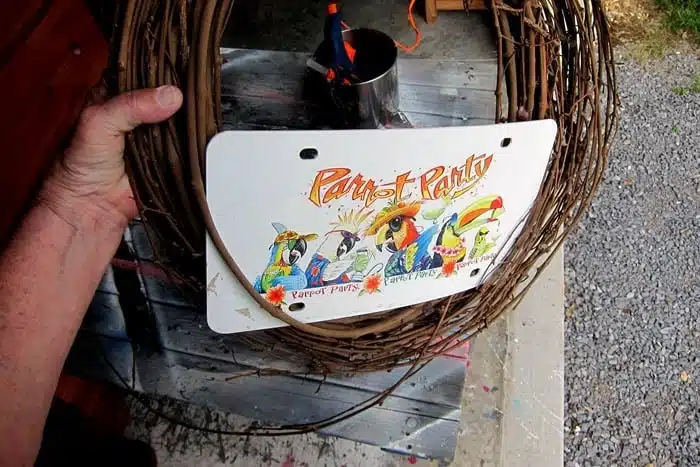 All I had to do was wedge the parrot party license plate into the wreath.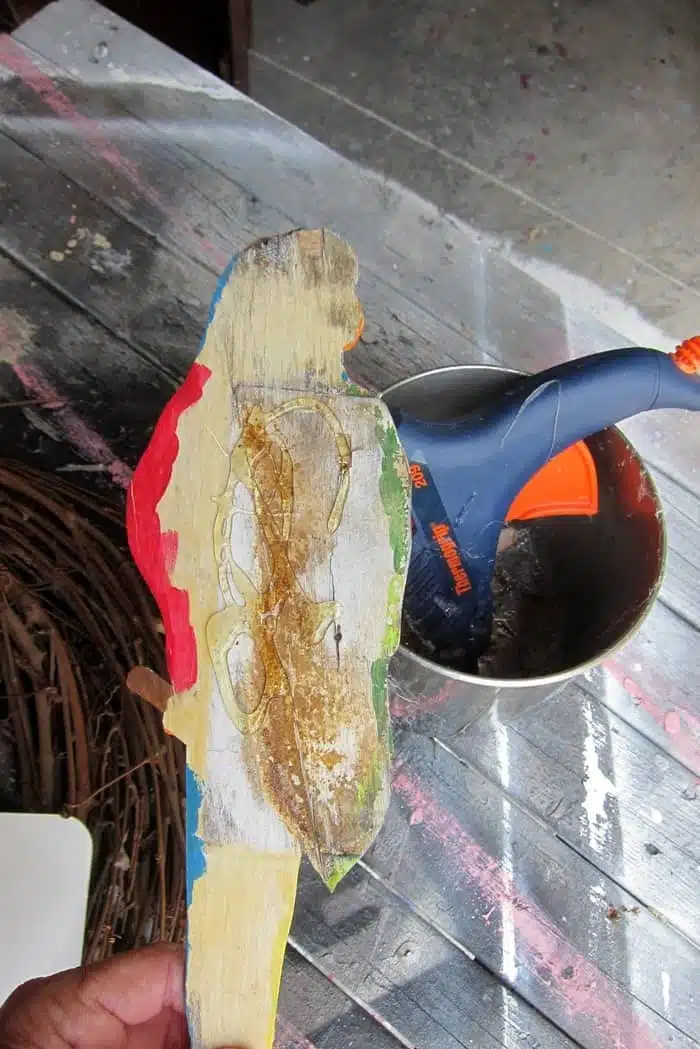 Put a bit of hot glue on the back of the parrot and glue it to the license plate.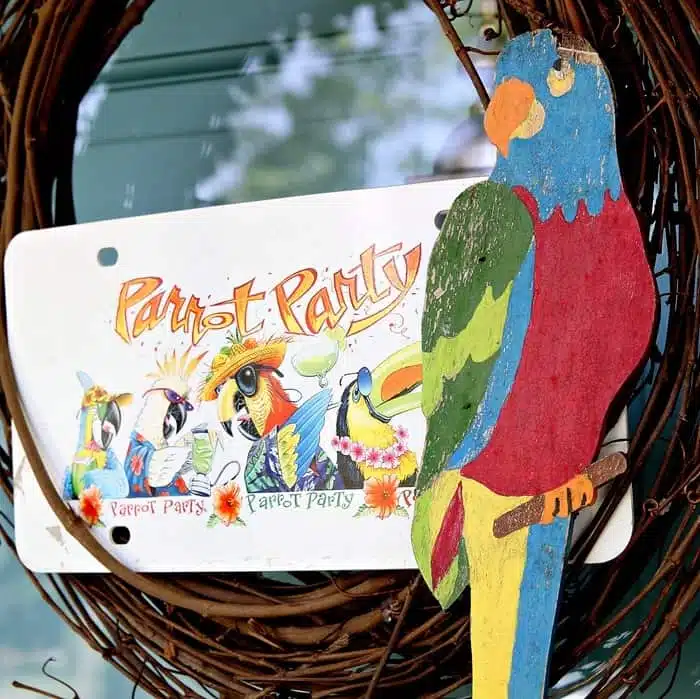 All done. Cute as can be and quick and easy. I went through my wreath hangers and decided on the red. I usually pick one that doesn't stand out but in this case I went bold.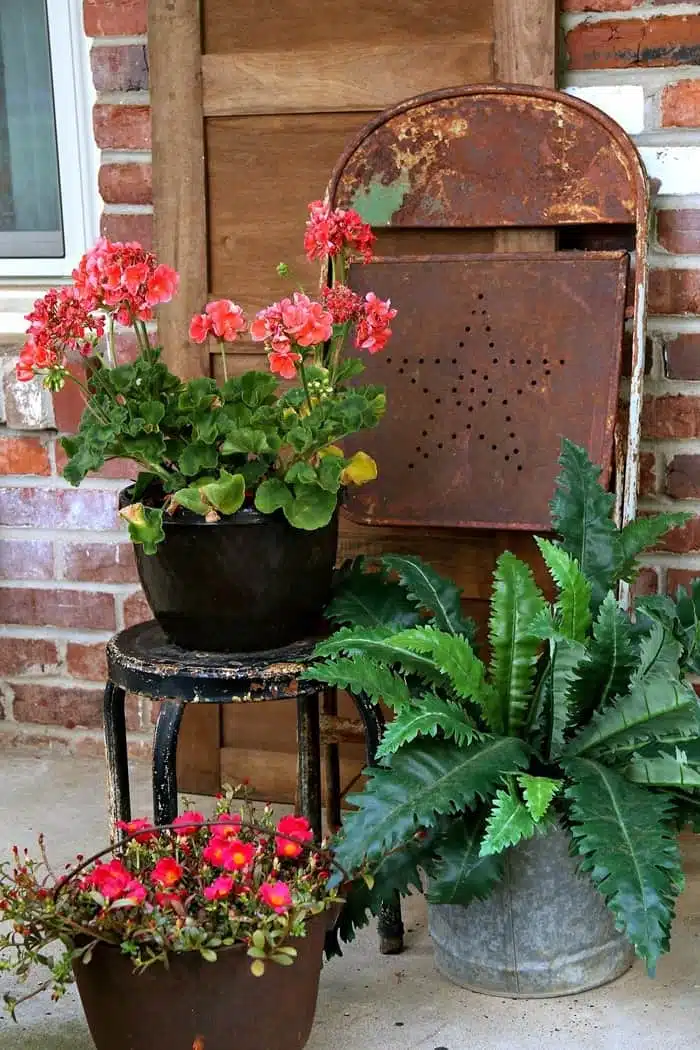 The pots of Summer flowers came from Walmart on sale. They looked rough when I bought them but a couple of days of sunshine and a little water brought them back to life.
You guys might remember the little black stool I bought at my fav junk shop a few weeks ago. It's the cutest and the rusty star chair is another of my best junk finds.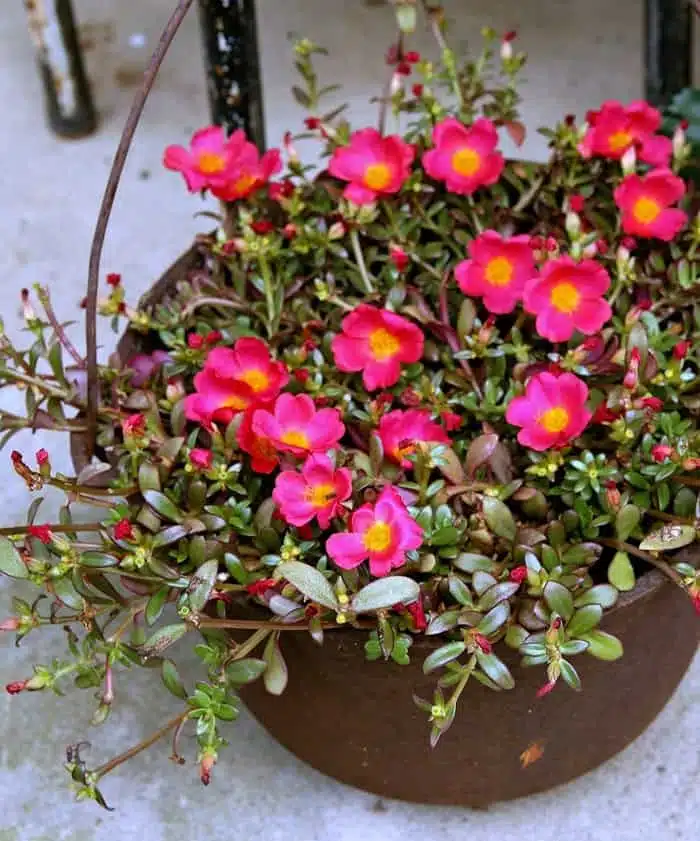 I put the plants into antique rusty iron pots the JTS and I picked up at auctions or estate sales over the years.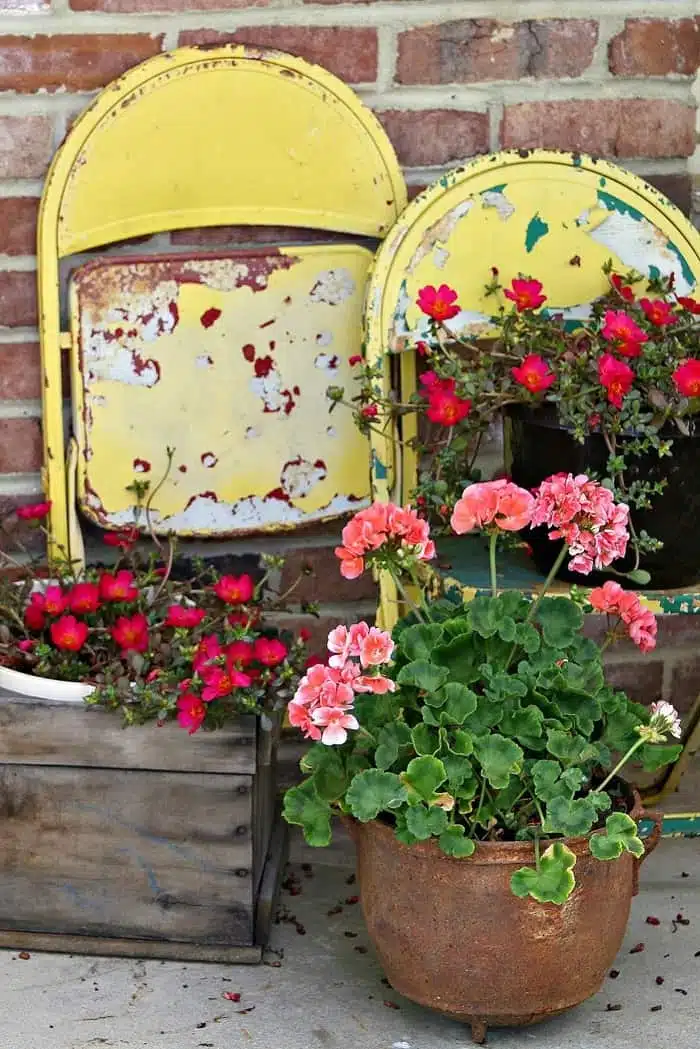 I love geraniums. The salmon color is my favorite.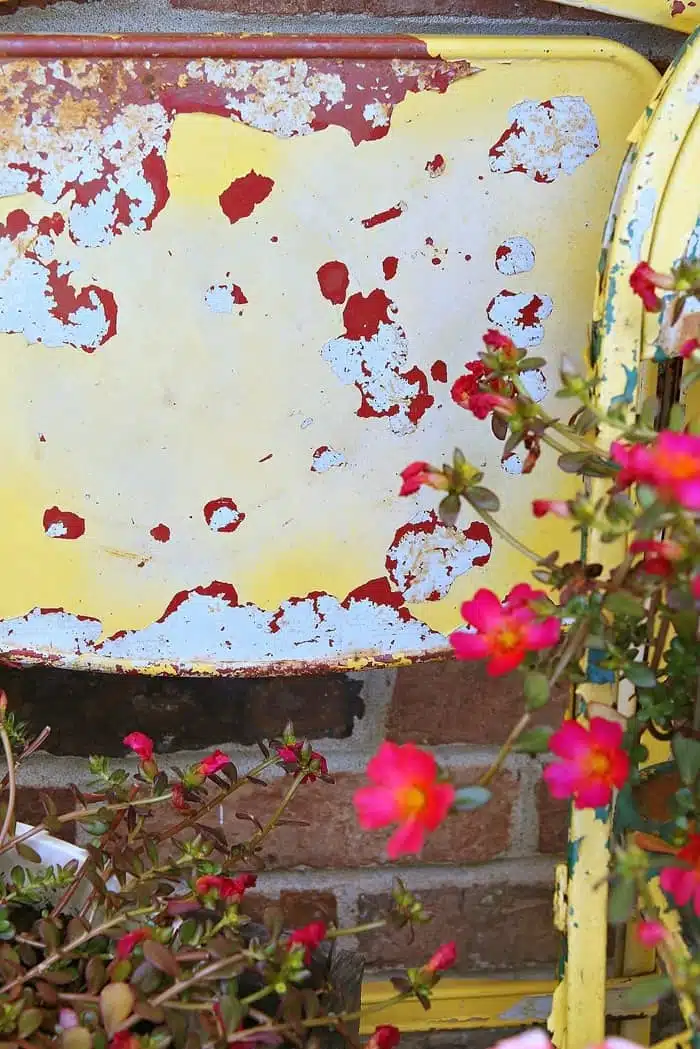 The rusty yellow kids chairs showed up in my Christmas porch décor. I can't get rid of them.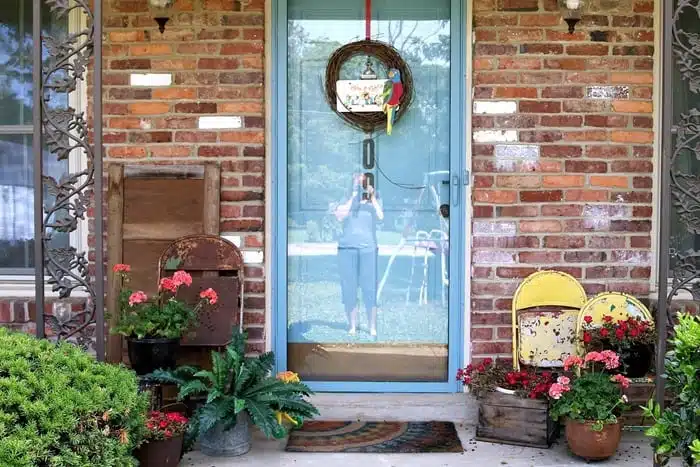 I need to add a few backdrops to the side with the yellow chairs. The porch is still a work in progress. I'm waiting on the ferns to go on sale. Then I can replace that fake one, lol.
One last look at the parrot head wreath. That scraggly parrot sure is cute.
Do you enjoy looking at my porch each season. Does it inspire you or maybe bore you? Leave a note. I read them all. Have a great day, Kathy
Author: Kathy Owen (Petticoat Junktion)
Kathy is the founder of PetticoatJunktion.com, a home décor blog focused on repurposing and upcycling furniture, old hardware, rusty stuff, and thrifty finds into unique home décor. Kathy's projects have been featured on the Home Depot Blog, Plaid Crafts, Behr Designer Series, and in numerous magazines. Read more about Kathy here.