Top 10 DIY Projects Worth Doing
It's that time of year. The time all of us bloggers go through our files to see which projects our readers like the best. Well, no surprise, 9 of my 10 DIY projects involve paint.
These 10 are the most popular of all time…..since the beginning of Petticoat Junktion. When I checked the popular posts from last year and the popular posts from all time….they were almost identical.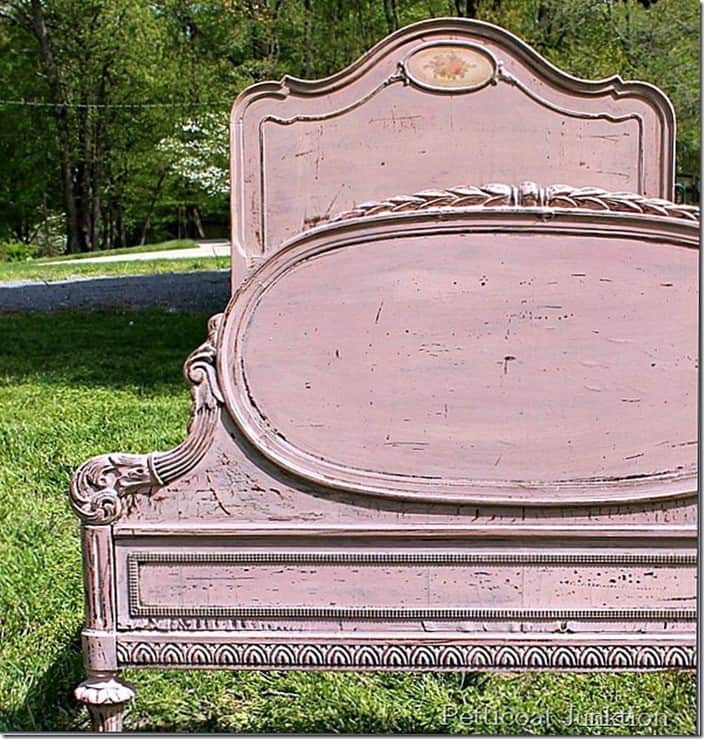 Top 10 DIY Projects of All Time
I'm starting with number 10 and working my way up to number 1. Number 10 was the beautiful bed I purchased for $3 at a local thrift store. The price included the headboard, footboard, and rails.
The piece was beat up but had gorgeous details. It was a special piece and needed a special look. I used Miss Mustard Seed's Milk Paint and mixed my own custom color.
Petticoat Junktion is a participant in the Amazon Services LLC Associates Program. As an Amazon Associate I earn from qualifying purchases.
You can see the full tutorial by clicking the photo of the bed or the "pink link" below the photo. Same goes for all of the projects.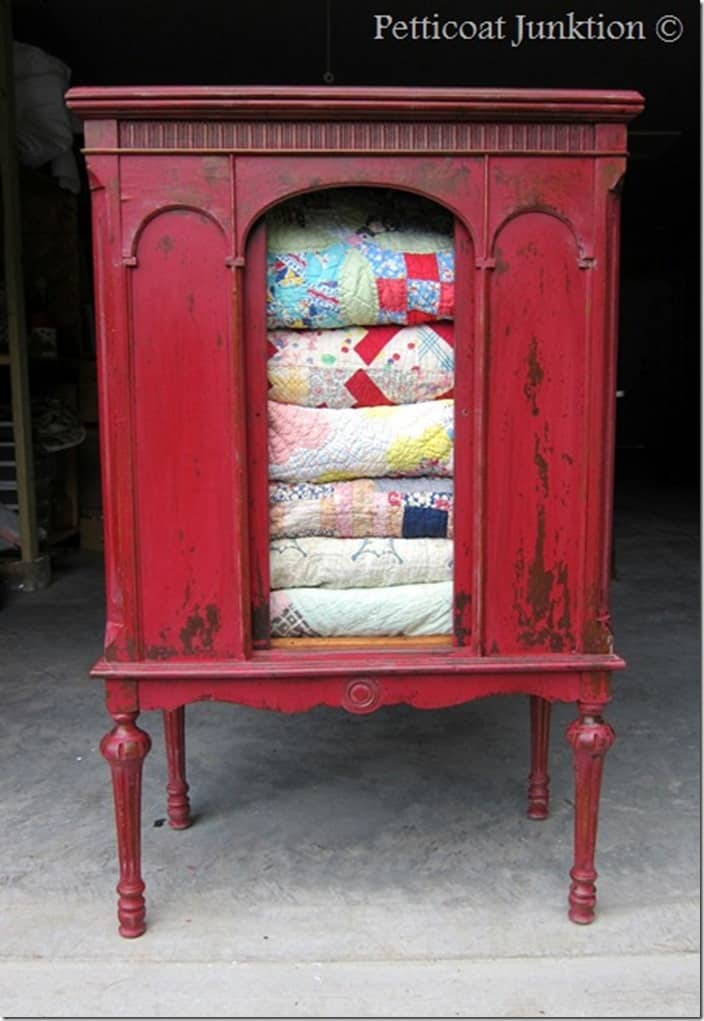 The number 9 project is also a Miss Mustard Seed's Milk Paint furniture makeover. The Tricycle Red Cabinet was my first project using the paint. I fell in love with the paint and the cabinet has made it's way around the web.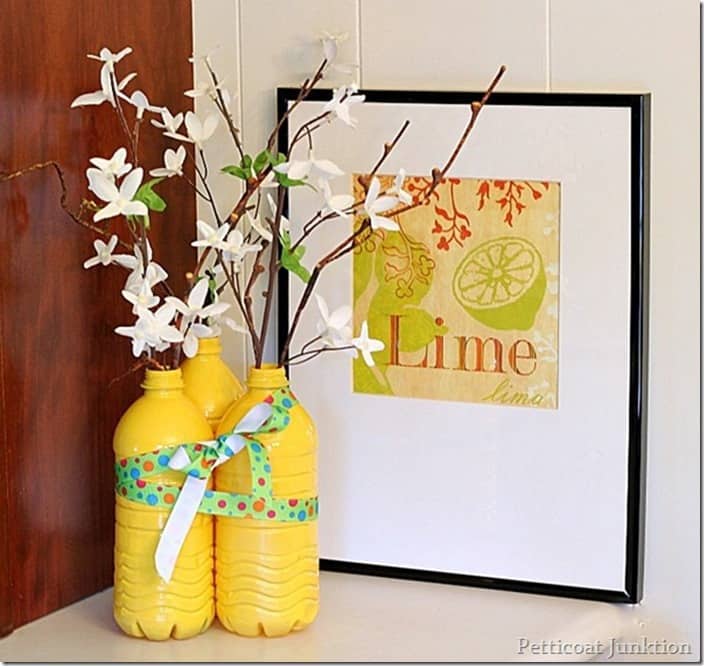 I thought of not adding this post. It is so different from the others. I do like the project, but the only reason it made the top 10 is because it was picked up and shared by another website. It got tons of views because of that.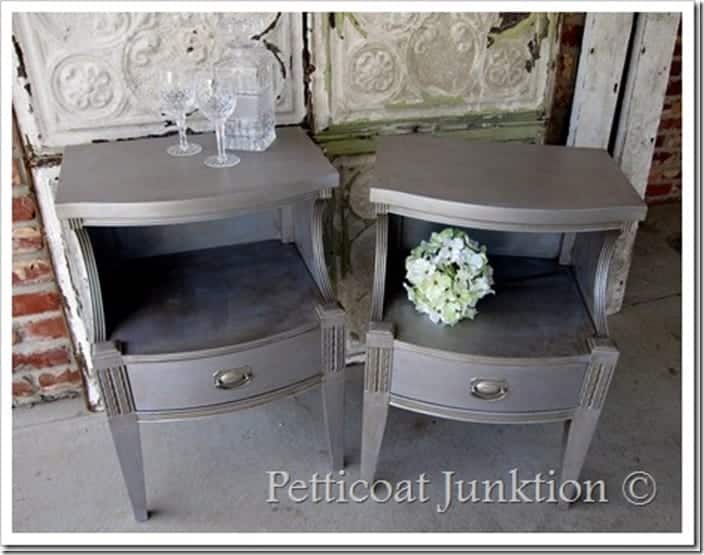 Another paint type popular with you guys is the silver metallic Martha Stewart Precious Metals paint. Too bad they don't make it anymore. I painted the pair of nightstands silver then gave the paint an antiqued look using Caromal Colours Toner.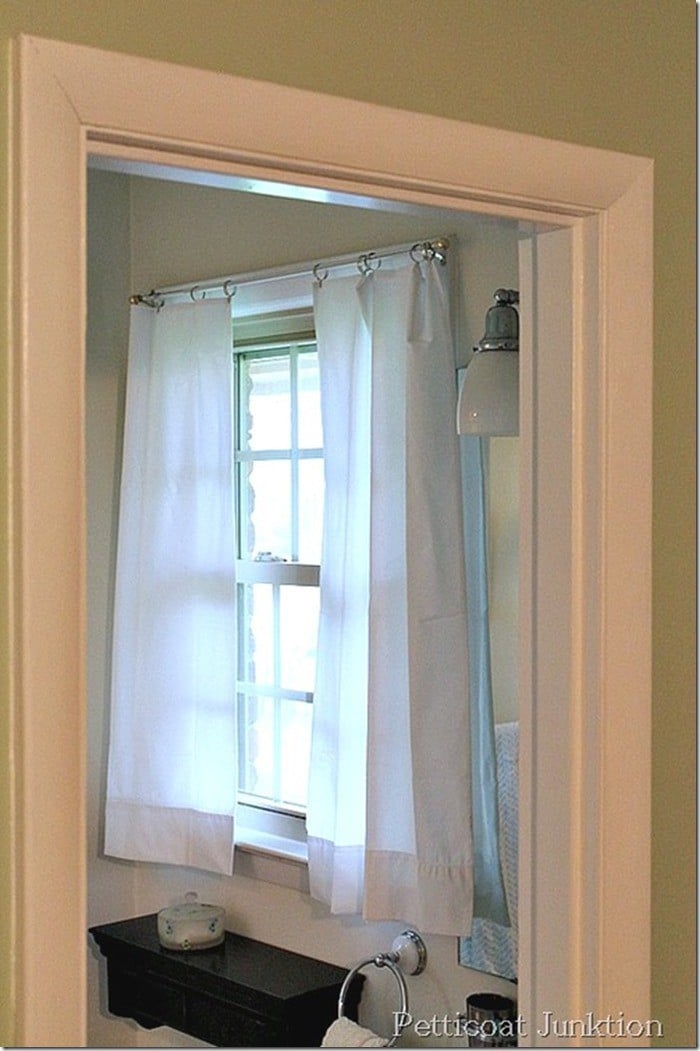 I shared this project 3 years ago. I put the curtains up and decided to post about the project even though it wasn't painted furniture…..which was about all I posted about at the time.
The window in our small bathroom ….is small! I finally decided that king size curtains would work perfectly so I bought a pair at Walmart and hung them with clips. Easy-Peasy.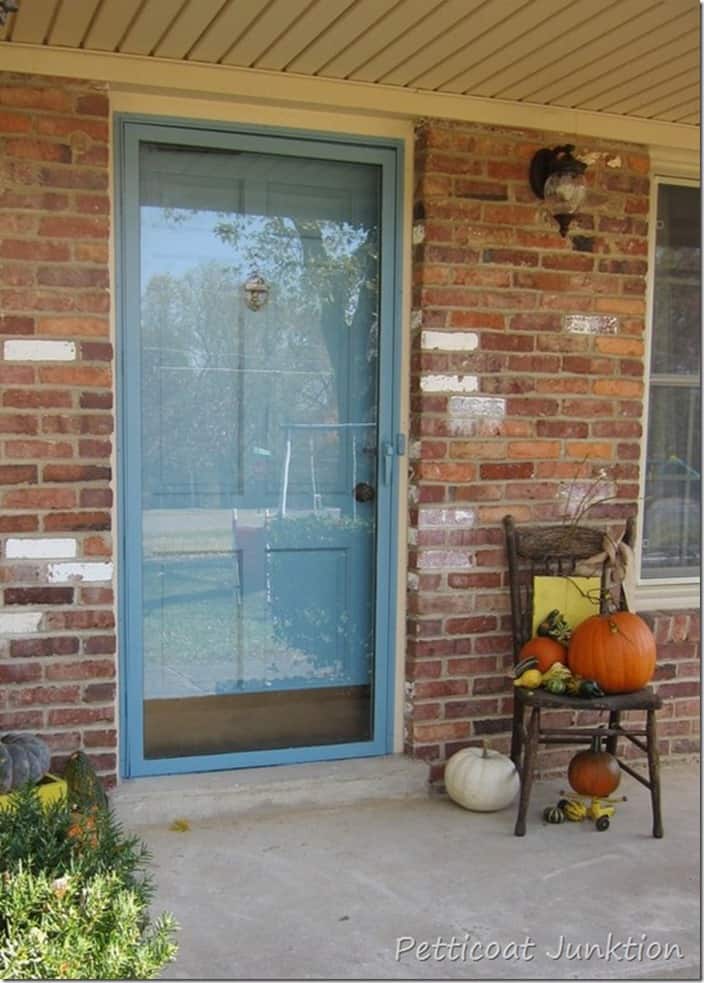 When I painted the front door blue the white metal framed glass storm door stood out like a sore thumb. I decided to paint it blue too. I wasn't sure if the paint would hold up on the metal but it still looks as fresh as the day I painted it in 2012.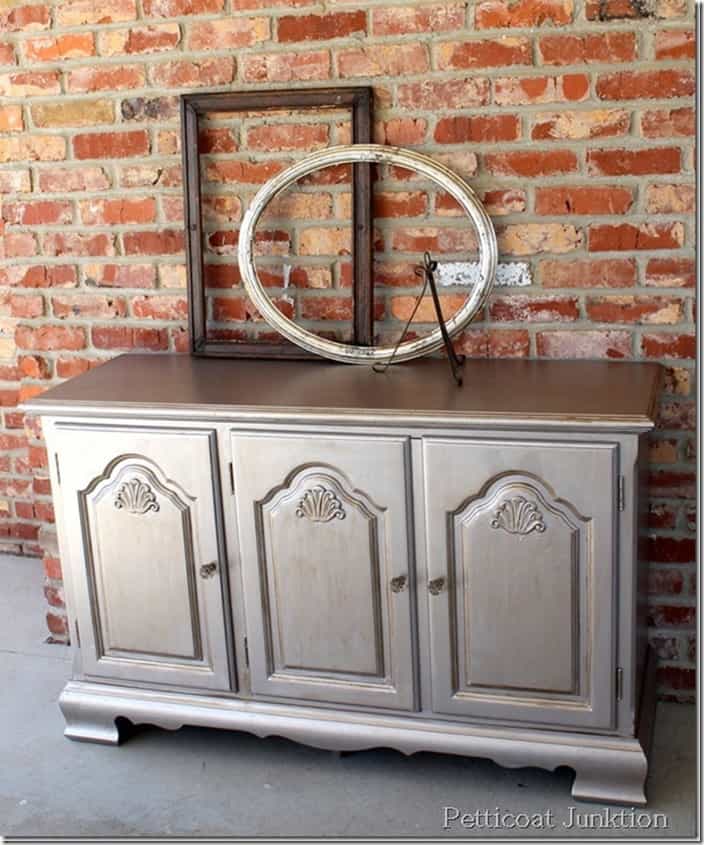 This project features a complete tutorial on the silver paint. Since the Martha Stewart Metallic paint is no longer available I use metallic paint from Modern Masters.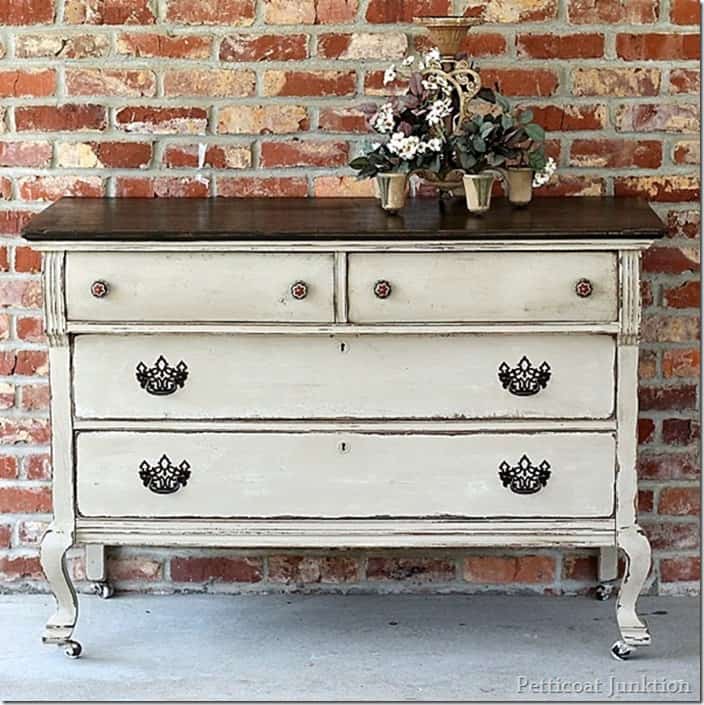 This post is rather lengthy but full of good information. I was happy with the two-tone paint finish and I love the furniture style. I wish I could find more pieces like this one. The JTS did have to do a lot of repairs on it before I could start painting.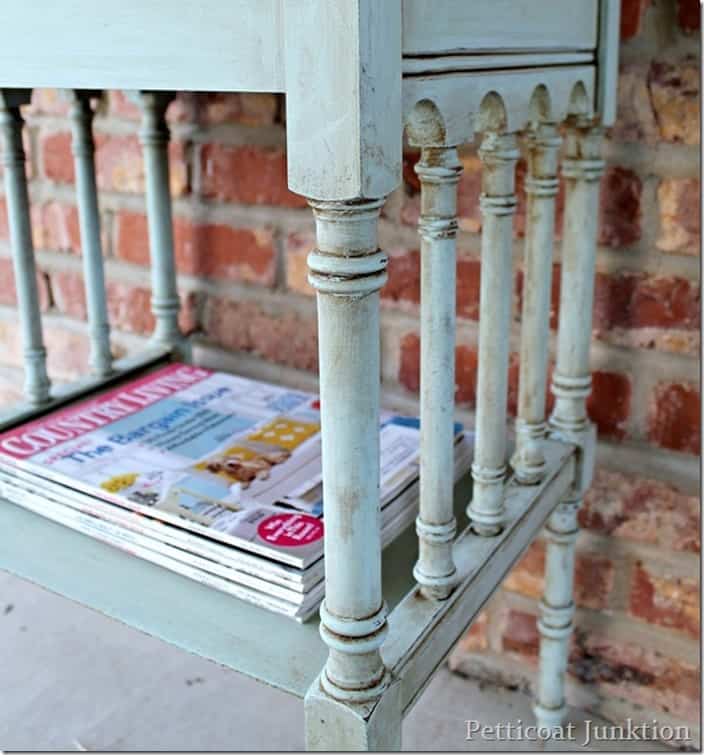 I used Caromal Colours Toner to age the milk paint finish on this table. This is a complete and detailed tutorial on using the toner to antique or age furniture.
And now for the most viewed…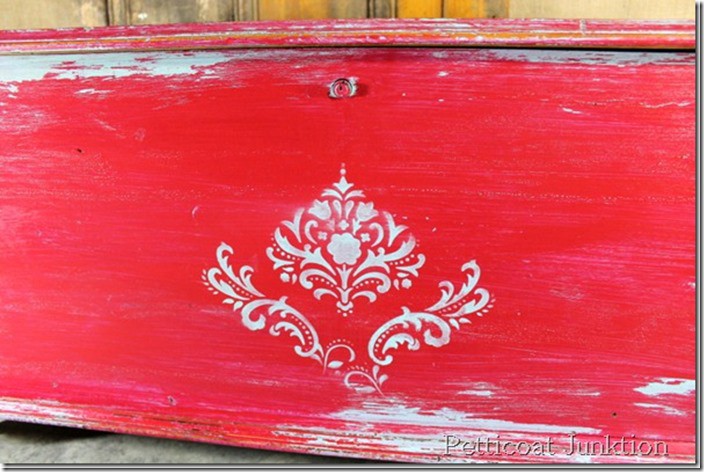 Did you know you can use Vaseline to distress furniture? You can. The complete tutorial can be found by clicking the photo above. I have to admit that every time I look at this post I cringe…..the photos are horrible. I guess it doesn't matter though. It's the technique and detailed tutorial that counts. I painted this piece in 2013.
Which project is your favorite…..or is there another of my projects you like the best? Leave me a note!
Time to tour the other top 10 posts! Join me by clicking the "pink links" below. Have a great day!
Domestically Speaking | Cupcakes and Crinoline |Our Southern Home
My Uncommon Slice of Suburbia | Yesterday on Tuesday | Mad in Crafts
Petticoat Junktion | Roots North and South | DIY180
Inspiration for Moms | Restoration Redoux | Create & Babble
2 Bees in a Pod | Garden Matter | Artsy Chicks Rule
Cottage at the Crossroads | Confessions of a Serial Do-it-Yourselfer | Sweet Pea
Plum Doodles | What Meegan Makes | Clean and Scentsible
Hunt & Host | Brandywine Cottage | Day to Day Adventures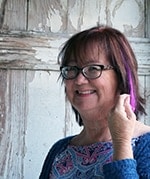 Kathy Owen is the creative guru, content creator, photographer, and worker bee behind the popular Home Décor DIY Blog Petticoat Junktion. She focuses on reinventing found treasures and decorating her home Get all the nitty gritty on Kathy here.