Recycled plastic water bottles spray-painted and decorated with ribbon make beautiful vases. They are perfect for Spring table centerpieces, baby shower displays, wedding table decorations, or everyday decor. Don't throw away plastic water bottles. Make water bottle vases. You could drop them in the recycle bin but that's no fun. I like the vase idea.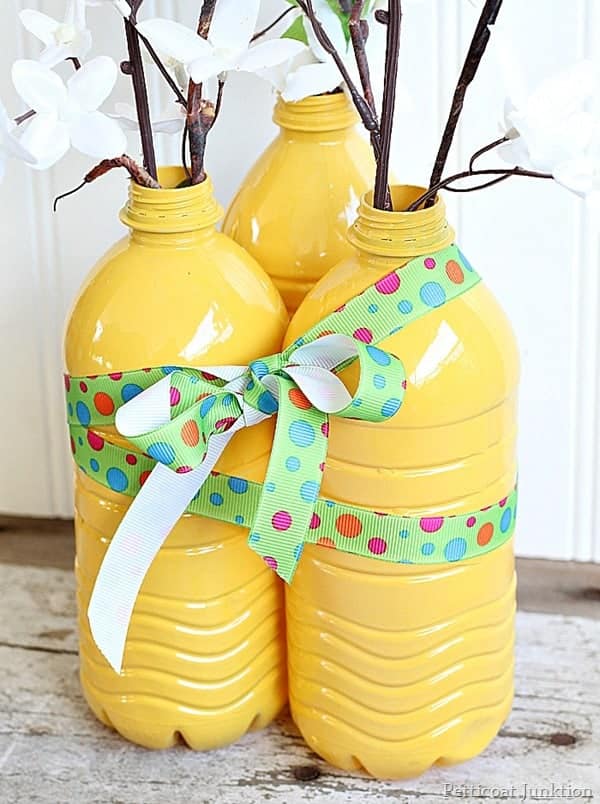 Some people might think the vases are trashy but hey, cheap decor. Why spend a bunch of money on something you may decorate with for only a few weeks?
I usually drink bottled water and the hubby drinks water out of the tap. Instead of bagging these up for recycling I decided to spray paint them. Spray paint is my friend.
I removed the labels but not the part where the labels are glued to the bottle. See the little white pieces. This is just a quick fun project and I didn't see any need in spending half the day removing glue from plastic bottles.
One tip….fill the bottles halfway up with water so they don't tip over while you're spray painting them. They're pretty lightweight when empty.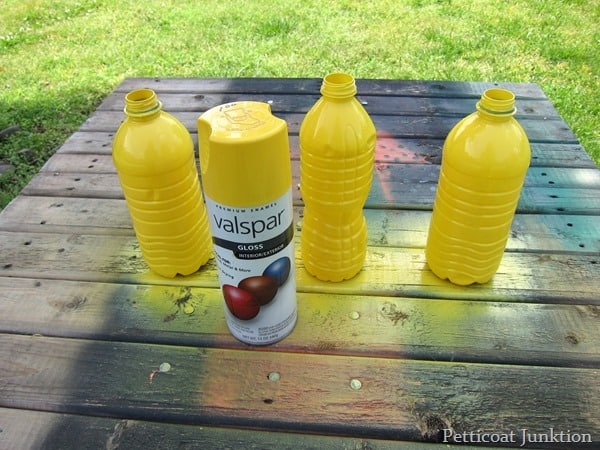 I spray-painted over everything and the paper didn't show. But the black stamped-on date shows through the paint. It's a good thing the date is small. I don't know how many coats of paint it would take to hide the date…..but I'm telling you….it would take a lot. The Valspar spray paint cost me $1 at Habitat Restore. It was a full can too.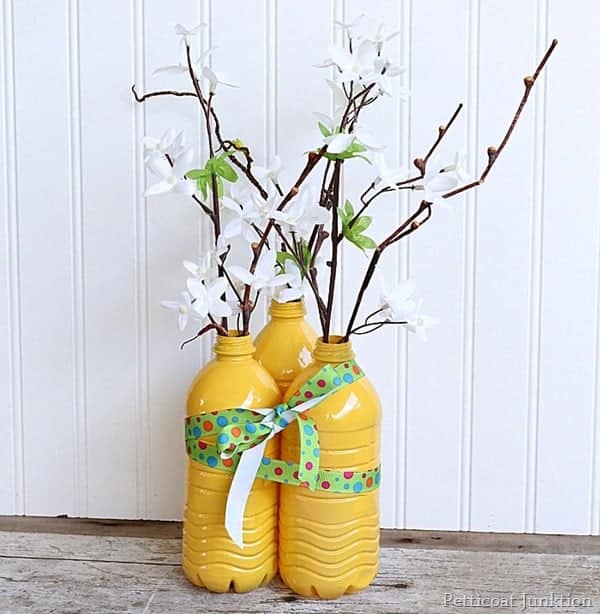 I added artificial flower branches. The Spring flowers in my yard are looking a little puny right now. And I photographed the bottles all nicely lined up in a row but I didn't like the way they looked so I grabbed a roll of grosgrain ribbon.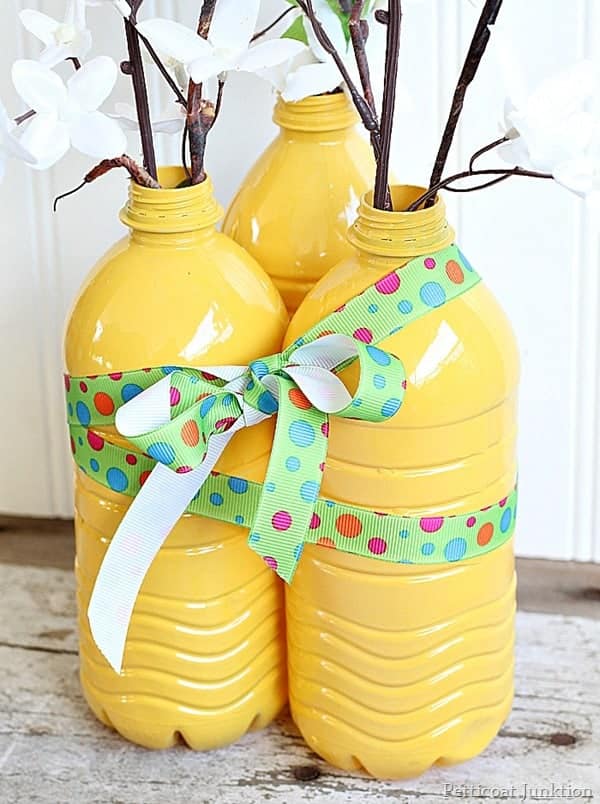 I circled the bottles with the ribbon and then did a little angled thing with them and finished it off with a bow. You guys know I like to do the unexpected. Always group decor in odd numbers.
Ok, now ya'll tell me…is this project trashy or classy? Be honest, but be nice. Thanks for stopping by and have a great week, Kathy
Author: Kathy Owen (Petticoat Junktion)
Kathy is the founder of PetticoatJunktion.com, a home décor blog focused on repurposing and upcycling furniture, old hardware, rusty stuff, and thrifty finds into unique home décor. Kathy's projects have been featured on the Home Depot Blog, Plaid Crafts, Behr Designer Series, and in numerous magazines. Read more about Kathy here.