Today is craft day…..and I made the cutest DIY Picnic Caddy using a thrifty, repurposed cardboard drink carrier. You would be surprised at the things you can recycle if you give it a little thought.
I'm patting myself on the back over this project. It turned out great. Ya'll know how I love bright colors! The caddy is stenciled and I don't want you to be afraid of stenciling. You just need to know the secret and I have you covered.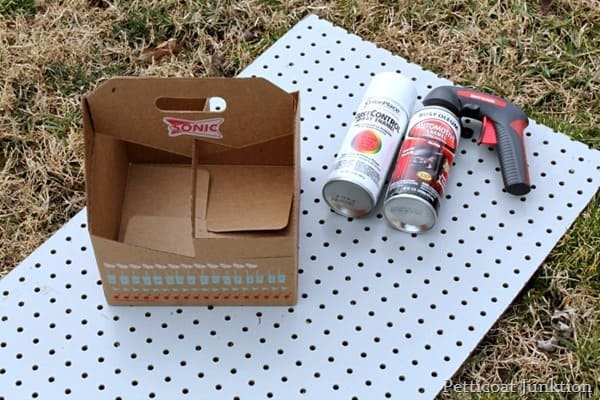 This is how the "caddy" started out. A couple of weeks ago when the granddaughters were at the house for the day…we made a fast food run. Those girls keep us hopping, and there's never time to cook. Anyway, I thought at the time that I would do something fun with the drink tote. It seems a waste to throw it away, and I'm all about recycling.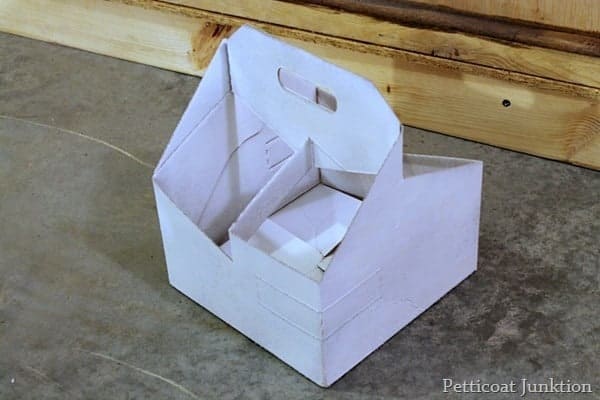 I first spray painted the repurposed cardboard drink caddy white. I thought the tote would break down into a flat box, but no, not this one. I spray painted it as is. It took a couple of coats to cover the box. Let the spray paint dry in between coats of paint.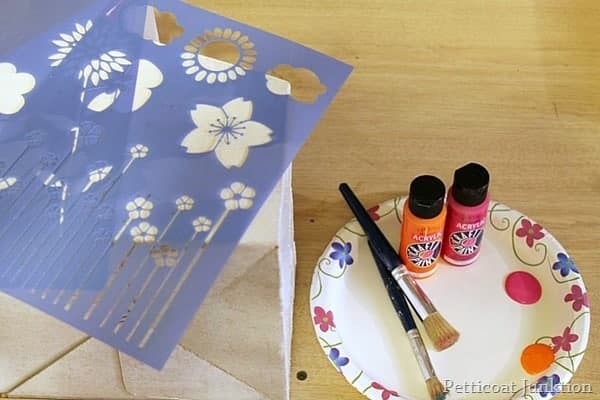 Then came the fun part….adding color. I grabbed a couple of stencils, brushes, and pretty acrylic paints. I went with a floral design but anything graphic would work too. Read my stencil-like-a-pro post here....Special Stencil Technique Layering Paint Colors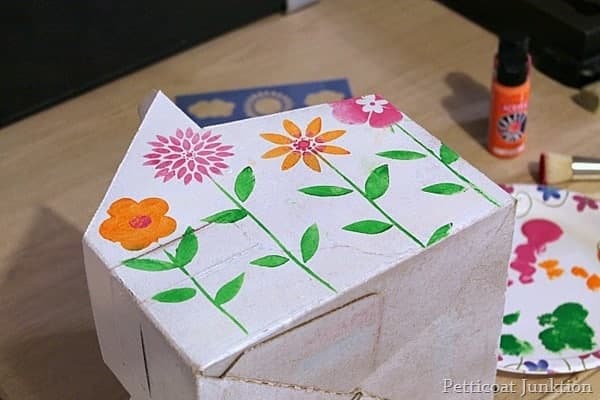 Stenciling is so easy, and I never worry about it being perfect. I put color over color on some of the flowers and just went with it!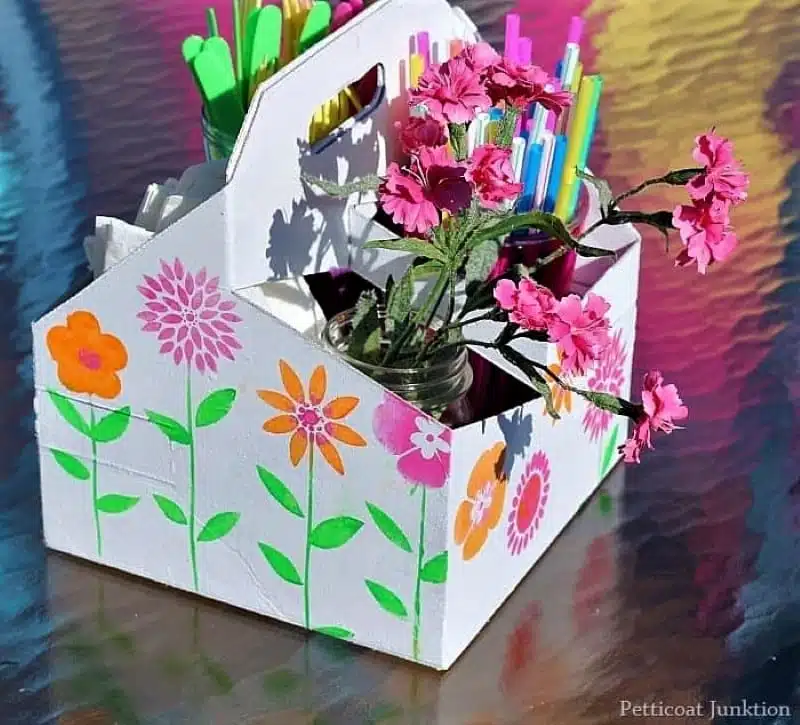 Selecting the bold colors and playing around with the colors on the various flower designs was fun.
I gathered some things from the kitchen to fill the caddy. I used plastic drink glasses and mason jars to hold the flatware, straws, and flowers…the napkins were on their own! The flowers are faux, but you could totally use real flowers.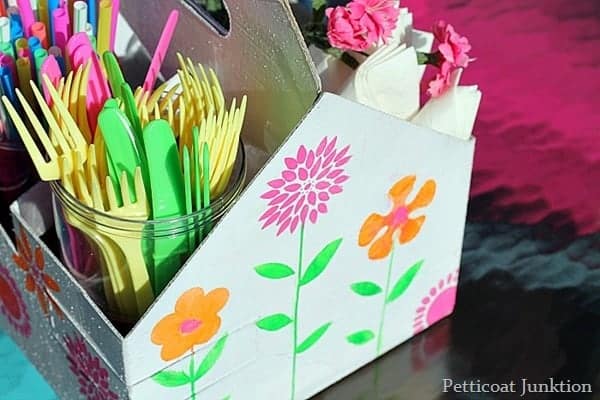 I planned to buy some colorful solo cups and paper plates and do a full-on display on my patio table, but the weather wouldn't cooperate. I was doing a practice run when I took these photos, not expecting to use them. But I never got another chance to take photos with the sun shining.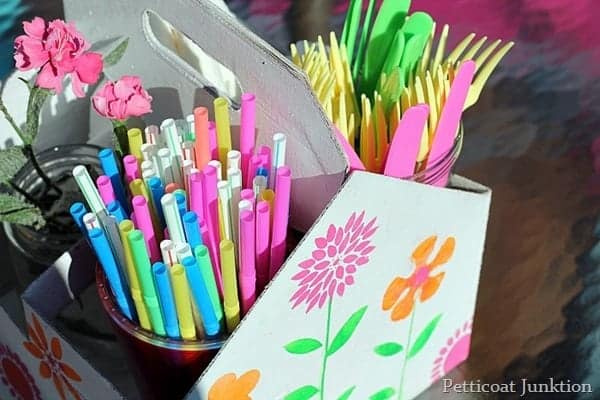 The caddy/tote would also be perfect for holding crayons, pencils, and such. Muli-Purpose.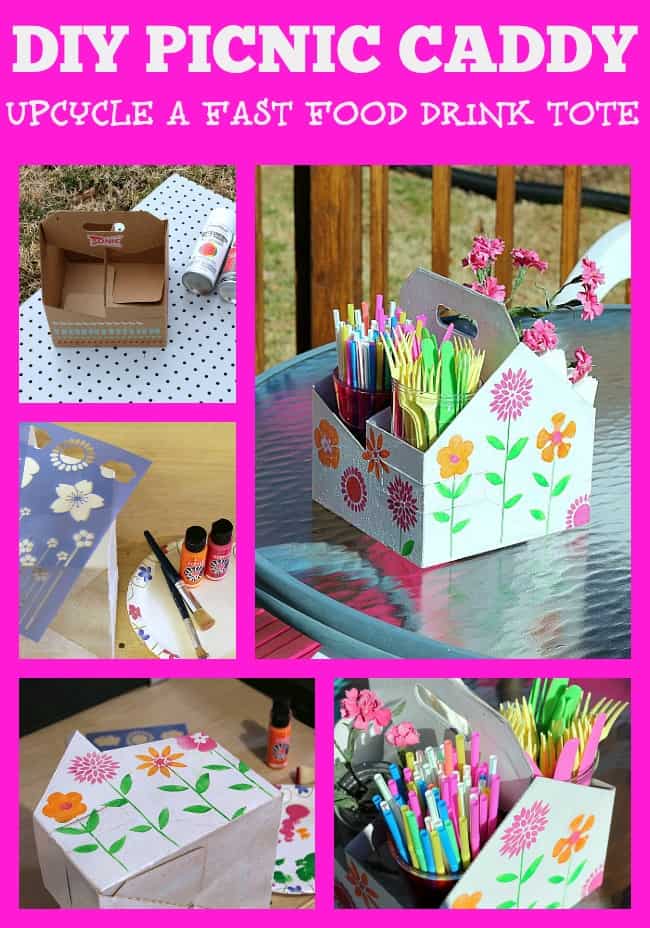 I stenciled a metal picnic tote you can see here......Painted Metal Caddy Is Handy For Just About Anything
Author: Kathy Owen (Petticoat Junktion)
Kathy is the founder of PetticoatJunktion.com, a home décor blog focused on repurposing and upcycling furniture, old hardware, rusty stuff, and thrifty finds into unique home décor. Kathy's projects have been featured on the Home Depot Blog, Plaid Crafts, Behr Designer Series, and in numerous magazines. Read more about Kathy here.