Good or Bad DIY Projects
Bad DIY projects? I would love your opinions after you look at the photos. You guys know how hard I work on my projects often times changing the project plan as I go. I take photos, write about the details….and share everything here. I very seldom post a project if I don't like it. I do it over until I do like it. Some of my projects are a little over-the-top and I know they are going to be controversial. It's surprising the emotions furniture can evoke, lol.
I like for you guys, my readers and friends, to comment on the projects and share your opinions. I don't care if you don't like a project. You probably say nice things when you want to say "What in the world was she thinking?". It's usually the Facebook people who can get a little ugly with the comments. Heck, I don't even mind that usually. There has been once or twice when comments on Facebook got too ugly and I had to hit delete.
Good or Bad DIY Projects
I'm sharing some of the "love or hate" diy projects today. Some of the makeovers are from 2012 so you may not have seen them. If you would like to see the complete projects just click on the photos or the pink text links.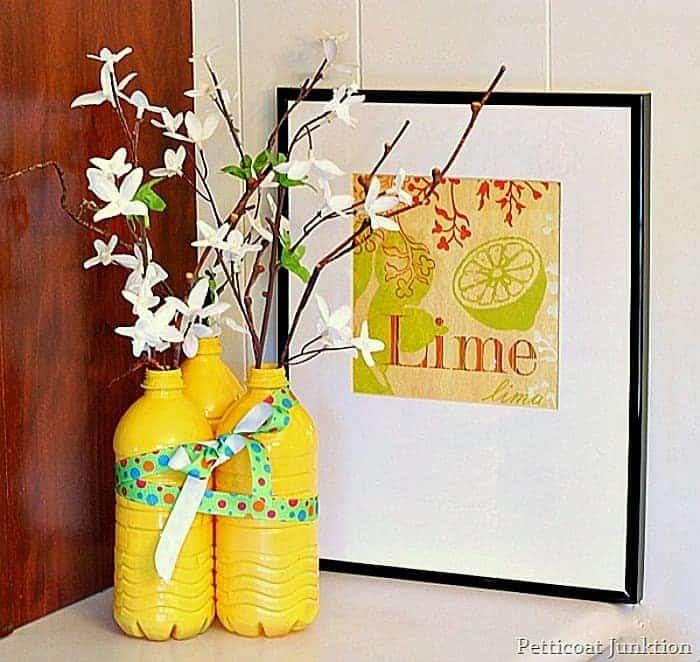 The plastic water bottle recycle is the only craft project in the bunch. I spray painted the bottles with bright yellow paint and bundled them up with the pretty ribbon. The flower twigs finished the look. You would not believe how many people went crazy over painting water bottles. Some even commented on the fact that I wasn't being environmentally friendly by drinking bottled water.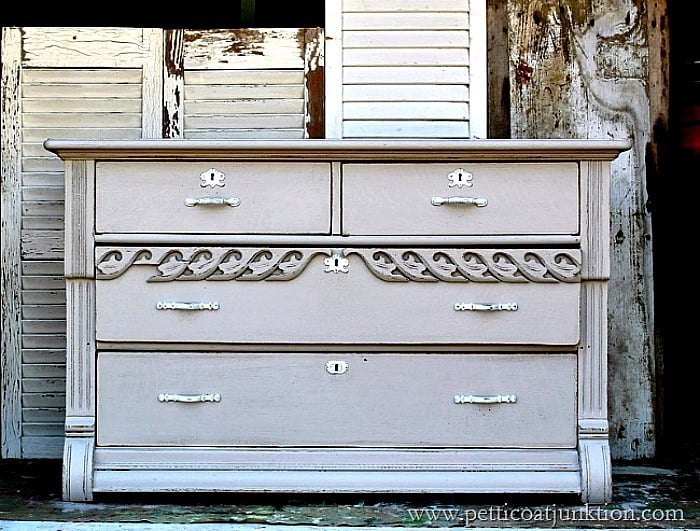 This makeover was for a client. It was her piece of furniture and she wanted it painted. The antique dresser was in pretty good shape and I got a lot of flack for painting it. I just give the client what they want. Personally I didn't mind painting it but I wouldn't have chose the hardware the client did. I would have went with something more in style with the antique dresser.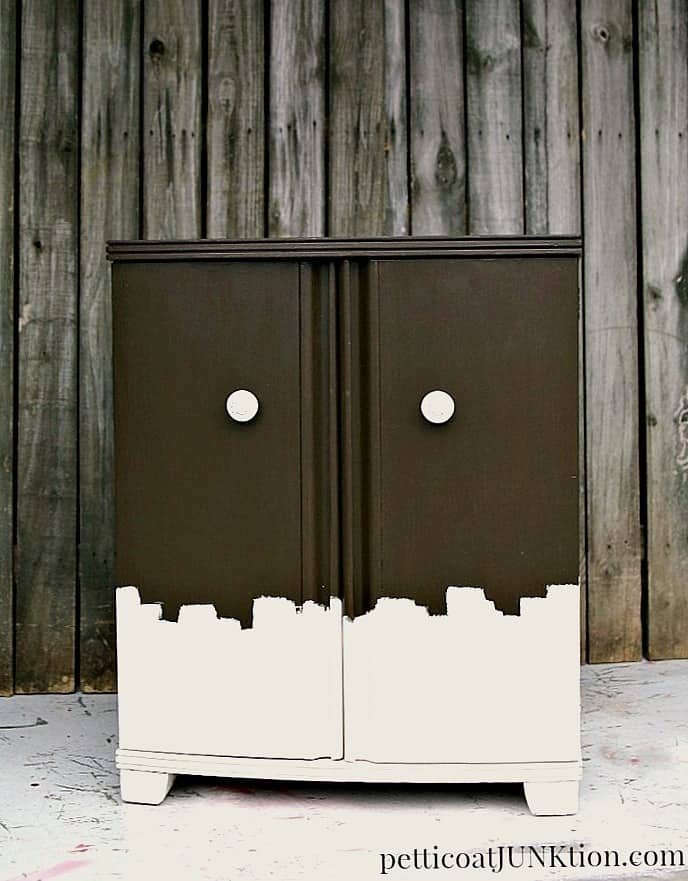 The chocolate inspired piece is more recent. I saw a photo in Better Homes and Garden Magazine that inspired this look. I still have this piece for sell in my booth. I guess I'm the only one that likes it.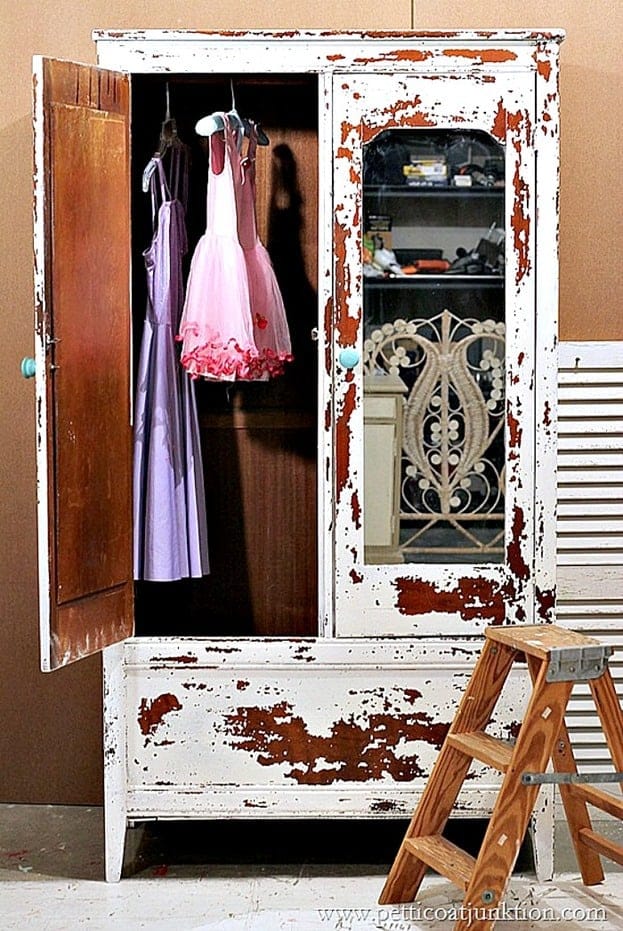 This is the only one of the bunch that I wasn't sure of ….and still am not. I couldn't decide if I loved it or hated it. After I set it up in the shop and stepped back for a look, I decided I liked it. The finish was achieved with Miss Mustard Seed's Milk Paint.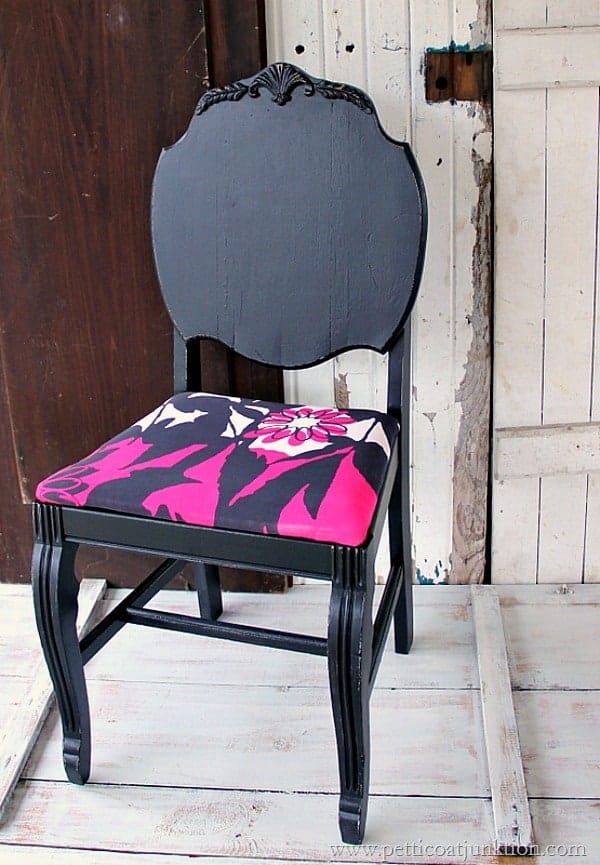 This project surprised me. I thought everyone would like it ….no. I don't think it was that they didn't like it as much as they wanted to see something on the back of the chair. That is a big black blank space! Read the original post to see what I used to cover the chair seat.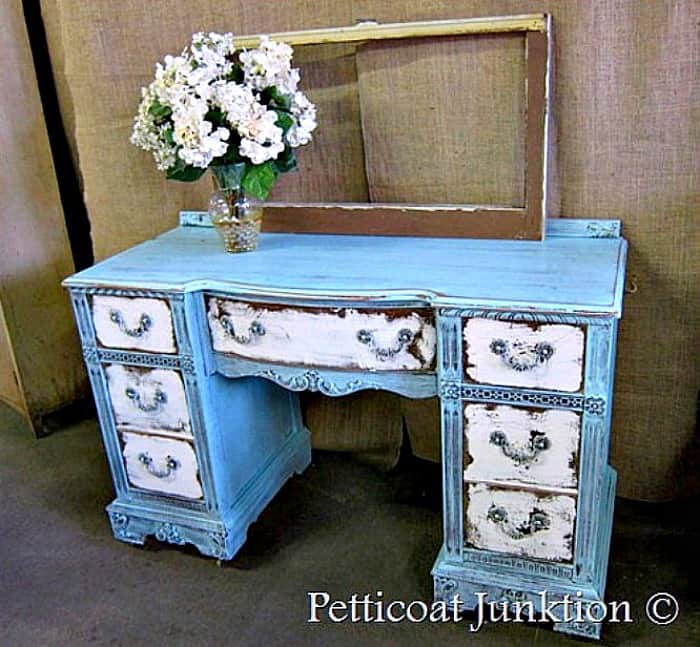 The desk is a project from 2012. My photography skills back then were definitely lacking. This photo was taken at the shop where I have my booth. I heavily distressed the white drawer fronts using an electric sander. It may be too distressed for some.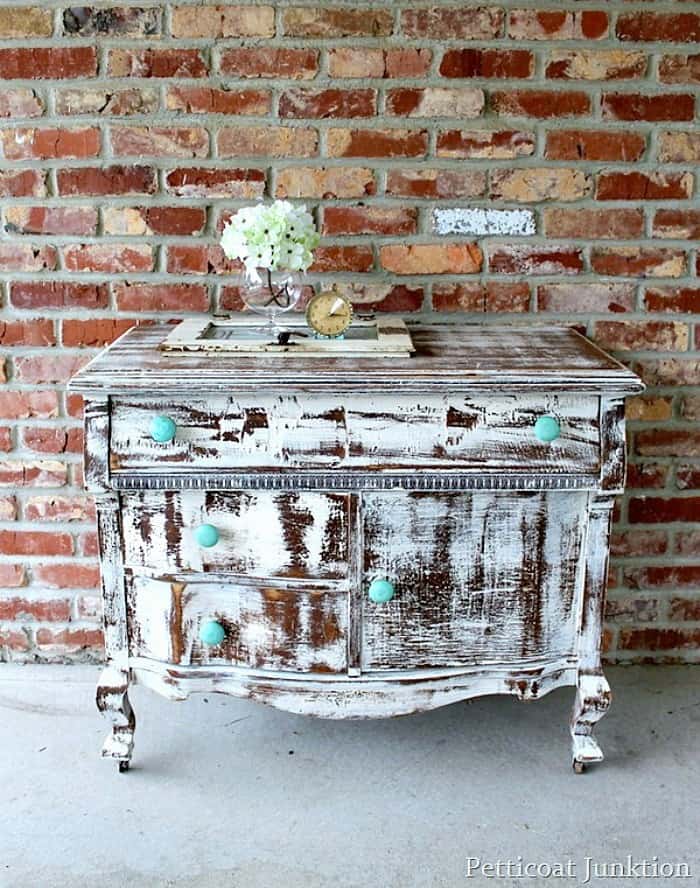 If you are a regular here you've probably seen this piece more than once. I still love it. Wish I had the dresser….. but I sold it. One thing I would have done differently is to put the dresser in front of a solid backdrop. Another photography mistake. Also, all of the furniture looks different in person. At least to me. I see the furniture and I look at the photos and the visual is just not the same. Do you know what I'm talking about?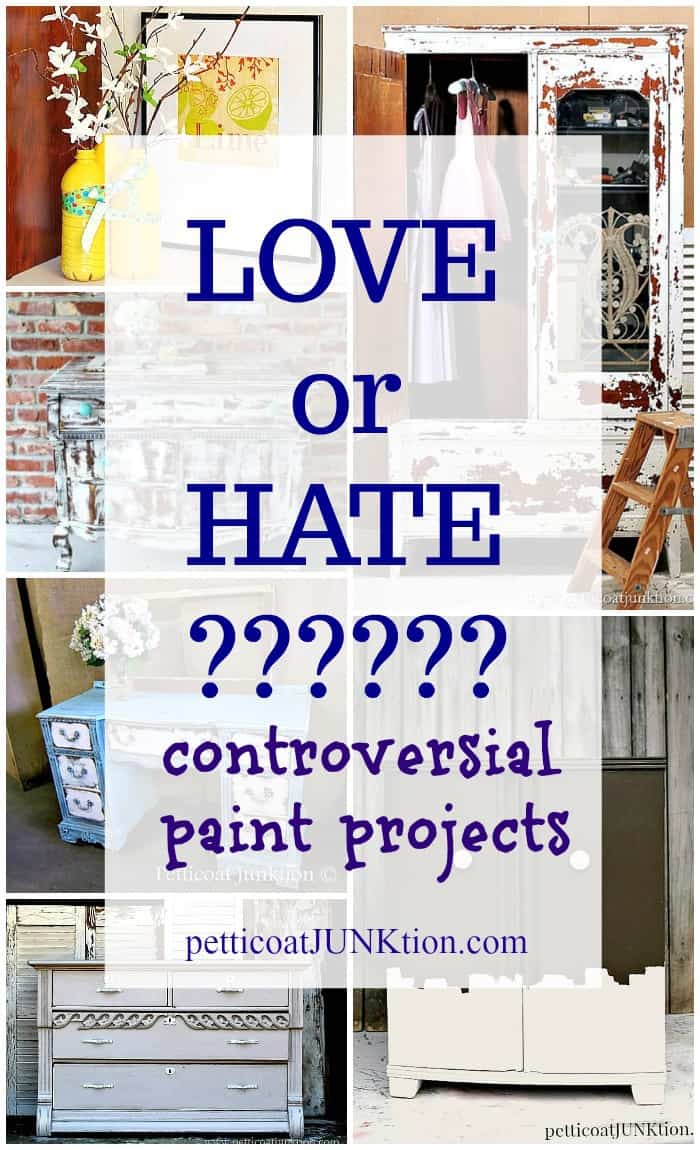 I get questions about my favorite DIY supplies and tools. You can find them on the Petticoat Junktion Amazon Page by clicking here.
That's it. Just thought you guys might want to go back in time and look at these controversial projects. Let me know what you think. I looove reading your comments. Have a great day and I'll see you next week.