Charlie Brown Would Love My Silver Tinsel Tree
When I found the scraggly Charlie Brown Christmas Tree I knew a silver tinsel tree was in my future. I love metallic silver and tinsel and Christmas trees so why not put all those things together. Of course I had to spice up the silver with some fun brightly colored ornaments.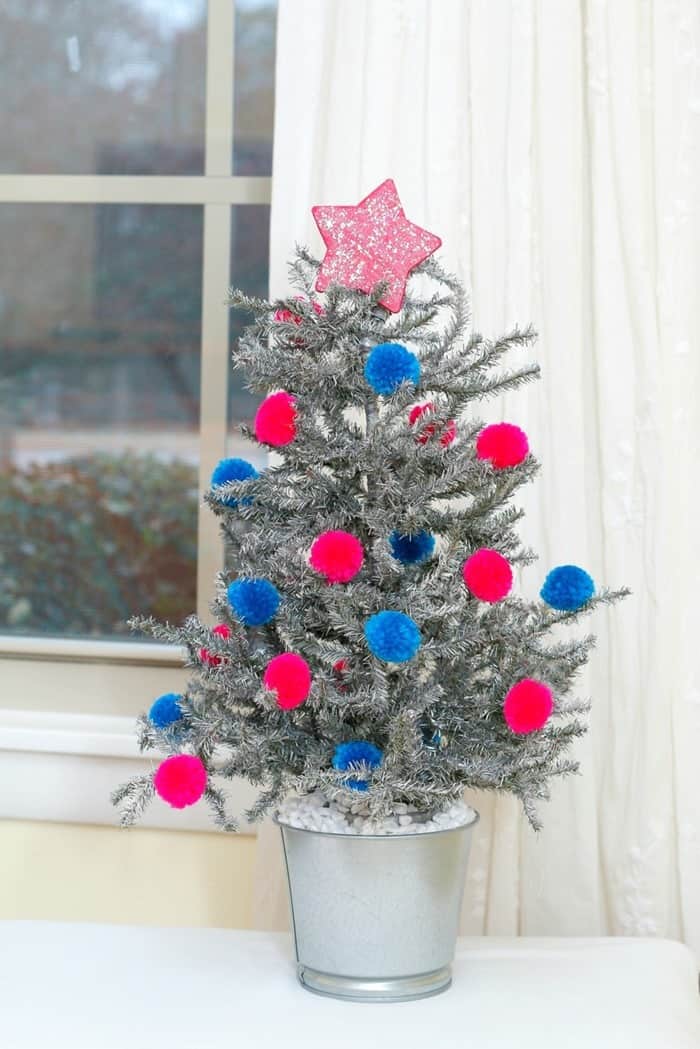 Silver Tinsel Tree
I only had one issue with the project and that was finding the perfect tree topper. The third time was a charm. More on that later.
My silver tinsel tree makeover is one 25 Christmas Ideas shared this week by some of my favorite, highly creative, DIY bloggers. We have everything from mantels to trees to recipes. The tour links are at the bottom of this post.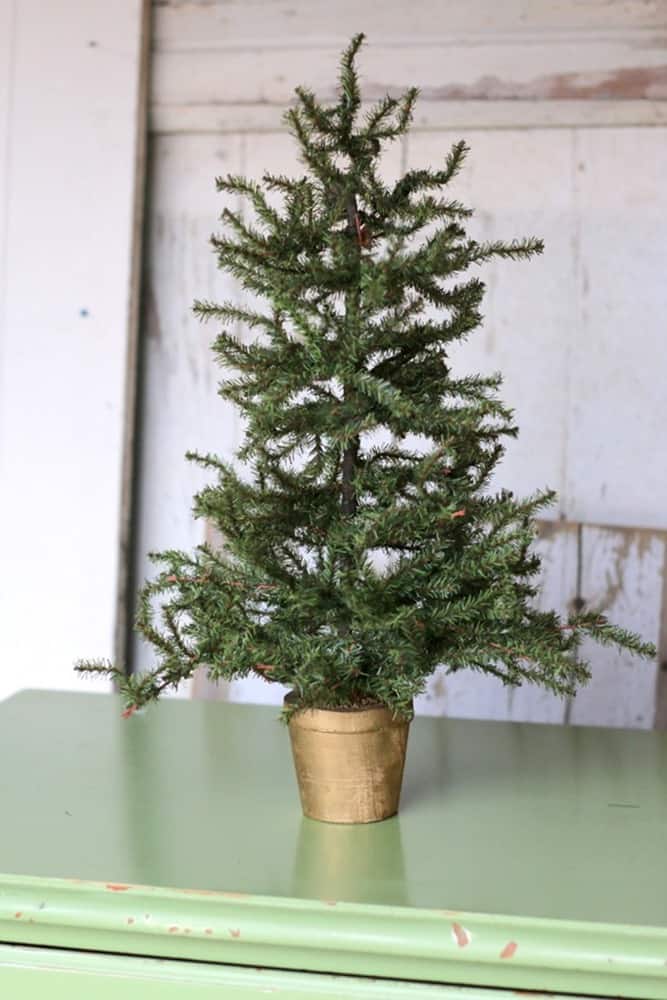 I found the little shabby tree, the Charlie Brown tree, at the shop where I have my booth. It was $2 and I thought that was a pretty good deal.
I brought it home and the thing started falling apart. I picked the tree up from my work table to move it and the upper part of the tree came off. I guess I shouldn't have picked it up by holding the very top branch of the tree. The top branch wasn't all that came off. The more I worked with the tree the more branches that fell off.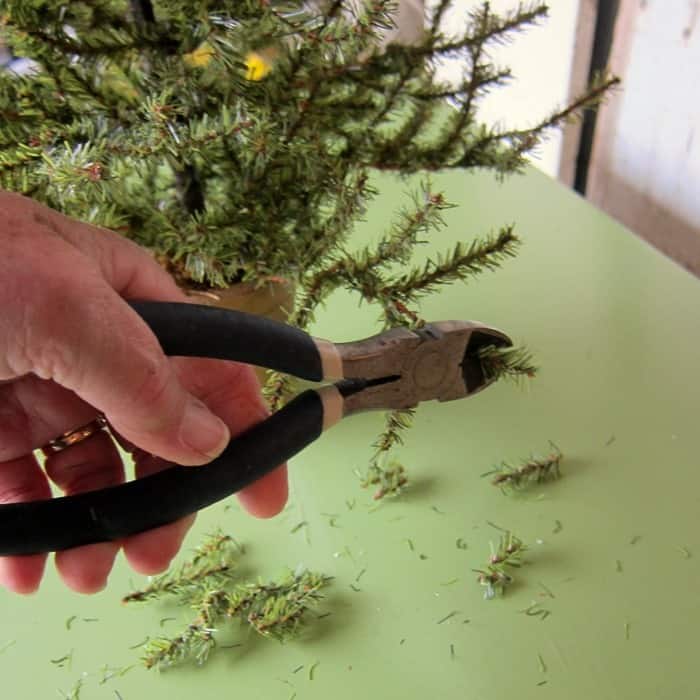 After putting everything back together with the help of pliers and glue I had to do a bit of tree trimming ( and I don't mean decorating).
Some of the branches were really long and stuck out too far. A clip here and there with the wire cutters took care of those.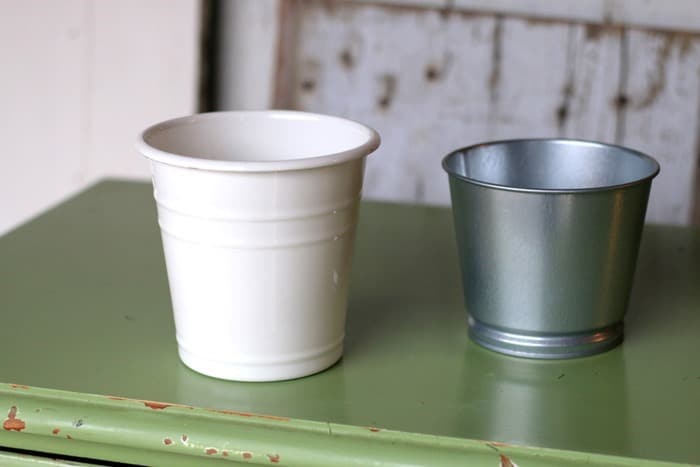 The original pot for the tree was way too tiny. I pulled these two from my stash. Both of them happened to come from IKEA. I bought them a while ago and on different shopping trips so I don't remember the prices but I know they had to be on sale or clearance for me to buy them. I wasn't sure which one would work the best until I got the tree painted.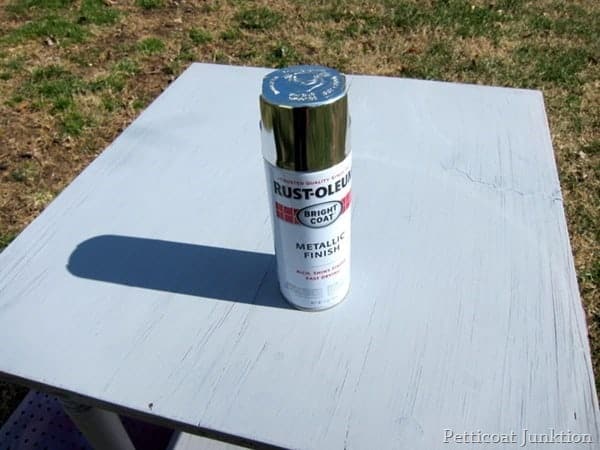 I used my favorite Rust-Oleum Bright Coat Metallic Spray Paint, Aluminum color. I don't usually paint furniture with spray paint but I have with this one.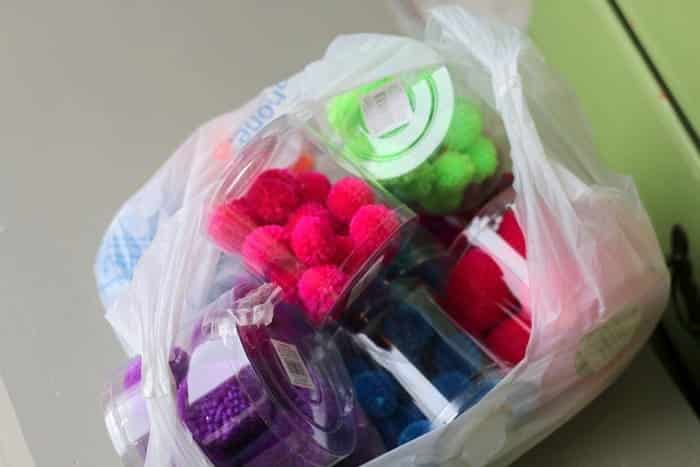 The big bag of pom pom balls came from Michaels. I found them on clearance at the end of summer. I think they were maybe $1 per container…..or less.
I love yarn pom pom balls but I hate to make them. I have several ideas for projects with the pom poms. But right now some of them are going to become ornaments.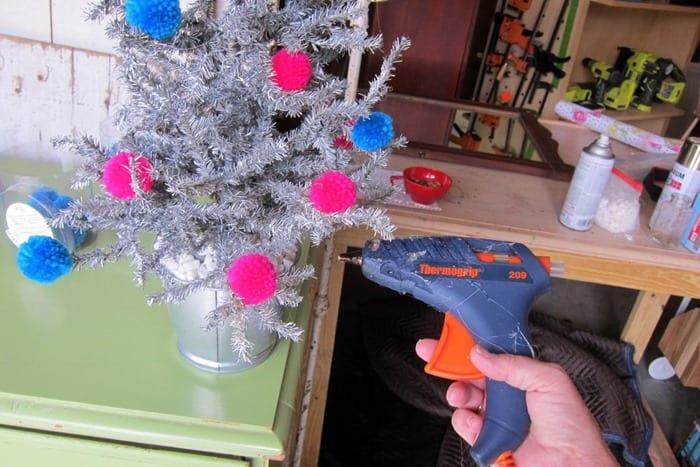 I put them on the tree with hot glue. I used the blue and fuchsia pom poms and I have a bunch left for the other projects I have in mind. Sofi suggested I put them on picture frames. She comes up with some great ideas.
As you can see in the photo I decided the silver bucket worked best for the tree. The color and size were perfect.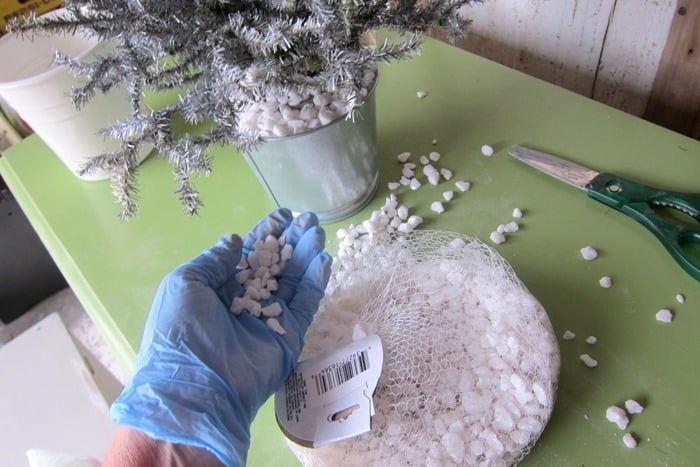 I set the tree, original pot and all, into the silver bucket. I had a ton of fun adding the white rock to the bucket trying to keep the tree centered (sarcasm). I was wearing the latex gloves because as happens in a lot of my projects.....I couldn't wait for the tree to dry completely. No patience.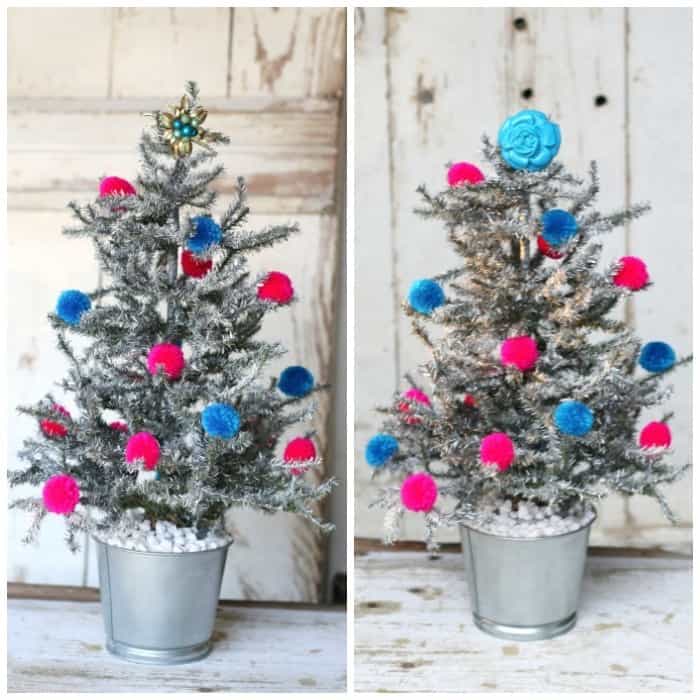 My only issue was the tree topper. I first selected a couple of pieces of junk jewelry, glued them together, and put them on the tree. At that point, I thought I was done. I took photos of the finished tree. I didn't like the topper.
Next I found the plastic rose knob in my used furniture knob stash and spray painted it blue. I didn't like that either. A Christmas tree needs a star topper, right?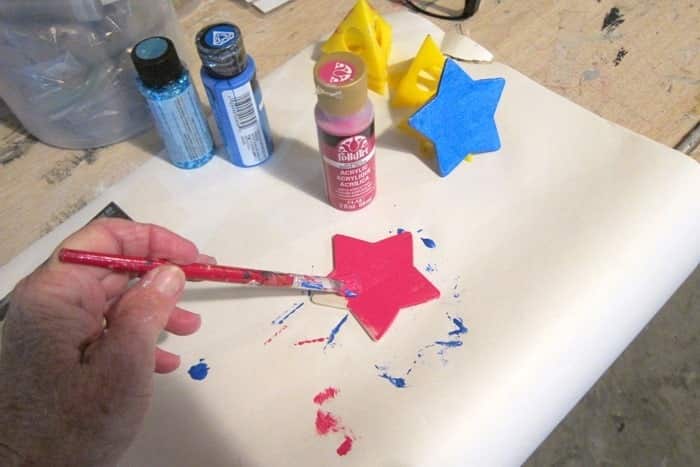 The only thing I didn't have in my stash was a star for the tree. I had tiny wood stars but bigger is always better. I bought a package of wood stars at Hobby Lobby.
I painted one star fuchsia and one star blue. The fuchsia star looked the best with the tree but it needed a bit of sparkle. A brushing of Glitterific Acrylic paint and it was ready for the tree.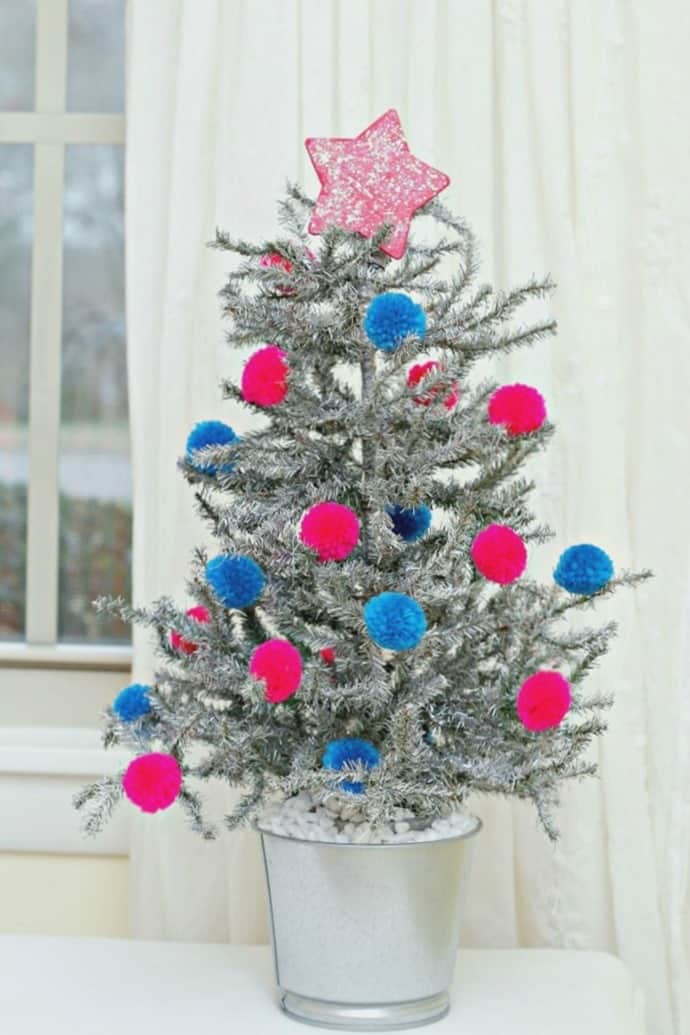 All done and sitting in the granddaughters bedroom. What do you think of the new look? How about the pom pom ornaments?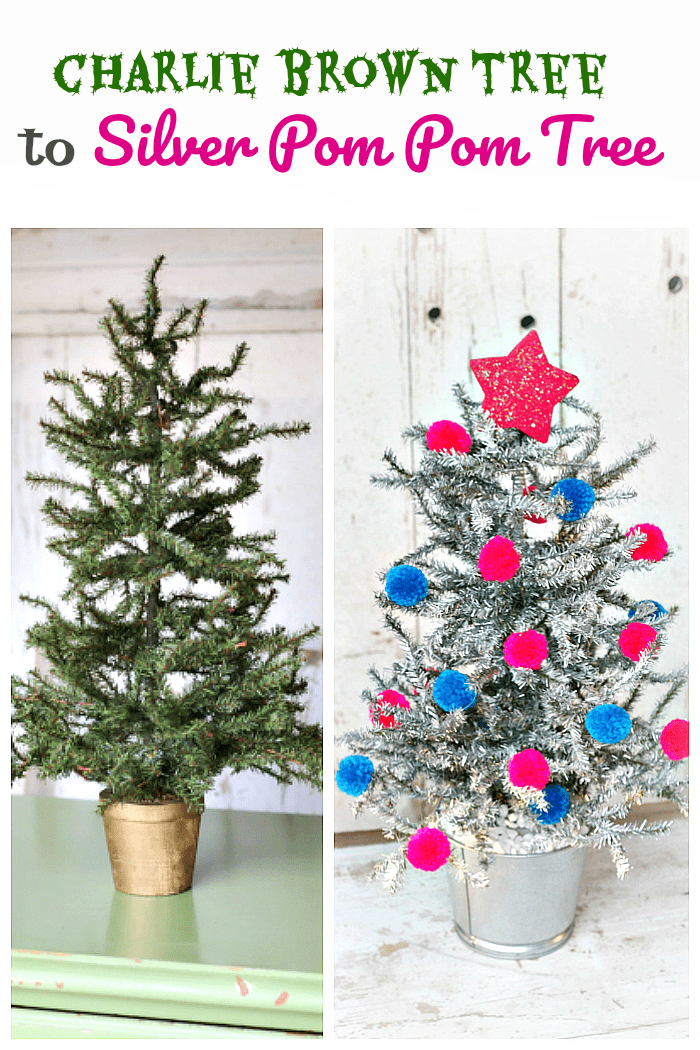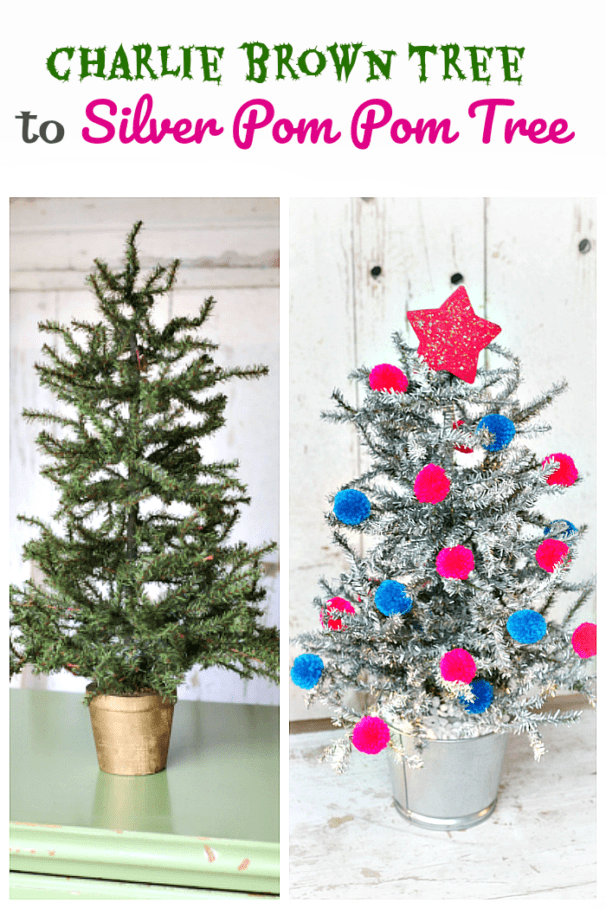 Time to take the Christmas Ideas Tour. If you missed the Monday and Tuesday tour be sure and check them out. There are some awesome ideas (bookmark this page if you don't have time for the complete tour today). The links for each tour day are below the images.
Monday - Christmas Mantel Ideas
Tuesday - Christmas Tablescape Ideas
Far Above Rubies // Atta Girl Says // 2 Bees in a Pod //  Weekend Craft // Twelve on Main (not pictured)
Wednesday - Christmas DIY/Craft Project Ideas
Thursday - Christmas Tree Ideas
Friday - Christmas Recipes
As always, thanks for being here and have a great day, Kathy
Author: Kathy Owen (Petticoat Junktion)
Kathy is the founder of PetticoatJunktion.com, a home décor blog focused on repurposing and upcycling furniture, old hardware, rusty stuff, and thrifty finds into unique home décor. Kathy's projects have been featured on the Home Depot Blog, Plaid Crafts, Behr Designer Series, and in numerous magazines. Read more about Kathy here.