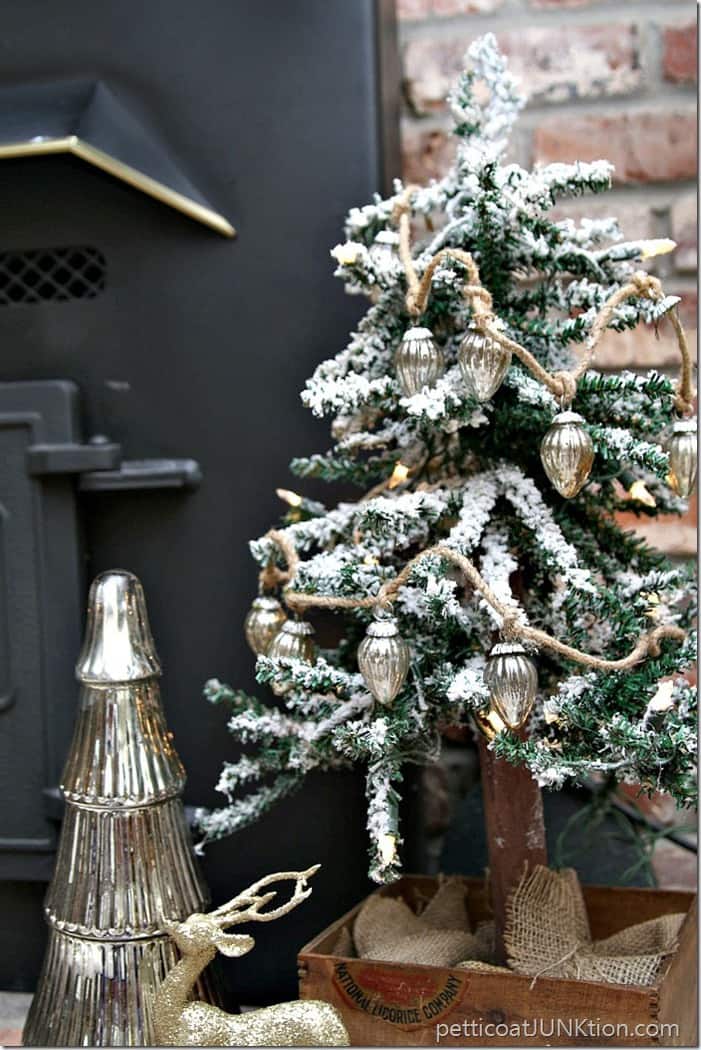 Flocked Tree
Home For The Holidays Tour
I found this cute flocked tree at Old Time Pottery. I was buying the "cork" leaf poinsettias to make my Christmas wreath and couldn't pass up the tree. I wanted 3 of them but settled for one. The tree has been sitting on the hearth waiting for me to get it in gear.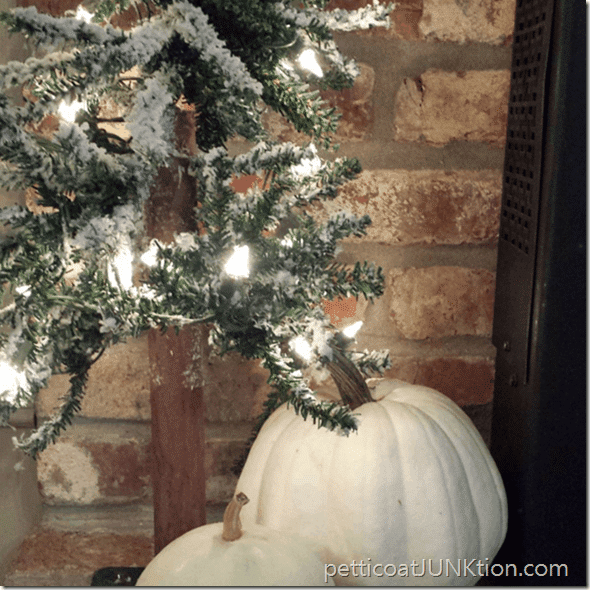 The tree had a flat metal base. This is a photo I took right after I purchased it. You can just barely see the metal plate.
I went down to the work shop and found the antique wood licorice box I bought at My Favorite Junk shop a month or so ago. I knew I would find a use for it. I gathered a few pieces of burlap for a tree skirt. The wood box and the burlap skirt really dress up the tree.
The large Mercury glass Christmas tree and the mercury glass bulb garland are flea market finds. The tree was $6 and the garland was $4. The deer is a thrift store purchase. I think it was $1.
I'm part of the Home for the Holidays tour today and sad to say but I'm still in the middle of a Christmas explosion. There are Christmas decorations taking up table space and floor space all over the house. I may get around to putting it all in place….and I may not.
As I was unpacking Christmas decorations I added a few things to my Vintage Rustic Mantel decor. You guys saw it last week but this is a new and improved (?)  version.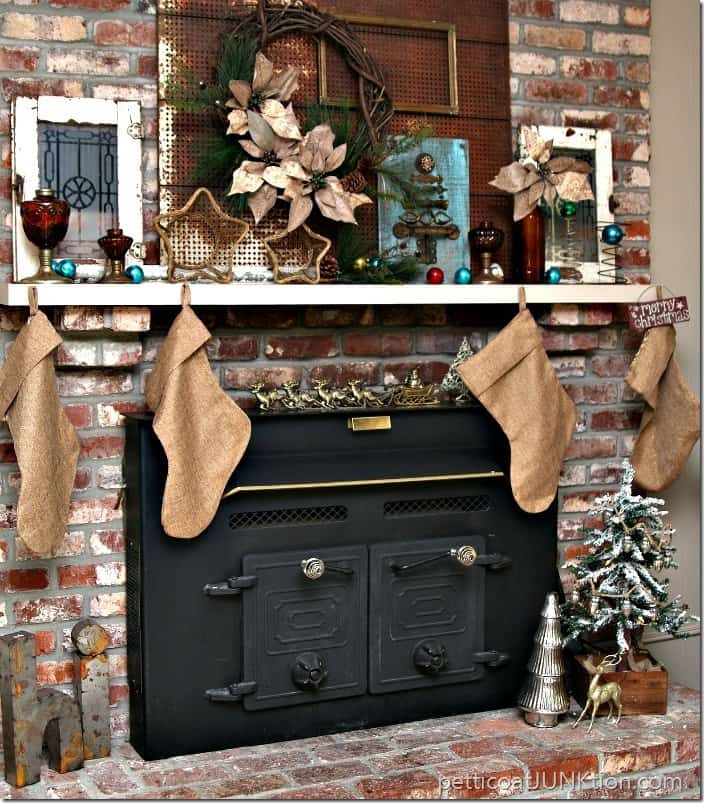 The fireplace and mantel are fully decorated now. It looked a little sparse last week.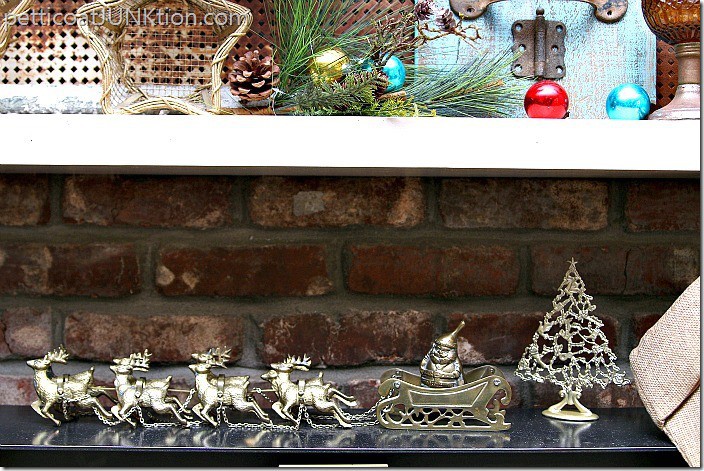 The brass reindeer and sleigh are from Korea. The JTS bought them for me on one of his tours. He was stationed in Korea 3 times during his Army career. When our son was about 4 we thought he was saying the reindeer were "so beautiful" but we soon realized he was saying they were "so pitiful". Kids. We think (hope) he meant "beautiful".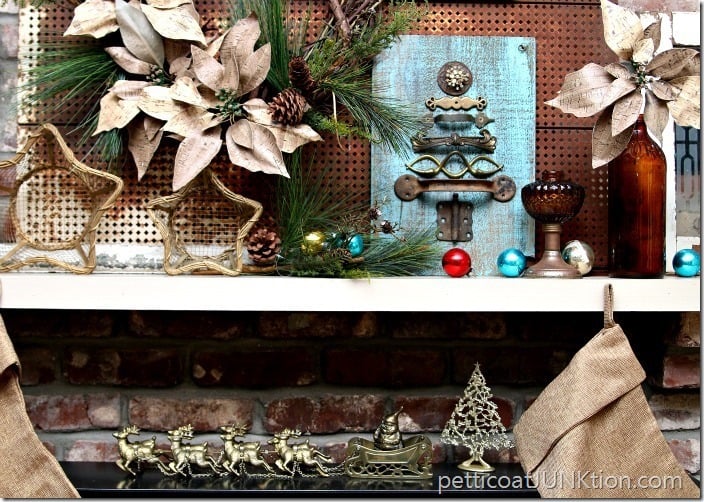 If you missed the post and tour last night then you missed the latest Hardware Christmas Tree. I added it and a few touches of turquoise to the mantel.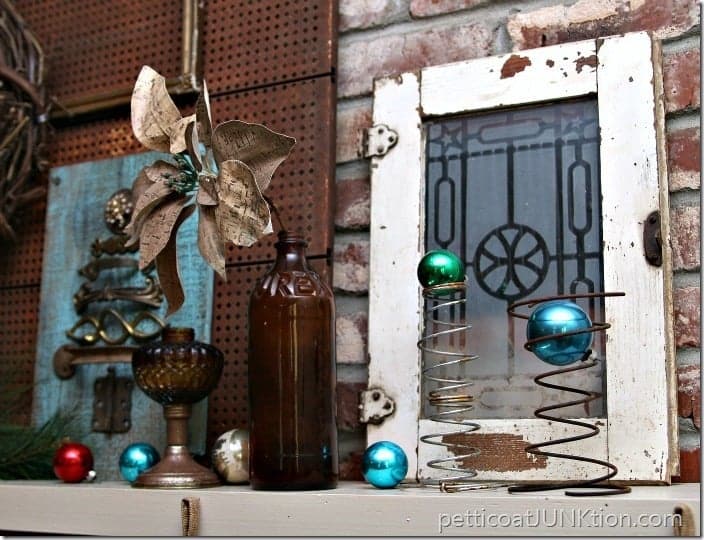 I found a use for the bed springs too. Aren't they cute!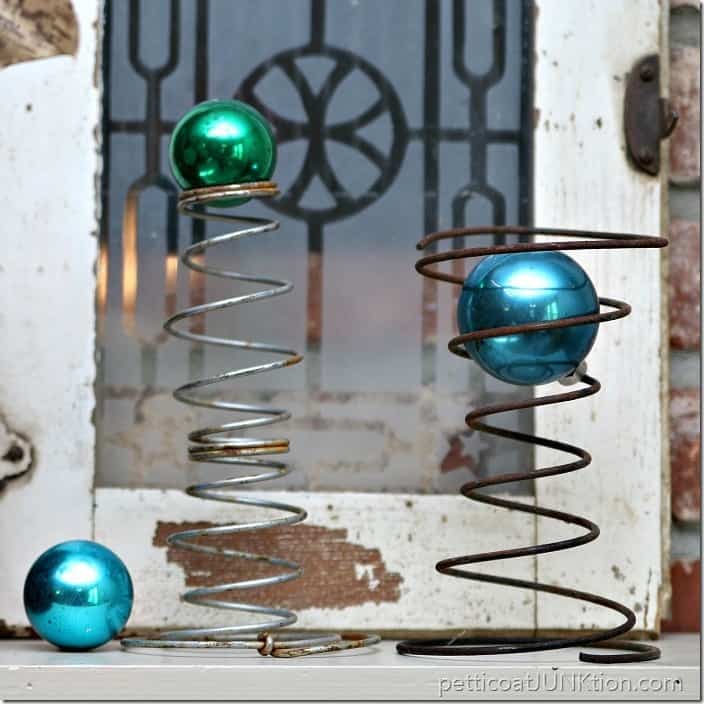 They make great ornament holder/display things. I'm loving the look.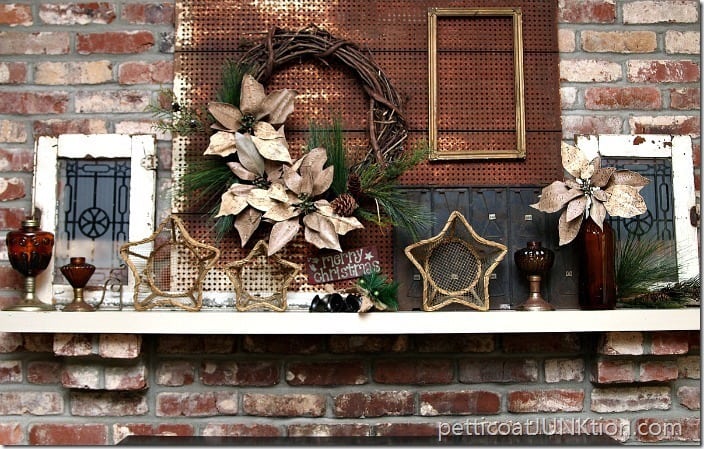 This is the how the mantel looked last week. I still like the neutral look but you guys know me….I love bold colors.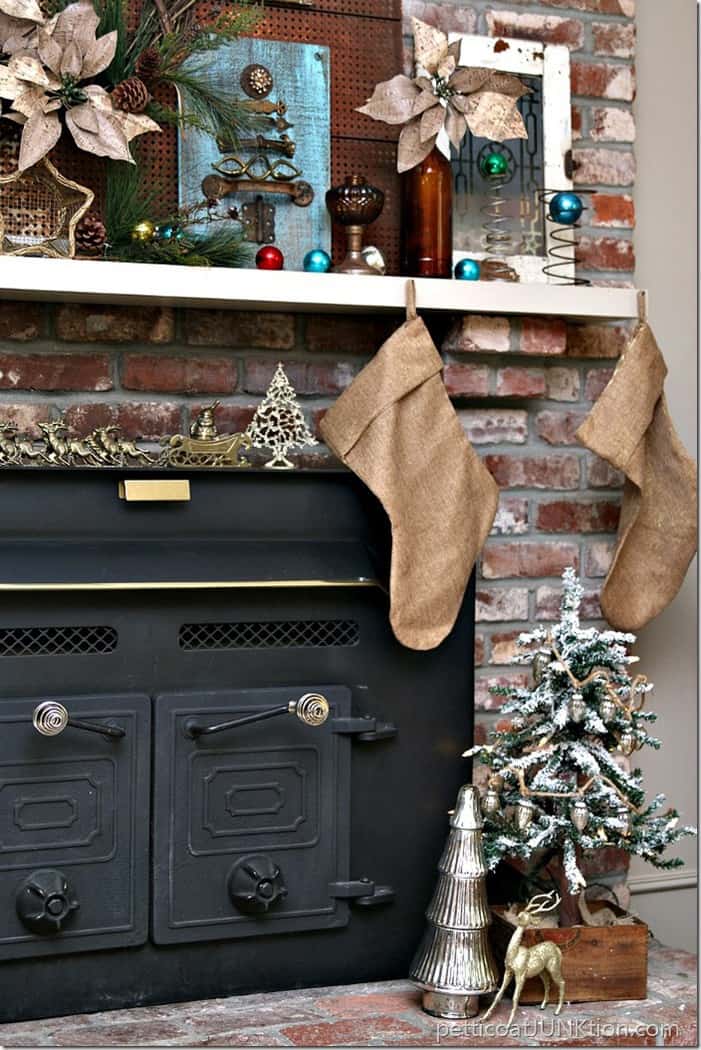 What do you think of the new look? Do you like the new Hardware Christmas Tree? You can see the tutorial and the original hardware tree by clicking here.
Want more Petticoat Junktion Christmas Inspiration? Click any photo below!
I'm going on the tour now. Join me by clicking the photo links below.
Have a great day!
Get Petticoat Junktion delivered to your email and you want miss a thing.

Author: Kathy Owen (Petticoat Junktion)
Kathy is the founder of PetticoatJunktion.com, a home décor blog focused on repurposing and upcycling furniture, old hardware, rusty stuff, and thrifty finds into unique home décor. Kathy's projects have been featured on the Home Depot Blog, Plaid Crafts, Behr Designer Series, and in numerous magazines. Read more about Kathy here.