I don't know how some of you are going to feel about today's makeover. This heavily distressed white furniture piece is a bit over the top.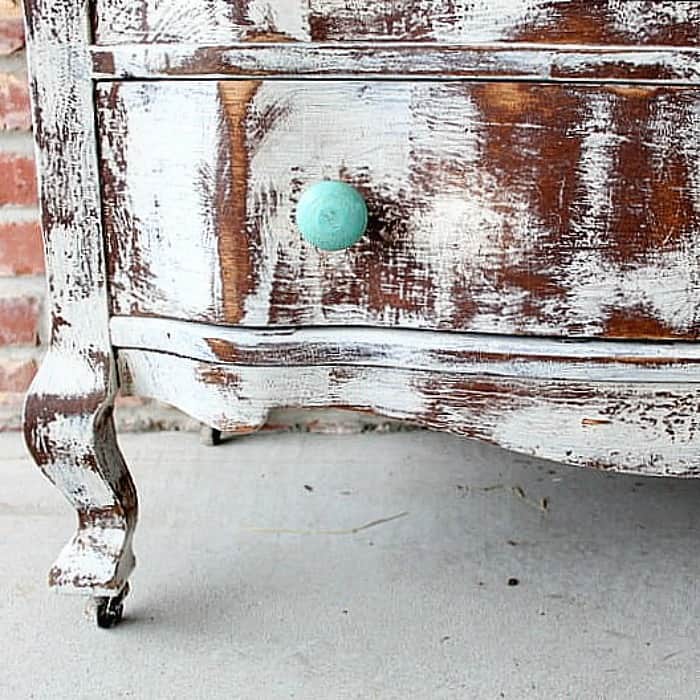 I had the paint plan for the dresser but I wasn't sure it was the right plan. I'll start working on a piece and before it's finished I'm having second and third thoughts….not sure of the color, not sure of the technique, not sure of the hardware, etc.

And when the piece is finished it might look ok, or it might look good, or it might look like crap, or it might look great (to me). This is one of the great ones. One never to be forgotten. I really like the paint finish. It seems perfect for this vintage dresser I picked up at the Nashville Flea Market.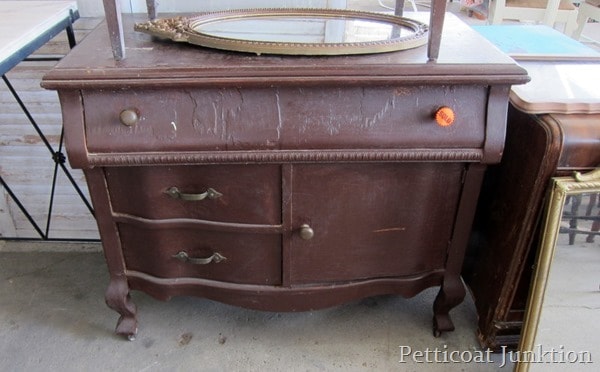 I purchased this vintage dresser at the July Nashville Flea Market. I loved all the curves and the door and the legs and everything. The detailed trim between the top drawer and the bottom part of the dresser was the selling point.
I had to fill holes on the drawers. There were 4 holes on each drawer for pulls! Why in the world. I take it there had been a few hardware changes over the years. It's pretty obvious those pulls on the two bottom drawers were not original.
I decided on a single knob for each drawer and I picked up these colorful knobs at Hobby Lobby. I had to make two trips. I selected the large knobs and two smaller knobs for the top drawer.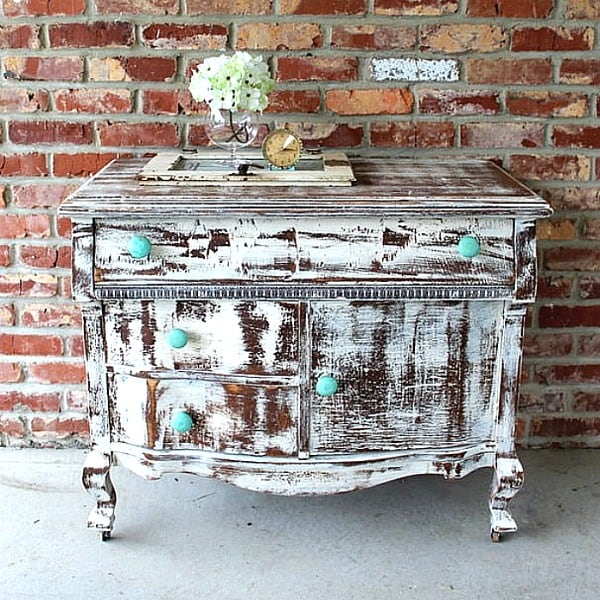 I put the knobs on and the small ones just blended in. I was in a hurry to take photos and get this post out so I made another flying trip to Hobby Lobby (good thing it's only 10 minutes away) for 2 more of the large knobs.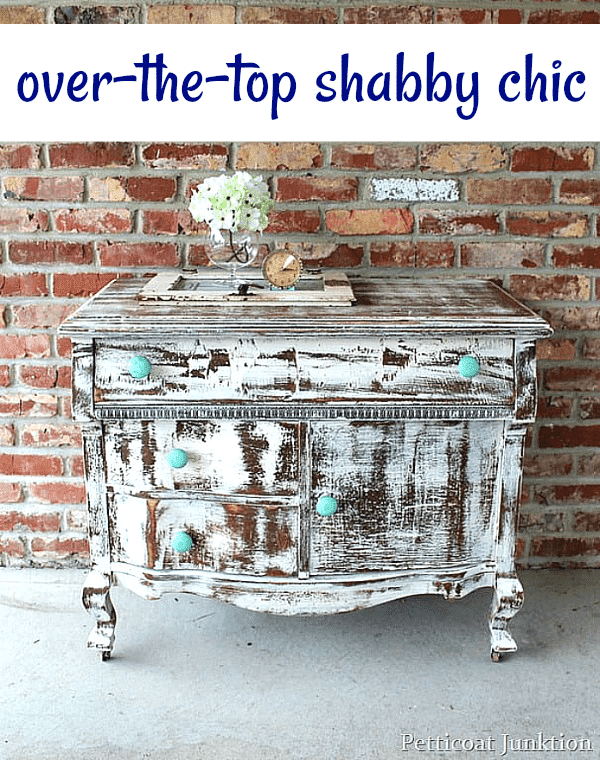 I think the two trips were definitely worth it. I asked the JTS what he thought of the knobs and he said, and I quote "They make a statement". He's learning (insert smiley face)!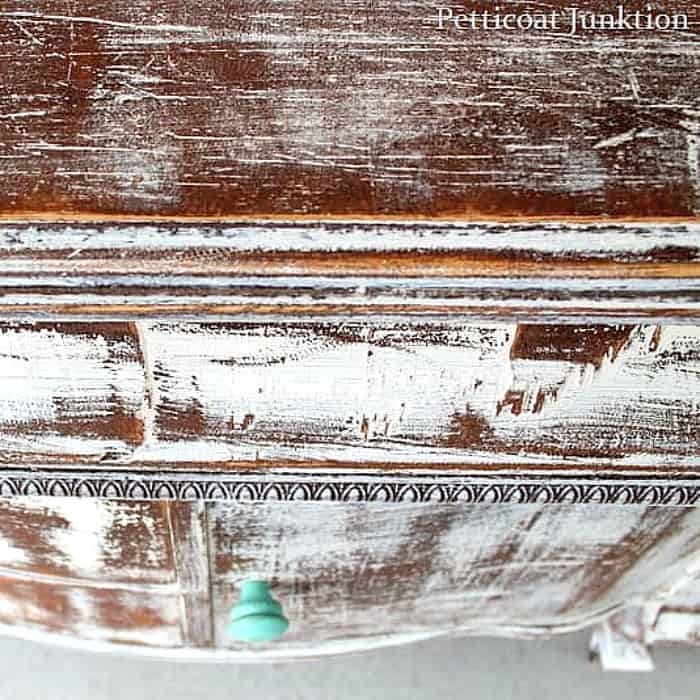 I painted the dresser an off-white and distressed it very heavily with an electric sander. All of the missing veneer and the rough edges made the dresser the perfect candidate for distressing. The painting, drying time, and distressing took all of 3 hours.
So what do you think of the heavily distressed white furniture makeover? Too over-the top for you? I know this look isn't for everyone. Be honest in your comments, but be kind. What about those "statement knobs"?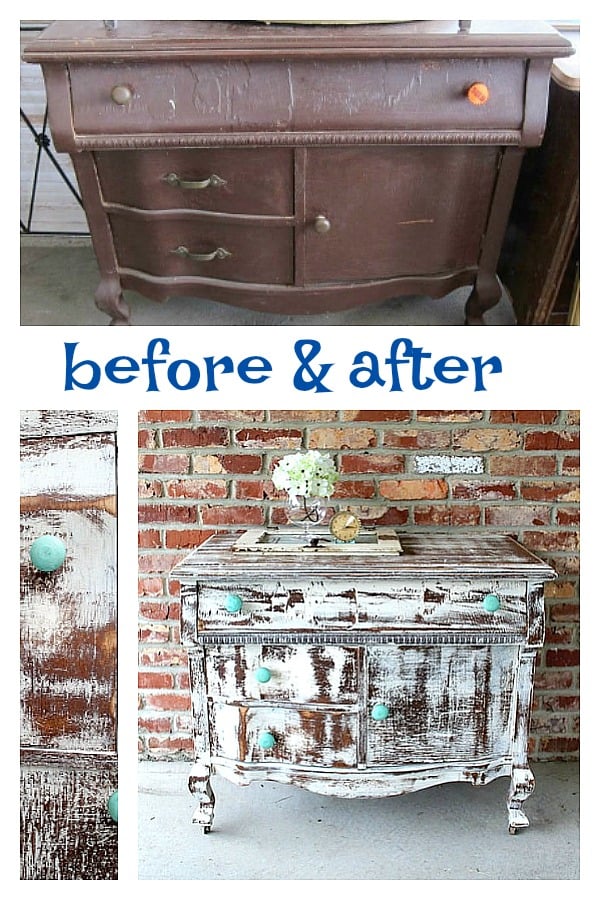 Heavily Distressed White Furniture
I painted the dresser in 2013. This is one of my favorite projects and if you're new here you might not have seen it. I re-edited photos and added more details to the post.
If you like distressed furniture you will love this post.....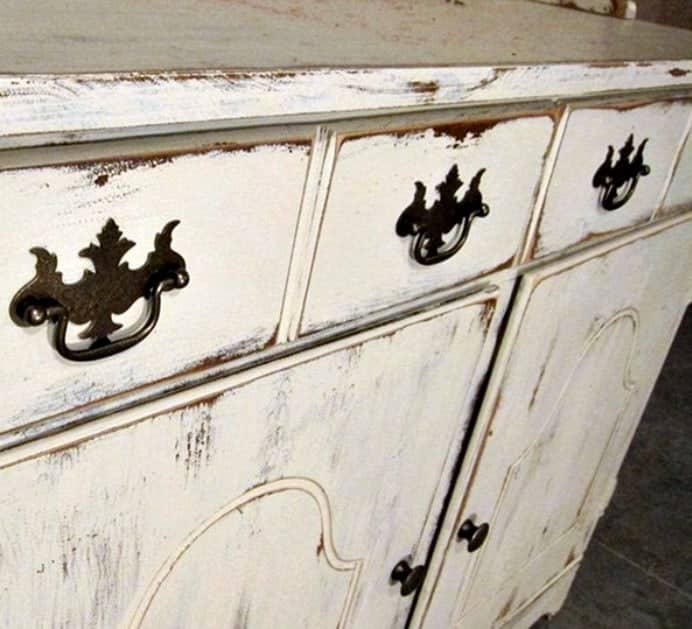 10 BOLDLY DISTRESSED FURNITURE PROJECTS
Thanks for being here and have a great day, Kathy