Angel Table
The JTS bought the Angel Table at an auction. I don't remember how much he paid for the table because it's been sitting in the workshop for a few months.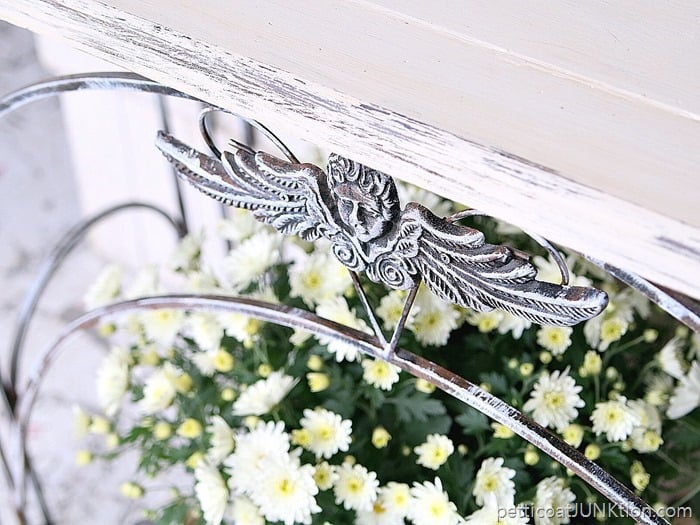 Angel Table
The table has an Angel detail on the top front of the iron base. Sorry to say I'm not a fan of putting Angels and furniture together.
The iron Angel applique was easy to remove from the table base. The only problem is there was a small gap (one inch) where the two pieces of rounded iron met at the top. I wasn't a fan of that either. I searched the shop over for something to replace the Angel….no luck. I was more fond of the Angel than the gap so the Angel went back on the table.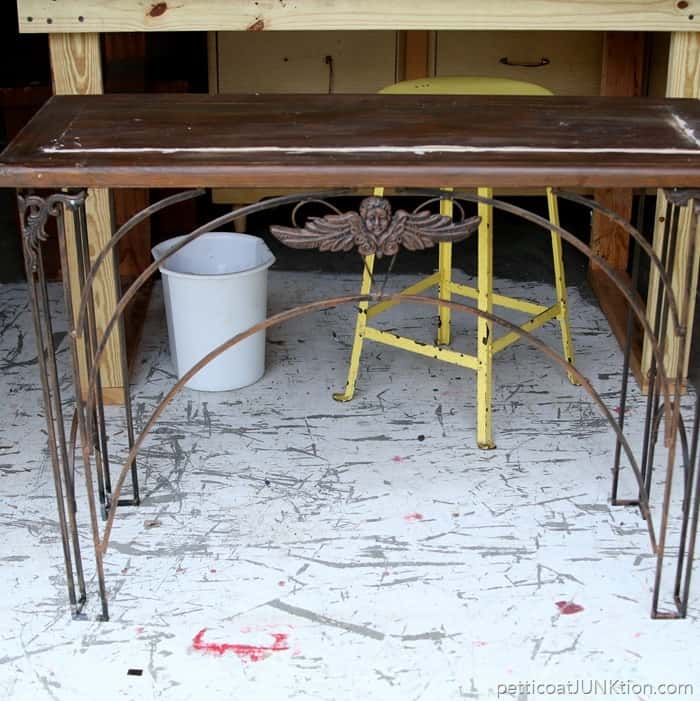 This is how the table looked before makeover.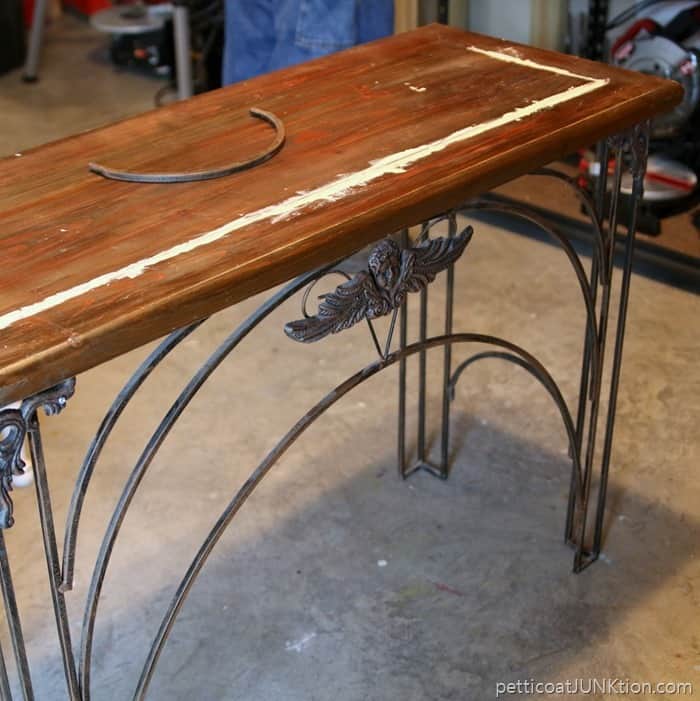 There was a big gap running across a big part of the table top and the JTS filled it with wood filler.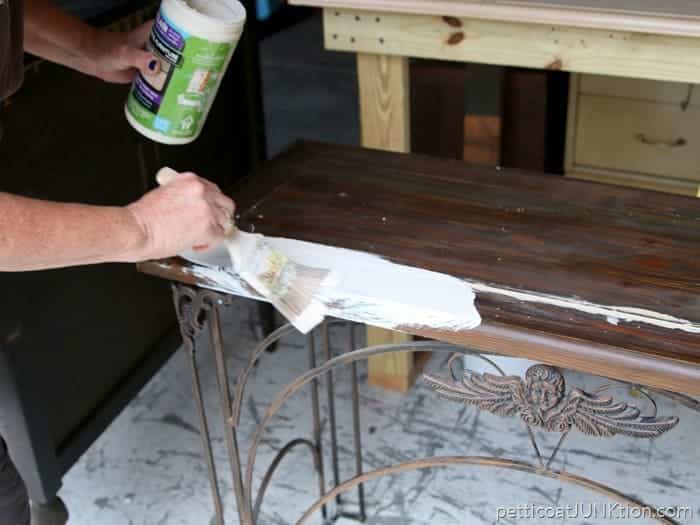 I sanded the filler smooth and started painting the top with Beyond Paint in off-white.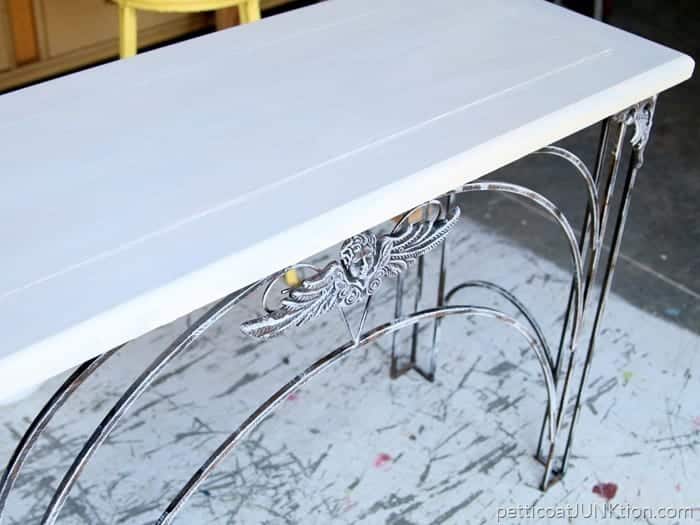 Then I dry-brushed the base. I wasn't going to paint the base at all but the dark iron was too stark against the white table top.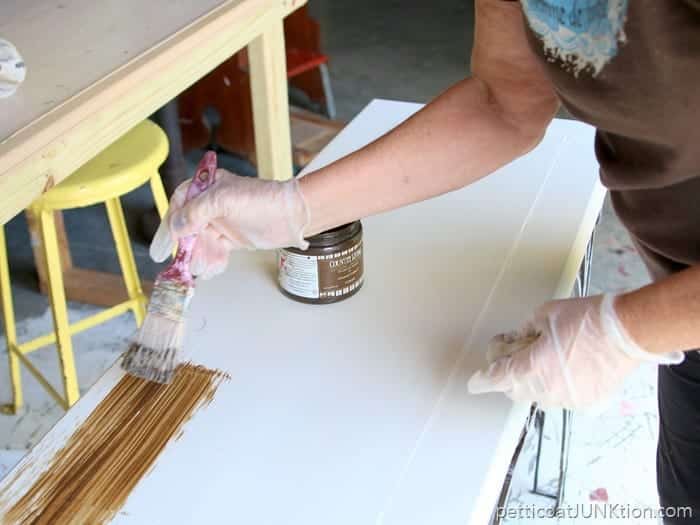 Next I applied Caromal Colours Toner with a brush.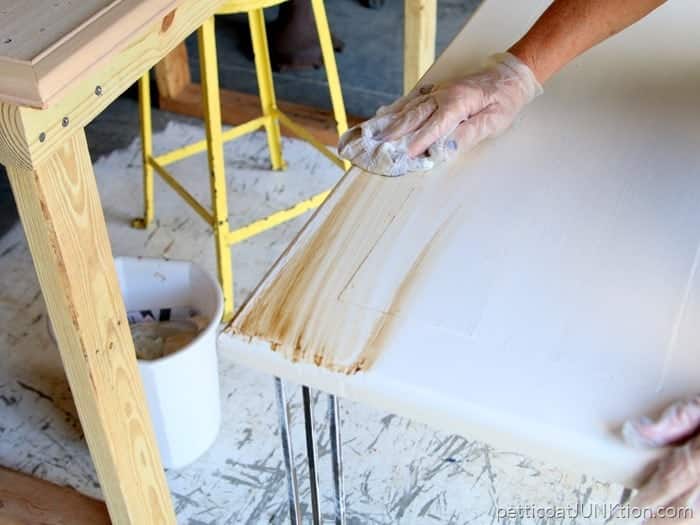 Then wiped it back with a damp rag. The toner gives the paint an antiqued look.. I use this product a lot.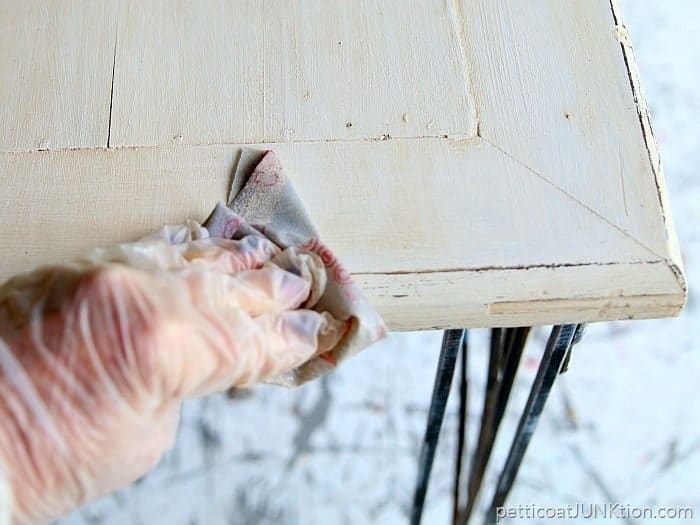 Never hurts to do a little distressing.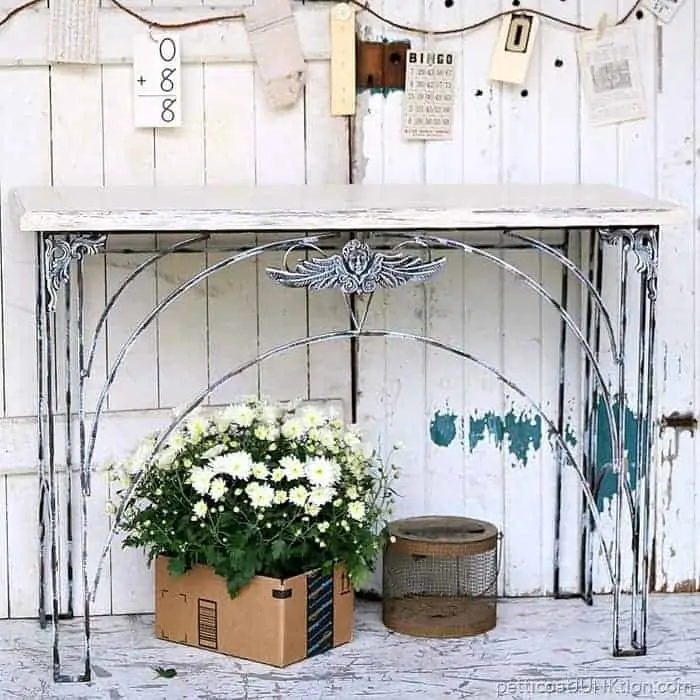 I have to say the Angel looks really nice. Does anyone recognize the plant "container"? Yes, it's an Amazon shipping box. Those things are awfully handy. How about the cricket container. I got it at My Favorite Junk Shop. You guys would be so jealous of the junk shop. I wish I could take each and everyone of you junk shopping with me.
I painted the table the first part of October, took it to the shop, and it's sold. I guess the Angel Table turned out pretty well.
If you like this table you need to see my table made from an aquarium stand....Wood And Metal Sofa Table.
I hope you have a wonderful Thanksgiving. I have so much to be thankful for and you guys are on the list.
The JTS and I will have Thanksgiving lunch here at our house with our son, daughter-in-law and the two oh-so-awesome granddaughters. Then I plan to get my Christmas stuff out and start decorating. I notice some of my friends and bloggers have already decorated for Christmas. Not me. I hope to finish the decorating over the weekend.
On Monday I head to Arkansas and my parents house to spend a week or so visiting and helping Dad. Don't worry though, I have a few projects finished up and I'll try to have posts scheduled before I leave town. Wouldn't want you guys to miss your daily dose of DIY….and craziness.
That's it. Have a great day, a food filled Thanksgiving, and a relaxing holiday weekend. I would love to hear your Thanksgiving plans. Share if you feel like it. Comment section is below. Love you guys!
Author: Kathy Owen (Petticoat Junktion)
Kathy is the founder of PetticoatJunktion.com, a home décor blog focused on repurposing and upcycling furniture, old hardware, rusty stuff, and thrifty finds into unique home décor. Kathy's projects have been featured on the Home Depot Blog, Plaid Crafts, Behr Designer Series, and in numerous magazines. Read more about Kathy here.