Hey guys! This is the reclaimed wood plant stand made with an aquarium base the JTS and I put together before he broke his arm. It's taken me a while to get the photos and the post together.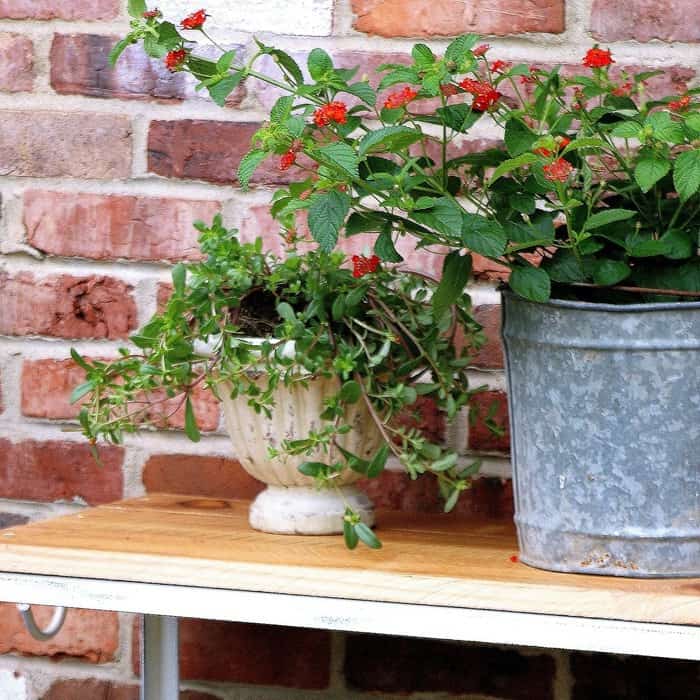 The aquarium stand and reclaimed wood worked very well together. My plan was to stain or weather the wood but it was perfect as is.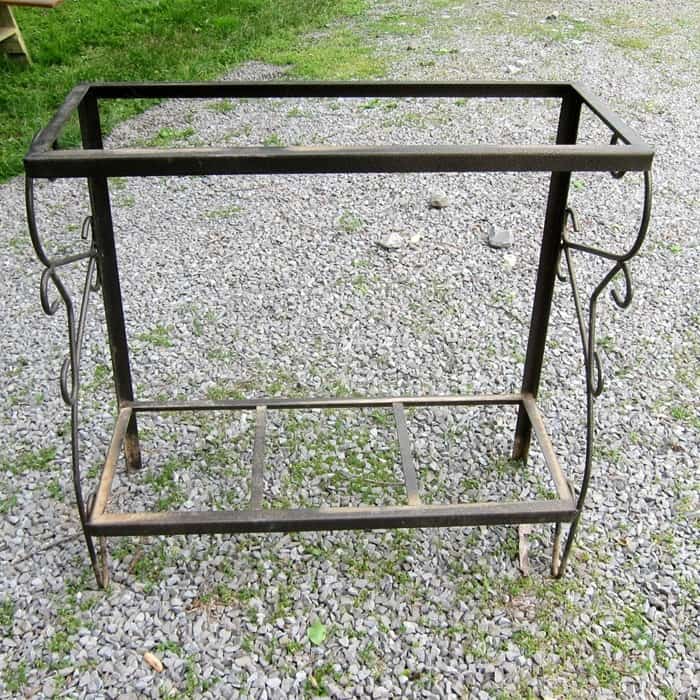 I liked this old fish tank stand a lot because of the curlicue front sides. Not humdrum straight iron legs. I bought it at my favorite junk shop for $10.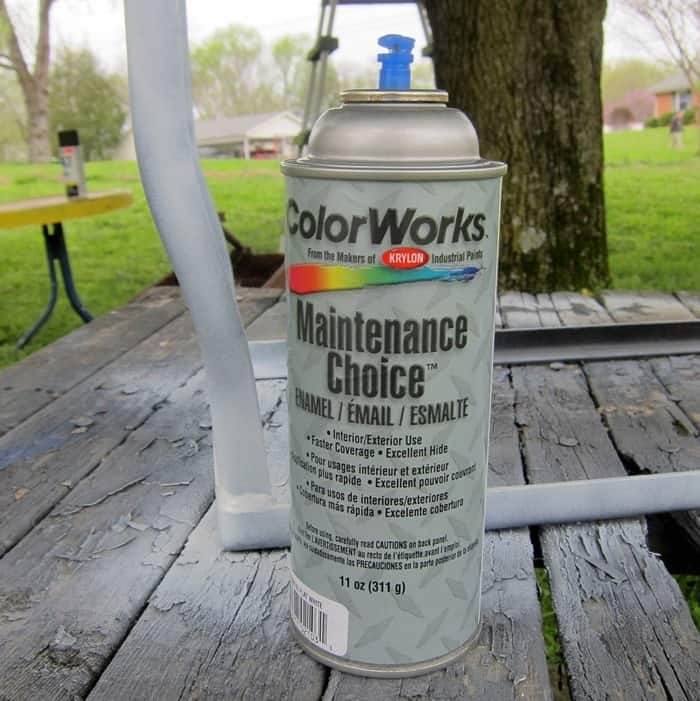 First thing I did was paint the metal white with spray paint the JTS bought at an auction. He got a whole case of the paint and it covers really well.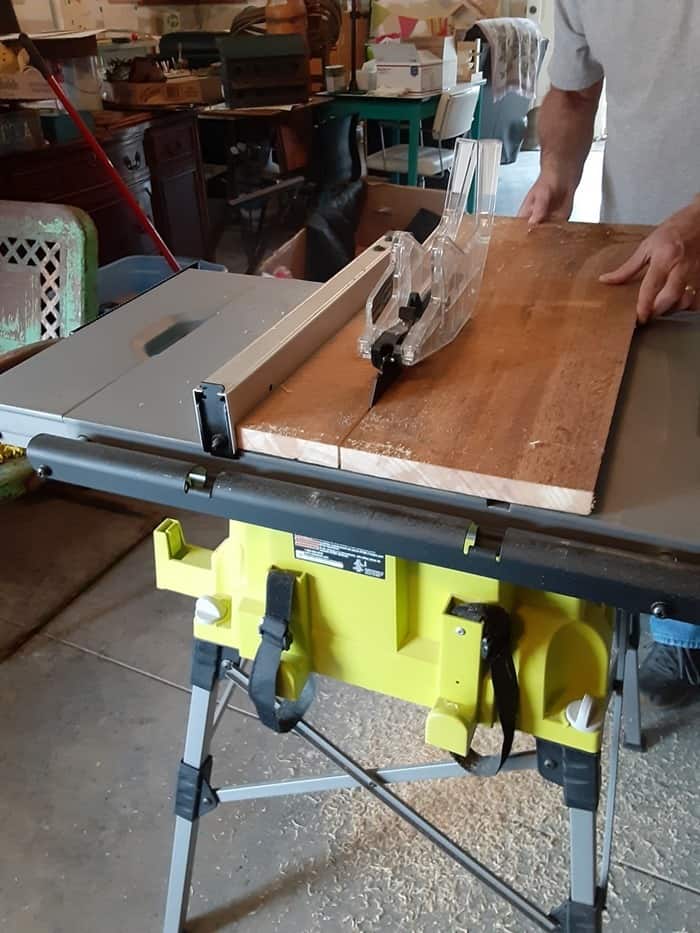 We got the piece of reclaimed wood from a friend who bought the wood at an auction. We love those auctions. We measured the top of the metal stand and cut the board to fit. Hubby used the table saw for some of the cuts and....
......the circular saw for some. I'm not a saw person unless it's a miter saw. I much prefer working a drill or brad nailer.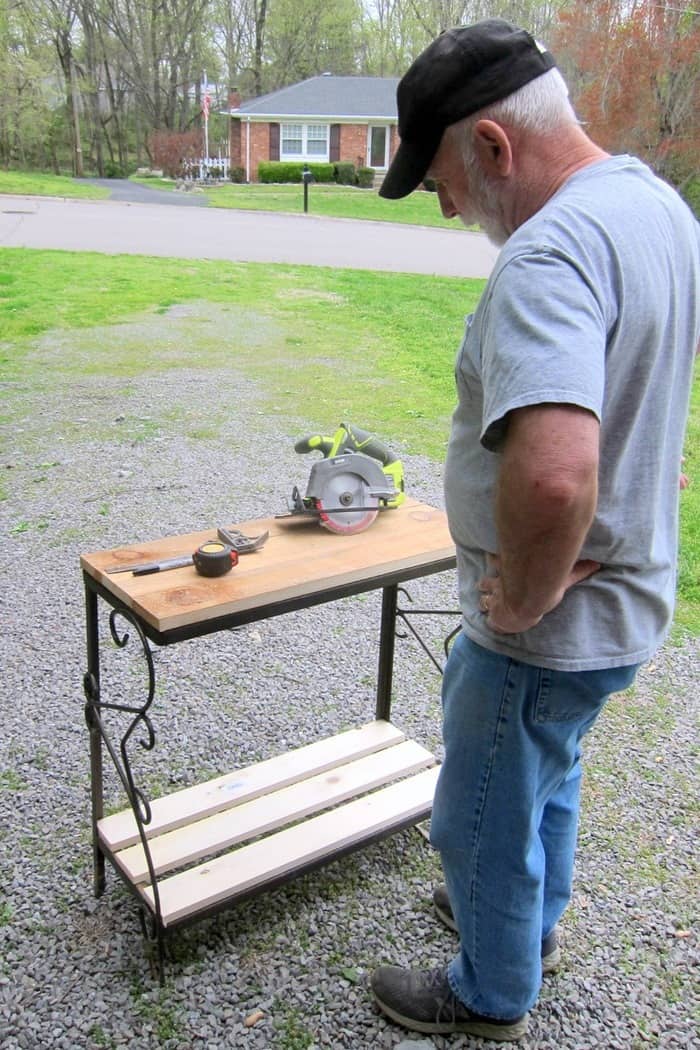 We ran short of reclaimed wood for the bottom shelf so we used new unfinished 1x4's instead.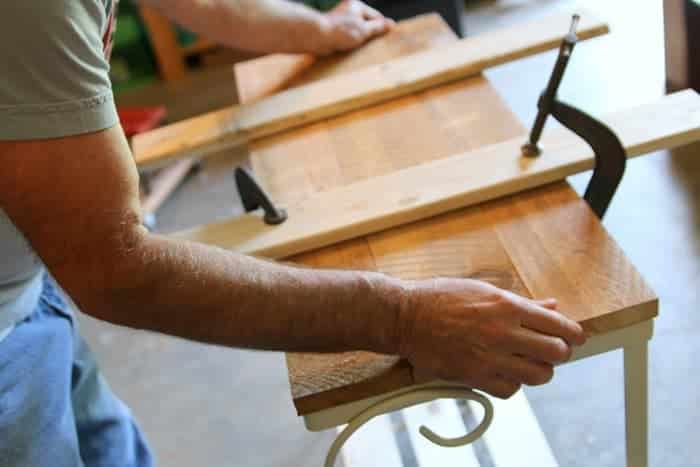 Hubby clamped the wood to the frame then used a drill to make holes in the wood and the metal.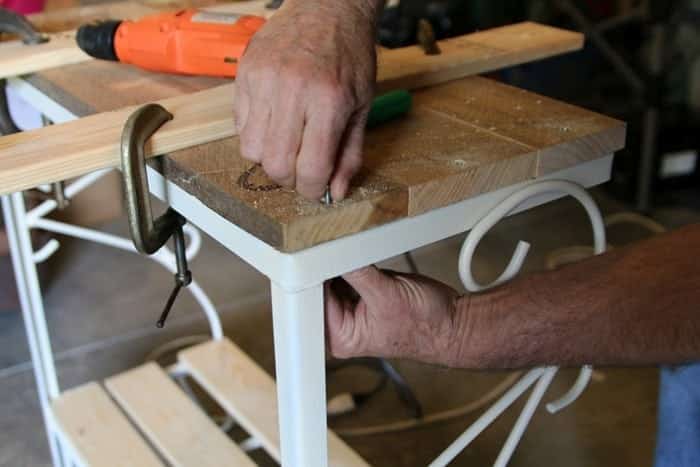 Then he screwed everything down. I sure am missing him in the workshop. He is slowly getting better but the wrist break is going to take a while to heal.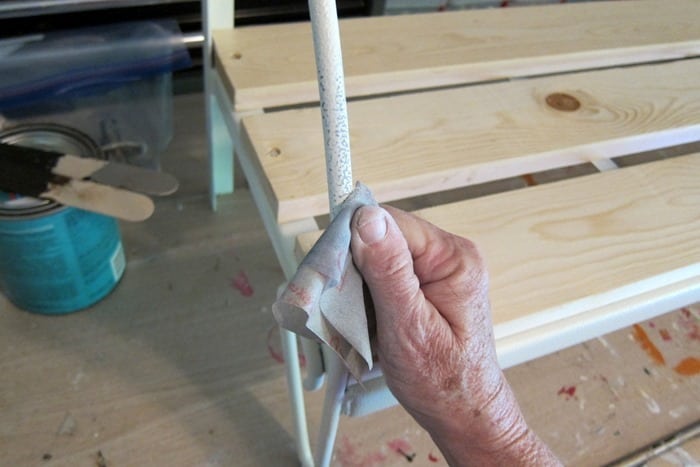 Next I started distressing the white paint on the stand by hand but that got old after about 10 minutes.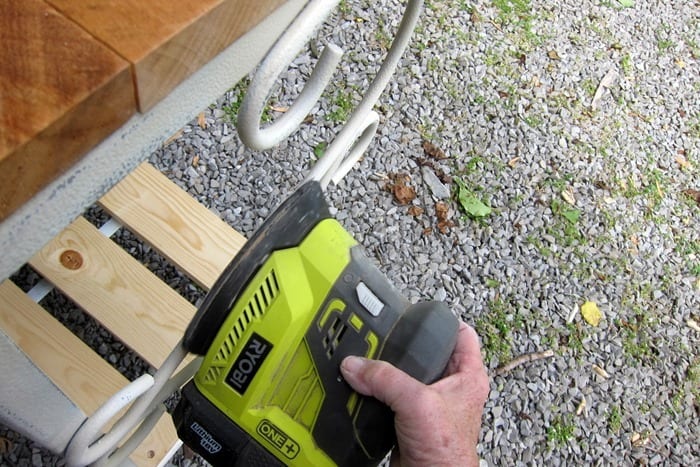 I pulled out my trusty Ryobi battery powered mouse sander and had the job done in no time at all.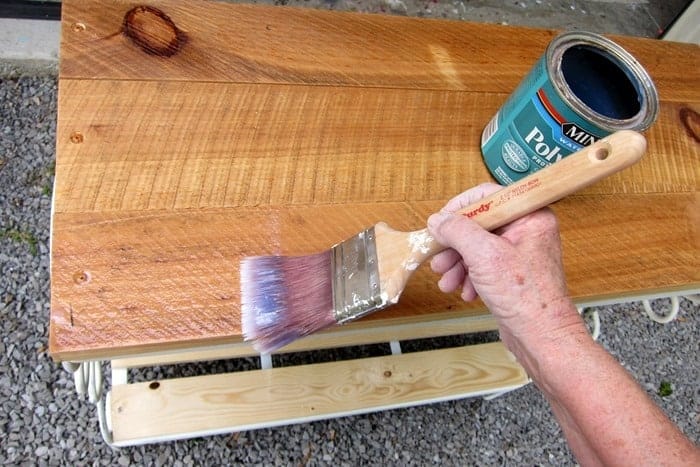 Since I decided not to paint the wood it needed to be sealed. I used latex (water based) Minwax Polyacrylic and applied 3 coats to the wood on the top and the unfinished wood on the bottom shelf.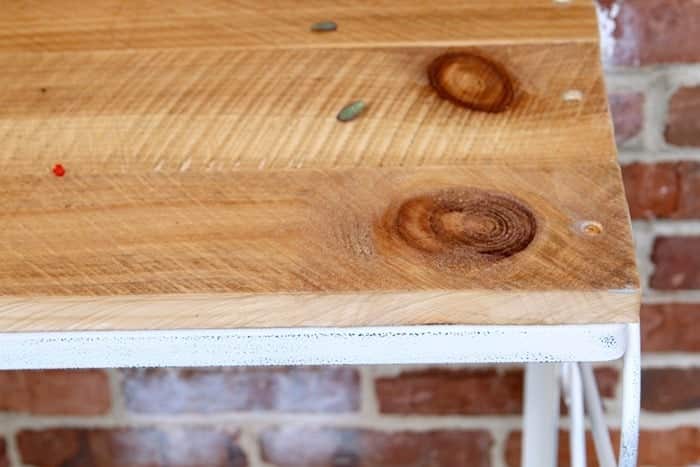 The new screws were bright silver. I found an acrylic paint color in my stash that blended with the wood and put a coat of paint on the screw heads.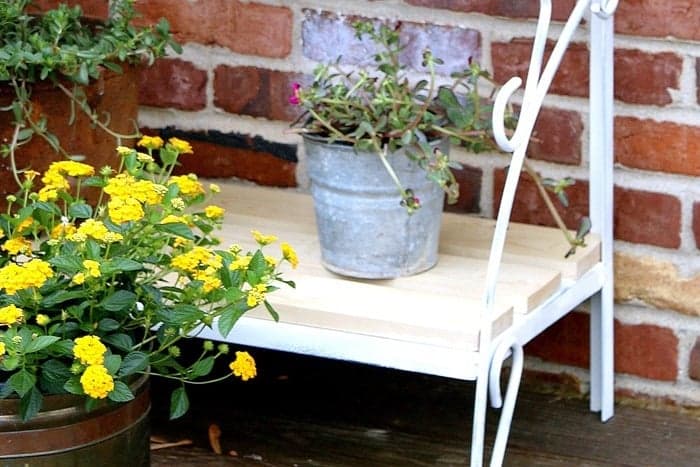 We were super happy with how the project turned out. The old wood, the new wood, and the metal stand make a great combo.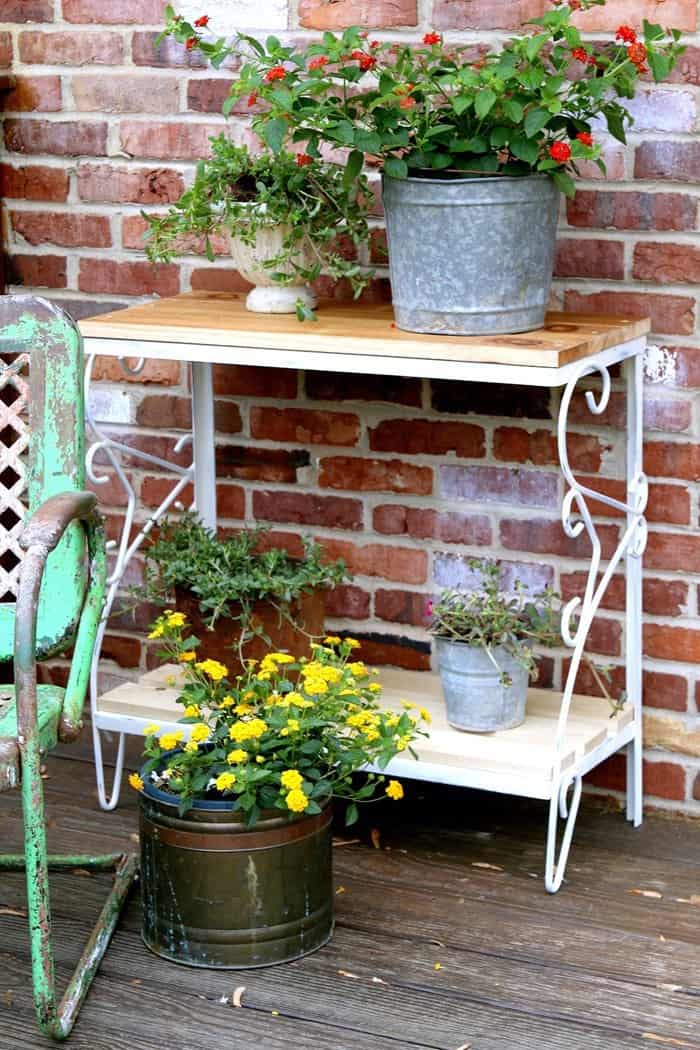 I use the table as an outdoor plant stand. I can think of other uses for the table too. It would look nice in a foyer or would be great for holding towels in the bathroom.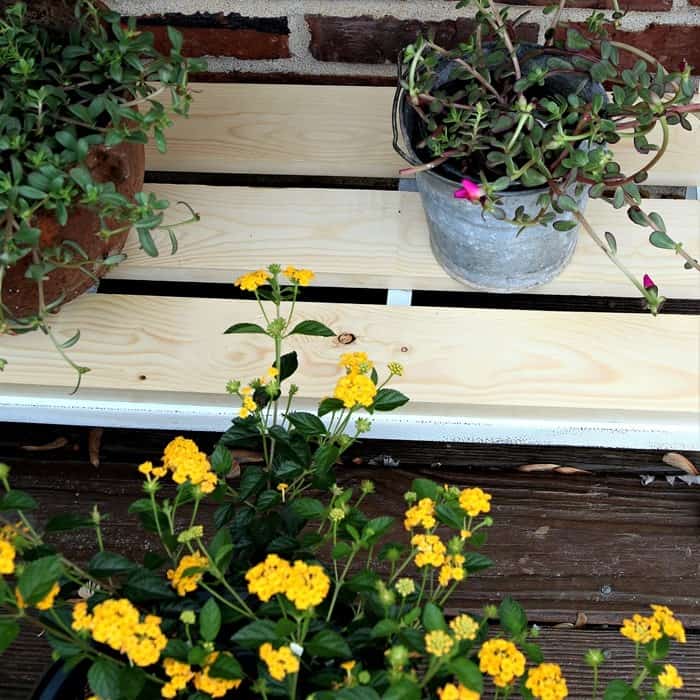 One last look at the plants in my favorite junky pots . The yellow lantana is one of my favorite Summer flowers.
This is only one of many aquarium/fish tank stands we've recycled into cool tables. See more of them below…..
Black Dog Salvage Painted Fish Tank Table
Cute Little DIY Table with Metal Base (Not an aquarium stand table)
What do you guys think of the reclaimed wood plant stand? Leave a note if you have time. Tomorrow is Furniture Fixer Upper Day and I have an awesome furniture makeover for you. See you then, Kathy