Hope you guys had a fun weekend. We celebrated 3 birthdays here at the Owen homestead. The JTS has a birthday today (Happy Birthday Honey), Sofi turned 5 yesterday, and our daughter-in-law's birthday was last week. I made my famous always-asked-for Italian Cream Cake (recipe here). I have to say it was yummy.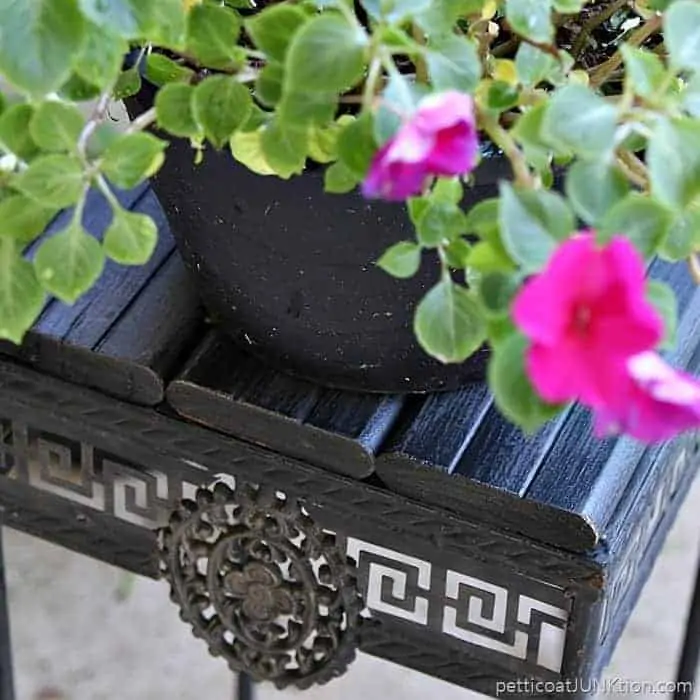 The JTS and I worked on projects all weekend long. I'll be sharing them over the next couple of weeks.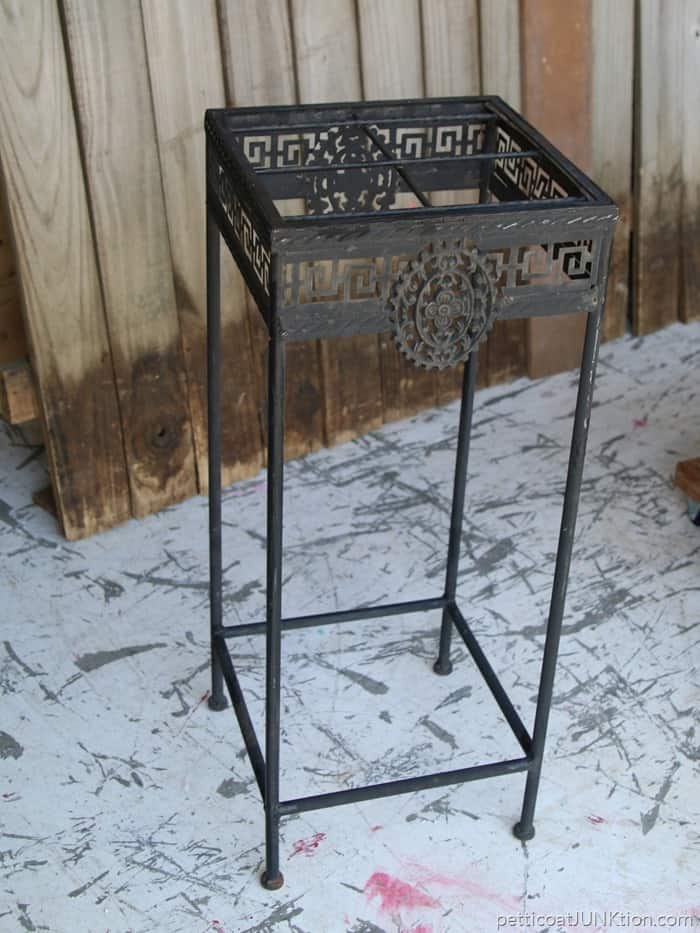 metal stand / table base
You might remember the decorative metal table base from My Favorite Junk Shop (info on the shop here).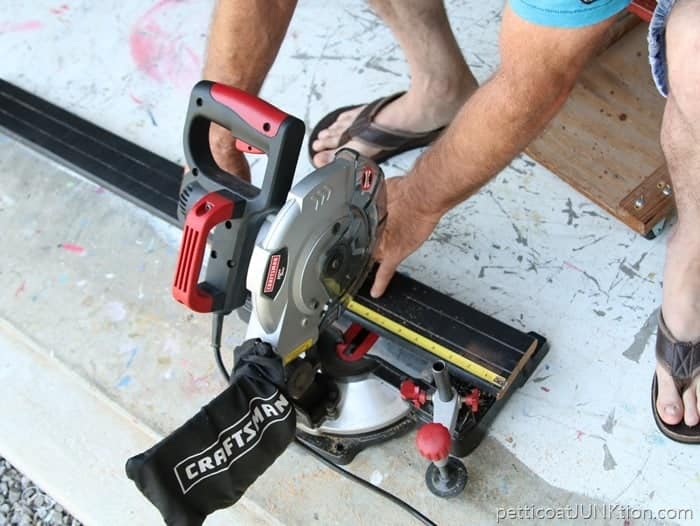 I found a reclaimed board in my stash and the JTS went to cutting it. The board was once part of a swing and we saved the wood when the rest of the swing gave out. I bet this wood has been in the shop for 10 years.....at least. You never know what or when you might need those saved treasures.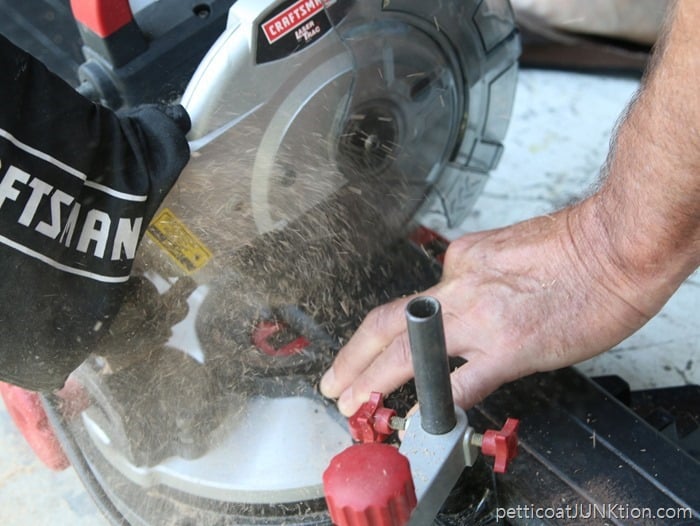 Caught the JTS (aka hubby, Junktion Technical Specialist) in action.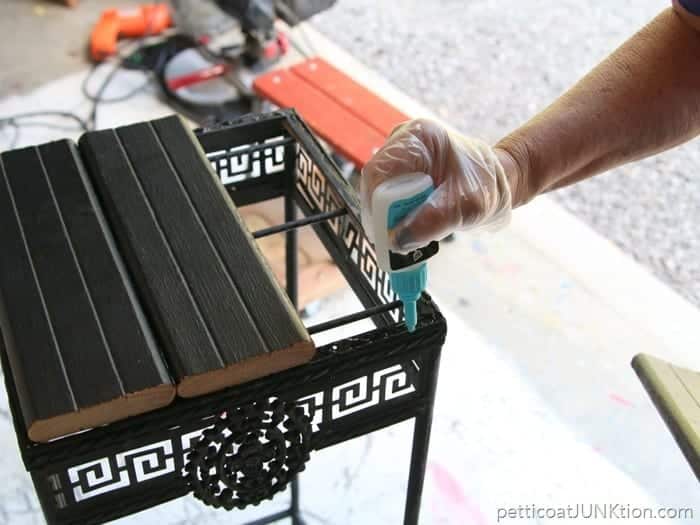 putting it all together
Once the boards were cut I used DAP RapidFuse to adhere them to the metal. That is some darn good adhesive. I love it.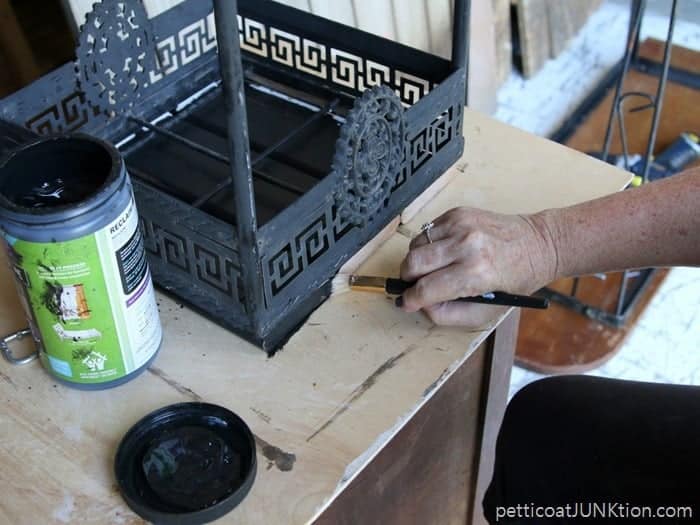 I painted the raw ends of the board with Reclaim paint in Licorice. After I brushed the paint on I rubbed the paint into the wood with a rag. It just helps make the paint look like it's been there for a while. Just one of my many paint tricks.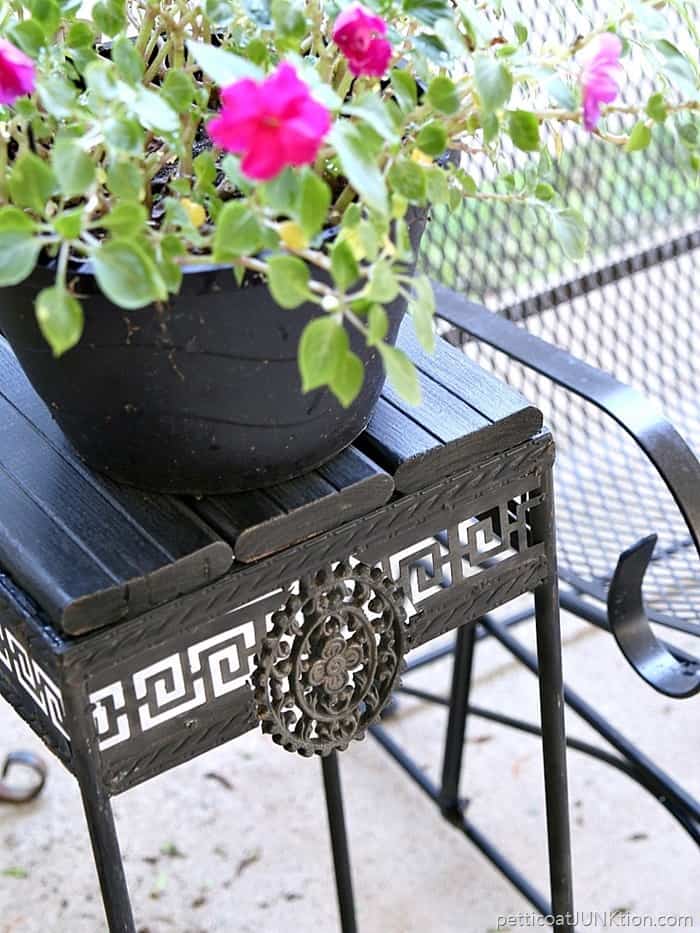 The original black paint was really shiny so I distressed it with 150 grit sand paper(new 3M flexible sandpaper). This made the paint kind of gray and it blended with the metal frame.
The gray color is what I call haze because that is what happens when paint on a flat surface is distressed (my explanation). I usually apply wax over the distressing and the haze goes away. This time I left the gray alone My flowers are about done for the year but that pot of fuchsia impatiens looks good sitting on the table.
The only thing I did wrong…or would change, is the positioning of the boards. I didn't think about it when the project was in progress but the ends of the boards should have been turned to the less decorative side of the table.
Looking for interesting plant container ideas? I can show you how to marble a clay pot or anything with the paint pour technique and no harsh chemical involved!! See my video below....
Dirty Pour Paint Marbling
What do you guys think of the table now? Would you have painted the top a different color? I thought about it.
See you tomorrow. Have a great day.
DIY Products Used In this Project:
Reclaim Paint - Licorice
DAP RapidFuse
3M 150 Grit Flexible Sandpaper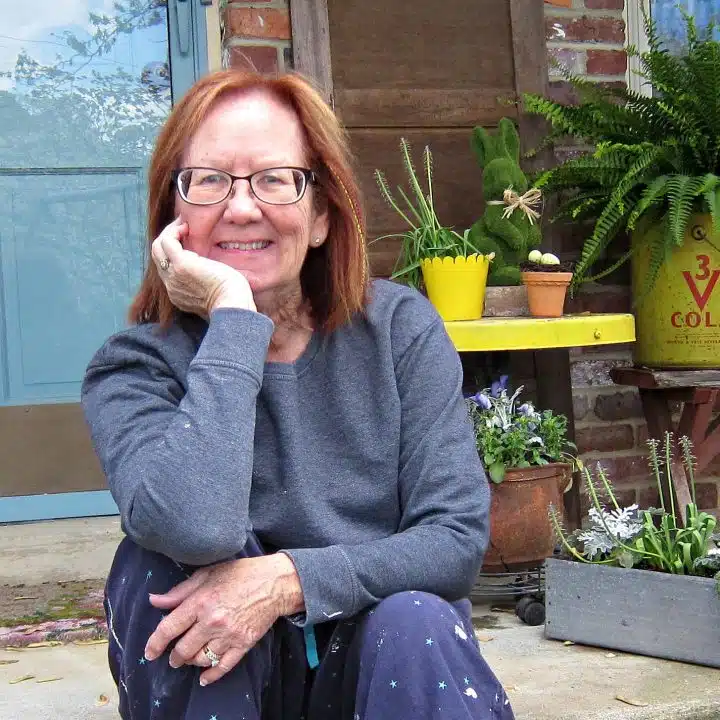 Author: Kathy Owen
Kathy Owen is the founder of the home decor blog Petticoat Junktion where she shares tutorials on painting furniture and upcycling thrifty finds into unique home décor. Her DIY projects have been featured on the Home Depot Blog, Plaid Crafts, Behr Designer Series, and in numerous magazines. Kathy's newest website is HappyHomeDIY.com