The JTS and I have been at it again. We're getting pretty good at putting together recycled aquarium stands and salvaged wood.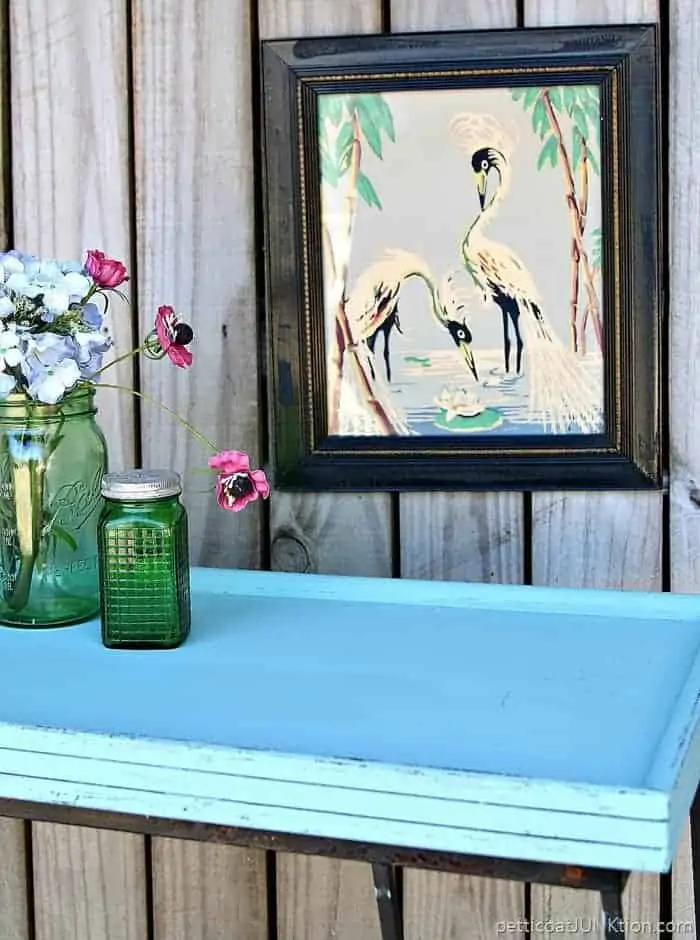 Black Dog Salvage Furniture Paint in Roanoke Rain
I painted the table top with Black Dog Salvage Furniture Paint, color Roanoke Rain. A couple of weeks before Christmas I received what I call "Happy Mail". It was a box of Black Dog Salvage Furniture Paint samples from Woodcraft. I love trying new paints and I really love free stuff.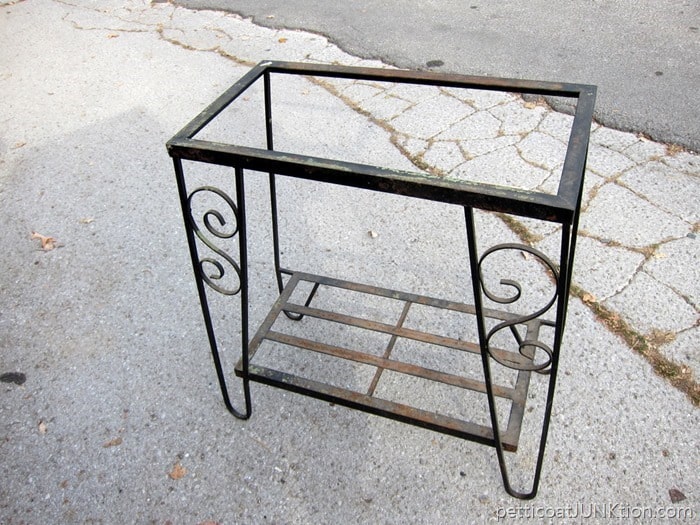 You guys might remember this aquarium stand from my favorite junk shop. This is the third one I've picked up while junkin'.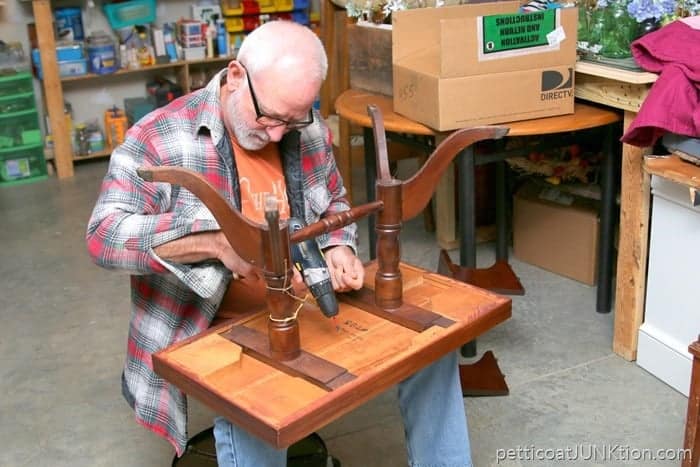 We took apart a table the JTS bought at auction and used the wood top for this project.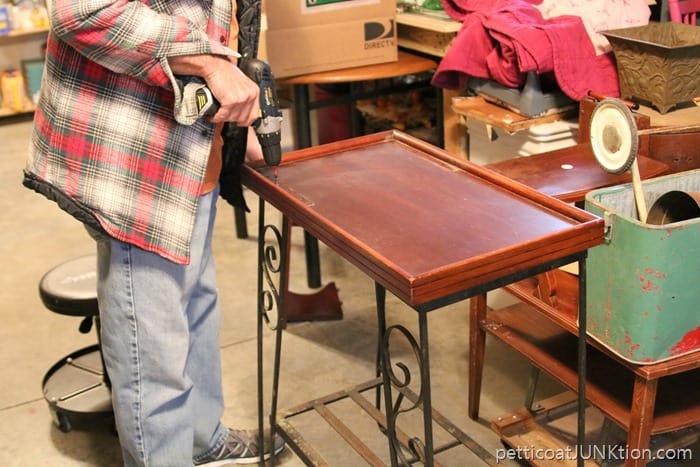 The JTS (aka, Junktion Technical Specialist) drilled holes in the metal stand then attached the wood top to the stand.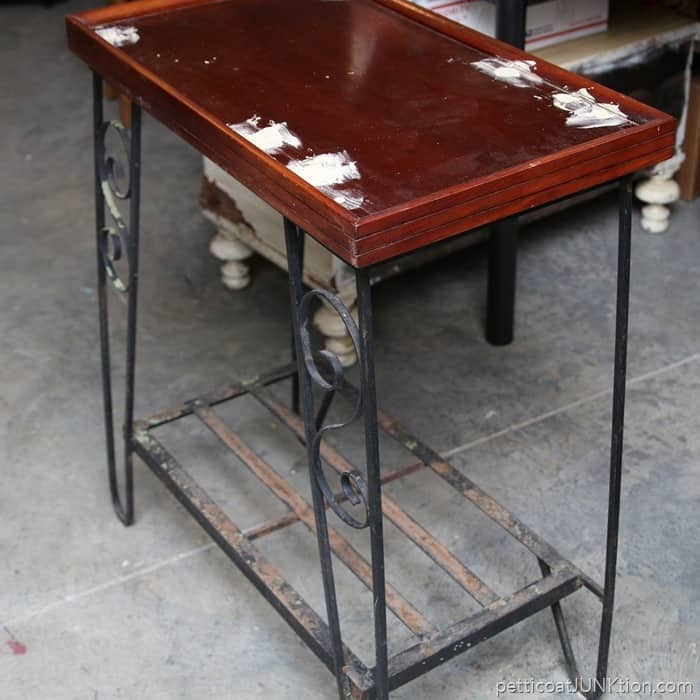 He also puttied over the holes. He gets a little carried away with the wood putty.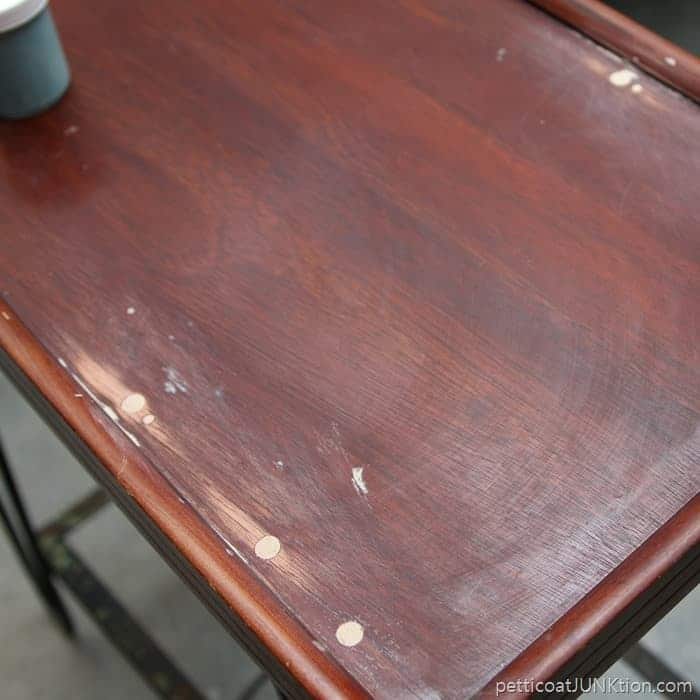 After I sanded the putty…..by hand…… forrreeevvveeerrr ……the table top looked like this.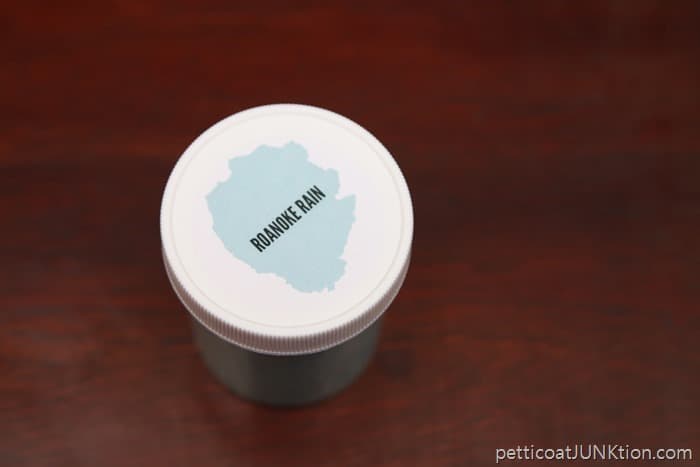 The sample jar of Roanoke Rain. The paint covers very well and the jar is still almost full after finishing my small project.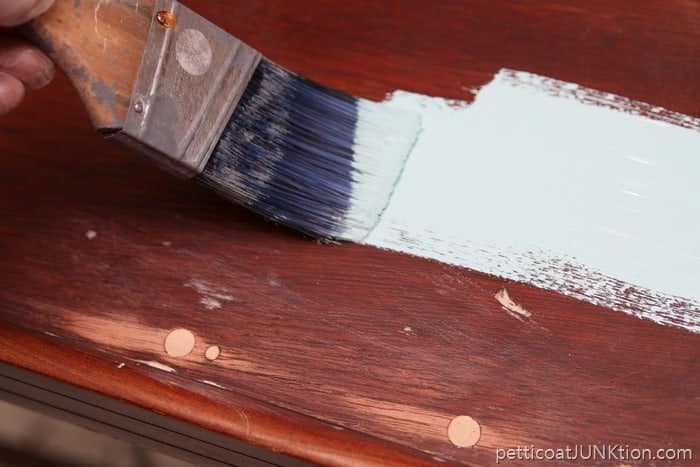 I applied one coat of paint then did a little touch up where I missed spots. The paint is self leveling and I couldn't see a single brush mark when the paint dried.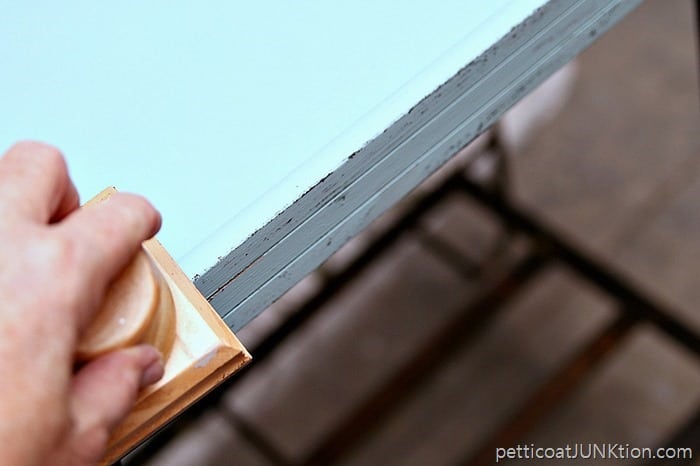 I used my FolkArt layering block with another of the paint samples, Black Dog,  to make the top look distressed. This process took about 2 minutes. I love the layering block.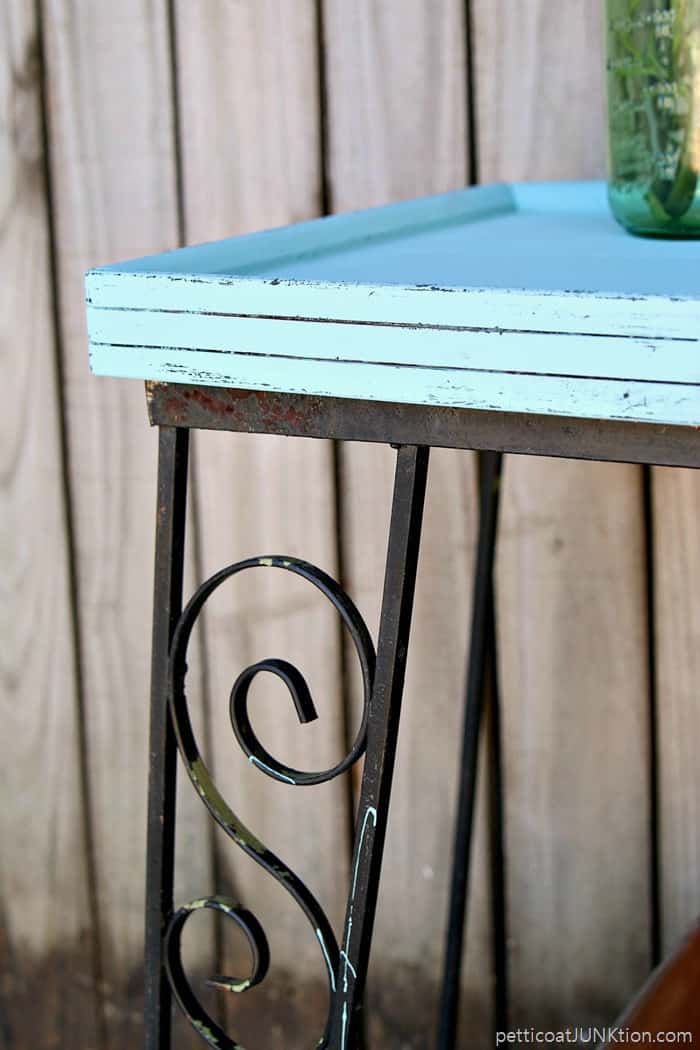 The black layered over the blue really makes the table look distressed. I applied two coats of wax to the rusty metal stand.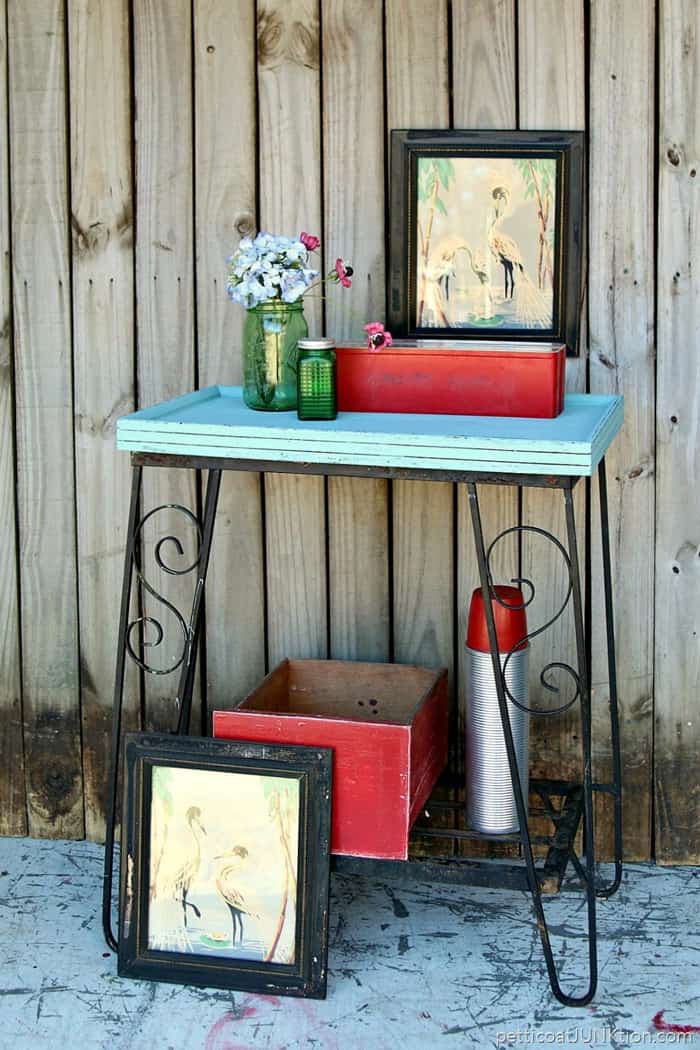 If you look closely you can see that the table top is just a bit whopperjawed. The aquarium stand was slightly twisted but we couldn't really tell that until the top was attached. Oh well, it'll do.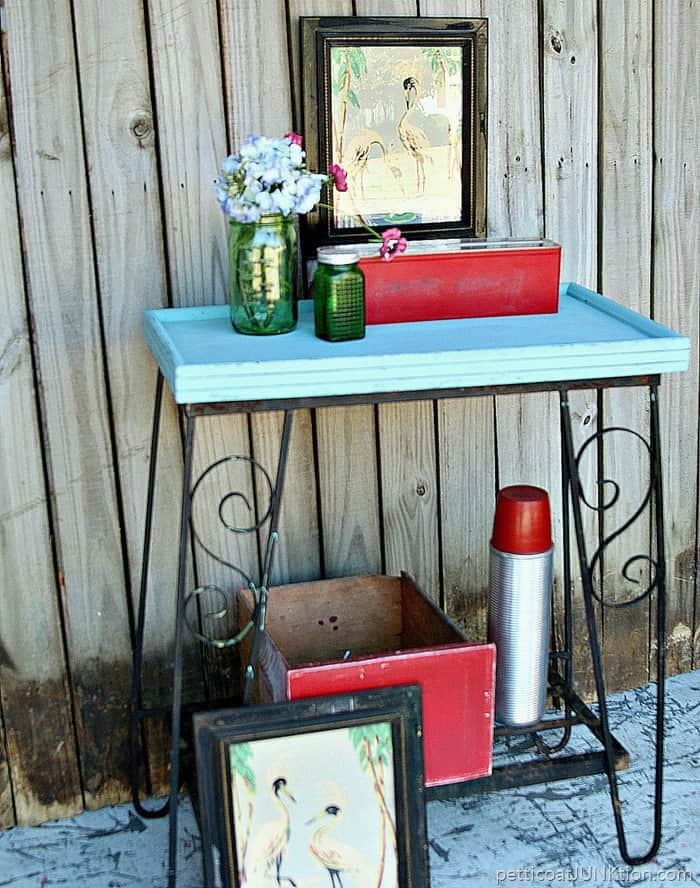 The little table is darn cute. I like the paint a lot. As I mentioned earlier, the paint is self leveling and covers well with one coat.
The two bird prints are from my favorite junk shop. Love the muted colors.
This is reclaimed table number one for the week and I have reclaimed table number two for you tomorrow. What do you think of the table?
Do any of you watch the TV show Salvage Dawgs? I enjoy seeing what those guys salvage and what they create every week. They're pretty funny too. See you tomorrow. Have a great day.
Shop Amazon for  Black Dog Salvage Paint (Amazon Affiliate link for your convenience)
Author: Kathy Owen (Petticoat Junktion)
Kathy is the founder of PetticoatJunktion.com, a home décor blog focused on repurposing and upcycling furniture, old hardware, rusty stuff, and thrifty finds into unique home décor. Kathy's projects have been featured on the Home Depot Blog, Plaid Crafts, Behr Designer Series, and in numerous magazines. Read more about Kathy here.