Stencil a small kids table with flowers or any fun design and they will love it. The table I stenciled belongs to Miss Sofi. I stenciled the table and painted her chair….she doesn't like change….unless it's her idea. I could be in big trouble.
Sometimes you can showcase the original furniture finish with touches of paint and this project is a good example. It was also super easy and I have all the details for you.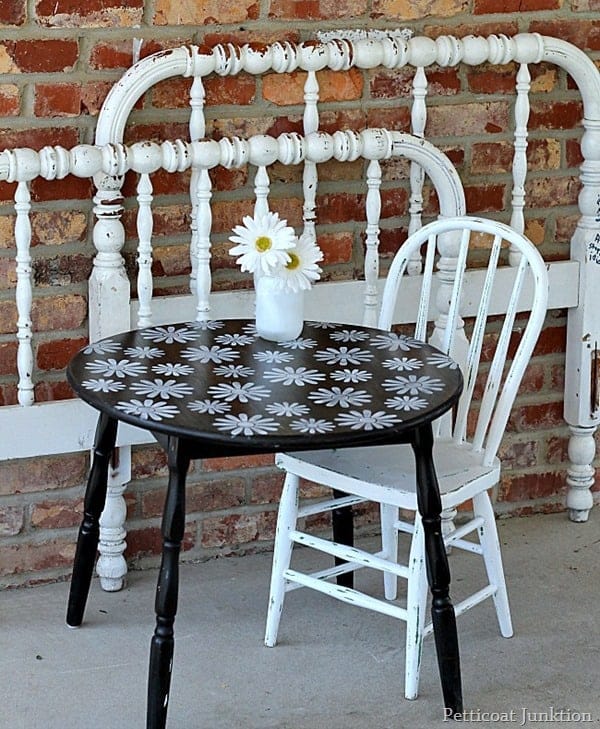 You have to admit....that table is cute. I think Miss Sofi will like it. The contrast between the white paint and original dark finish of the table is just perfect.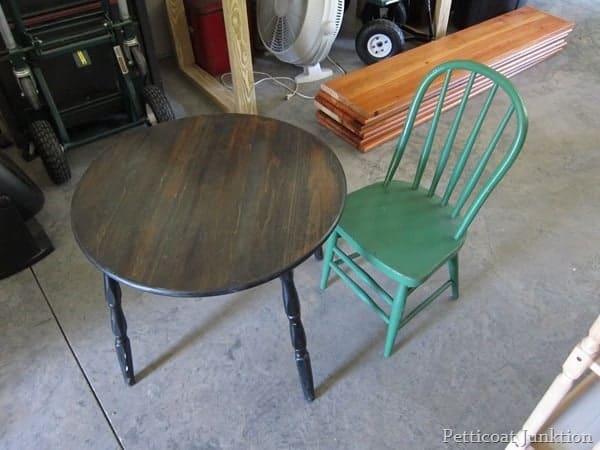 I bought the kid's table months ago. I don't even remember where it came from. The chair came from a local antique/flea market shop.
The table is in the Owen Workshop and Sofi uses it to paint her masterpieces. The chair has been with her desk in the house. She noticed the chair had been replaced with another but we were able to gloss over that and move on!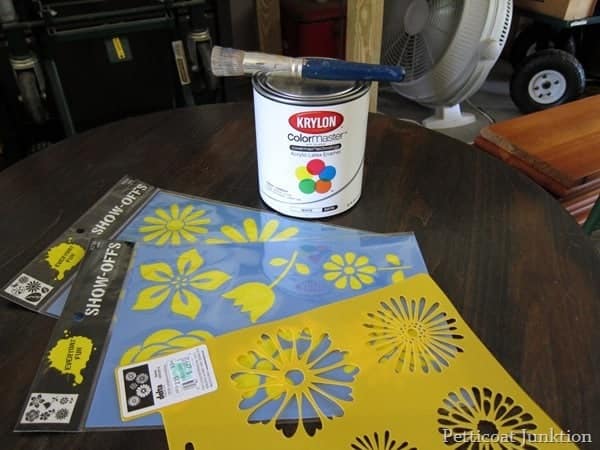 I found the flower stencils at Hobby Lobby and got a brand new can of Krylon White Gloss paint for the flowers. The glossier the better.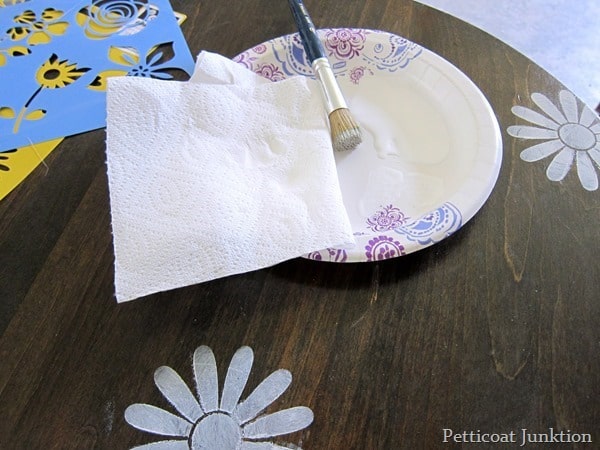 Paint goes a long way when stenciling. Really, it just takes a tiny bit. I poured a little paint on a paper plate then dipped the brush in the paint and wiped most of the paint off on a paper towel. That's how you do it. The secret to stenciling is a dry brush….read a complete tutorial by clicking here.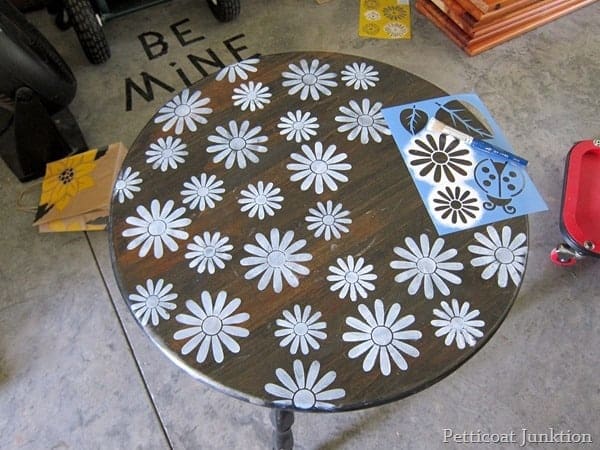 I planned to use different flower designs but after contemplating (big word) it for a while I decided just to use two different sizes of the same design. I stenciled them on willy-nilly, no measuring or anything. When stenciling designs I usually run some of the design off the edges or overlap designs.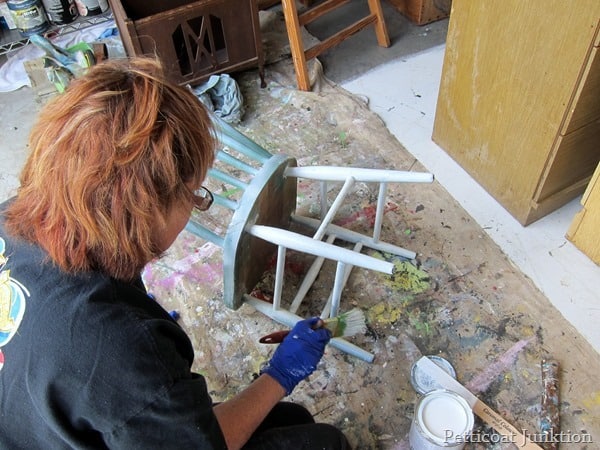 Chairs are not my favorite thing to paint. There are usually a lot of rungs or curved details. I usually try to give the chair a coat of spray paint before I brush on a coat of paint. The spray paint gets into all the joints better.
I used the same white Krylon paint for the chair that I used for the stenciling. The JTS got ahold of the camera. There's a reason I don't post photos of myself working on projects in the workshop.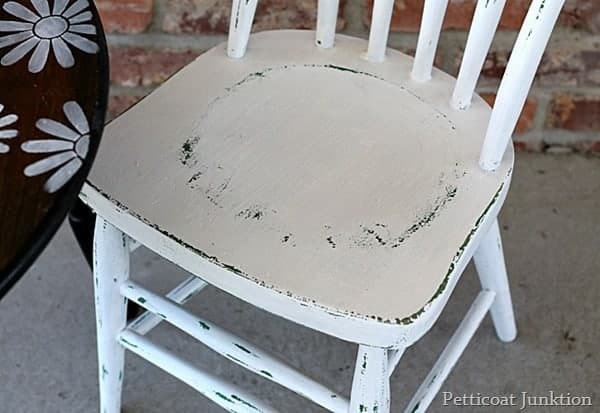 I distressed the chair and the original green paint shows through a little. I did the distressing with an electric palm sander and 100 grit sandpaper.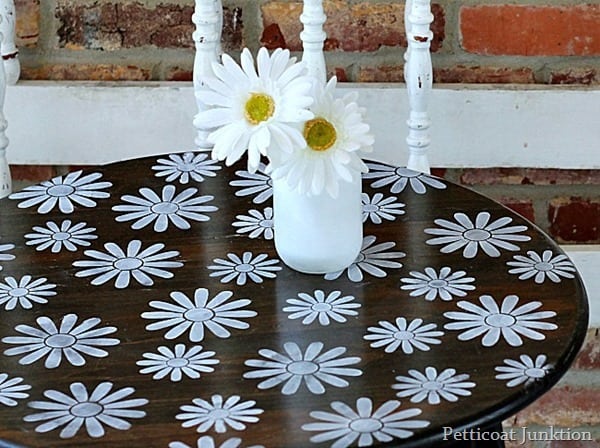 My first thought was to give the table an overall paint job in a bright color and stencil bright flowers all over it. I'm glad I worked with the original stained finish.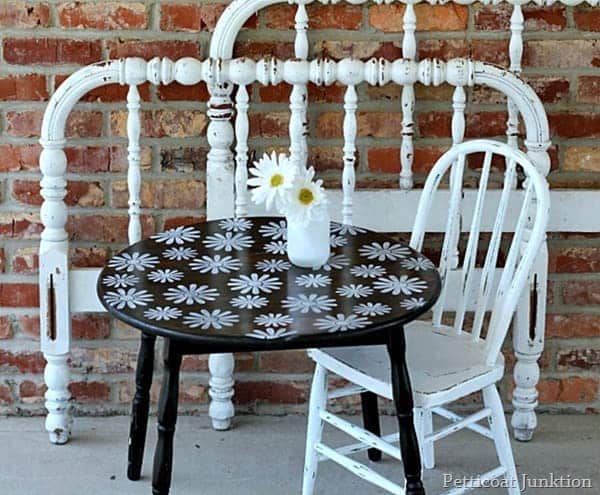 The little table is a class act now. What do you think of the stencils and the white paint?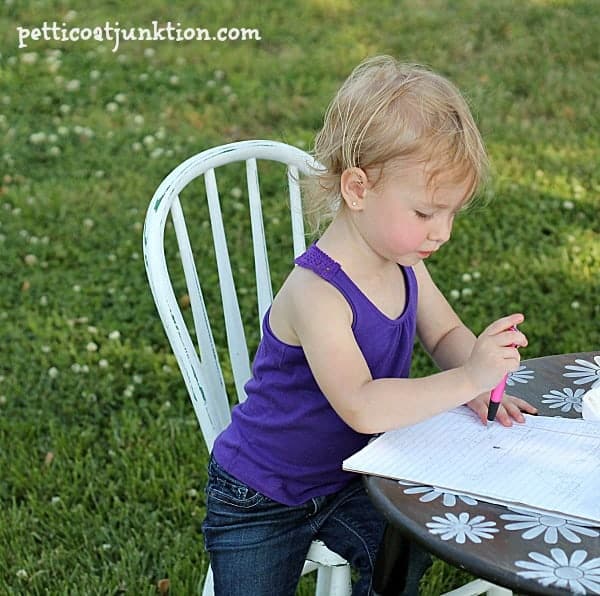 Sofi & stenciled white daisy table
Sofi likes her table. I wasn't there when she first saw the table but I'm told she put both hands over her mouth and said "I can't believe it"....she's not dramatic at all 🙂 She didn't want me to take her picture so I had to sneak around to get this one. Thanks for stopping by and have a great week, Kathy
Petticoat Junktion Pinterest Boards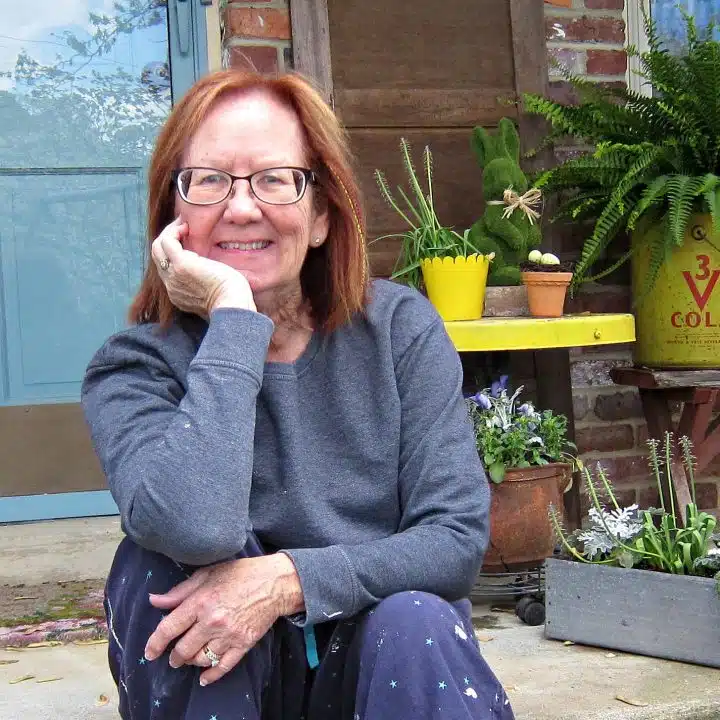 Author: Kathy Owen
Kathy Owen is the founder of the home decor blog Petticoat Junktion where she shares tutorials on painting furniture and upcycling thrifty finds into unique home décor. Her DIY projects have been featured on the Home Depot Blog, Plaid Crafts, Behr Designer Series, and in numerous magazines. Kathy's newest website is HappyHomeDIY.com