Workshop construction is underway! We've been talking about building a workshop for years so it's time.We went on vacation and came back to find out contractor breaking ground for the workshop. WooHoo! The JTS and I have been at the beach on a needed vacation. I didn't take my laptop. I took a break from blogging, email, Facebook, etc. Just wanted to enjoy family time.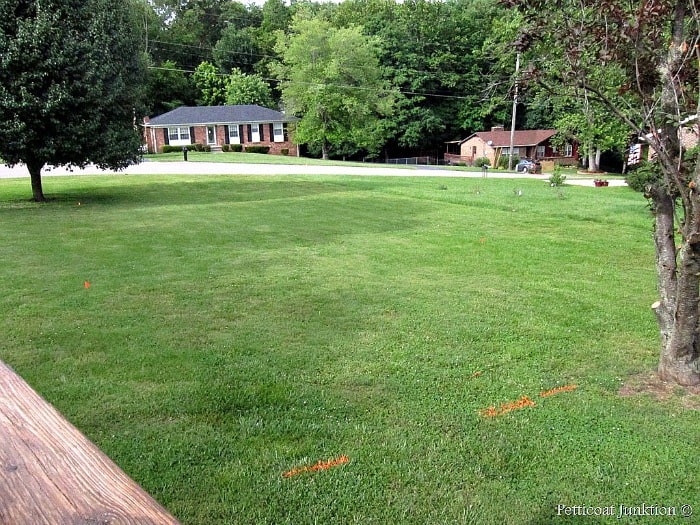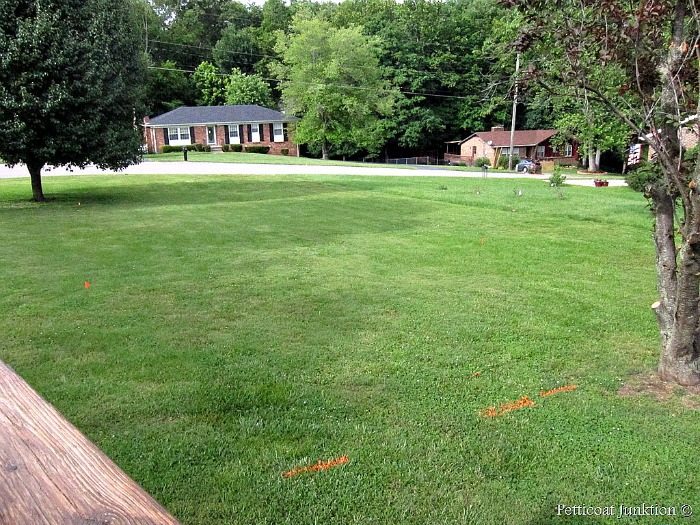 While we were away, the construction fairy came to our house. We're having a workshop built. It's going to be awesome. I'm soooooo excited. I'll be sharing pictures of the workshop construction along the way…….starting today!
The photo above was taken from our deck on the back of the house. We have a really large corner lot so plenty of room for a workshop. This one is going to be big. It will have a bathroom with shop sink and a toilet. No shower or bath. There were all kinds of different color lines painted in the yard. I guess for, well I don't know. Will wait and see.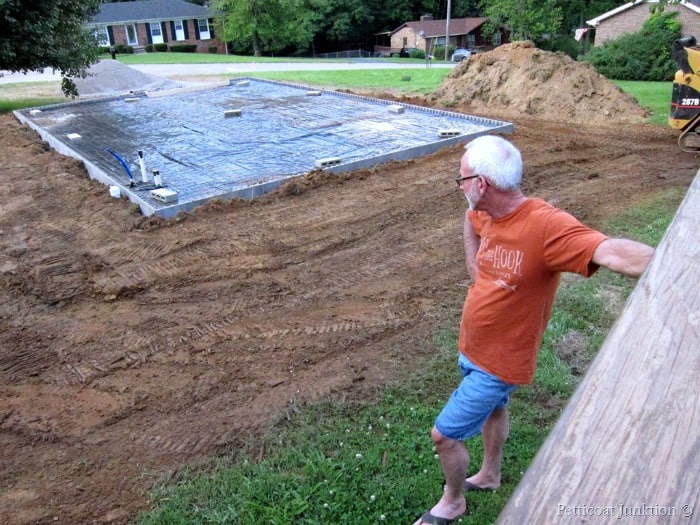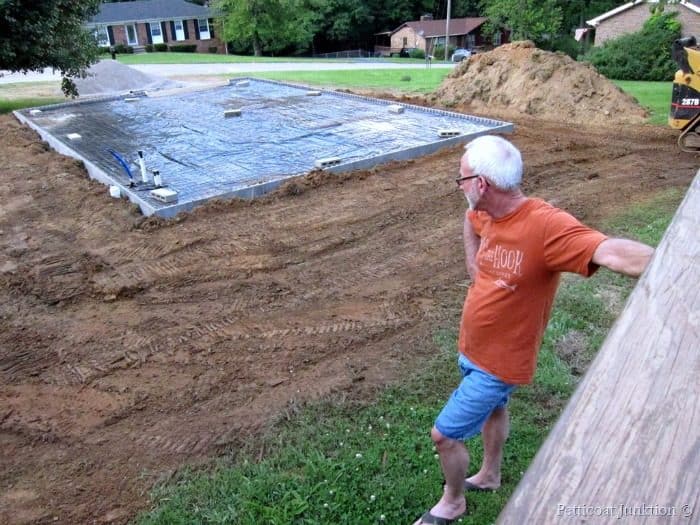 View from the deck with Ray checkin' everything out. It's going to be an exciting few weeks. This is what we saw when we pulled into our driveway yesterday. End of day 3 of construction. Ready for the concrete to be poured at 6 a.m. tomorrow. Lots of progress for 3 days. The workshop is 24x36 feet. Pretty big.
We've talked about this workshop for eons. We finally had an estimate of the cost then we quit discussing the workshop. When our contractor called to say he could start on the shop soon, we cut and cut and cut some more and now we can have it built and still put food on the table!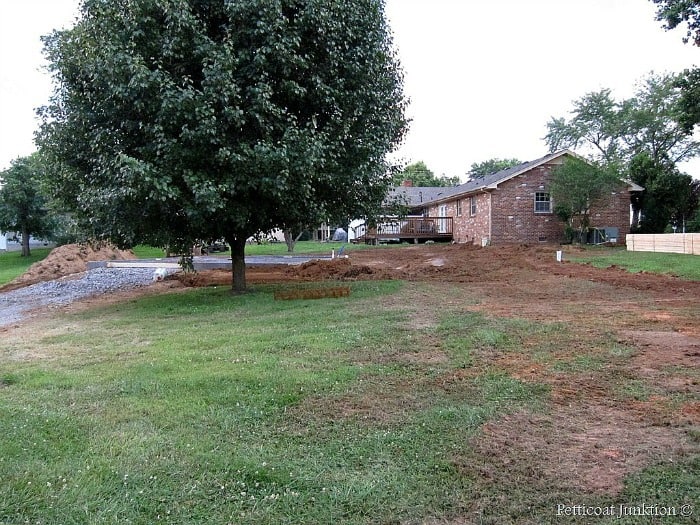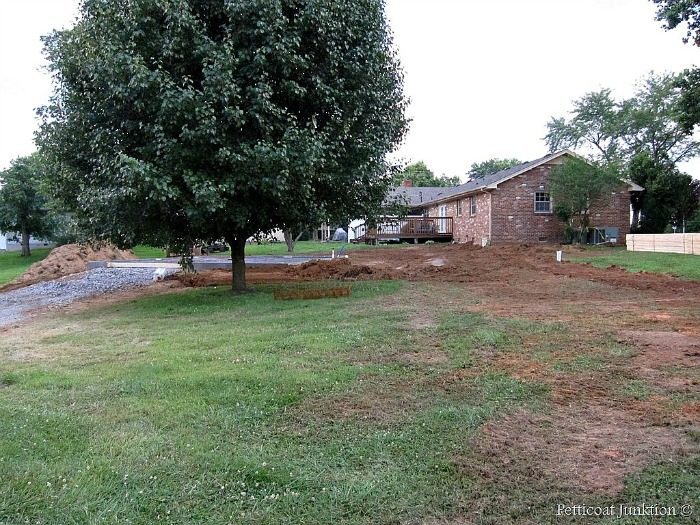 Workshop Construction
This is the opposite end of the workshop. The workshop will have a garage door on one end. We call it the workshop/garage but it's mostly a workshop. It will be used to store tools, motorcycle, bicycles, etc. and the best part…… storage and workshop space for my furniture projects.
When I started painting furniture we lived in Florida. We had a small apartment with a tiny balcony and I painted on it. Then we bought a house and it had a 12 X 16 outbuilding where I painted when the weather was bad but I usually painted furniture in the backyard. This building will be so nice.
The driveway for the workshop will come from the side street. Our home was built in the mid-sixties when the lots were nice and large, not little cracker box lots where you can touch your neighbors house from your bedroom window. Having a corner lot is a plus.
Workshop Construction Day 4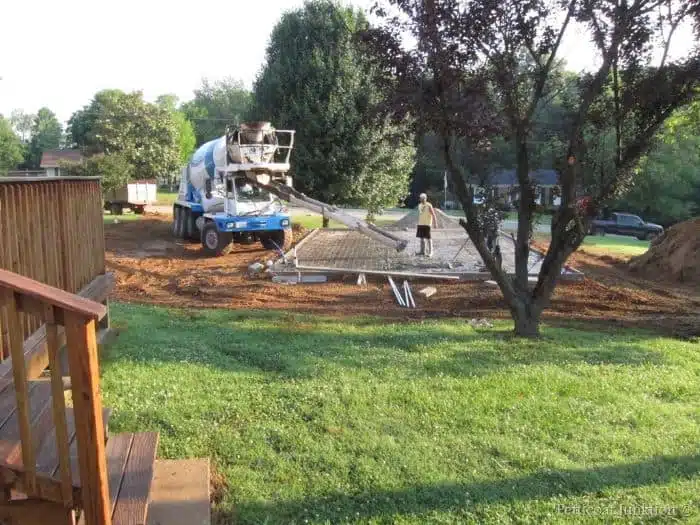 I think it's amazing how the guys can get the concrete so smooth. I know it's just technique but it seems complicated. I wish the grand kids had been around so they could mess it up with their little (and big) hand prints.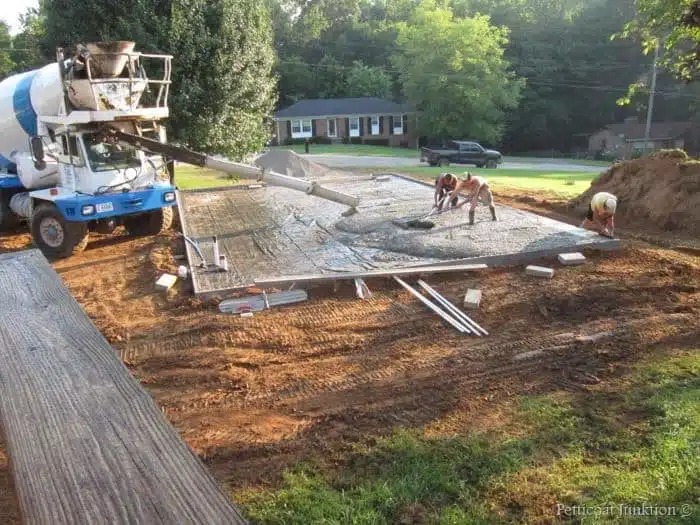 I'm so excited. The shop will be finished before we know it. I will have a place to paint and craft and the JTS will have a place for all his tools. He is Mr. Organization so I'm probably going to be in trouble. I can get a little messy. I start working on projects and go from one thing to the other. I get sidetracked easily.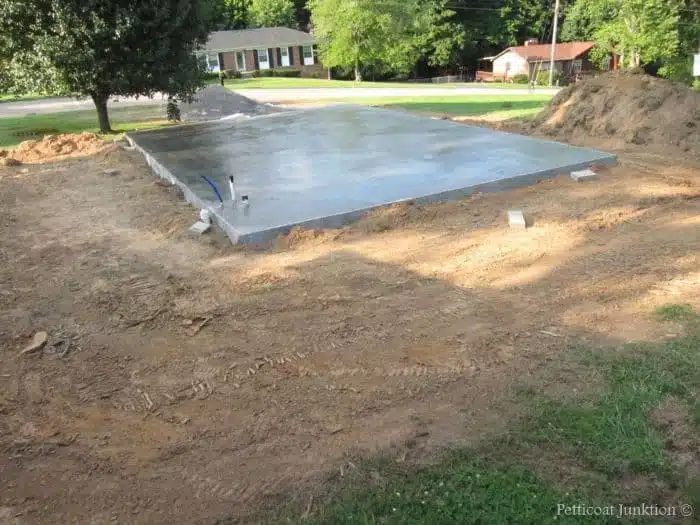 Day 10 Workshop Construction
Progress so far……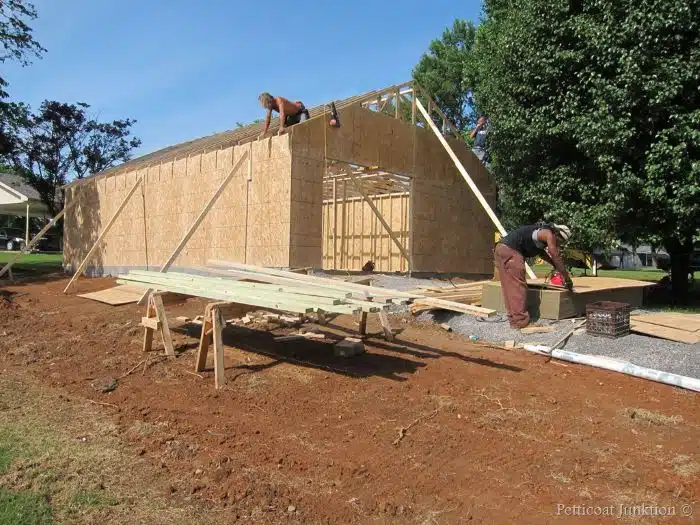 The Horse Shoe above the door was unearthed while preparing the ground for construction.
I'd say that's a good omen!
Construction Day no. 12
I had to feature our lucky horse shoe again.
It seems like such a good omen that this horse shoe was found while digging the foundation for our workshop. Wouldn't you love to know the history of this piece. As I'm typing this post my husband is watching the Hatfields and McCoys on TV. It makes my imagination run wild!
The outside lights and outlets are finished, the garage door is installed, the gutters were put up today.
The inspector comes tomorrow and they can run the electric line to the pole after the inspection.
The bathroom will be finished tomorrow and I think there is a little painting to do on the doors and some other odds and ends.
Workshop construction is on-going here at the Owen house.
The Owen men, meaning my son Jay and husband Ray, have taken on the job of putting up the drywall. I think I've mentioned to you guys that I don't want the place to be too fancy. I want to be able to bang around and sling a little paint without having to worry about messing up the walls or floor. With that in mind we are putting up the drywall and the tape and the mud????(doesn't really sound like anything I would want on my wall, but they assure me it will be OK),but no paint. Oh, I'm sure the walls will eventually be adorned with paint splatters but nothing rolled on.
While the men are working I'm keeping an eye on Sofi, the youngest grandchild. Tenley at age 8 is helping the guys?
A few pictures from today….
Had to share a photo of my hydrangeas. The bush is right outside the kitchen window and it's really beautiful this year.
I haven't had much painting time lately but I do have one piece almost finished and it's a doozy!
I'm hoping to finish it up today so stop by tomorrow to check it out.
Hanging Sheetrock in the Owen Workshop
My two favorite men finished hanging sheetrock (or drywall or whatever you call that stuff ) on the ceiling of the workshop yesterday. They sure worked hard. I'm glad the weather was nice yesterday and not too hot. CDE still hasn't been out to run the line from the new meter to the pole. Hopefully they will get out here before this weekend. Oh well, we still have those long extension cords!
Jay working hard and Ray supervising. They worked so well together on this project. When Jay was a teenager things didn't go quite as smoothly. I think that's typical of fathers and sons.
Ray supervising Tenley. Don't they have child labor laws?
wonder what happened there?
Jay doing a little trimming. Ray and Sofi supervising.
ta-da, all done (with the ceiling, on to other stuff)
Attic Insulation
Had to give ya'll a quick update on the workshop. The attic insulation went in today!
It was really cool when they came and blew the insulation in the attic. Wish you could have been here. There was a little man in the attic holding this long snaky hose hooked up to some thingy in his truck and it took about 15 minutes, maybe.
You can see we have a few odds and ends in the workshop and I've been able to move in some furniture and paint a few projects but we really don't want to move everything in until we put the drywall up. So stay tuned for updates.
It will be so nice to finally have everything done. It's been fun watching the whole process. I really enjoyed watching my boys work together putting up the sheetrock.
Busy two weeks coming up. Family time and vacation.
FUN!
The Owen Workshop is still a work in progress. Due to the hot weather and us being out of town for most of the summer, the finishing touches on the workshop have been on hold. Tuesday my son and husband put the drywall up on the walls, YEAH! Now they have to MUD it ???? I don't know that I want MUD on my walls but apparently it needs to be done. So, one more thing?? Is that going to be it?? I want to be able to work here and not worry about messing up the walls or getting paint on the floor!! Those of you who know me , know I am a very messy painter. Just sayin'.
One of these days we will be able to put peg board on the walls, move the furniture and tools out of the middle of the floor, build work counters, etc. We're getting there ( I think).
Author: Kathy Owen (Petticoat Junktion)
Kathy is the founder of PetticoatJunktion.com, a home décor blog focused on repurposing and upcycling furniture, old hardware, rusty stuff, and thrifty finds into unique home décor. Kathy's projects have been featured on the Home Depot Blog, Plaid Crafts, Behr Designer Series, and in numerous magazines. Read more about Kathy here.