This painted butterfly is in-you-face red and is decorated with fun junk treasures. My favorite projects are those where I can show off a few treasured finds and this one includes a couple of upcycled pieces from my Grandparent's home. I like to incorporate items with a history into my makeovers whenever I can.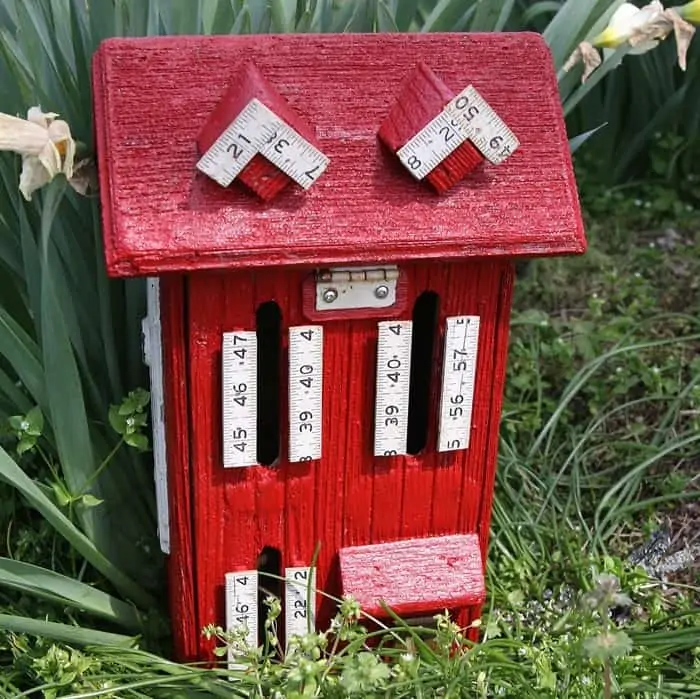 I told you it was red. I tried to make it a Razorback Red (as in Arkansas Razorbacks) for my sister. This butterfly house is going to her house although she doesn't know it yet. What do you think about the vintage folding carpenters ruler "shutters"? You have to admit these butterfly house shutters are one of a kind.
Painted Butterfly House Project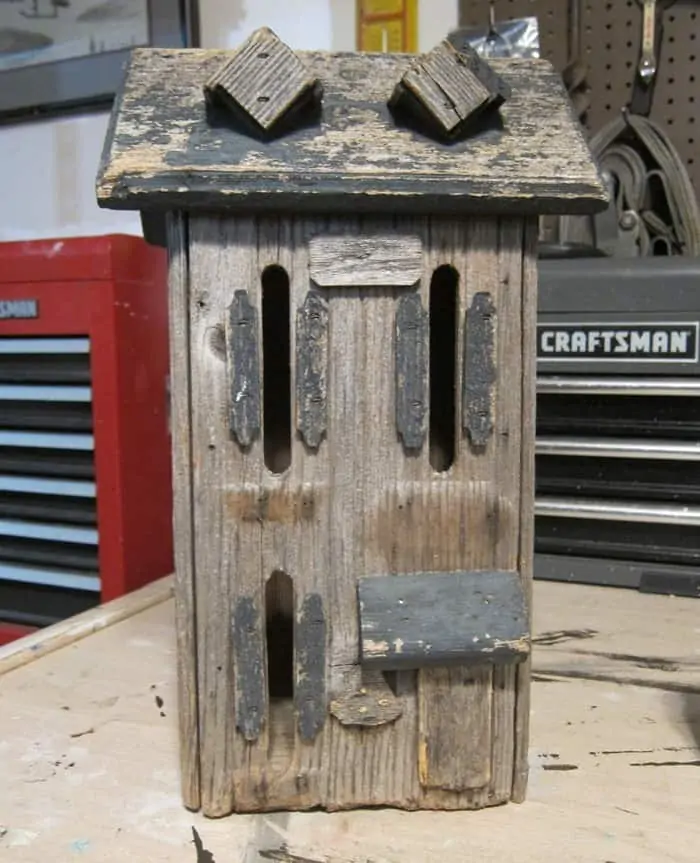 You might remember the old weathered butterfly house from an earlier junking trip post. You might also remember I called it a birdhouse and some of you corrected me. Thank you! I have a lot of birdhouse makeovers in my past and I guess birdhouses were on my mind.I paid $5 for the butterfly house and already had a plan for the makeover. Of course that plan was trashed later for a better one. This happens a lot around here.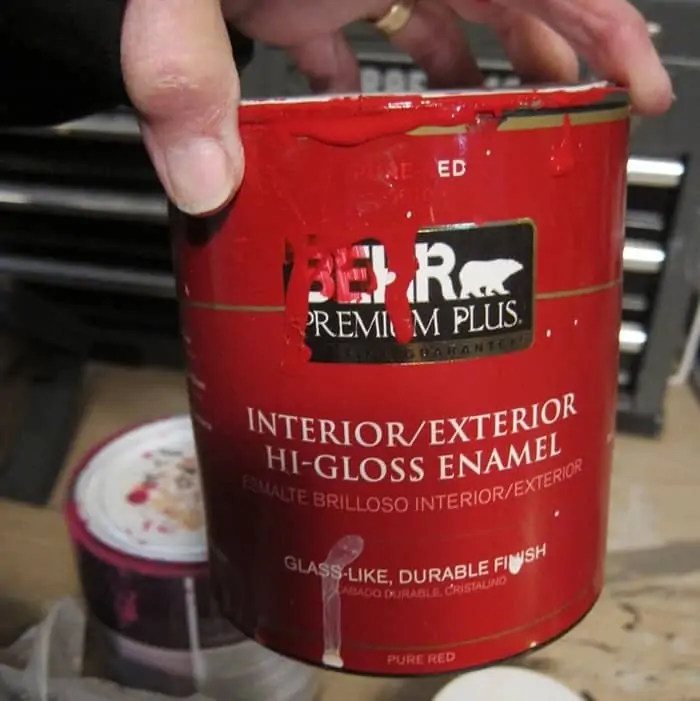 Selecting The Perfect Paint Color
My original plan was to paint the butterfly house turquoise and paint the shutters yellow. Then I got to thinking about red and maybe I could paint the butterfly house for my little sister who is an Arkansas Razorback fan. Plus I love red.
I worked with cans of red paint I had on hand and I started with the red Behr Hi-Gloss enamel. I brushed a bit of the color on the bottom of the house and it was a little too orange.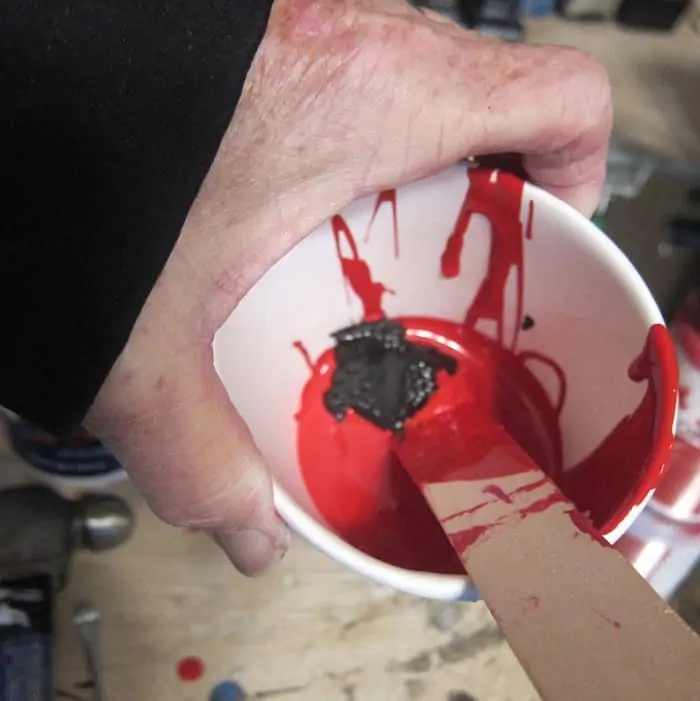 I added black paint to the red paint to deepen the color but I overdid it. Seems it doesn't take much black paint to make a color darker ......or several shades darker. Don't be afraid to mix paint colors together for a custom color. Just keep mixing until you are happy with the new color.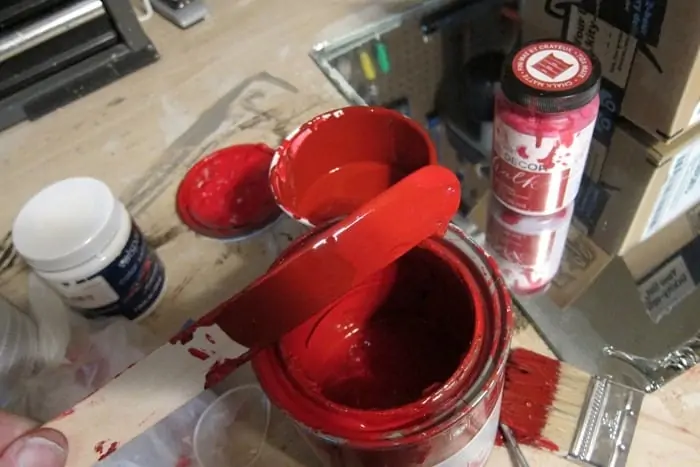 I just added more of the original red paint to the darkened red and it was the perfect color. You can see the too dark color on the left side of the stir stick. The red on the right is the color I used for the wood butterfly house. Most paint darkens a bit when it dries and the red did just that. I think it's pretty close to Arkansas Razorback Red!
Painting The Butterfly House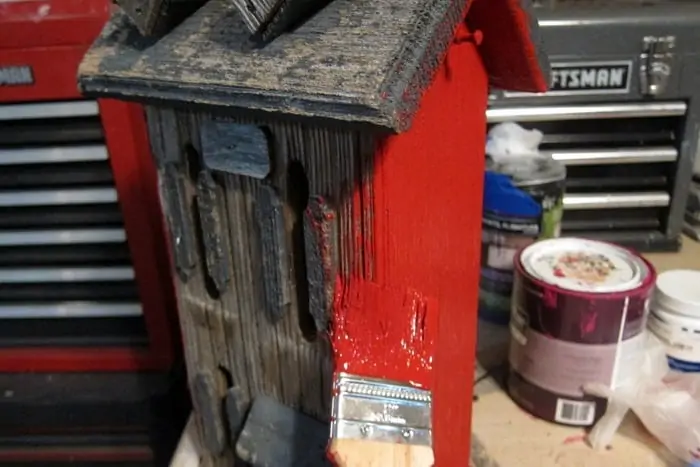 I used an inexpensive chip brush to apply the red paint and I painted the whole house, shutters and all. I was thinking I would paint the shutters white but still undecided at this point.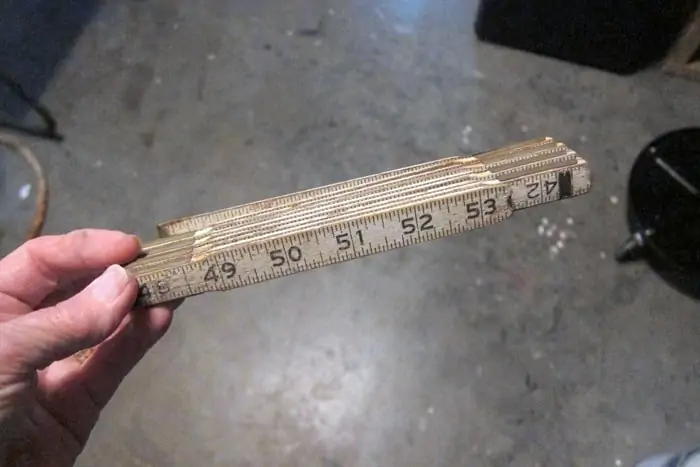 I kept thinking about painting the shutters and that just seemed so ho-hum. But walking by my junk shelves on a different mission in the workshop I spotted the white folding carpenters ruler. Ah-Ha Moment. Cutting the ruler shouldn't be too hard and the width of the carpenters ruler was perfect for the shutters. Now I had a plan including adding some of my rusty junk finds to the house.
Decorating The Butterfly House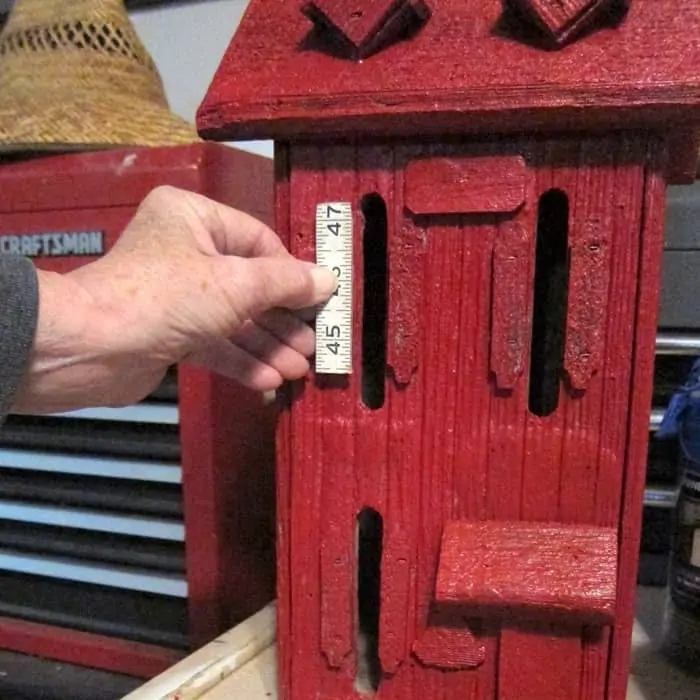 I cut a piece of the ruler to see how it would look as a shutter and decided the idea was brilliant. I compliment myself a lot. I didn't worry about cutting certain numbered pieces just about having all the numbers running the same way.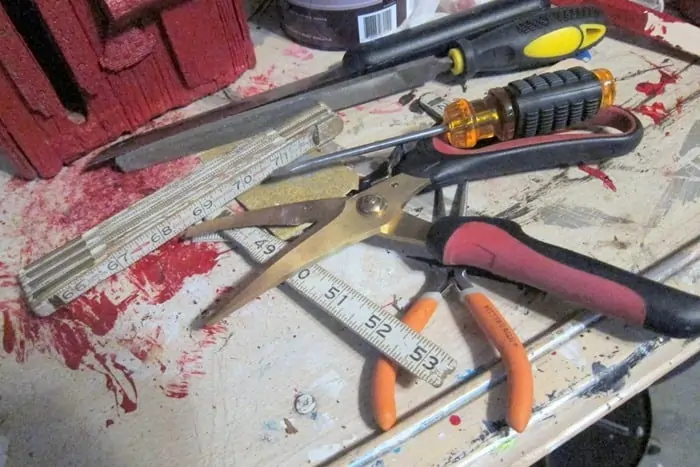 I went through several tools trying to find something to cut the ruler. Heavy duty scissors and a small saw worked best. A few of the cut edges were rough and I smoothed them out with sandpaper.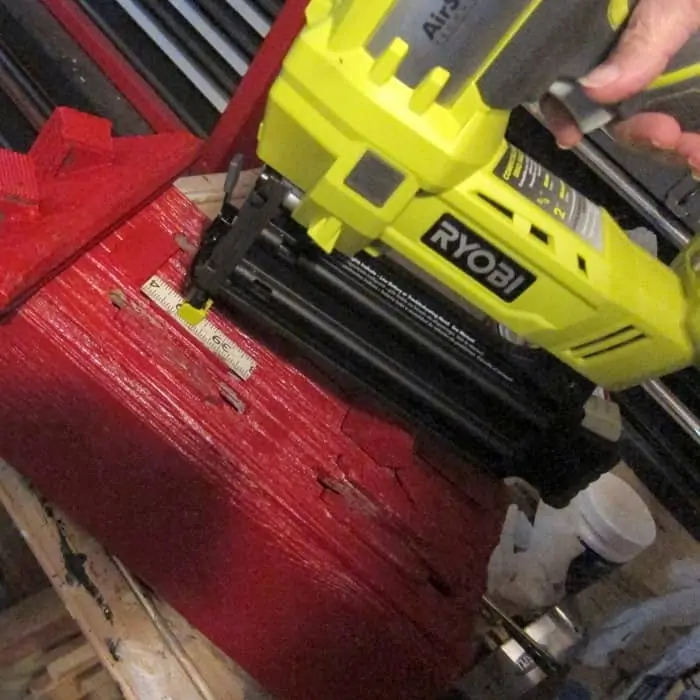 I attached the ruler shutters using my favorite Ryobi Brad Nailer. This power tool makes jobs like this so easy, no cord to mess with since it has a rechargeable battery. I used a couple of nails per shutter.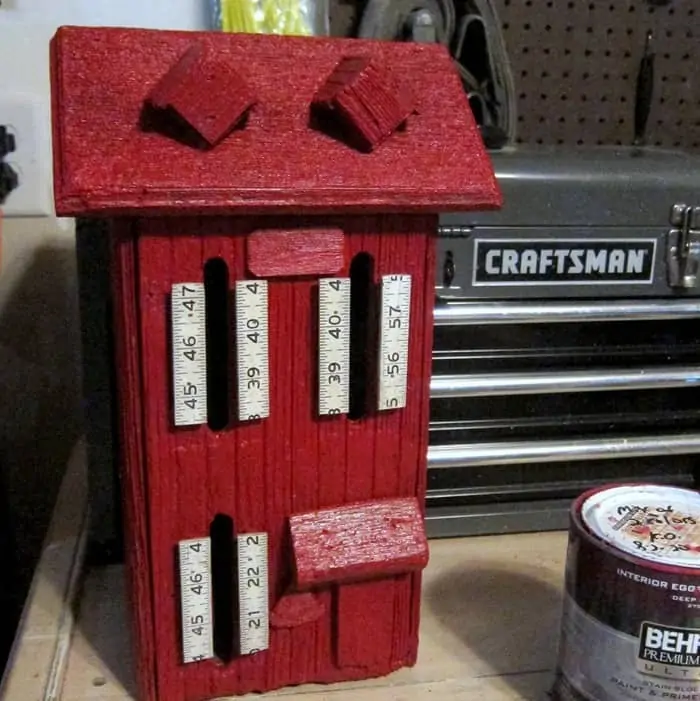 I didn't have any problems until nailing the last shutter (top right) and it split just a little. Not very noticeable thank goodness. Now, I needed a few more things to finish the house so I shopped my junk treasures.
Don't forget to sign up for email updates from me. There are some surprisingly easy junk projects coming up and a fabulous painted furniture makeover. Sign up here.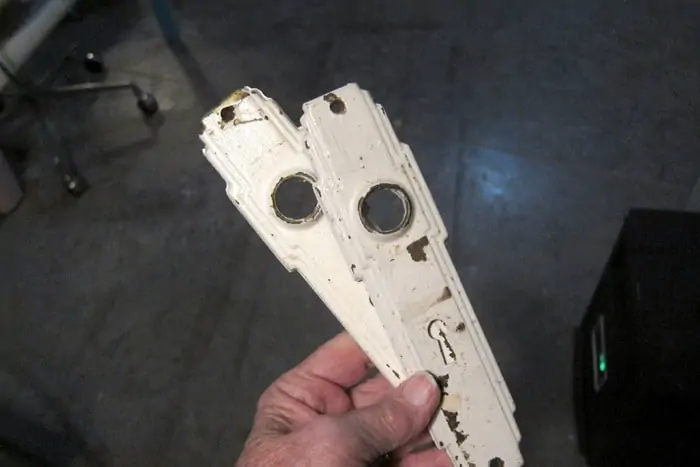 I ran across the two door backplates from my Grandparents' house. My cousin's wife remodeled the house for her son and she saved a lot of the original pieces she replaced with new. The things she didn't reuse she offered to the relatives. I got the door backplates, some interior doors, and a few other things.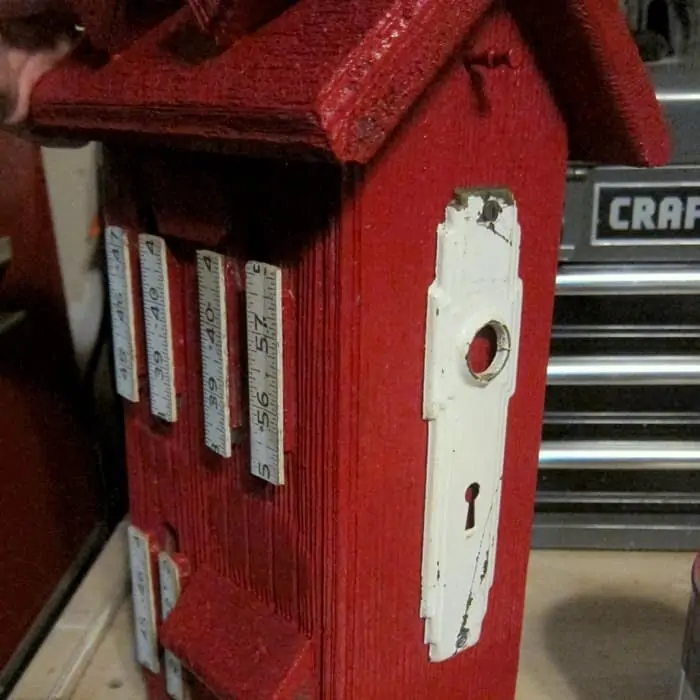 The backplates worked great as "windows" on the sides of the butterfly house. I attached the backplates to the wood by inserting screws in the holes in the top and bottom of each backplate. I drilled starter holes in the wood for the screws.
How To Seal The Painted Butterfly House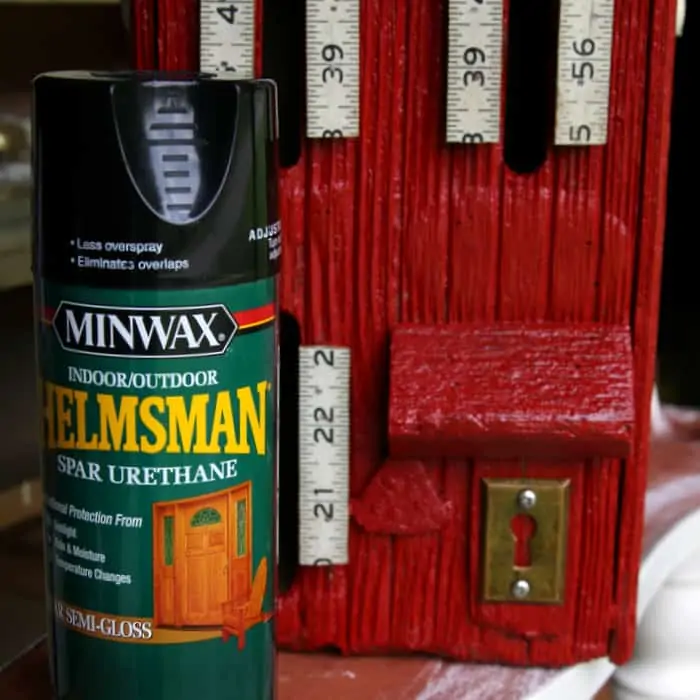 Next I added a vintage key hole plate for the "door", attaching it with two scres. Since the butterfly house is an outdoor piece I sprayed a bunch of coats of Minwax Helmsman Spar Urethane over the whole thing.
I sprayed on light coats and let each coat dry before applying another. I used the spray sealer instead of brush on sealer because red paint is bad about bleeding and I didn't want the red to bleed and turn the white ruler shutters pink or red.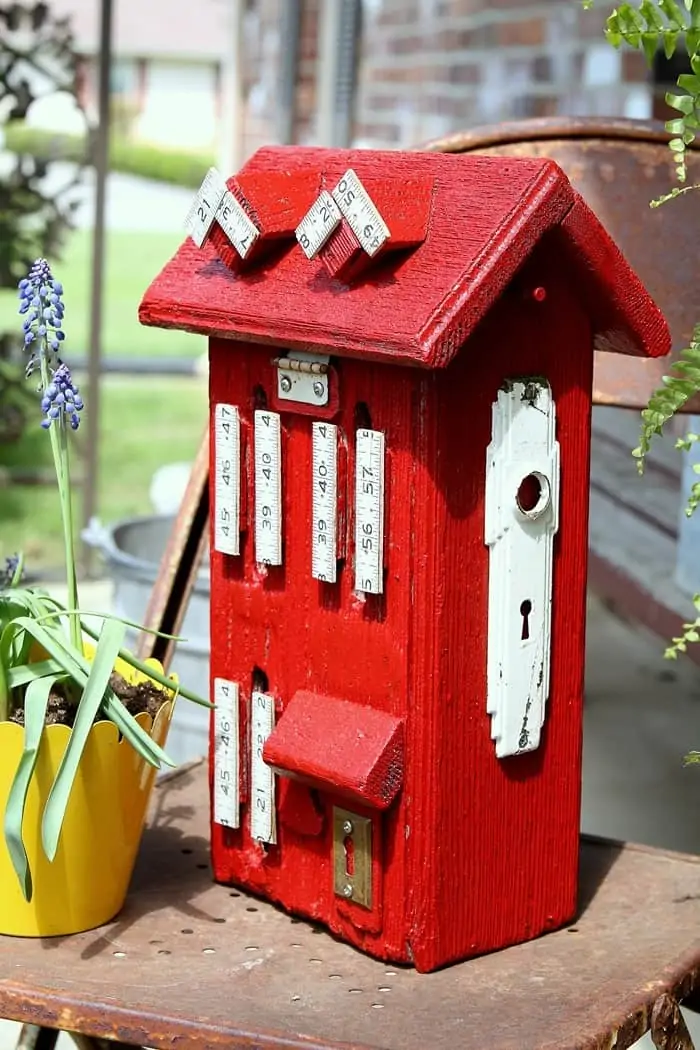 Hopefully the sealer will keep the butterfly house from weathering too badly. My sister lives on the Arkansas River and there is a lot of wind and of course humidity. We will see what happens.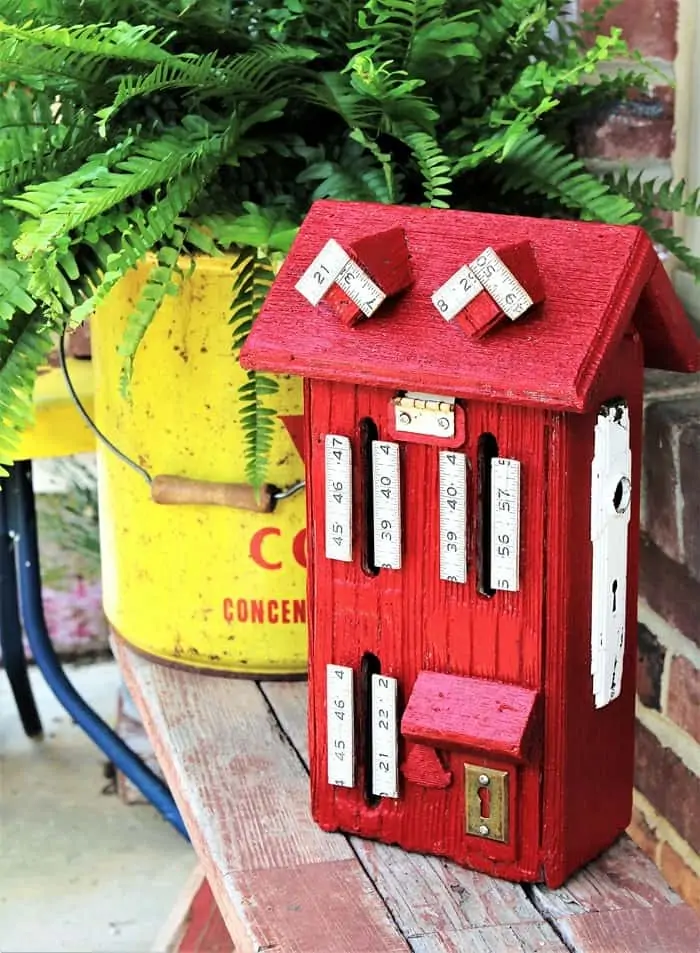 I hope butterflies move into the house instead of wasps which is what happens with her birdhouses and a lot of other things around her place. I'll keep you updated.
My sister who thinks she's a comedian said the ruler pieces on the dormers look like eyebrows. I can see that. Anywhere on the birdhouse where there was a raised piece of wood I added a rusty bit, like the chippy white hinge.
Pin The Butterfly House For Later!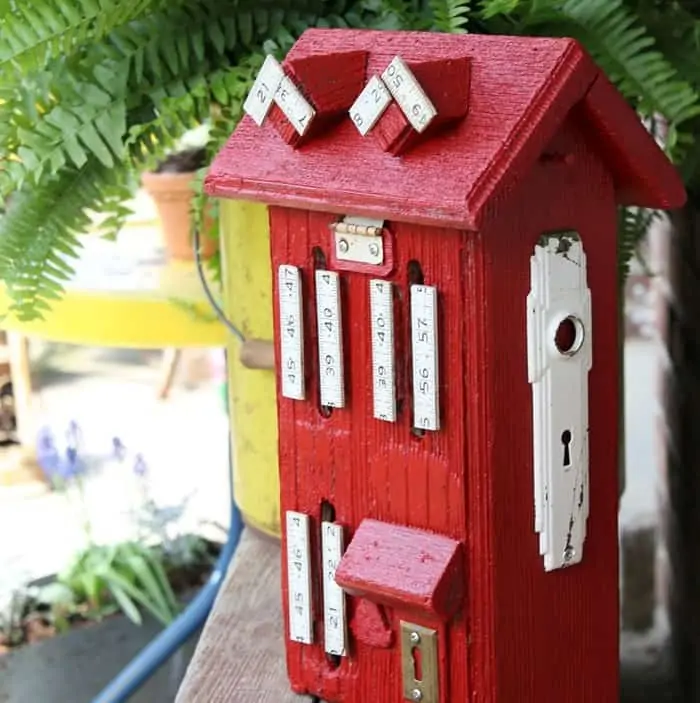 I wanted to add something else to the roof but had to restrain myself because I tend to overdo things sometimes. Do you guys think the butterfly house is just right or does it need a few rustic touches on the roof?
Click the photo below to view the Junk Creations Archives for my most popular junk projects....
You can find another of my ruler recycles here......How To Make A Recycled Ruler Flag. Also if you want to check out my favorite rustic birdhouse find it here...Update An Old Birdhouse With Vintage Hardware And Bits Of Jewelry
As always thanks for being here and have a great day, Kathy
Author: Kathy Owen (Petticoat Junktion)
Kathy is the founder of PetticoatJunktion.com, a home décor blog focused on repurposing and upcycling furniture, old hardware, rusty stuff, and thrifty finds into unique home décor. Kathy's projects have been featured on the Home Depot Blog, Plaid Crafts, Behr Designer Series, and in numerous magazines. Read more about Kathy here.