This is a simple magnet board with easy to make miniature tea set magnets.
The best magnet board is one that is made out of steel or metal and naturally attracts magnets. Then you don't need magnetic paint to make a magnet board.
This project is made using a vintage enamelware pan lid (automatically magnetic) and a few miniature tea set pieces.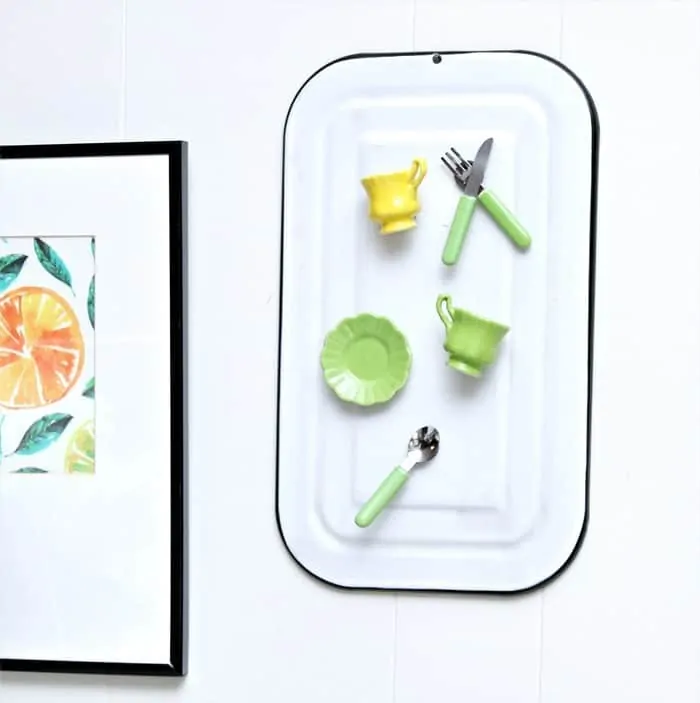 The project was super easy. All I had to do was glue the tea set pieces to the magnets and done. The enamelware magnet board even had a hole to hang it by.
Today is Thrift Store Decor Day and we have some really fun projects this month. I think my little magnet board is really fun, and cute, and... ......I'm patting myself on the back.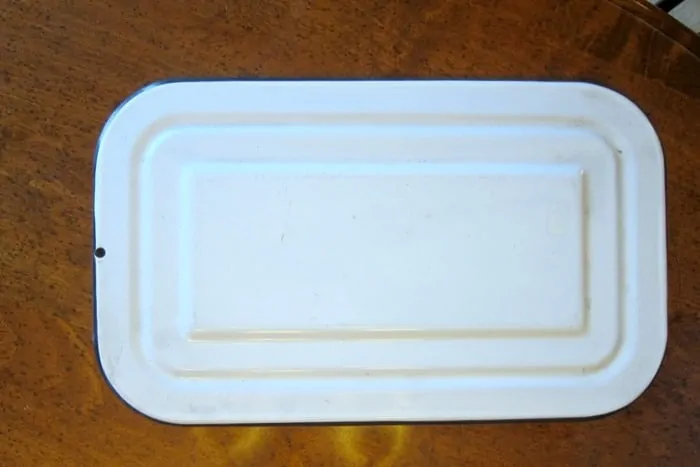 I bought the vintage enamelware or porcelain pan lid at my favorite junk shop for $5. I knew I would use it as a magnet board. It was perfect. All it needed was a good washing.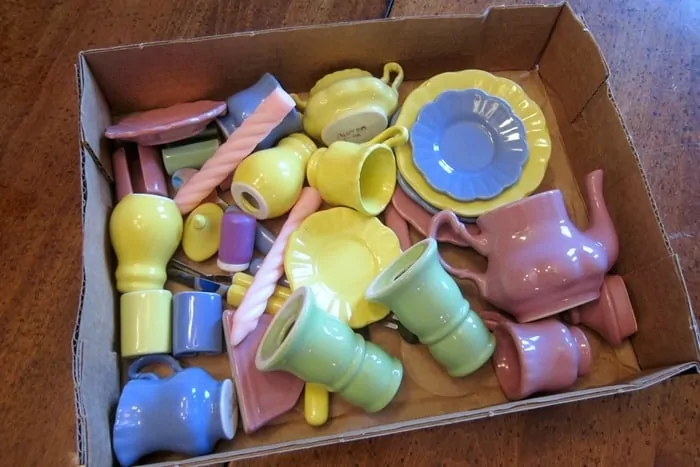 The pretty glass tea set was given to me by my next door neighbor a few years ago. She thought Sofi might like to play with them and she did but I think the days of playing tea are over for Miss Sofi. The tea set has been sitting on a shelf in the workshop for a couple of years now.
When I was looking around for something to use as magnets for the enamel lid I spotted the tea set first thing. Halt the search.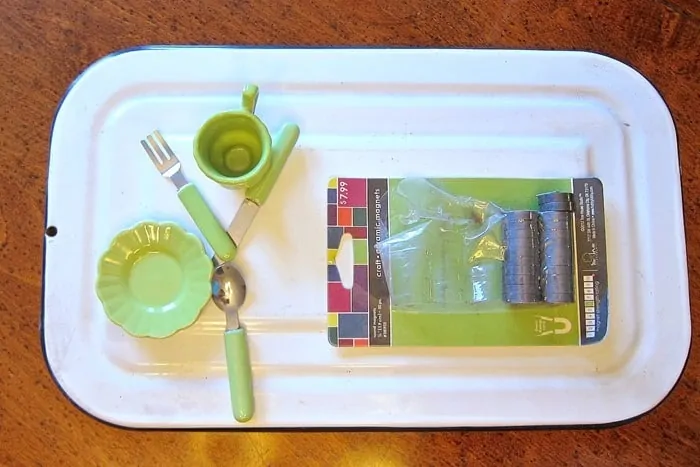 I keep a pack of magnets on the pegboard for projects like this one. If you need a quick gift and want to personalize it then DIY magnets are the way to go. Fast and inexpensive.
You need strong magnets or they will not adhere to the iron or steel. These magnets are grade 6 strength. I would suggest using grade 6 or up for refrigerator magnets.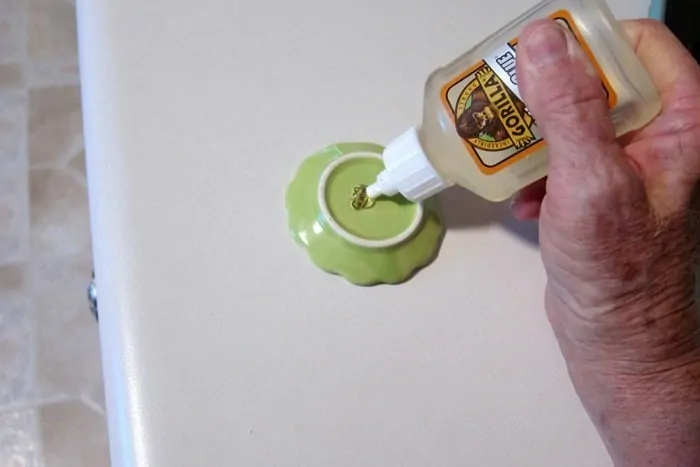 I used Clear Gorilla Glue to adhere the magnets to the tea set pieces. I selected 6 pieces of the tea set to use as magnets.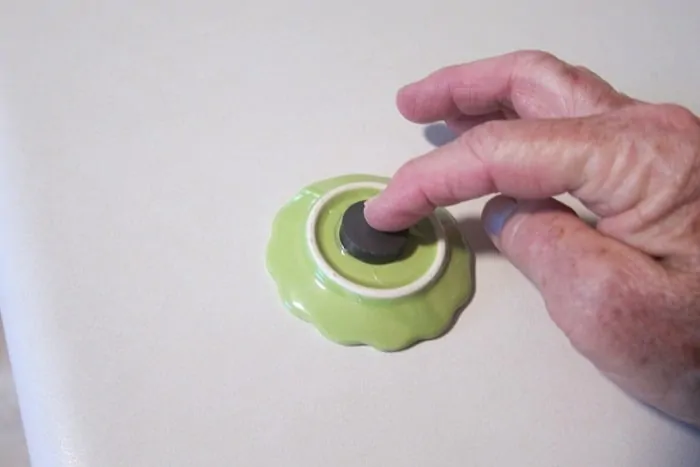 I put a drop of glue on the back of one of the small saucers then placed the magnet on top and let it dry for a couple of hours.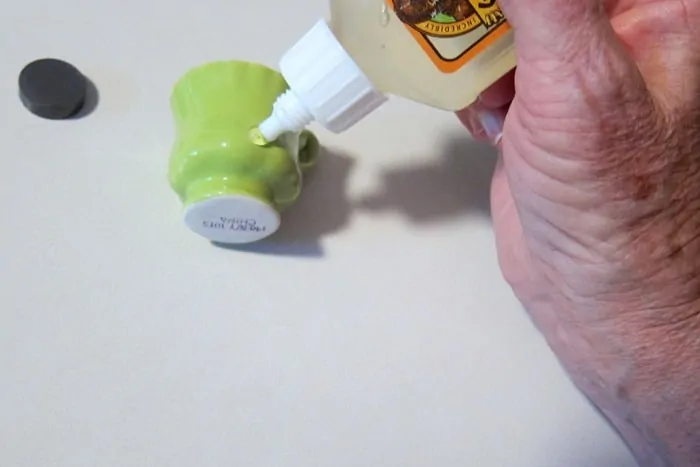 For the little tea cups I put a drop of glue on the cup then sit it on top of the magnet. You guys know green is one of my favorite colors so that was a major consideration when going through the tea set.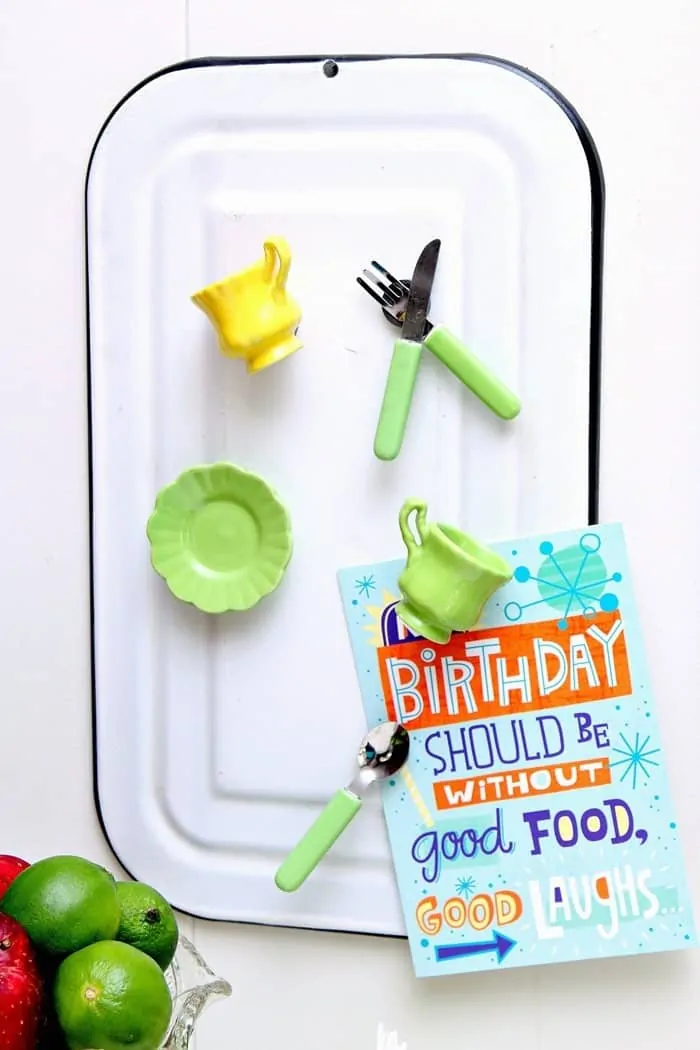 Once the glue was dry I hung the enamelware magnet board and added the cute magnets. The enamelware lid and the magnets are pretty enough to hang by themselves without any notes, photos, or cards.
The small tableware.....knife, fork, and spoon are made out of metal that sticks to the magnets but I glued them to the magnets anyway. One of the cutest magnets is the fork and knife duo.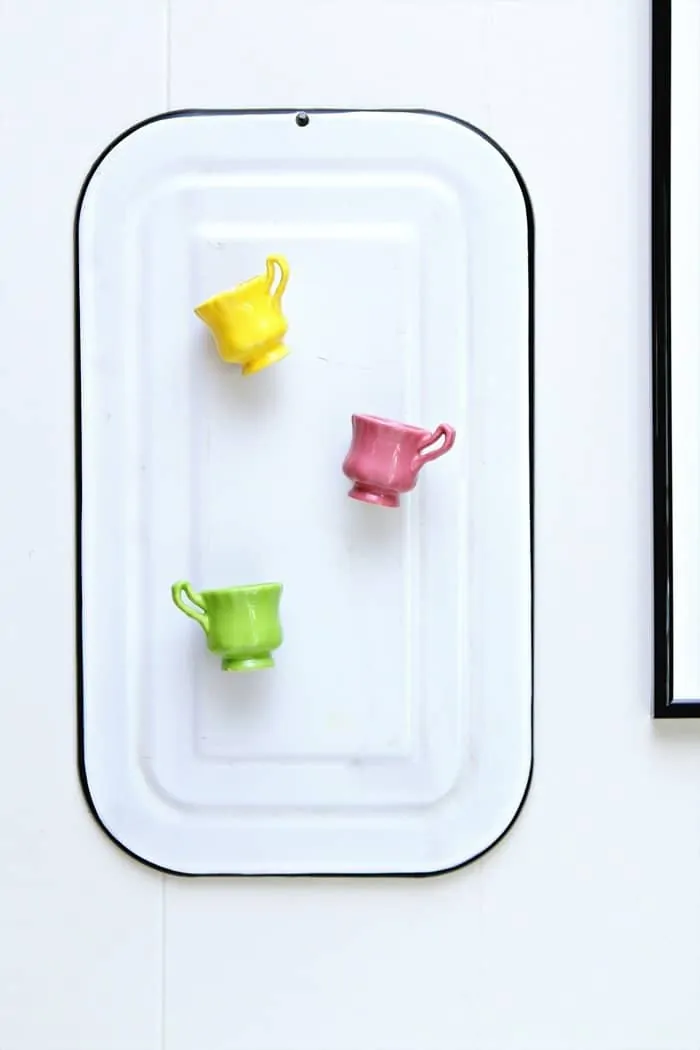 This would be a great project for miniature collectors or tea set collectors. To see my other magnet projects click the links below.
Make 17 Creative Junk Drawer Magnets In Record time
Make Antique Key Fridge Magnets And Vintage Hardware Magnets
10 Minute DIY | Magnet Serving Tray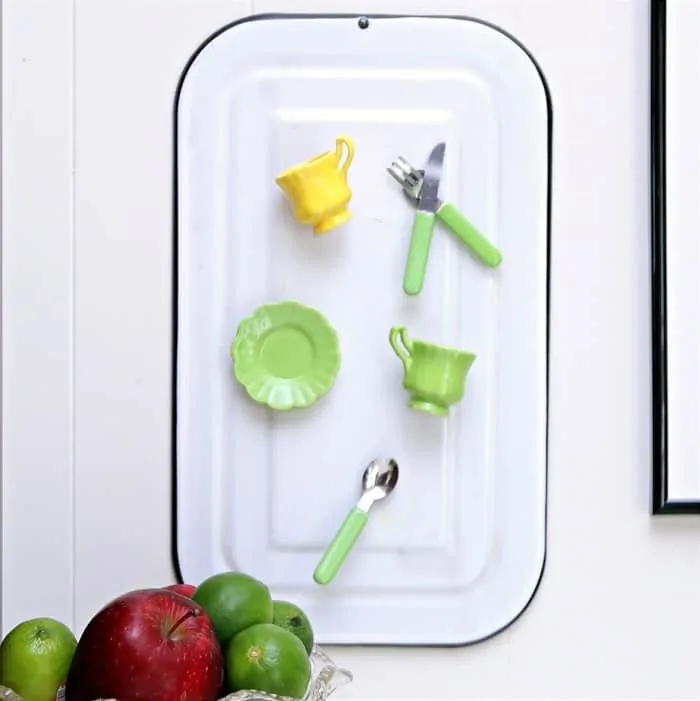 I think I'll just hang the board and magnets as decor instead of using it as a magnet board. It's just too cute if I do say so myself. What do you guys think? Leave a note before heading out on the tour.
Only 3 of us on the tour this month. Lot's of stuff going on in people's lives. Just click the text links below the "before" makeover photo collage.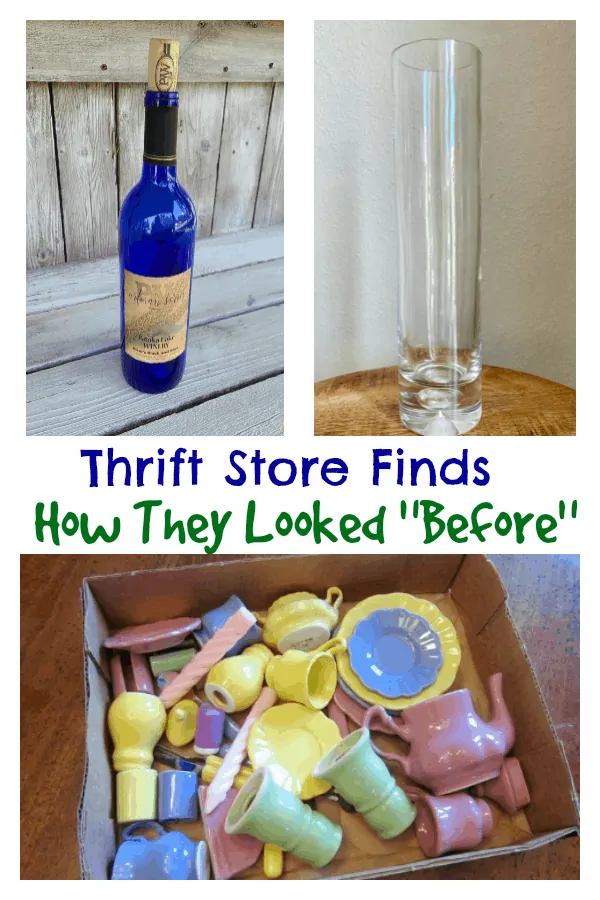 Wine Bottle Solar Lights
DIY Stoneware Vase
Miniature Tea Set Magnets - You are here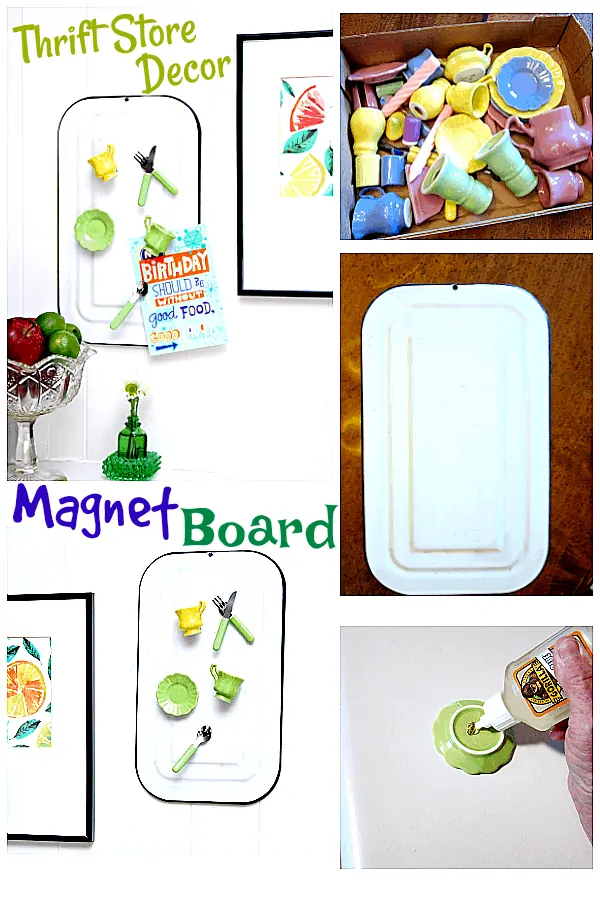 I finished painting the master bedroom dresser and hope to get the post together for tomorrow. See you next time. Kathy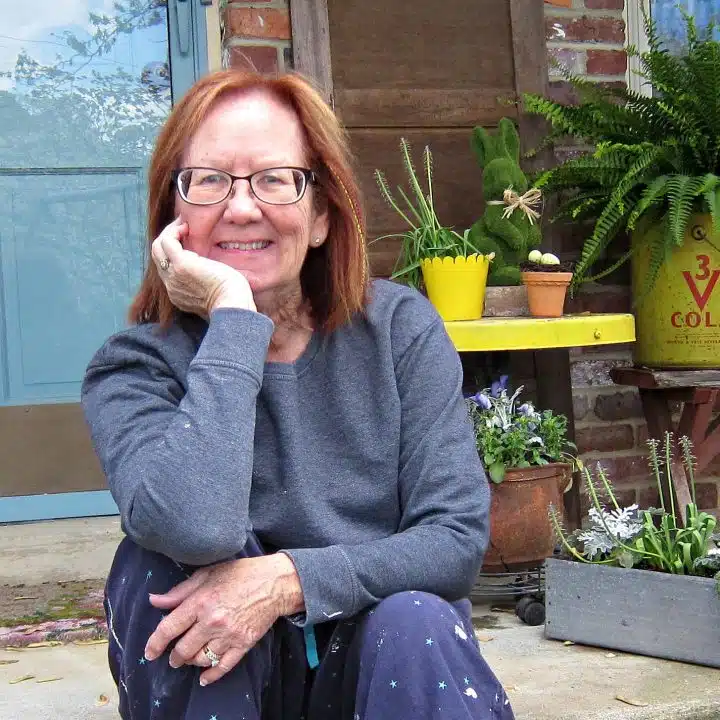 Author: Kathy Owen
Kathy Owen is the founder of the home decor blog Petticoat Junktion where she shares tutorials on painting furniture and upcycling thrifty finds into unique home décor. Her DIY projects have been featured on the Home Depot Blog, Plaid Crafts, Behr Designer Series, and in numerous magazines. Kathy's newest website is HappyHomeDIY.com