I bet you guys are ready for a good recycle/upcycle. This birdhouse with vintage hardware is the perfect example of using what you have to transform a totally blah piece into a masterpiece. Doesn't matter whether you have a large junk stash or just a junk drawer, you can make a similar project.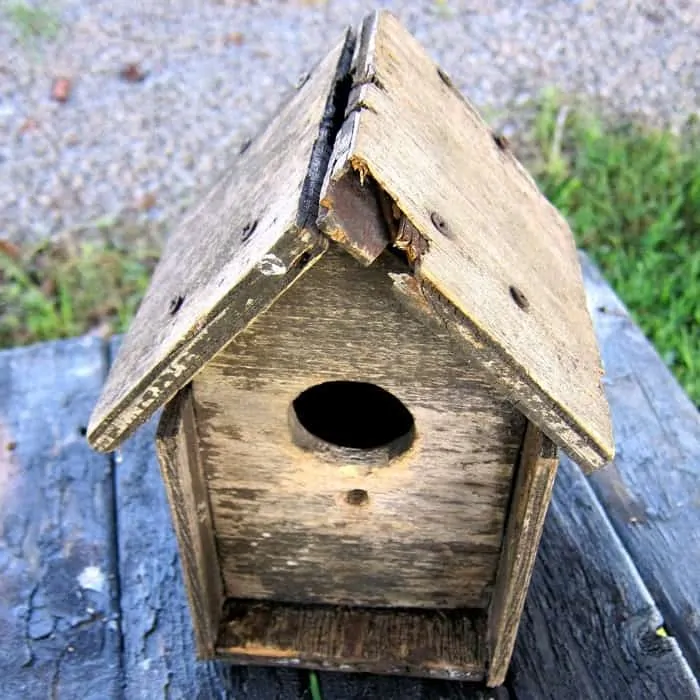 The birdhouse was a sad-looking thing when I found it at a local flea market. The weathered wood was perfect though and I could see the potential.
Today is Thrift Store Decor Day and wait until you see what the girls have done. Links at the end of the post. Now for the birdhouse makeover....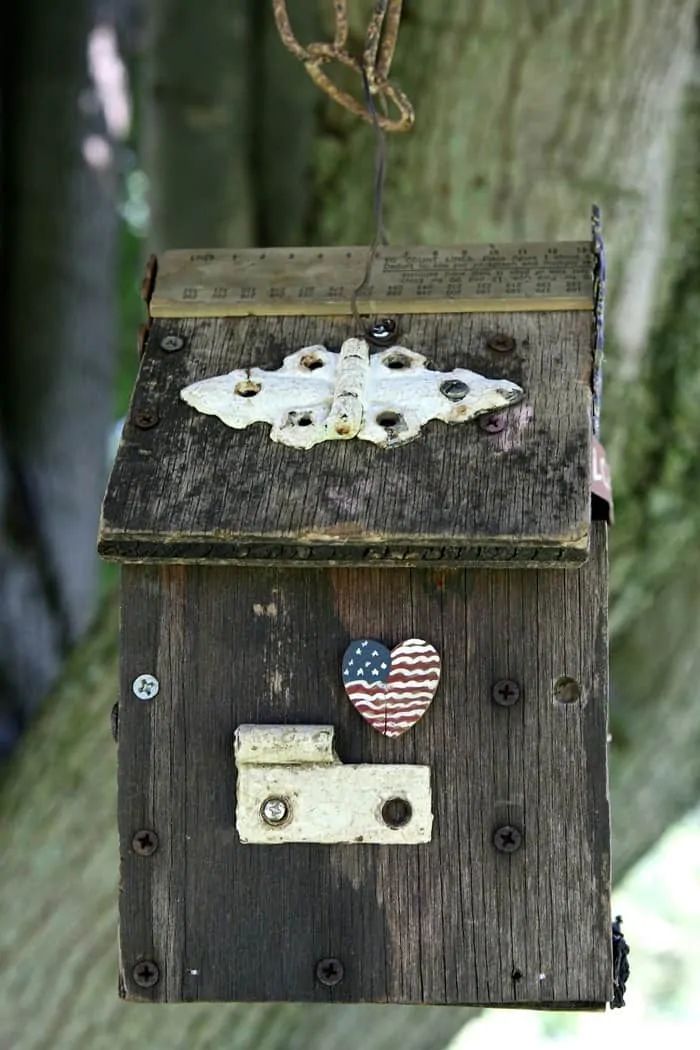 I added all kinds of things to all four sides and the roof. Things I had saved over the years including pieces of jewelry.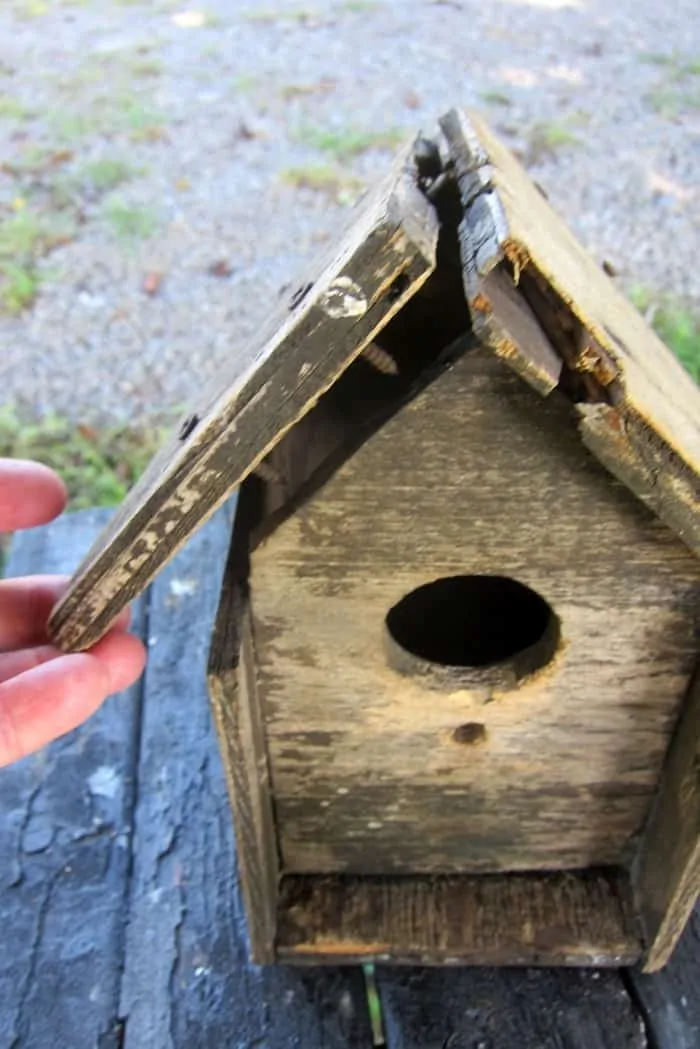 The birdhouse was a mess. The roof was coming apart and the wood was a bit crumbly (great descriptive word).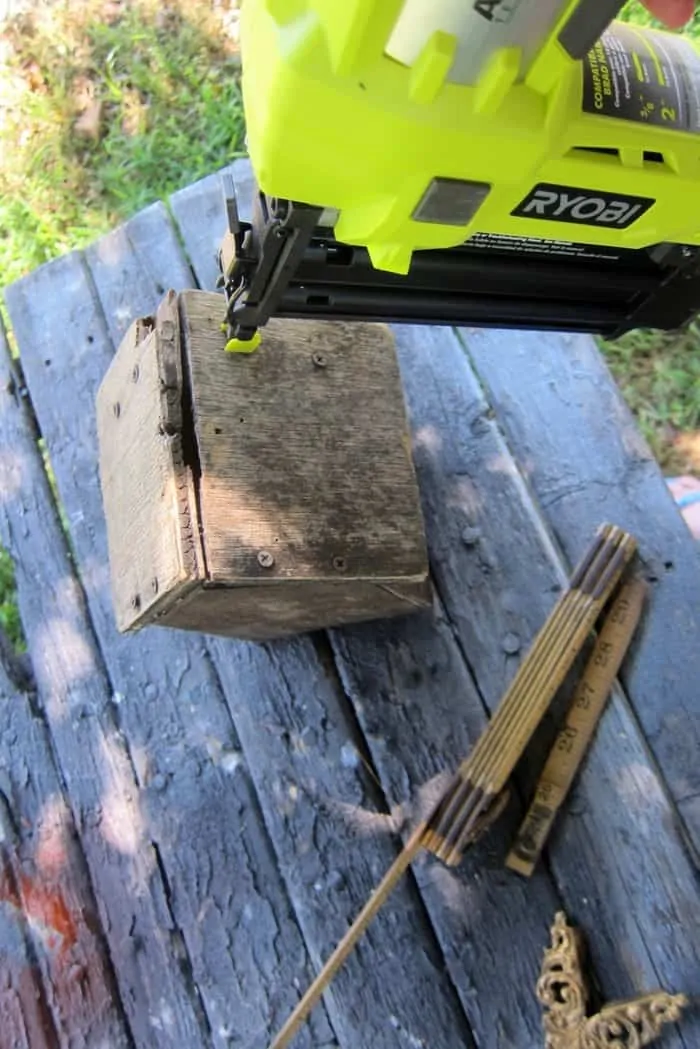 I did my best to put it back together with my Ryobi brad nailer. I think I put about 20 nails in the top and the sides.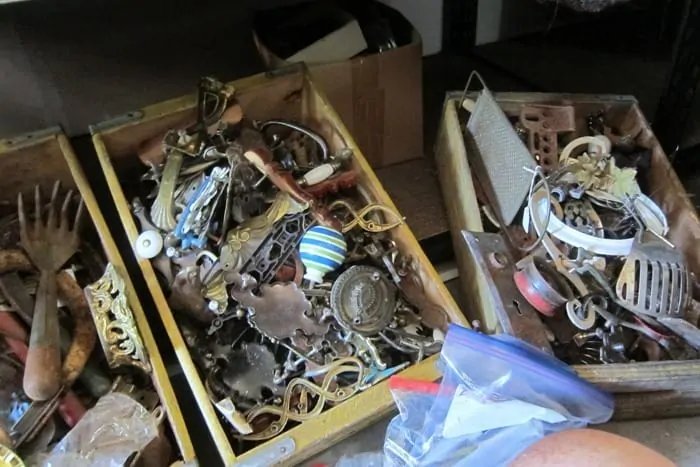 I have crates and crates of rusty tools, vintage hardware, and things I have no idea what they are. It's always interesting when I go through the stuff for a new project. Never know what will work and sometimes I come up with a surprise or two that happened for this project.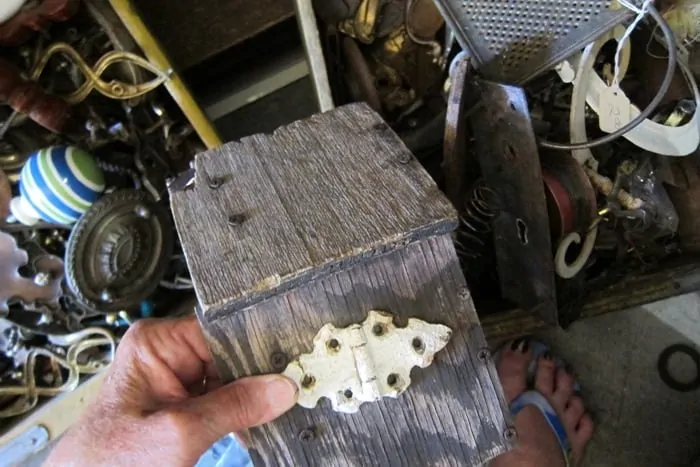 I pulled out all kinds of stuff just to see what would work. I gathered more things than I would need because I wasn't sure what would look good together.
My starting piece was this gold frufru picture frame corner piece. I have several of these in different sizes and designs. The bright gold color didn't fit the rustic birdhouse.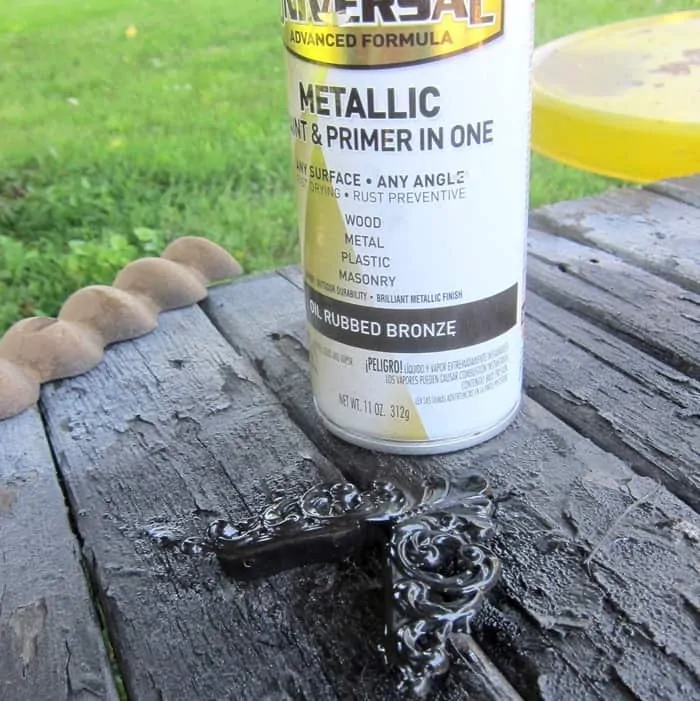 It's the only thing I painted for this project. I first used oil-rubbed bronze spray paint but thought it was too dark. Then I spray painted the piece turquoise but that was too bright. Next, I distressed it and gave it a very light coat of gold paint.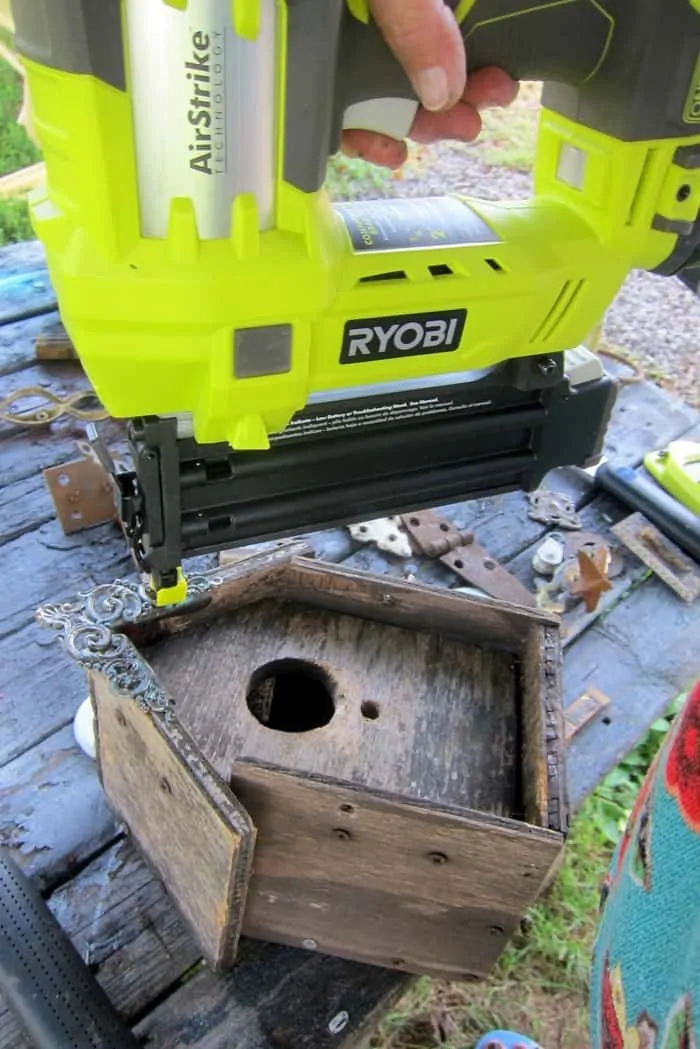 Not sure what you would call the final color but it works for me. I nailed the frame corner to the front top of the birdhouse.
I found a few old rulers and decided on this one to place on the peak of the roof. Both sides of the roof needed repair and the ruler was perfect.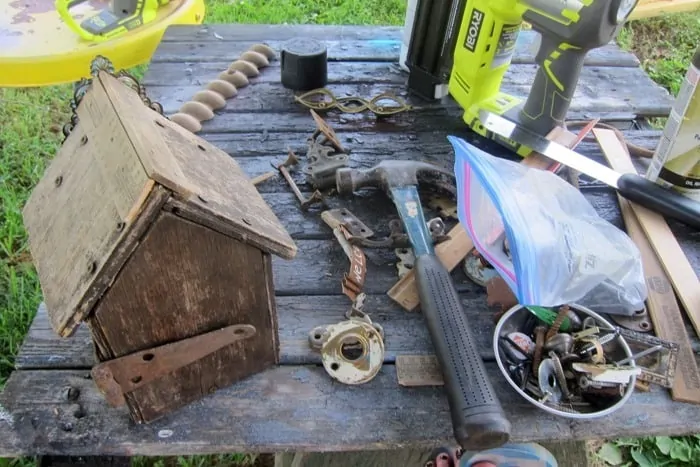 You can see I had a mess of stuff to work with. I went piece by piece holding things in place against the birdhouse seeing what would work. Some of it made the cut and some didn't. I either nailed or screwed all the parts to the birdhouse.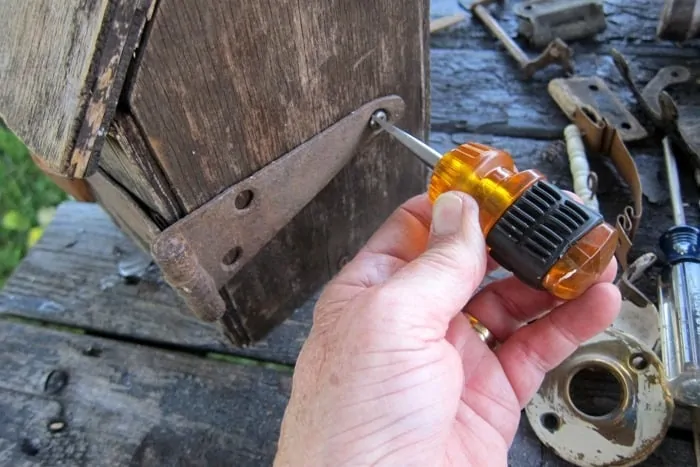 For pieces like the hinge, I didn't put screws in all the holes. Not necessary.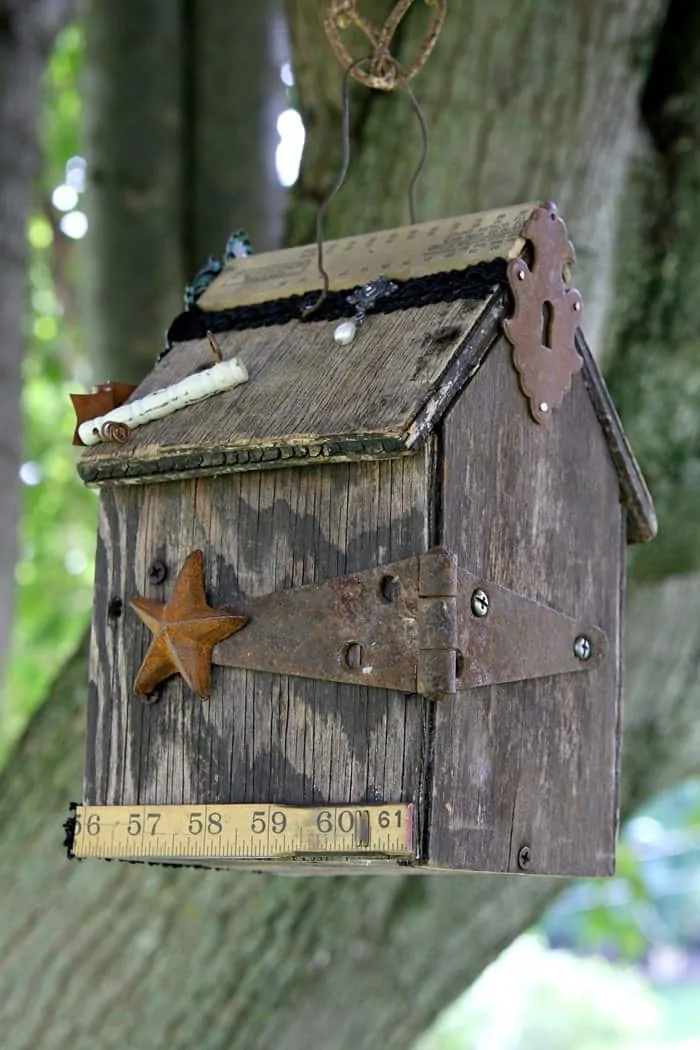 The rusty star nail holds the hinge onto the birdhouse on one side. I bought a bunch of these star nails on eBay several years ago and they show up in projects occasionally, even on furniture. One of these days I'm going to run out of stars.
I cut a vintage folding yardstick and nailed it to one side of the house only. Symmetry isn't one of my things.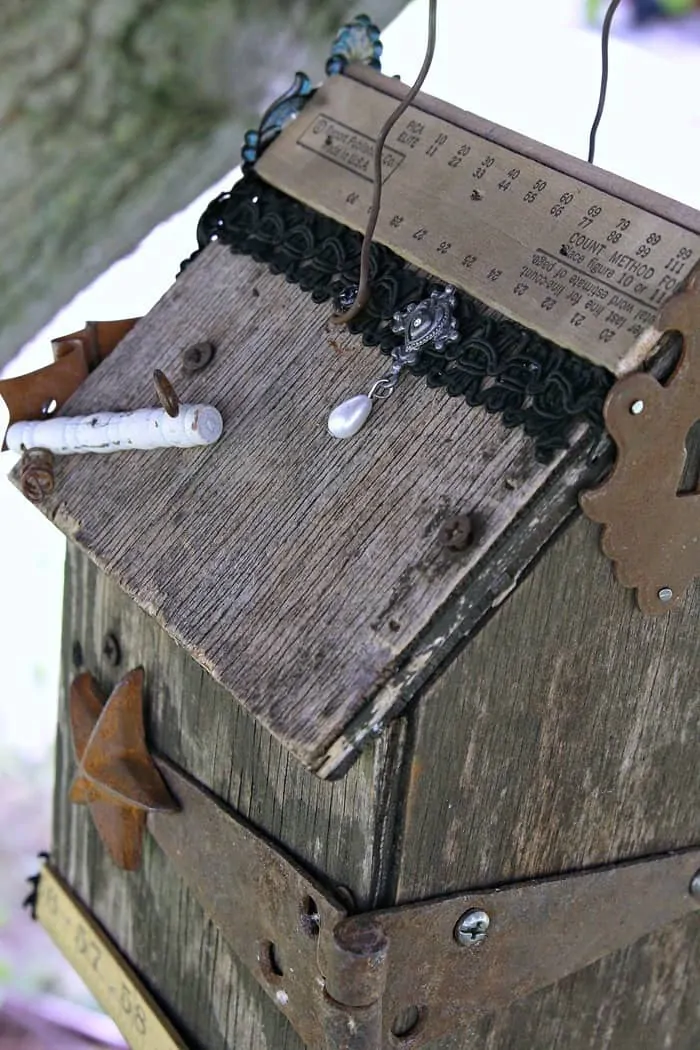 The black ribbon with the pearl drop was a choker I found in my junk jewelry stash.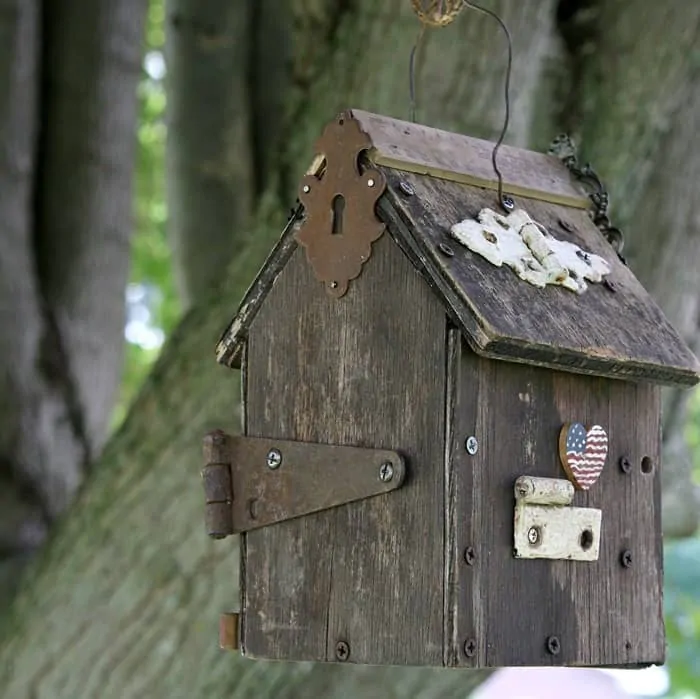 The red white and blue flag heart was a pin I received at some point when the JTS was in the Army. I removed the pin from the back of the heart and nailed it to the birdhouse.
The white hinge and white piece below the heart add a bit of color to the dark wood. They were already painted and nice and crusty. Gives a totally different look than newly painted hardware.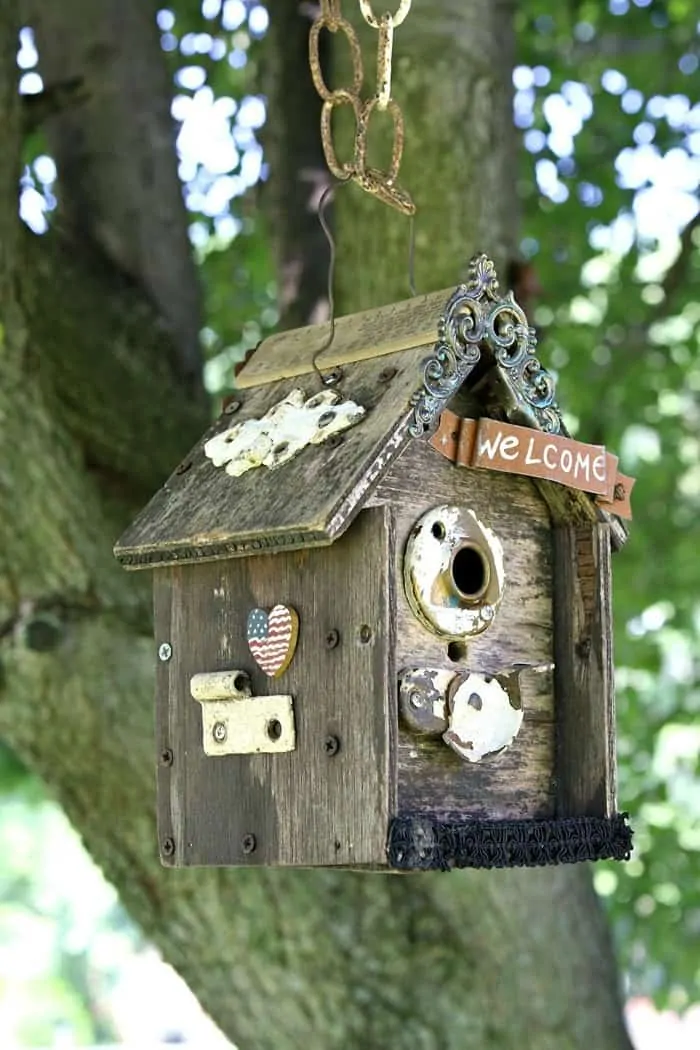 The perch is an old window latch. To hang the birdhouse I placed two screws close to the top on either side of the roof and attached old rusty wire to them. Then I hung the birdhouse in the Bradford Pear Tree beside the workshop using an old chain.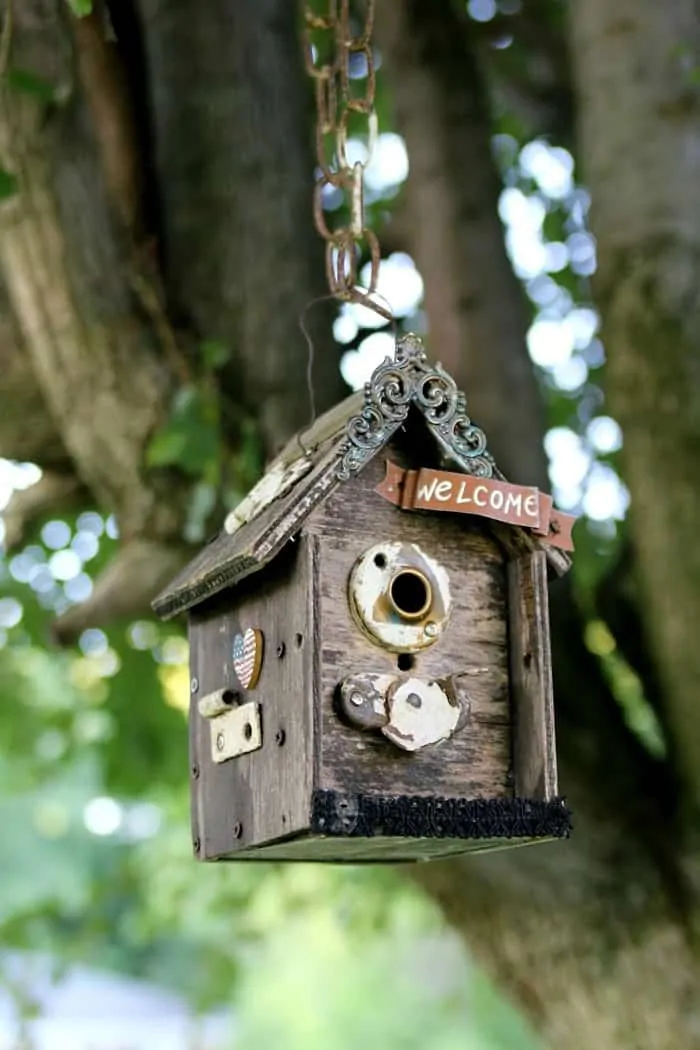 The Welcome Sign was the surprise piece. It was in my junk stash. I think I remember taking it off of something in the past but I don't really remember what. It might have been on a primitive-looking wreath. I'm just happy I had it because it was the perfect finishing touch.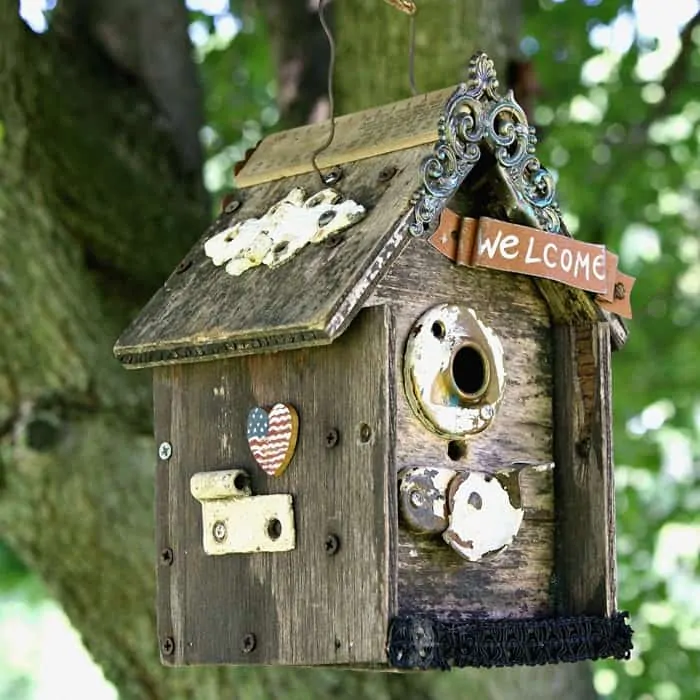 What do you guys think of the vintage hardware birdhouse? Looks a lot different doesn't it? If you have an extra minute in your day leave me a note before heading out on the Thrift Store Decor tour. Just click those pink text links below the "before makeover" photo collage to take the tour.
Farmhouse Craft Organizer Domestically Speaking
Old Birdhouse Makeover Petticoat Junktion
Horse Statue Makeover Our Southern Home
Bumble Bee Inspired Makeover House of Hawthornes
American Flag Decor in Buffalo Plaid Sadie Seasongoods
Thrift Store Doll Rocking Chair Makeover My Repurposed Life
Have a great day friends, Kathy
Author: Kathy Owen (Petticoat Junktion)
Kathy is the founder of PetticoatJunktion.com, a home décor blog focused on repurposing and upcycling furniture, old hardware, rusty stuff, and thrifty finds into unique home décor. Kathy's projects have been featured on the Home Depot Blog, Plaid Crafts, Behr Designer Series, and in numerous magazines. Read more about Kathy here.