You can make love signs, wall art, jewelry hangers, you name it, from things found in your junk drawer, garage, workshop, and wood pile! You can upcycle just about anything in your home, even things from your closet.  Take a few minutes and look around. It's time to make Valentines Day upcycled projects for your loved ones.
I have tons of what I call upcycled projects meaning I made them from junk I found or things from my cabinets and closets once destined for the Goodwill bag. Recycling at it's best. Learn how to look at things differently. A furniture knob can be a hanger for jewelry or keys, a horseshoe makes a funky letter U, and old keys are great for decorating just about anything.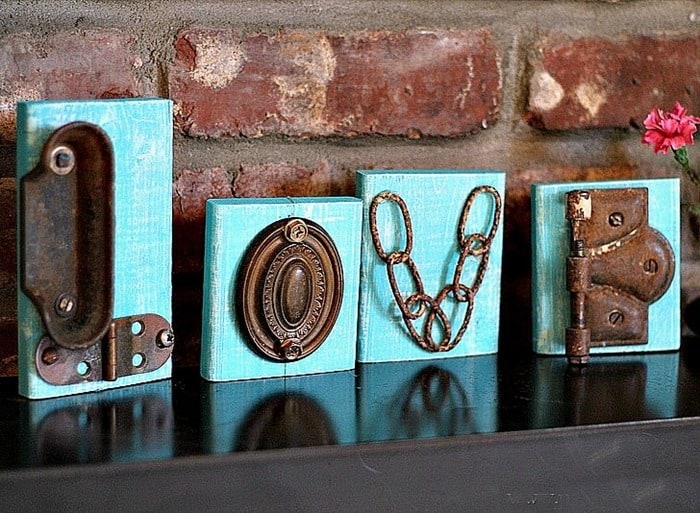 Valentines Day Upcycled Projects
Today I'm sharing 9 "love" and "heart" projects. I've made many over the years and I think they're really cool. I look at these and wonder where my creativity has gone to. I don't seem to have the touch these days.
Recycled Love Sign
This first project was a whole lot of fun. I painted unfinished wood reclaimed from a new home construction site (always keep an eye out for good stuff) with turquoise paint then did a bit of dry brush white paint over the turquoise. Next I went through my junk stash to find items for "Love Letters". The ones I found are perfect. (click the text orange links to view the full project tutorial)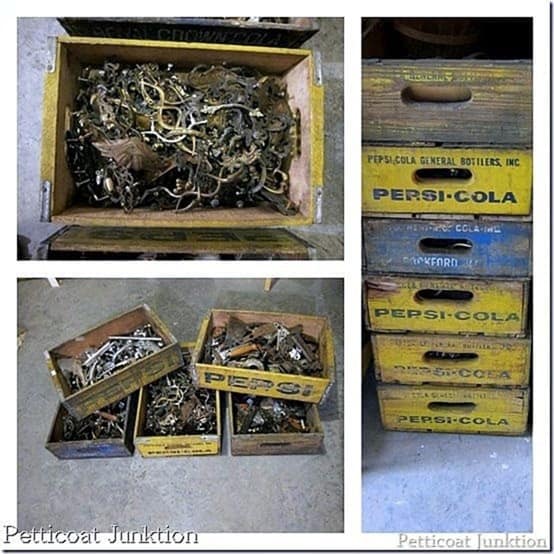 I thought I would share a photo of my junk stash. Not all of it but a big part. The hardware and metal stash have grown since I took this photo years ago.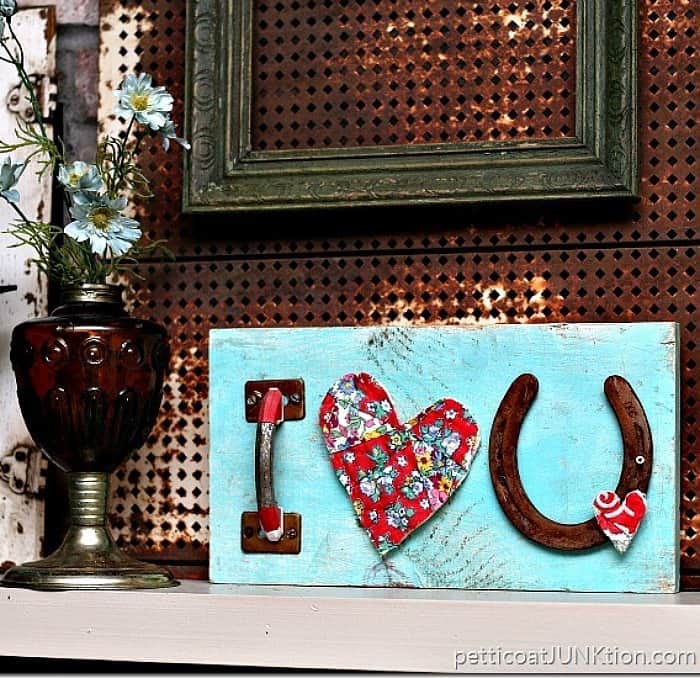 Quilt Heart Sign
The quilt heart with the rusty horseshoe "I Heart U" sign is a favorite project. I think because of the colors and the textures. Red and turquoise are the perfect color combination. The heart is from a cutter quilt I had in my stash.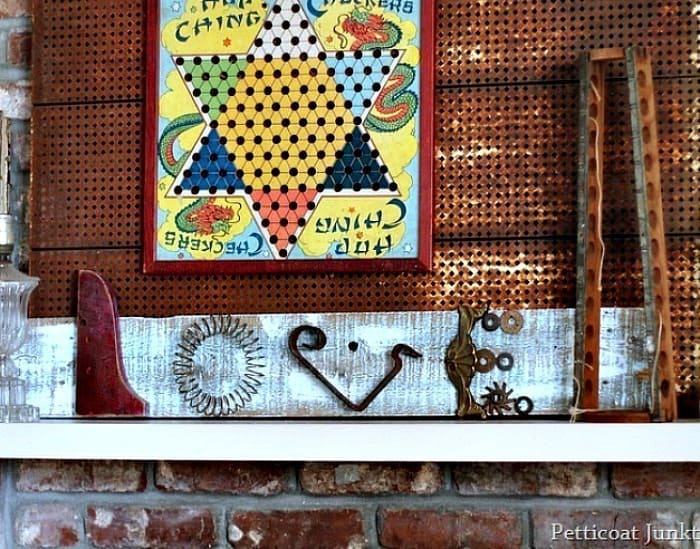 Assemblage Art Love Sign
This piece I call "Assemblage Art". The piece of reclaimed wood is long and it took some doing to find "letters" in the right size.  The E is my favorite letter in this sign. I made it using a vintage furniture pull and metal washers.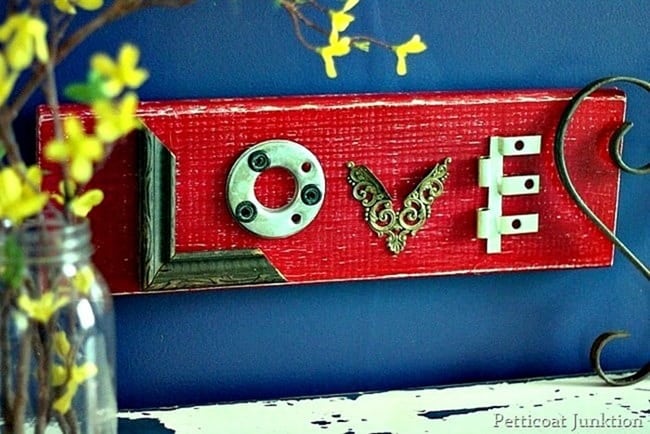 Red Valentines Love Sign
I don't know the name of the color I used to paint the red love but sign but it is a pretty pretty red. The wood molding from a  picture frame made such a pretty L, the best part of this project.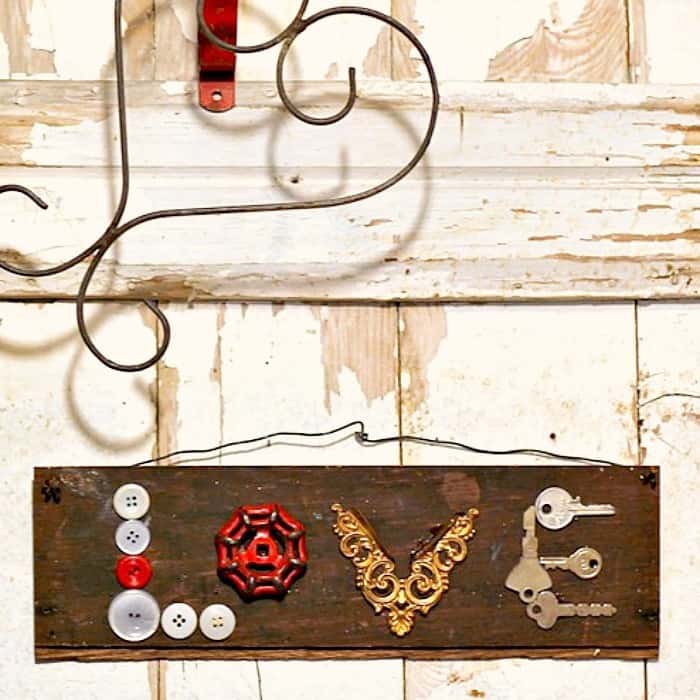 L Is For Love Sign
I bet you have buttons in your junk stash. They're perfect for just about any craft project. I also keep a big stash of faucet handles. I've used faucet handles as drawer pulls! The keys worked great to make the E in this love sign.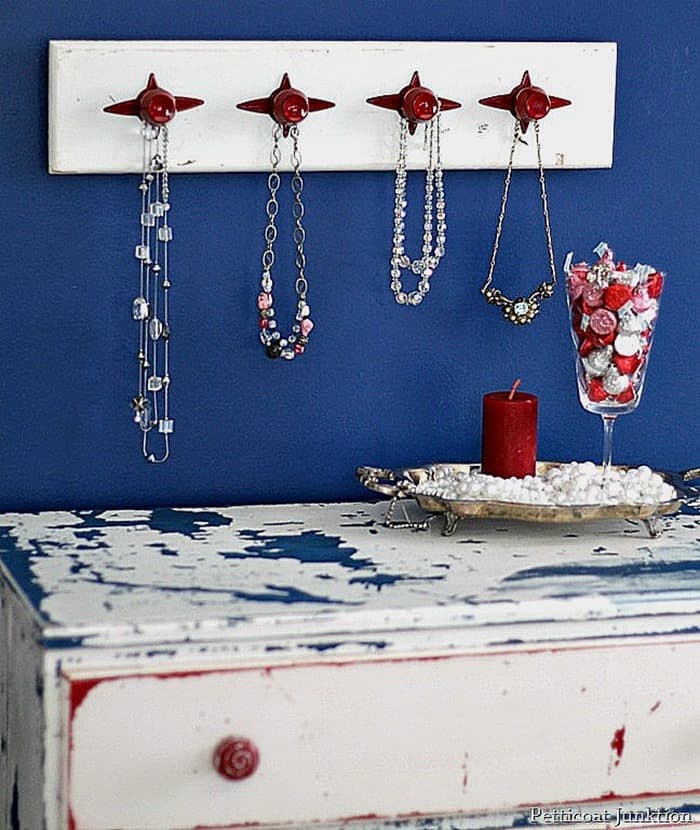 Upcycled Furniture Knob Jewelry Hanger Project
You can also say I love you with a handmade jewelry organizer. Of course your loved one will probably expect some new jewelry to hang on this organizer. I found the cool drawer pulls at a local flea market. They were in my stash forever before I found a use for them. The pulls were originally brass colored and I think they may have come off of a vintage appliance?? Not sure. I spray painted them cherry red and attached them to a piece of 1x4 board painted white.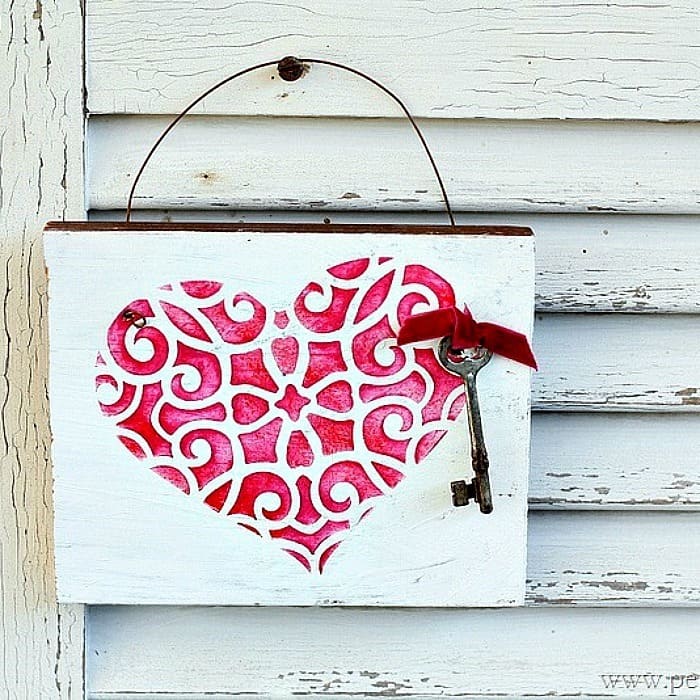 Stenciled Valentine Heart
You guys know I love stencils because I'm not a decorative painter. Can't even draw a stick figure. The pretty stenciled heart got accessorized with an antique key. This has to be at the top of my Valentines Day upcycled projects list. The two color stencil design has character, not a one note thing.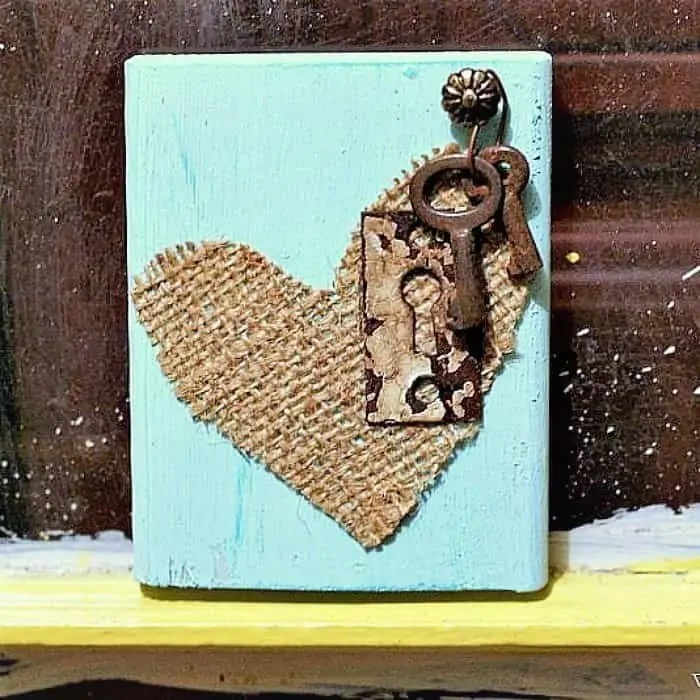 Burlap Heart
Do you guys think burlap home décor is as popular as it was a few years ago? I haven't seen a lot of it being used lately. I made the burlap heart block a few years ago. Without the keys and escutcheon plate it would just be a burlap heart….now it's special.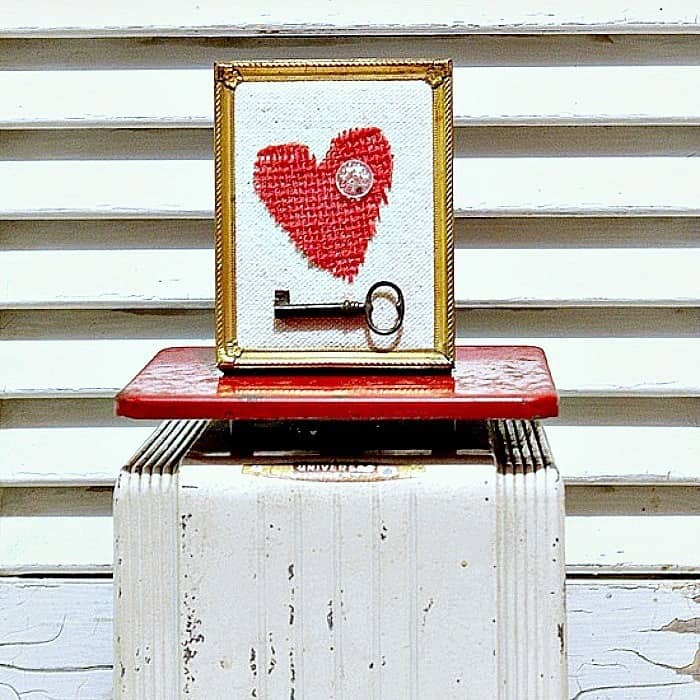 Key To My Heart Valentines Day DIY
One more burlap heart with key. The vintage gold frame for this project once held one of my school photos. I made this framed heart just to sit on this set of vintage scales.
What about these ideas? Which was your favorite?  You can find things around your house that would be perfect for a love project for Valentine's Day. I guarantee it. Go ahead…..look in the junk drawer. Please leave a note, I read every one. Thanks for being here, Kathy
Author: Kathy Owen (Petticoat Junktion)
Kathy is the founder of PetticoatJunktion.com, a home décor blog focused on repurposing and upcycling furniture, old hardware, rusty stuff, and thrifty finds into unique home décor. Kathy's projects have been featured on the Home Depot Blog, Plaid Crafts, Behr Designer Series, and in numerous magazines. Read more about Kathy here.