How to make a recycled junk decor heart that says I love you in the sweetest way.
In honor of Valentine's Day I put together a junk project featuring a heart..... and "I Love You" sign. I'm not big on decorating with hearts but for Valentine's Day I can handle it. This DIY heart love sign is perfect for the vintage junk lover.
The first thing I did was cut a heart template out of plain old notebook paper. I made this close-up photo so you can see it's not a perfect heart. I just willy-nilly cut it and I thought it was perfect.
I found this pretty quilt on the shelf and it has some red in it so it should work for the heart. Having a big collection of rusty junky stuff and vintage quilts comes in handy when making recycled junk decor. Now to look for some rusty stuff.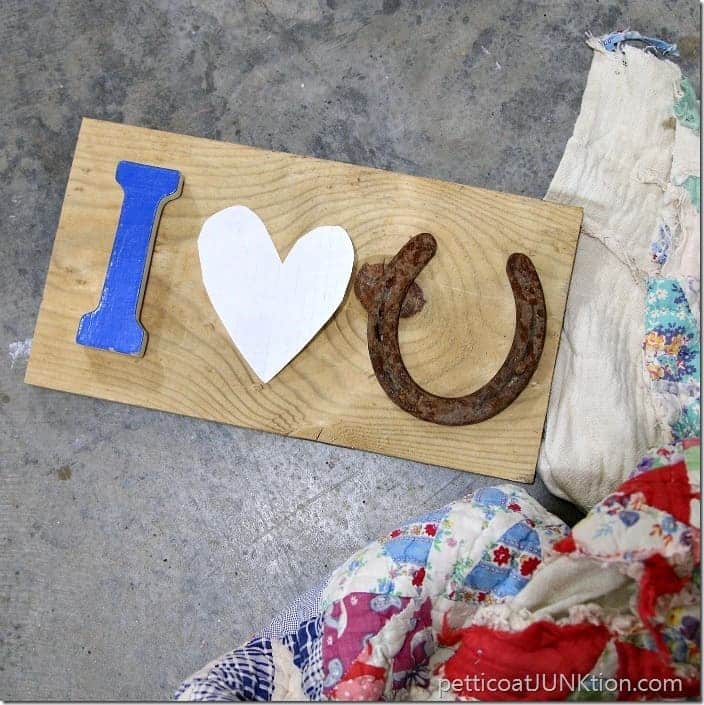 Well, how about that rusty horseshoe! It's just right for the letter U. The letter I is not junky and not my usual thing when making a junk sign but I'll give it a try.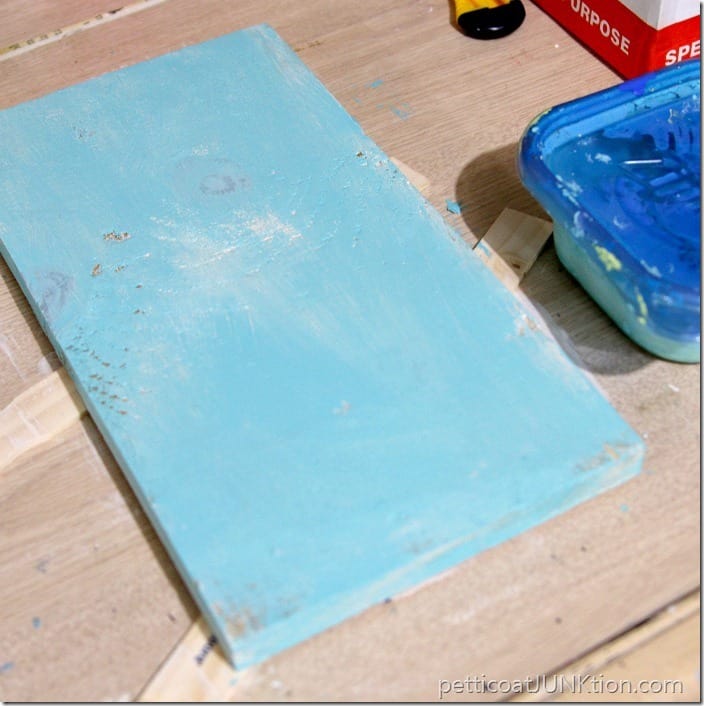 Next I painted the reclaimed unfinished wood piece white. After a little thought and looking at the items I had gathered for the sign I decided to paint over the white with turquoise.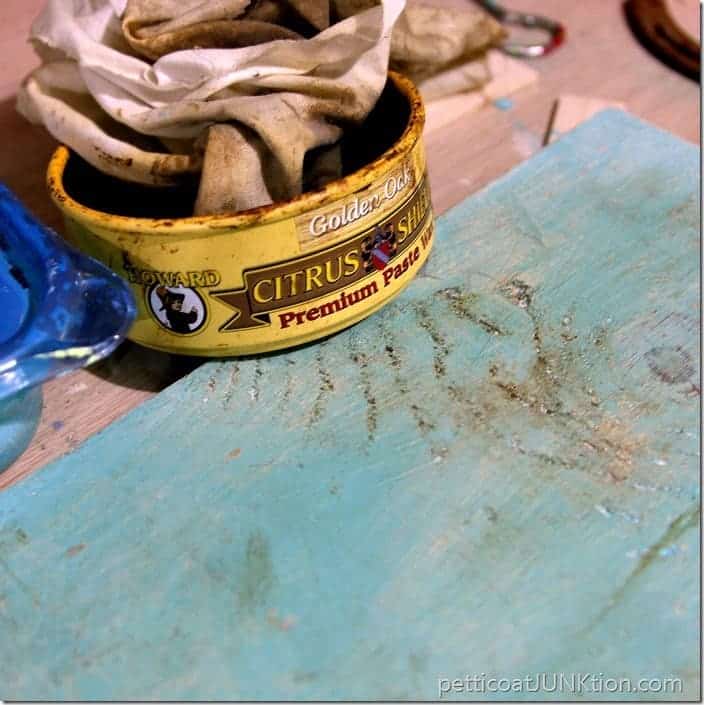 Once the paint was dry I distressed it just a bit with sandpaper then " aged " the paint with Howard's Wax in Golden Oak. See how the dark wax gets into all the rough places? Very nice.
Time to put the sign together but I kept looking at the letter and I just didn't like the real "I" letter. I tried the white side of the I and the blue side, then added toner to age it….still didn't work. I told the JTS it looked like a dog bone.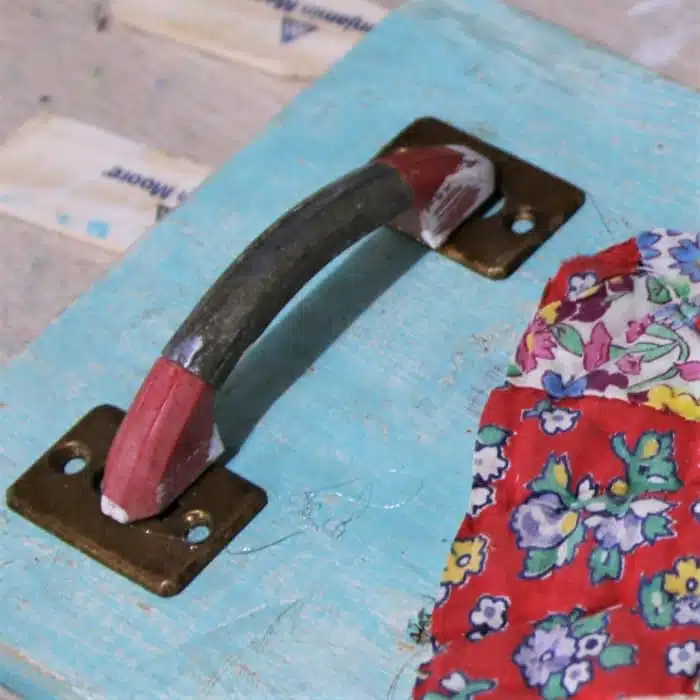 It took me another hour or so to find the perfect "I". I went on a search going through hundreds of pieces of hardware, drawer pulls, and rusty tools. I finally found a vintage drawer pull made chrome and something red. Not sure what material the red stuff is but it works for a Valentine's day sign.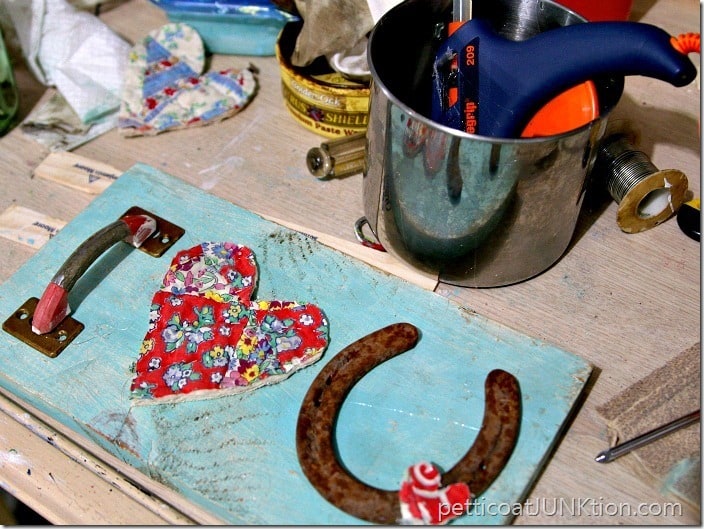 To make the drawer pull a bit larger or longer I found two metal plates to use at each end of the pull. I hot glued the horseshoe and metal keyhole thingies in place while I hunted for screws. Screwing the items to the board makes them much more secure.
I used the paper heart template to cut the multi-color heart from my cutter quilt then glued the heart to the board. I also hot glued the red/silver handle to the key hole thingies. I would have preferred to screw the handle to the board but I didn't have a good way to do that.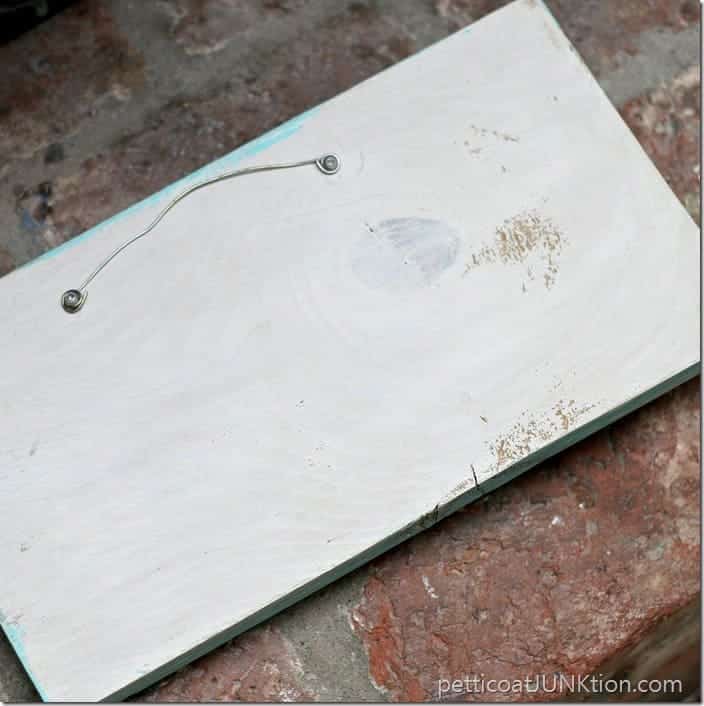 A simple wire hanger for the back. Two screws with thick wire strung between them.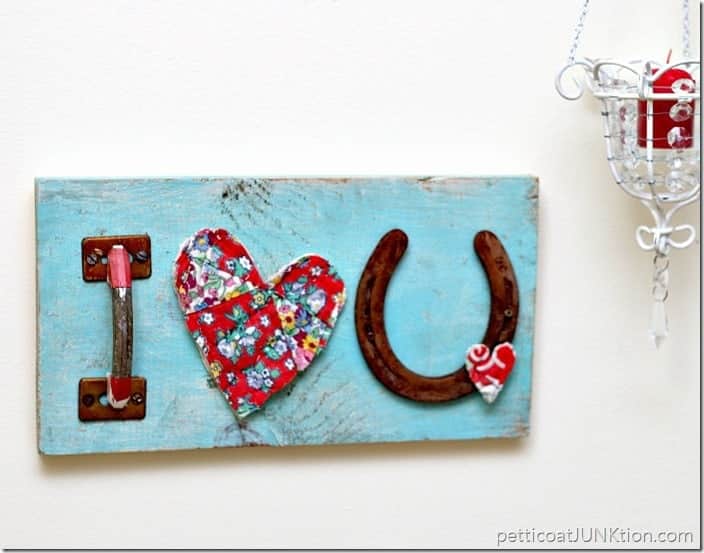 I think I'm in Love. The red hearts pop against the turquoise........one of my favorite color combinations. And for an added plus......horseshoes symbolize good luck and an upturned horseshoe is supposed to capture good luck.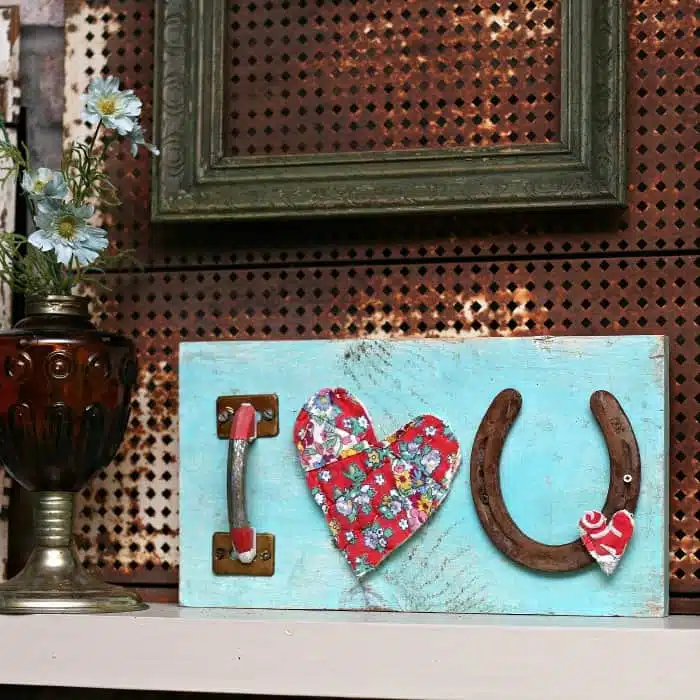 You can't beat a good recycle project. Every part of this project is reclaimed. The little red quilt heart on the horseshoe was a late addition. Seems like I needed it to balance the other red stuff in the sign.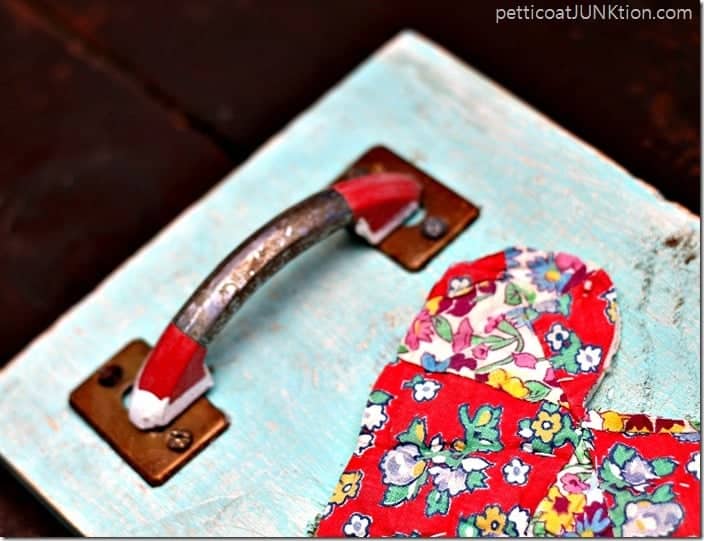 The vintage red and chrome handle has been hanging out in my junk stash forever. It came off of a cabinet door. It's just like the one on the Hardware Christmas Tree cabinet door. You notice the base of the handle has white paint on it. It looks like glue….but it's paint.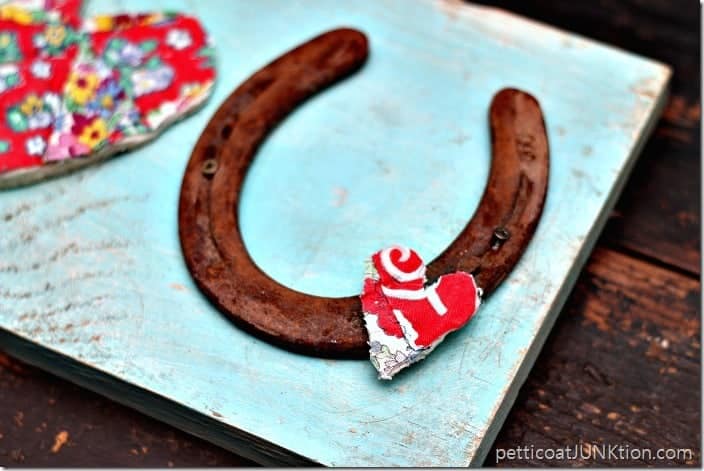 I used Howard's Wax on the rusty horseshoe. They no longer make the Howard's Wax and I recommend using Liberon Wax. Isn't that little red heart the cutest.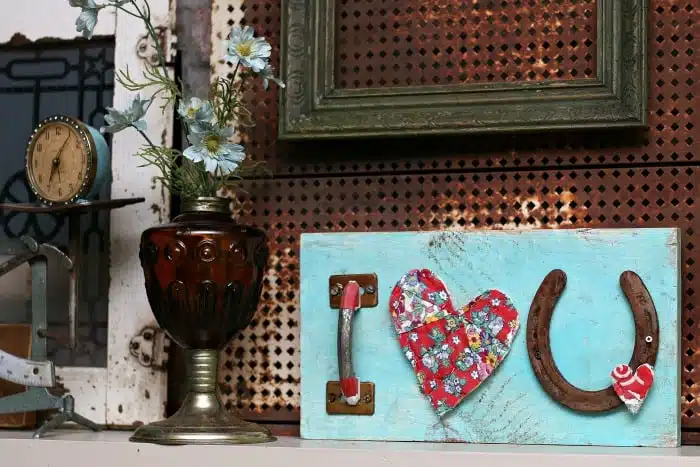 Recycled projects are one of my specialties. Check out some of my favorite upcycled  "Love" projects...Love Letters Assemblage Art.....Red Upcycled Love!.....Junk Love. (click any pink link to view the projects.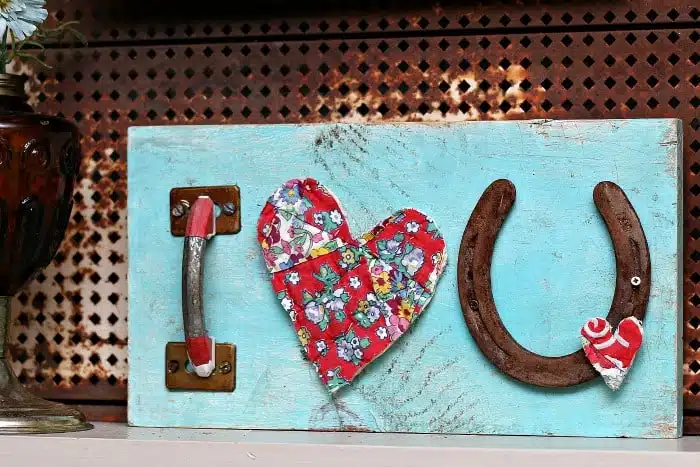 Thanks for being here. I love you guys, Kathy
Author: Kathy Owen (Petticoat Junktion)
Kathy is the founder of PetticoatJunktion.com, a home décor blog focused on repurposing and upcycling furniture, old hardware, rusty stuff, and thrifty finds into unique home décor. Kathy's projects have been featured on the Home Depot Blog, Plaid Crafts, Behr Designer Series, and in numerous magazines. Read more about Kathy here.